Post formats are known as an additional value added to posts on WordPress to allow every theme developer to define and identify visual post representation. Many theme developers can easily make themes with the help of post formats. In fact, there are some post formats that are available, however, theme developers do not need to support all of the post formats.
In this instruction, you will know how to recognize post formats on WordPress.
How to recognize post formats on WordPress
Post formats introduction
If posts formats are supported by your theme on WordPress, you can simply get your own blog like this.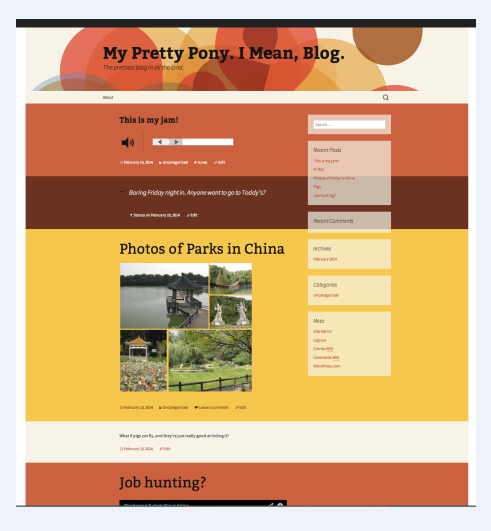 As you can see, not every theme supports post formats. Hence, if you want to check if your themes support post formats or not, you can check this list.
If yours supports post formats, you can easily find Post Format section located on the right column of the post editor. In fact, several themes provide you with nine formats, while others contain fewer. You just need to choose a format you like, copy and add content to your post, then publish. You will notice some of the stylistic differences among this kind of posts and your posts with the Standard format depending on the themes you are using.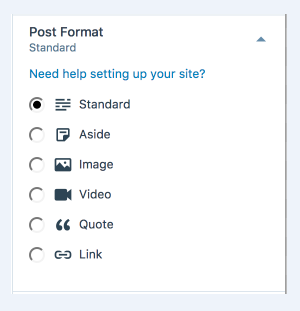 In addition, if your post consists of a video, quote, gallery or audio track, your theme might need to apply the relevant post format. If you want the default layout, you can select Standard.
The appearance of post formats
As you might not know about, the appearance of post formats is various depending on your using themes. You can check the following pictures to see how a picture post appears in some themes.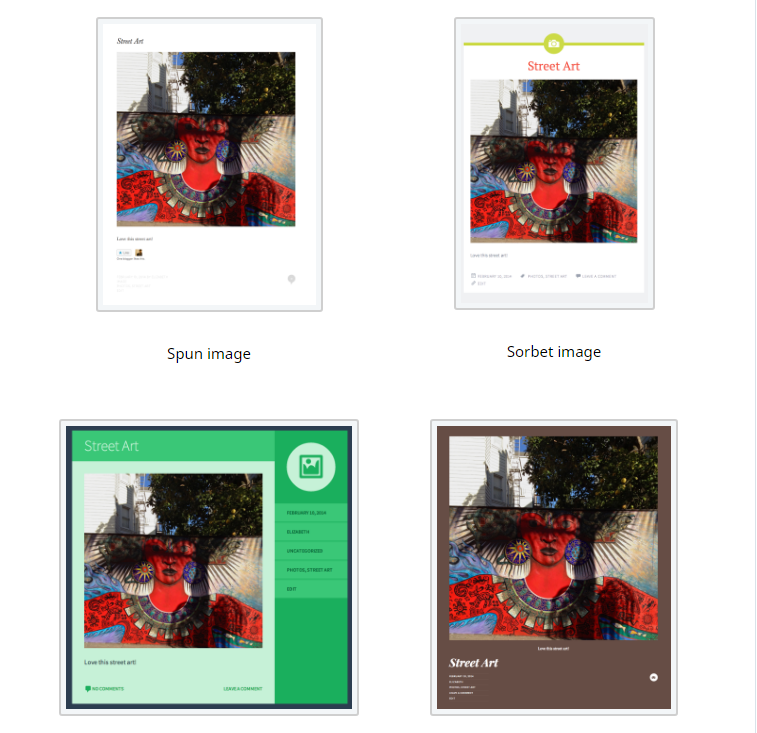 Let's take a closer look. While Ryu displays the picture above your post title and pick a background color to highlight the picture, Flounder gives a green background and an icon. Sorbet shows icons like a pastel-colored one and Spun keeps little decoration to concentrate on its own image.
Post formats understanding
As a merchant, you can feel free to add content like you normally get it published to a post in any post formats, however, you should bear in mind some certain types of content.
Standard is known as the default format that is your daily blog post. What you can add to post formats are videos, pictures, galleries or anything you want from a normal text box.
Photo is designed for single picture posts.
Video is for videos.
Quote helps you highlight the block quoted text in the bolder ways than the standard posts do.
Link is when you want to get a link shared to the article you are reading.
Aside for the short snippets of the text which are not the whole blots, but quick anecdotes or thoughts.
Gallery for galleries.
Status for an update about what you are doing now.
Audio is for your favorite podcasts or tunes.
Chat is to underline the conversations you have got with your friends both online and offline.
How to edit post formats
After creating an image post, you would like to make that post a gallery. And now you might wonder how you can change the post formats yourself. The answer is simple. You had better perform the following steps:
Step 1: Go to My Site(s) -> Posts to open your post editor.
Step 2: Select Edit located on the post you are trying to change.
Step 3: Choose a different format from your post formats module on your post editing screen.
Step 4: Don't forget to click on Update to get your post updated.
Take note that if you cannot see your post format module, it is more likely that you are applying the theme that does not support post formats.
Conclusion
With the article on how to recognize post formats on WordPress, we hope that you can have background knowledge of what post formats are and how to use them properly. If you think this article helpful, give us a hand by sharing it on your own social channels.