WordPress is known as one of the most common tools for publishing your posts and allowing you to manage them yourself. WordPress provides its users with two different ways to get their posts organized and they are categories and tags. People usually call them taxonomies in the technical names.
You might wonder what a taxonomy is. It is simply understood as a way to help describe things. Categories and Tags are generic terms in which you can fill with some specific information for your website.
Both Tags and Categories share their common goal, which helps you to structure your content. Categories are often used to create your site's outline providing a basic structure of your content. Meanwhile, tags are specific to be a category themselves. In fact, there are differences between categories and tags, however, most users mix them up. In most situations, this will not matter for end users, but there will be some advantages to use categories for certain segmentations as well as tags for the other on WordPress. Hence, in this article, you will be shown how to distinguish categories and tags on WordPress.
How to distinguish categories and tags on WordPress
Categories
Categories are for grouping your posts. You had better think of those as your table of contents or general topics for your own site. Categories are here to identify what the blog is about. It helps your readers to find the right kind of content and they are hierarchical so that you can have sub-categories. Let's think of an example. You can have a category called Cakes and under Cake, you can have some categories like Chocolate cakes or Banana cakes.
A category per post is required. This means that you must add at least a category to your post. If you do not do so, the posts can be moved to the default category.
Tags
Take note that tags are not hierarchical. This means that there is no relation between them. Let's look at the following picture. As you can see, Categories is on the left and you can notice how you can have countries as children of the continent. Meanwhile, you possess the same info as Tags. You can see how the UI is differently presented.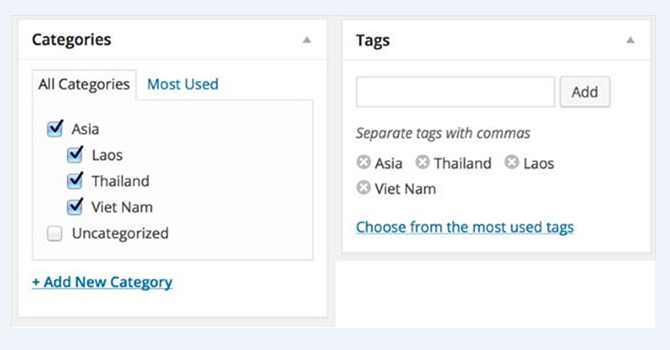 You can feel free to insert many tags as you want for your post or choose to add some, but, don't forget that WordPress readers can filter posts by using over 15 tags as well as categories as the anti-spam measure.
Categories vs Tags
One of the most different between categories and tags is that users must categorize their posts. They are not allowed to insert any tags. If they do not categorize their posts, they will be changed under Uncategorized category. Users usually rename their uncategorized category.
Besides, permalinks (URLs) for categories and tags will look different. If you use a custom permalink (URLs) structure, you will notice the differences below:
http:yoursite.com/category/food/ vs http:yoursite.com/tag/food
If you are finding the answer on if there are any benefits to use either tags or categories or even both, the answer is yes. Your posts will be displayed in the Topics Listings of categories or tags you are using. Hence, adding categories and tags to the post can play an important role in increasing the opportunities that other readers can see your good content.
In case you do not want to display irrelevant content on the Topics Listings or even search, you can easily limit the number of tags used on a tag listing. According to research, five or fifteen tags or categories or the combination of two is an enough and a good number for each of your post. You should bear in mind that the more tags you are using, the less chance your posts have to be selected for the inclusion in your topic listings.
Conclusion
We hope with our article on how to distinguish categories and tags on WordPress, you will have more knowledge about categories and tags when using WordPress and understand what you need to do to take advantages of both tags and categories to increase the chance to help your content to be seen by many WordPress readers.