One of the biggest problems that are most heard of from WordPress beginning users is that the post editor is unable to spellcheck. That is the reason why users want to create their first drafts using Microsoft Word that has fundamental grammar and spelling checking options and some depend on the browser's spelling checking features.
However, using those tools to check your posts means that you have still gotten errors while editing posts on WordPress. Therefore, for those who really want to create their error-proof posts, we can guide you the way to check things on WordPress.
In this article, you will be shown how to check your spelling, grammar and style using Proofreading technology on WordPress.
How to check your spelling, grammar and style using Proofreading technology
Proofreading in the Visual Editor
All you need to do is to go to your proofread icon in the Visual Editor toolbar to get your writing checked. Here are things you may get noticed. This proofreading feature can check misused words, spellings, grammar or style. It can tell you errors with colors.

For example:
Both spelling errors and misused words are marked read;
Style advice is marked blue;
Grammar mistakes are marked green.
In fact, you can choose a mistake to see a list of suggestions. Many errors even have an option of explanation providing more information.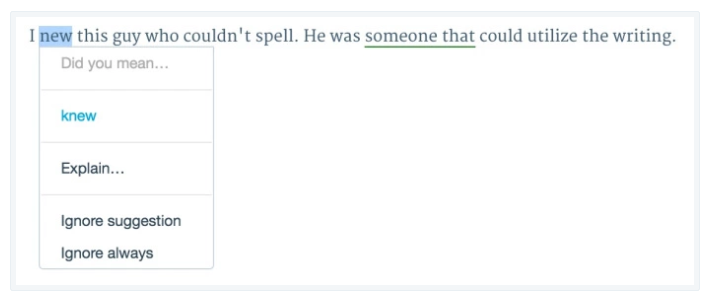 In addition, you can click on Ignore suggestion to neglect the errors or click on Ignore always to get permanent ignorance as well as unmark the selected phrases or words.
Proofreading options
This guide can refer to your WP Admin dashboard, hence, you should get this dashboard by inserting /wp-admin to the bottom of the site' URL such as example.wordpress.com/wp-admin.
First, you can start the proofreading feature by selecting Users -> Personal Settings on the left of the menu in your own dashboard. You can start editing the phrase ignoring list and activating the additional options in this feature. Don't forget to click Update Profile at the bottom of your page to have your settings saved.

Automatic Content Proofreading
Before updating and publishing your posts or pages, you can make WordPress run its automatic proofreading. When it is activated, this feature can ask whether you want to keep publishing or updating when errors appear.
Style and English Grammar Options
By default, the proofreader uses lots of grammar rules. Those additional options can help you shape your writing style:
Bias language might get different groups of readers offended or alienated.
Complex phrases are known as phrases or words with simple daily alternatives.
Diacritical marks marks and accents that stick to letters in words or nouns borrowed from another language. This selection can aid in restoring those marks in the writing.
A hidden verb is a verb that is made into nouns.
Jargon phrases are known as foreign phrases or words that can make sense to some people.
Passive Voice omits subjects of sentences. Overuse of passive voice makes your articles hard to understand.
Phrases to avoid are indecisive phrases.
Redundant phrases are shortened by getting rid of unexpected words.
Languages
After the Deadline can support your posts in some languages, including French, English, Portuguese, Spanish or German. Take note that you can use your own blog language settings as languages of your proofreading.
In addition to English, WordPress provides you with contextual spelling checking for Spanish and Portuguese. German and French contains grammar checking as well as contextual spelling checking. In fact, misused words have not been detected outside of English, but the app team is working hard on this. In the future, more proofreading features are expected to appear.
If you use many languages in a blog, you can choose Use automatically detected language to proofread posts and pages. This proofreader will identify your posts' language and apply prop technology and tools to proofread them.
Ignored Phrases
You might want to insert a phrase to your ignore list by entering it into your text fields and selecting Add. To getting rid of a phrase this list, click on X icon.
Conclusion
With the article on how to check your spelling, grammar and style using Proofreading technology, we hope you will no longer waste your time using Microsoft Word to fix your errors instead. WordPress can now give you great support of correcting your writing mistakes, hence, you will feel more confident in using and mastering it. Read here for more information about Writing Editing on Wordpress