When the power goes out, when crashes happen, and when you accidentally close the tab before saving, all the content of your posts and pages on WordPress.com will be deleted. To avoid this problem, the Autosave option will automatically save your posts every few seconds as you write and edit. This option will help you to save your time and protect your post from being deleted.
In order to help you with this problem, here is an instructional writing on How to autosave your posts on WordPress. Please take your time and read this instruction carefully to get your problem solved.
How to autosave your posts on WordPress
Enable autosave on your post
At the top left of the editor, you can easily see the Publish Module in which the last-saved entry can be seen, then you only have to click the Save button, which forces the editor to save.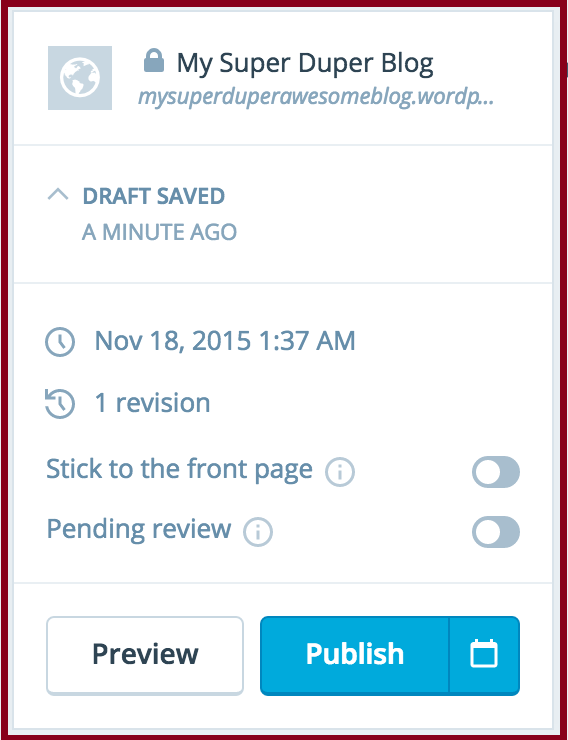 By doing this, your posts and pages are automatically saved and you won't have to worry about accidently losing your post. Although you can not turn this feature off, all the autosaved copy of the post are saved by default. To browse and restore prior versions, you need to click on the Revisions button.
Enable autosave on Published Content
In WordPress, autosave still works on the published post or page and the published content won't be overwritten as you keep editing that post or page. In order to update and show all the changes in the post or page, you need to click the Update Post/Page button which can be seen in the Publish module. The Post Revisions Module will help you to find the last autosave as well as other post revisions.
Edit a Post/Page with an Autosave
You are drafting a post or a page, but you go offline while editing or you navigate away from it by accident. Don't worry! With WordPress, your post will be automatically saved to your web browser's local storage. When you return to the editor, a note will be displayed like this: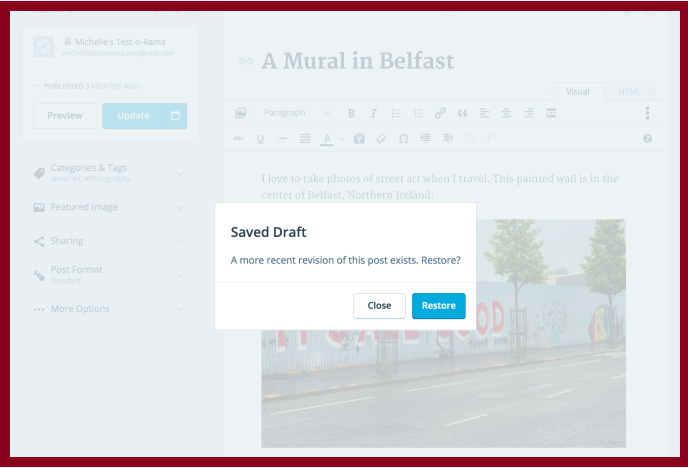 In order to return to the most current draft, click Close. In order to restore the latest autosave, click Restore. Restoring an earlier version of the content can be done at any time and by browsing the revisions.
Conclusion
Above is an writing on how to autosave your posts on WordPress. With this instruction, we hope that your problem related to autosaving will be solved as soon as possible.