There are cases that you mistakenly change your post or page and save that version then you may want to recover the old version. The Revisions is a solution which provides you with the backup copies of your post and page. When you save a draft or update your post/page, a revision will be stored. In other words, you can see recent changes you made with this function. For each post and page, there are 25 latest revisions available on WordPress.com. If you want to know how to generate and edit post and page revisions on WordPress, keep following this topic for more details.
How to generate and edit post and page revisions on WordPress
Viewing resivions
Firstly, you need to open the post or page you want to see the revisions then go to its editor. After that, head to the History in the Top Navigation. Another window will appear which shows you the time and number of revision versions as the picture below: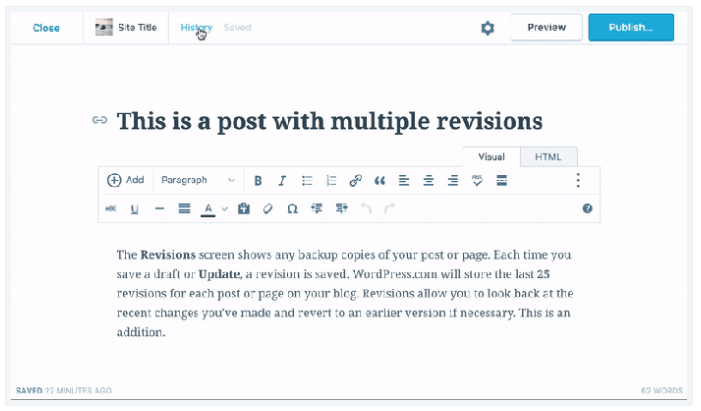 However, be noted that only after you made some changes can you show the revisions. You cannot manually remove revisions but the system will automatically delete older revision when there are over 25 versions.
You can see the list of revisions on the right of the dialog box, choose one from the list to see what changes you had made. You can also use j or k on your keyboard to switch between versions. The edit parts in the revision will be highlighted then you can easily recognize them. Particularly, the added text will be displayed in blue while the deleted one will appear in red. Moreover, when you view a revision, the changes shown is the result of comparing it with the previous version.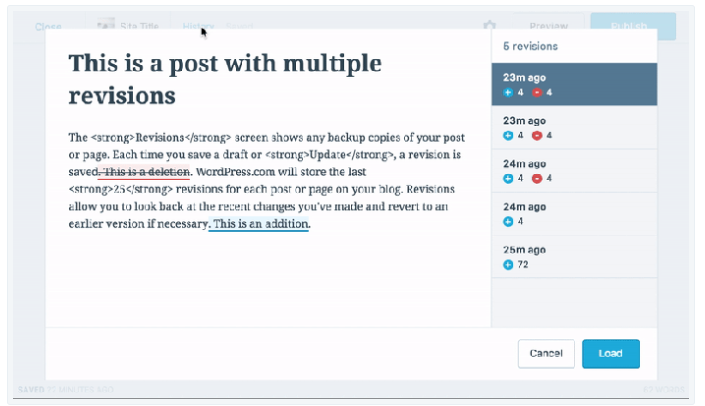 Recovering revisions
To restore a previous version of your page or post, you can choose one from the revisions list then click on the Load button. For example, you can choose the second option in the revisions list as followed: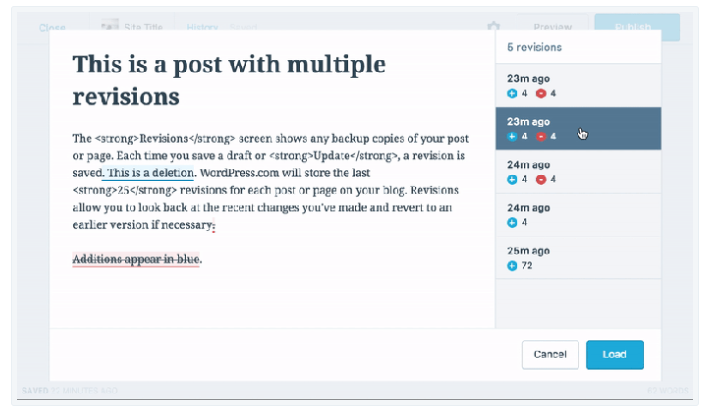 After that, you can see that the post recovered as the version you choose. If you want to save this or you want to customize based on this revision, do what you want with the content and remember to choose Update to save your changes.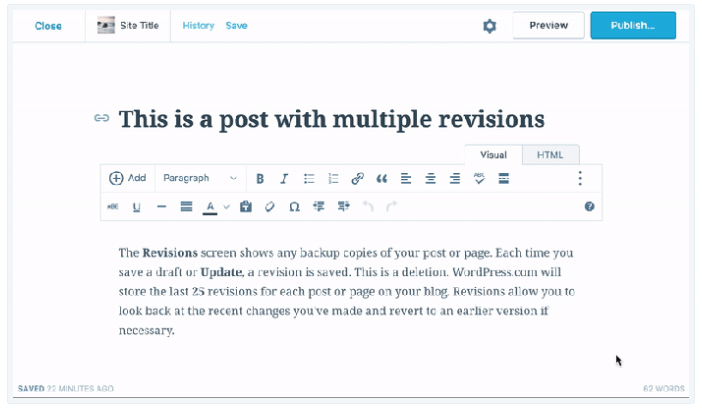 You can see the revisions if you are administrators or editors of the blog. The authors of the post can also see all the revisions of their posts meanwhile, the contributors can show revisions on their drafts only.
Conclusion
In short, I have shown you the process of how to generate and edit post and page revisions on WordPress. This process is simple and important for you that you should practice it frequently then it can help you manage your blog better. Moreover, illustrated images are included in this writing also then it is easier for you to follow. Thus, I hope that you find this topic helpful and have good reading time.