If you are a long WordPress user, you definitely stick to the idea that tags are useful to help you collect related posts together, and then tell your readers what those posts are about. In fact, tags make it much easier for any person to find out your content quickly.
They are the same as, but contain more details than categories. Tags usage is optional.
You had better take note that depending on the widgets or themes you have just activated, tags can be shown at the top and bottoms of your posts, shown on your personal post view or shown in your sidebar. Also, multiple tags can be assigned to each post.
In this tutorial, you will be shown ways on how to insert and manage tags on a post on WordPress. You can add tags via your tags module or add and manage tags via your WP Admin.
How to insert and manage tags on a post on WordPress
How to add tags via your tags module
Don't forget that you can easily add or assign your new tags to your posts before publishing them by using the Categories & Tags module displayed on the right of your post editor.
Step 1: Go to Categories & Tags.

Step 2: Insert tags by entering in the text.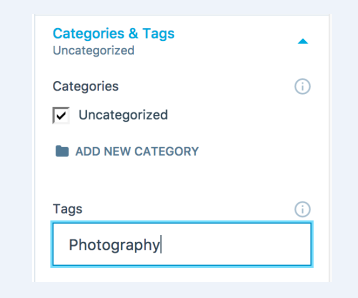 Step 3: Turn the Enter/Return key on the keyboard.

Step 4: If you want to add more tags at a time, remember to separate them with commas before hitting the Enter/Return as you are finished.
After performing those above steps, you will see that your tags are highlighted and mentioned at the top of your module.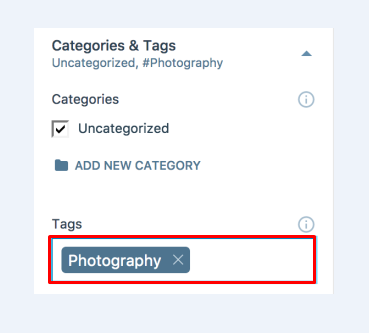 In case your tags are added before to your other posts, a drop-down list will appear when you enter the tags to allow you to scroll through the previous tags you already used. Choose any tags to help them be added to your post.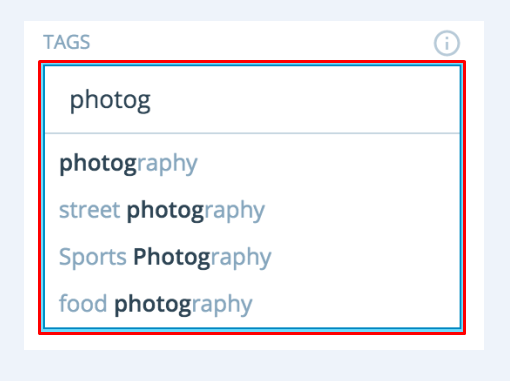 If you want to remove any tags you don't like, click X displayed on the top right of each tag.
How to add and manage tags via your WP Admin
This way to add and manage tags is related to the performance of WP Admin dashboard, hence, you should get to your dashboard by including /wp-admin into the end of the site' URL.
How to add tags via your WP Admin
Step 1: Go to Posts -> Tags in the dashboard.

Step 2: A list of your previous tags and ways of adding new ones will be introduced.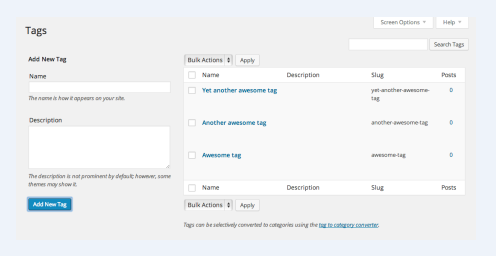 Step 3: Fill out the fields to insert new tags.
Tag name: the name of your own new tags.
Description: describe what your tags are for.
How to manage tags via your WP Admin
The Posts -> Tags page in the dashboard is able to show your lists of tags you are using, the name and number of your posts that belong to every tag. In case you move to a tag, a series of options will appear to help you edit, quick edit, delete and view that tag.

Click on Quick Edit and an edit box will appear to help you rename your tag quickly

Click on Delete and you are taken to another page where you are able to edit tags' names and their description.

Click on Delete, the tags will be deleted.

If you would like to remove your tags, you can apply the bulk actions feature. You can choose tags you want to remove by checking the box located on the left of your tag's name. Then, choose Delete and Apply and tags are completely removed.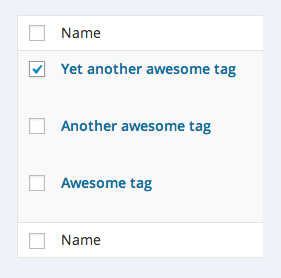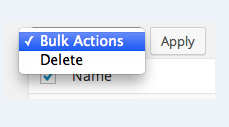 In case you change the mind of using tags and you want to get them converted to your new categories, you can do the same thing by moving the tag to the converter. Click on tag to category converter at the bottom of your manage tags screen and it moves to the importing page. Choose Categories and Tags Converter there.

You should bear in mind that your tags will be completely gotten rid of and your posts will be assigned with categories, which are used in those tags. If you would like to convert the categories that are back to your tags, you can check out converting categories to tags.

Posts appearing in the Topic Listings of using tags
Your posts can appear at the topic listing of tags and categories you have used. Hence, giving categories and tags to your posts will increase the opportunities another WordPress.com users can find and see your content.
Conclusion
We hope that the article on how to insert and manage tags on a post on WordPress will help you understand what tags are used for and how to manage tags on your post. If you have any troubles or questions, let us know by leaving your comments.