The feature of showing the WordPress Posts widgets can allow you to show ten posts from other WordPress blog. Your widget shows your post's title that links to full posts on other WordPress sites. In this tutorial, you will be shown on how to display WordPress posts.
To display WordPress posts
Display WordPress posts
Step 1: Go to Appearance -> Widgets.

Step 2: Click on Settings. Enter some of the following information:
Title: Insert the text appearing prior to the title of the site and this is automatically displayed.
Blog URL section: Type the blog address without entering http:// at the beginning. If you add it, it can be stripped out.
Number of Posts to Display section: Select posts quantity you want them to be shown, but remember to display up to ten posts only.
Show Featured Image section: You can check this box to show the featured image for every post having one.
Show Excerpts section: You can also check this box to show an excerpt for your posts.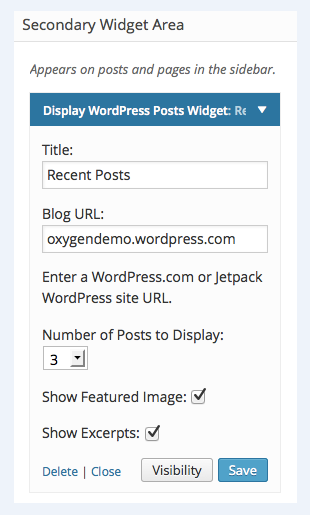 Show your recent posts on WordPress
As you might not know about, regarding recent posts on WordPress, the steps are also the same. All you need to do is to go to inside your own WordPress admin, head to Appearance -> Widgets, then you can insert your recent posts widget to your sidebar.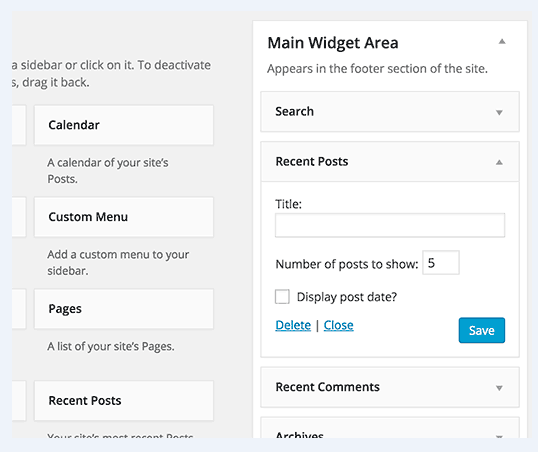 In fact, the built-in recent posts widget is quite basic and simple. You can give an alternate title to your widget, display sates and add the posts quantity you want them to be shown. After that, you can press on the Save button to save your own widget settings.
However, you can take note that those built-in widget mentioned is restricted and it does not let you display your thumbnails or your excerpts that are known as the users' priority. Therefore, to deal with this problem, you had better install and active the Recent Posts Widget Extended plugin.
Based on its activation, you can go to Appearance -> Widgets and add your Recent Posts Extended widget to your sidebar.
As you can see, those recent posts extended widgets can go with many options and provide you with control on the appearance of your recent posts that are displayed on WordPress site. You can display your thumbnails, limit categories and tags and many more. More interestingly, you can use your widget to show your recent posts from different posts on the site.
Conclusion
With the tutorial on how to show your WordPress posts, you can feel more confident in performing those above-mentioned steps. If you find it helpful, don't forget to help us share this on your social channels.