Although feedback-requesting feature has been removed on WordPress, you might still want to find out how it really works on WordPress.
In fact, the feedback-requesting feature is widely used by those who want to show their post to someone before those posts are published, but do not want to set him or her as users of their blogs. Reasons for this problem can be that you are still working on your posts with your people or you just want to ensure that you did not make any mistakes on typing.
Writing helpers can be your good choices and are shown directly below your post editor. If you want to use Request Feedback, just press on its button and it opens right in place. Before going further, you should take note that in case you already published your posts, the Request Feedback option will not be displayed. Make sure to request the feedback before publishing your posts.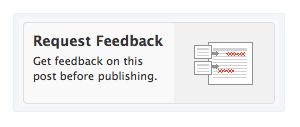 In this tutorial, you will be given how to request feedback from someone on WordPress.
How to request feedback from someone on WordPress
Step 1: Request feedback
All you need to do to request feedback from anyone is getting their emails' addresses. You only type their emails into the form of requesting and in case you want to get feedback from nay people, don't forget to separate those emails with commas.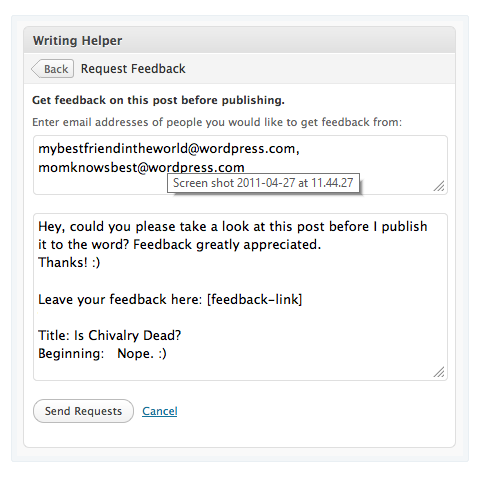 By default, a note will be sent directly for you. If you would like to customize the note, you can select the Customize link located next to Send Requests button. However, you need to make sure to add this kind of text at least once:
[feedback-link](including the brackets).
This will inform the WordPress team where you want to add your secret link for each invited person. If you take them all, the app will not send emails to you unless if you insert at least one back.
Step 2: Send requests
Bear in mind that as you send requests of feedback, head to your page of editing blogs and go to the Request Feedback section, you can see all of your invited people. If one of them responds with your feedback, you can also see them too.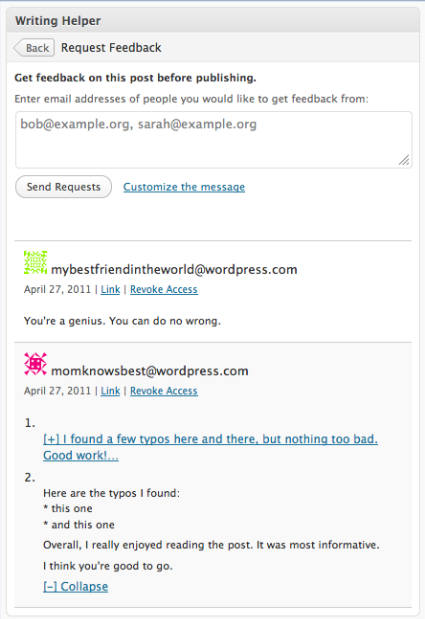 Step 3: Read new feedbacks
By giving back feedback, it means that there is someone who has already responded to your requests. At this time, the WordPress team will send an email to you to let you get noticed.
After that, you can check and read their feedback in a similar page you previously send them your requests.
The first sentence will be displayed and if there are more, you can click on the [+] link to help expand it.
Step 4: Leave feedback
If you receive any feedback requests, you will be noticed with an email, followed by a special link. However, you should not share it or other people might leave feedback.
This link can take you to the page that looks like an ordinary post with two differences. First, you will see the post as a draft which has not been published, therefore, no one can see it if he or she is not invited. Second, there appears a new sidebar located at the left of the page, accompanied with a form to leave the feedback. This action works like a form of commenting and when you type anything in it, then submit it, the blog's author can see it and get it reviewed.
Step 5: Publish
With posts you request feedback, you can feel easy to have them published like all your posts. After the publication, an email will be sent to those who are invited to let them know your posts are already published with a link so that they can read their results.
Step 6: Revoke access
In case you change your mind and do not want your posts to be seen by another before they are published, or you enter the wrong emails, simply click on Uninvite link located under the row of invited people. This action helps disable special links and prevent invitees from sending feedback or viewing posts.
Step 7: Special link
Links your friends have as you request feedback from them is actually secret. You need to ensure that you only request feedback from those you trust, not aiming sharing pots for those you do not want them to do.
In case you want to get revoke access for a particular person's link, kindly follow Revoke Access.
Step 8: Send links
From now, the WordPress team only supports links via emails. Since many people have their own email addresses, the team thinks this is a wonderful place to get started.
Step 9: Update posts
When anyone clicks the secret link to see the draft posts, he or she will see the latest updated version.
Step 10: Follow up feedback
This step is for when you want to get feedback from the same friend for his or her second time, all you need to do is to enter his or her email address again and they will get noticed soon. In addition, if you want to talk to your friends directly, you can ask them to use the same link they got to return back and leave you a second time of sending feedback.
Conclusion
We hope that this post on how to request feedback from someone on WordPress will aid you have a better understanding of another amazing WordPress features. Don't forget to share this article with your own social channels if you think it is useful for other WordPress beginners.