Published on
11+ Best wordpress FancyBox Apps in 2023
Author

Author

Author:

Sam Thomas

Twitter
11+ Best Shopify FancyBox Apps from hundreds of the FancyBox reviews in the market (Shopify Apps Store, Shopify Apps) as derived from AVADA Commerce Ranking which is using AVADA Commerce scores, rating reviews, search results, social metrics. The bellow reviews were picked manually by AVADA Commerce experts, if your app about FancyBox does not include in the list, feel free to contact us. The best FancyBox app collection is ranked and result in December 9, 2023, the price from $0. You find free, paid FancyBox apps or alternatives to FancyBox also. The Top 50+ Shopify Free Apps for Every Store.
Quick Comparisons of the Best Shopify FancyBox Apps
| Logo | App Name | Vendor | Pricing | Rating | Action |
| --- | --- | --- | --- | --- | --- |
| | Easy FancyBox | RavanH | 0 | 4/5 ⭐️ | |
| | FancyBox for WordPress | Colorlib | 0 | 4/5 ⭐️ | |
| | Popup with Fancybox | Gopi Ramasamy | 0 | 3/5 ⭐️ | |
| | SlidersPack | WP OnlineSupport | 0 | 5/5 ⭐️ | |
| | ARI Fancy Lightbox | ari-soft | 12 | 3/5 ⭐️ | |
| | Google Map with FancyBox Popup | Gopi Ramasamy | 0 | 3/5 ⭐️ | |
| | WP fancyBox3 | AGriboed | 0 | 5/5 ⭐️ | |
| | Google Map with FancyBox Popup | Gopi Ramasamy | 0 | 3/5 ⭐️ | |
| | Simple Fancybox | m.r.d.a | 0 | 5/5 ⭐️ | |
| | WordPress fancyBox Lightbox | naa986 | 0 | 5/5 ⭐️ | |
#1 Easy FancyBox by RavanH

If you are looking for a supporter that helps you display media in a more intuitive way, you should try Easy FancyBox as what over 300,000 users have done.
First and foremost, Easy FancyBox gives you support for most types of media. Common formats of image as well as video hosted by big brands like YouTube, Dailymotion and Vimeo are all allowed to be displayed in a fancy box. Other types of files such as PDF and flash files are included in the support list as well. When you post one of those files to your site, visitors will view them in a popup box appearing right on your site instead of a whole new tab. Easy FancyBox also provides image maps for a better display of your WordPress. The plugin can detect media file links and galleries automatically. Hence, your old media files will get support from Easy FancyBox as well. Last but not least, there are effects for every popup box of media. Fade and elastic effects are available to make your media appear in a more impressive way.
In addition, Easy FancyBox also supports SVG media images, inline HTML content, external webpage, jetpack infinite Scroll and so on. It is worth to freely get Easy FancyBox and enjoy all amazing features of the plugin.
Features Highlights
Support common image formats and videos
Support PDF and flash files
Provide image maps
Detect media file links and galleries
Provide popup effects
Price: 0
Rating: 4 / 5
#2 FancyBox for WordPress by Colorlib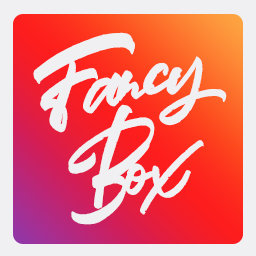 Want to have a fancy box on your site? Come to FancyBox for WordPress, the most helpful and simplest solution is available.
To begin with, FancyBox for WordPress seamlessly adds a fancy box to your WordPress site. Once the installation is done, the plugin will do the rest for you. With FancyBox for WordPress, you get the right to customize almost everything of a lightbox. The border, as well as margin width and color, zoom speed, the position of the close button, overlay color, and so on, are all customizable. FancyBox for WordPress even lets you interfere with the animation. You can choose the type you want with further adjusting to apply to the fancy box. FancyBox for WordPress is built to help you in grouping your images into different galleries. It provides you with several options to make the process simpler. Besides, FancyBox for WordPress will add a fancy box for thumbnails on your site. As long as the thumbnail links directly to an image, the fancy box will be automatically applied. This feature is switchable, so you can deactivate it if you want to.
The author of FancyBox for WordPress provides you a demo that you can see how a fancy box is applied. You can go to the link and experience it first, then the decision to get FancyBox for WordPress is yours.
Features Highlights
Allow customizing almost aspects of the lightbox
Support image grouping into galleries
Apply fancybox for direct thumbnails
Integrate lightbox into your WordPress
Customize animation types
Price: 0
Rating: 4 / 5
#3 Popup with Fancybox by Gopi Ramasamy
If you are seeking for lightweight fancy box integrated into your WordPress blog, Popup with Fancybox might be a considerable choice for you.
First and foremost, Popup with Fancybox supports fancy box popup windows for custom content. Media like videos and images or advertisements and more types of content can all be displayed with this popup. Popup with Fancybox bases on the timeout after your page loads to display the popup window. Hence, it can assure the complete loading of the whole page as well as the performance of the fancy box. With the HTML editor provided by Popup with Fancybox, you can create the popup message. As a result, the customization for popup message is easier now. Regarding the advertisement content in the popup window, you can set the expiration time for the fancy box. Therefore, when the ads are out of the promotion time, it will automatically disappear with the popup window on your site. Last but not least, you have the right to enhance the satisfaction of visitors on your blog. Popup with Fancybox helps you to set the popup window appears just once per session, which means your users will not see the popup again when they access another page.
Additionally, Popup with Fancybox is open with localization. You can change the interface of the plugin to available languages that suit you the most. It is also free to contribute translations to the author of Popup with Fancybox. Lightweight and friendly with users, Popup with Fancybox is definitely worth one try from you!
Features Highlights
Provide fancy box CSS in popup windows
Base on page load timeout to show popup
Provide HTML editor
Provide expiration time for message
Allow popup displaying once per session
Price: 0
Rating: 3 / 5
#4 SlidersPack by WP OnlineSupport
SlidersPack is a slider plugin that comes with 10 sliders and also carousels plus FancyBox Support with lots of options. It works with most of WordPress Posts to create your own unique, SEO-optimised sliders and carousel in a couple of seconds.
There are 03 main options on this SlidersPack plugin, namely, the Gallery Image allows you choose images from your WordPress Media Library, meanwhile, drag and drop them into place, and then set the slide captions, links all from one page. Plus, this plugin gives you the chance to use the WordPress Posts to get posts from WordPress posts section and display them. Also, you can get images from the ACF Gallery add-on OR ACF Pro from the ACF Gallery add-on Support. Then, you are also able to choose one of 10 different sliders/carousels types from Sliders Pack and use short-code or template-code to embed the slideshows on this plugin.
Moreover, you should not miss out on some awesome features like the Polaroids Gallery, the Captions Image Options and so on. In conclusion, this SlidersPack plugin is a great solution for adding sliders in your blog or website easier. Hit the Download button and see how amazing this plugin can do to your website!
Features Highlights
Allow to choose images from Wordpress Media Library
Get images from ACF Gallery add-on OR Pro
Able to get posts from WordPress posts section and display them
Provide option to show/hide Captions of images
Able to choose one of 10 different sliders/carousels types
Price: 0
Rating: 5 / 5
#5 ARI Fancy Lightbox by Ari-soft
With the rise of mobile phone usage, making your site friendly with smartphone screen is necessary. If you are looking for a plugin to help you, try ARI Fancy Lightbox.
With ARI Fancy Lightbox installed on your site, any types of content are supported. The light can show images and photos from several galleries as well as WooCommerce product images and videos from popular hosted sites. Beside media, you can also show Google maps link, PDF file, web page, and inline content in the lightbox. If images are from EXIF data, the title will be displayed along. Otherwise, ARI Fancy Lightbox will show the file name as the title of the image. Each lightbox item can have a unique URL with a deep linking extension. You also get the right to set up a splash popup on your site as well. The popup window will automatically open with the content once or once per session according to your setup. Last but not least, ARI Fancy Lightbox allows sharing the content shown in the lightbox. Your visitors can find the content interesting and they are free to share them via social networks if they want.
ARI Fancy Lightbox is built with WooCommerce integration so visitors can share and comment on them. The plugin supports all devices and every gesture to configure with mobile. You can visit its demo for further experience, the decision is on you!
Features Highlights
Support any types of content
Allow lightbox to be shared via social networks
Support smart titles for images
Create unique link for each lightbox
Support splash popup
Price: 12
Rating: 3 / 5
#6 Google Map with FancyBox Popup by Gopi Ramasamy
With the FancyBox Popup plugin, Google Map can be added to the popup window. This is a good plugin in Google Maps to show your business location or just your personal address.
There are plenty of features that you can expect from this simple and responsive Google Map plugin. This plugin uses FancyBox's jquery implementation to open the popup window. By clicking the location address, the popup window will open. You can enable localizations and directions to your locations on the map to show your users where your stores are. This popup window size can be configured in the plugin settings page within several clicks. However, if you want to change the overlay color, you may need to update the PHP file by changing the code manually. The PHP code can also be used to add a new map if you want to start everything from scratch. It would be a benefit for you if you have primary knowledge of coding.
Google Map with FancyBox Popup is a lightweight plugin that brings an attractive look for your maps. It runs smoothly as the pages load and will not slow down your website.
Features Highlights
Display maps in popup window
Adjust popup window size
Adjust popup overlay color
Support for localizations and directions
Use PHP code to add map
Price: 0
Rating: 3 / 5
#7 WP fancyBox3 by AGriboed

If you want to have a plugin that enhances the visual and display experience on your site, you'd better try WP fancyBox3 once.
To begin with, the plugin provides support for fancybox3 just as its name - WP fancyBox3. It means you can show not only images and videos but also other types of files on your site. WP fancyBox3 provides loop mode for your gallery or images of a post. Hence, your visitors can scroll endlessly without disruption. The plugin also supports the info bar below each picture or video. You can write a caption which makes can improve the knowledge about the media in your visitors. There are five buttons supported by WP fancyBox3 to appear on the popup window: slideshow, fullscreen, share, thumbs and close. You have the full right to enable and disable these buttons whenever you want. WP fancyBox3 also provides animation effects for the popup window. The default one is the fade effect, you can change it by choosing one from the drop-down menu. When visitors video your media in the fancy box, they can drag content vertically and see the movement keeps going on after releasing the mouse or touch of panning.
WP fancyBox3 is a great choice if you are looking for a solution to make your site responsive to the phone screen. Get WP fancyBox3 for free and feel the power it gives you!
Features Highlights
Provide support for fancybox3
Support loop mode and infobar
Allow full customization for buttons
Provide animation effects
Support touch gestures
Price: 0
Rating: 5 / 5
#8 Google Map with FancyBox Popup by Gopi Ramasamy
Are you looking for a tool that can display your business address intuitively on your website? Google Map with FancyBox Popup will be the best choice with the direct solution for your demand.
First and foremost, Google Map with FancyBox Popup provides fancybox extension to your website. By using the JQuery implementation, the plugin creates a popup window on your site where you can show your address. You can show your business location or personal address in Google Map and it will appear in the popup window. Google Map with FancyBox Popup allows you to take control right in the back-end. You can make necessary adjustments right away when you detect something without going to the front-end. Since the plugin supports the location displaying, the localization is definitely available. Not only the language of the plugin interface, you can also change the language of the map to fit with your visitors. Google Map with FancyBox Popup does not have an actual function to help you change the popup overlay color but the author still suggests you a way to do this. You can change the color code in line 146 of PHP file gmwfb-loadmap.php to get the color you want.
Google Map with FancyBox Popup is free to download. If your business has a showroom or store, this plugin will be an useful tool to draw more vistiors to your location!
Features Highlights
Provide fancybox extension
Show Google map in popup window
Support controllable back-end
Allow users' localization
Change the popup overlay color
Price: 0
Rating: 3 / 5
#9 Simple Fancybox by M.r.d.a
Prefer minimal style and want to have a simple fancybox on your site? Simple Fancybox would be a good consideration that is worthy trying.
First and foremost, Simple Fancybox gives you the very direct solution to your issue: a fancybox. Simple Fancybox adds fancybox to your WordPress image gallery. All images and videos are supported. The plugin also works well with Gutenberg blocks. Simple Fancybox will automatically detect for thumbnails on your site. The fancybox will be applied for thumbnails that directly link to an image. Hence, you just need to set link to your images and videos, Simple Fancybox will do the rest for you. With Simple Fancybox, images and videos on your site will be displayed vividly with animation effect. The zoom-in effect and faded background are applied. In the popup window, you can see different buttons supporting several actions. Navigating arrows, close button, thumbnail mode, zoom button and slideshow mode are provided. Touch gestures are supported by Simple Fancybox as well.
Simple Fancybox works well with different browsers and devices. If you are trying to make your site responsive with phone screen, Simple Fancybox would be potential support with the most simplicity. Get Simple Fancybox for free and enjoy your minimization!
Features Highlights
Apply fancybox for thumbnails linking to images
Support touch gestures
Add fancybox to WordPress image gallery
Provide functional buttons
Support animation effects for fancybox
Price: 0
Rating: 5 / 5
#10 WordPress fancyBox Lightbox by Naa986
Want to enhance your website experience with lightbox integration? WordPress fancyBox Lightbox might be a choice that you should consider.
To begin with, WordPress fancyBox Lightbox uses the jQuery fancyBox library to allow your content shown in the lightbox. When your image is displayed in the popup window, visitors can execute some actions with it. Most of the common touch gestures like double-tap, pinch-in, pinch-out, horizontal swipe for further access, and so on are supported by WordPress fancyBox Lightbox. You are able to customize the visual and layout of the lightbox as well. With CSS, WordPress fancyBox Lightbox gives you the right to change the lightbox visual if you want. All graphics are also created with CSS, so you can ease that the loading time is not an issue. Besides, WordPress fancyBox Lightbox recognizes all videos from popular video sites like YouTube, Dailymotion, Vimeo, and more. Hence, you would find it easier to display videos in the popup window. WordPress fancyBox Lightbox even lets you show any external pages in the lightbox. By using iframe, this feature helps you to bring more content to visitors.
Additionally, WordPress fancyBox Lightbox supports multi-device responsive, hardware acceleration, and shortcode applies for anywhere on your site. Let's have WordPress fancyBox Lightbox for free and display your content in a fancy way!
Features Highlights
Allow common touch gestures
Automatically identify videos from popular video sites
Create graphics with CSS
Allow external page opened in lightbox
Support customizable visual and layout
Price: 0
Rating: 5 / 5
#11 WP Post Gallery Fancybox by Flying Cursor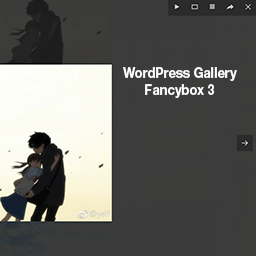 Simple and aesthetical, WP Post Gallery Fancybox is a good choice for anyone preferring the minimalism with vivid media display.
WP Post Gallery Fancybox would impress you by its support toward your WordPress gallery. The plugin converts the default gallery into a fancybox gallery. It means that all of your images and videos in the gallery will be displayed in popup windows. WP Post Gallery Fancybox provides slideshow mode for the lightbox so you can see your images one by one without touching anything. You can also turn on the fullscreen option to view media with all of your screens. Touching gestures are supported by WP Post Gallery Fancybox. Even zooming function with pinch gesture is available for mobile phone users as well. There is an information bar at the bottom of the lightbox where you can add captions you want on it. The bar will disappear when you touch the screen once and appear back when you touch the screen again. Last but not least, WP Post Gallery Fancybox supports multiple instances. The plugin allows you to add multiple galleries onto a single page if you want.
The author gives you a demo version of how WP Post Gallery Fancybox works on a site. You can experience the plugin first and come back to install it for free!
Features Highlights
Convert default gallery into a Fancybox gallery
Support touching ability
Provide slideshow and full screen options
Provide info bar
Support multiple instances
Price: 0
Rating: 0 / 5
Advertisement
How AVADA Commerce ranks 11 wordpress FancyBox apps list
These above 11 FancyBox apps for wordpress are ranked based on following criteria:
The ratings on $wordpress store
The app's rank on search engines
The prices and features
The app provider's reputation
Social media metrics such as Facebook, Twitter and Google +
Reviews and assessment by AVADA.io
Top 11+ wordpress FancyBox Apps
Special thanks to all vendors which contributed the best 11 Shopify FancyBox apps. We honestly recommend you to give every app above a try if possible. We create Shopify apps review series with the aim of helping Shopify online stores find the best FancyBox for their website. All of the information on the review (including features, description, prices, and links) is collected from the vendor's website or their own published page/ selling channels.
The list of the 11 best Shopify FancyBox apps is kept up-to-date on a regular basis by our team. Please feel free to reach us out if you have any questions related to this app review.
Don't see your app on the list? Wanna contribute more content to this review? Contact us
If you want to add or remove an item in the FancyBox list, feel free to contact us at Contact us
Find more themes, please visit our Shopify theme reviews!