It is a commonly accepted fact that stores with a lot of visitors are more prestigious and trustworthy than, say, ones with little traffic. The My Community Widget is a very effective tool that allows you to immediately boost your brand creditability by showing visitors real-time traffic to your site. Particularly, it helps you show your WordPress.com's visitors other users who have recently interacted with your website.
For example, a My Community Widget could look like this: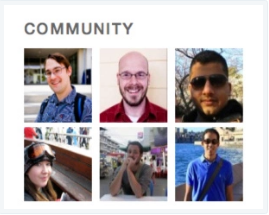 If you are looking for a way to shorten customers' decision-making time, and thus, boost sales effortlessly, it's time you tried out the My Community Widget, cuz why not?
So in this instructional writing below, you would be guided through a quick and easy-to-follow instruction on How to show My Community widget on WordPress. Hope these little effort would help you generate big result.
To show My Community widget
Step 1: Visit Customizer > Widgets. Then add the widget to your sidebar or other widget areas
First, visit Customizer, then go to Widgets. Then add the My Community widget to your sidebar or other widget areas.
Step 2: Customize the widget settings
Once you click Add, there are several widget settings you are required to customize. Here is a clearer explanation on what you are required to fill in those blank fields:
Title: Fill in the title for your widget. E.g: "My Community"
This is the text that will be displayed as your widget title. It will be styled in the same format other widgets' title in your sidebar. Just leave this field blank if you wish that no title be displayed.
In this field, select whether you want to show a long or short list of recently interacting users.
In this field, you can choose to include certain types of interacting activity users could take to appear on this My Community list. You could choose from these three activities: Like, Comment, or Follow, or maybe any combination of the three, to create the list shown on this widget.
Conclusions
Above is a detailed, step-by-step instruction on How to display the My Community widget. Hope these little effort would bring you great result.