Published on
11+ Best wordpress Custom CSS Apps in 2023
Author

Author

Author:

Sam Thomas

Twitter
11+ Best Shopify Custom CSS Apps from hundreds of the Custom CSS reviews in the market (Shopify Apps Store, Shopify Apps) as derived from AVADA Commerce Ranking which is using AVADA Commerce scores, rating reviews, search results, social metrics. The bellow reviews were picked manually by AVADA Commerce experts, if your app about Custom CSS does not include in the list, feel free to contact us. The best Custom CSS app collection is ranked and result in November 30, 2023, the price from $0. You find free, paid Custom CSS apps or alternatives to Custom CSS also. The Top 50+ Shopify Free Apps for Every Store.
Quick Comparisons of the Best Shopify Custom CSS Apps
| Logo | App Name | Vendor | Pricing | Rating | Action |
| --- | --- | --- | --- | --- | --- |
| | YellowPencil | WaspThemes | 26 | 4/5 ⭐️ | |
| | CSS Hero | CSS Hero | 29 | 4/5 ⭐️ | |
| | SiteOrigin CSS | SiteOrigin | 0 | 4/5 ⭐️ | |
| | WP Add Custom CSS | Daniele De Santis | 0 | 4/5 ⭐️ | |
| | Visual CSS Style Editor | WaspThemes | 0 | 4/5 ⭐️ | |
| | Simple CSS | Tom Usborne | 0 | 4/5 ⭐️ | |
| | Themeover | WaspThemes | 65 | 4/5 ⭐️ | |
| | Custom CSS Pro | WaspThemes | 0 | 5/5 ⭐️ | |
| | Advanced CSS Editor | Hardeep Asrani | 0 | 4/5 ⭐️ | |
| | TJ Custom CSS | Theme Junkie | 0 | 5/5 ⭐️ | |
#1 YellowPencil by WaspThemes
If you are ready to pay for the better visual of your site, then pay for the appropriate plugin like YellowPencil with the best user experience.
First and foremost, whether you are a beginner or an advanced user, YellowPencil is a plugin that can satisfy both. YellowPencil allows you to customize your site without coding. All customization can be done completely in the front-end. YellowPencil provides more than 60 style properties, including colors, fonts, sizes, positions, and so on. You are given the whole control over the customization on your site. YellowPencil supplies you with visual resizing, drag & drop, and many other tools for editing. The resource of YellowPencil is rich with more than 300 backgrounds and trendy color palettes. Additionally, you can create different customization for different screens. Your visitors can experience a stunning look at your site on laptop and be surprised with a different configuration on smartphones or tablets. When you change the design of your site in the front-end, YellowPencil will generate stable CSS codes in the back to help you manage CSS anytime.
YellowPencil is compatible with all themes and plugins and available for pages created. The plugin provides you with tons of features that are able to make you feel like playing with colors rather than designing a page. Install YellowPencil, and you will find out that your spending is definitely worth it!
Features Highlights
Allow no coding customization to pages and themes
Support over 60 style properties for editing
Provide advanced tools and resource for editing
Support specific customization for different devices
Generate CSS codes in the back-end
Price: 26
Rating: 4 / 5
#2 CSS Hero by CSS Hero
Seeking for a simple and effective plugin to customize your site? Install CSS Hero for the remarkable using experience with a reasonable budget.
CSS Hero allows you to customize responsive designs for several types of devices. You can edit, see the preview and control the display of your site on desktop, mobile, and tablet. Standard breakpoints are available, or you can create custom ones. With CSS Hero, you can control your site appearance by just clicking the element. The simple mouseover is supported in CSS Hero. The asset of CSS Hero includes a huge collection of fonts, color management as well as measures for adjustment, and so on. CSS Hero supplies you with readymade snippets, undo/redo history, code editor for CSS, and more useful tools. CSS Hero allows you to control the inspector completely. You can add extra rules, copy and paste as well as export files with click only. Last but not least, CSS Hero does not alter any theme and plugin files. The previous looks of your site are remained and displayed back when you shut down the plugin.
Besides, CSS Hero works without your theme file modification and is compatible with multiple environments. The plugin also supports the image searching with Unsplash integration. Just grab CSS Hero and enjoy your site customization.
Features Highlights
Allow creating responsive design for devices
Provide full control over site appearance
Provide huge asset and tools for editing
Support control over inspector
Do not alter any theme and plugin files
Price: 29
Rating: 4 / 5
#3 SiteOrigin CSS by SiteOrigin

Are you looking for a simple but powerful CSS editor for WordPress? Let's try SiteOrigin CSS once no matter who you are, the plugin can fit with both beginners and advanced users.
CSS editing will never be your obsession with coding since SiteOrigin CSS allows you to edit CSS just in few clicks. SiteOrigin CSS provides a set of simple controls that you do not need to use any coding. With the control set of SiteOrigin CSS, you can change colors, measurements, and styles easily. If you do not know which selector to identify, SiteOrigin CSS will help you with its Inspector. You just need to click on an element, and the most optimal selector will be suggested. Even when you have no idea about CSS selector, the Inspector of SiteOrigin CSS will support you. The addition of live preview is definitely beloved by beginners that it fulfills the best support for real-time editing. For advanced users, CSS editor can work even faster with the auto-completion. Both CSS selectors and attributes are automatically completed by SiteOrigin CSS. Last but not least, you can check issues in your code before publishing your customization easily since SiteOrigin CSS supports the useful CSS linting.
SiteOrigin CSS is compatible with all WordPress themes and free from licensing. Do not hesitate to install such a friendly plugin like SiteOrigin CSS and enjoy customization on your web design!
Features Highlights
Support CSS selector identification
Support simple controls without coding
Provide auto-completion for CSS selectors and attributes
Support coding issues identification
Allow real-time preview
Price: 0
Rating: 4 / 5
#4 WP Add Custom CSS by Daniele De Santis

Want to add CSS into different places on your site? Try WP Add Custom CSS for powerful features with CSS.
To begin with, WP Add Custom CSS helps you add custom CSS to several terms on your site. You can add custom CSS to the whole website with WP Add Custom CSS. In accordance, the default stylesheets of your theme and plugin will be by the CSS rules applied to the website. In addition, WP Add Custom CSS also allows you to add custom CSS to each post, page, and custom post type. Hence, you can add CSS into each product of WooCommerce. When you apply CSS rules for specific pages, posts, and post types, the main stylesheet is also overridden. You can find the "Add custom CSS" tab in the setting page to run this function. A new box called "Custom CSS" is created in the editing area to support you in adding custom CSS to posts, pages, and custom post types. WP Add Custom CSS is available in three languages, which are popular. You can choose English, German, or Spanish when working with WP Add Custom CSS.
Being trusted by thousands of web builders, WP Add Custom CSS has never disappointed the users. The plugin is also built-in open to adding several language versions, so do not hesitate to contribute. Install WP Add Custom CSS for free and let your site be vivid with CSS!
Features Highlights
Allow adding custom CSS to multiple site terms
Support overriding default stylesheets
Add a new box into the editing area
Support overriding the main stylesheet
Support multiple languages for users
Price: 0
Rating: 4 / 5
#5 Visual CSS Style Editor by WaspThemes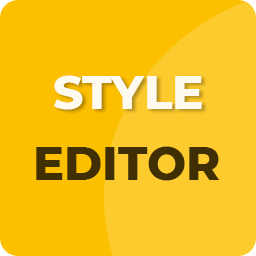 You do not need to be a wizard to create a magical visual for your site, just install Visual CSS Style Editor and enjoy powerful features.
First and foremost, Visual CSS Style Editor allows visual editing for any elements and pages. Colors, fonts, sizes, and positions are all customizable without coding. The feature is also available for the login page of WordPress. Visual CSS Style Editor provides automatic CSS selectors. Consequently, there are suggestions for a better choice of designing your site. You can edit CSS directly in the front-end of your site without coding. It intuitively helps you with a whole view of your website and saves the editing time. A live preview is also supported while you are editing so you can make the necessary comparison. The visual adjustment for Drag & Drop is available as well. This function can also work with Margin and Padding editing. Visual CSS Style Editor supplies you with a history of action during the editing process. Hence, you can undo or redo activities that are accidentally made or do not fit your requirements.
Visual CSS Style Editor includes more than 60 properties with several tools, text, and background elements supporting. The plugin works well with any theme and other plugins. You can choose to pay for further features or not since the free version itself is still extremely amazing.
Features Highlights
Allow customization for any elements and pages
Provide automatic CSS selectors
Support live CSS editor and preview
Allow visual adjustment for Drag & Drop
Allow history undo and redo
Price: 0
Rating: 4 / 5
#6 Simple CSS by Tom Usborne
Adding CSS to your site is no longer complicated with Simple CSS. Intuitive interface with powerful features of Simple CSS will give the best support.
First and foremost, Simple CSS provides an admin editor for CSS. You are now free to add CSS into your site and make it look more vivid. During the editing process, Simple CSS supports you by equipping a live preview. The outcomes of codes that are used will be displayed right on your site to give the whole view of changes. As a result, you can find out where the change is fit and whether the code works well. Simple CSS also supplies you with a metabox. With the metabox, you can apply CSS only for specific pages or posts that are selected. There are two types of editor themes for your choice. The light theme gives the very basic look of the editor while the dark theme is stunning with colored code.
Simple CSS gives you the support for the very basic function of customizing CSS through coding. Choose your favorite theme color and start the customization for free with Simple CSS now!
Features Highlights
Provide CSS admin editor
Support a live preview editor
Provide a metabox
Provide two types of editor theme
Allow CSS specific addition
Price: 0
Rating: 4 / 5
#7 Themeover by WaspThemes
Customization for WordPress has never been easier with MICROTHEMER. Providing powerful features, MICROTHEMER gives you the chance to design your site just by clicks.
First and foremost, MICROTHEMER allows you to design responsive design for mobile and tablet. You can change the screen size for specific screen styles easily. MICROTHEMER supplies you with a ruler making it possible to set custom width preview just by dragging. Media query tabs are also available with default settings and customizable as well. MICROTHEMER gives you a huge selection of CSS styling options. There are more than 100 styling options from CSS3 styles. Gradients, rounded corners, box shadow, flexbox, animation, and transition are all supported. You can quickly access to Google fonts with MICROTHEMER. You do not have to leave the plugin while inserting a font to your site. A live preview is supplied to make the design process more efficient and enjoyable. No viewport switching is required to show changes on your site. Last but not least, your visitors will not see the work in the process of your site. The draft mode is visible to you only, and it is great to test various styling options.
MICROTHEMER can be used as a JavaScript editor, supports key page builder integration, all-level Wordpress design, and optimized speed working. Get MICROTHEMER and discover more interesting features of the plugin!
Features Highlights
Allow creating responsive design for mobile devices
Support more than 100 CSS styling options
Support accessibility to Google fonts
Provide live preview while editing
Support a draft mode
Price: 65
Rating: 4 / 5
#8 Custom CSS Pro by WaspThemes

Just a tiny change in CSS can turn out to be a significant point that makes your site look stunning. No more time-consuming, Custom CSS Pro will support you with incredible features.
To begin with, Custom CSS Pro provides a professional CSS editor to your WordPress. You can see a tab for coding with colored codes that is useful in editing. The tab is on the left of the window, and a preview will be displayed on the right side. You can keep track of how changes in code result in the CSS. The outcome of change is shown parallel while you are editing. The interface for the user is simple and intuitive, with numbered lines and code coloring. Additionally, Custom CSS Pro can work with multiple sites. No matter how many sites you own with WordPress, Custom CSS Pro will allow you to use the plugin with all of those sites. You do not need to change from one theme menu to another just to edit CSS anymore. Consequently, time is saved as the process is shortened.
Give a direct solution for CSS editing, Custom CSS Pro is worth trying with any web builder. Do not hesitate to install Custom CSS Pro for free with such helpful support!
Features Highlights
Support professional CSS editor
Support a preview in real time
Provide simple interface for code writer
Support multisite usage
Do not require theme menus change for editing
Price: 0
Rating: 5 / 5
#9 Advanced CSS Editor by Hardeep Asrani
You are an advanced user that can use code and want to create your own CSS? Try Advanced CSS Editor for the essential support that can satisfy your CSS passion.
First and foremost, Advanced CSS Editor allows you to write the code for CSS. It means that you can create and are free to customize your CSS. Advanced CSS Editor supports different custom CSS for each type of device. You can write CSS code for desktop, tablets, and mobile phones with Advanced CSS Editor. At the same time of code changing, Advanced CSS Editor provides you a live preview. Hence, you can track the change and immediately make consideration for editing. The plugin also helps with CSS minification to optimize your site. Consequently, your website can have a very vivid design but still load with lightning speed. Last but not least, Advanced CSS Editor allows you to create CSS that aims for global purpose and supports SEO ranking.
Advanced CSS Editor is compatible with other plugins so you can use it at the same time with other installations. Lightweight and essential for code writing, try Advanced CSS Editor, and enjoy CSS customization on your own!
Features Highlights
Allow CSS code writing
Support different custom CSS addition for several devices
Support live preview of changes
Support CSS minification
Support CSS creation for global purpose
Price: 0
Rating: 4 / 5
#10 TJ Custom CSS by Theme Junkie
The process of web designing will definitely be easier if you have the essential support from TJ Custom CSS plugin.
First and foremost, TJ Custom CSS provides a custom manager of CSS on the administrator page of WordPress. With this manager, you can add custom CSS code to your site. The place to put the CSS code is in a text area in folder Custom CSS of Appearance inside the menu. TJ Custom CSS also supports a live preview if you want an intuitive demo. The function is enabled by opening the Custom CSS section tab. With the addition of custom CSS codes, TJ Custom CSS creates a child theme alternative for your customization. Hence, it automatically overrides default styles of theme and plugin. You will not need to edit your theme or plugin CSS files to add customization in accordance.
TJ Custom CSS is easy to use and customer-friendly when it requires no configuration. There is an uninstall procedure provided in case you no longer want to use the plugin. Simple and useful, get TJ Custom CSS for free, and enjoy the freedom of CSS customization!
Features Highlights
Allow a custom CSS manager on admin page
Provide automatic theme and default styles override
Support customization without theme and CSS files editing
Provide live preview responding with code entering
Use child theme alternative for customization
Price: 0
Rating: 5 / 5
#11 Live CSS JS Code Editor by Ozan Canakli
Not only CSS, now you can customize other site-wide stuff as well with Live CSS JS Code Editor and its powerful features.
As the name of the plugin, Live CSS JS Code Editor gives you the allowance to customize CSS on your site. The function can be applied for JavaScript, Header, and Footer codes as well. All of your changes will appear instantly on your website with the support of live Customizer. The preview is responding with every change you make with codes. Live CSS JS Code Editor is built-in with Syntax code highlighter. The Syntax highlighting displays your codes in colors for different parts for the better support toward users. The plugin also supplies you with live Syntax checking. Hence, you can immediately notify the issues of your codes and make considerable changes while editing. Last but not least, Live CSS JS Code Editor support line wrapping and code folding. The configuration, therefore, is more friendly for code writers.
Live CSS JS Code Editor provides 16 color schemes, which are 8 light and 8 dark, including Monokai, Chrome, Github, Twilight, XCode, and so on. Live CSS JS Code Editor can handle huge blocks up to 4 million lines in limitation. Just install Live CSS JS Code Editor and be content that all of your changes are constantly made without being affected by theme changing and update!
Features Highlights
Allow adding custom site-wide stuff to your site
Provide live Customizer for preview
Support Syntax code highlighter
Provide live Syntax checking
Support line wrapping and code folding
Price: 0
Rating: 5 / 5
Advertisement
How AVADA Commerce ranks 11 wordpress Custom CSS apps list
These above 11 Custom CSS apps for wordpress are ranked based on following criteria:
The ratings on $wordpress store
The app's rank on search engines
The prices and features
The app provider's reputation
Social media metrics such as Facebook, Twitter and Google +
Reviews and assessment by AVADA.io
Top 11+ wordpress Custom CSS Apps
Special thanks to all vendors which contributed the best 11 Shopify Custom CSS apps. We honestly recommend you to give every app above a try if possible. We create Shopify apps review series with the aim of helping Shopify online stores find the best Custom CSS for their website. All of the information on the review (including features, description, prices, and links) is collected from the vendor's website or their own published page/ selling channels.
The list of the 11 best Shopify Custom CSS apps is kept up-to-date on a regular basis by our team. Please feel free to reach us out if you have any questions related to this app review.
Don't see your app on the list? Wanna contribute more content to this review? Contact us
If you want to add or remove an item in the Custom CSS list, feel free to contact us at Contact us
Find more themes, please visit our Shopify theme reviews!