It requires tons of work to run an eCommerce business. In the beginning, when store owners need to set up their website and get it running, one of the things that they struggle with the most is generating product descriptions. It won't take much time and resources if you sell just dozens of products, but if your offerings come in 100s of different products, it will be really hard and labor-intensive to generate enough compelling product copies. Because of this heavy effort, you might think of outsourcing the work of writing product descriptions, but that will not be cheap.
When it comes to online business, you just can't ignore product descriptions or take them lightly. When customers want to buy something, they will try to gather as much information about that product as possible, and if you fail to provide your customers with appealing copies of the features, benefits and common uses that your product has to offer, that will break your store sooner or later.
If outsourcing product-description generation or writing it yourself doesn't seem like a good option for you, there is a third option. It's using product-description generators. These are online tools that use natural language generation (NLG) technology, which is a subfield of Artificial Intelligence, to produce language based on a given input. They will help you save a ton of time from trying to come up with your own product descriptions, as well as provide you with appealing copies to convert your customers.
In this article, I will introduce to you the most useful and popular product-description generator tools on the web, and you can use them to set up an appealing online store.
Who are product-description generators best for?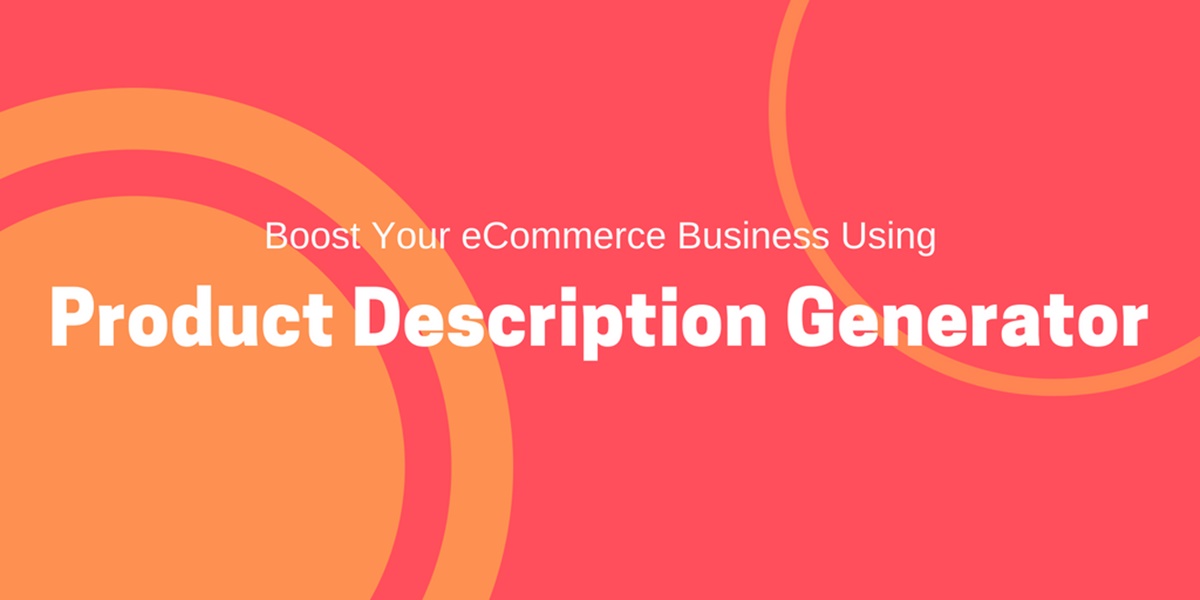 These are online tools and available to everyone who needs them. If you are setting up a store of 100s of products and have no idea how to come up with good product descriptions for your huge selection, product-description generators are for you.
But that is not the only case. Even if you just have a handful of products, but simply can't make time to write copies for your products due to your current mounting workload, let product-descriptions generation tools handle the task for you. Content-writing agencies also use product-description generators to help with their job, especially when they run out of ideas. They use these tools to speed up their work so that they can deliver faster.
What is the ideal length for a product description?
Although description generation tools will help you get the job done much faster, there are a few things that you should keep in mind while you are using them. One of them is the length of your description. What's important here is you need to identify how much information is needed to convert a visitor into a buyer. If your description is too short, the customer won't be informed enough to make a buying decision, while if your description is too long, the customer would feel overwhelmed and not bother reading it. The Internet is flooded with content these days, and long content almost means skipped content.
The ideal length of a product description should fall into the range of 150-200 words for simple products such as clothes and toys, and 300-400 words for complicated products such as electronics and supplements. This Flip'It Pan – Nonstick Pancake & Egg Maker has a great product description that is a well-made combination of text, bullet points, and a video.
6 Best Description Generator Tools
#1. Snazzy AI

Snazzy AI is such a great tool for product description generation. At Free (Limited to 5 generations per day) or $25/month, you will have access to an unlimited number of product descriptions that you can generate. This tool enables you to create product descriptions in three easy steps: 1) choose your product category, 2) provide the key details of your product, and 3) copy and paste the generated description to your store.
As Snazzy AI provides you with the raw of description, you can copy and paste it on any platform that you are on. To make the most out of this tool, you will need to have a good understanding of English usage (for you guys, non-native speakers) so that you can leave out certain words or insert new ones to make your description sound unique and most informative.
What can Snazzy AI do?
Tagline Generator
Landing Page Copy Generator
Google Ads Generator
Investor Emails Generator
Product Descriptions Generator
Sales Email Generator
#2. AdZis

First off, AdZis is one of the popular product description generators on the web. Its pricing depends on the number of products that you want to generate a description for; at $75, you can generate a description for 100 products and 2000 products at $1205) plus the additional fee of how you want your description polished (explained right below).
AdZis is an integrative product-description generation tool that can come up with copies for your products with just one click. There are three options that you can access. With the first option, the tool will provide you with the original version of the generated description by its AI program. The second option will have the original description proofread and polished by human readers. The third most advanced option will send the original description to experienced copywriters and search engine analysts who will polish your description to make it most unique and SEO-optimized.
Each of these options comes with a different price tag. The first one is free as there's no further human involvement in your product copies. The send and third options cost from $3 to $8 per description.
You can get started with AdZis simply by sending an email with your product catalog to the company or use their API tool to integrate the tool with your store, and AdZis's AI engine will start working.
#3. Hotshp

Hotshp is another product description generator that you can try out. Its pricing depends on the number of words that you have per description. In particular, it costs $3 for 30-35 words per product, $5 for 50-70 words, and $12 for 150-175 words). This seems quite pricey, but what makes it so is that with Hotshp, product descriptions are not generated by AI machines, but by human writers.
The platform enables you to filter your product data so that you can easily choose the products for which you want to generate descriptions. Then, the writers of the platform will look at your product title, images, and tags of each product, and use these pieces of information to produce a human-written description. After the descriptions are finished, you can automatically sync them with your store, and you can also manually review each of them before syncing.
With Hotshp, the biggest downside is its high prices. However, the upside is the entire writing is done by copywriting experts, so there will be few syntax and grammatical errors, and the descriptions will also be unique and SEO optimized than with AI-generated descriptions.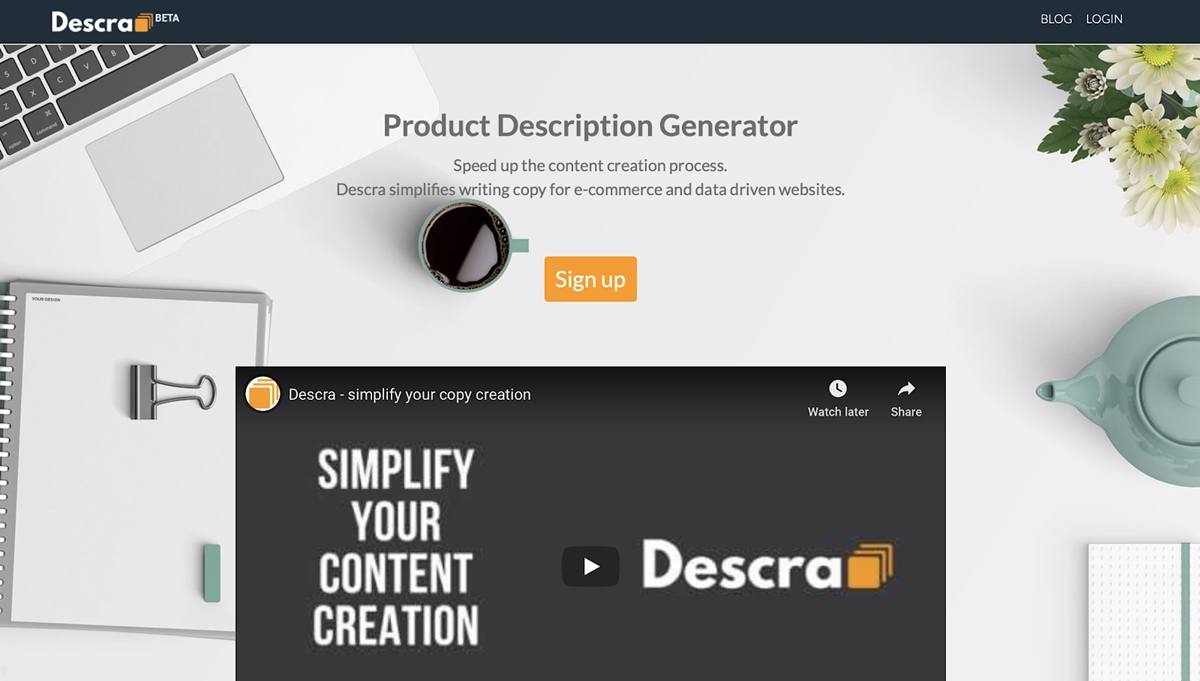 Descra is a description generation tool that can help you generate 100s of different descriptions in a short amount of time. For some reason, its pricing information is not publicly available, so you will need to reach out to them to get it. However, it's pretty straightforward about how to use the tool.
First, you need to upload your content variables for each of your products to Descra's database, and then it will create unique texts based on your input. You can add synonyms and modify the formatting where you see needed. Then, you will get a quality score for each generated description, which you can modify further to increase the quality score. Once you are satisfied with the quality of your description, download the text and insert it to your product page.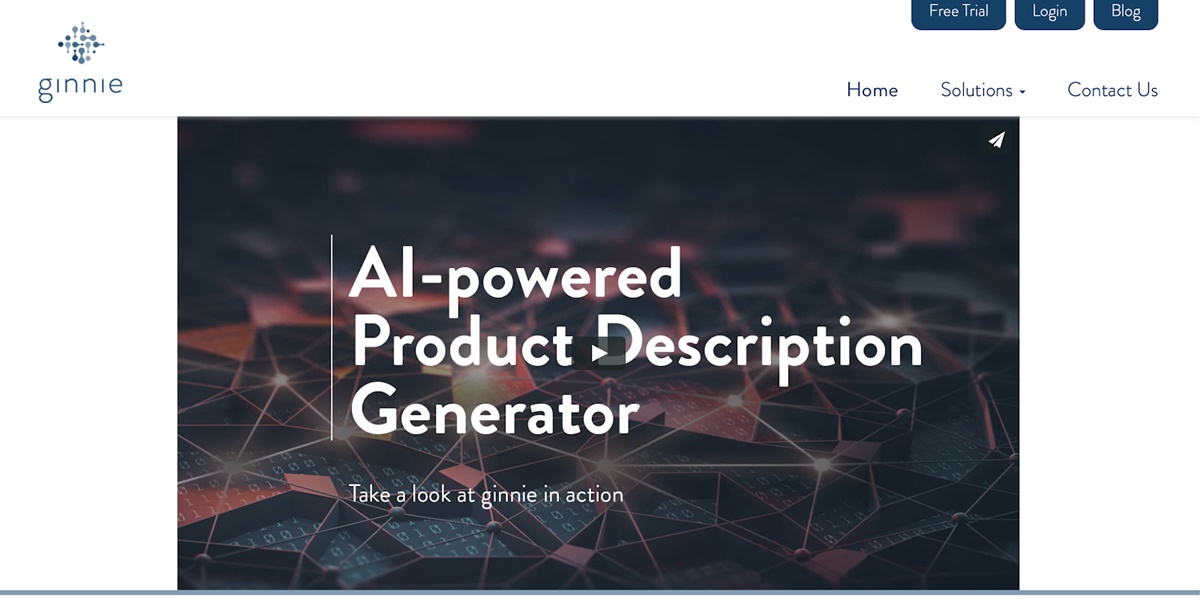 Ginnie, formerly known as Kopigin, is a product description tool that is powered by NLG, and it helps you create fully customizable product copies for your online store. Ginnie offers 4 different pricing options including: $3 per description, $50 for 25 descriptions, $75 for 50 descriptions, and $100 for 80 descriptions. This tool is available on the Shopify app store so you can download and connect it with your Shopify store.
One big strength of Ginnie is that it can handle thousands of products in case your store has a wide range of product categories and tons of products. It's very simple to use Ginnie to generate product descriptions. First, you need to choose the needed items from your data and identify the product variables (such as style, design, color, materials, etc.). Once all of the required information is set, you just need to click "Generate," and the tool will handle the rest for you.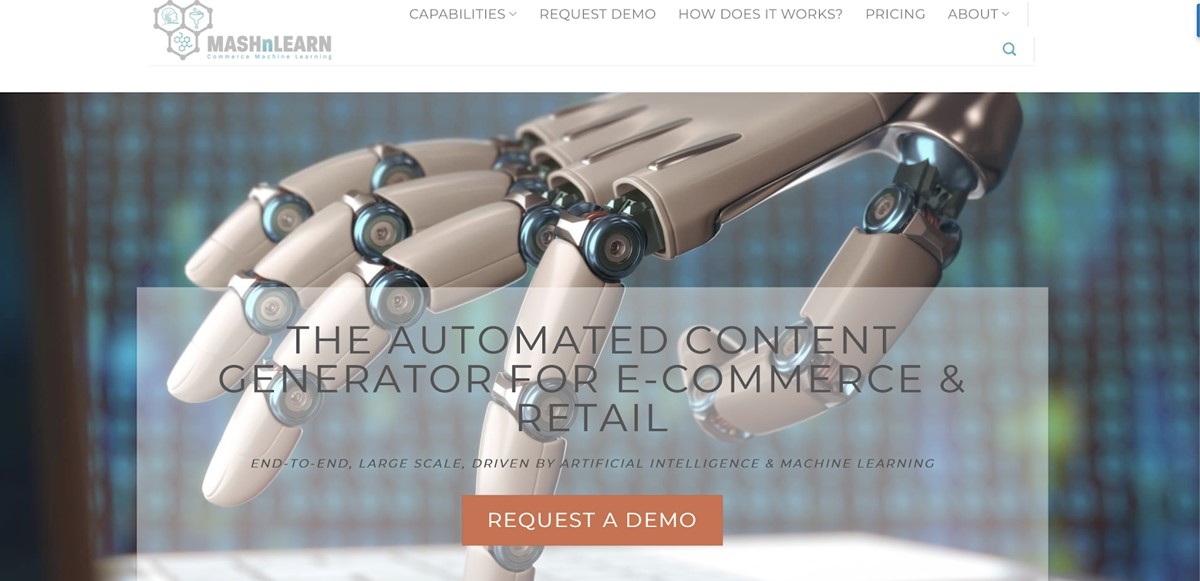 MashnLearn is a comprehensive product-description generator. How much you need to pay depends on the monthly package you choose; from €1.5 to €3.5 per product. Mashnlearn is powered by AI technology, and this tool runs in three simple steps: 1) it will analyze your product feed to identify the common theme among your product offerings, 2) after that, it will generate content for your product and construct a simulation of your store with the new content to measure the potential impact, and 3) it will sync your products with the best descriptions.
The description can also be optimized further for SEO based on key elements of your product page, such as minimum used content, page structure, unique product content, etc. One special quality of this tool is that to produce the best content, its AI machine collects data from tons of sources on the web, such as the manufacturer of the product to online marketplaces such as Amazon, eBay, and anywhere the product is mentioned. MashnLearn evaluates the accuracy of a data source by analyzing and giving it a Data Accuracy score.
7. Dukaan
Dukaan's product description tool is a truly smart and advanced AI-based description generator. It uses OpenAI's GPT-3 technology in order to create product descriptions based on terms entered. In a matter of seconds, the tool helps in generating unique, grammatically correct, and SEO-friendly descriptions.
If you enter a generic keyword like 'T-shirt', then the description generated is also kept quite generic. However, if you enter some specific details in the keyword, like, 'graphic printed black T-shirt', Dukaan's product description generator ensures to add all these key terms in the description.
Dukaan's product description generator tool is very easy to use and saves a lot of time for the sellers, on Dukaan or otherwise. Unlike many similar tools on the internet, this tool is completely free of cost and anyone can use it to their advantage.
An SEO-friendly product description is the best way to get your potential customers to take notice of your products and get traffic to your online store. Dukaan's product description tool works with this in mind, making the description easy to understand and filled with key search terms.
To start using this value-packed tool for free, all you have to do is search for 'description generator' and you will find Dukaan's tool on the top of search results!
Visit Dukaan's Product Description Generator
Bonus points:
How product description generators can help you boost your eCommerce business
When it comes to achieving high rankings on the Google Search Engine, product descriptions are one of the keys because they have a lot of impact on SEO. SEO-wise, generating unique and appealing product copies will get you half of the way to the top of the SERPs.
The takeaway here is clear and simple: the more unique and SEO-optimised your product descriptions are, the higher chances that you can land on top results and you will be more likely to be found by interested customers. You can't fake the uniqueness of your content as Google's algorithm has no difficulties at all in detecting duplicate content and reducing the rank of sites that copy and paste content from other sites.
Because of the fact that it can take a huge amount of time and workload for an online business to generate quality content for their product, product description generation tools have been the go-to solution for tons of eCommerce businesses to up their game.
Using these tools, you will be able to get this important aspect of your business finished in half the time it would take to do it on your own. With the time you spare, you can then focus on improving your product and your customer. Even if you are new to eCommerce, with great product descriptions in play, Google and other search engines start to recognize you over time and will reward your effort with high rankings.
Why should you aim at unique descriptions?
Unique product descriptions improve the customer experience by providing them with the necessary details to make a buying decision. The best product descriptions build trust with your website visitors and make your business look legit. Imagine that if a potential customer is browsing your site, and now he is running into the exact same product descriptions that he has read on a dozen other sites, what would persuade him to buy from you?
There's also the problem of SEO as Google and other search engines penalize websites with duplicate content. If you want to grow and thrive in eCommerce, it's a must to generate unique product descriptions.
Which tools mentioned above are the best?
As you have seen above, each of these product description generator tools operates in its own way, so it depends on your own needs to decide which one suits you best. However, if I have to pick some winners, I would go for AdZis, Hotshp, and Ginnie as my favorite picks.
Final Words
I hope this article has helped you pick a product-description generator tool that suits your needs. If you know any other great tool for this task that I have not mentioned, please leave a comment below.
You Might Also Like: