When it comes to social media marketing, online businesses need to concern about social media engagement besides an increase in sales or return on investment. That is promoting the social media presence and persuade the audience to engage with your brands by commenting on your posts, liking, sharing, reacting with your content, and more. In this way, brand engagement is likely to bring about increased sales and help the company strengthen its position among many rivals.
There are multiple ways to boost brand engagement. One of the most common ways is tagging a business on Facebook as well as your targeted users. It is compelling to make that person or business know when you share or post something.
Knowing the importance of tagging a business on Facebook, we have this post today that will cover the definition and step-by-step guides to help you tag other Facebook pages and individuals on desktop and mobile.
Why you should tag a business page on Facebook
Being a very simple action of Facebook marketing strategy, tagging refers to the action of offering a link to Facebook users' timelines or business pages. When you tag them when you create content on Facebook, the tagged audience or business will be noticed when you've shared or posted something. Also, tagging is important in making customers engage with your brand since you are directly reaching them and building a stronger relationship with them.
So, why should you tag other business pages on Facebook? Here are the reasons:
Tagging allows your post to show up on the business's page, which you have tagged.
Tagging helps your brand name and pieces of content be viewed by the followers of the page you have tagged.
Tagging widens your reach and customer base.
Tagging helps your brand attract more followers and engagement.
Tagging enables more users to see your post even though they are not familiar with the industry that your business is working in.
The key goal of running an online business is promoting a social media presence. As the name says, you should make your presence social, which means making your business tie into a community online to make it look like an active part of society.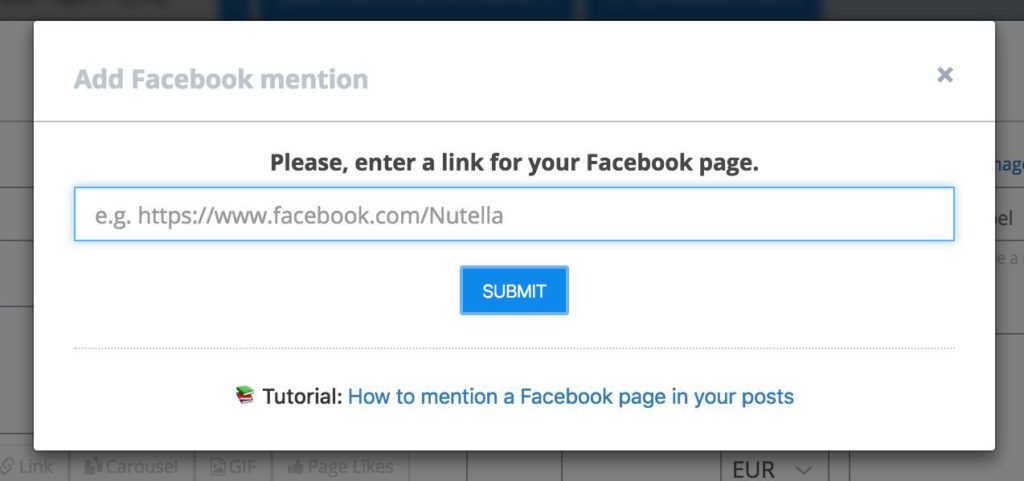 As a marketer, you may be finding ways to make your brand attracted to your audience. However, it doesn't mean creating content related to only you. Tagging other Facebook pages and individuals is not that you bring attention to them or sharing engagement with them. In fact, it is part of being social.
Therefore, tagging is powerful in creating brand engagement. It is because when you tag a Facebook page that is relevant, you are showing that your main objective is not just increasing ROI or sales but helping others solve their problems. When creating a sense of community, your audience will feel like you are reliable and caring about them, which leads to brand preferences and consumer trust.
As a result, clients within your community are likely to engage with you by sharing your business with others, talking to you, reacting with you, and purchasing your products or services.
When you tag a Facebook page or individual, you are indirectly sending the following signals:
Your brand often shares content and information that is not always about yourself.
You are willing to help your customers.
You trust the brands you tagged and want users to know about them.
Your business is not a brand that focuses on business purposes but helpful to society.
Your brand is worth engaging with and relying on.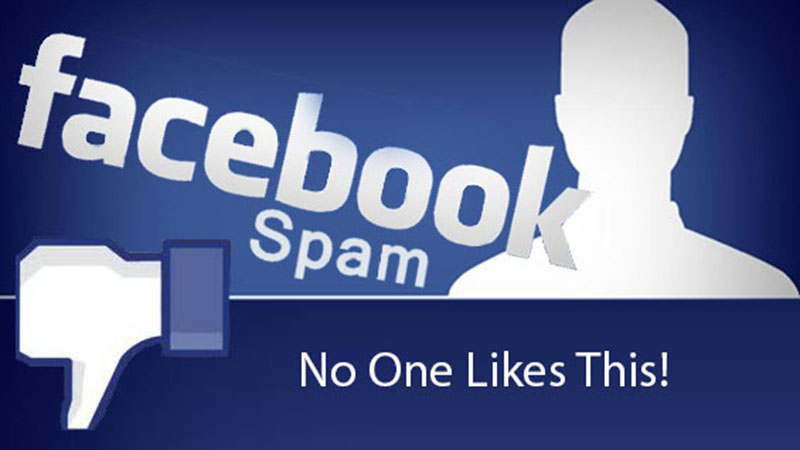 However, tagging is the most effective when you know when to apply it properly. Or else, your content may look like spam and make your audience feel overwhelmed. It would help if you overuse tagging but take advantage of it in some particular cases like:
When you find something relevant to the content you make.
When you officially collaborate with that business or individuals in launching a new product, service, or campaign.
The person from that business or the individuals directly visit your company.
Your brand and the tagged subjects take part in the same event or meeting.
When the content (photos, text, or videos) you share is related to the one they have.
To sum up, tagging is an indispensable part of Facebook marketing campaigns because it helps you build up the social media presence, grow brand engagement, and sell more products.
Read more:
Some interesting facts about tagging
Before digging how to tag a business on Facebook, you must want to know some of its interesting facts. Here are them:
You don't need to like or follow a Facebook business page before tagging it.
The maximum number of people or pages you can tag in a single post or status update is up to fifty.
A Facebook business page is not allowed to tag an individual in its status update.
Even when the page has not been liked before, business pages still can tag others in their posts.
There are two ways that you can tag people when using your timeline. That is when writing a status update and commenting on a status update.
Only when a Facebook user leaves a comment in the thread of the business page's posts can they tag this person in a comment. For example, you can't tag a user in your incoming post if he is not your Facebook friend. But if he comments on your posts, you can easily reply to his comment and tag him. Facebook will send this commenter a notification when you tag and allow him to read the content of your response.
How to tag a business on Facebook with PC
Step 1: Login your account
Firstly, you should go to the Facebook website here. By doing so, you will be taken to the login section where you can enter your email address (or phone number) and password into the top-right corner of the site and click Log In to access your Facebook account.
If you haven't had a Facebook account, let's sign up for one. In case you have logged into Facebook before, click the link we provide, and it will open your News Feed section right away.
Step 2: Start creating your piece of content
Now, let's create your status update as usual by clicking the What's on your mind box. The field of entering content is next to the top of the News Feed page.
Step 3: Tag a business or individual on Facebook
To tag a business or someone on Facebook, you need to type @ and continue typing the name of the page or person you want to tag. Keep the letter @ followed by the page's name without any spacing. When typing the name, the relevant pages will appear in a drop-down menu below your posting status. Then, take a look and find out the one you want to tag among multiple ones below.
Step 4: Click the page's name
When finding out the correct page or person you want to tag, click the accounts and they will be tagged in your post.
Step 5: Post your status
After completing the content of your post, click the Post button to publish it. The button stays in the bottom-right corner of the status window. By doing so, you can post your content with your page tagged.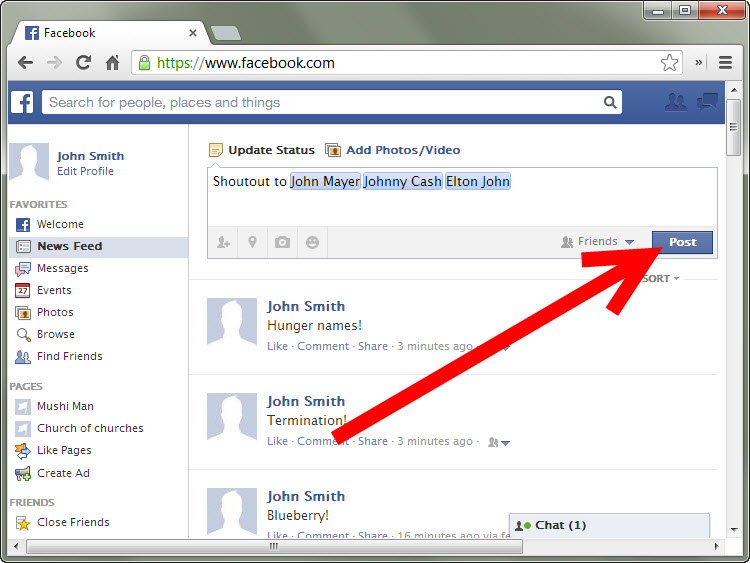 When finishing, your tag will not appear on the News Feed of the tagged page or person but your friends can see it and click the tag to see the accounts mentioned.
How to tag a business on Facebook on mobile
Step 1: Open Facebook app
You must be more than familiar with the blue color and the letter F that symbolize the Facebook app on mobile.
If you already sign into your account, just choose the app, and you are led to your News Feed. When you aren't, let's enter your email address (or phone number) and password. Tap Sign In to go to your News Feed.
Step 2: Tap the status update field
At the top of the page, tap the "What's on your mind?" area to create your post.
Step 3: Enter your content
After tapping the field at the top, you should tap the What's on your mind? text to open the keyboard.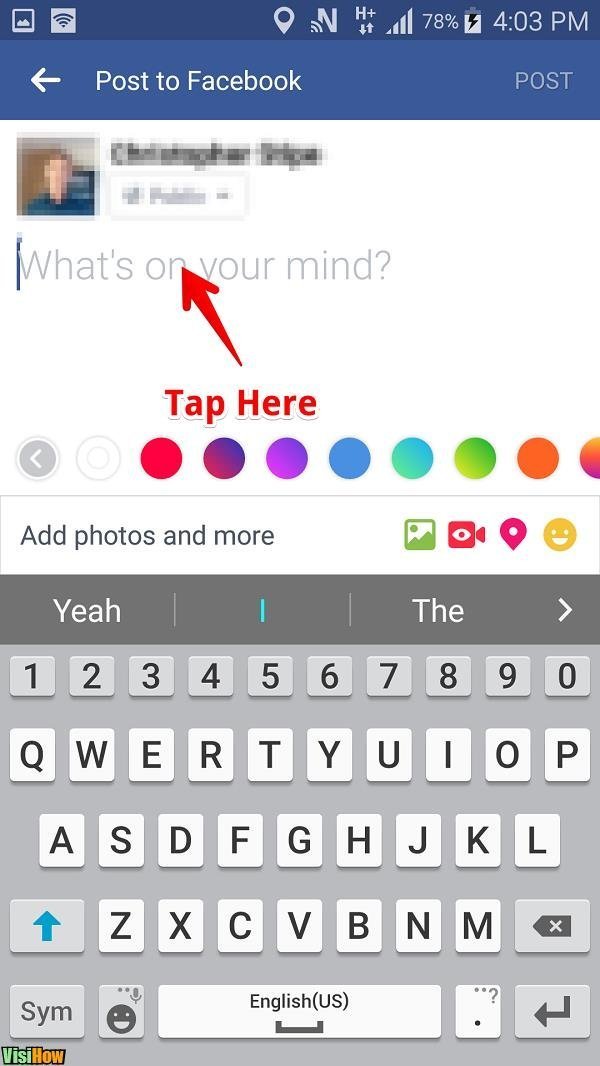 Step 4: Tag a business or individual
To tag a business or a user, type the @ symbol that is followed by the name of the page you want to tag. This symbol is put in the 123 menus in the bottom-left corner of almost every mobile phone keyboard.
After typing the @ symbol and the page's name, you will see the page suggestions appear below. Keep in mind that the process will take longer than that on the desktop.
Step 5: Tap the page's name
No matter whether you follow the page or not, the name of it will appear in the suggestion section. Tap the page you want to tag. The name of this page is likely to be bold if the name is correct.
Step 6: Post your status
At the top-right corner of the screen, tab Post button to update your status. Your post has now tagged the page in question.
If you tag a particular user, this post will be displayed on this person's Homepage. However, when it comes to a page, tagging in your status will not be shown on their Home.
A note about tagging
Apart from avoiding tagging in every Facebook post, you also need to be concerned about Facebook's posting regulation.
According to Facebook, branded content is "a post that features or is influenced by a business partner to exchange value. Business partners and creators can control which Page can tag their Page on branded content posts."
As you can see, the format of branded content is easily mistaken with tagging a business on Facebook. That's why Facebook often suppose that posts you have tagged a business or individual in are a type of branded content even though they are not.
What will happen if Facebook thinks your post is branded content?
There are cases that Facebook decides to remove the posts from pages when doubting they are branded content even if they aren't. As a result, be careful when tagging a business on Facebook or else you are likely to be removed from the Pages section.
To know more about Facebook's posting rules, let's go to the Settings tab on your business Page and review the Branded Content tab.
Tips to tag a business on Facebook simpler
Use your desktop instead of the Facebook Page Manager application on the phone
When tagging someone on Facebook, it is recommended you should use your desktop rather than the Facebook Page Manager application on your phone since the process requires fewer and easier steps.
If you tag a business on Facebook using your desktop, you will have various options for a similar name and business. The Facebook platform on the desktop allows you to know which page is correct, which prevents you from tagging the wrong page or account. What's more, you will have a chance to make the tagging process smoother and faster by posting on Facebook.
Add the tag later on the desktop
Tagging on a mobile phone takes more time than that on your desktop. However, what if you are under the situation of posting on your mobile phone?
Here's the alternative option. You can post a piece of content on your mobile phone as usual and go back on a desktop to add the tag for the business or the person. That means completing your status update with tagging purposes on the phone first because it takes you hours to tag multiple accounts. You can then reduce possible troubles of tagging on phones by tagging at a later time on your desktop.
Use third party applications
Another way to simplify the Facebook tagging process is by using management applications as middlemen. Those applications will help you make it more quickly but be ready for their limitations. That's why you should test them out first to see how they work and whether they help you or not.
Take a quick break
Yes, a very simple tip for dealing with difficulties when tagging a business or an individual on Facebook is taking a break and coming back to it later. It is a normal case when the drop down menus don't work on the phone or it doesn't show the pages even if those pages do exist. To deal with this problem, you should let your post there and wait for some minutes or hours. It will certainly work when you come back. You can mention the page or individual by name to get your status live and tag them later by editing. Also, you can wait to post based on the time you want your post to be published.
Tag people when they don't mind
Be careful when tagging or you will make your audience feel annoyed. It would be best if you let them know before you start posting something tagging them. Especially when you use the check-in feature of Facebook, remember to ask people first if you decide to tag them.
Related posts:
Final thoughts
Tagging on Facebook is an ideal tool to promote brand engagement and social media presence. Being successful in online business and social media doesn't mean focusing on only your image but letting the audience know you are also reliable and trust-worthy. Tagging in the right way will help you in building up strong relationships with the audience and widening the customer base. Remember to balance your demand to connect with your desire to keep people front and center. Apply some tips and be aware of the mentioned notes to maximize the effectiveness of the Facebook tagging feature.
Hopefully, this post has given you detailed guides into the importance of the Facebook tagging technique as well as how to tag a business or person on Facebook in terms of desktop and mobile phone. If we miss something, please let us know in the comment section below. Share it with your friends if you find it interesting and visit our site for more articles.