If you're looking for a reliable efficient point of sale system for your business, Shopify can be the ideal solution for you. With a POS system like Shopify POS, you can sell all of the goods you're selling in your online Shopify store at physical places with ease.
Here's how it works basically. You need to download the Shopify POS app on your smart device, then for any product which a customer wants to buy at your physical location, you need to select that product on the app, then process their credit card and provide the customer with a receipt. This is possible because Shopify POS app is synced with your online store in real-time.
It's just that simple.
Keep reading to know more about Point of Sale Software and POS Hardware, what the most important features of Shopify POS are and what benefits/drawbacks Shopify Point of Sale will bring about.
1. What is Shopify's POS:
1.1. What is Shopify's Point of Sale: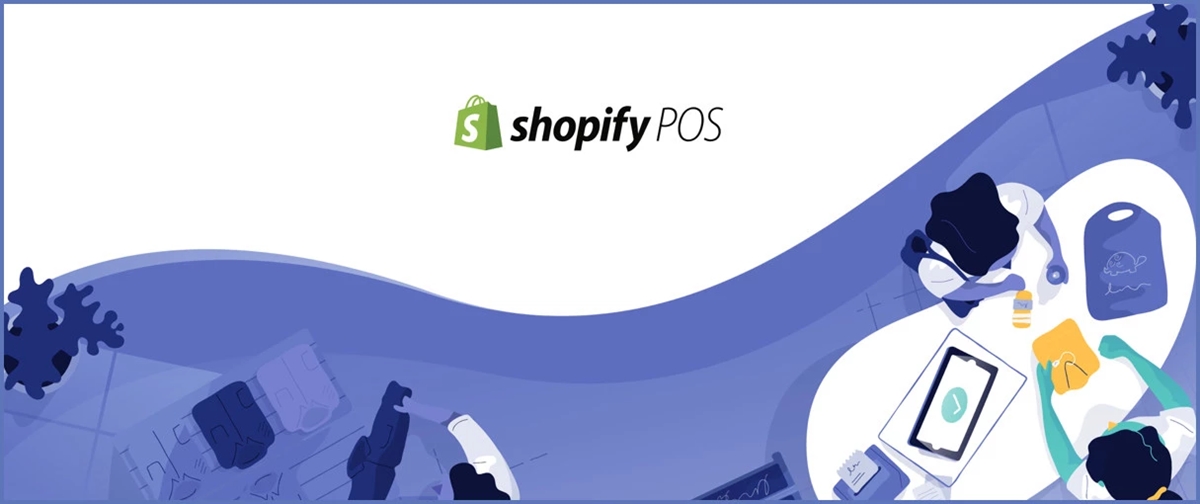 Shopify's POS (Point of Sale) is a system provided by the Ecommerce SaaS giant Shopify. This system allows you to sell your products anywhere in person; whether it's a market, an event or a brick-and-mortar store.
1.2. What is Shopify's POS software:

In 2013, Shopify started to expand its business into the world of brick-and-mortar stores with their new app called Shopify POS app.
It's this app that enables you to sell your products at physical locations with barely any installation of hardware. Imagine that you're exhibiting in a mart, it's too inefficient and complex to bring an entire POS hardware system and install it in your stand. That's where the Shopify app comes in; all you need is a mobile phone or a tablet, and you can use this app to create a shopping cart for each of your customers, accept payment (using a wide variety of digital methods), and issue receipts.
1.3. What is Shopify's POS hardware: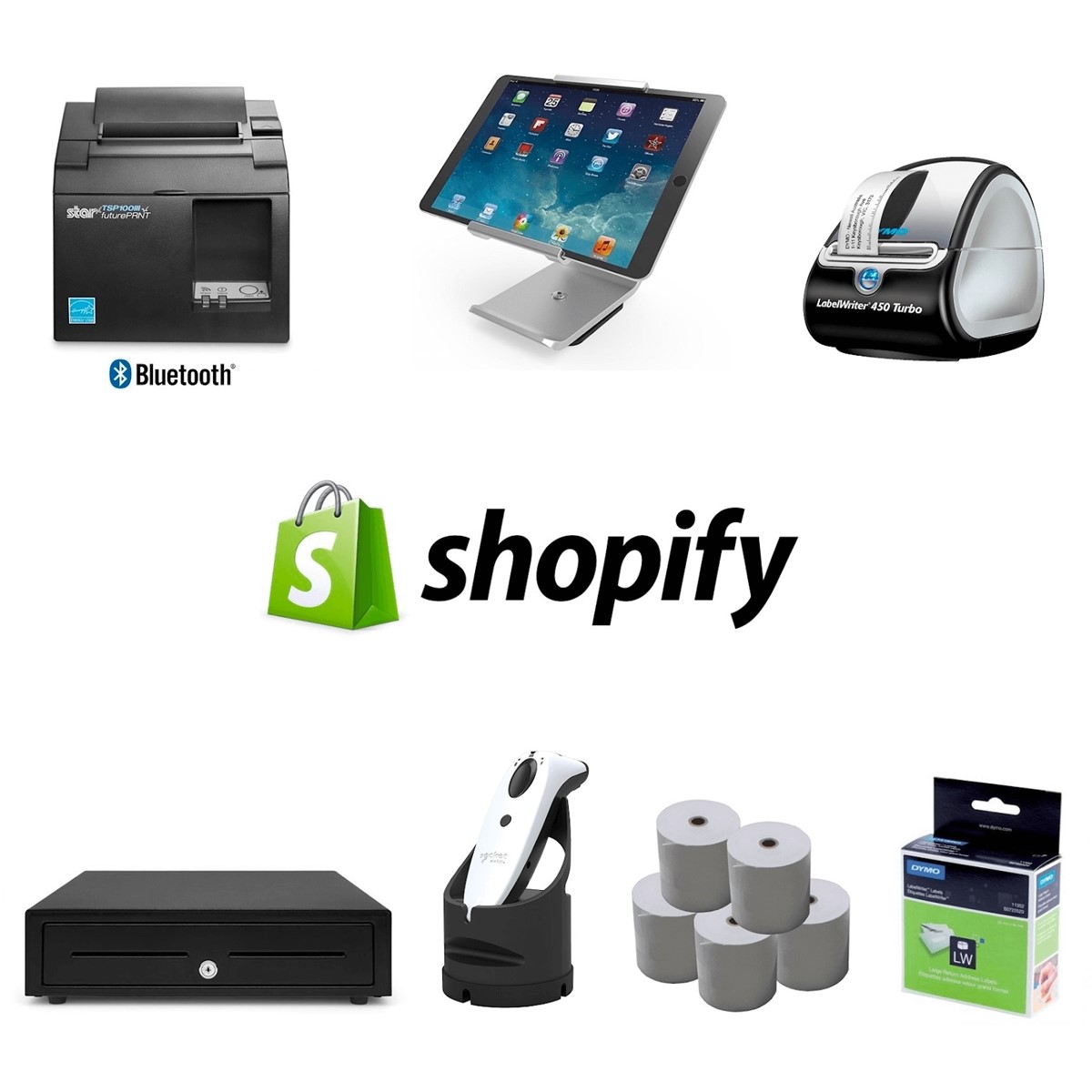 Shopify's POS hardware is a set of retail hardware that works alongside the Shopify app. This set includes:
Cash drawers
iPad stands
Receipt printers
Barcode scanners
When you have a large volume of customers, searching for selected products on your phone will be super inconvenient and unprofessional. Imagine that there is a dozen of customers waiting in line and takes you ages to process an order on your phone, that must be frustrating for both yourself and your customers.
Shopify's POS hardware can solve that. It works exactly like check-out stands in your local supermarket; it's fast and it's easy.
However, you should take note that to start adding this set of hardware to your Shopify system, you'll need to sign up for higher payment plans (the Shopify plan or higher).
2. Pricing of Shopify POS:
If you want to have access to the POS system, you will need to sign for the Basic Shopify plan at the minimum; the Lite plan does not support POS functionality. This means you'll need to pay at least $9/month to be able to sell at physical locations with Shopify.
To add the Shopify POS hardware to your system, you'll have to subscribe to the Shopify plan ($79) or higher.
Read more: How to Setup the Shopify POS app
3. What happens when you don't have Internet access?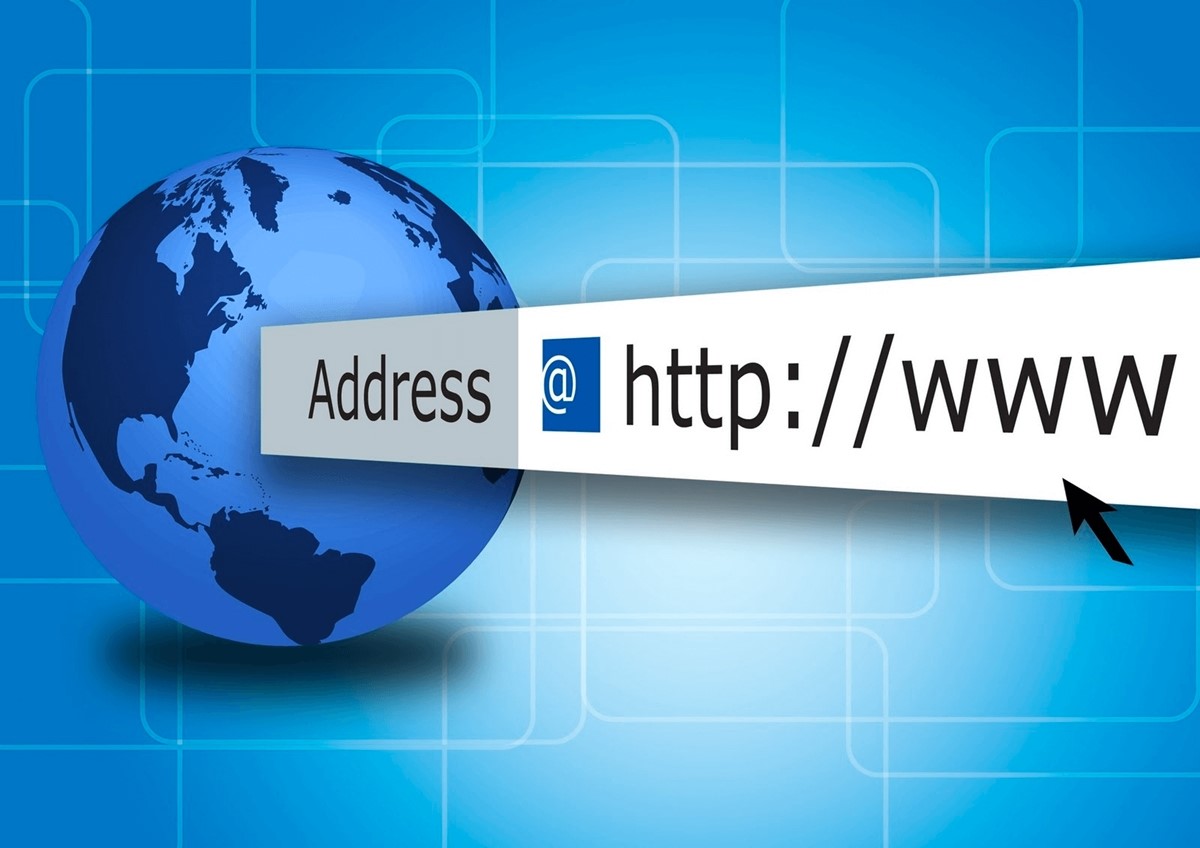 Shopify is a cloud-based solution, which means the data from your online store is hosted on Shopify's servers.
When you log in to the POS app, most of your data is downloaded and stored on your mobile device, which allows you to process cash transactions without an Internet connection.
However, if you lose your Internet connection, the synchronization between your online and offline data stops. This means, in this situation, you cannot process card transactions or access your customer database; all of the payment has to be in cash and you can't assign an existing customer to a transaction without creating a new profile. In other words, even the customer who is checking out is your existing customer, you have to create a new profile to proceed that transaction without the Internet.
Also, you can't access the POS app if you lose your Internet connection before you log in. In another case, when you lose your Internet connection while you're in the app, you should not log out before the connection is restored, otherwise, you will lose all of the transaction data collected during the outage. One last point is if you use an Android device, you will not have offline functionality.
4. Which type and size of business is Shopify POS for?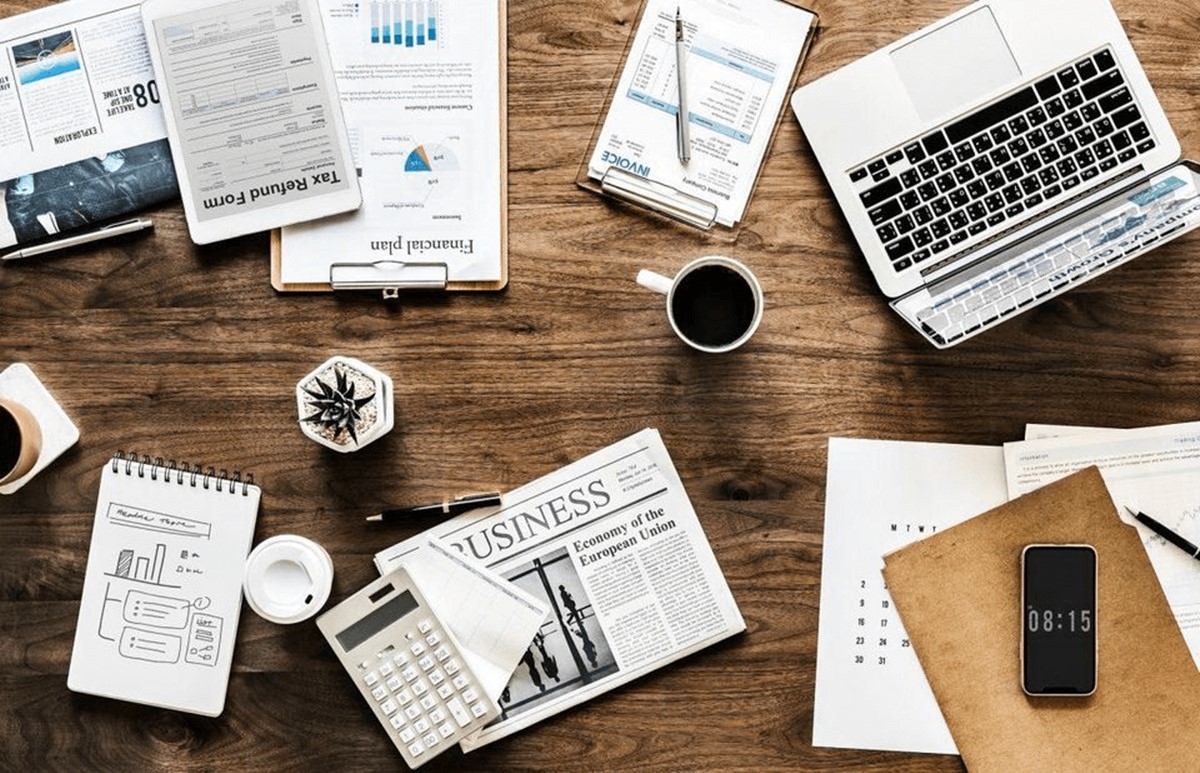 4.1. Which type of business suits Shopify POS?
Shopify POS is created specifically for the retail industry and has not been suitable for the foodservice world. If you are in the foodservice industry, you should look elsewhere for a more suitable POS system.
4.2. Which size of business suits Shopify POS?
Shopify POS is optimized for small to medium-sized retail businesses, and it's expanding to larger-sized businesses through the Shopify Plus option. Small to medium-sized businesses will find everything they need to run their physical locations properly with Shopify POS, but there is a lack of highly advanced features that larger businesses often need.
5. Requirements of hardware and operating system for Shopify POS:
You can use just an Ipad to carry out transactions through the Shopify POS app at your physical locations. However, if you want to import inventory or export reports, you will need a computer.
If you sign up for the Shopify plan or higher and want access to the Shopify POS hardware, Shopify offers a bundle including:
Shopify Tap & Chip Card Reader
Shopify Dock for Tap & Chip Reader
Shopify Retail Stand for iPad
Shopify Mounting Kit
Shopify Mini Dock Cable
You can purchase this bundle on the Shopify Hardware website at $180. One important thing is that you can only use the Shopify POS system (both software and hardware) if your store is based in this group of countries, including the US, Canada, the UK, or Ireland.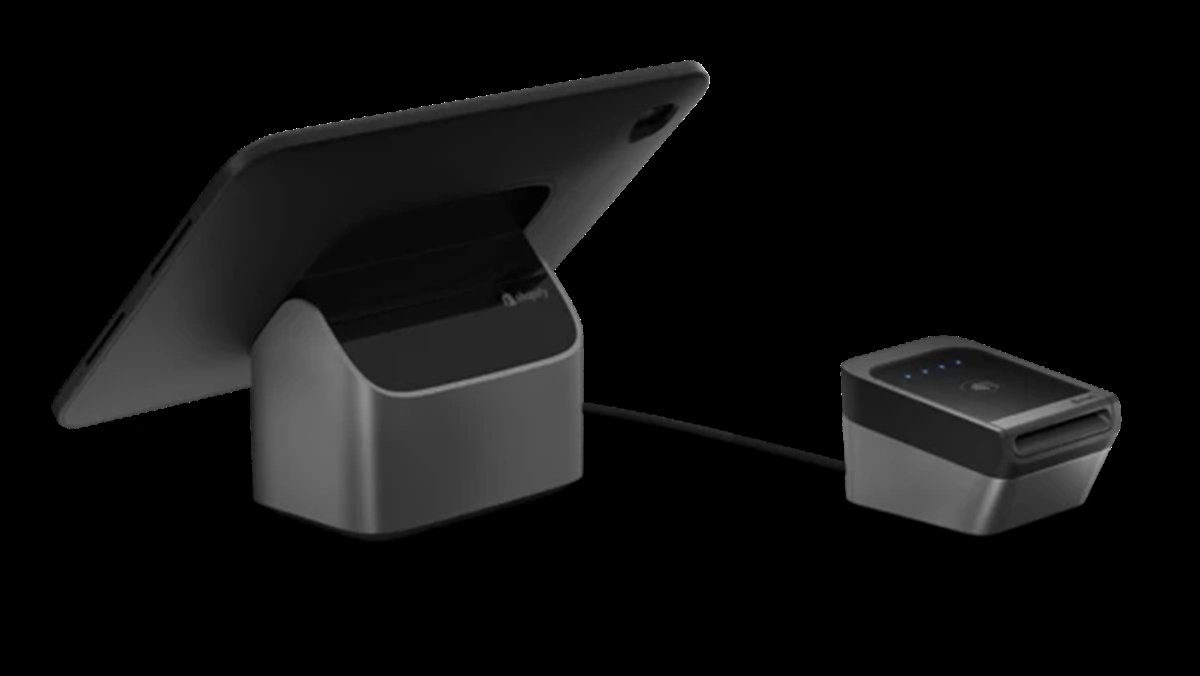 6. Benefits of Shopify POS:
If you decide to use Shopify POS, below are the primary benefits that you will enjoy:
Good pricing: You can receive a high-quality service at a reasonable price.
Ease of use: The software is user-friendly as it's designed for non-technical users.
27/7 support: Their customer support is 24/7 and second to none.
Continuous update: Shopify is updating their app on a continuous basis to resolve any issue as quickly as possible.
Instant synchronization: The Shopify app syncs instantly with your online Shopify store.
Compatibility with more than one payment method: Shopify POS enables you to use more than one payment method for transactions.
Gift cards: If you want to start selling gift cards to your customers, you can do so easily with Shopify POS. You can either email gift cards to your customers or print them out using your receipt printer.
You can process transactions offline: You can still process transactions without internet access. When you get back online, the sales you made during the outage will automatically synchronize with your entire Shopify data.
Apps: You will have access to over 2,400 apps that allows you to add functionality to your existing POS solution.
Customization options: Shopify's POS software also enables you to personalize your existing emails, invoices, and online shop URL.
Daily outputs: Shopify's POS provides you with daily outputs that allow you to monitor your everyday numbers and bottom line as a whole.
7. Drawbacks of Shopify POS:
Despite the many benefits that you will get from Shopify POS, the system still has a few drawbacks just like any app. Here are some of the main issues that you might want to be aware of:
Some of the inventory features, according to users, still have bugs, and this has been reported to damage user experience.
You won't be able to process credit cards if you're offline.
If you want to apply a discount on just a certain group of products, the execution will be quite time-consuming because the discount has to be manually inputted.
You will have to pay an extra of $49 per month to get the "Retail Package". This package provides you with extra features such as hardware integration, tracking, additional staff accounts, etc. Users expect these standard POS functions should at least be included in the higher payment plans.
Some reviews indicate that the standard reports are not really well developed (or even too basic some might complain) even with the more expensive plans.
The inventory functionality doesn't include automatic alerts for low-stock, which is quite a pain in the butt if you have a large number of items in your store.
8. Shopify's POS features:
8.1. Payment features:
Here are the payment features that comes with Shopify POS:
Accept Two Or More Payment Options: with Shopify POS, you can split tenders and accept more than one type of payment in a single transaction. This is a fairly useful feature; it is meant to especially deal with the inevitable type of customers who wants to pay partly with cash or split their payment between two different credit cards.
Gift Cards: You have a function to create gift cards that are redeemable in-store or online. These cards can be sent out to receiving customers by email or simply printed on your receipt printer.
Custom Payment Options: One of Shopify POS's most interesting features is the ability to create custom payment options (personal checks, gold coins, IOUs, etc.). You can also provide customers with the option to make a partial payment on their purchases, to allow for deposits, or to buy the item on layaway.
Refunds & Store Credit: Shopify POS makes it possible to issue store credit in occasions where you don't wish to refund money to the payment method that the customer originally used. For example, you can give out credit instead of refunding by credit card.
8.2. Checkout features: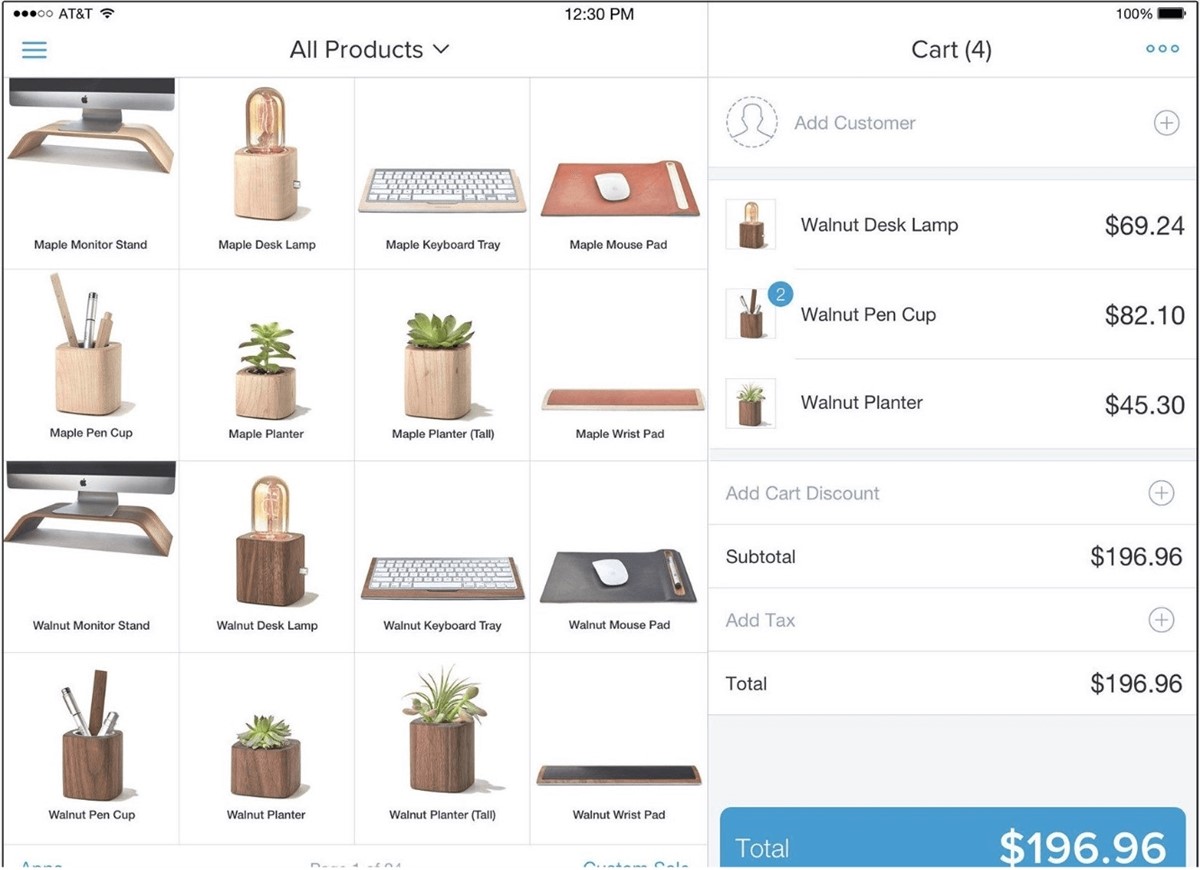 Discounts: you can offer discounts at checkout, either by percentage or dollar amount. These discounts can be used on one item only (if it's by percentage) or applied to the customer's entire value.
Portable Registers: Because the Shopify POS app lives on your iPad or iPhone, it's easy to hand over the device to your customer and accept new orders anywhere. In other words, there is no need for a checkout counter - this is a real revolutionary concept for a brick-and-mortar store.
Custom Receipts: You can fully customize your emails and printed receipts, as well as include important details such as special promotions, store hours and policies, and the URL of your online store.
Automatic Tax Calculations: Shopify POS automatically calculates sales tax rate based on the location of your store. You can also set up custom tax rates for specific products or orders, if necessary.
Shipping Addresses: It's possible to save a customer's address and contact details. This enables you to ship orders later on.
8.3. Store Management Features:
Integration With Accounting Software: You can integrate Shopify POS with accounting software such as QuickBooks and Xero. This is a huge time saver and much more efficient than entering things manually.
Order Histories: You can have a good overview of your store's sales by viewing all past orders (whether made in-store or online). Order histories can be filtered by customer, product, or date.
Multiple Staff Accounts: The Shopify plan and higher enables you to create multiple staff accounts, each protected by a unique, secure pin code. All registered activity (and every order) is tracked by these accounts, which allows you to carefully monitor cash register adjustments and follow changes in staff throughout the day.
Customer Profiles: You can automatically create personalized customer profiles every time a new order is placed. These profiles allow you to learn about the shopping habits of your customers and track their buying patterns. The contact info of each customer, as well as their unique order history, are readily available, and this information is automatically synced with your Shopify data.
Reporting: Shopify POS provides you with several analytical tools, including dashboards that track sales, orders, and traffic patterns. Product reports give you an overview of which items are selling and which are stagnating. You can also examine any specific sale by filtering by staff members, location, time period, or customers. Every report is exportable, can be converted into spreadsheets and sent off to a bookkeeper.
Timeline: Shopify comes with a unique tool that enables your employees to communicate and monitor store issues within the POS itself.
8.4. Product Management features: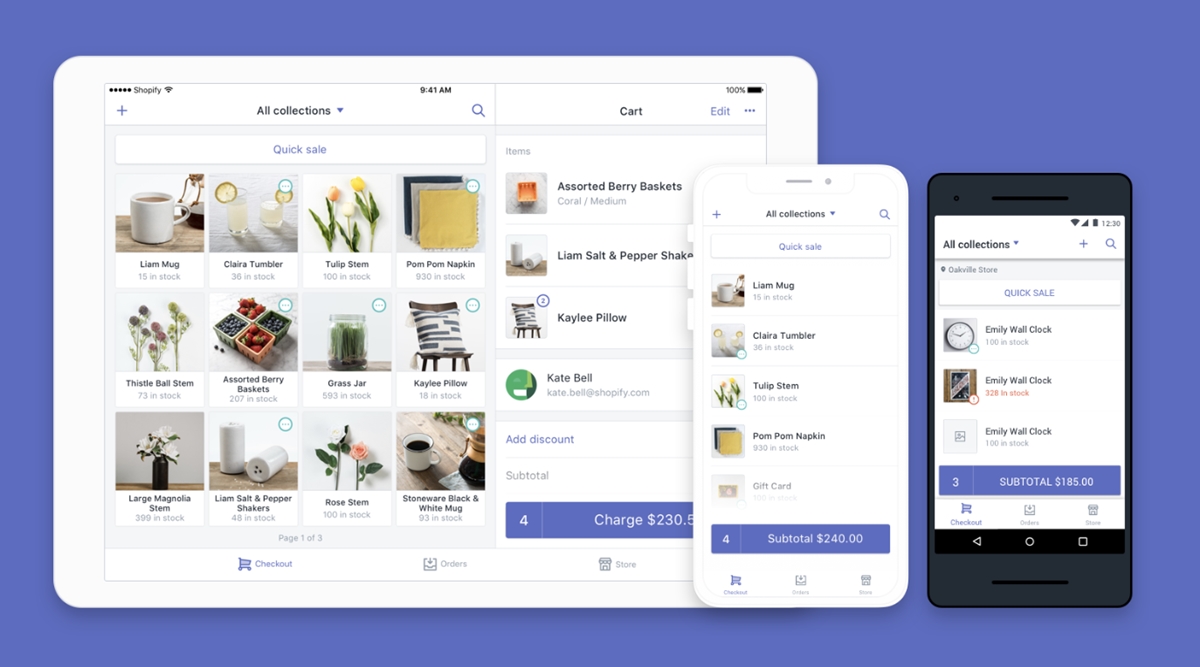 Product Organization: Shopify sets no limit on the number or type of items you can sell with this POS system. Also, your products can be organized in almost any way (by category, type, season, sale, etc.). You can even create collections and sort merchandise by price, vendor or inventory level. More importantly, you can make your offers in multiple sizes, materials, and color options, each with its own price, weight, SKU number, so on and so forth.
Inventory Management: Shopify beefed up its inventory management recently, making what was a weak spot into a legitimate strength. You can categorize products in several ways, either by type, season, sale, etc. It's possible to manage the in and out of your inventory with Shopify, as well as keep a close eye on stock counts. Shopify POS provides you with the option to stop selling products when inventory runs out. Shopify POS also offers many apps in its store to provide you with advanced functionality that can make you offline selling easier.
It's simple to monitor your bestsellers and keep track of what items are the most cost-effective in your product line as well. This can help you forecast revenue, profits and come up with promotions down the road.
Barcode Support: Each product can be assigned with a unique new barcode (or with an existing one). This makes it much quicker to process transactions, as you can scan items quickly with a wireless barcode scanner.
8.5. Reporting features:
Shopify POS provides you with several analytics tools, including:
A dashboard that can track sales, orders, and traffic patterns.
Product reports that let you know you which items are your best sellers.
The ability to filter your sales numbers by staff members, date, location, customers, etc.
All reports can be exported and converted into spreadsheets.
8.6. Integration and Add-ons:
This is another big plus for Shopify POS. There you will find everything from accounting tools to apps for marketing, reporting, and so forth that you can integrate with your Shopify POS system in Shopify's app store. You can also use Shopify's API to create an app. It's worth keeping in mind that some of the apps cost extra (which can add up), but you won't be lacking in options.
9. Shopify POS credit cards processors:
Shopify Payments, the Shopify's own merchant services processor, is the default option for payment with Shopify's POS system. You can only use a third-party gateway when you're on the Shopify plan or higher.
Shopify also incentivizes you to use its Shopify Payments by waiving transaction fees. Shopify Payments seems to have few complaints, and its rates are competitive.
10. Customer service and Support for Shopify POS: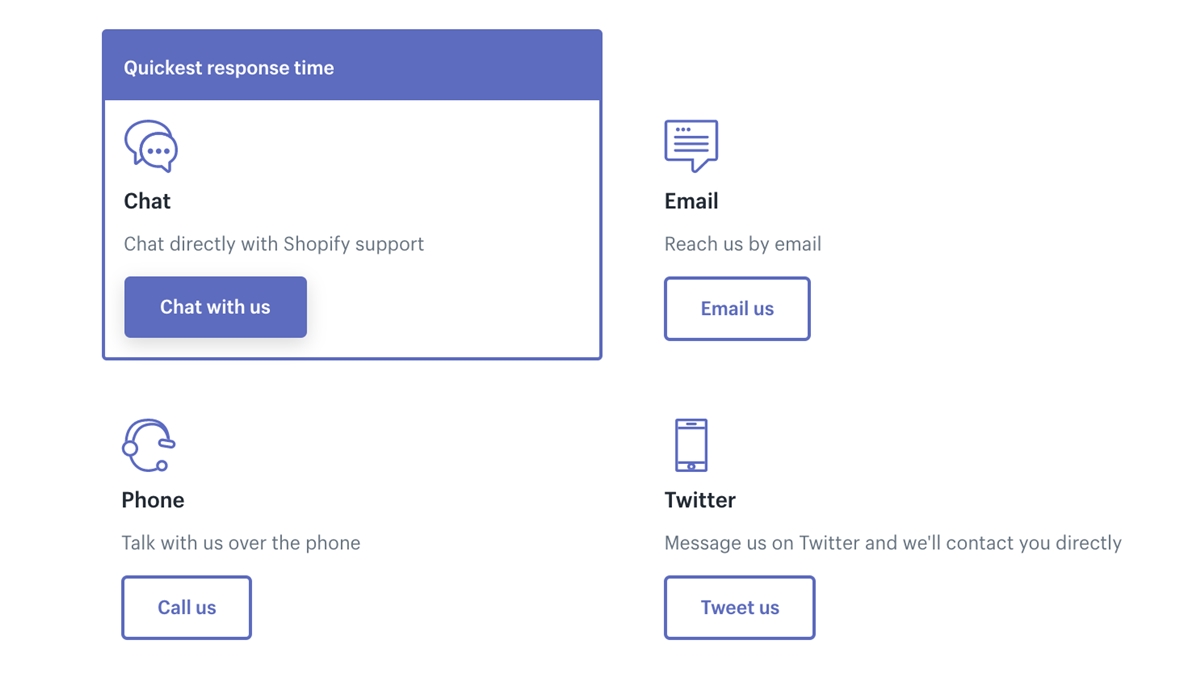 You will have access to free support from Shopify via live chat, email, phone, and Twitter 24/7. Their support service is generally fast, and the support reps are knowledgeable, so you can be sure that your problems will be advised properly. Also, you can reach a living breathing person with no problem.
One thing worth noting is that their email support is not super fast, but you can still expect their reply within 24 hours. Shopify's live chat reps are friendly and helpful, and there is always someone available, so you shouldn't have to wait for too long. If Shopify has to put you in a queue, they will let you know how long your wait time is going to be.
If you don't want to reach out to support reps and want to figure things out for yourself, Shopify has a huge self-help library of documentation that provides you with well-written and easy-to-follow instructions to walk you through most questions and problems.
11. Ratings on Shopify POS:
Currently, Shopify POS is rated 2.9 out of 5-star on the Shopify app store (out of 87 reviews).

This is not really great for an app to be honest, but the reviews are really a mixed bag. Here are some reviews: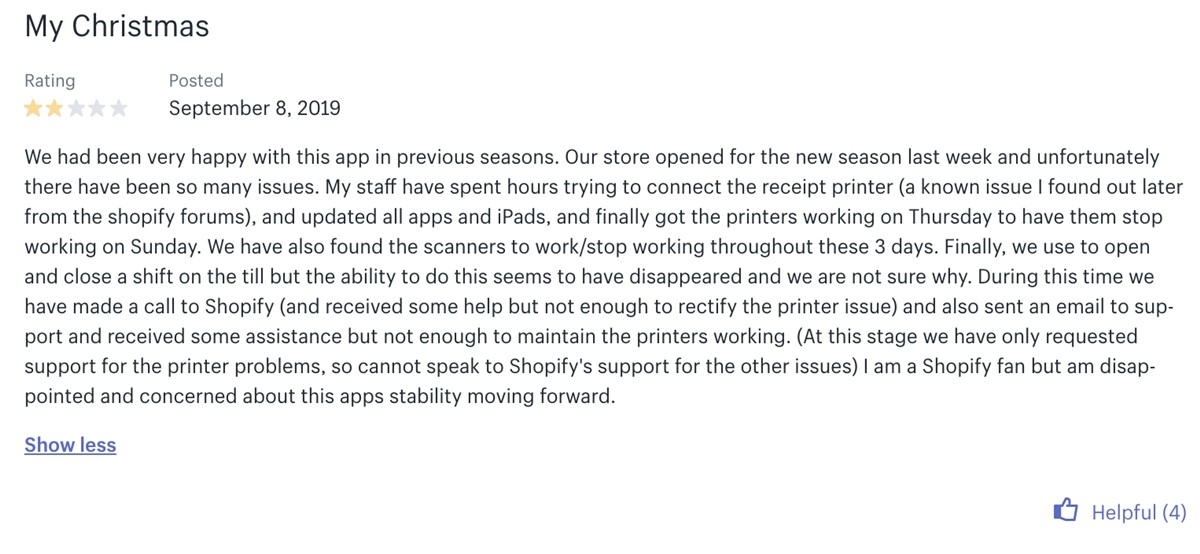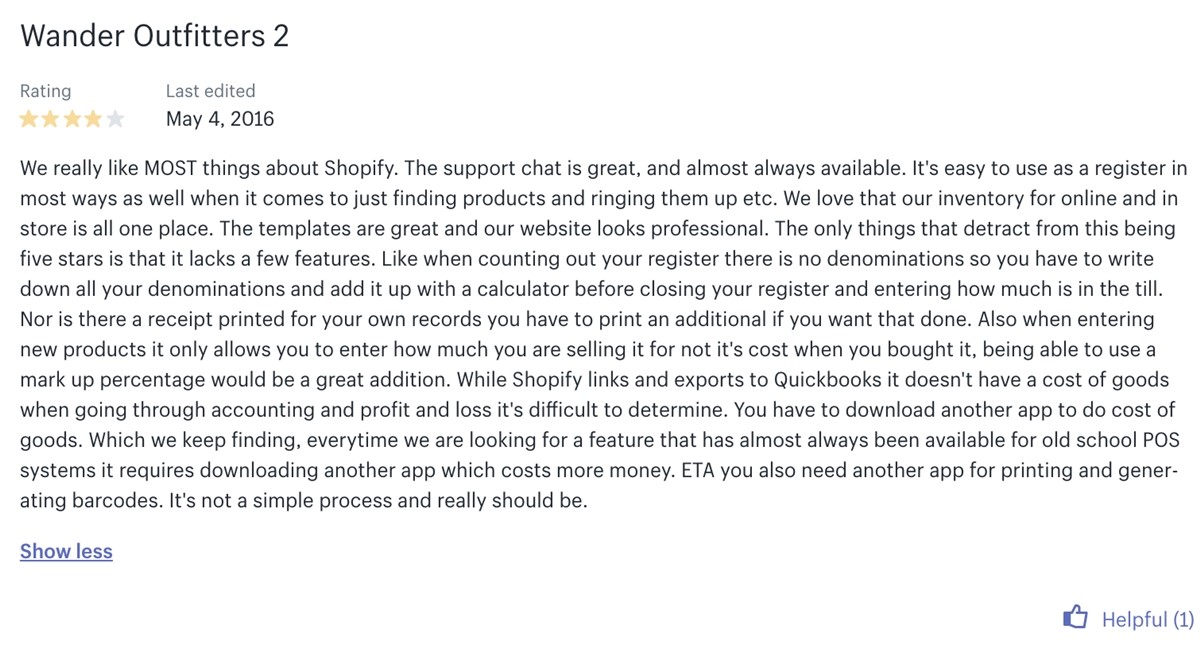 Because this is a mixed bag of good and bad reviews, I think you should see them as a reference and actually use the app and see if it can work for you. Here is a summary of the review section:
11.1 Negative Reviews and Complaints:
Here are some recurring themes from people who are unhappy with the product:
Bugs: Many customers complain about errors and bugs that disrupt their experience.
Extra Or Hidden Costs: Some customers are not happy about having to pay an extra $40 per month for staff accounts, hardware integrations and staff sales tracking. These are pretty standard POS features that are expected to be automatically included (at least in the higher subscription levels). There are a few users who also complained that some necessary add-ons have to be purchased, and that makes the product significantly less cost-effective.
Offline Functionality: A few customers complain about Shopify POS's inability to process credit cards if the Internet is lost.
Analytics Features Lacking: A few reviews mention that the standard reports that come alongside the app are too basic, and even if you sign up for an advanced package, these reporting features are not quite up to what Shopify's competitors offer.
Customization Difficulty: A few non-tech-savvy users struggle with the complexity of customizing the POS system, and they find it difficult to get support in this area.
11.2. Positive Reviews and Testimonials:
Positive reviews are likely to mention the same thing that is Shopify POS helps them run their businesses more efficiently and keeps their staff better organized. One user said that "everything syncs beautifully, and Shopify's credit card rates are the lowest we have seen."
Shopify subscribers seem thrilled to be able to integrate their online stores with this flexible POS system. Here are the common praises:
Simplicity: Most people are very happy about how easy it is to set up and train people to use Shopify POS. It is also rated highly for its overall functionality and its user interface.
App Options: Customers appreciate the wide variety of apps that can be integrated Shopify POS, even though lots of them come at an added cost.
Inventory Management: A common praise among customers is that it is very easy to import inventory, and Shopify POS can handle a wide variety of products very well.
Customer Service: A large number of reviews are appreciative of Shopify customer service team's overall friendliness and knowledge, as well as the speed in which they are able to address and fix problems.
12. Alternatives for Shopify POS:
If you're looking for some viable alternatives for Shopify POS, here they are!
12.1. Shopify POS Alternative: iZettle POS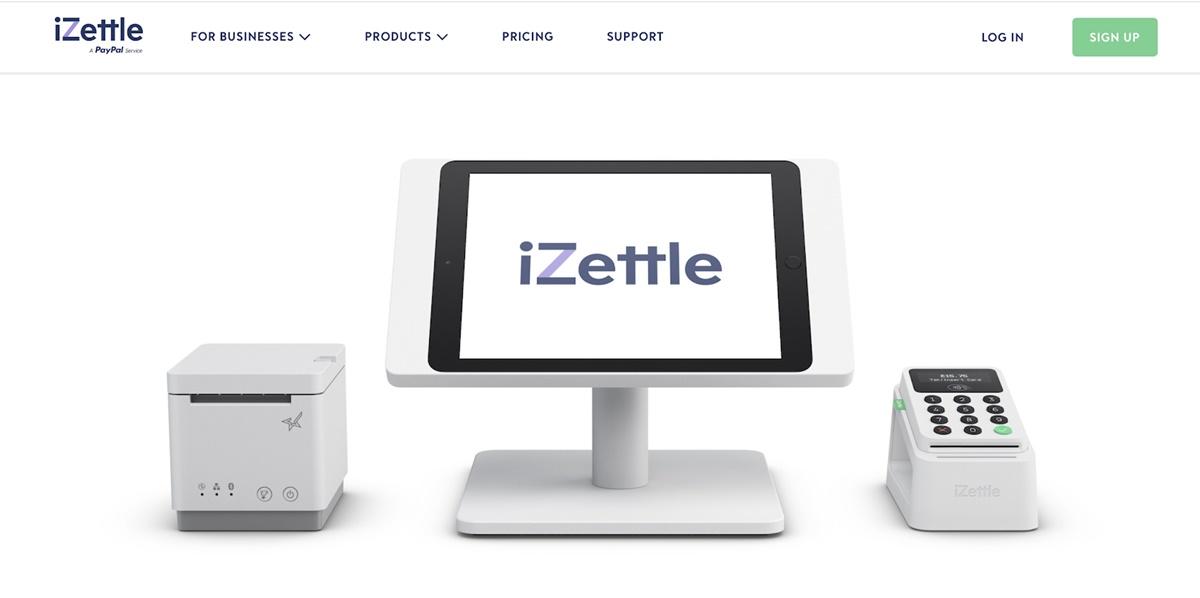 iZettle provides a POS solution that includes a cash register, inventory tracker, and analytics tools. It's a good option for any entrepreneur who wants to sell their merchandise using a POS system that's both affordable and pleasing to the eye.
The iZettle POS kit is a bit more expensive than the Shopify one, at 189 EUR. If you want to buy an Ipad Wifi 32GB from iZettle, the total kit will be 458 EUR.
12.2. Shopify POS Alternative: SumUp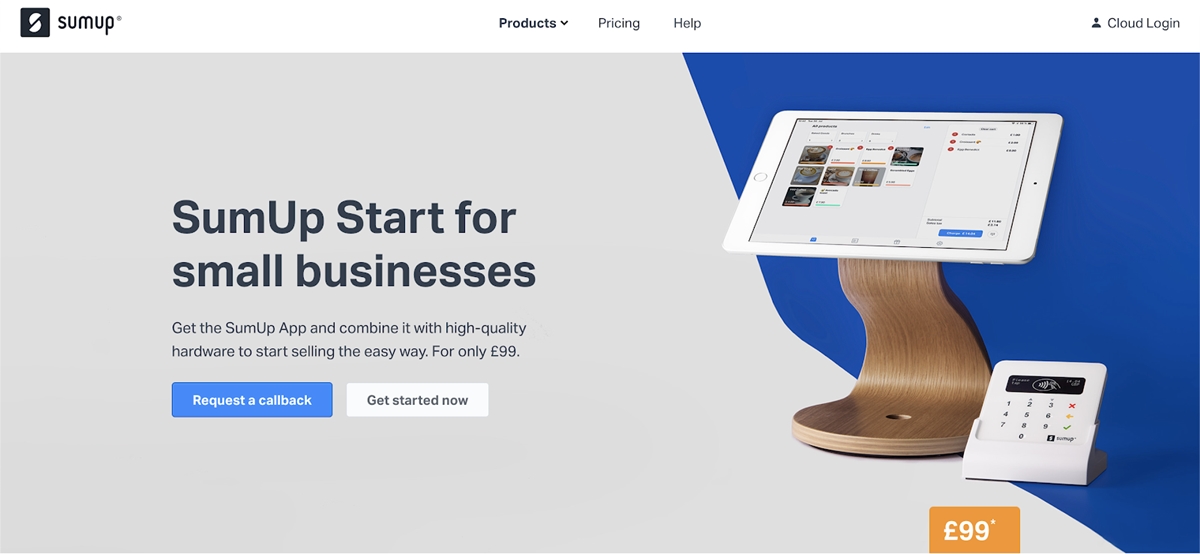 If you're looking for a mobile-optimized POS solution, SumUp POS can be the option for you. SumUp has been up and running for more than six years and is the chosen POS solution for hundreds of thousands of small brands across about 30 different countries - so it's safe to say they know what they're doing.
SUmUP provides its users with a unique device where they only need a smartphone to process in-person orders. This makes it a super convenient option for merchants of small businesses who wants to accept and process card payments while they're on the road.
Not only has the Financial Conduct Authority (FCA) authorized SumUp as a Payment Institution, SumUp is also Europay, Mastercard, Visa, and PCI-DSS certified. So, you can be confident that all of your customer's payment information is processed to the highest possible security standards.
To start with SumUp POS, you will only need $19 for its Air Card Reader. It also has two other devices with more advanced functionality; 3G Card Reader at $69 and a Point of Sale kit at $99.
12.3. Shopify POS Alternative: Bindo POS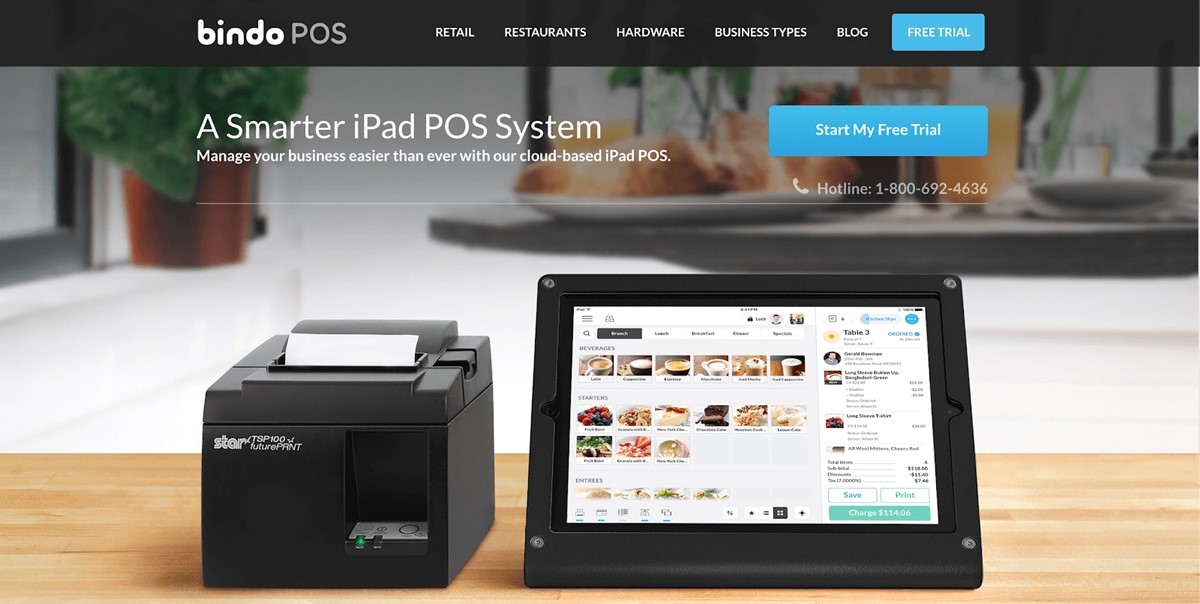 If you're a local retailer, then Bindo POS is a wonderful solution for you. They offer an iPad and iPhone POS solutions which are super easy for business owners to use. You can add and manage your inventory easily with the convenience of the Bindo POS cloud.
Bindo POS system also enables you to expand your reach online by providing an app for your customers. Through this app, your customers (local shoppers) can connect with you and purchase with the option to deliver within that same day.
On top of that, similar Shopify POS, Bindo POS also ensures your in-store and online data of transactions and inventory are synchronized in real-time. So, you'll always know you're looking at an up-to-date version of your sales numbers and inventory. You'll also have access to several analytics tools that show you metrics about profits, sales, consumer behavior, etc.
You'll need to reach out to Bindo to find out how much their solution costs. Click here and give them a call!
12.4. Shopify POS Alternative: Square POS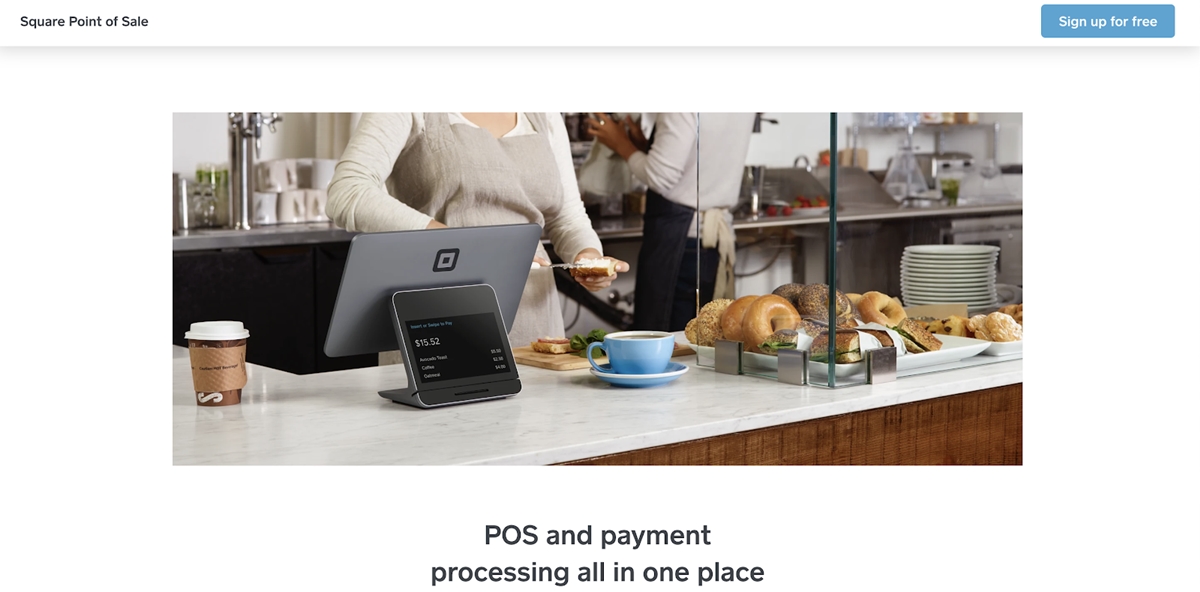 Simplicity is the ultimate gold of Square POS. So, if you're not familiar with technical stuff and looking for a super user-friendly POS solution, Square POS is another excellent choice.
Plus, Square POS not too pricey; you can see the pricing of Square's different plans here. Depending on which plan you sign up for, you'll get a little white card reader to process in-person transactions. However, if you go for one of Square's newer readers, you can accept chip and PIN transactions, as well as contactless payments.
12.5. Shopify POS Alternative: Lightspeed POS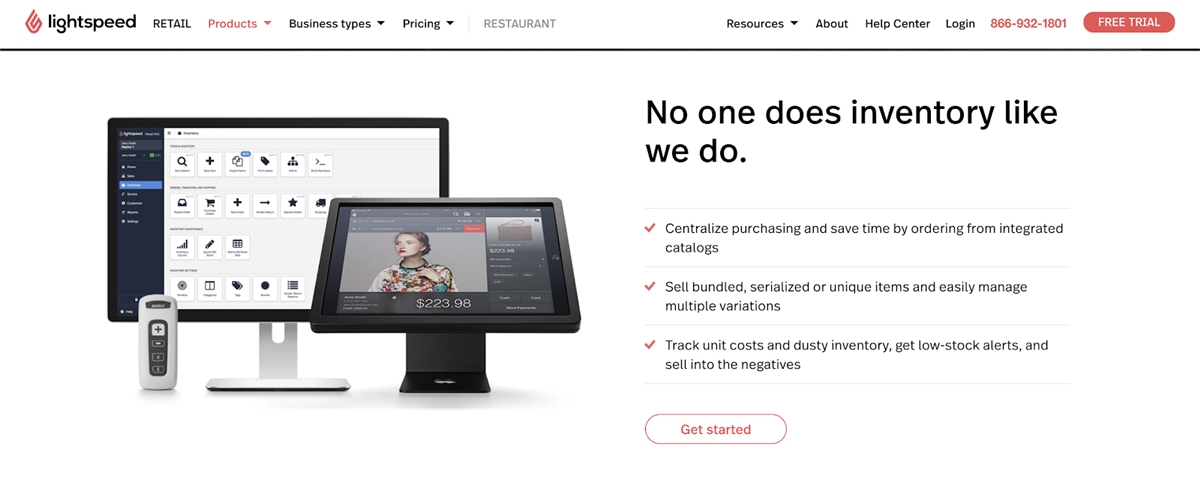 Lightspeed POS provides you with a POS system that allows you to make data-driven decisions. It also brings you a cloud-based POS solution boasting tons of amazing features and integrations that ensure an impressive level of functionality. This software is better suited to mid-sized and larger independent brands.
Lightspeed gives you a single solution starting at $99 per month. Add-ons are available, and the user interfaces are extremely intuitive.
12.6. Shopify POS Alternative: Air POS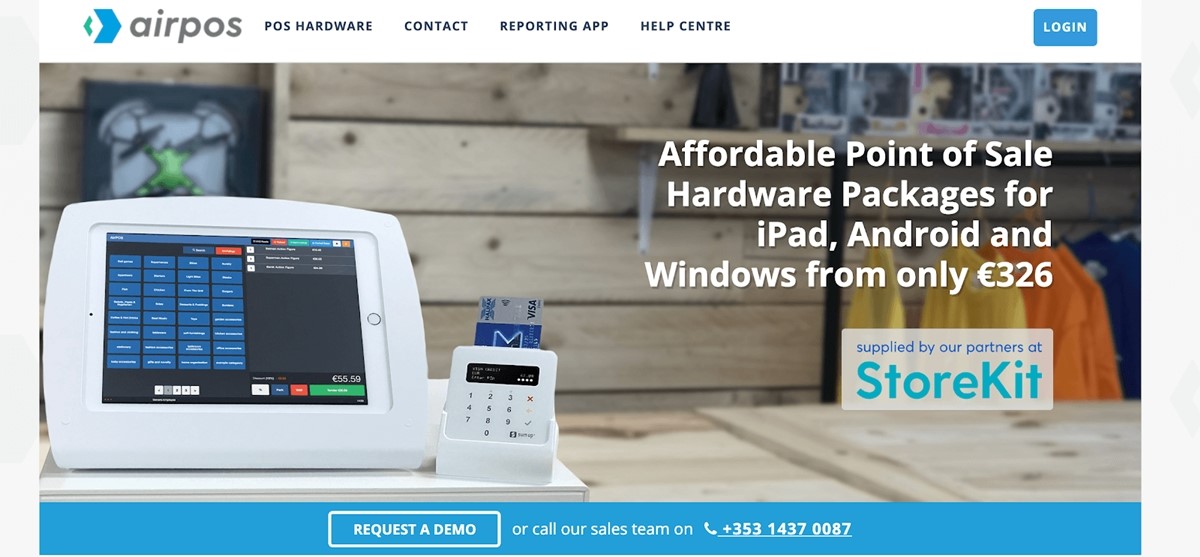 Air POS is a highly functional POS system. It doesn't matter whether you want to take cash payments or contactless card transactions from your customers; Air POS can handle it all. On top of that, Air POS can help you manage inventory easily, and it integrates with all major accounting programs.
Air POS works on iPad, Android, and Windows devices, so no matter which OS you're on, you will be able to get this software to work alongside your hardware and credit card readers.
Final Words
I hope this article has provided you with valuable insights into the Shopify POS system. If you're already selling online with Shopify and now you're looking to expand to selling at a physical location, you should definitely consider signing up for Shopify POS. This platform, at a relatively affordable price, will help you seamlessly sync all the products you're selling online with your brick and mortar inventory.