We all know that people nowadays are opting for online shopping instead of spending their money on purchasing an item from a physical store. That's why a majority of brick-and-mortar retailers and marketers are trying to build their online presence.
But do you know about 30% of digital buyers make a purchase from a social media channel, and most of these sales come from Facebook? And for the same reason, selling on Facebook Marketplace is an ideal opportunity for businesses to explore.
So, in this guide, we will explain everything you need to know about Facebook Marketplace, as well as show you upcoming chances to sell on this platform.
Let's get started!
What is Facebook Marketplace?
The Marketplace is a section within Facebook where users can discover, buy, sell, and trade items with other people in their area. People can access Facebook Marketplace via the Facebook app or online on the Facebook website.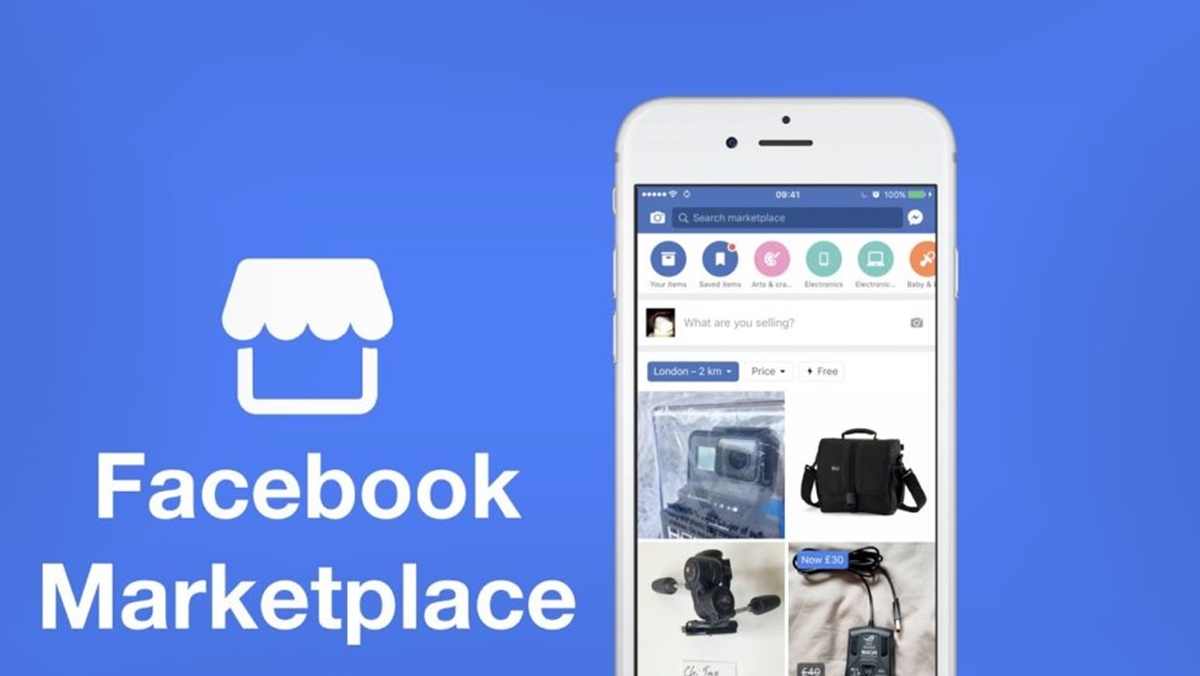 Mark Zuckerberg and his team introduced Facebook Marketplace in October 2016, and more than 18 million items in the U.S were listed for sale by May 2017. As of October 2018, more than 800 million people from 70 different countries around the world use the Marketplace each month. And this number is anticipated to substantially increase in the next few years.
Facebook Marketplace allows Facebook users, 18 years old, and up to:
Search for items to purchase
Browse for-sale products by category and/or location
Create item listings. You can create item images by using the camera function within the app or simply add photos from your device
View previous and current messages and transactions under a "Your Items" section
Set custom bids for items
Contact sellers/buyers via Facebook Messenger and arrange to close the deal.
Why should you use Facebook Marketplace?
If you are a small business wanting to take advantage of this increasingly popular e-commerce platform, you should consider using Facebook Marketplace right now.
You might wonder why we recommend that, right? This is because Facebook Marketplace can offer you a number of following great benefits.
Start for free. Facebook Marketplace allows you to create and manage your listings for no additional cost.
Increase brand awareness. There are more than 2.45 billion monthly active users on Facebook, which creates an ideal place for your business to market and brand yourself.
Boost product sales. Selling on Marketplace for business allows you to streamline the conversion process, hence, you can earn more sales and revenue.
Build community trust. Facebook doesn't verify items for sale on Marketplace, the whole process is built primarily on trust. This could work well for your business to create interaction and trust with your customers.
Gain competitive advantages. As Facebook Marketplace is still a new feature, selling on this platform will give you a first-mover advantage. Plus, diversifying your selling channels can make you stand out from the crowd.
Therefore, if your business wants to create an online presence, boost exposure, and product sales online, Facebook Marketplace can help a lot.
What items are allowed for sale in the Marketplace?
Thousands of users have recently got banned from Facebook Marketplace due to violations of commerce and community standards policies. So, to avoid getting locked out of the platform, you need to be clear about which actions and items are allowed as well as prohibited ones.
Basically, products and services allowed for sale in the Marketplace must comply with the Community Standards as well as the Commerce Policies. Some legal categories can be found on Facebook Marketplace, such as consumer electronics, home & garden, vehicles, sports & outdoors, jewelry & watches, and apparel & accessories.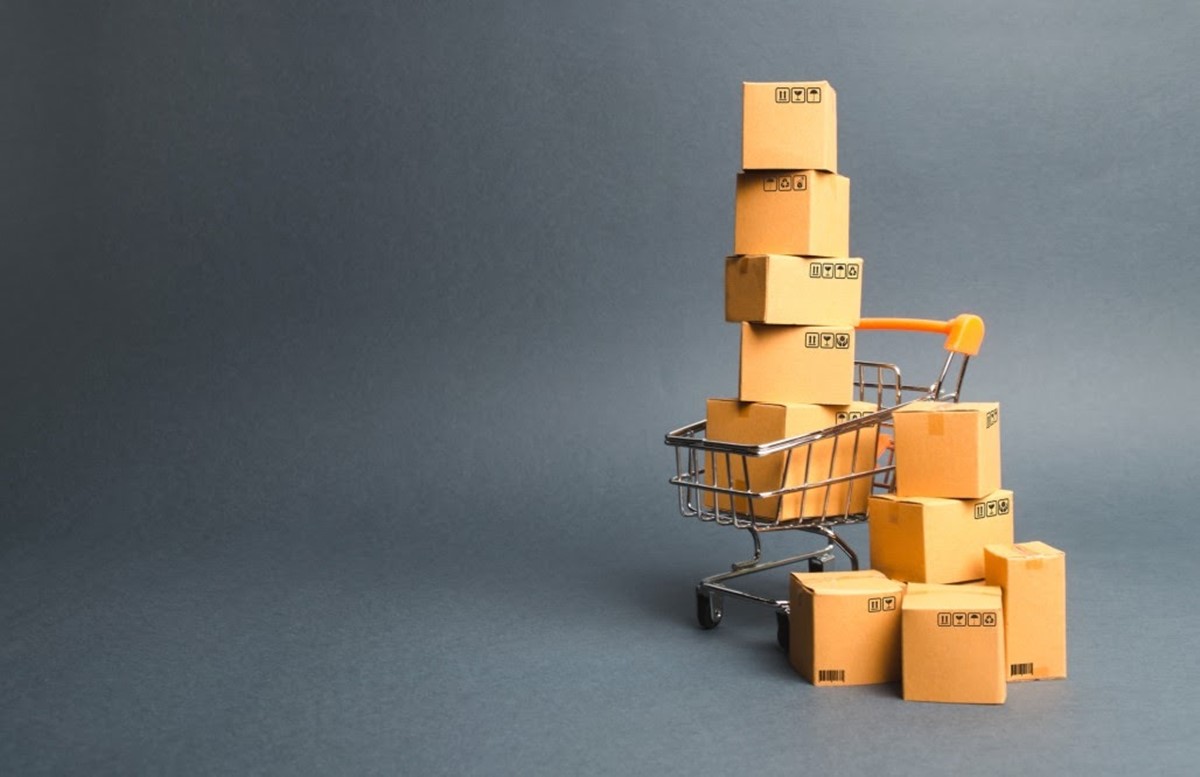 Failure to comply with these things may result in a number of consequences, including the removal of posted content. If you repeatedly violate Facebook's policies, your account may be banned from accessing the Marketplace.
Facebook also mentions a list of products that are prohibited from selling for commerce purposes. Here are 17 content or items you should avoid trading in the Facebook Marketplace.
Illegal, prescription, or recreational drugs
Tobacco products
Unsafe supplements
Ammunition, weapons, and explosives
Animals
Adult products and services
No commercial intent
Alcohol
Healthcare products
Real money gambling services
Misleading, deceptive, fraudulent, or offensive products
Products with overtly sexualized positioning
Subscriptions or digital products
Digital media and electronic devices
Real, virtual or fake currency
Third-party infringement
Discrimination
Now you can decide on what to sell and not risk selling on Facebook Marketplace to avoid getting banned.
Can businesses sell products in the Marketplace?
Similar to Craigslist, Facebook Marketplace has previously allowed postings from individual users. But Facebook is trying to improve both the quality of products and the online community experience. It's evident that Facebook wants to open up more opportunities with the online selling community for businesses.
So yes, while individual people can list items for sale in any condition, there are 3 types of businesses allowed to sell inventory on Facebook Marketplace: automotive, real estate, and retail & e-commerce. And, if all goes well, Facebook Marketplace will eventually expand to all businesses, from small to big.
These businesses can use Facebook Marketplace to:
Show a variety of inventory for retail items, home rentals, vehicles, and event tickets by working with a Marketplace listing partner.
Advertise your items or store on Marketplace to reach more audiences, even if your business doesn't post directly on Marketplace
Display new or refurbished products from your Facebook Page shop on Marketplace for free and allow customers to purchase without leaving Facebook.
These Marketplace expansions will help businesses to connect with even more users. The increased exposure also provides new advertising opportunities as well as potential drives to your business page. So, if you're running a business in either one of these above 3 areas, keep a close eye out for Marketplace options available to you.
Related Posts:
Can businesses advertise in the Marketplace?
In addition to listing a variety of offerings, businesses now can completely advertise in the Marketplace. Facebook Marketplace ads are paid ads that appear between regular product listings to help businesses approach more customers where they're already scrolling and shopping with purchase intent.
Facebook Marketplace sponsored ads are available through the Ads Manager, just like all the other ad formats. By selecting Automatic Placements, your business ads can appear across various placement options, such as News Feed, Messenger, Instagram, Audience Network, and now, Marketplace.
Note: Your ads can be shown up in different places because it's not currently possible for ads to show in the Marketplace only.
Businesses are already seeing outstanding results using ads in the Marketplace. For example, Thread Wallets, an accessories company, generated:
More than 350 purchases coming from ads in the Marketplace
A 16% decrease in year-over-year cost per click
A 17% decrease in year-over-year cost per conversion
A 41% increase in Return on Ad Spend (ROAS)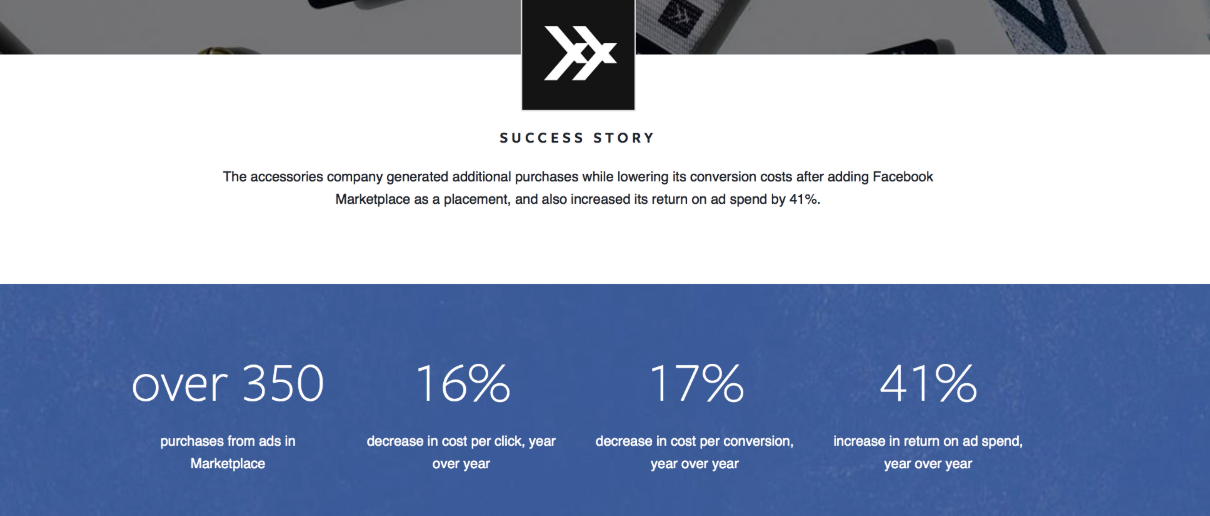 The case study of Thread Wallets shows that the Marketplace ads have incredible potential to increase sales, conversions, and ROAS while decreasing costs.
Read more: Shopify Facebook Ads: The Complete Guide for Beginners
10 steps to import products to Facebook Page shop
This part will show you how to automatically import and update your products in the "Shop" tab of your Facebook Page. But jumping into that, you should consider 3 important things:
You have access to the Facebook Business Manager account that owns the Facebook Page on which you want to display your items. You can click here if you haven't created one.
Whether you are admin or editor of the Facebook Page on which you want to add a "Shop" tab.
The "Shop" section has been added well on the Facebook Page. If not, follow our below guide to do.
So now, you'll discover how to set up a "Shop" section to your Facebook Page through 6 simple steps.
Step 1: Go to your Facebook Page.
Step 2: Choose Settings.

Step 3: Select the Templates and Tabs section and click the Add a Tab box at the bottom of the page.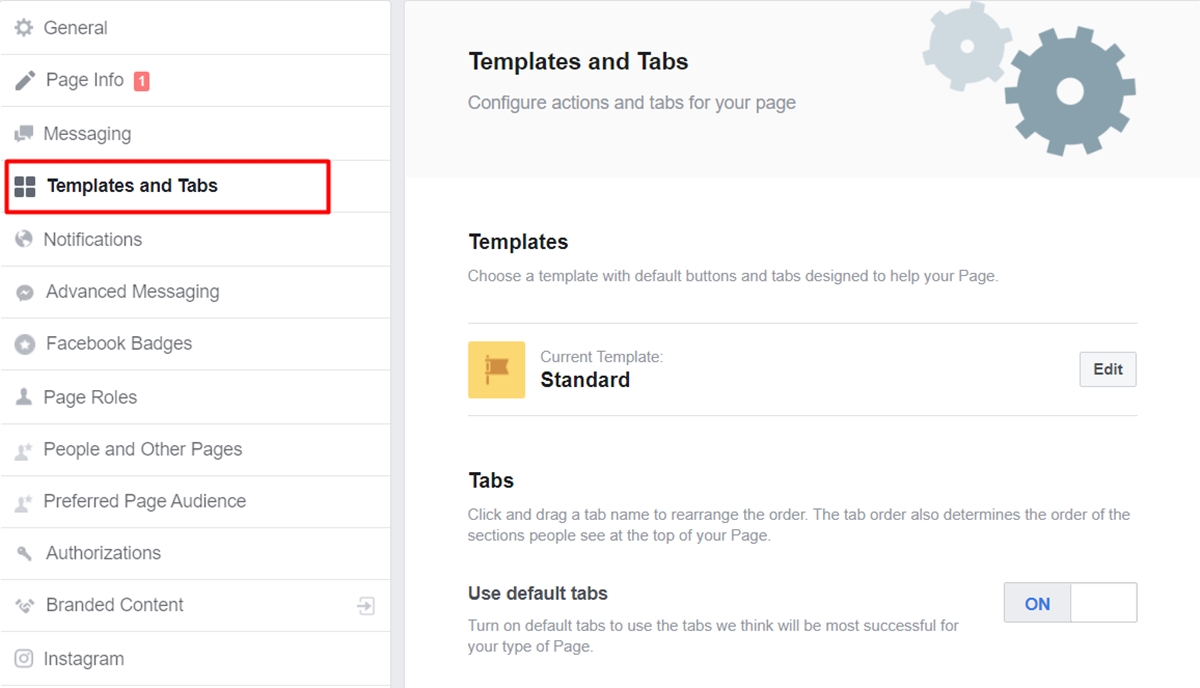 Step 4: You'll see the Shop section, and you should click Add Tab.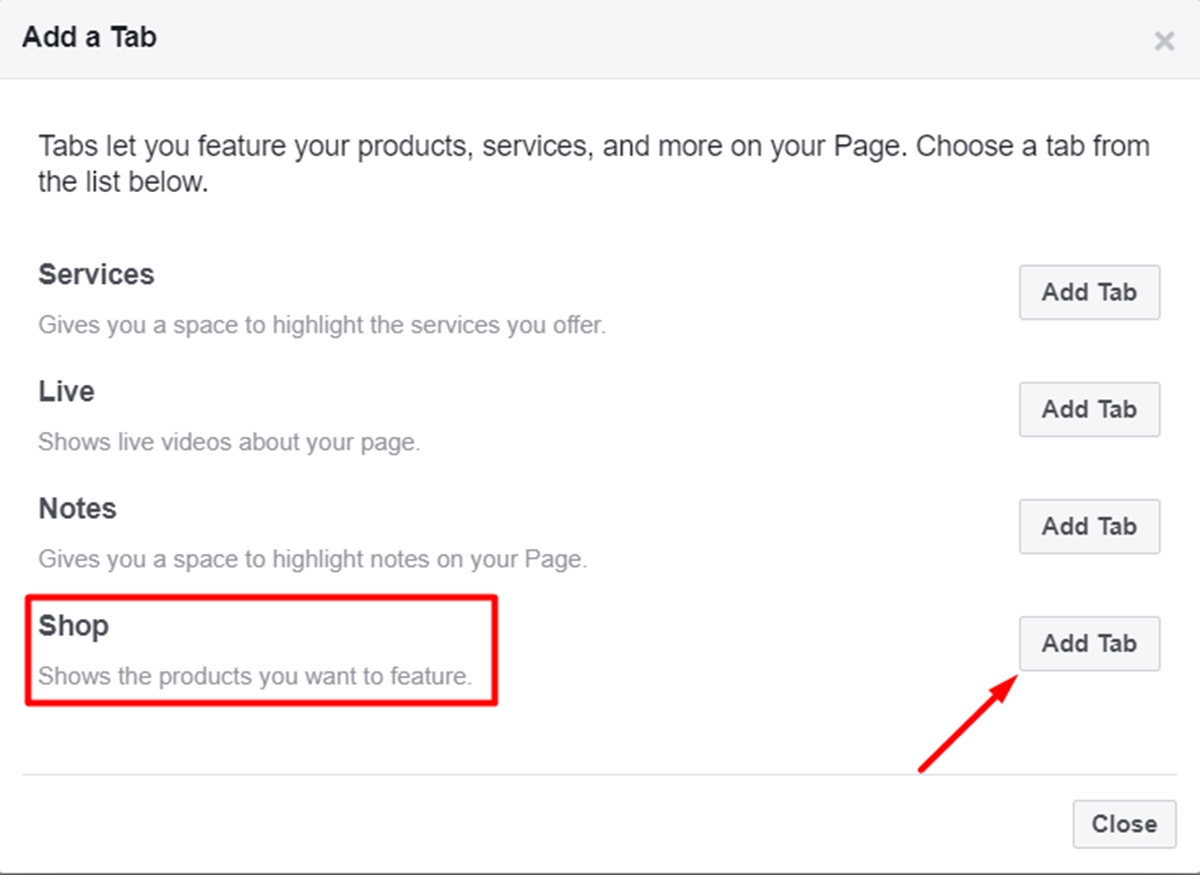 Step 5: After creating, you can find the "Shop" section on the left-hand side of your Page. Click the newly-added "Shop" tab, and in the pop-up, check the I agree to the Merchant Terms and Policies.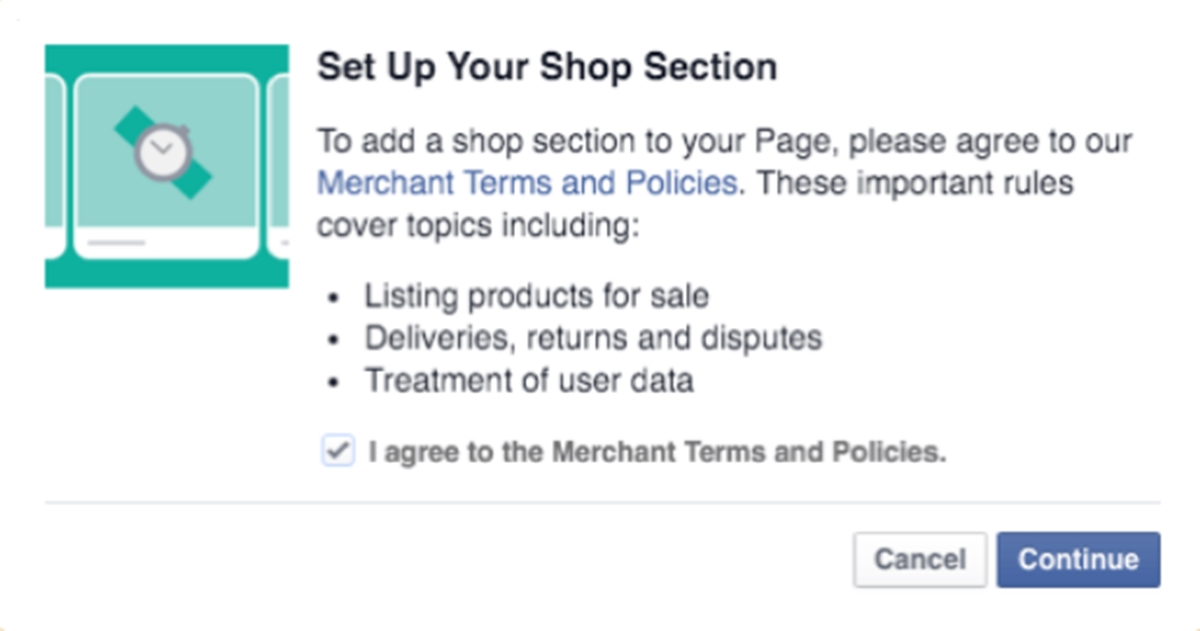 Be sure to get it done because there are important Customer Support Policy and Delivery, as well as Return and Dispute Policies that you need to comply with.
Step 6: Finally, choose the Checkout Method and currency, and you're done!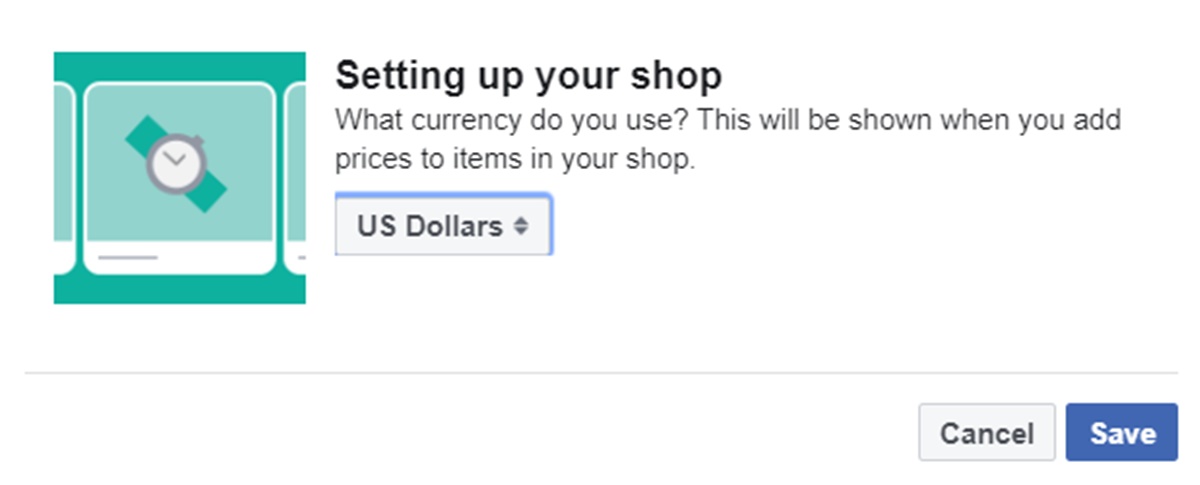 And after you add the "Shop" tab on your Facebook Page, you can import your products in the catalog that Facebook automatically sets for you. To find out which catalog it is and how to import, read the following.
Step 1: Go to Facebook Catalog Manager.
Step 2: Click Catalogs in the Assets section.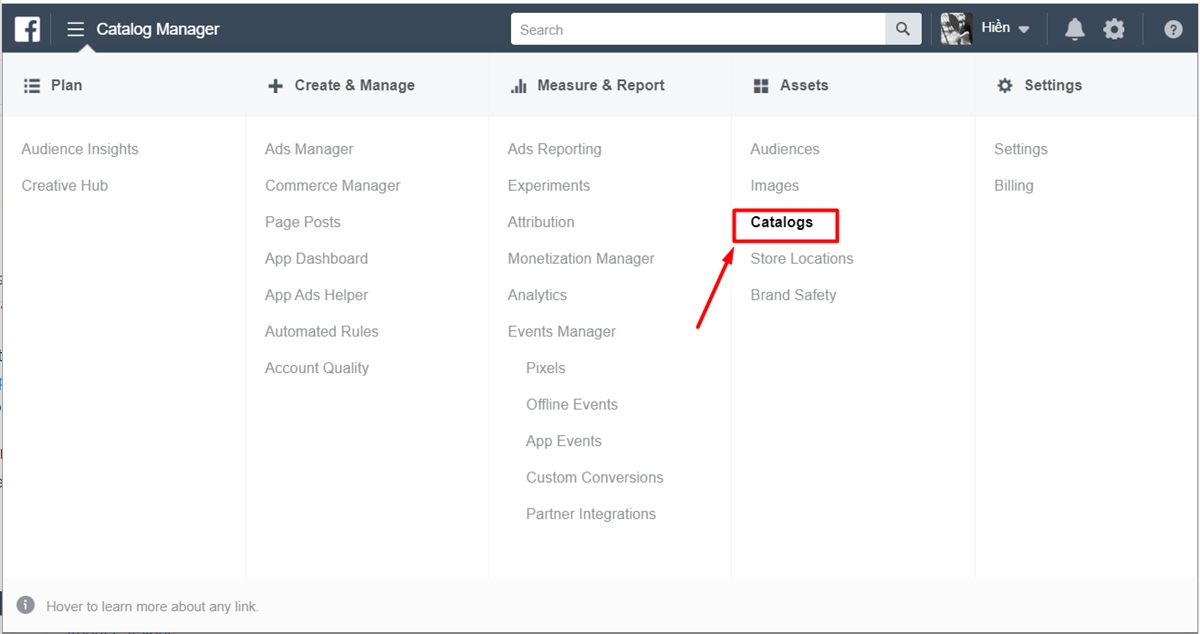 Step 3: You can see the catalog already made by Facebook when you add the "Shop" tab on your Page is named "Products for X," where X is the name of your Facebook Page.

Remember that this default catalog was created by Facebook, not by you, so it cannot be selected, and its selection box is grayed out. It is already connected to the "Shop" tab of your Page. Then, if you add products in it, they will automatically be visible into the "Shop" tab.
Step 4: Click the name of your catalog.

Step 5: Choose the Products section in the menu on the left, and you'll see the Add Products button.

Step 6: Select Use Data Feeds and click Next.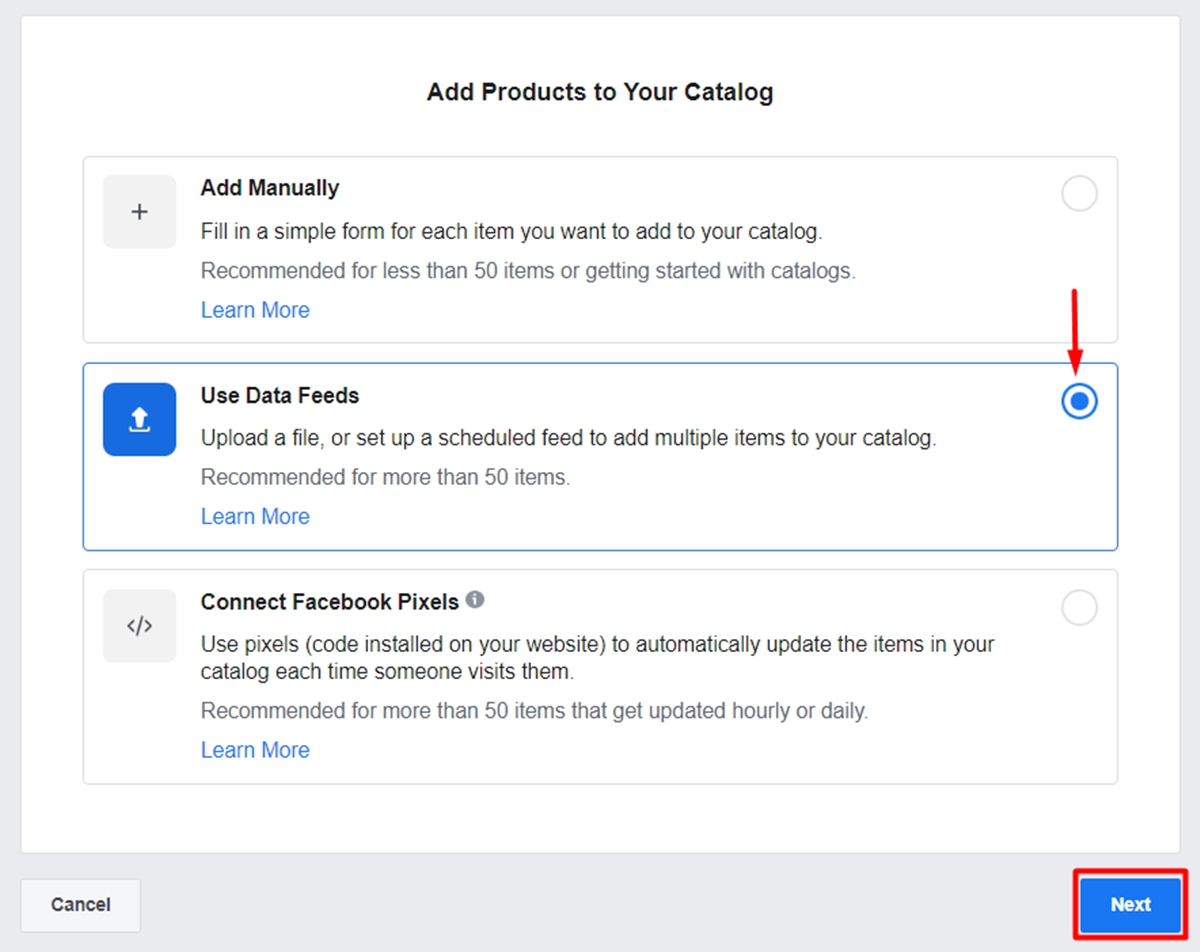 Step 7: Enter a name for your data feed file and select a default currency.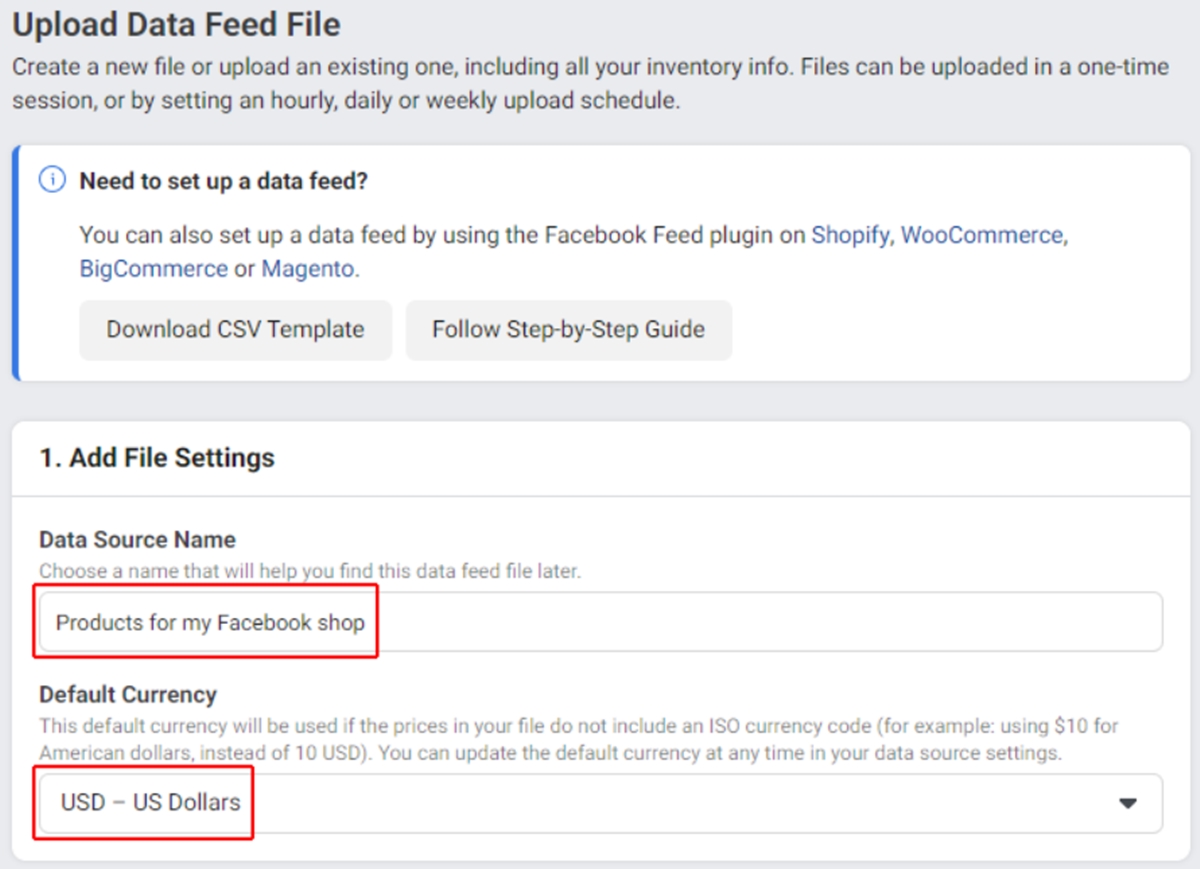 Step 8: In the Select Upload Method, choose Set Automatic File Upload Schedule.

Step 9: Enter the URL of the data feed file in the Add Data Feed URL section.
Step 10: In the section of Set Automatic File Upload Schedule, choose a frequency and time to update the feed. Then, you can Start Upload.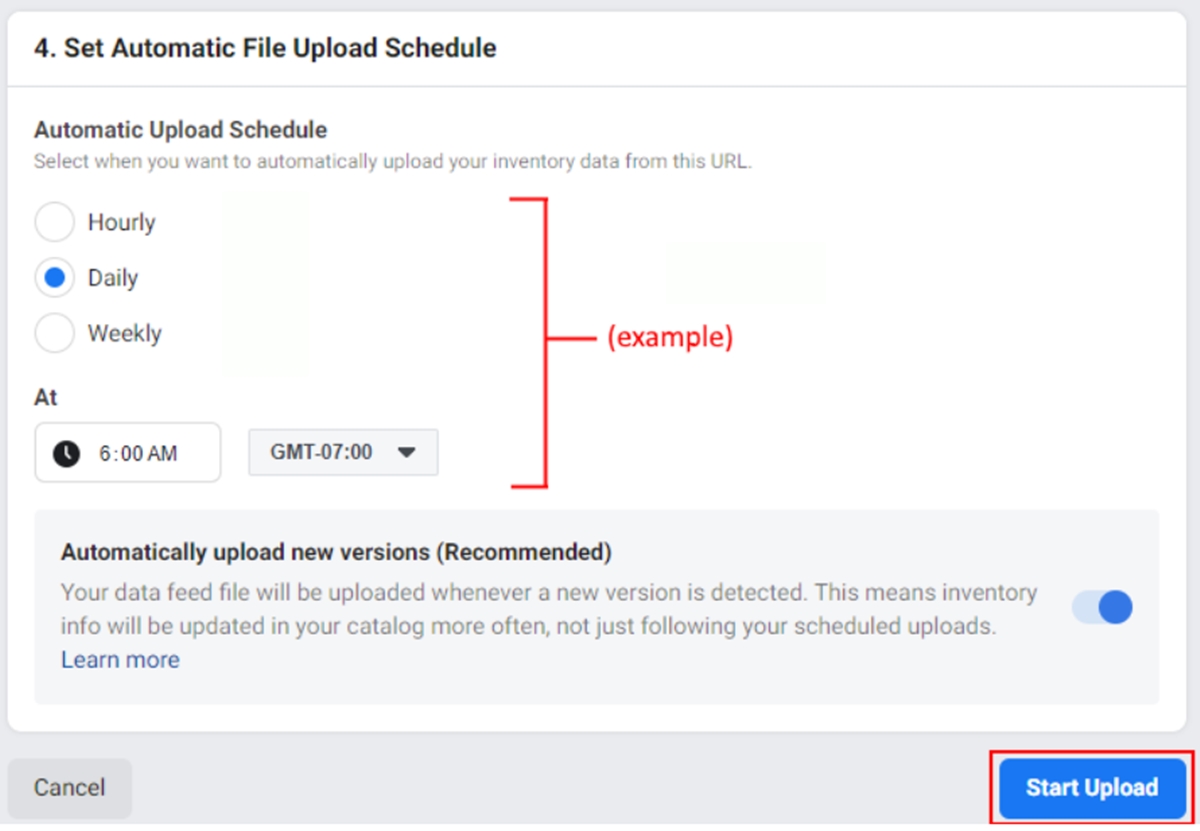 5 steps to add Shopify store to Facebook Page
You might suppose that selling on the Facebook platform is enough to generate sales and gain your profits. But don't forget, no entrepreneurs want to limit themself. They want to fulfill their potential as much as possible.
Then, using an e-commerce builder like Shopify to sell through Facebook is a wise choice. This option is not only much more simple, but it also gives your online business a much more extensive online presence.
Therefore, in this section, we'll take you through 5 steps to selling on Facebook with Shopify. Just follow us!
Step 1: Log in your Shopify account.
Step 2: In the Shopify admin, click the + symbol next to Sales Channels.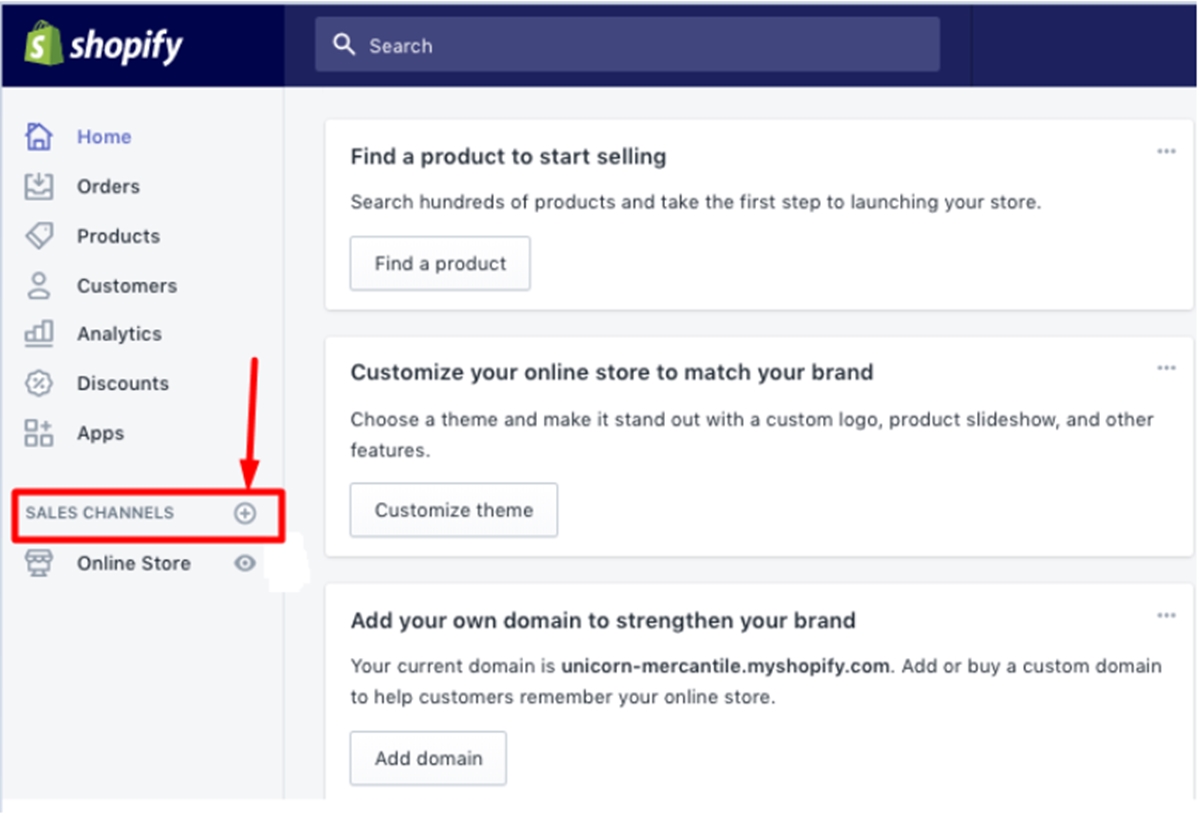 Step 3: You'll see Add Sales Channel pops up, you need to scroll down to find and add Facebook.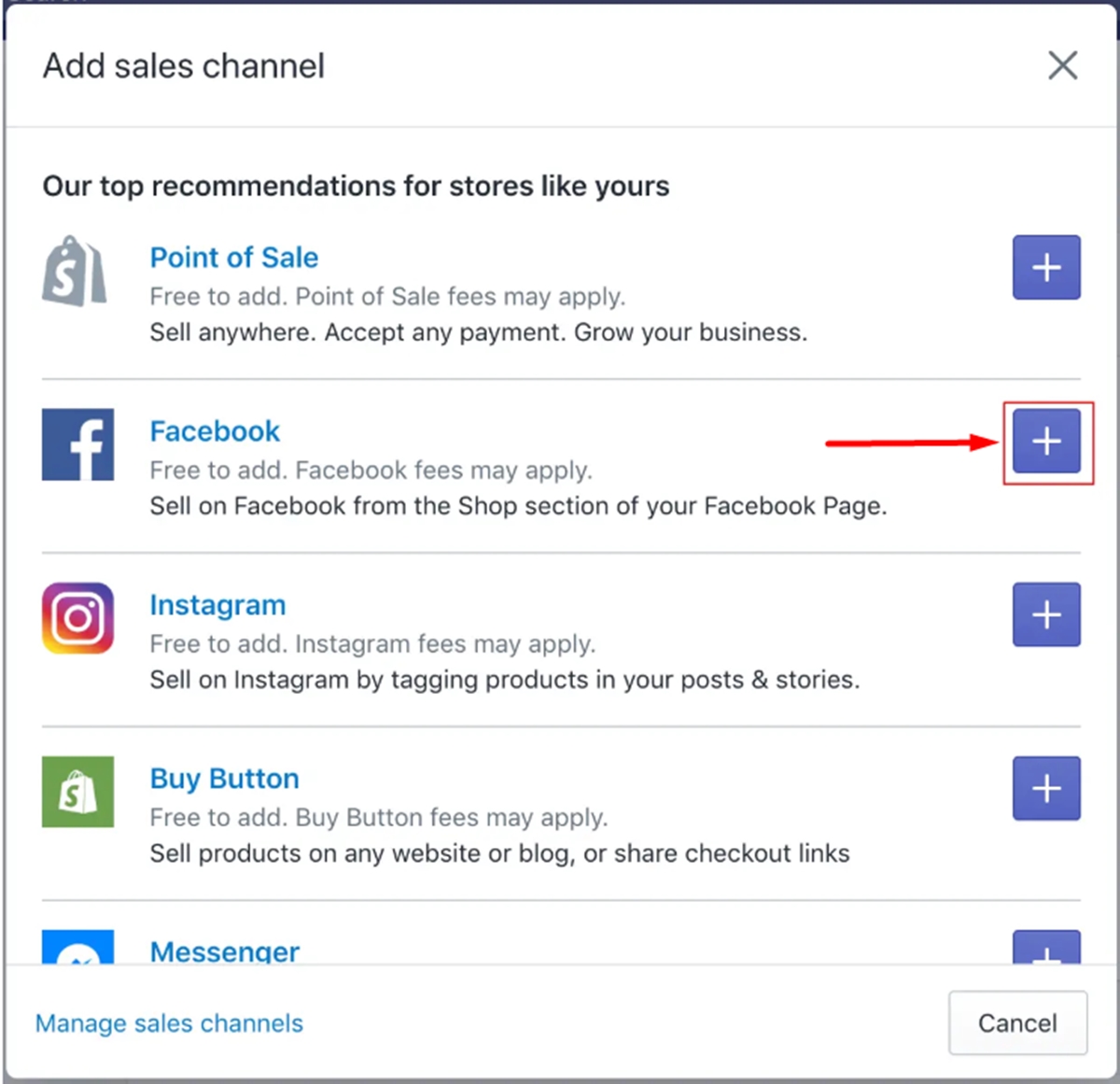 Step 4: Click on Connect account.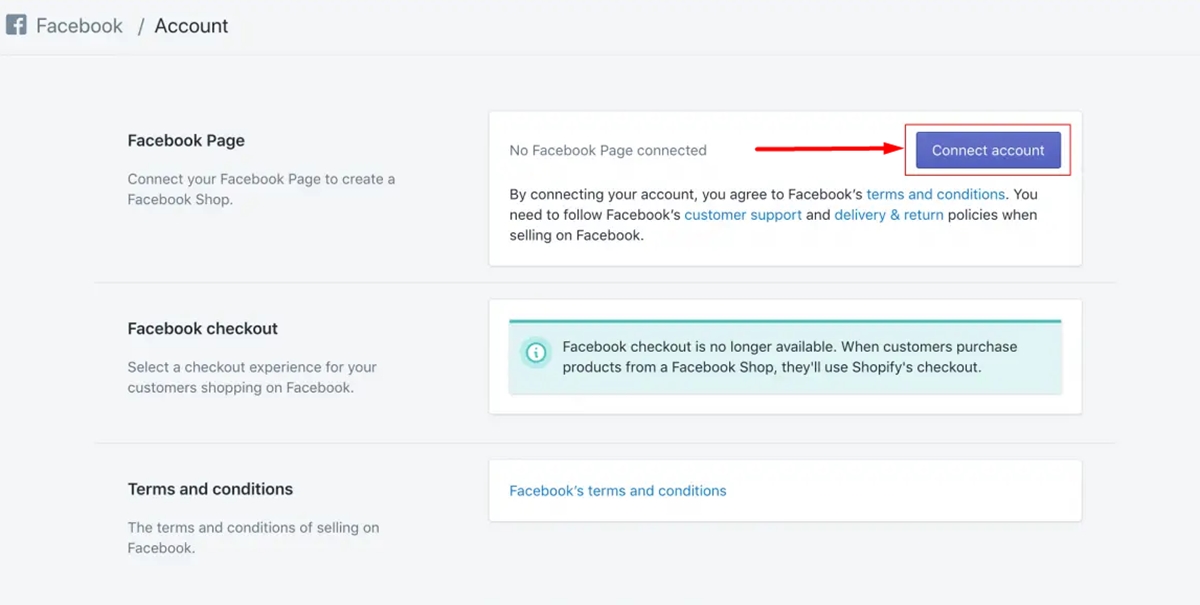 Step 5: Allow Shopify to connect with your business's Facebook Page, and Facebook will verify your account information. When your account has been well verified, you can enable Facebook checkout using your Shopify admin.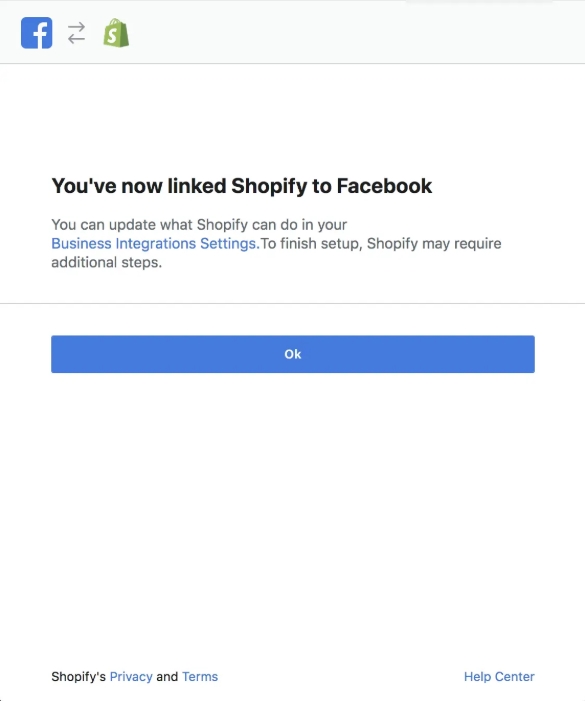 With only 5 easy-to-implement steps, you've now finished uploading your Shopify products to Facebook!
7 tips for selling on Facebook Marketplace
You might be planning to get into the local selling-and-buying game with Facebook Marketplace, but you still don't know where to start. Here is how to get the most for your stuff!
1. Prepare your profile
The significant difference between Facebook Marketplace and other sites (such as Craigslist) is the fact that the Facebook Marketplace links to your Facebook profile. This makes the platform a little more credible, because buyers can know your name, see your avatar, and perhaps other information, depending on what you choose to share, instead of making a completely blind purchase.
So, it means that you want your public profile to make you look like a trustworthy seller, not a scammer. It would be better if your profile photo is a photo of yourself, preferably a well-lit photo of your friendly smiling face.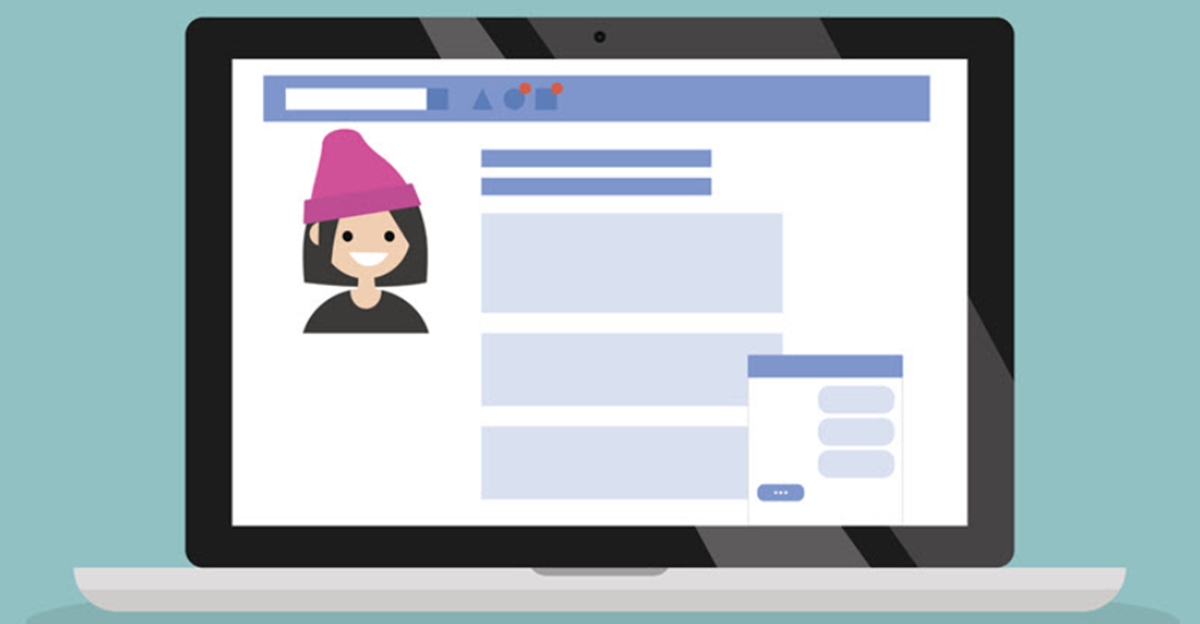 Consequently, it is vital to find a balance between showing to potential customers that you are a reliable person in the community without revealing too much personal information to strangers.
2. Prepare awesome photos
Remember that a picture is always worth a thousand words. Most people don't like to read, so your photos will likely sell your items.
But Facebook Marketplace is a photo-stream of items for sale, so your pictures need to be eye-catching and high-quality to show the best features of the item you wish to sell.
You don't need a fancy camera to take great photos, as smartphones nowadays have amazing photo apps to help you. Hence, before shooting, apply these following rules:
Clean up your item a little bit
Remove distracting items out of the background
If you find lighting in your house not good enough, go outside and utilize natural lighting
Take at least three photos of your items from different angles. The more photos, the better, as buyers appreciate the transparency when they are interested in a product.
Use your own photos, not stock photos. People would like to see what the item actually looks like, and your listing will appear more authentic.
3. Write clear titles and descriptions
In addition to your photos, your titles and descriptions need to be clear and concise as well. They should display the condition of the item (new, like new, slightly used, etc.) and include a size chart if it's a clothing item. And many buyers will also want to know if your item is from a pet-free or smoke-free home.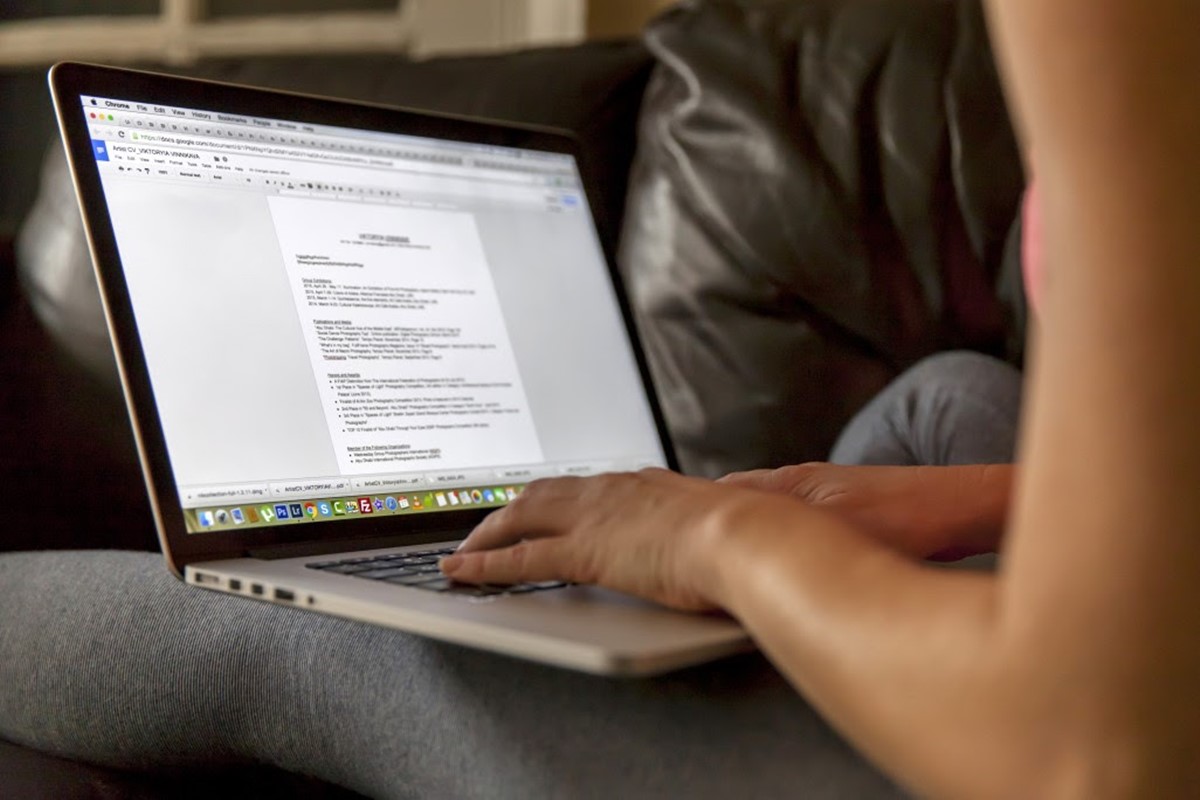 Another thing to consider is including the notice of first come first served (FCFS), or there are no holds in your description. Let's think about a buyer who messages you on the first day you've listed the item, but wants you to hold it for him for 5 days. Well, a lot of inconveniences! So, it would be better to state this clearly before you post your listings!
Read out review: Top 6 product description generator tools
And finally, there will still be people that don't read your descriptions and ask you questions that you've already answered. When this situation happens, just remember to respond friendly!
4. Price high and be negotiable
No matter how low you think you are pricing your item, buyers will want to pay less. This is the nature of the beast! So, be prepared to price your stuff at the high end, but not make it overpriced.
Before listing an item, you can do a small search on Facebook Marketplace and other websites to see what the reasonable price for the item is. By doing this, you can set your price point to be competitive enough and know the lowest price you can accept.
Besides, be open to negotiation. Many people like to negotiate when it comes to doing business on Facebook. They feel like they're getting a better deal if they can get it for a little bit cheaper than your original listed price. So, start high and be willing to lower down a bit if asked.
5. Respond quickly
When you list your products, you can receive a lot of messages from a variety of users on Facebook Marketplace. You should respond as soon as possible because the whole point of the Facebook Marketplace is impulse purchasing.
Therefore, when you decide to list your items, make sure to check your phone frequently until they are sold.
6. Accept only cash or use safe payment services
Never give anyone your bank information to do a transfer as a form of payment for your items. Moreover, you should avoid a check because of the check bouncing or the risk of fraud.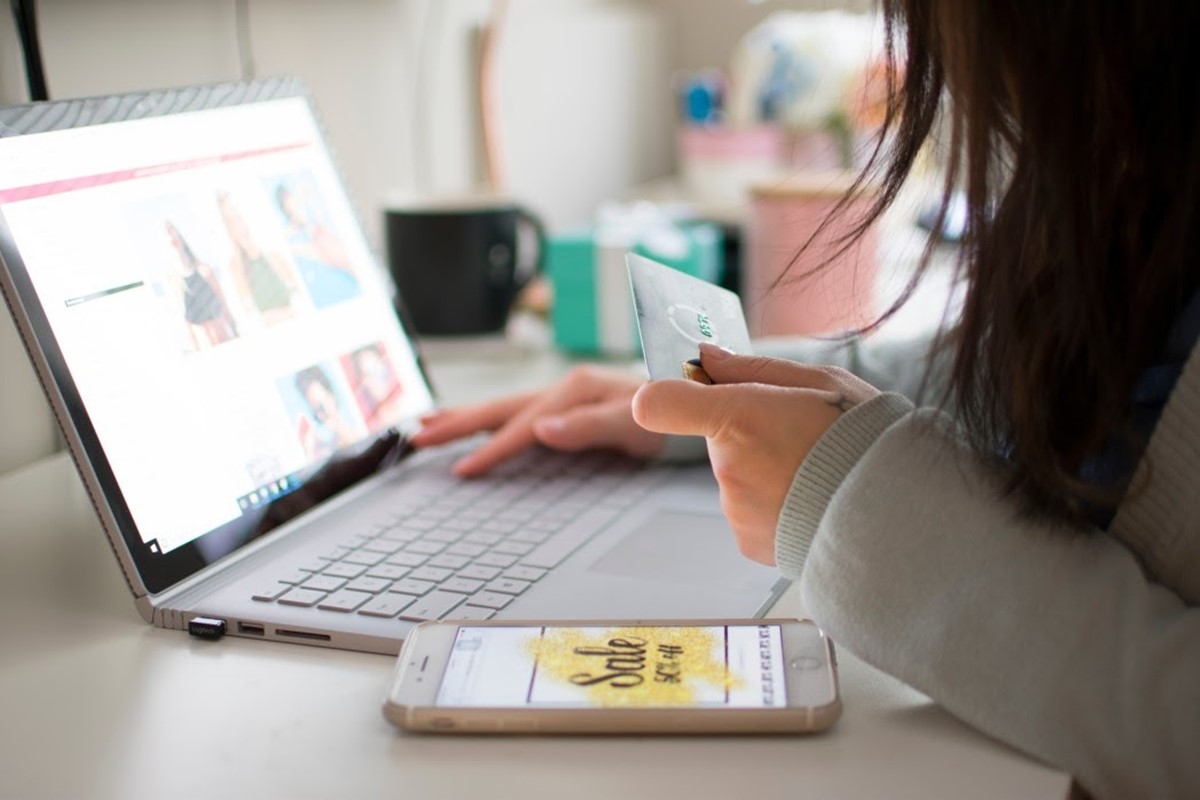 There are several safe methods to receive payment from your customers without having to share your bank information, such as:
Cash
PayPal
Facebook Messenger Payments
Venmo
Zelle
7. Arrange for pickup at a public place
In case you don't want to use shipping services, it is safer to meet the buyer in a public area rather than have them come to the seller's home. A lot of people will meet their buyers at a grocery store, parking lot, gas station, Starbucks store, or even at a police station. This ensures safety and convenience for both sellers and buyers.
Many sellers prefer the buyers to come to their homes so that they don't have to waste gas or worry about people reneging. If buyers don't show up, sellers do not need to waste any time waiting for them. It honestly depends on your own comfort level and how safe you feel when having a stranger come to your home. And in our opinion, public places would be a good choice.
Further Reading: 10 Principles to Help you Sell Anything to Anyone
The bottom line
In its initial stage, Facebook Marketplace was just a section where users could list personal items for sales, and friends or group members could engage with the post if they were interested. Now the new Facebook Marketplace has expanded to allow more users and businesses to join in. So, entrepreneurs and small businesses should consider investing in this promising land.
This article has provided necessary information about Facebook Marketplace, how to automatically import your products to Facebook Page Shop, how to add a Shopify store to Facebook Page, as well as useful tips to take advantage of Facebook Marketplace. So, if you're looking for a new avenue to engage potential customers and increase your revenue, read this guide and start on Facebook right now!
Learn more on how to do business on Facebook: