Entrepreneurship is tempting since you can be your own boss, hustle some side money, or simply selling what you love. But it is no easy task and requires serious work to success.
With Shopify - the #1 eCommerce platform, the process of running an online business has been reduced considerably. This can be the leap you need to earn more with promising opportunities all over the world.
That is why today we will give you a simple process to start a business and make money with Shopify, and provide some ideas to start as well. The best is you don't have to quit your job or school to do it successfully. Just find the way that suits your lifestyle.
Read more:
What is Shopify?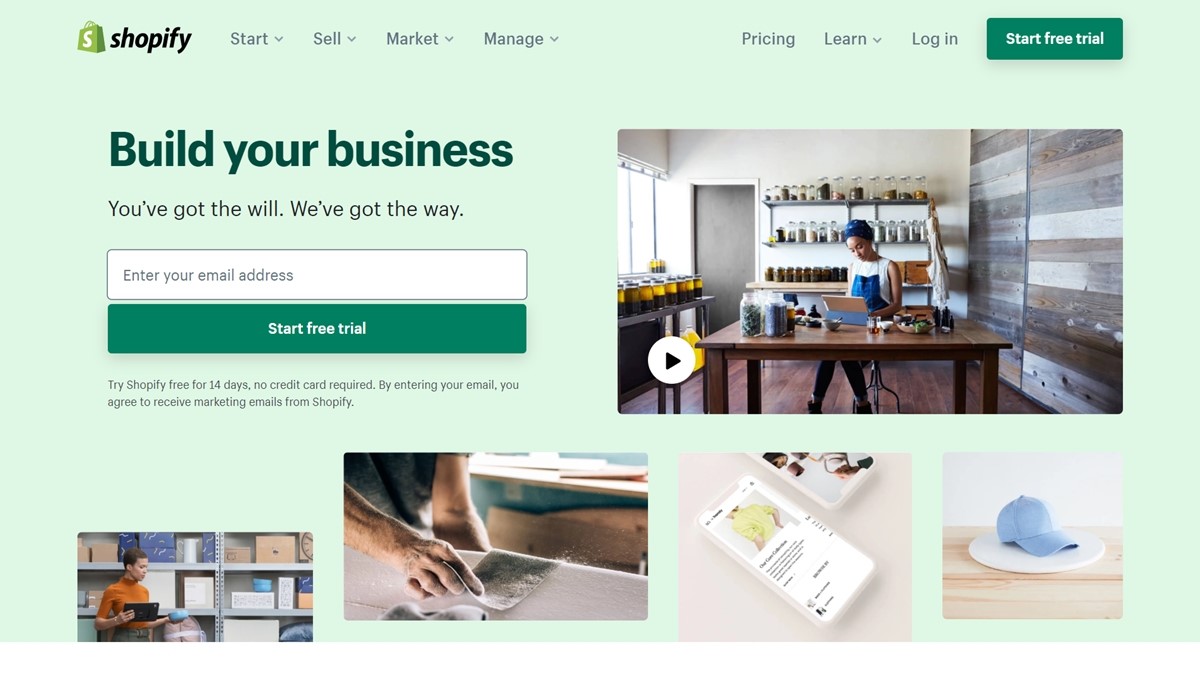 Shopify is a platform that helps you create an e-commerce website with many business support features such as order management in different channels, payment integration, email delivery to customers. There are also lots of other features like SEO support, product uploads, sales statistics & performance measurement, and thousands of different integrated apps.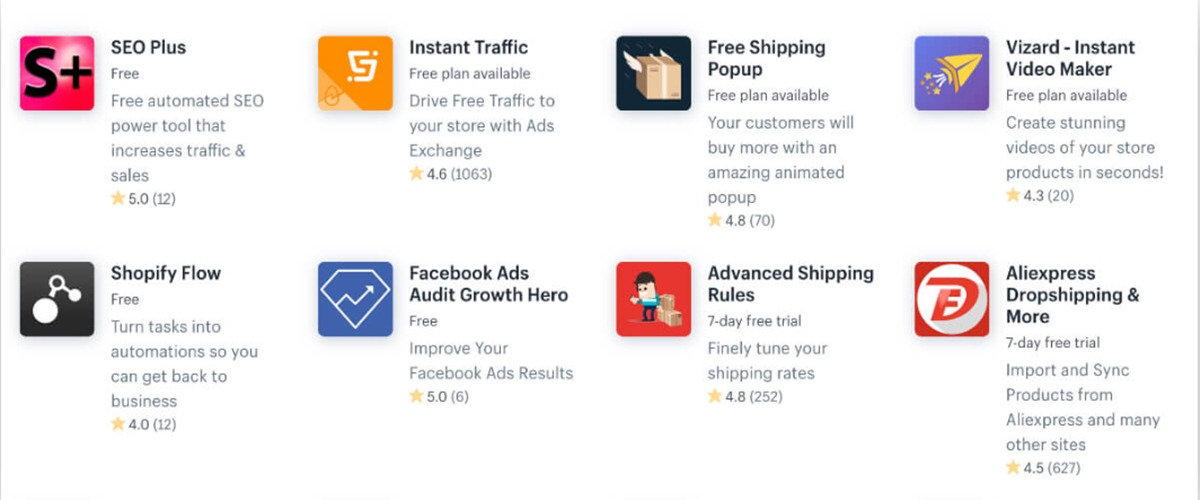 You can start building an e-commerce website without any website or programming knowledge, Shopify is designed for people who are not programming or website experts who can use it.
Launched in 2006 and until 2019 is expected to reach 1,000,000 sales websites using the Shopify platform, Shopify is currently considered to be the best e-commerce & business support website.
Why should you sell on Shopify?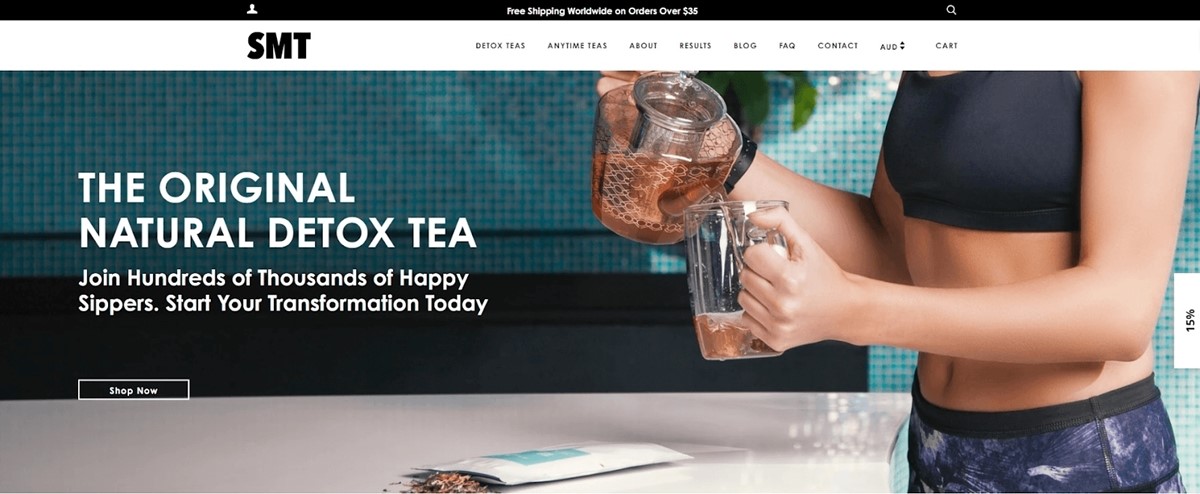 When it comes to building websites for your business with so many options to choose from, sometimes it's so overwhelming that you are tempted to just purchase from the first website you go to.
Building your website with Shopify is the best choice right now as this is the easiest and most convenient way for a business to set up a store, then start selling products and services online straight away.
In case you're not tech-savvy and want your own eCommerce store, and you have outgrown marketplaces like eBay or Amazon, just go with Shopify.
Shopify now has over 600,000 merchants and has more than $82 billion in sales.
Learn More: How many people using Shopify? Shopify Statistics & Figures
In fact, we have ten reasons why you should start selling on Shopify:
It is an all-in-one eCommerce solution that combines hosting, cart function, channel integrations, and security.
Easy to use and clean interface that helps you build your store without learning to code.
More than 2,200 apps and 170 themes to optimize the store
Level 1 PCI certification for industry-leading security.
Reliable servers for a smooth experience on your site, even with high traffic.
24/7 support by email, live chat, phone.
You can scale your business on every level.
Completely transparent pricing plans help you calculate the cost.
A simple directory for products improves SEO.
Content Delivery Network that can enhance performance on webs and mobiles.
Want to know more about Shopify? read our detailed review in which we go through all the pros and cons of the platform.
Dropshipping with Shopify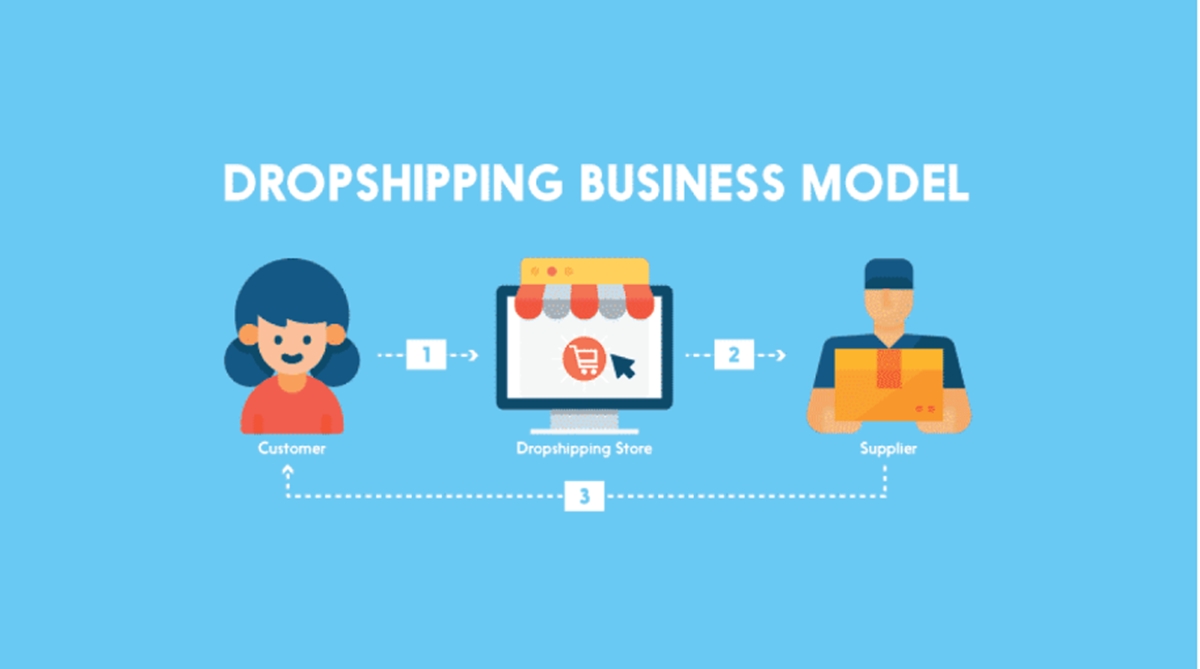 First of all, I would like to introduce to you about Dropshipping. If you've already known about it, you can skip this part. Dropshipping is "sales that bypass shipping". It is a retail method that stores do not need to store inventory. Instead, you transfer customer orders and shipment details to another manufacturer or supplier. These people will then deliver the item directly to the customer. With this way of doing business, retailers do not need warehouses and goods in the warehouse nor need to care about the shipping.
You can simply understand that you buy a product at a low price and sell it at a higher price and make a profit from the difference. The profit you get is the price difference between the supplier and the price you sell to customers minus shipping costs. The difference will be more or less depending on the type of product and how you choose a supplier.
The advantages of Dropshipping are:
Do not spend a lot of capital: the biggest advantage of this online business is that you do not need to invest in warehousing and transportation. If in the traditional business model, when you start the business, you will spend a significant investment in storage costs.

Flexible location: For a business person in the form of dropshipping, the location is not a problem, you only need a computer connected to the Internet to be able to work. As long as you can communicate with your customers and suppliers easily.

Do not worry about inventory, there is no case of importing a bunch of goods that cannot be sold, without having to find a store.

Commissions received immediately after completing each order. No waiting for review on a 3rd party.
However, everything will have good and bad sides. Dropshipping is no exception. It also has some disadvantages:
Low profit: this is the disadvantage of this form because it costs less initial investment, so this is a form that many people choose to join, so that pushes up the competition.
You will probably encounter trouble when the item is returned
You have difficulty controlling product quality and shipping delays.
Next, I will take you through how to dropshipping with Shopify effectively.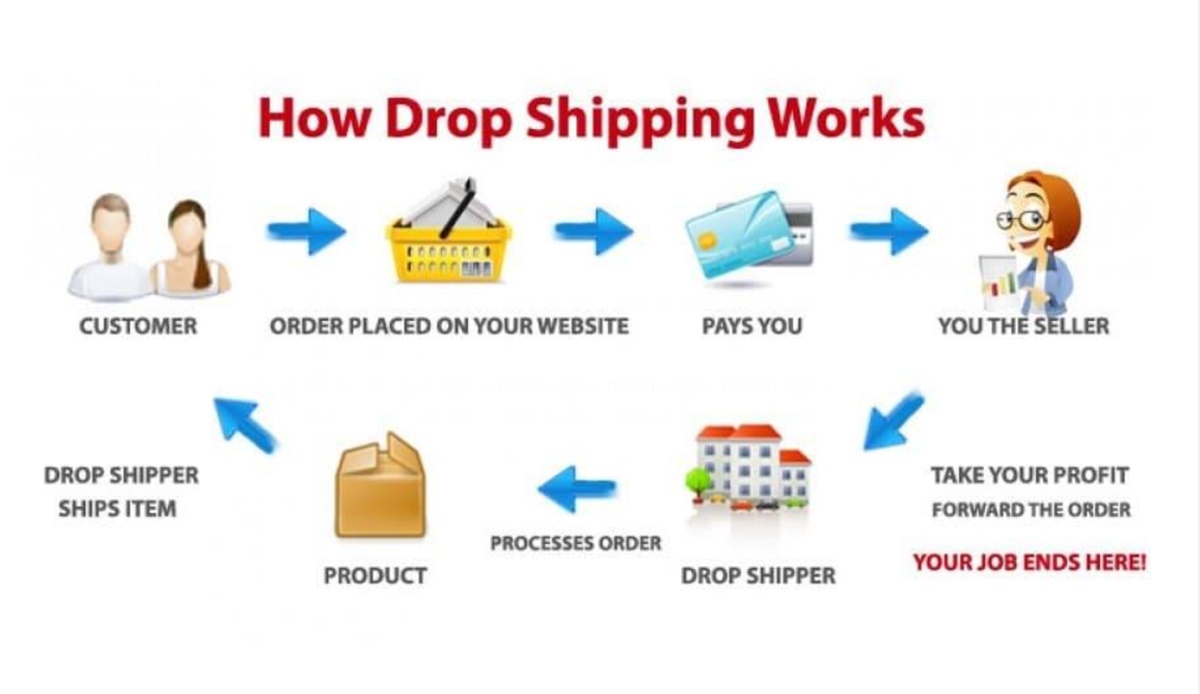 Step 1: Choose products, suppliers with reasonable prices, negotiate prices and shipping with suppliers. This is an extremely important step, you must choose a reputable supplier with quality products and stable prices. Choosing the right supplier will determine how much profit and success you have with dropshipping.

Step 2: Post products to the store on Shopify.

Step 3: Customers will come to your store to purchase and pay you via Paypal account or a Paygate accepted by your seller. .

Step 4: Buy and send to customers. You use the money that customers pay for you, through the purchase vendor, and ask the supplier to ship the product to your customers.

Step 5: Supplier packaging, shipping. By this step, you can track your order information and customer care.

Step 6: Summarize the data, calculate the profit of each product, and make more appropriate adjustment plans.
How can you make money with Shopify (step by step)
So are you ready to move your business forward? Let's see the steps you can take to start making money with Shopify.
1. Find your business ideas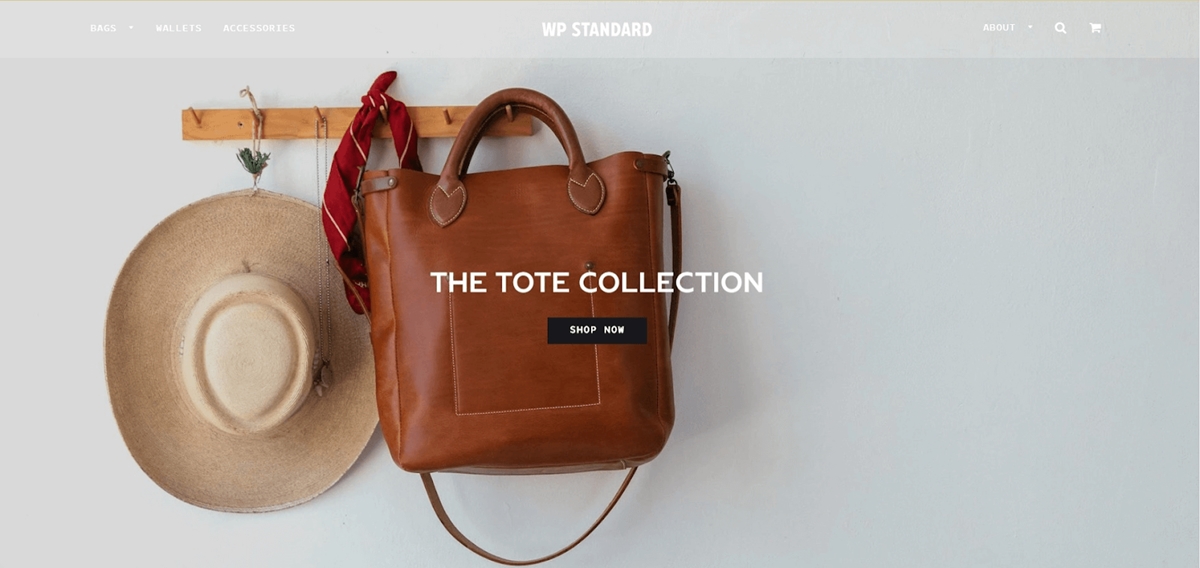 There are over 600,000 merchants on Shopify right now, and they all have something to offer in every niche in the world. So how can you find something to sell that stands out and makes a profit?
Well, the good news is, the process of finding a business idea is something you can approach strategically, which has worked well for other entrepreneurs.
Remember, all you need is just one idea to get started. That is why I give you 11 ways to identify a product that you can sell:
Solve a customer pain point
It is always a good start to find something that is useful to people, that solves a problem they are facing and want solutions. Uber wouldn't be a business if there weren't so many troubles calling a cab.
So pay attention whenever you come into frustration or annoyance in daily life, and end it with your own line of products.
Go with your personal passion
Do you love something? Use your knowledge on the subject and create a unique product that can be extremely profitable.
In the long run, the fit between you and the market will keep you motivated to overcome the hurdles, because running a business requires a lot of dedication. Some long nights with the things you are deeply invested in sounds better, huh?
Consider your professional experience
You have worked in a particular industry that grants you more knowledge than anyone else (or just an average person on the topic). This can be the strength to open an online business of your own.
Since you understand better than people, your business can enter the market with a leg up and won't be easy for others to duplicate or copy.
Capitalize on trends early
Recognizing a trend early and ride the way can be a significant win for your business. This allows you to establish your brand as a leader in the market before others can catch up.
However, be careful to recognize "fad" and "trend". While "fad" is something that surges for a while then fizzles out. "Trend" is something existing in a new way to solve problems, which has longer demand.
Read customer reviews on existing products
If you already have a store, see what customers are saying in their reviews. There are so many insights and ideas you can get from these to develop your next products.
If you haven't had a store yet, see the reviews from other brands in the industry. What is being shared about potential improvements and additional products to accompany?
Research products with higher profit margins
When pricing your product, you will need to factor in how much it cost to make, promote, store, and shipping. So low-risk products with a high return on investment should be your choice to start a business.
Find product opportunities in keywords
Organic traffic from search engines plays an important role in your business's success. So strategically looking for a product based on the search queries that people are using makes sense.
Remember, Google is not the only place to search; you also have marketplaces and other search engines. You can use Keywords Everywhere or Helium 10 for Amazon, for instance.
Browse what's trending on online marketplaces
Sites like Amazon, eBay, Etsy, Alibaba usually have lists like "What's hot", "Most wished for", and other categories that you can research for current customer's demand.
To dig a bit deeper, you can use Jungle Scout to identify top-selling products and filter by price, category, sales, other attributes.
2. Validate the cost and price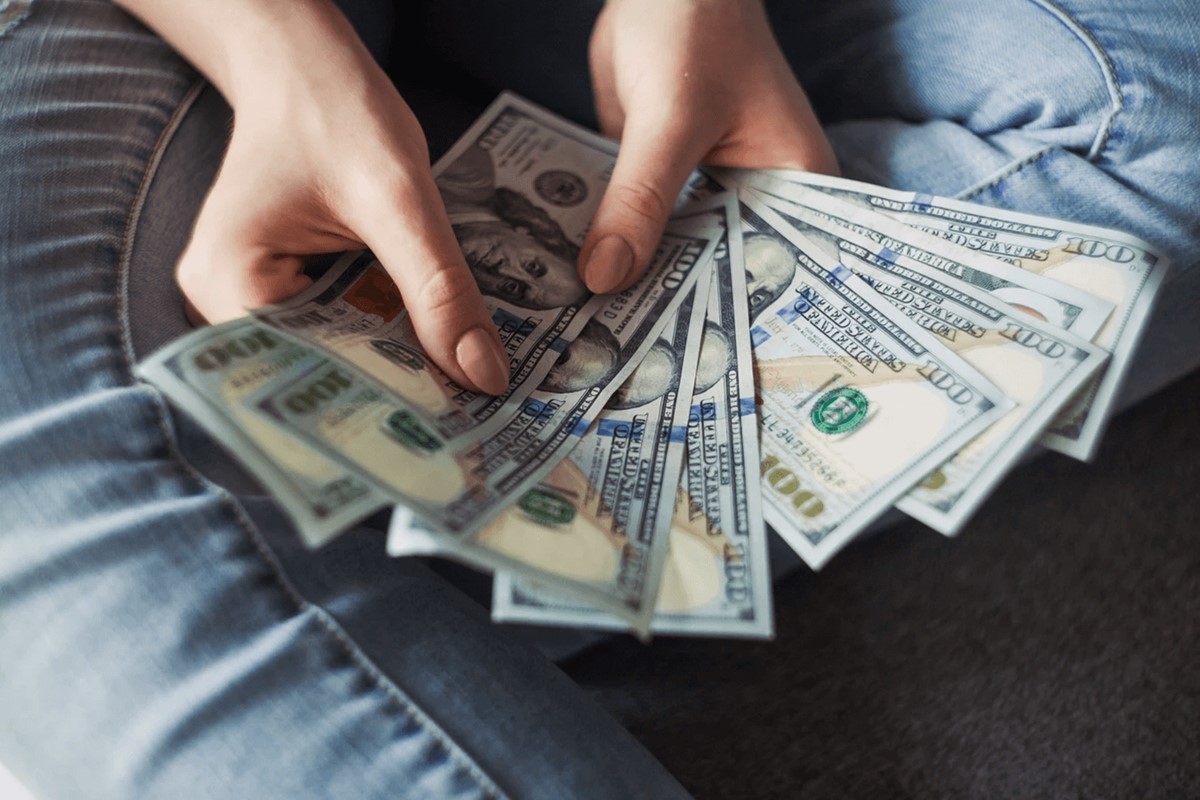 This may sound difficult, but it is really just a test to see if customers are willing to pay for your products, and how much time and money it would cost you to get the result.
There are various ways to do this, both simple and complicated. Here are some examples that can help you to begin:
Launch a crowdfunding campaign for your awesome ideas.
Make a landing page to take preorders.
Create a beta version of your product or service to sell.
From there, you can see which price suit with people, and how much does it cost you to promote the items. Of course, you still have to consider the creation cost, storage, and shipping.
Bookkeeping is one of your primary financial tasks as soon as you start making purchases for your business. Having accurate records of your income and expenses will help your cash flow, and make for a smooth transition to work later on.
In order to make the process easier, consider opening a separate bank account and credit card only for your business. Keeping your personal and business finances separate makes taxes much simpler and can help automate some of the steps as well.
Resources:
Shopify Capital: Helps approved merchants get the funds that they need without lengthy bank approvals or giving up some parts of their company.
Accounting tools: These are apps that work with Shopify and streamline accounting processes.
Profit First: A book to help make sure your business is profitable, no matter what kind of field you are in.
3. Find suppliers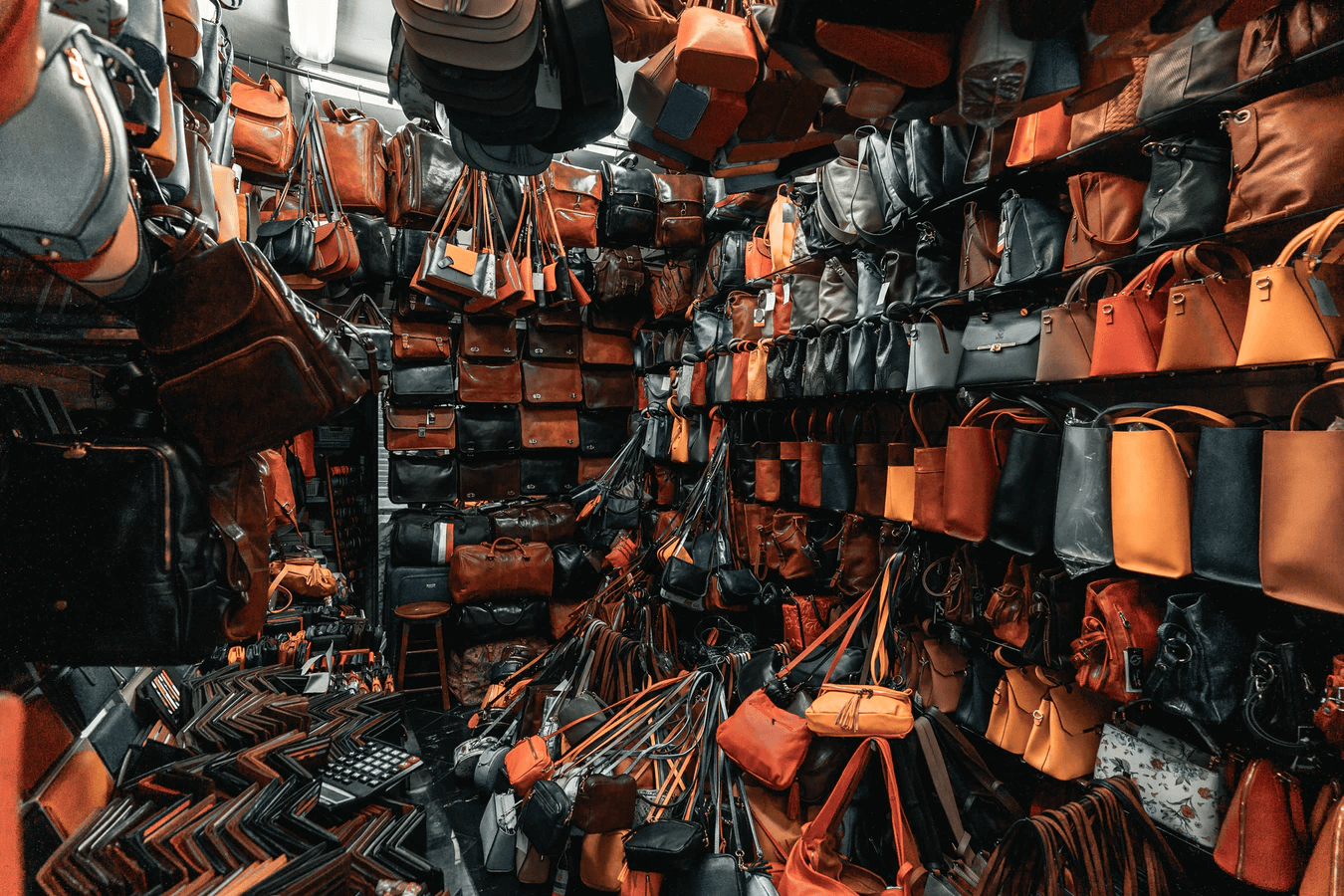 Your suppliers mostly depend on the product you are selling, but there are two common cases with finding suppliers.
In the first case, you need a local supplier, since you are selling manufactured goods right from your location. This can mean you are selling organic vegetables or hand-made decorations, etc.
This is easy since you can contact them in person, see the sample product, check the manufacturer process regularly, and control the outcome. Just a bit of searching around, and you can find them.
Keep in mind that they may refuse to supply in small quantities, so you can get some partners to do business together.
In the second case, which usually applies for dropshipping, you need oversea suppliers. Which can be more complicated due to differences in location. But basically, there are three main factors:
The Manufacturer: Manufacturers are those who actually produce goods. They have the machinery and a workforce to manufacture goods at a very large quantity. They typically do not work directly with retail buyers but through a second layer of suppliers, which is the trading company.
The Trading Company: Trading companies do not produce goods, but provide service instead. They are in partnership with manufacturers to export goods. This means they work directly with retail buyers and process their purchase orders on one side, and work with manufacturers to produce goods on the other side.
The Wholesaler: Wholesalers are those who source goods in bulk from overseas and then distribute locally to retailers. Wholesalers often work directly with trading companies since they can purchase in large quantities. Depending on your needs, these suppliers can be found via Google, Amazon, or Alibaba. Check with several suppliers to find the suitable one for your business.
Recommended:
4. Create your Shopify store
Now, with all in place, let's create a Shopify store to start making money with it. You have three basic plans to choose from, which all provide the completed solution to start an online business.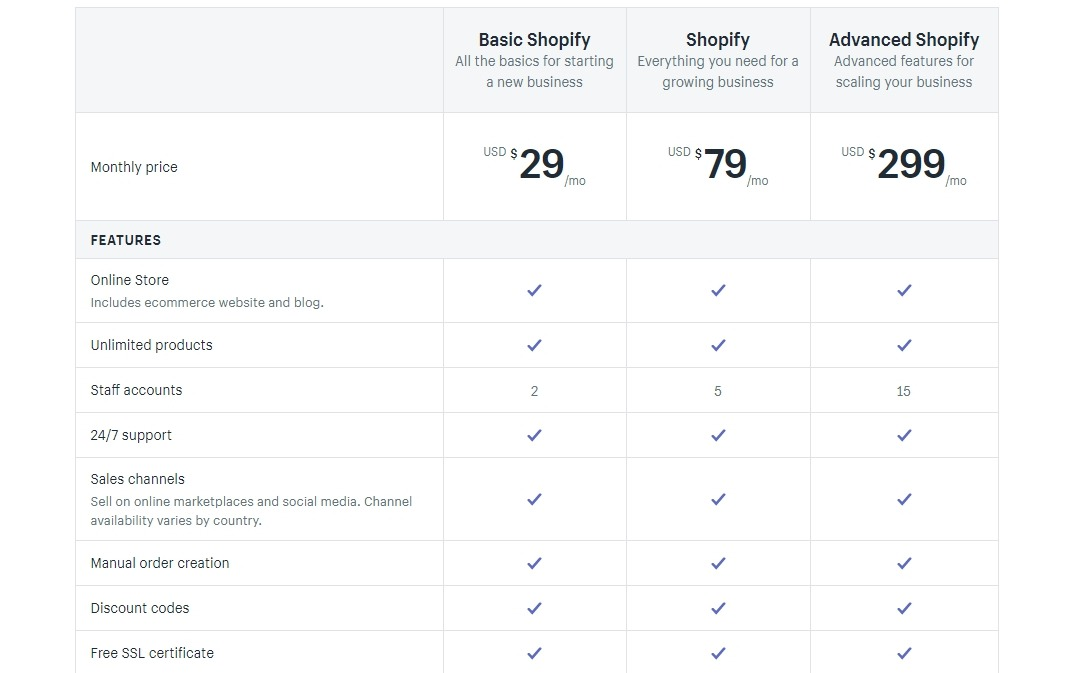 However, I would recommend sticking with the $29 plan at first, since this is a reasonable price for starters, and you can always upgrade to the higher packages later, which is why we will go to what Basic Shopify can offer for you.
Website:
With $29/month, you will get a website to display your products on the front side of the business. The plan does not include a built-in theme, so you will need to head for the theme store and get one.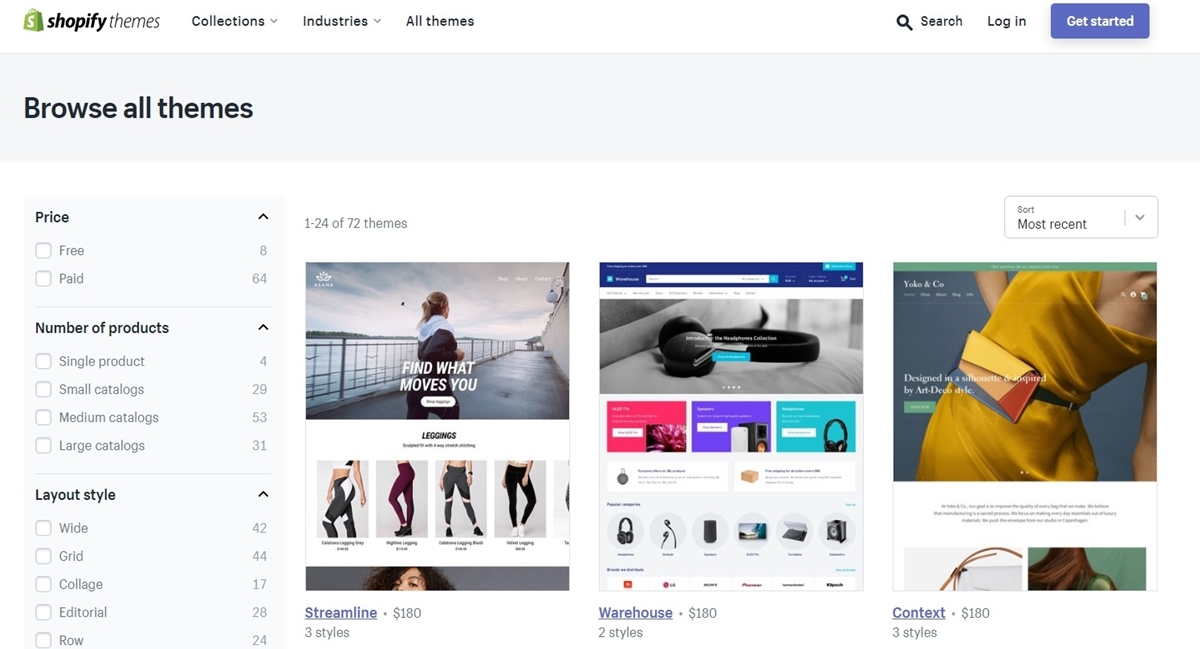 There are both free and paid themes to choose from, and you can choose a free one to try out, but a paid theme is certainly more stable in the long term.
Dashboard:
Next, Shopify provides you a dashboard, which can be used to manage things such as staff, inventory, delivery.

One important feature that Shopify offers is Shopify Shipping, which partners with popular logistics vendors such as DHL, UPS, USPS, and can help you ship your order without finding another logistic partner.
You can see the shipping rate, book a pick-up, and then get the package shipped to your customer, and all can be done in the dashboard. With Basic Shopify, you can get discounts on shipping up to 64% thanks to Shopify's partnership, whether you ship domestically or internationally.
Sale Channels:
One superb thing about Shopify is that they allow you to connect your eCommerce site with many other online sales channels. You can sell your products on websites, Amazon, Facebook, and more.
You can link all the products on your online store with other channels, and see how many products are available to integrate with a new channel.
To know how you can add more sales channels, watch this video guide from Shopify.
This is basically everything you need to have an online store, both front-end, and backend. The best is, all the technical sides are reduced to a simple-to-understand interface, which you can easily control and configure.
Learn More: How to Build a Shopify Store From Scratch
5. Strategies to maximize profit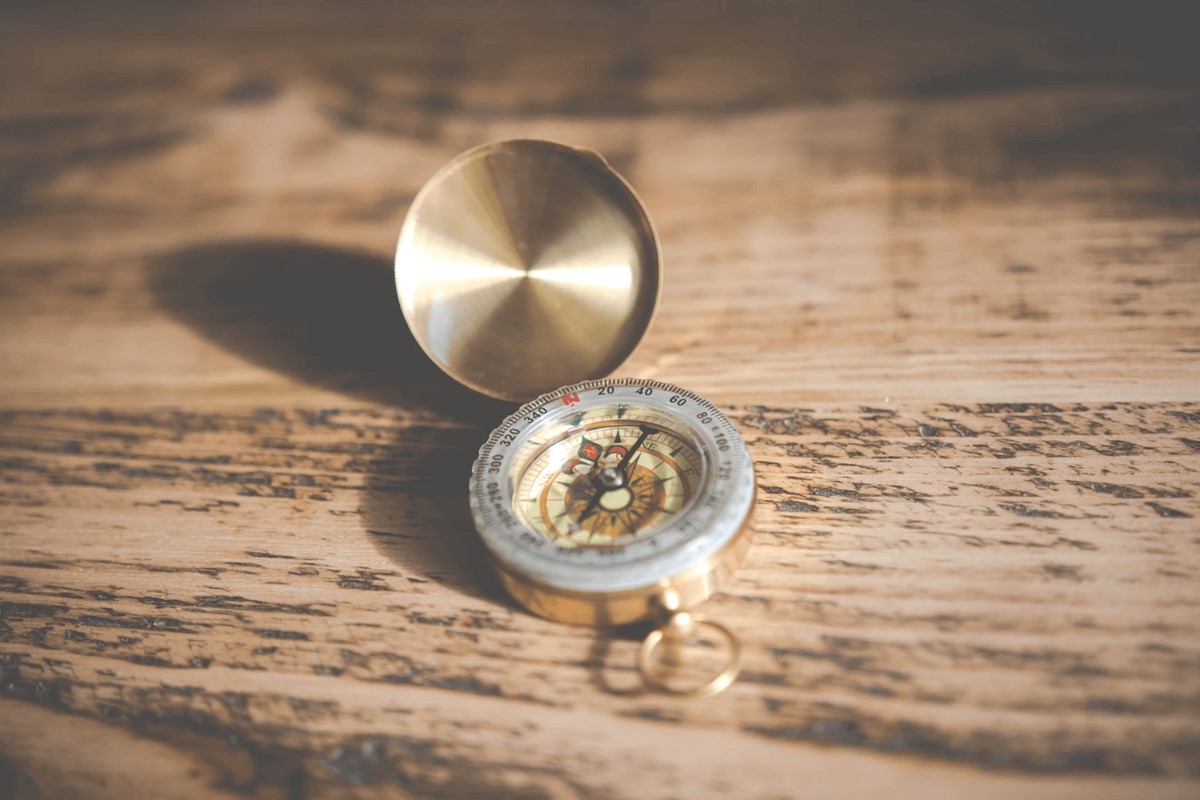 With an online business, you need all things to work out to make money. This means you need to optimize the process of sales, marketing, and customer service. If you can master the basics, you can become the master.
So I will give you some advice on these there factors, which you can practice right the way to your business.
Sale strategies
You can't make much money on average products: Consumers have too many options, aim for products that can win over your competition, and make people pay for them.
Great products make sales easier: Duh, you may say, but what is a great product? The ones that you know they work, they do solve your customers' problems. Be honest with yourself, would you use your products?
Outbound sales & Inbound sales: Outbound means traditional sales approaches like cold calls, trade shows, and other activities to actively engage with prospects. While inbound refers to building your brand trust through content on digital channels, both are incredibly useful, but since you are an online business, inbound is the approach to promote your site better.
This is a very broad area to cover, so check out our articles on all the most essentials for eCommerce marketing to get a comprehensive understanding:
Customer Service Strategies
One of the best ways to know the difference between great customer service and the poor one is to experience stores online by yourself. Recognize what makes you feel satisfied, and what makes you uncomfortable, and then bring the best service to your customer.
If you sell online, design your store in a way that it is easy for your customers to navigate. They should be able to reach out to you for questions or support whenever they need it.
Have nice and caring people to interact directly with your customers. Every touchpoint between your store and customer can affect the sales, so be the one they want to keep in touch with.
Some product ideas to start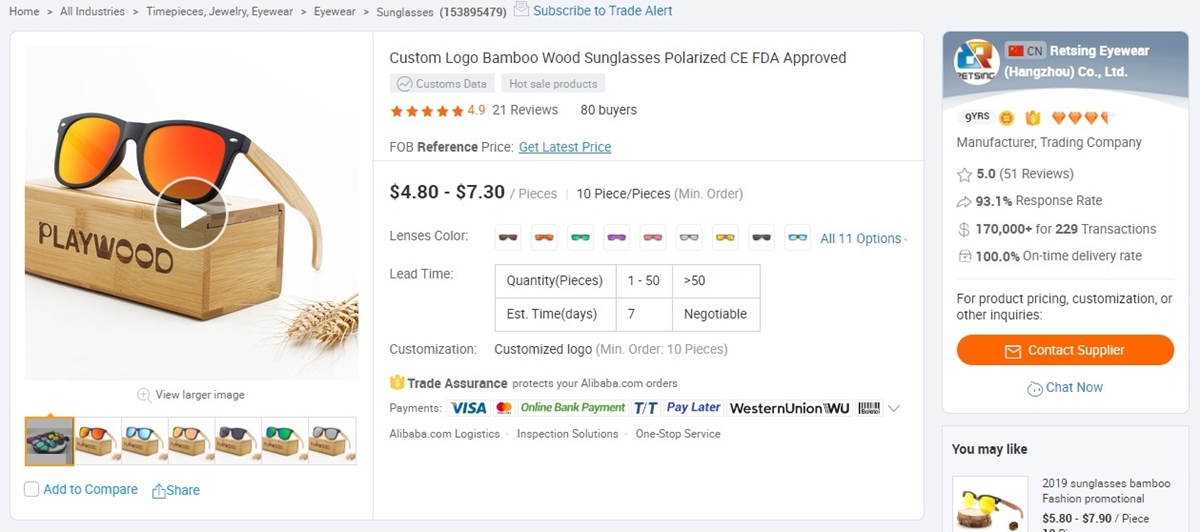 If you are not selling a service, then finding a product to sell can be confusing in the jungle of new shiny things online. So I've gathered a list of 25 products that all show good sign on Google Trends that you can start digging in now.
| | | | | |
| --- | --- | --- | --- | --- |
| Paleo Bars | Bow Ties | Pocket Squares | Wood Sunglasses | Leggings |
| Wood Watches | Fake Eyelashes | E-Cigarettes | Reusable Bags | Swimsuits |
| Phone Cases | Head Scarf | Teeth Whitening | Coconut Oil | Athleisure |
| Puff Shoulder | Shapewear | Ionic Hair Brush | Nail Extensions | Matcha Powder |
| Hair Wig | Reborn Dolls | Posture Corrector | Stuffed Toys | Anti Snoring |
My personal favorite is probably Wood Sunglasses. They look stylish and environment-friendly, what is not to love!
Become a Shopify Affiliate Partner
One of the great ways you can make extra money with Shopify is to become an affiliate of them. You can easily sign up for this program and get affiliate links. From this registration, you can earn up to $ 2000 for an online store or business that has just been introduced to Shopify.
Below is how you can become a Shopify Affiliate:
First of all, you must register to become an affiliate of Shopify and join the program. Shopify will then review and approve your application. Next, you will receive the unique affiliate link and you can promote the use of the same channel on many different marketing channels, including Social Media Channels (Instagram, Facebook, Twitter, etc.), blogs, educational content, videos, sites, websites and so on.
Earn: All partners are Shopify care and rewarded generously. It allows you to make a lot of money whether you are an App Partner, Shopify Expert or Affiliate. You can earn the first two months of paid subscription value which is 200% in bounty - up to $ 598 on standard plans for each new merchant referral. In addition, for every new Shopify Plus / Shopify Gold you refer to, earn 100% in bounty is equivalent to nearly $ 2,000.
Become a Shopify Expert
If you have a digital marketing agency, IT services, other marketing company or an aspiring product-based business, becoming a Shopify partner is like digging a gold mine. You can take advantage of this to make a lot of money if you are an expert in the following areas:
Development
Photography
Online store setup
Marketing
Online store design
These experts can earn USD 500 to even USD 20K for a project based on the scope, time and complexity of the project.
Cool tip for you: Only when you have more than 5 referrals and development stores referred to Shopify will you be considered Shopify Expert. Let get started.
Become a Shopify App/Theme Maker
Becoming a Shopify App / Theme Partner is also believed to be one of the great opportunities to earn money from Shopify for you. Usually, top app partners can earn over 1-2 Million USD per year. You can also become one of them and sell products like themes from Shopify Theme Store or apps from Shopify App Store.
Ka-ching!
That is a beautiful sound, isn't it? If you start making money with Shopify now, you can hear that sound many more times. Online business is not easy, but if you play it well, the revenue is certainly worth the hard work.
With the #1 platform for eCommerce like Shopify, you are safe to begin! And you have me as a friend to continue the journey as a brave entrepreneur as well. So leave a comment if you have anything to share and wish you all the best of luck!