Custom content types or in other words custom post types (or CPT for short) are a way to deal with other kinds of content rather than normal posts or pages. When you use Wordpress, they support two kinds of CPT, which are Portfolios and Testimonials. Each one helps you with different kinds of content and it differs between themes that you can utilize it to bring your reader richer experiences. Thus, for further details, you can keep up with this topic to know how to custom content types on WordPress.
How to custom content types on WordPress
Activating a Portfolio and Setting Portfolio Projects Per Page
In term of Portfolio, it is a content type which allows you to manage your portfolio and blog posts and pages separately. In other words, all of your portfolio projects will be summarized in one place while blog posts and pages will be controlled from another place. This content type also provides you with a variety of ways of displaying your projects on your website.
To turn on the Portfolio feature, you can head to My Sites → Settings → Writing → Content Types. In the Content Types section, find the Portfolio Projects and click on it to activate this option. Below its title, you will see a box to specify the number of projects you want to show per page then fill in it. Be noted that some themes may restrict this number due to design reasons, for example, it may keep a portfolio grid even. If you have completed all these above steps, you can choose Save settings to finish the action or you can just leave because the system will automatically save all changes.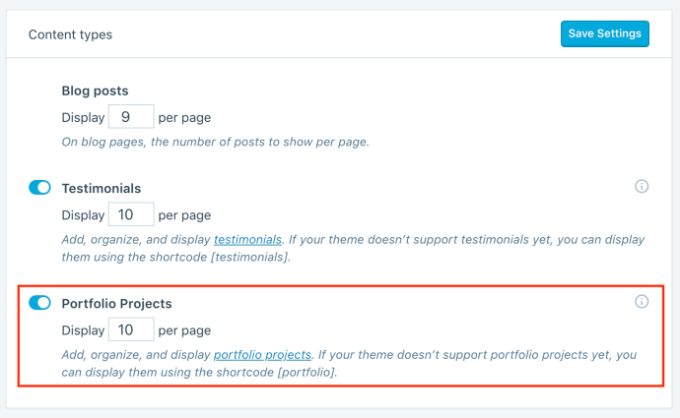 Generating and controlling Portfolio Projects
You can create a new Portfolio project by pressing on the Add button beside the Portfolio and continuing the steps as you add a new post. Projects are arranged by date with the most recent update at the top of the list. It is recommended that you should add the Featured image and Custom Excerpt for each project to help the presentation of it more beautiful.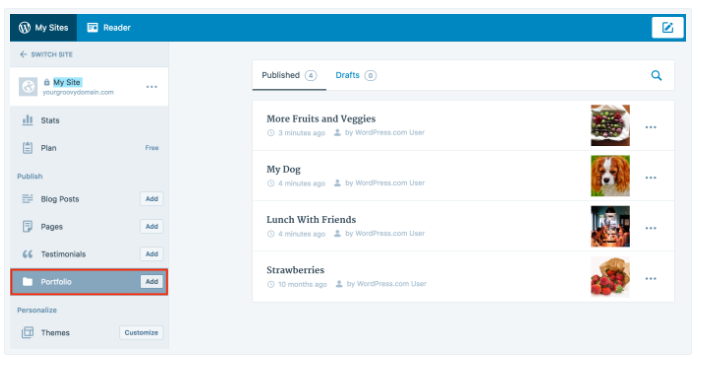 About managing projects, you can categorize them in two ways, including Project Types and Project Tags. Moreover, Portfolio projects also provide you with Comment and Publicize feature. Particularly, Comments let your reader interact with you while Publicize allows you to share your projects on social media automatically.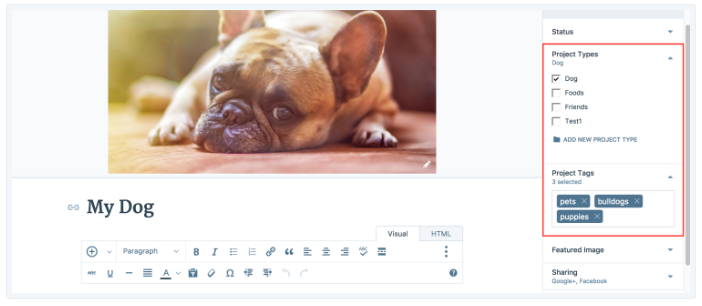 Enabling Testimonials and Setting Testimonials Per Page
Different from Portfolio, Testimonials content type lets you collect feedback and comment from your clients and show them on your site. By doing this, it helps you increase the credibility and profession of your site.
The process to enable this feature is quite similar to the ways to activate the Portfolio type. You also need to go to My Sites → Settings → Writing → Content Types, however, in the Content Types section, turn on the Testmonials instead. After that, enter the number of Testimonials per page you want in the box below its title and the system will automatically save your customization.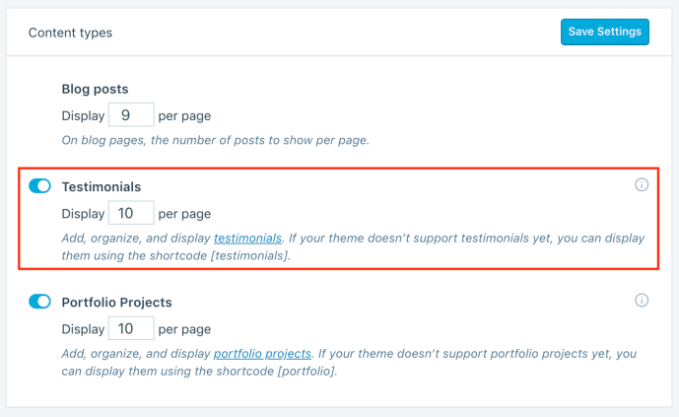 Creating and managing Testimonials
If you want to generate a new testimonial, click on the Add button next to the Testimonials and complete things as you add a new post. In term of displaying, testimonials are viewed in a list with the most recently published at the top. Besides, you can insert the name of the testimonial author in the title field and use a photo of the author or a logo as a Featured image for each testimonial. Then, it helps to increase the informativeness and the trustworthiness of your testimonial.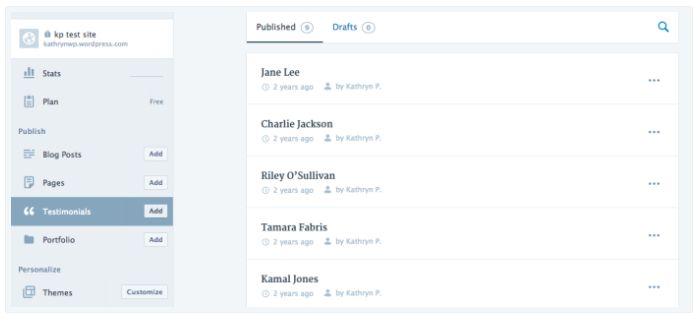 Conclusion
To sum up, I have given you the process of how to custom content types on Wordpress. There are two types of content types supported by Wordpress but the steps to enable them are simple and similar to each other. Hence, you can easily activate and use the one that suits your purpose. With such information, I hope you enjoy the reading time and use these content types in the most effective way.