If you are a reading-lover, the term recent news or recent posts should be familiar to you. In WordPress, the Recent Post Widget feature allows you to show your latest posts in the sidebar which helps your visitors easily catch up with new things on your blog. If you want to apply it for your site, follow this writing to discover how to add Recent Posts widget on WordPress.
To add Recent Posts widget on WordPress
Displaying Recent Posts Widget
Press on the My sites and scroll down until you see the Personalize section. After that, click on the Customize and choose Widgets to open the settings for Widgets. Next, select the Add a widget then you will see that a list of available widgets that you can add to your site appear. Enter in the search bar as Recent Posts then click on the result displayed. The settings for this feature will look like the picture below:
In the Title box, enter the name you want to use but be noted that it will be shown above the recent posts in the sidebar. For example, you can name it like Recent Posts, Newly Added, etc. Below the Title is the Number of posts to show where you need to specify the maximum number of posts you want to display as Recent Posts. You have to enter a number in the blank, such as 5 or 3, and if your recent posts are fewer than this number, it will show the number of posts. Lastly, you can see an option with the checkbox beside which is Display post date?. If you want to show the published date of the post, you can activate this option by ticking on the box and it will appear on your site like this: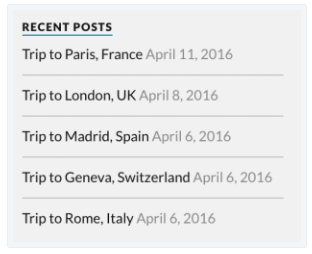 Editing Visibility
There is a Visibility button below the settings for Recent Posts that you can press on it if you want to select when to display the entire recent posts widget depended on different factors. It is optional setting then you can skip if you are not interested in activating it. Particularly, you can set the Recent Posts to appear on a certain category and hide it on other pages that are not related to that category. For example, you want to see Recent Posts of the Fashion category only then select Show if category is Fashion and press Save in the Visibility. The widget will display if the post from Fashion category only and hides in all other pages.
Showing Posts shortcode alternative
If you want to show posts from a particular category or with a certain tag, you can use the Text widget or Display Posts Shortcode. If you use the Text widget, just write out what you want to show your readers. Besides, you can automatically display only a certain number of posts of a certain category using the Display Posts Shortcode.
For example, if you enter the following characters [display-posts category="travel" posts_per_page="5"] in the Content, it will appear on your site as below: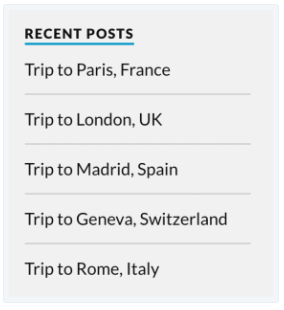 Conclusion
In short, this writing has given you the instructions of how to add Recent Posts widget on WordPress. It is quite similar to other Widget set up that if you have practiced any kind before, this one is simple and easy to follow. You can refer to the images included in this post to check whether you are going the right direction or not. Hope that you can gain some benefits from this topic.