Sometimes, finding contents published from the past is hard if there is no search tool. Fortunately, WordPress.com provides users with the Search widget allowing them to easily search for old posts or pages. This feature can be different from theme to theme and this one is an example of its appearance in the Rowling theme: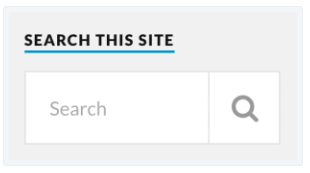 Besides, the search bar is built into the header by default for some themes and you cannot remove it if there is no option to disable it in the Themes section. In details, if you go to My sites then Themes and you do not see any option to remove the search bar in the header, it is not changeable. However, you can hide it with CSS only when you have the Premium or Business upgrade. In case, you are not in the previous situations, keep following this topic to know how to add a Search widget on WordPress.
Let's discover how the search tool works first. When you find content with Search widget, it looks up from the headers and bodies of the posts or pages and all the included information, like media titles, alt text, file names, and single image captions except for widgets, comments, categories, gallery captions or other text, or tags.
Moreover, post with matching term in the post name/body will be displayed in reverse-chronological order in the search result. For instance, there is a new post about Michigan called This weekend and an older post named Michigan on your site, when you search Michigan the post with title term will be shown at the top of the list.
To add a Search widget on WordPress
Step 1: Head to Widgets
Open WordPress.com and log-in to your account then click on My sites. After that, you will see a panel appear on your screen that you need to press on the Customize which stays under the Personalize section. More settings for Customize will be shown then find and choose the Widgets to move on to the next step. The Widgets stays between CSS and Homepage settings and is highlighted in red rectangular in the picture below: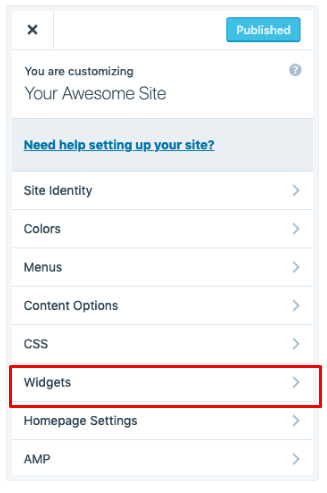 Step 2: Add the Search widget
Choose the area that you want to display your widget, footer or sidebar then press on the Add a widget. A number of widgets supported by WordPress.com will appear that you need to find the one you want to insert by typing its name on the search bar. In this situation, enter Search then click on the result.
Step 3: Fill in the Title
The settings for the widget will appear which allows you to change the name for the Search bar. For example, you can use the title as Find something? or Can't Find What You're Looking For?. Ensure that you choose a header with the length suits the place you add the widget as it can affect the look of your site.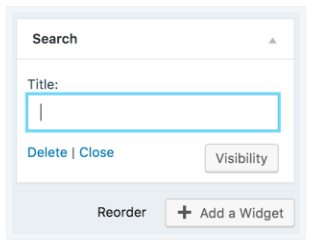 Step 4: Click Save/Publish
If you have completed all the above steps, remember to select Save or Publish to store your changes. After that, when you come back to your site, you will see a search bar added to your sidebar/footer.
Conclusion
To sum up, this is all about how to add a Search widget on WordPress. This process is quite simple with just four steps in total that it will not take much of your time to practice. Moreover, it is an important and helpful tool that you should have in your site, thus, I hope you gain some benefits from this writing.