Published on
10+ Best Shopify Exit Popup Apps in 2023
10+ Best Shopify Exit Popup Apps from hundreds of the Exit Popup reviews in the market (Shopify Apps Store, Shopify Apps) as derived from AVADA Commerce Ranking which is using AVADA Commerce scores, rating reviews, search results, social metrics. The bellow reviews were picked manually by AVADA Commerce experts, if your app about Exit Popup does not include in the list, feel free to contact us. The best Exit Popup app collection is ranked and result in January 3, 2023, the price from $0. You find free, paid Exit Popup apps or alternatives to Exit Popup also. The Top 50+ Shopify Free Apps for Every Store.
Advertisement
Quick Comparisons of the Best Shopify Exit Popup Apps
| Logo | App Name | Vendor | Pricing | Rating | Action |
| --- | --- | --- | --- | --- | --- |
| | Privy ‑ Exit Pop Ups & Email Marketing | Privy | Start from $0/month | 4.6/5 ⭐️ | |
| | Easy exit popup | ThinkConvert | $4.49/month. 3-day free trial. | 4/5 ⭐️ | |
| | Exit Popup & Coupon Popups | Storeya | From $9.99/month. 14-day free trial. | 4.7/5 ⭐️ | |
| | Free Exit Popup, Coupon Popups | Poptin | Free plan available. Additional charges may apply. | 4.8/5 ⭐️ | |
| | Knowband ‑ Exit Popup | Knowband | Free | 0/5 ⭐️ | |
| | Justuno Popups & Exit Offers | Justuno | Free plan available. 15-day free trial. | 4.6/5 ⭐️ | |
| | Popup Upsell on Exit & Visit | SpurIT | Start from $0/month | 4.6/5 ⭐️ | |
| | Abandonment Protector | Chilliapps | $8/month. 30-day free trial. Additional charges may apply. | 4/5 ⭐️ | |
| | ConstantContact Custom Popup | SolverCircle | $6.99/month. 3-day free trial. | 4/5 ⭐️ | |
| | Easy Popup | Zotabox | Start from $0/month | 4.7/5 ⭐️ | |
#1 Privy ‑ Exit Pop Ups & Email Marketing by Privy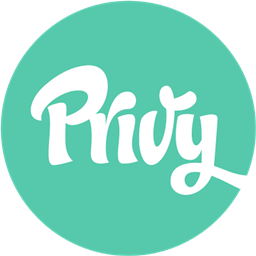 Privy - Exit Pop Ups & Emails is an app trusted by ecommerce businesses of all scales to capture and convert visitors to websites into subscribers and customers. Integrated with Shopify and Shopify Plus, Privy allows you to set up your account in a few seconds and get your first live campaign immediately. Everything for free. Without the need to have prior knowledge and skills in code and development, Privy equips you with a set of useful conversion tools to help your customer list grow from your own Shopify store. With more than 17000 users left a review and rated an overall score of 4.7 after experiencing the app, Privy is definitely a must-try app for all.
Features Highlights
Inviting popups that get people to subscribe to your email list
Automatically sync contacts to Mailchimp & Klaviyo
Popups with discounts and exit intent to close sales before people leave
Automatic emails to bring old customers back
Create and distribute coupon codes
Price: Start from $0/month
Rating: 4.6 / 5
#2 Easy exit popup by ThinkConvert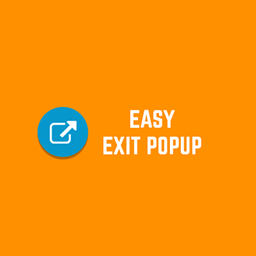 Easy exit popup by ThinkConvert aims at converting abandoning visitors into your sales. In fact, the app allows you to showcase a pop-up window that can add discounts and offers or promotional messages before visitors go away, then, you can have another chance to take them back. Easy Exit Popup is highly customizable and this allows to track the visitors' movement. With the app, users can show or hide the popup when they can leave the site, or they visit the site. Besides, the time to display can be selected and set up. Also, it is easy for users to modify your template design and set up images as backgrounds. Moreover, users can change the text of heading or sub-heading, colors of coupon background and text, and thank-you button text and its colors. Take note that the app is easily installed without requiring any coding knowledge and offers only 3 days of free trials.
Features Highlights
Allow customers to see the popup with its background colors
Let customers check popup with left or right background photos
Change template design
Set up photos as backgrounds
Price: $4.49/month. 3-day free trial.
Rating: 4 / 5
#3 Exit Popup & Coupon Popups by Storeya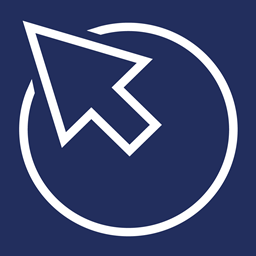 As a merchant, you might know that most of the store visitors who leave your store, they are not likely to return, hence, this is the reason why you need Exit Popup and Coupon Popups. The app aids in converting your visitors into customers in a minute before they disappear. With the app, you can easily track the movement of each visitor in real-time since it can detect the millisecond as your visitors display the intention of abandoning your website and promoting them to stay as well as purchase products. In addition, you can close your sales with right-away offers and require no coding skills. The app automates customer acquisition and provides users with A/B Split Testing. Take note that Exit Popup can achieve new leads for the upsells in the future and any language can be well translated. Don't forget that the app can show the offers on some pages based on traffic sources.
Features Highlights
Track visitors' movements in real-time
Detect when visitors disappear
Increase conversion rates thanks to targeting rules
Automate customer acquisition
Translate every language
Price: From $9.99/month. 14-day free trial.
Rating: 4.7 / 5
#4 Free Exit Popup, Coupon Popups by Poptin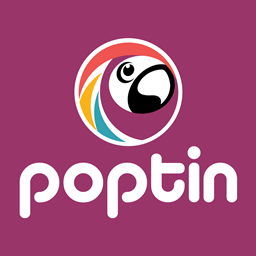 Let's say you have a wonderful store page with the considerable investment, time and effort to build it. However, you still struggle to find a way to increase the low conversion rate. So, why don't you let Free Exit Popup, Coupon Popups to be a factor to make your store become more effective or boost your sale? The main function of this app is showing the right message of a special offer at the right time so as to convert a visitor to a very potential customer. Apart from that, the customers could easily ask questions to your store by Facebook or Whatsapp chat widget and interact with store fan page as well. Moreover, the pop-up could receive personal emails from customers, which is very valuable to work on email-marketing campaigns or CRM. There is a very fancy feature of this app with the aim to prevent customers from leaving store's page with nothing: Exit intent pop-up. Furthermore, you could decide a time for a pop-up display depend on how customers scrolling and clicking on your page. On the other hand, Poptin offers users with a full statistical dashboard which records the information about visitors, views, conversions, etc. Finally, you would never be worried about an interface of pop-ups because a variety of completely responsive and well-designed templates are prepared to make your store look really dynamic! Hurry up! With just 1 minute to install, you will be able to experience our very cool application on free plan with 1,000 popup views per month.
Features Highlights
Broaden Email list
Engage customers by recent chat and social media
Create an exit intent pop-up
Full statistical dashboard
Simple to customize and install
Price: Free plan available. Additional charges may apply.
Rating: 4.8 / 5
#5 Knowband ‑ Exit Popup by Knowband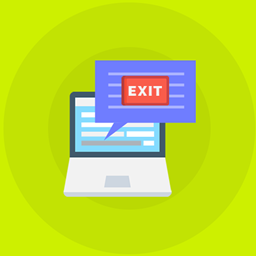 If you are thinking about creating an exit intent popup for your website, Knowband - Exit Popup is bound to come in handy. Knowband - Exit Popup allows online store owners to take total control of how popups are going to be displayed on their store by providing popups with easily edited and personalized titles, different colors and texts of the button, background images and so on. This enables store owners to create attractive look and feel for their site, which helps capture the customers' attention when they are leaving the store and lure them into making a purchase. As a result, cart abandonment rate is reduced and conversion rate is raised. In addition, Exit Popup can create a graphical statistics report of showing how many users stayed on the site by redeeming the coupons from the app. This really works for any store owners who want to measure the effectiveness of their popups. Install now and experience these amazing features free of charge.
Features Highlights
Reduce cart abandonment
Boost conversion rate
Absolutely customizable look and feel
Generate graphic report of coupon performance
Automatic customer account registration
Price: Free
Rating: 0 / 5
#6 Justuno Popups & Exit Offers by Justuno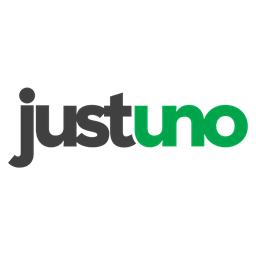 Justuno Popups & Exit Offers is an app created and introduced by Justuno with a view to helping e-commerce entrepreneurs capture more leads and increase store sales at the same time. This app offers a bunch of amazing features. First, it allows online store owners to collect emails with a various types of popups, banners, bars, slide-ins and so on. Additionally, Justuno Popups & Exit Offers also helps you gain a deeper insight into customers' behavior based on exit, page views, referral site, time on site, visit frequency, cart value, order history, previous engagement activity and so on, which helps target and segment customers effectively. Especially, with real-time dashboard and analytics provided, you can measure your campaigns' performance, identify sales opportunities and make a suitable marketing strategy in the future. Let install Justuno Popups & Exit Offers right now and experience its astonishing features at no cost with our 15-day free trial!
Features Highlights
Capture lead with a variety of popups
banners
promotions and so on
Measure the effectiveness of marketing campaigns with real-time dashboard and analytics
Target and segment visitors based on their behavior
Easily design popups and promotions with customizable drag-and-drop design canvas
Reduce abandoned carts with cart and checkout abandonment offers
Price: Free plan available. 15-day free trial.
Rating: 4.6 / 5
#7 Popup Upsell on Exit & Visit by SpurIT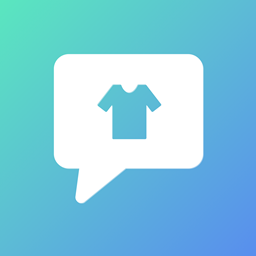 In the world of cybersales, every online store owner would need to maximize conversion rate, minimize cart abandonment rate to boost their sales. And Popup Upsell on Exit and Visit by SpurIT is designed to meet that need. Providing unlimited popup views and various conditions for popup display, Popup Upsell on Exit and Visit enables you to create a stylish popups announcing promotional sales, offering free shipping, special price for a product and so on. This helps welcome users when they first visit your store or retain customers when they are about to leave your site, encouraging them to make a purchase instead of leaving with abandoned carts. Especially, this app can work well on mobile phone, which means your popups would be optimized for Android or iOS so do not worry if your customers visit your store using their phones. So why not intall it now and see your sales increasing!
Features Highlights
Customize the popup easily
Realise any marketing ideas
Build customer loyalty
One-click install and super easy to use
Fast and awesome customer support
Price: Start from $0/month
Rating: 4.6 / 5
#8 Abandonment Protector by Chilliapps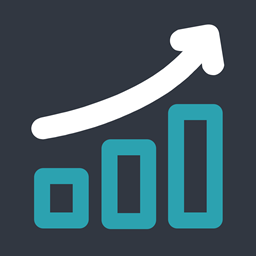 As you might not know about, Abandonment Protector is a reliable app that aims at catching the website's visitor's attention as well as converting them into your customers. In fact, the app equips you with simple tools to generate marketing automation based on the customers' behavior. You can freely choose from lots of predesigned templates and use popup and Email editor to make your designs professional. Additionally, as your customer has enough conditions to receive a new message, the app can help identify the campaign to help match the customers' behavior, and then send them higher priority message. With newsletters, the app can make them simple and create mailing lists within minutes by applying a strong segmentation tool. Abandonment Protector team believes that the users both professional service and most competitive prices. You can be offered about three hundred emails with just USD 8 per month and subscribers, of course, are unlimited.
Features Highlights
Build up email list and boost sales
Bring the customers back to the store
Automate every feature
Unlimited subcribers
Competitive price
Price: $8/month. 30-day free trial. Additional charges may apply.
Rating: 4 / 5
#9 ConstantContact Custom Popup by SolverCircle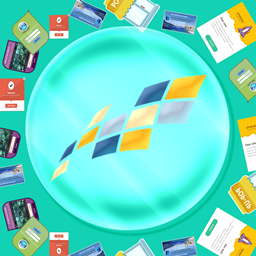 ConstantContact Custom Popup developed by SolverCircle is an app which helps you create your subscription popup template. This app has some noticeable features. Firstly, it offers various popup templates which are fully responsive. You can select any template that you want, and then you are also allowed to edit its delay time, position, background image, popup width, height, background color, etc. If you do not like any available templates, you can create your own one according to your Shopify store. Besides, you can also embed videos, images in the subscription popup to liven up your popup. Moreover, the installing process is simple. In case you face any difficulty, various experts are always ready to help you from setting up, development, design, illustration, custom apps and so on. So what are you waiting for? Install now to try out this app in 3 days with zero cost.
Features Highlights
Fully responsive Popup
Customize the popup easily
Easy installation process
Affordable price
Quick customer support
Price: $6.99/month. 3-day free trial.
Rating: 4 / 5
#10 Easy Popup by Zotabox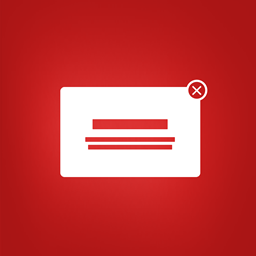 Designed by the international team Zotabox, Easy Popup is one of the highest quality tools for online store owners with many notable features. In the first place, free responsive and stylish popups displayed on your site would let your visitors know about your special offers, which would consequently reduce cart abandonment and increase your sales. Additionally, by including social share buttons on your site, you can easily get your content in front of new eyeballs, improving brand visibility across the web and increasing your number of social followers. Last but not least, as page speed has become a ranking factor in Google's search algorithm, asynchronously loading is a significant feature of Easy Popup that enable your website to end up higher in Google's result list compared to your competitors.
Features Highlights
Boost your sales
Social share buttons added
Load asynchronously
Easy to install and customize
Integrate with Mailchimp
Constant Contact
Hubspot
Get Response
Infusionsoft
Aweber
Price: Start from $0/month
Rating: 4.7 / 5
Advertisement
How AVADA Commerce ranks 10 Shopify Exit Popup apps list
These above 10 Exit Popup apps for Shopify are ranked based on following criteria:
The ratings on $Shopify store
The app's rank on search engines
The prices and features
The app provider's reputation
Social media metrics such as Facebook, Twitter and Google +
Reviews and assessment by AVADA.io
Top 10+ Shopify Exit Popup Apps
Special thanks to all vendors which contributed the best 10 Shopify Exit Popup apps. We honestly recommend you to give every app above a try if possible. We create Shopify apps review series with the aim of helping Shopify online stores find the best Exit Popup for their website. All of the information on the review (including features, description, prices, and links) is collected from the vendor's website or their own published page/ selling channels.
The list of the 10 best Shopify Exit Popup apps is kept up-to-date on a regular basis by our team. Please feel free to reach us out if you have any questions related to this app review.
Don't see your app on the list? Wanna contribute more content to this review? Contact us
If you want to add or remove an item in the Exit Popup list, feel free to contact us at Contact us
Find more themes, please visit our Shopify theme reviews!
People also searched for
shopify exit popup apps
exit popup apps for shopify
top exit popup for shopify
top shopify exit popup apps