In your Shopify using experience, I understand the feelings that being confused by over 70 different Payment providers used to receive payments. As when your customers have done choosing your goods, the very next thing that they have to do is to get their payouts for you through a process called Shopify Payment Processing.
This thing works pretty independently of your eCommerce store. To simplify your process, just understand that it is basically a whole separate thing/system that only gets activated when your customer is ready to pay. Meanwhile, still, there are a ton of different payment providers you can use to receive payments.
Luckily, the Shopify Payment Processing isn't that difficult to figure out once you start looking into it. For the most part, the difficult heavy lifting is handled by other companies so that you can focus on the core of your business. But we'll get to that.
Read more: How to set up Shopify Payment method
What is Payment Processing?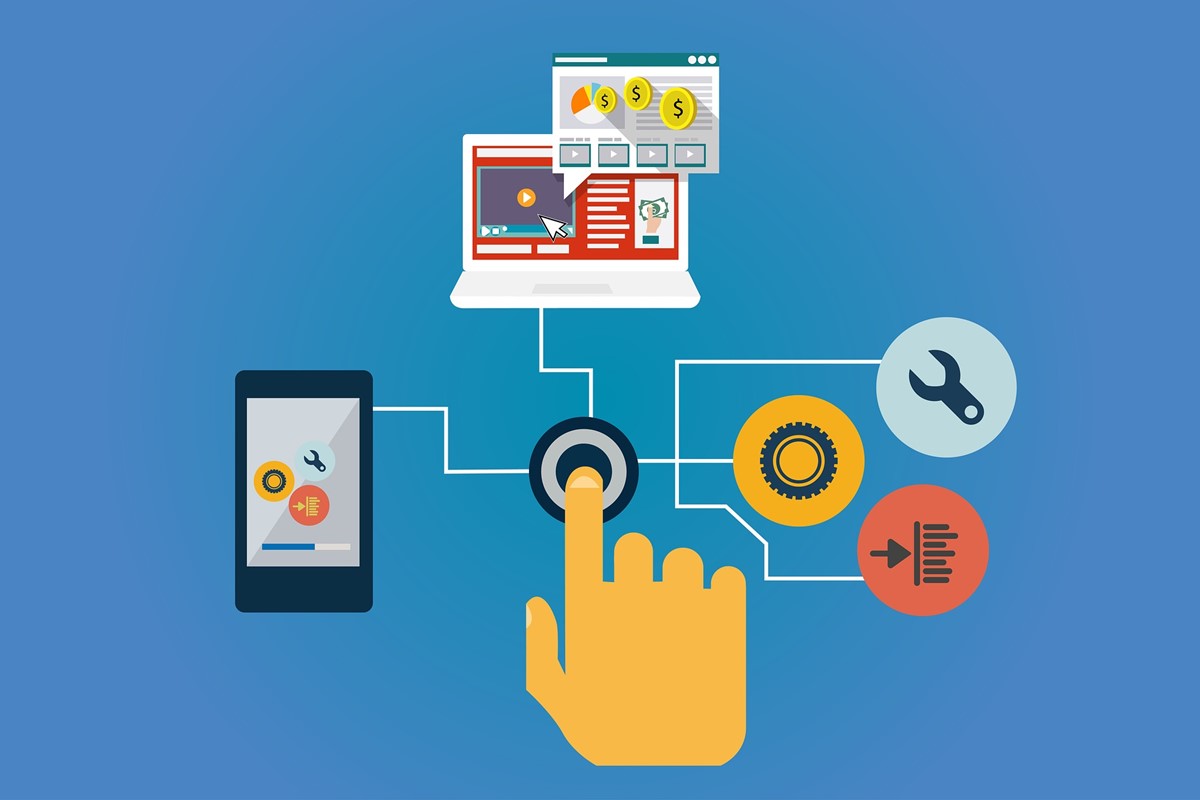 In a short explanation, Payment Processing is known as one of the most terrifying features "selling online" procedure for every new beginner. It is designed to deal with your customers' financial information, such as credit card numbers, sensitive personal data, and so on.
There are 3 basic elements of a Payment Processing including Payment Processor, Payment Gateway, and Merchant Account. The whole procedure will essentially all go from Payment Gateway → Payment Processor → Merchant Account.
Payment Gateway
In detail, the Payment Gateway will take charge of sending Transaction requests to the Proper Payment Processor or credit card company issuer. Payment Gateway is known as a secure middleman between your online store and the Payment Processor that receives the payment from your customer. When your customer enters their payment details on your sites, like their credit card number or any other method of payment, the Payment Processor will receive the data from Payment Gateway in an absolutely safe way.
Payment Processor
After things are getting done with the Payment Gateway, the Payment Processor will process the payment to ensure it's submitted correctly. To define what Payment Processor is, it is a financial institution that works in the background to offer all the payment processing services managed by an online Merchant. These Processor companies usually have partnerships with other companies and consumers or merchants as well.
Merchant Account
Finally, the Payment Processing will come to the Merchant Account to get the deposits funded when the processing ends successfully. From there, the money can be moved to the main bank account of your business. You can understand that a Merchant Account is a special type of bank account that allows your business to accept payments by credit and debit cards coming from a Payment Processor
People often call Merchant Accounts as MIDs. However, there is one problem that Merchant account does not always get easily approved for one with the bank. It will take you considerable paperwork and changing requirements from region to region.
Shopify Payment Processing
On Shopify, there is also a Shopify Payment Processing exist. All of its basic information will be mentioned below:
1. What is Shopify Payment?
Shopify has its own payment provider called the Shopify Payments. This is also known as a special "in-house" credit card processor that keeps that role as a Default integrated Payment Gateway that you bolt into your Shopify store.
To simply understand, Shopify Payment is a default integrated Payment Gateway, which is also a third-party service to take control of all the procedures that users enter in their card information into your checkout page, up until the money reaches your bank account. PayPal, Stripe or Square are usually used.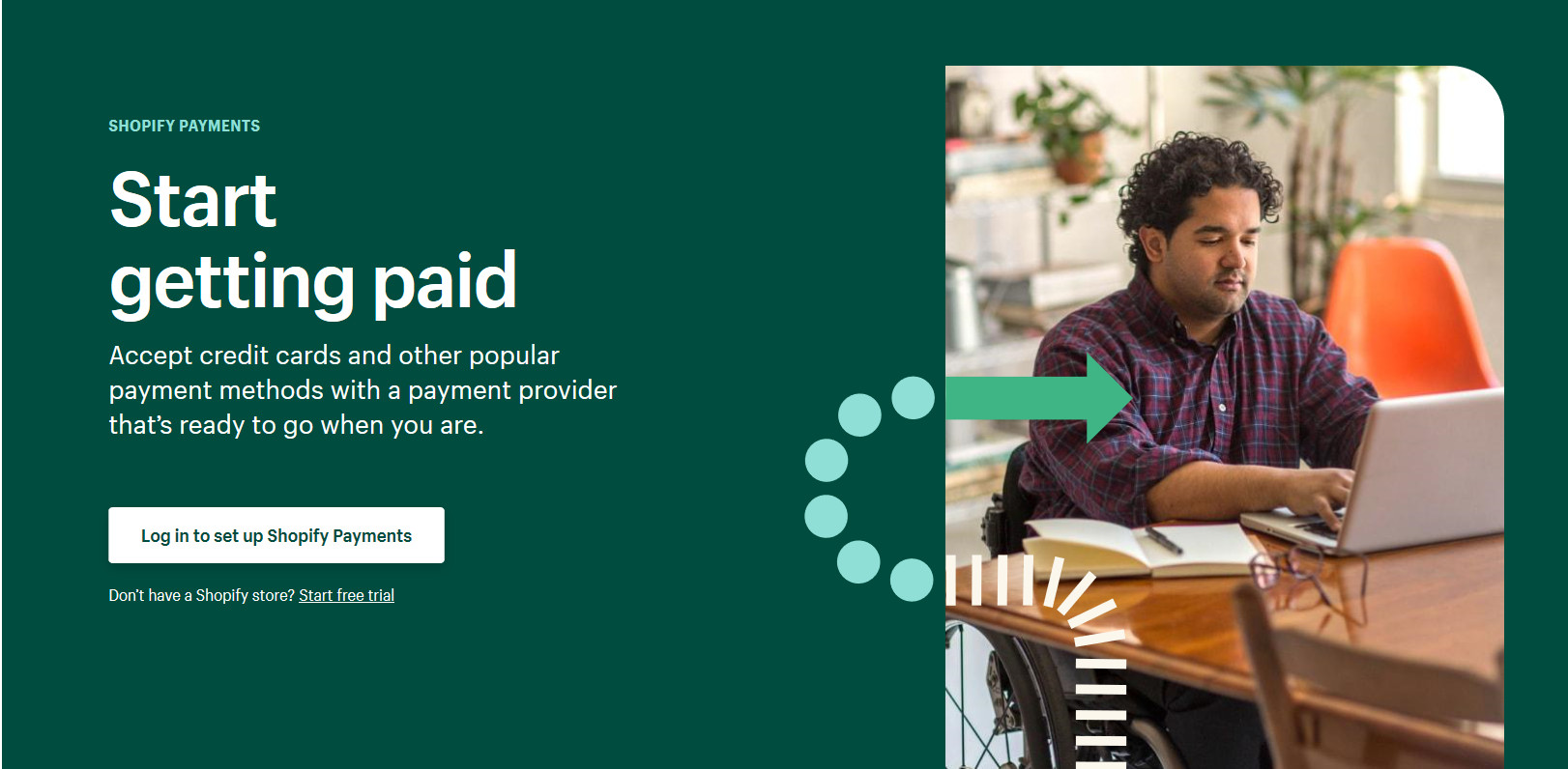 Shopify Payment often takes place right in your Shopify Dashboard, which means that you don't have to log into another platform to see the location of your funds. However, using Shopify Payment is not exclusive so that you are able to use other payment providers, for example, other Gateways like PayPal.
2. What are Shopify Payments fees?
While using Shopify Payments, it will remove the commission that Shopify usually takes on top of Gateway fees. It would be 2% for Basic Shopify, 1% for Shopify and 0,5% for Advanced Shopify.
For each transaction, you will still have to pay for a small amount of money, depending on your plan and payment method. However, every user that is on higher Shopify plans will be able to take advantage of lower rates with Shopify Payments, powered by Stripe.
The information below will demonstrate for the credit card processing rates with each kind of plan:
$9 Lite Plan + Shopify Payments

2.9% + 30¢ Online
2.7% + 0¢ In Person

$29 Basic Plan + Shopify Payments

2.9% + 30¢ Online
2.7% + 0¢ In Person

$79 Shopify Plan + Shopify Payments

2.6% + 30¢ Online
2.5% + 0¢ In Person

$299 Advanced Plan + Shopify Payments

2.4% + 30¢ Online
2.4% + 0¢ In Person
Read more: Shopify Payment Fees here!
For the monthly fees, hidden fees, or setup fees on their payments service, you will be responsible for paying all of them out.
3. How to set up Shopify Payments?
For this section only, we have already had a step-by-step tutorial of Setting Up Shopify Payments in 4 Easy Steps on our website.
4. Step-by-step of Shopify Payments Processing
Overall, even though you can partly guess on the process of Shopify Payments Process, the brief view of step-by-step information below will then instruct you on an overview of how Shopify payments work.
Step 1: Customer Purchasing
When a customer gave out his/her credit card information, address and other personal information as well to the payment provider, everything is ready to finish the first step in charging for the product from the website.
Step 2: Payments Start to Process
Then, the Payment Provider that you have integrated with your Shopify store will take charge of processing that payment and validating payment details like if the customer has enough money for payment in the bank account or the afterall result that whether the credit card payment went through successfully. You will have to wait about a couple of days for this stage to get done.
Step 3: Payments lands in Merchant Account
Next, the payment that the customer paid will be moved into your merchant account. Your bank account will not directly receive the payment; however, a virtual merchant account will do that. In this step, it could be your Shopify payment account, or your PayPal account or any other virtual merchant account that is provided by your payment provider.
Step 4: Money lands in your Personal Account
Finally, the step that every seller is waiting for, which then clears the money and land it into your merchant account. The funds will be transferred to your personal bank account afterward. This step can be done automatically or manually, depending on the payment provider you chose to use.
5. Other things to mind
Who can use Shopify Payments?
Not every seller is able to use the Shopify Payment because it is not available globally. The good news is that the list of countries that are supported is expanding annually. You can check out whether the location of your shop is eligible below: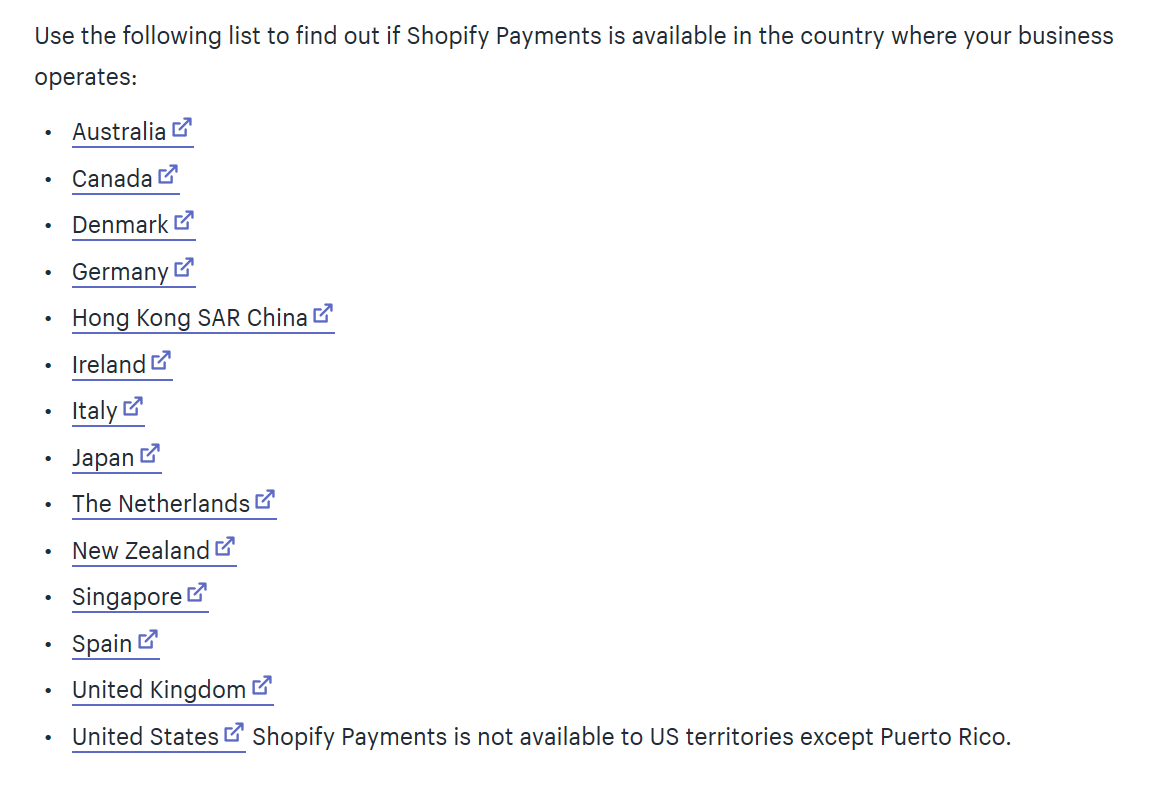 However, the location isn't the only requirement from Shopify Payment because it still depends on the territory that your business operated. There are multiple services and products as well that you are not allowed to sell. In Australia or Government services in Germany, for example, will consider virtual currencies as illegal. The policy has been already mention in the Prohibited businesses section on Shopify
There are multiple currencies supported on Shopify Payments when prices will be automatically converted depending on currency rate at present and the Rounding rule that you set. For instance, whether all prices should end in 0.99 or 0.90 can be decided by you.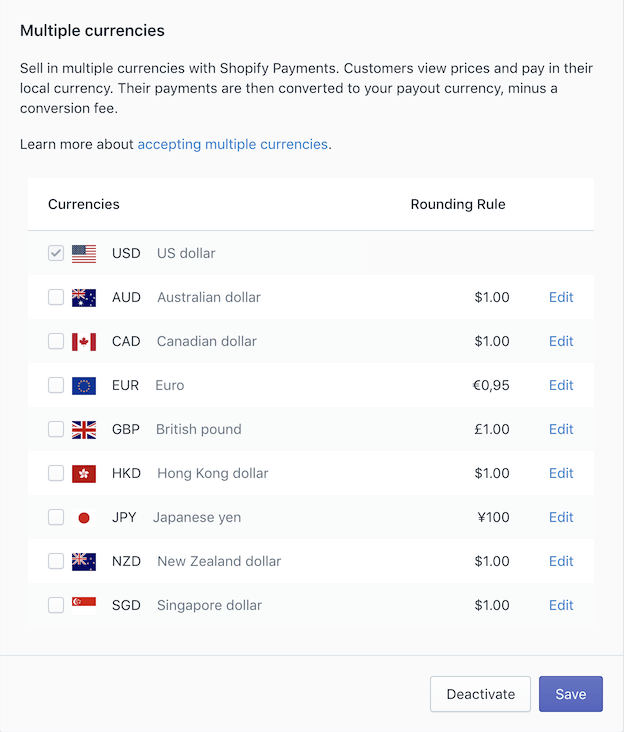 Unlike Paypal, Shopify will not require you to overcharge or uses hidden fees.
Summary and Final Thoughts
Come to the ending part of this Understand Shopify Payment Processing article, it would be so amazing if this discussion has clarified the questions you might have on Shopify Payment Processing
There are some other negative reports about Shopify Payments, but I think it depends on the specifics of individual situations that can decide the outcome of your payment process.
So, just please read the Shopify Payments' Terms of Service clearly to ensure your business qualifies. What's more, make sure that you are aware of the fact that no matter how clearly terms are outlined by the payment processor, the terms will still be subjected to the interpretation of each user.
To summarize, after a customer has done filling out his or her credit card information along with some personal information, the purchase will then be processed and it can take a few days to process and for the funds to land into your merchant account. The money can be sent to your personal account automatically or manually as you wish. Make sure to select a Payment Gateway that is available in your country.
As long as you put in hard work and time, effort as well in learning eCommerce, selling a good product that people are going to buy, there is a way for you to make money from an online store.
Related Posts: