For all eCommerce online businesses, there exist one of the most powerful ways to help business owners increase their order volume is building trust with online clients since they can navigate your online store. As a result, setting up a detailed shipping policy that is found easily on your site is a great method to do this.
Possessing a shipping policy is regarded as an eCommerce business best practice and needs to be part of your shipping strategy. In case you do not possess one, or you are seeking to revamp your shipping policy, you had better not ignore this Shipping Policy: Templates, Examples and Everything You Should Know tutorial.
What is a Shipping policy?
Shipping policy is known as a concise webpage or document that is used to outline the most important information on shipping as an order is online placed. It usually has details on shipping methods and costs, time of delivery, and many more.
In fact, several shipping policies are even more detailed than the others; however, it needs to be accurate, clear, and easy so that everybody can make out everything. Extra information such as an exchange or a returns policy also needs to be included in order to generate comprehensive resources for online clients before they make a purchase.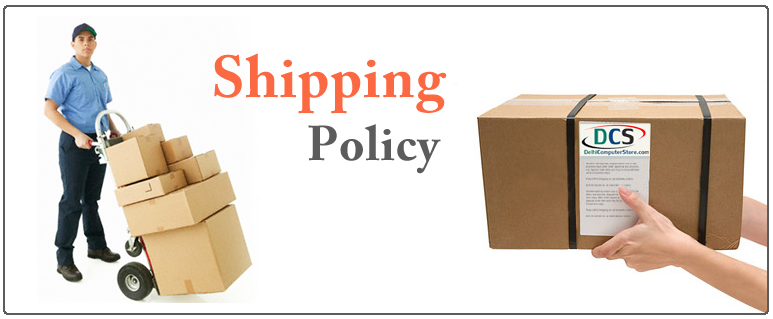 Benefits of having a concise Shipping policy
A concise eCommerce shipping policy is loaded with many benefits, and this is the reason why any business needs to have its own shipping policy. Shipping policy better informs your own customers and helps them answer every shipping-related inquiries and questions, then let you take another step forward to your unexpected shipping problems.
Keep customers updated on shipping options and costs
Online buyers mostly seek a shipping policy to make a final decision on how much it can cost them and rely on their addresses. Take note that a well-developed shipping policy has to be in charge of informing customers of shipping costs, along with the different shipping selections that are available before ordering.
By showing shipping costs; followed by available methods of shipping, you will protect yourself from customers who are likely to leave a complaint on how much they might be charged and save your valuable time rather than having any inquires from customers through your own support channels as they are able to find it by themselves.
Keep customers updated on delivery times
Definitely, there are online clients expecting quick delivery. With those high expectations, it is useful to set up expectations with your own customers on practical delivery times. Apart from showing your own shipping options, you will have to consider shipping cutoff times, transit times, and how long it might take to deliver international orders.
Give protection on your enterprise's behalf
As you might not know, online brands now give customers more than shipping details just by outlining information, including exchanges, returns, international expectations or even item damages. Keep in mind the more details on the shipping policies, the better it can offer your customers and you with peace of mind while they can answer their questions in advance.
Shipping Policy templates: What are included?
Basically, shipping policy had better be concise; however, your consumers need to be aware of it by getting essential shipping information highlighted. It will consist of details on shipping costs, delivery times, payment information, shipping methods, international shipping, and shipping restrictions.
Shipping costs
Getting shipping costs displayed will provide your clients with an opportunity to review and measure their sum costs before shopping around. Displaying shipping costs will be more necessary for foreign customers who may not have enough qualifications for some specific offers like free shipping. International shipping can vary among retailers owing to the increase in carrier charge; hence, you will need it to be as transparent as possible.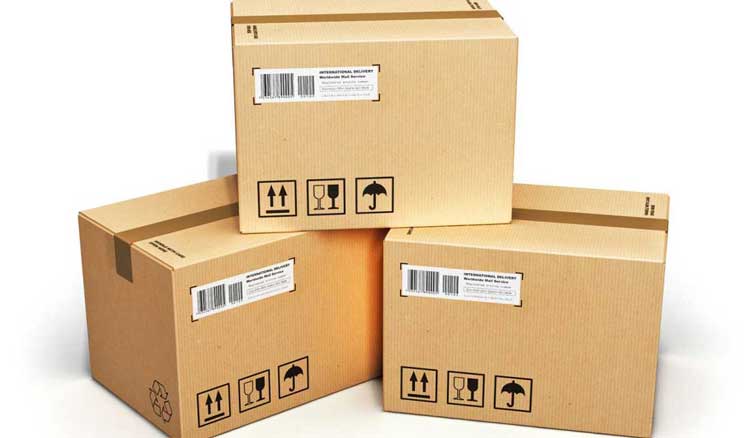 Shipping methods and delivery times
No matter you are proposing one or many shipping methods, you should list different methods and expect the delivery time for each. As you can see, this is displayed using the simple table format; followed by a column showing different methods and the others, along with expected time frames.
Shipping restrictions
In case you include shipping restrictions like shipping to some PO boxes or some kinds of countries, you might want to show them. There are sometimes stale legislations that can stop several items from being delivered to some addresses. Hence, you are strongly advised to be clear about the existence of restrictions and the person impacting them.
Missing or lost package
There will be so many reasons for a missing or lost package that customers do not want to hear and this can make them piss off. Contacting customers on what you have to do in case a package goes missing can generate peace of mind. You can do this by showing directions and contact information on how to report lost or missing packages.

International shipping
Should you provide international shipping, you might want to add statements on who will hold the responsibility for customs as well as import duties. Let's show your international policy by contacting carries that can manage your international delivery and who will look after international charges, tax, and any extra costs.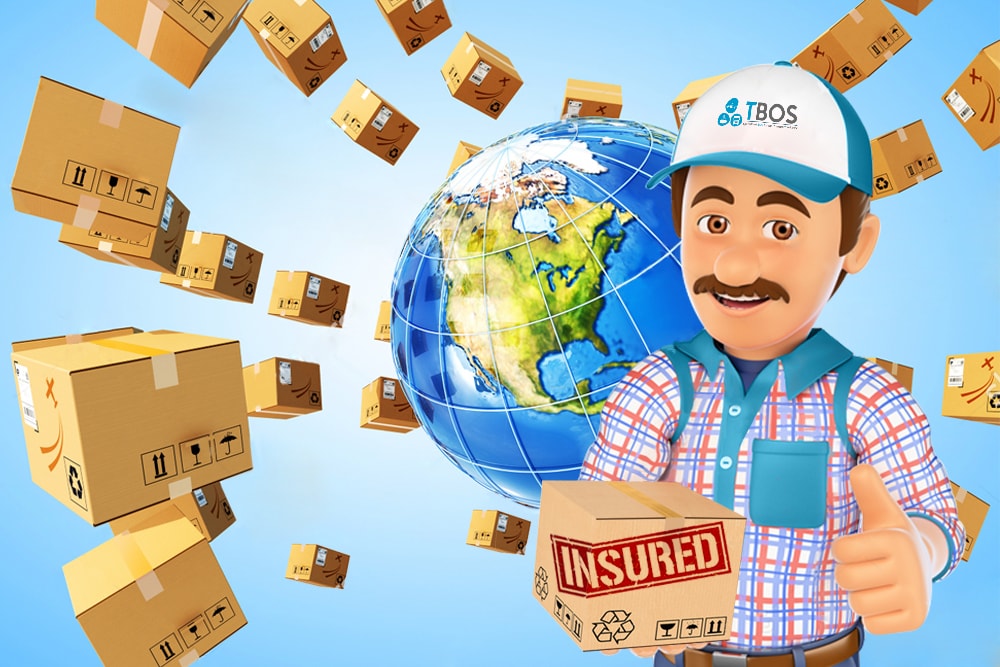 Handling time
As you can see, it is vital for you to let your own customers know about your handling time to increase the overall length of time from finishing order to the arrival of the cargo. For instance, in case someone is ordering overnight delivery for a product at about 8.pm and he wants his package to be shipped the following day, this can result in issues if you end processing orders every day at 2 pm and it usually takes up to 3 days to keep orders being processed before delivery.
Extra information
This is where you can add more extra and relevant information about the shipping policy or practices your customers want to know. Information can be easily found about payment delays, shipping, or flagged orders or any other critical details which should be noted by the customers.
Like Bed Bath & Beyond's shipping policy, they include an Additional information area where every information about the security reviews of an order is mentioned and information on gift card purchasing.
Adding shipping policy allowing your customers to see every important detail on shipping to prevent unrealistic and unexpected issues.
Here is the list that should be added through shipping policy
Processing time
Shipping time
Cost
Shipping options
Shipping restrictions
Requirement
Accepted payment term
Extra information
5 examples of good Shipping Policy
It is a good idea to take a closer look at 5 vivid illustrations of their good Shipping Policy before you can perform your final strategy to set up your business in the context of shipping that has a big impact on your customers' buying decisions. Take note that there is at least 80 percent of online customers considering shipping costs and being ready to accelerate.
Bean Box
If you have not been heard of Bean Box before, then now you will know it. Bean Box is a subscription service cooperating with Seattle's top independent coffee roasters to help curate as well as deliver freshly-roasted and high-quality coffee to your customers.
As you might not know, Bean Box's FAQs answer if they are performing international delivery, along with how long the domestic delivery might take. Because they can shop their own orders every Wednesday, they also added an extra FAQ explaining this to their own customers.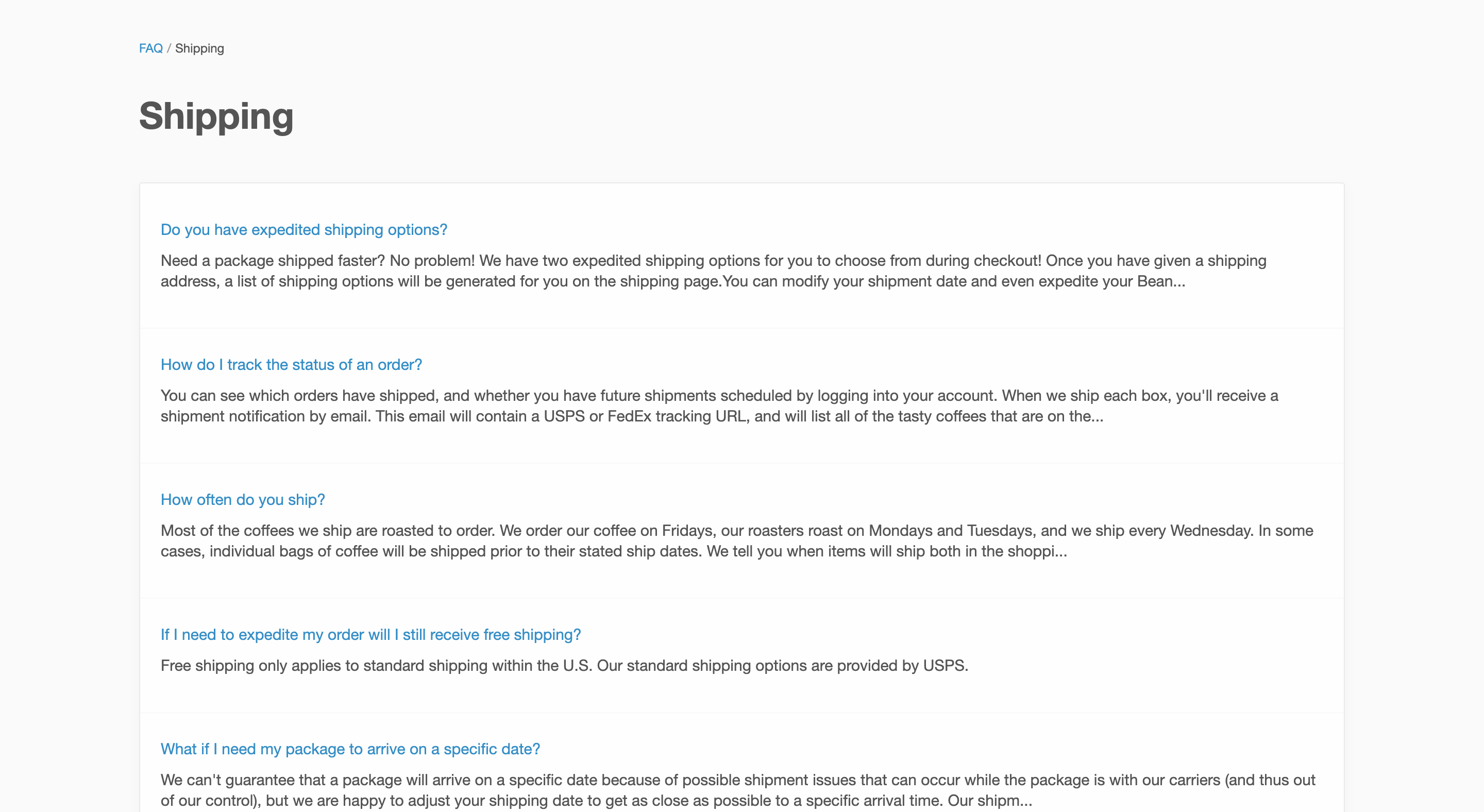 GOAT
Goat is known as a big marketplace for any user who wants to purchase and sell sneakers. GOAT can verify each pair of sneakers to make sure that they are authentic as well as live up with their item description.
GOAT has a unique shipping experience. Their process of verification demands sellers to deliver the cargo to GOAT warehouses before it can be sent to buyers. They describe clearly the whole process in their FAQs to explain to their customers the slow delivery times. In addition, GOAT can provide a flat rate for delivery, which depends on your location.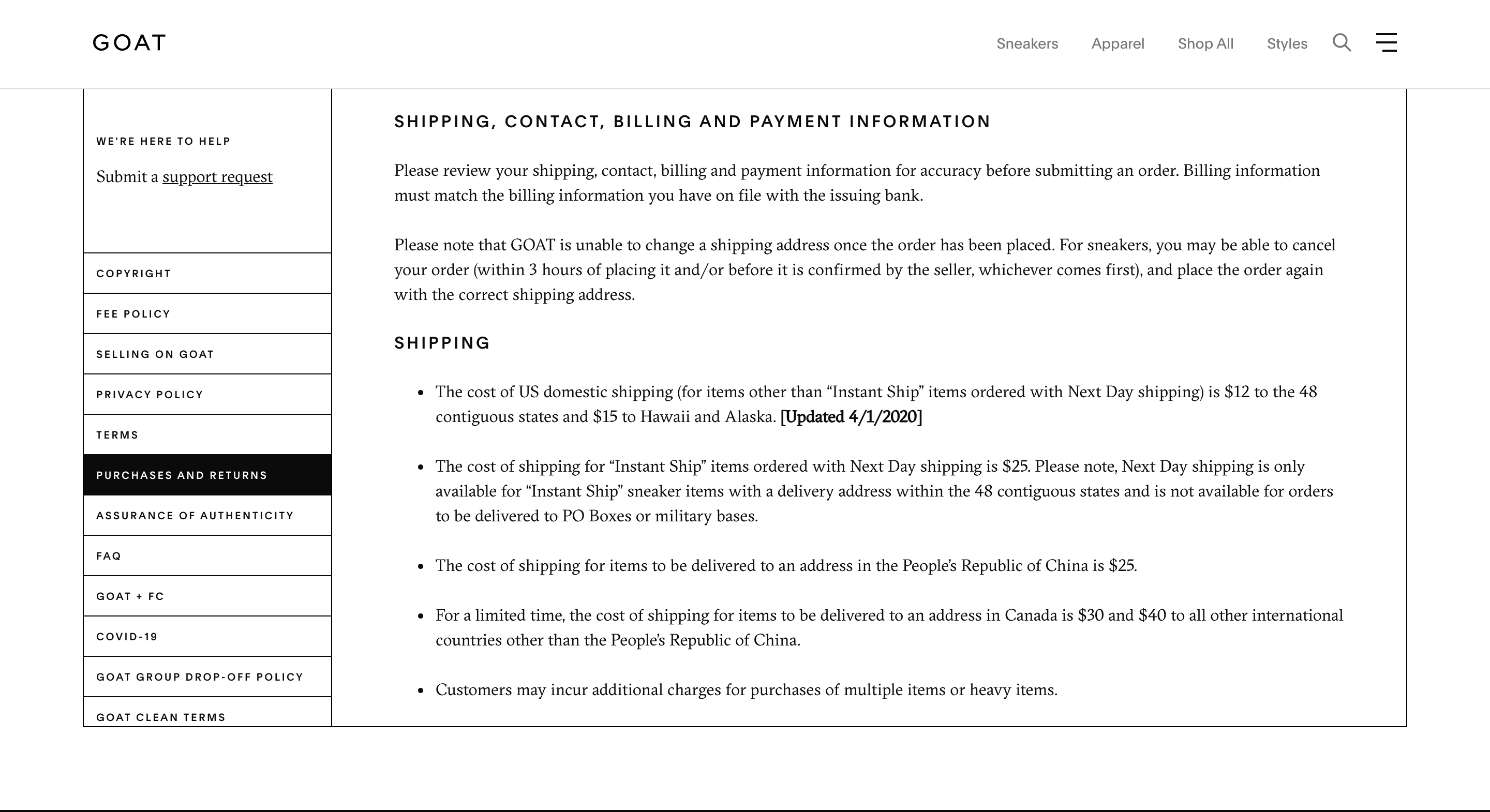 BONLOOK
BONLOOK can design, produce, and ship out fashionable eyewear. The retailer adds every detail of its international shipping offers, then share an easy-to-read chart that lists its own shipping costs for a variety of different customers and purchasing orders.
Ernest Alexander
Men's fashion brand Ernest Alexander is packed with an easy-to-find return and shipping pages on their site. It consists of details on shipping cutoff times, shipping options, and ground shipping transit times that widely use a visual for clarity.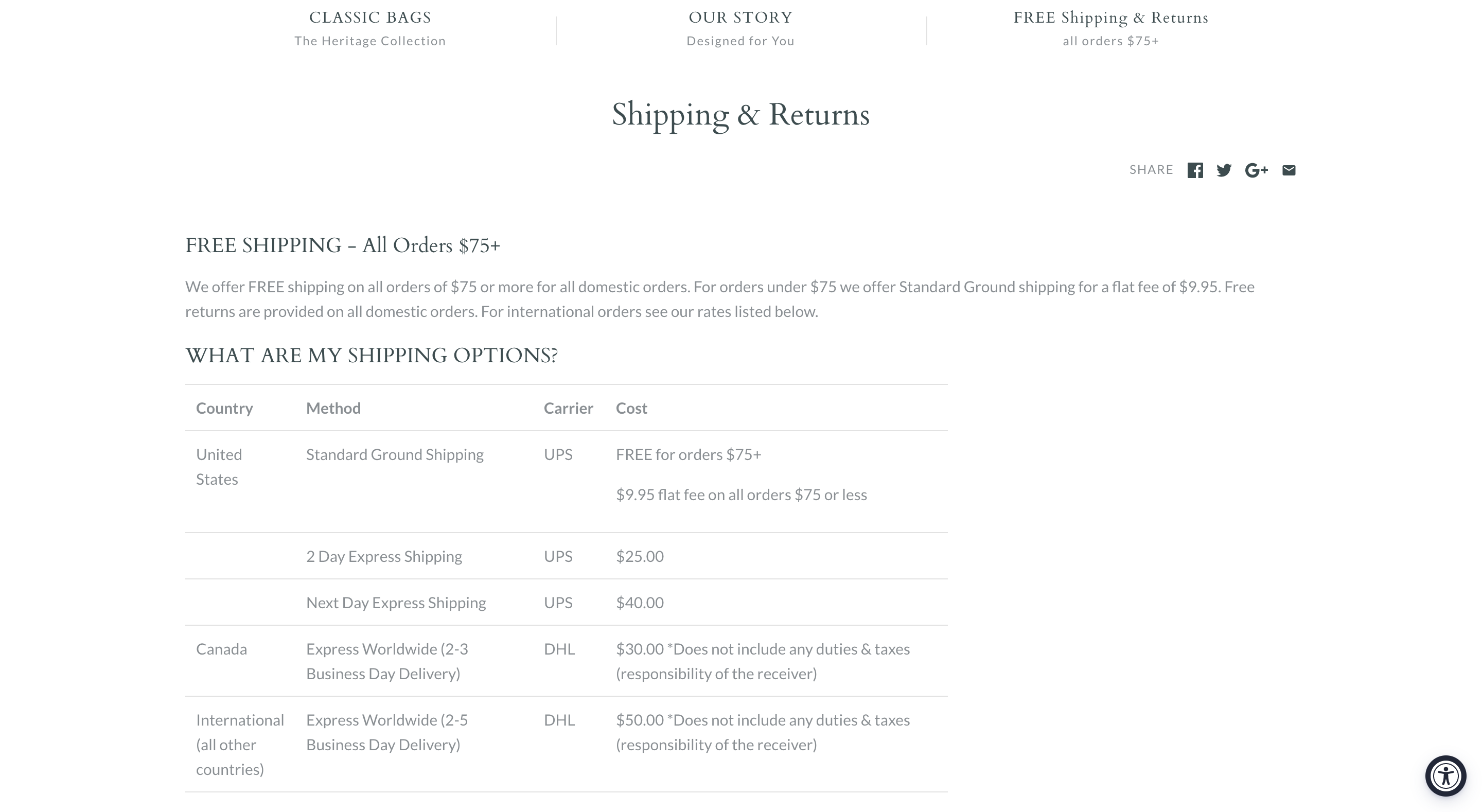 YourSuper
BSuperfood eCommerce brand YourSuper outlines cleary both domestic and international shipping costs, along with expected time frames.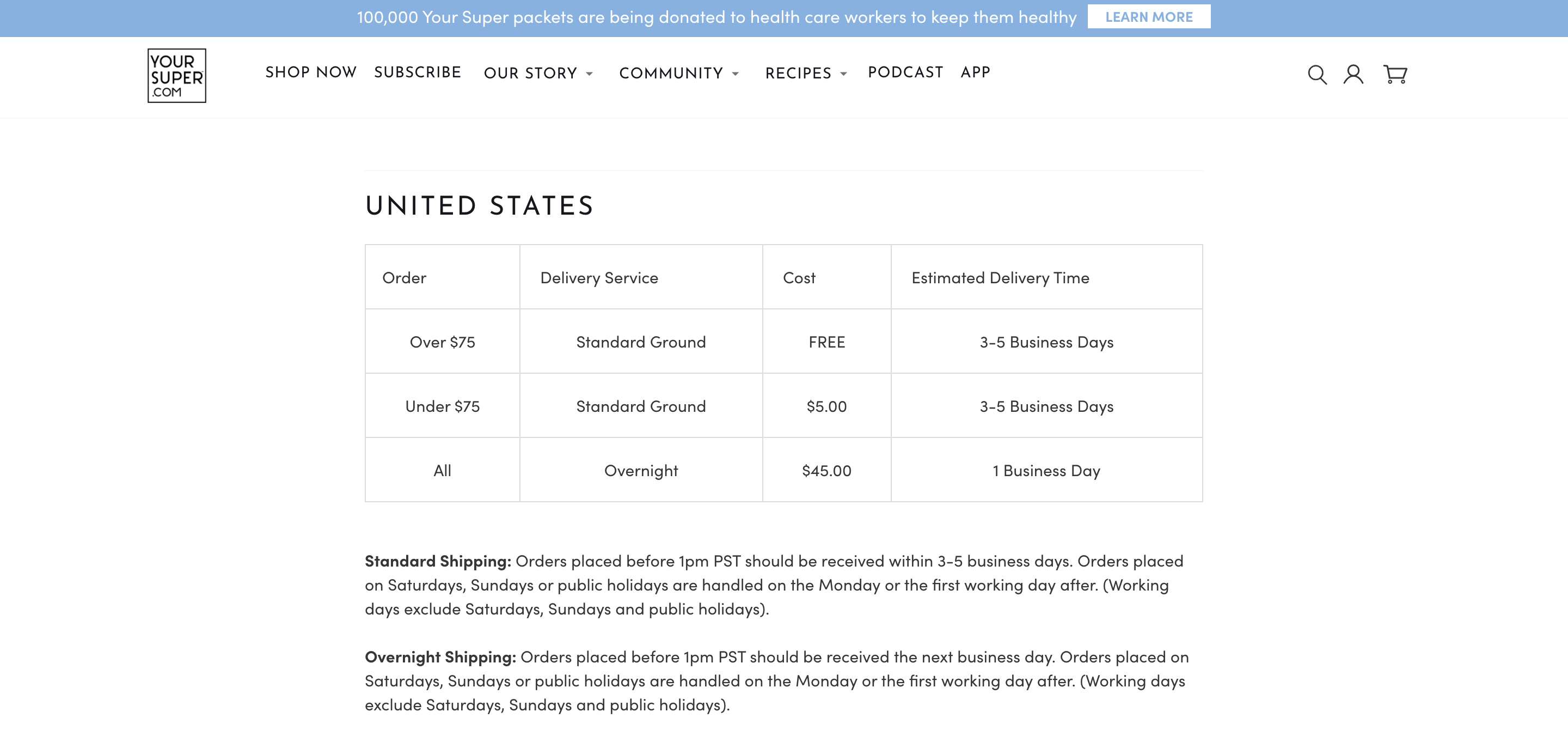 7 Tips to create a shipping policy that helps conversion
Estimate accurate delivery time
How can you estimate your accurate delivery time? This question you may ask. While you will be able to make sure that your delivery times are 100% accuracy, you can provide customers with delivery times with a high-rate of accuracy. This is since people lead fast-paced lives, then they want to know when they can expect the arrival of their package. You also need to ensure to add a precise delivery estimate on your own FAQ page.
Relying on the complication of your own eCommerce infrastructure, GPS vehicle tracking software can become a fundamental logistics tool when tracking the whereabouts of vehicles with their status to enable you to offer an accurate delivery estimate, then encouraging clients' satisfaction. Basically, fleet management is not something you had better emphasize in your own policy. It is also an important internal logistics tool you have to use so as to fulfill your promises to your customers.
Specific about shipment tracking
Shipment tracking is now not a perk in online shoppers' eyes; however, it contains a vital feature of online commerce. Currently, modern customers are unable to fathom scenarios where an online shop cannot offer the tracking IDs for their items. Hence, it is something that you need to have; but, you have to make sure that your shipment tracking is specific to help stop negative feedback.
Keep in mind that you cannot tell what may occur in delivery and the delays sometimes will be out of your control. Should your customers not be aware of it, they will have no issue with claiming your delay. In order to avoid the potentially-crippling scenario, you will have to provide accurate shipping information, then explaining the whole process of tracking in detail and giving accurate delivery estimates.
Clear and specific about returns and refunds
No matter how well-known and popular the brand is or how much quality your products can give out, unsatisfied customers will find you someday if your shop does not have a clear policy on return and refunds. This, sometimes, still happens due to the handling mistake on your end and the item can be damaged in the delivery process. Or sometimes, your customers will make their mistakes, then the ordered items will not fit. As this occurs, you have to prepare and your return and refund policy should protect you.
You are highly recommended to be specific. That means your clients can make out how your own policy works by purchasing from your online store, they agree with your entire shipping policy and all of their segments. The next step is to decide what can make finance workable for your online store, and what you are able to give to your customers. In addition, you are able to propose returns, but let's ask your customers to pay for their return shipping or you are able to give partial refunds in case they are not satisfied with. You can help yourself by finding a balance between what you are able to lose with customer satisfaction, and you are always upfront to enhance your online shop transparency.
Offer additional package insurance
We all know that products can be damaged in delivery or completely lost. Or sometimes, the product can be delayed. No matter what might happen, you have to compensate your customers for this inconvenience, along with retrieving the product's value if it is possible. Regarding this, eCommerce brands provide you with an insurance package as an extra perk that you can guarantee your customers.
Providing your customers with free insurance can be the best; however, it might not satisfy your fiance. You can offer it as a perk client are able to select to include in the shipment. You had better state clearly the advantages of an insurance package for them and explained why they had better choose it. Also, you are allowed to give insurance for selected products at a certain price to help stop losing money in case of being damaged or in case your product might get lost during the delivery.
Address the tone and wording of your policy
It is essential to deal with the wording and tones in your shipping policy. The tone of voice that you are using on your sites can make a huge difference in how it is perceived, and how it attracts or dissuade promising buyers from making a purchasing order.
Bear in mind that you have to make sure your shipping policy template is following the theme of your brand and exemplify its promises, values, and identity. Let's use positive language as well as refrain from negative wording. For instance, you can structure the return policy to highlight what you can do to accept which is better than concentrating on the things you do not, but you had better not skip any important information.
Provide standard and expedited shipping
Definitely, everybody would like their product to turn up as soon as possible, and there is a case that some people will pay more fees to make that happen. Generally speaking, each modern eCommerce brand had better provide their customers with multiple shipping choices to cater to each group of customers. If you have that in your mind, all you need to do is to ensure to supply standard and expedited shipping.
Furthermore, kindly ensure to explain every detail specific to your own shipping system. You can head to the extra mile before offering customers the capability to select between different carriers. Let's clarify the costs linked with each carrier, and strive to be accurate as there is an international shipment. As a result, an expedited overseas delivery needs to arrive in ten workdays.
Standard and Expedited delivery options
There is the fact that customers are somehow spoiled these days. Among the causes of abandoned shopping carts comes from the meteoric rise in the expectations customers have related to the delivery times.
With the assistance of Amazon Prime, many clients are expecting the same-day or even next-day delivery. While this is sometimes not a viable option for some customers, it is also important for you to offer the quickest delivery option that is possible as a powerful add-on to customers' orders.
Where to display your Shipping policy?

Your own shipping policy will win over the customers; however, only if people know where they can find it.
You can show and link to your own shipping policy in the shipping process, making it become accessible to boost transparency.
There are some places you can display your shipping policy.
In your Privacy Policy, Terms & Conditions, and Refund Policy.
In your website footer
On your Shopping Cart and Checkout page
In any shipping offer banners or Pop-ups
In Shipping Confirmation Emails
Conclusion
A bad quality shipping experience can turn your potential customers into your own competitor's valuable shoppers. Your shipping policy needs to be set up and managed to meet the customers' expectations. In addition, a comprehensive policy can both help you win more clients and prevent the returns as well as endless customer service emails.
We hope that with our complete guide on Shipping Policy, you can make your business run smoothly as your wish.
Related Posts: