People often use search engines to look for a product they want and if your store appears in the top of the search results, it will get more chance that the searchers will click on your page. Therefore, you should fill in your content the keywords that your potential customers will use to find your products. To improve your rank on the search engine, you can add keywords to four main places, which are page title, meta description, ALT tags, and a page's body content.
In this writing, I will focus on the first two places or in another way, I will show you how to set a title and description for your online store on Shopify.
Related Posts:
What is title and meta description?
Basically, title tags and meta descriptions are the bits of HTML code that locates in the header of a web page. They are known as assistance that helps search engines understand the content on a page. Whenever a page appears in the search engine results, it will show that page's title tag and meta description.
As you can see, when a title and meta description is written and compelling, it's more likely to attract more users to click to your website from the search engine results. So I will go more detailed for each section.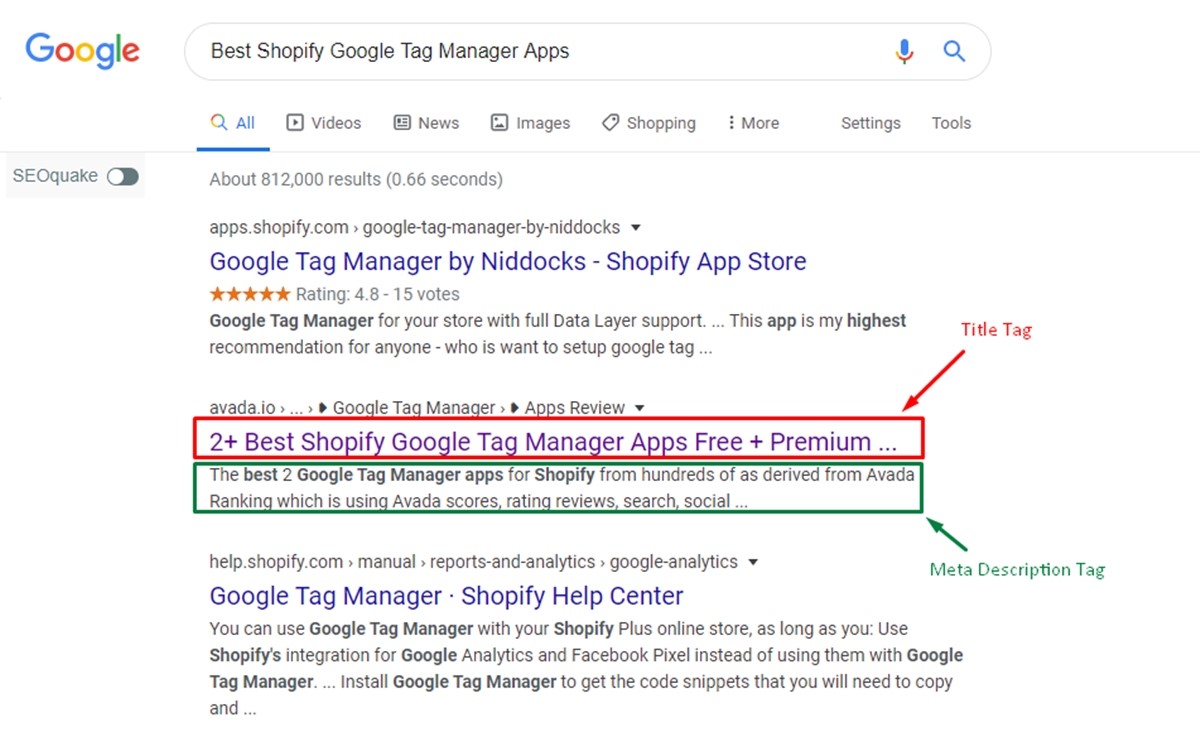 The title tag is defined as the title section that every web page has to summarize the content on a page. Normally, you will find a title tag in three key places including browsers, search engine results pages, and external sites.

A title tag is often expected to contain relevant keywords and phrases that can describe what that page is about on search engines. The title tags are considered to be a great opportunity to attract prospects to click through to your site. Ensuring an accurate, concise and compelling summary of your page in your title tag is always needed.

The meta description is known as a short summary of the content on the web page. The title tag is usually limited in length, at the same time, a meta description can give you more space to describe what you can provide. This is also a chance for you to give customers a compelling reason to click through to your page.
3 Steps to set a Title and Description for Shopify
Step 1: Open Preferences
Log-in to your account on Shopify website and head to Online store. It will move to the first section in the settings list of Online store which is Themes. Find the Preferences at the end of the list and press on it.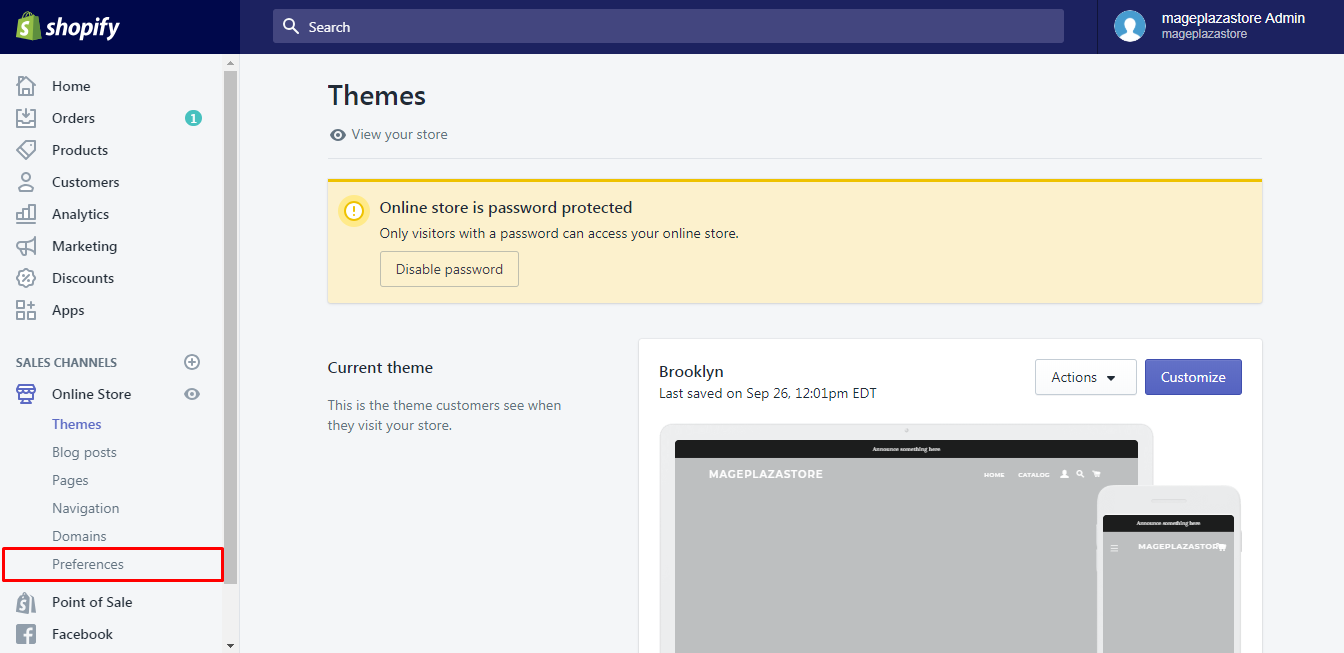 Step 2. Enter a title and meta description
You will see the Title and meta description section on the top of your Preferences page. In this part, there are two boxes which are Homepage title and Homepage meta description. Before filling in the information, let's learn about what is the title and meta description.
Page title
The title appears as a link in the search results and it will be compared to the page content to check the consistency between them. Based on the matching level, the search engine will rank your page that you can optimize it in some ways:
Apply an exclusive, descriptive title
Near the start of the title, put your most crucial keywords for each product, collection, webpage, or blog post
Use a title that less than or equal to 70 characters because it will be shortened if the title is too long
Ensure the readability of your title
Meta description
The content that you will see after the title tag in the search engine is the meta description. You can set up this description for some parts on Shopify, including of webpages, product pages, collection pages, and blog posts. If your introduction is good, it can attract more customers to click on our store link then make sure that each of your pages has a unique meta description. Moreover, the content should be clear, easy-to-understand and is written in plain, direct language.
These details will help to define the way your store shows up on search engines that it will strongly affect your reputation and sales revenue. Therefore, consider it carefully and fill in the boxes.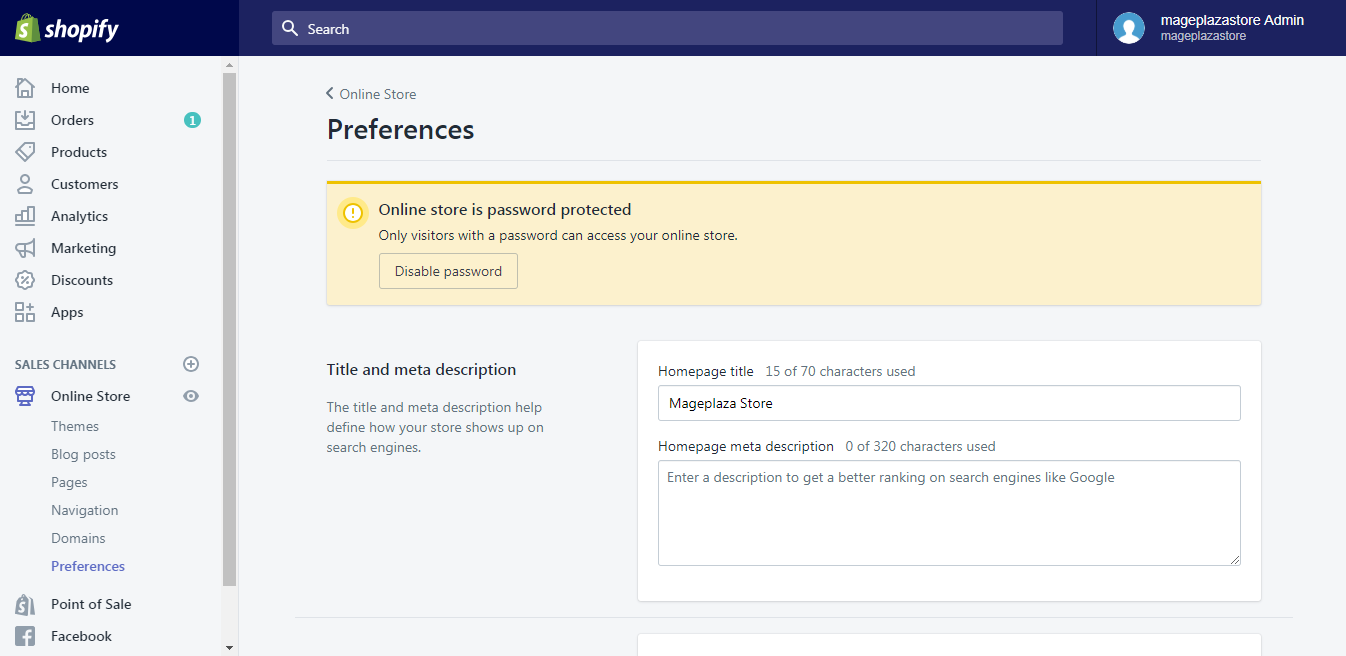 Step 3. Click Save
Once you adjust anything in the Preferences page, the system will remind you of Unsaved changes at the top of the page. Hence, remember to click Save to record all changes and finish the process.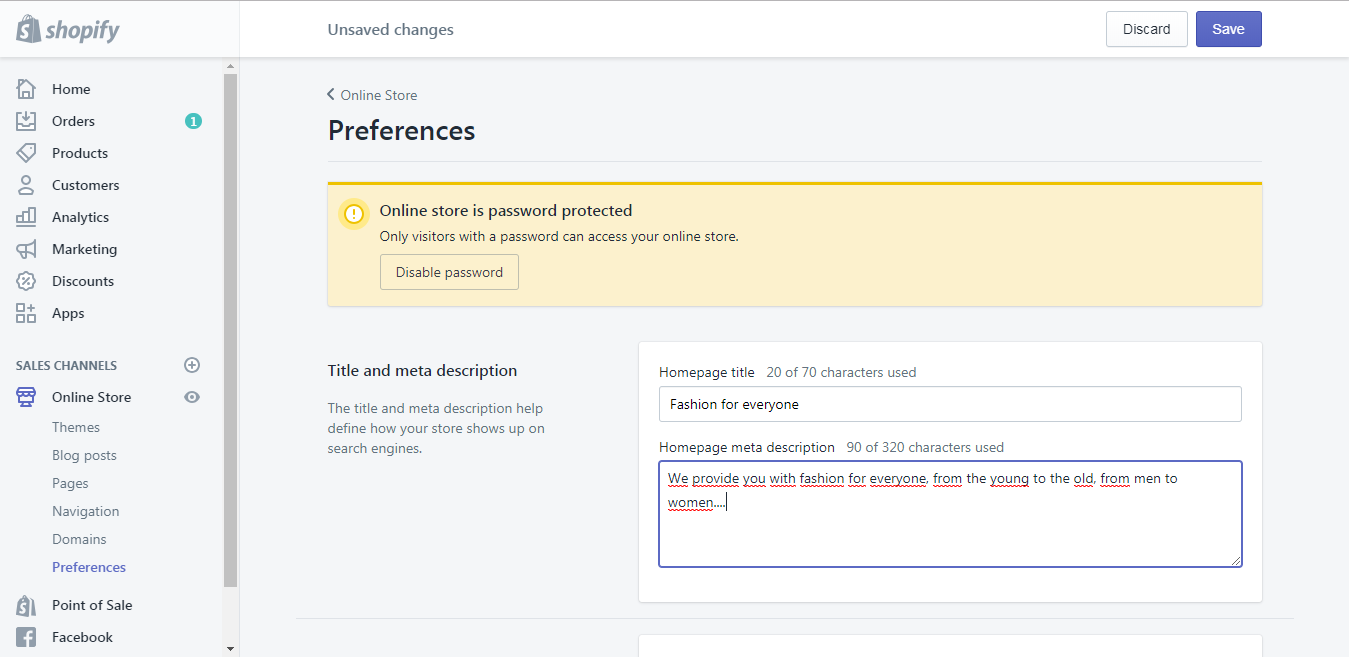 How to edit Title and Description for a Page on Shopify?
Step 1. Click Edit website SEO
For starters, navigate to the Search engine listing preview section, and then choose to Edit website SEO.

Step 2. Enter the title
First, look at the blank in the Page title field, just type your descriptive title in. Remember not to access 70 characters in this field.
Step 3. Enter the description
Second, look at the next blank to type your description for the search engine listing in. Remember to put relevant keywords to help new customers find your link, and also your store name in this field.
Step 4. Click Save
Finally, don't forget to click Save before closing the tab if you don't want to lose your work
Title and meta description writing guide
Write an SEO-friendly Title
In this section, I will show you seven tips for a perfect title on Shopify:
Tip 1: Remember to include the keywords that you got from the search query analysis and keyword research earlier
Tip 2: The length between 50-55 characters, or sometimes 35-60 characters, is always an ideal choice. If you put too few words in your title, you can miss your opportunities. If you put too many, your title will be cut.
Tip 3: Always make your words become understandable
Tip 4: Try to present the answer to the person's search query
Tip 5: The title should match the content on the page, like putting your keywords in
Tip 6: Be unique is always needed
Tip 7: Interesting point is always attractive and makes people want to click on your title.
Example for a good title: Best Chef Knives – Five Recommendations | KitchenKnifeGoora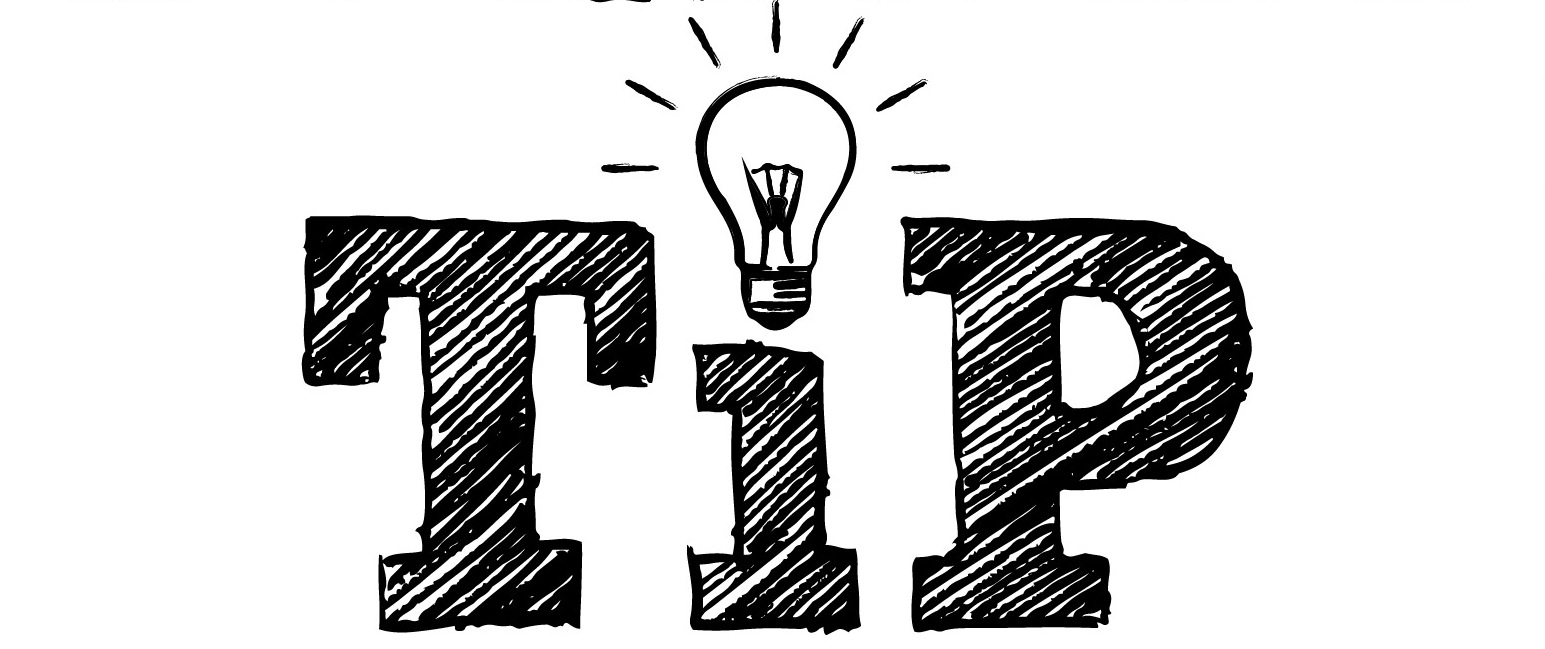 Write an SEO-friendly Meta Description
It is more likely that writing a description is easier than a title. The character space here is longer, which is 145-160 characters each. You will get your character length counted by Shopify. Plus, I also have some tips for you:
Tip 1: You should put your keywords in the meta description so that the text will be bold in search results and outstanding.
Tip 2: Also, remember to structure the description around your keywords.
Tip 3: Write around your title after putting them down. Just focus on thinking about things behind your search query.
Tip 4: Search your targeted keywords in Google to see the inspirations of other sites in case you have no idea.
Tip 5: Try to put something different in.
Tip 6: Copy the top ranking website is not effective, so don't try these.
Conclusion
In conclusion, the article above is what I want you to know about set a title and description for your online store on Shopify. I hope you find this article helpful to you. By following this post, you can improve your page rank in the search results that more customers will come to your store. Just go ahead and write a few title tags for your pages.
Don't forget to leave us your feedback when you spend your time here. If there is any trouble during your work in this section, inform us, so we can help you through it.