Shopify is an eCommerce platform that enables you to start your business, develop and manage it, especially the online one. There are so many Shopify functions that can help you to bring you and even your customers many interesting experiences. So, today, I want to introduce one of the most stunning Shopify functions is the way that will help to secure your online shop by letting you set up your own password protection.
This would be extremely helpful if you want to keep your store private, at the same time, it can play as a landing page for your store as you create password protection and send it to the customers that you think are capable of visiting your store. It sounds amazing, doesn't it? So I will not make you wait anymore by going to the main point of this article today.
Why and when should you enable password protection?
When you are running your online business with Shopify, it is essential to create a password to protect your information, your store's security or else from attackers. That is when you need to enable password protection on your own, or a client's, or the Shopify store.
Additionally, as you are still building and testing your site as well as making a quick change to the theme, sometimes, you can still want to input some product collections. These are important things that you should seriously care for and want to keep it private, that's why we enable password protection.
5 Steps to add password protect for Shopify store?
Basically, Shopify is designed to enable you to insert a custom message, also include HTML, to the default password protected page. After that, it will display this message together with a default login form, which gives you access to the store. The links for the owners of the store to access the Shopify admin will be provided in the default template. In order to make that happen, follow the guideline below:
Step 1. Open Preferences
First of all, log in your Shopify admin account and go to Online Store, and then hit for Preferences.
Step 2. Choose Enable Password
Next, just scroll down to the Password protection area near the bottom, then tick a small square next to the Enable password line.
Step 3. Enter the password
In the first blank, you need to enter the password that you want to set for your customers, who you want to give access to your online store. Using the same password that you use to log into your admin account is not recommended.
Step 4. Enter the message for your visitors
The next blank is where you should put your message for your visitors in. Just leave any message that you would like your visitors to see on the password page. This is optional, so you can totally leave this field blank.

Step 5. Click Save
After all, don't forget to click the Save button.
How to enable password protection for Shopify store??
Step 1. Open Online store
For starters, the first thing that you need to do when you want to protect the store frontend with a password is to open your Shopify admin panel and choose the Online Store button, and click Preferences.
Step 2. Leave your password
After you have checked the Storefront password option, there will be a Password field provided for you to enter the password that you want.
Step 3. Enter the message
You also should enter in the Message for your visitors blank. Just leave any message that you would like your visitors to see on the password page. This is optional, so you can totally leave this field blank. You are able to input a custom message that will be displayed to site visitors while the site is under construction.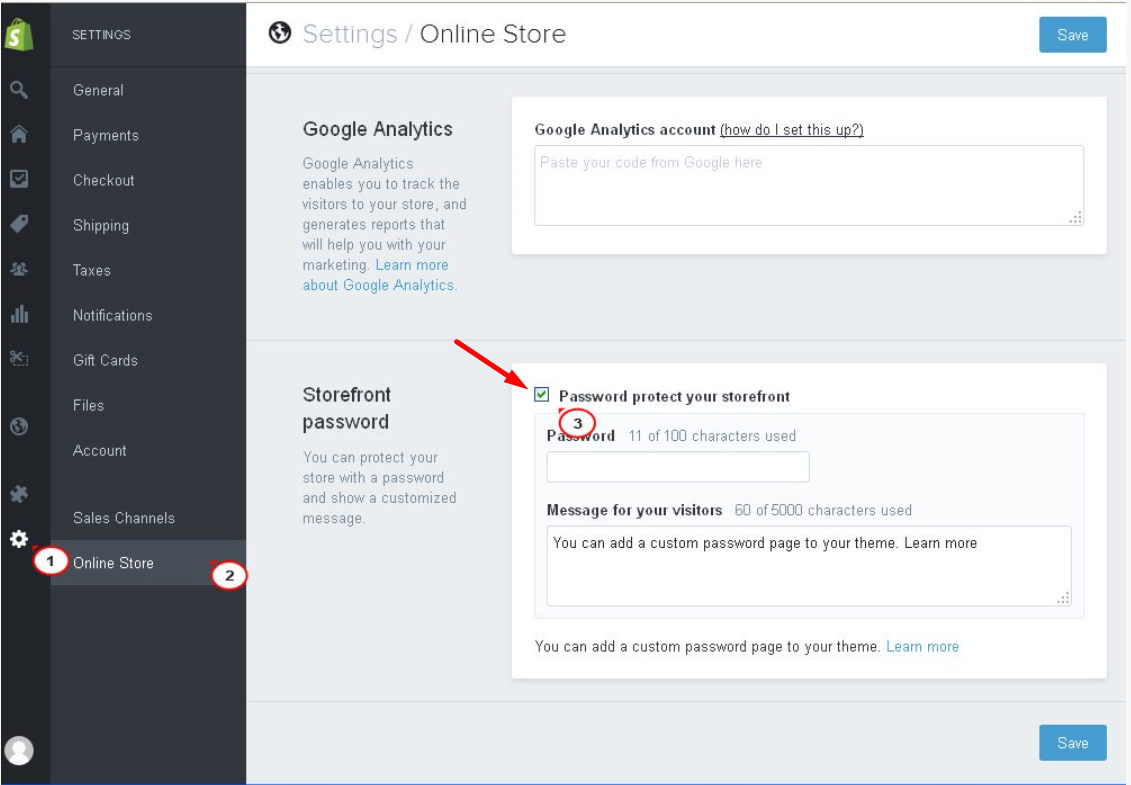 Step 4. Click Save
Finally, click Save to save your changes and go to your site home page to check whether it is password protected. You can preview the site by entering the password from the Storefront password field of the admin panel.
Note: If you want to disable the password protection, you can uncheck the Storefront password option from the second step.
How to remove password protection from Shopify store
So now, you have successfully enabled password protection for your online store on Shopify, and you want to remove it. This is not difficult to do, just simply follow these four steps:
Step 1. Open Preferences
From your Shopify admin, go to Online Store, and then Preferences.
Step 2. Find out Password protection
Scroll down to the Password protection area
Step 3. Remove password protection
Remove the password protection by unchecking the Enable password button.

Step 4. Click Save
Yes, click Save and you are done. If you still want to get clearer instructions, feel free to visit our previous How to Remove Password Protection From your Shopify Store article.
Shopify password page tips
There are some tips that I want to show you for you password page, which can help you to increase sales as well.
Inspiration background: The background image is an important factor for a password page. While you are selecting the photo, make sure it can be viewed at sizes ranging from a mobile device and desktop screens. Plus, the text and other information on your coming soon page need to remain visible from the background.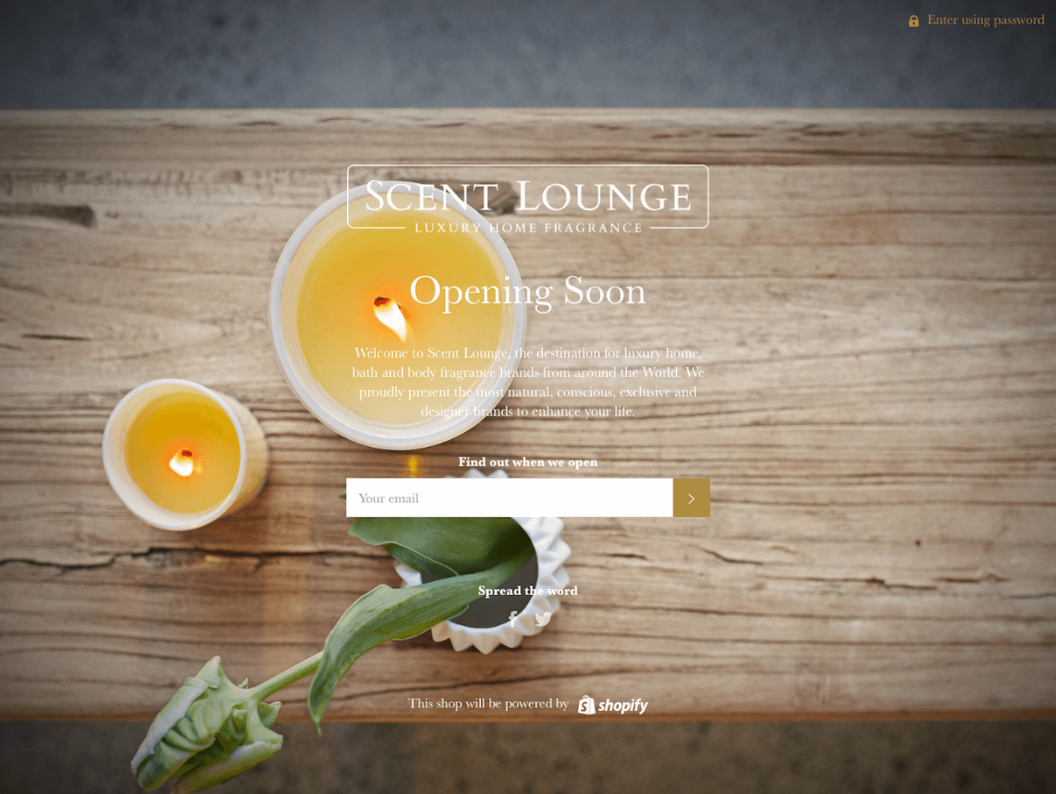 Spreading the word: It is a good idea to collect email addresses from visitors to your coming soon page by activating either a third-party email newsletter integration, MailChimp, for example. By doing this, you can gain the excitement before your store launches and also start building or expanding your email list with potential customers.

Unique message ideas: Some unique message ideas should be paid attention to too. For instance, you can control the newsletter form by the Footer control panel under Customize theme, or the store logo uploaded under the Header subsection and so on.

Leverage social: If you have your brand already active on social media or blogs, then include links to all your social channels on your password page, so it is a smart choice because the potential customers will be able to start following you before launch. As a result, you can gather new likes and followers.

Join-the-list promotion: When customers have to wait for the exact day you launch, you probably will have a few sales right on the first day. So, they need to join your waitlist. I would recommend you to give them a gift or promotion to subscribe to your database. After that, you can filter those people by using tags, and send the promotion to them when everything is done.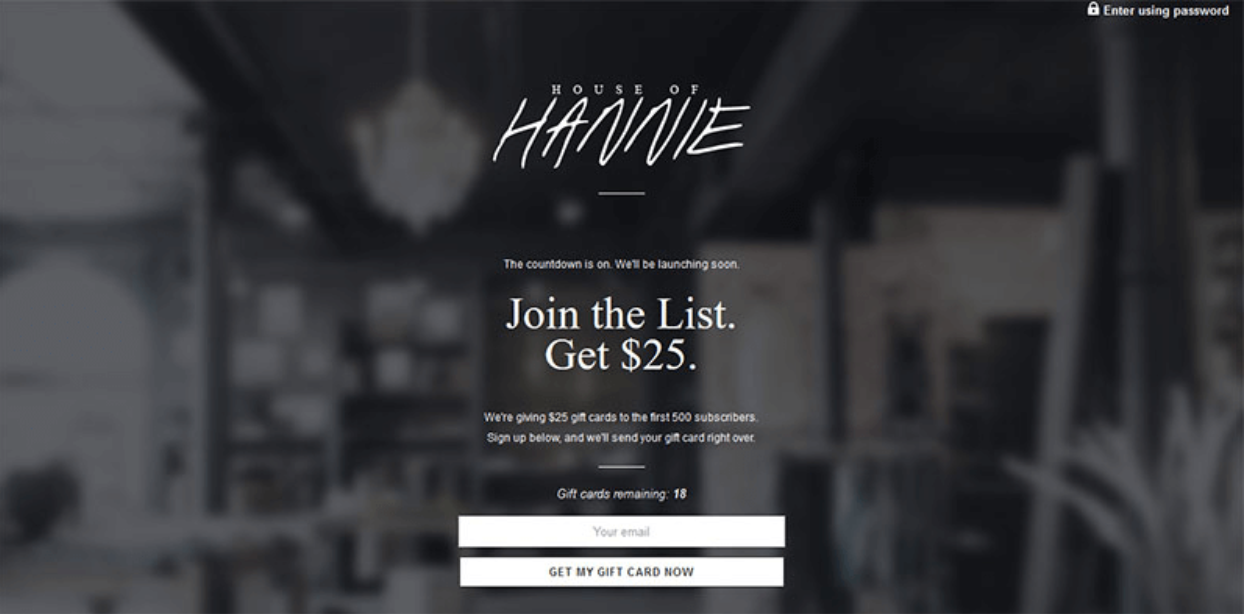 Teaser product image The coming soon page is also a way to showcase some of your featured products, offer a presale or early adoption discount. So why don't we show a part of your product image and your brand value to tell what you are going to sell? This is a great way to make customers engage with your brand.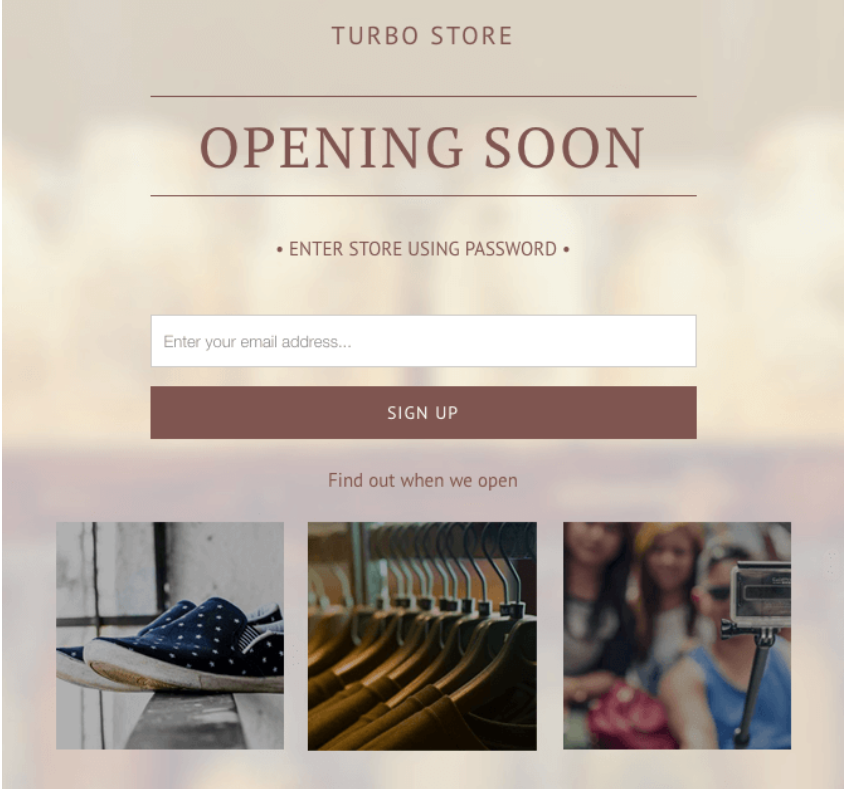 Summary
That's it! I have just shown you all the information that you need to know about setting password protection for your Shopify store. I hope you can utilize a password page as a way to keep in touch with the customer and encourage them to come back.
I also really hope you can find something useful and helpful for all of my points above. Finally, just feel free to contact us if there is any trouble while you are working with your own password protection.