If you are selling goods in the Shopify platform, then you might hate to see abandoned carts. You-as in the role of a store owner, for sure, want to do something about it. And you must have sometimes wondered how to send abandoned cart emails in Shopify. It could help you a great deal in increasing sales and grow your business.
The task will be so challenging and time-consuming if you do not know abandoned cart emails well, how to make them great emails, and send them to your target audience.
Therefore, in our writing, we will give you a step-by-step guide so that you can do it smoothly. Let's get started right now!
Related posts:
What are abandoned cart emails?
The customers who have added items to their cart but failed to check out for some reason will receive an abandoned cart email like this: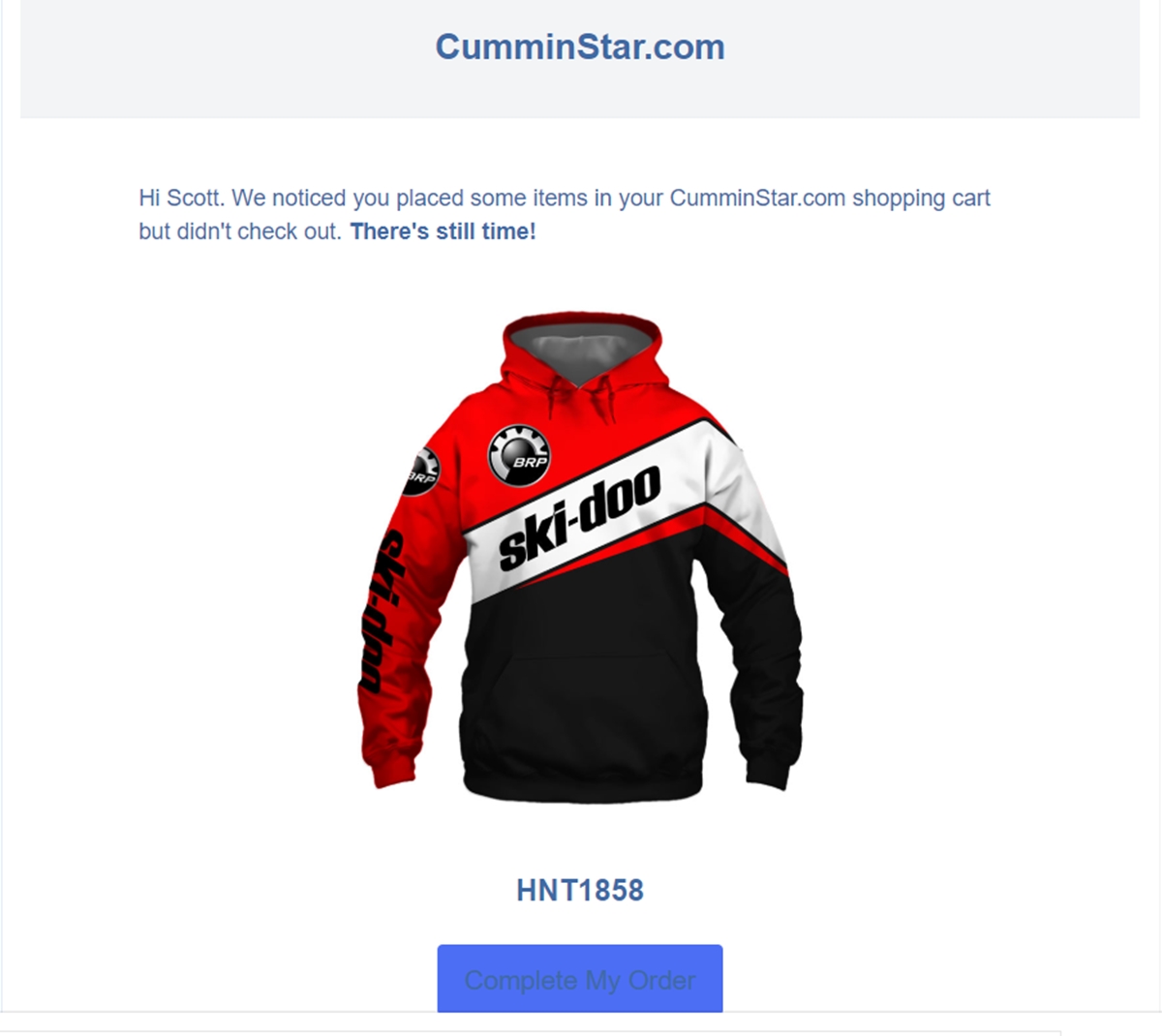 The customers who have added items to their cart but failed to check out for some reason will receive an abandoned cart email like this.
As a store owner, following this simple but powerful sales recovery tactic is a smart decision. As stated by SaleCycle, customers open almost half of all abandoned cart emails, and more than a third of clicks can result in order completion.
The reason that customers abandon their carts may not be intentional, for instance, because the website has a technical error, or due to the complexity of the process, or because the website keeps timing out. Abandoned cart email aims to expose the abandoned items to the customers and persuade them to fulfill the process.
You originate the data for abandoned carts from an online store when the "almost" visitor has logged in or has typed in their email address at checkout.
After the abandonment of their purchasing cart, a cart recovery tool assemble the visitor's order, compiles it into the email and sends it ready-made to the purchaser as a helpful suggestion to continue the order.
More interestingly, up to 80% of retailers fail to take measures to deal with "almost" customers. Hence, sending this type of email can be your edge to take a step ahead in the competition.
To send abandoned cart emails in Shopify:
Sending abandoned cart emails will be a piece of cake if you read the following guidelines carefully and put it into practice.
Review your abandoned checkouts
First of all, the review of your abandoned checkouts to uncover patterns that could be a constructive suggestion for the reason why your visitors do not fulfill the purchasing process.
The Shopify admin keeps the abandoned checkouts for 90 days. Every Monday, if abandoned checkouts last more than three months, your admin will automatically eliminate them.
Step 1: Go to Orders
From your Shopify admin, go to Orders.
Step 2: Click Abandoned checkouts
Next, click Abandoned checkouts.

Note that while you export your orders, you can export abandoned checkouts.
View payment events from an abandoned checkout
Every time a customer attempts to make a payment for their item, a payment event will be recorded in the abandoned checkout's history.
Payment events can be very convenient in the case that a shopper is striving to purchase your item, but the process is not successful. When a shopper tries to reach you due to their failed payment at checkout, you can inspect the payment event's details, and make use of the data to assist your customer.
If the payment process at check out is successful, you can proceed to the order's timeline to see payment events.
Step 1: Click Abandoned checkouts
In your Shopify admin, select the Orders section, and then click Abandoned checkouts.

Step 2: Tap on a payment event
Then, go to the History section, and tap on a payment event.
Email a customer a link to their abandoned checkout
There are two ways to send abandoned cart emails in Shopify: manually and automatically.
Manually
Manually sending an email to a customer with a link to their abandoned cart could be an ideal option to encourage them to perform their payment at checkout. Keep in mind that you can not expect customers to receive will automatic recovery emails if the line items in their abandoned cart equal $0. You can follow the following steps:
In your Shopify admin, proceed to Orders section, then click Abandoned checkouts.

Tap on the number of checkouts that you hope to recover.

Tap on Send a cart recovery email.
Interestingly, you can copy and paste the cart recovery link into any email if you choose to send a perfectly customized email. If you want to, you can type in a custom message and tap on the box next to each email address to which you want to send a copy. After tapping on Review email, you can review your email and tap on Send notification, or tap on Back to modify anything.
The Recovery status on the Abandoned checkout page will display as recovered provided that the shopper finishes their order by clicking on that link.
Automatically
If you have to deal with a large number of abandoned checkouts, then automatically sending an email to your customers can be your lifesaver. Each email includes a link to the customer's abandoned cart, which can aid them in completing their checkout if they fancy. You can edit the email template by inserting a logo or modifying the color scheme.
However, you should learn that there are some noticeable instances. Firstly, if a potential customer makes more than one abandoned checkout in a row, then they will receive only one email. Secondly, they will not receive the email if:
A potential customer makes more than one abandoned checkouts and then successfully place an order before the recovery email was sent.
An error arises during the payment process.
Your store's activity does not include the order's delivery directly to the customer's address.
You give your customers an option to insert a phone number rather than an email address at checkout, and the customer enters a phone number.
No items in the checkout are ready for shopping, for instance sold out or out of inventory.
If all your items are available, and the customer does not go to the shipping page to include a shipping fee or your store offers free shipping.
If you have customized your store to send recovery emails automatically, then the Abandoned checkouts page will include tooltips revealing the reason why the delivery of recovery emails fails.
Follow the steps below to email a customer a link to their abandoned checkout automatically:
In your Shopify admin, go to the Settings section, then click Checkout.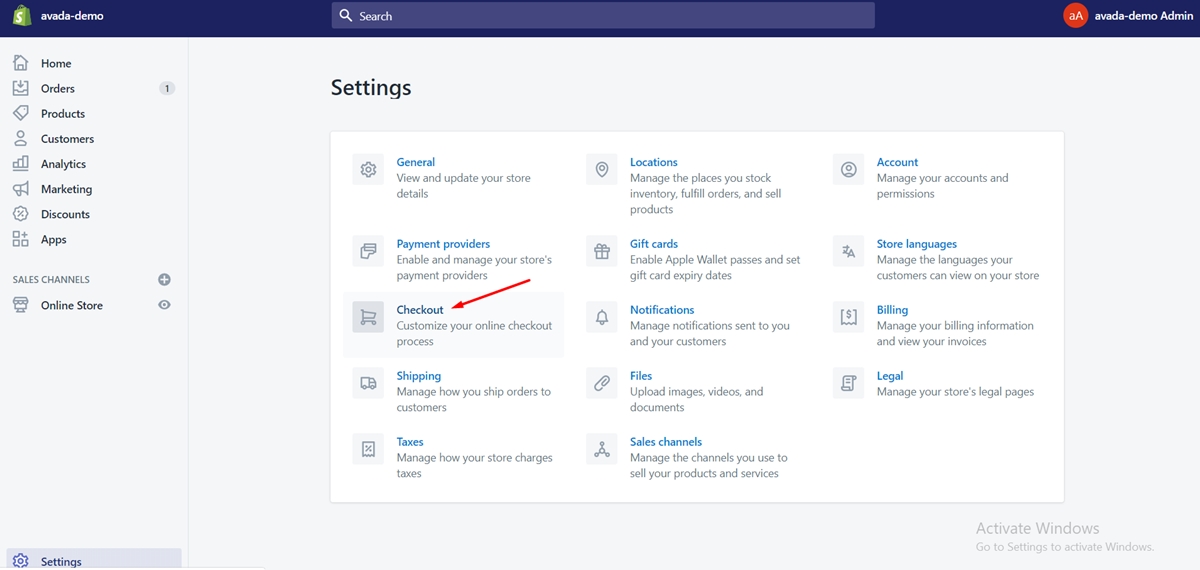 Review Automatically send abandoned checkout emails from the Abandoned checkouts area.

Below Send to, select the customers to whom you want to send a checkout recovery email. They could be anyone or email subscribers who give up a checkout.

Below Send after, pick the number of hours that Shopify should wait before delivering the abandoned checkout email:

Tap on Save.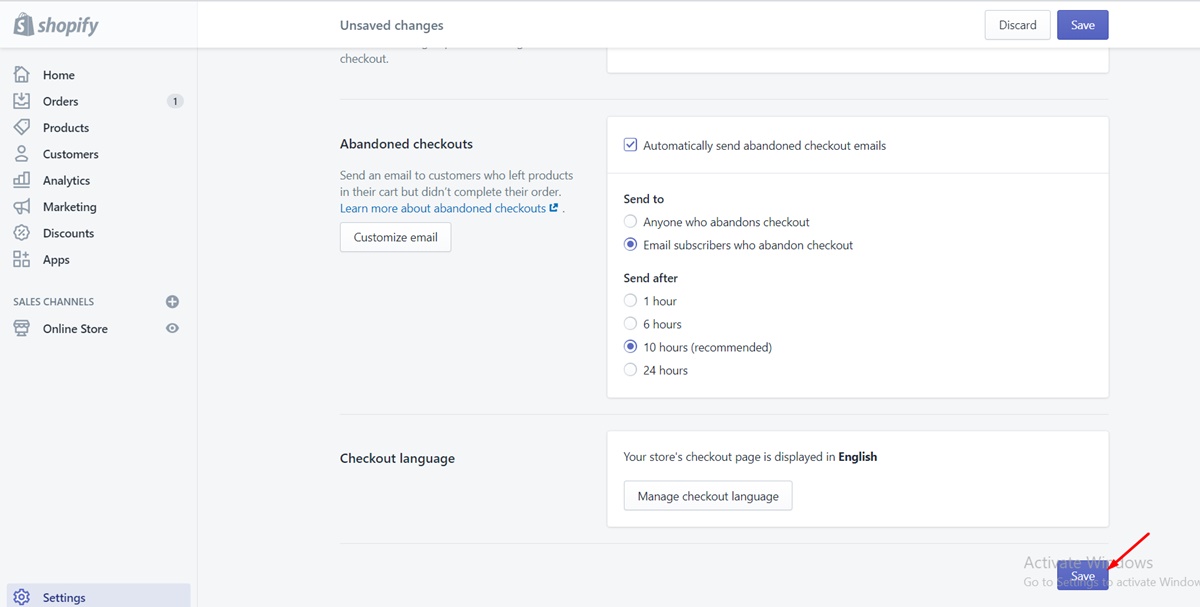 You can examine each abandoned order email's status by proceeding to Orders and then tapping on Abandoned checkouts. Under the Email status column, you can notice the status of each recovery email. Likewise, under Recovery status, you can see the status of the abandoned checkout.
After the delivery of an email, the checkout will show as recovered as long as the shopper taps on the recovery link and finishes the checkout. If a customer completes their order by going back to your online store instead of using the checkout recovery link, then it will not show as recovered. Remember that offering them a discount is an outstanding tactic to persuade customers to complete their orders at checkout.
Using Shopify App
In addition to three useful ways mentioned above, some of Shopify apps can help you figure out how to set up abandoned checkout recovery emails.
Jilt

By activating Jilt, you can boost your sales with automated emails to rescue abandoned carts, bring in new customers, require a product review, or a custom automation. Not only that, in only several minutes, you can plan and initiate your first campaign with our simple setup and easy-to-use visual email designer. Therefore, it is unnecessary to hire a developer. What's more, the fantastic app can play a role in evaluating the detailed marketing results and engagement parameters, such as order conversion rate and revenue per email sent.
Abandoned Cart Recovery Email by Care cart

Abandoned Cart Recovery Email by Care cart aims to save every abandoned checkout. You can import any kind of email design to make the email sending process in a beautiful and personal way. It offers up to five email templates, you can set different templates depending on the country. You can also customize other features to your templates. Not only that, it has completely customizable conditions for abandoned checkouts - time delay in days or hours. And there are many more outstanding features of this brilliant app that you can discover when you download and install it. Especially, you will be more impressed with the app when you select Advanced plans.
Abandon Aid

Abandon Aid will become your time-saver and money-saver. A prompt customized email to potential customers is a magical tactic to save orders. One of Abandon Aid's outstanding features is that it offers infinite emails for every online store. It also concentrates on retrieving orders most simply and effectively. You do not have to deal with complicated configuration or campaigns. For the last month of orders, recovery statistics are ready. It is very smart with real-time order evaluation technology.
How to make a good abandoned cart email?
Essential ingredients
It is super easy to make abandoned cart emails but to create good ones, several things that you would need to take into account.
A reminder of what they've abandoned
Your shoppers may choose that they want to place an order after some time. A few hours after their abandoned checkout, a reminder email that they will receive can activate and they will notice your products that they intended to buy from the beginning.
The most simple way to convert "almost" customers into buyers is to save their cart or show the items that they have had an intention to buy and deliver the saved cart to them.
Let's see what Gogistyle do to persuade reluctant customers.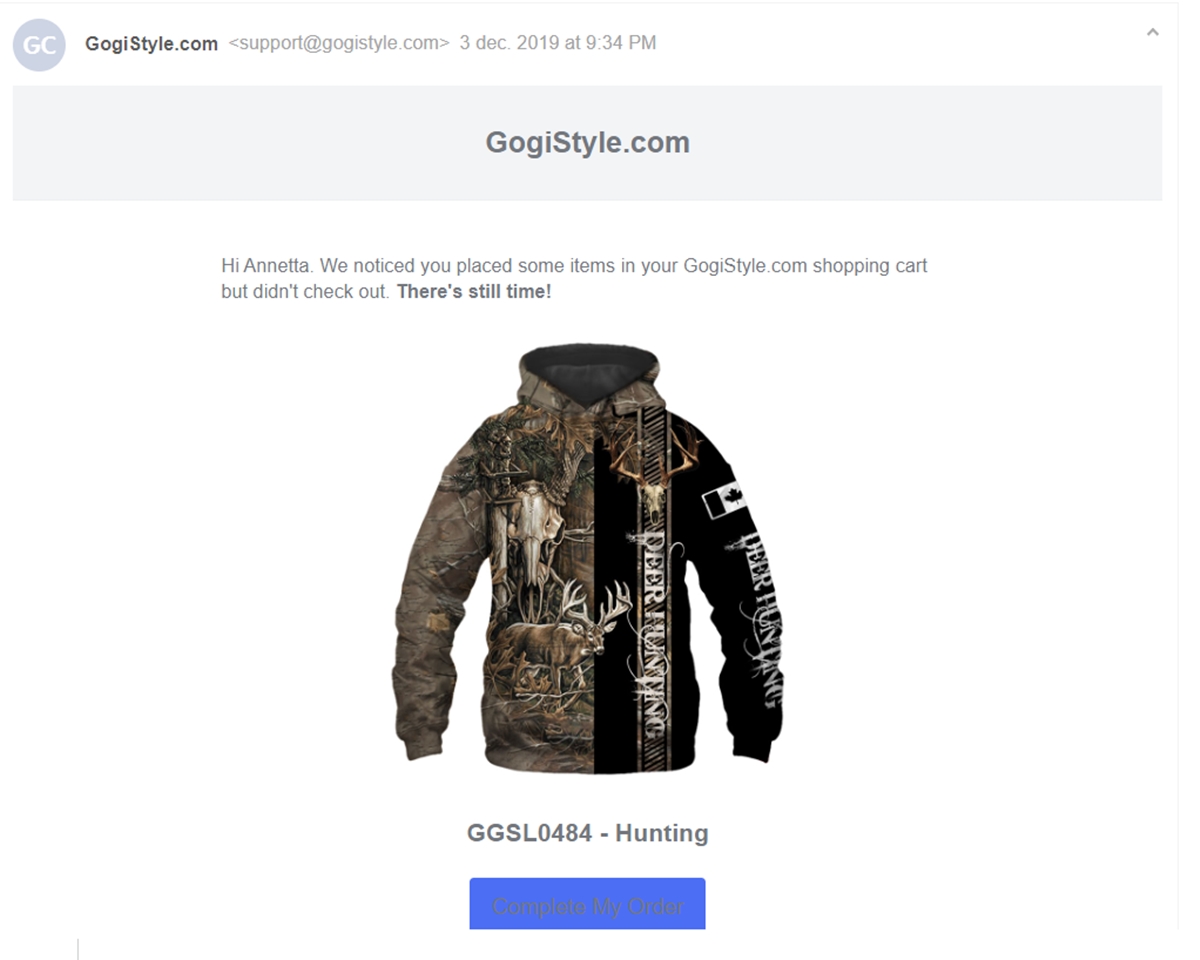 This simple but powerful email will show the item that your shoppers miss out on and the link to easily return to their cart, without customers having to go to the registration page from scratch.
Great copy
In addition to being a reminder of what they have abandoned, a must-have feature of a good abandoned cart email is great copy.
Let's regard abandoned cart emails as a premium marketing opportunity. You will do everything to create captivating marketing materials, and you should endeavor to do that constantly. Also, due to the goal of an abandoned cart email, it would be a more delightful email than what you used to use.
To communicate with your potential customers, you can create great copy. Effective copy motivates, supports, and persuades your audience to engage with your business. Eventually, they can pick you over your rivals. Without a great copy, you might lose a large number of potential customers. Overall, a well-written copy is the most powerful tool in increasing sales. To write a damn good copy, the copywriter would have to know your business and your customers so well.
Note that there should be a sense of urgency when creating a good copy. If your customers want to possess your products, then they should buy instantaneously. For instance, you can add "Limited edition-Selling out fast" in the email. Your shoppers might be worried that their preferred items might sell out soon. It can drive its customers to order promptly. Business owners should learn to utilize scarcity, which is a convincing subjective sales trigger.
Advanced tips
Offer a discount
A majority of shoppers abandon their carts since they can not afford the price (normally plus the customs and shipping fee). For this reason, the easiest way to regain customers is to offer them a discount code.
Discounts are super easy to produce. Based on the amount from their cart, you can decide on which kind of discount code, such as 10%, 20% or 50% discount, and then put it in the abandoned cart email.
HTML
HTML or HyperText Markup Language-the standard markup language for documents designed to be presented in a web browser is a great tool to make some captivating visuals. The importance of generating good-looking themes for charming websites and great product photography is undeniable. You can entice your users with great visuals so that they keep coming back to your site.
Nevertheless, the use of HTML is optional since it is not an essential element of an email. If the creation of glorious visuals is a burden to you, do not freak out and, alternatively concentrate on producing great copy.
Reserve the items in the cart
As mentioned above, taking advantage of the scarcity effect is crucial so that your customers are more likely to place an order. Reserving the items in the cart is a surprisingly great way to do that. You may urge your customers to go through checkout if you make sure that you can keep the products for them for a definite but limited period.
Customers recognize that small size business lacking super-advanced supply chains generally sell out of favorite items. If they learn that you keep the items for them, then it may motivate them to place an order.
Note that you should only attempt the reserve the cart strategy as long as you have an abundant inventory, and the opportunity cost of holding the items is not too high.
One final email
One email combines almost everything we have mentioned so far. The first measure taken by a considerate shop is to offer the customers is a 10% discount code.
The next thing the shop does is to inform the customers that it will reserve their purchasing cart for a week and sends them the link to direct the customers straight to the abandoned cart.
Besides, it provides them a phone number and an email address to help them out in case they need anything. Eventually, it will demonstrate that it cares so much to explore the reason behind the incompletion of their order at checkout.
Conclusion
So far, we have mentioned what abandoned cart emails are exactly, how to send abandoned cart emails in Shopify and how to send abandoned cart emails in Shopify. Hopefully, after reading this post, you would be able to figure out how to convert "almost" customers to buyers by sending an impressive abandoned cart email.
Recovering sales might require your time and effort, you might need to be patient and follow a good strategy. If you want to give a try Shopify Abandoned Cart Recovery Apps, then visit our Abandoned Cart Recovery apps review for more information.