Nowadays, many people who care about online businesses are asking one question. What is a digital download and why online merchants had better concentrate on digital items instead of replacing their physical counterparts?
As you can see, we are living and developing ourselves in a diverse marketplace. People earn so much money from various endeavors if they are going out with a single online or begin a brick-and-mortar business. In fact, digital products can provide you with the least expensive point of entering any entrepreneurs.
In this article, you will be shown the process of getting knowledge of digital items as well as finding out what you would like to sell. No matter you are part of digital items, you still want to figure out a new revenue to grow your on-going business. At the same time, the answer on how to sell digital downloads on Shopify will help you better understand the relations between the Shopify eCommerce platform and digital products to boost up sales and make extra finance.
What is a digital download?
Definition
Simply, a digital download/product is known as every product you sell online, which does not include physical form or substance. Take note that you can not hold a site theme in your hand or smell an e-book or taste software programs.
A digital product can be turned into physical items. For example, a person can buy an e-book in PDF format, then get them printed on their computers. Although the item is physical, it started in the digital format.
Currently, there are several entrepreneurs who are trying to take shortcuts. They can generate some constructed items and make sure that they are managing to live from them.
Types of digital products
You can wonder why you had better choose digital products instead of producing your physical products since after all, those physical products will dominate the eCommerce for thousands of years.
Digital products help your business promote profits and revenue. This is the reason why you might want to create as much cash as possible from your business. Here are the most profitable digital products to purchase online you might not want to ignore.
Courses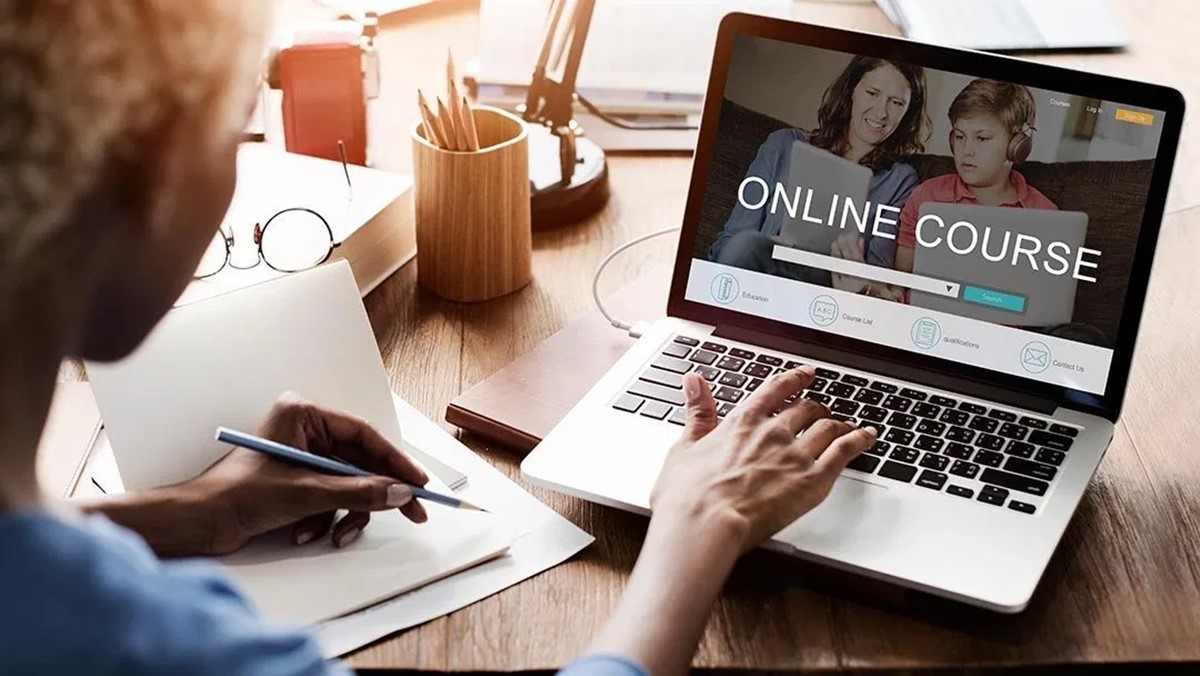 If you are big fans of online courses, don't forget to ignore this part. Basically, courses are the major way to aid you in generating income quickly.
As you might now know, an online course serves well as a classroom course; however, the method is different when you only teach online via videos, texts, or audio assets. Your customers can study via the various modules which are based on the course name as well as the material you really want to convey.
Customers can easily take courses in their time without being worried about meeting deadlines. In addition, you are allowed to generate your courses of different sizes and different price. There are some customers who have produced dozens of courses; meanwhile, others can stick to a flagship course. It depends on you. As getting the line down, you are allowed to generate other digital items complementing your courses.
E-books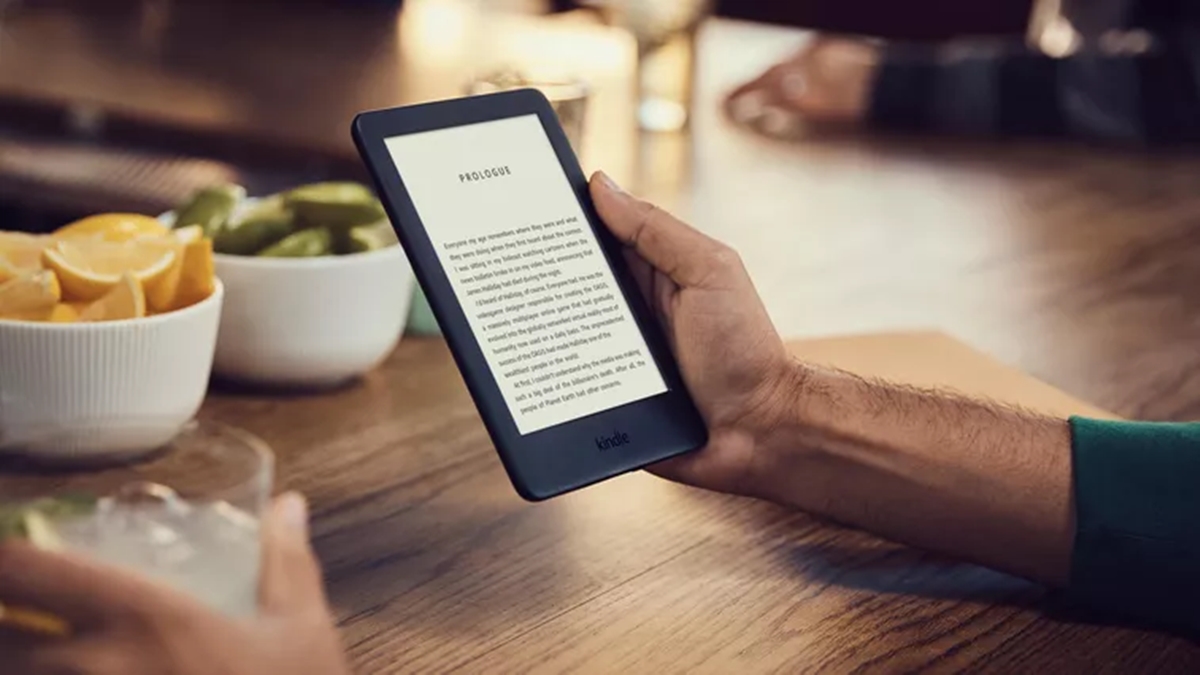 E-books market has been gaining its popularity for ages. In 2015, it was estimated that there exist over 220 e-books that are gone and e-books are predicted to take over the physical books in terms of sales by experts.
As an online businessman, you can make decisions on your e-book's length as well as the content. You can even publish your e-books on your websites or look for traditional publishers. If you have your customers who purchase your online courses, then you can invite them to buy your e-books. After all, you can create a list of potential online customers.
Some online merchants also produce their own e-book series. But, they can sell them separately or in bundles that can give them the chance to boost sales. Do remember that you can cross-sell them with the online courses you have created.
Audiobooks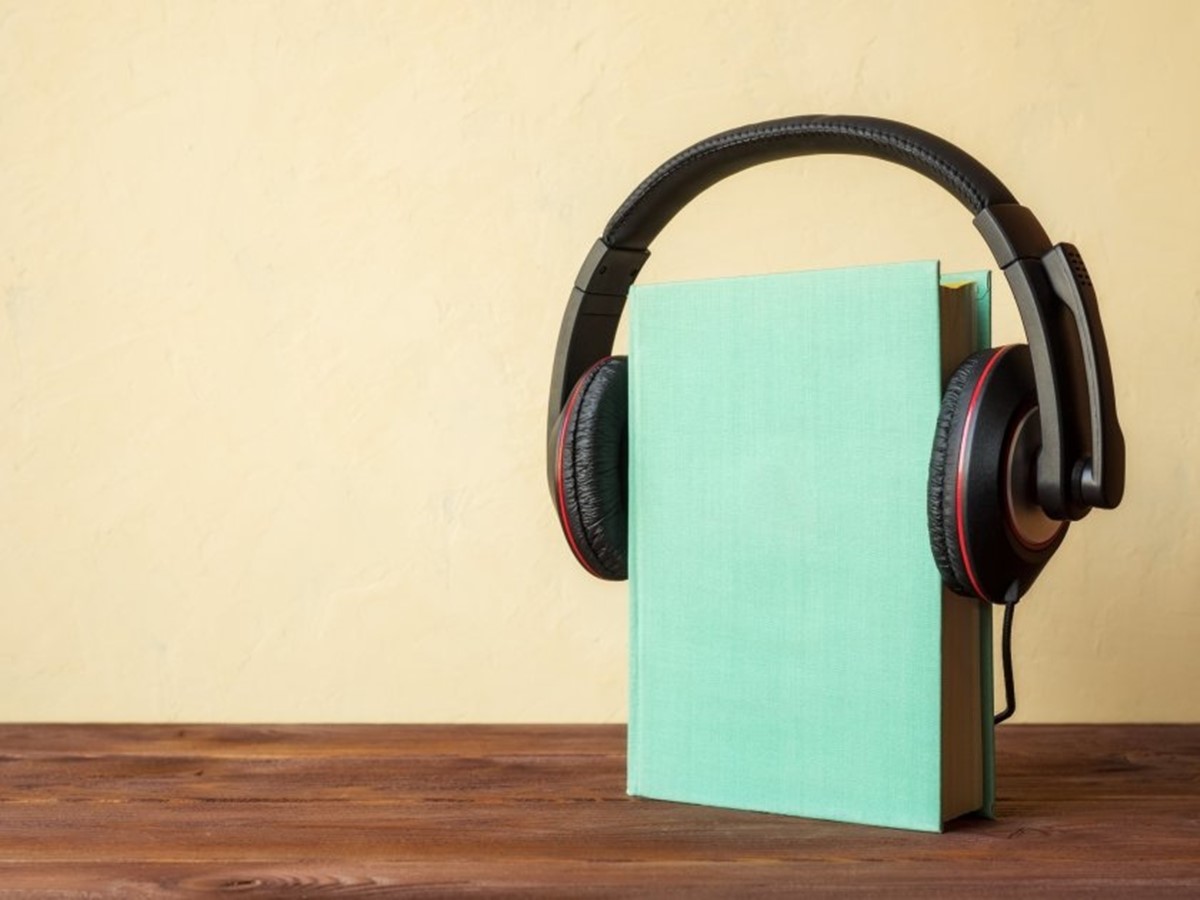 Audiobooks are known as books that are compacted and narrated in MP3 format. When you have your content and audiobooks are easy to generate, you only need to get your quality microphone as well as a place to be isolated from external noise. The benefit of audiobooks is that people can place them into their iPods, smartphones or other audio players, then listen to the messages while they are doing other things. Audiobooks can become a very powerful media that relies on the type of customers.
Photography
As millions of people are now publishing their content on websites daily, there remains an instant request for unique photos. Some stock photo sites, like iStockphoto and Fotalia, generally, purchase images from different creators as you do.
By doing so, you can see your photos from your websites. There are a series of fine art photographers who can take the route so they will not share their revenue with marketplaces.
To get people becoming excited about your photos, you had better have them posted on some sites like Instagram or Flickr. Those popular platforms enable you to restore all the rights to your own photos in order to protect your intellectual property while giving you a chance to reach potential customers.
You should bear in mind that you can upsell photographs in different ways, including Digital files only, large canvases, small prints or novelty items with your pics on them.
Music
Regarding music, you can even record your music, then making it for sales everywhere you want to. The way to explore your music talent and keep creative control over the output is freeing. Additional, you do not need to worry about solving bureaucratic red tape. Instead, you had better concentrate on your own music.
Because you do not have to generate your physical products like CD, you can easily make your music become available as the digital files. Viewers or customers then can hear them on MP3 players or other musical devices.
Software programs
If you are a computer fan, generating a piece of software can help you earn extra cash and powerful revenue. Software is widely loved since it can cure pains.
From the productivity, along with web insights to drawing and designing, a lot of different software programs can bear the test of time. They become popular because of their loyal fans who are their core customers.
Currently, there are so many software programs being sold as the subscriptions that replace the licenses. That means your customers need to pay for a monthly fee to use this software. As long as they complete paying, they can have a chance to access it.
Keep in mind that in several ways, the subscription model can provide us with potential revenue than licensing. For example, if you are selling licenses, you need to pay only once. Therefore, customers will never give you other dimes. But, you can decide what kind of payment models that can work for your wallet and business.
Apps
For apps, it is possible that mobile applications are more popular and interesting than software. But, they have the same thing that is in just a different platform.
For example, if people want to play games, those games need to be installed via CD-ROM on the computer. Nowadays, they can easily play similar games on phones or tablets via apps. Some apps can make you pay a little charge while the others are called freemium releases. In other words, you can contain in-app purchases for people who have desires about benefits, information or features.
Take note that you do not need to have technical skills to get an app developed. You can address your ideas and pay for a flat expense. Lots of online merchants also take this route.
Do remember that there are also software programs that create a simple app easily. However, in case your app does not offer mich, you will find it hard for you to sell for specific groups of customers.
Podcasts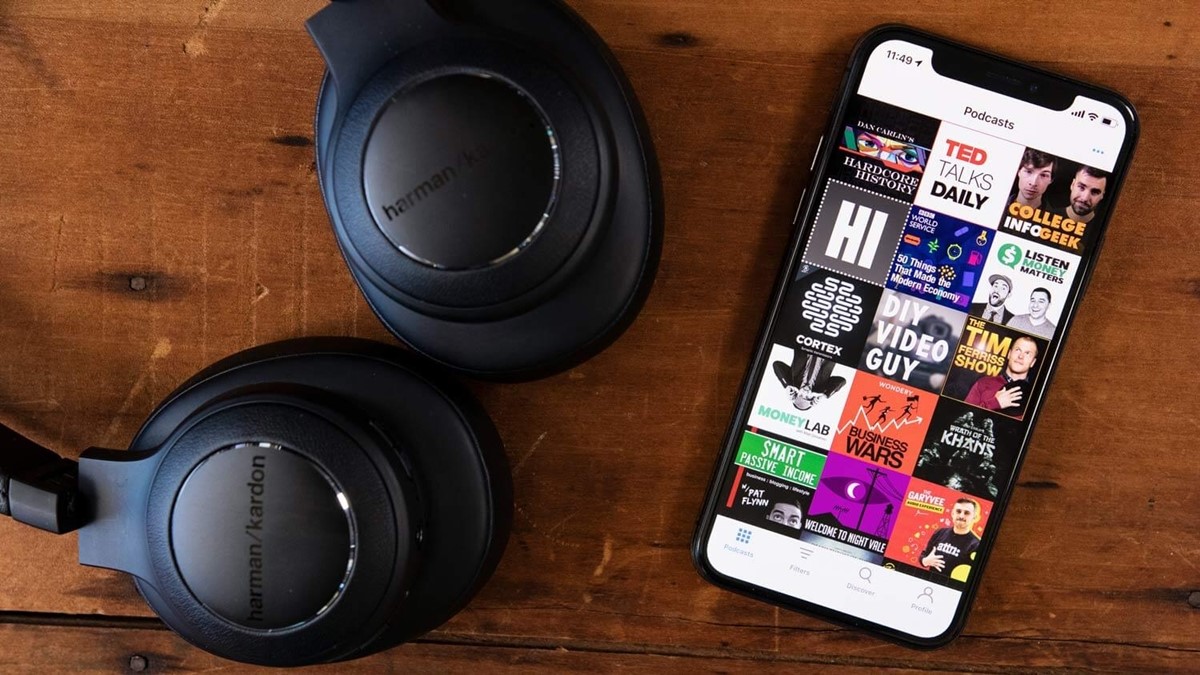 Podcasts are mostly free. Online merchants and creators use them widely to get their brands, services or products highly promoted.
You can also produce a subscription-based podcast offering further features or guidance. There exist multiple ways to do that.
For example, you can generate a subscription-based podcase for people who directly pay you. It can work like the traditional membership site, except the content is audio exclusively.
You can also take the freemium route. Customers can hear it for free; however, in case they pay for that, they can get additional features, extra audio or other amazing incentives.
How to sell digital downloads on Shopify
Start selling using Digital Downloads App
Install a Digital Downloads application on your Shopify account
Step 1. Click App from your own Shopify admin.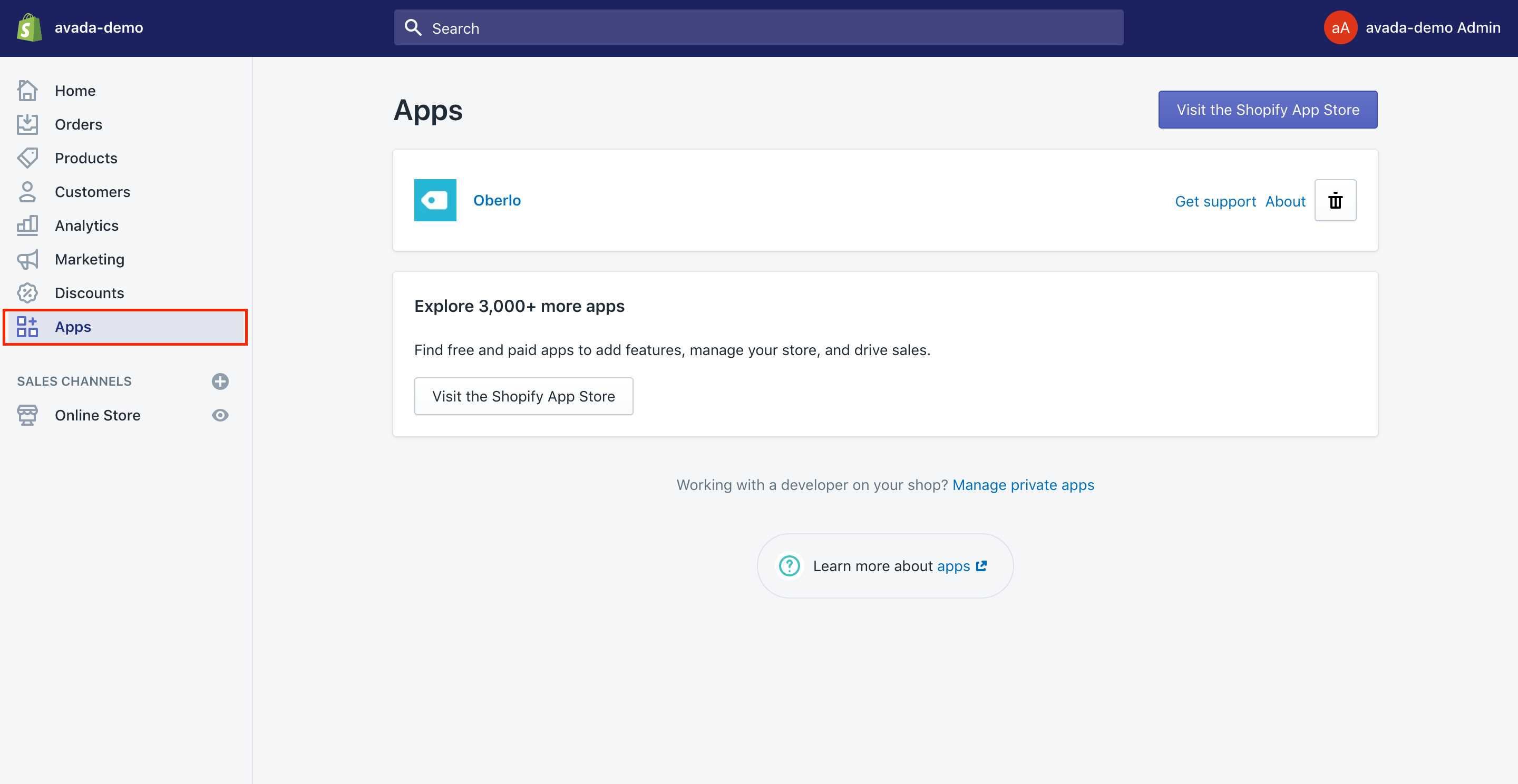 Step 2. Choose the Visit App Store.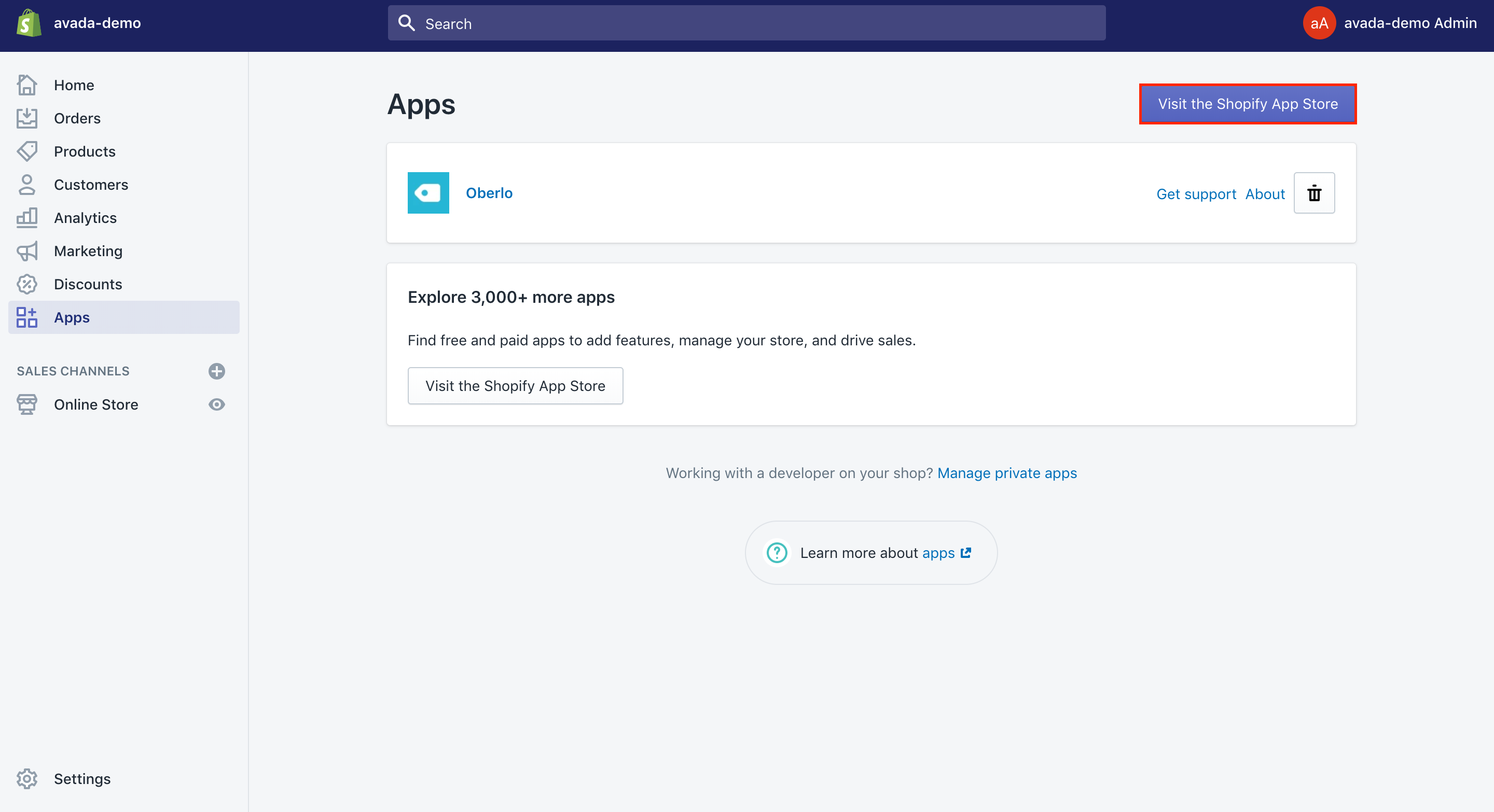 Step 3. Type "Digital Downloads" located in the search bar area before heading to Digital Downloads in the drop-down menu.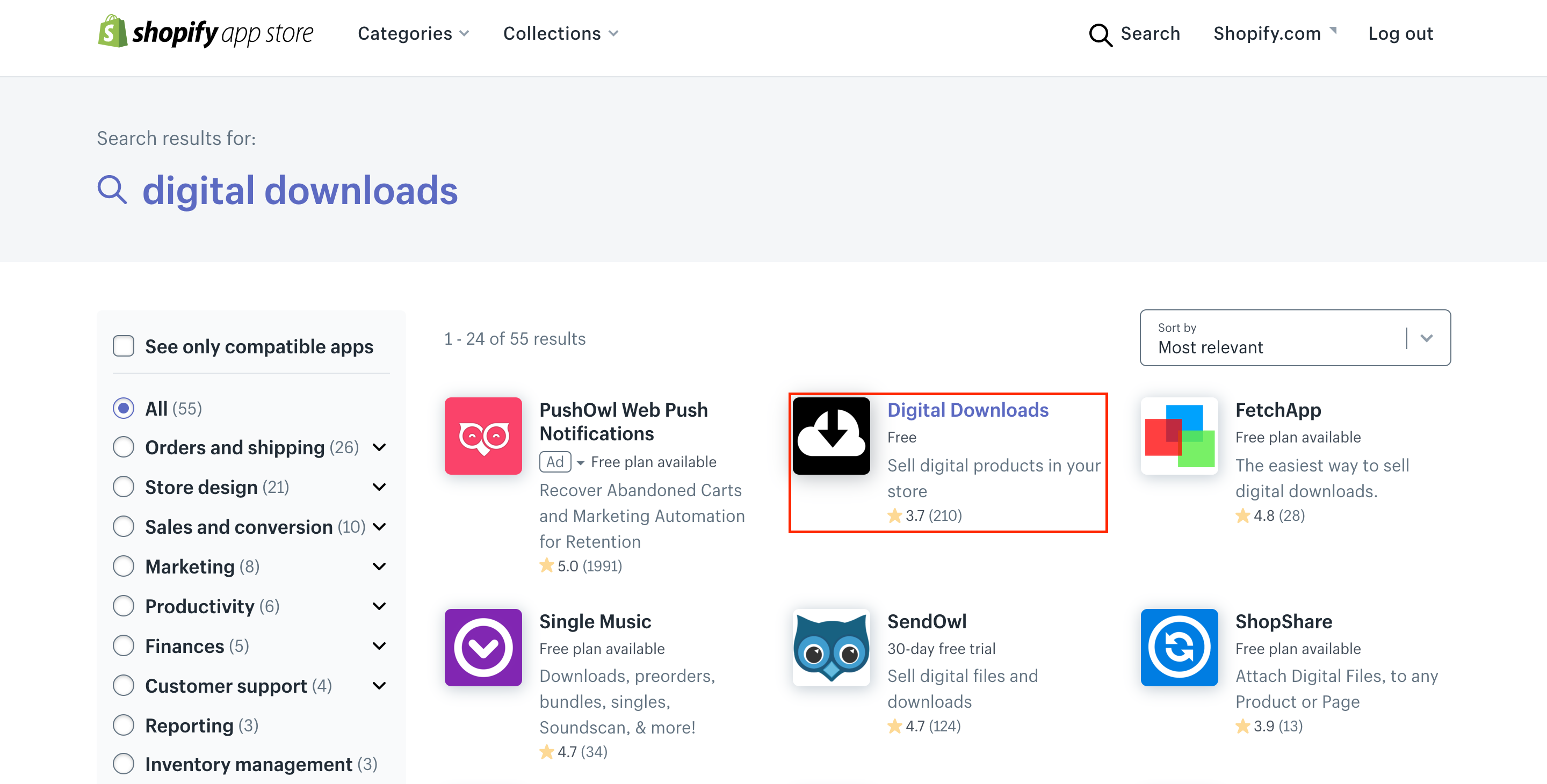 Step 4. Opt for Add app from the Digital Downloads page.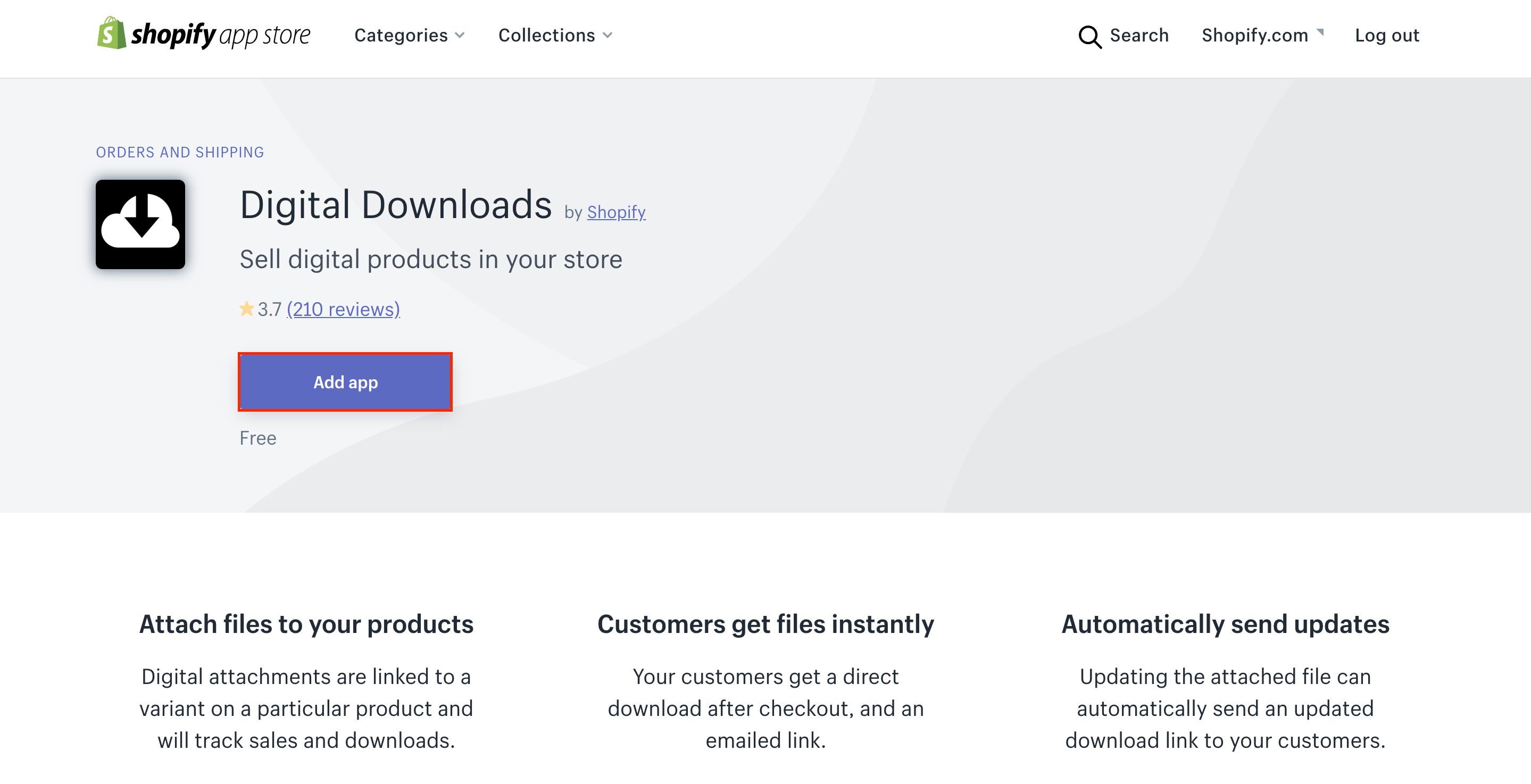 Step 5. Select the Install app.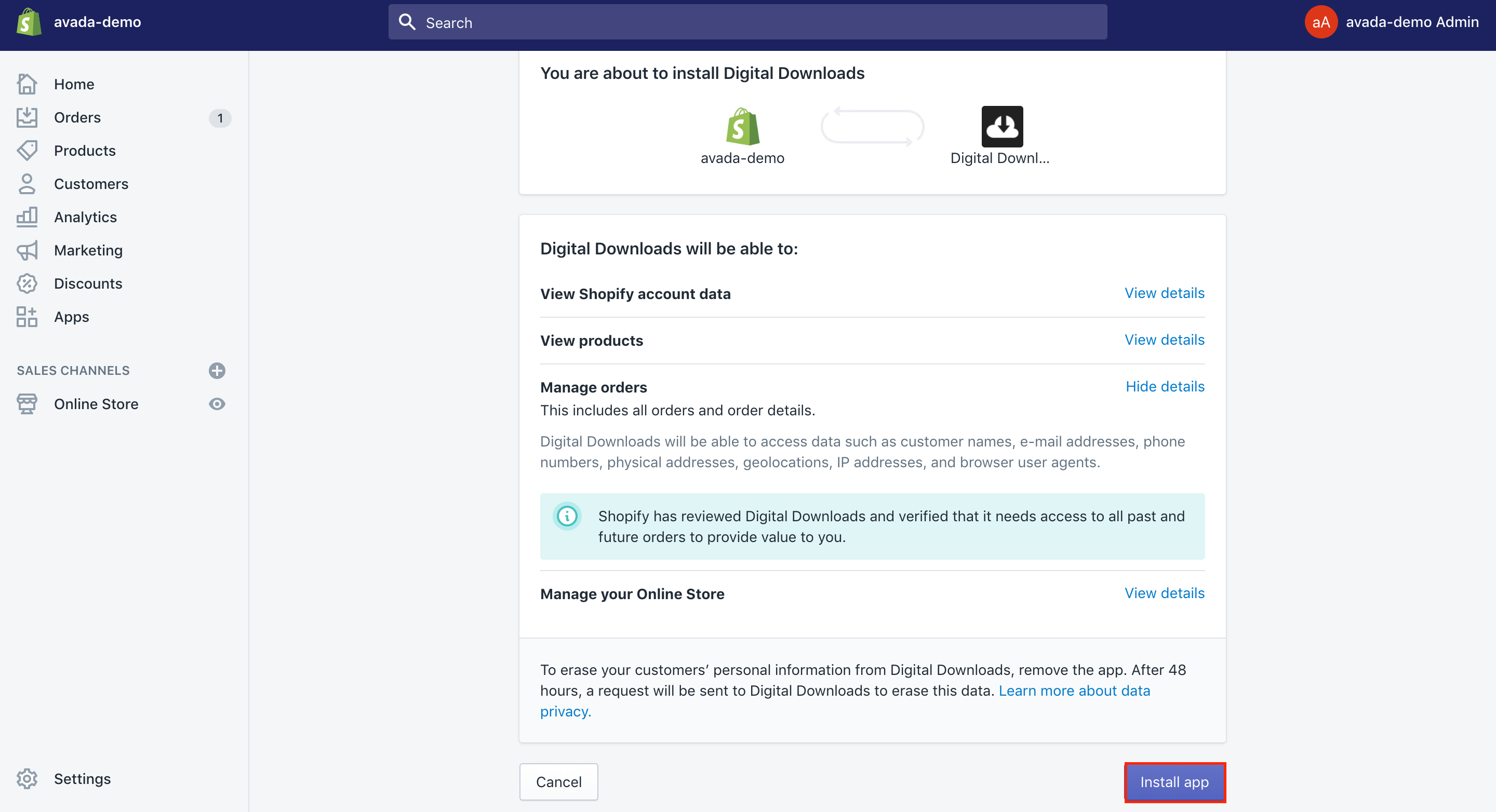 Add a digital product
In order to add a digital product to your online shop, you need first to create this product, then come back to the Digital Downloads app to insert the digital attachment to your product's details page.
Take note that you are able to attach one file to each variant. Use a .zip file or other archive file format to get files bundles together from a single filename.
Step 1. Click on Products.

Step 2. Choose Add product.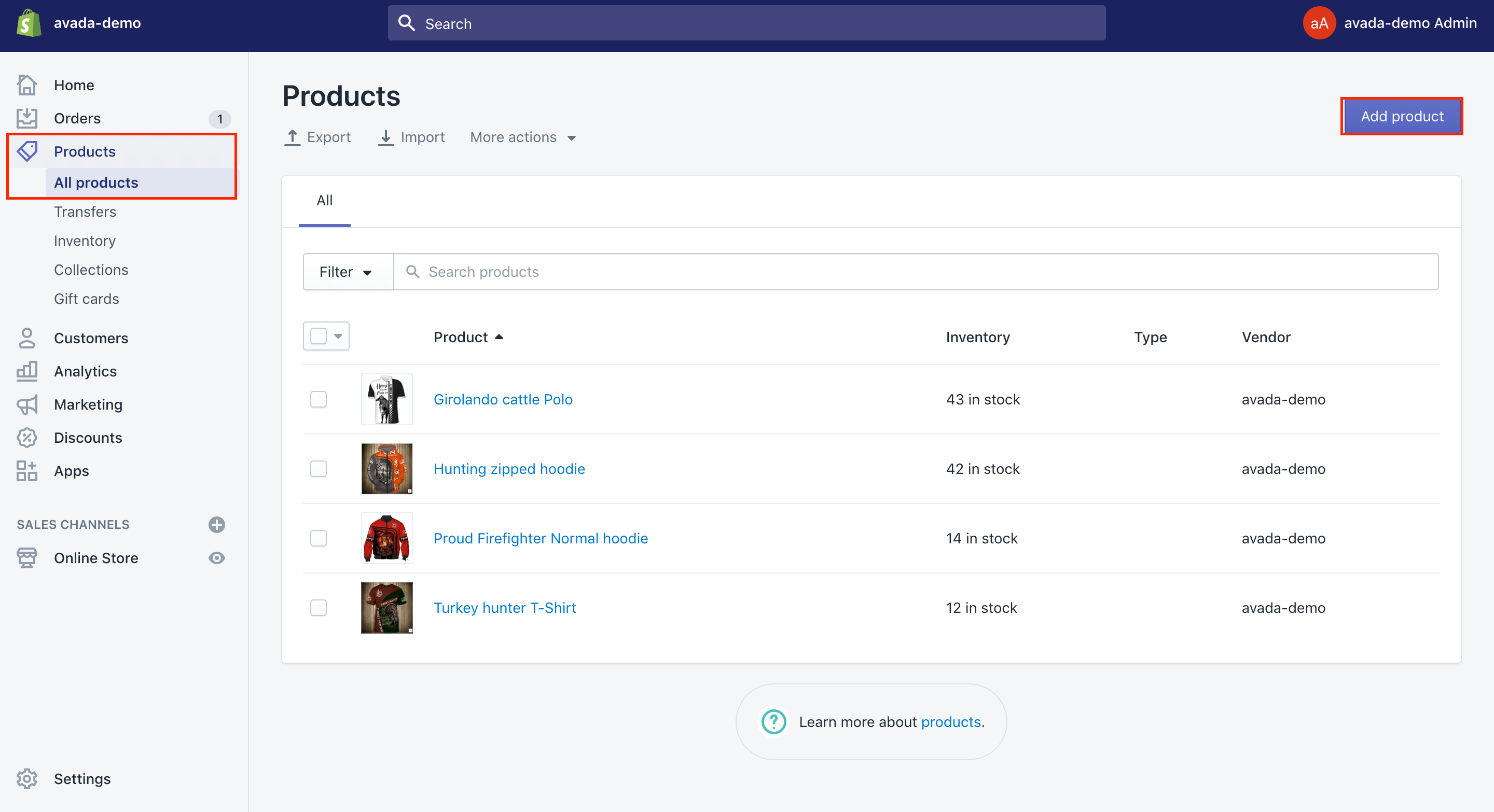 Step 3. Type the information of the digital items, including Description, Title, and Pricing.


Step 4. Get the box This is a physical product unchecked.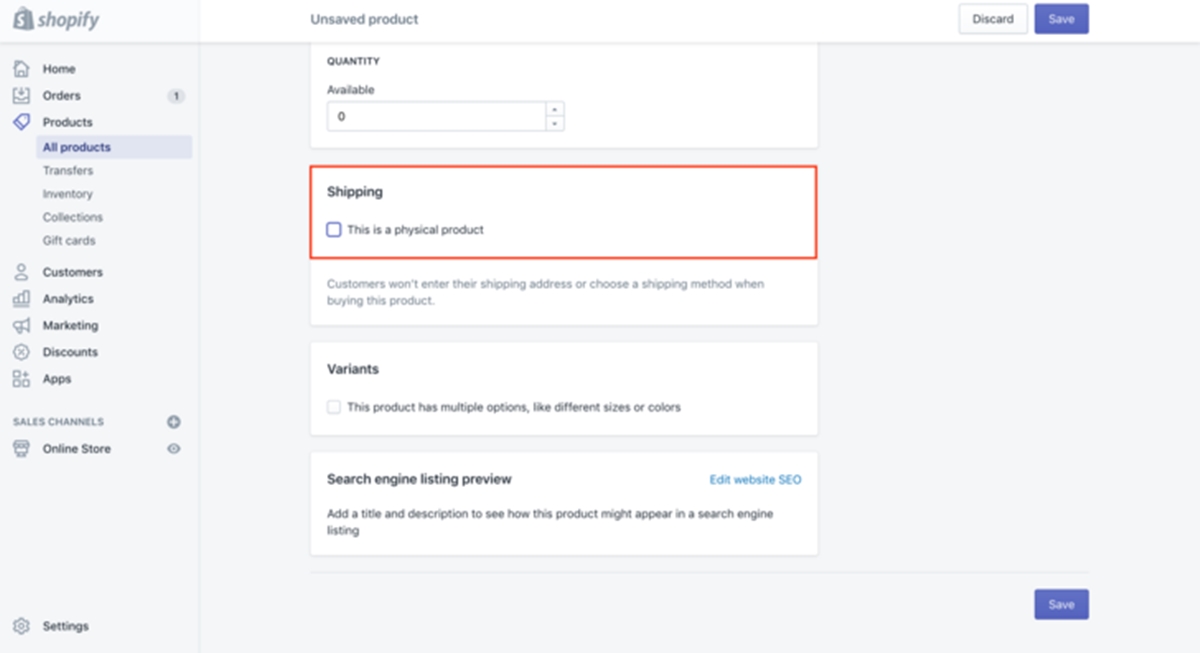 Step 5. Head to Manage next to Sales channels, then uncheck boxes beside your sales channels before going to Done to make products become temporarily unavailable till your digital attachment is inserted.

Step 6. Select Save product.

Step 7. Opt for More actions under your product title.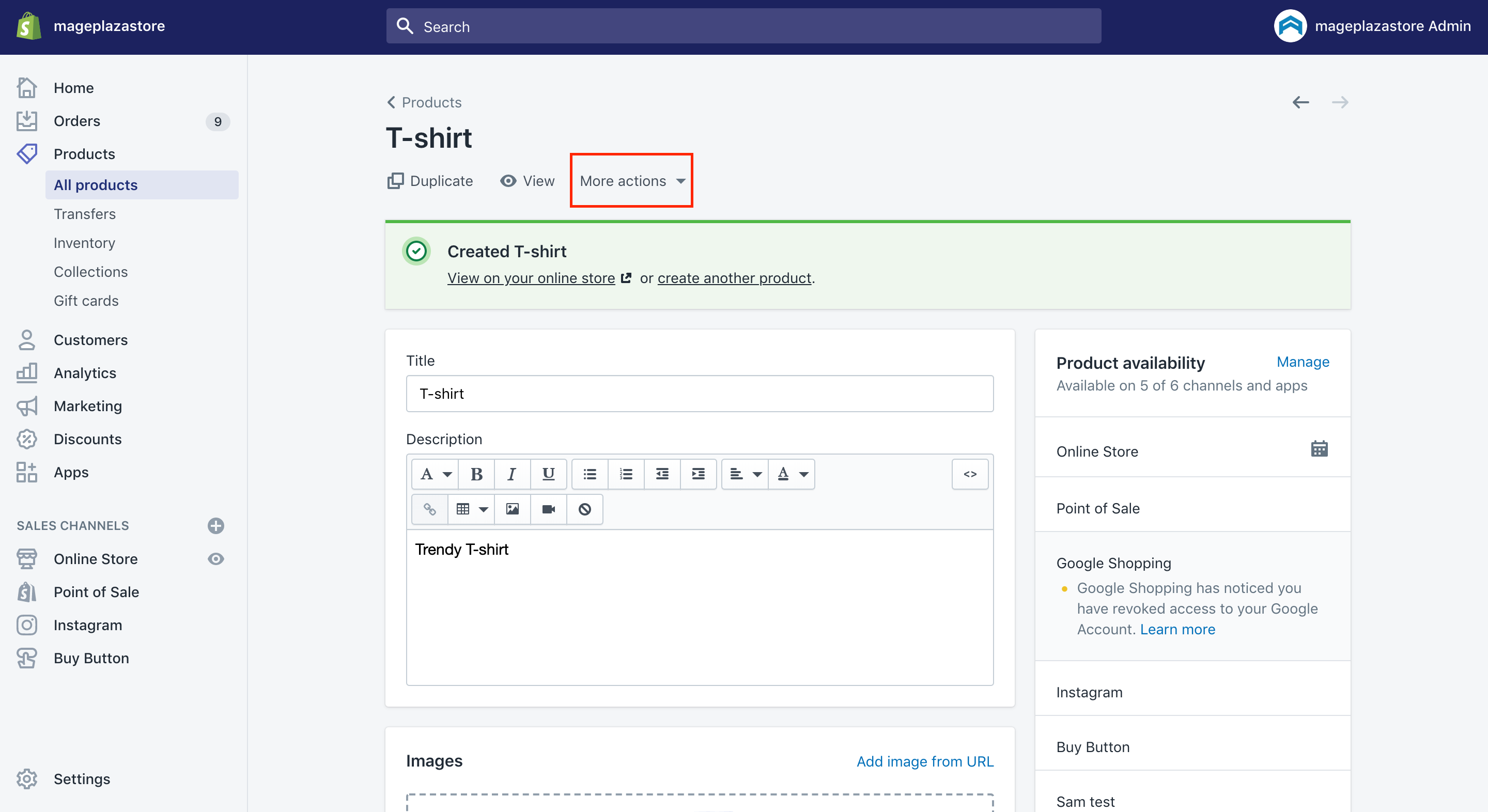 Step 8. Choose Add Digital Attachment. This will take you to the Digital Downloads app page.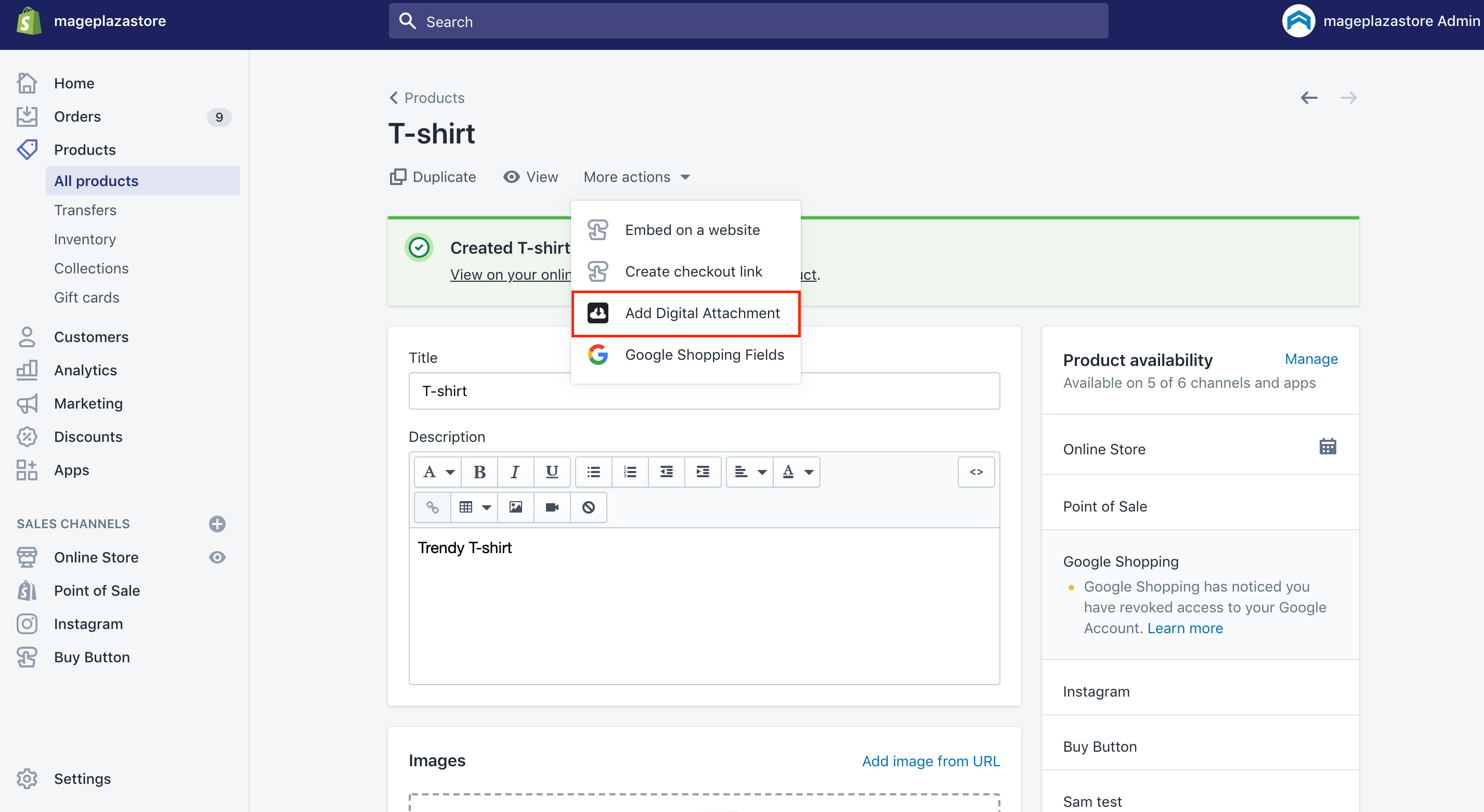 Step 9. Select Upload File.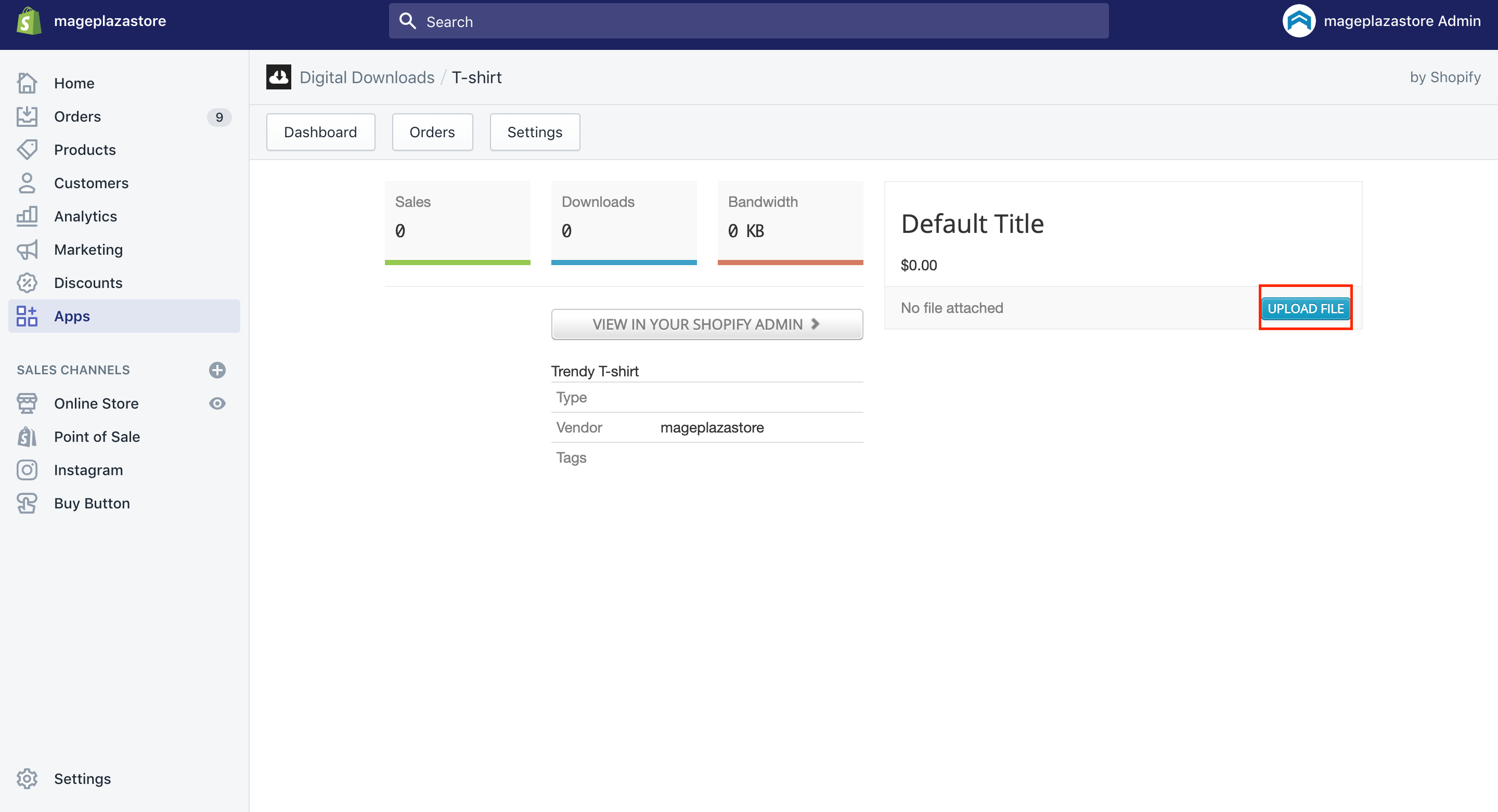 Step 10. Take the file you want to attach to the product.

Step 11. Click on View in your Shopify Admin.

Step 12. After adding the attachment, you need to check the availability of your product.

Click Manage beside Sale channels.
Get the boxes next to Sale channels checked
Don't forget to press on Done.
Add a digital file to an existing product
At the same time creating digital products, Shopify allows you to attach a digital item to the products that are available in your online shop. This can consist of physical products. For instance, if you sell vinyl records, you can apply the Digital Downloads apps to attach the MP3 copy of this album customers are capable of downloading.
Take note that you are able to attach one file to each variant. Use a .zip file or other archive file format to get files bundles together from a single filename.
Step 1. Click on Product from your own Shopify admin.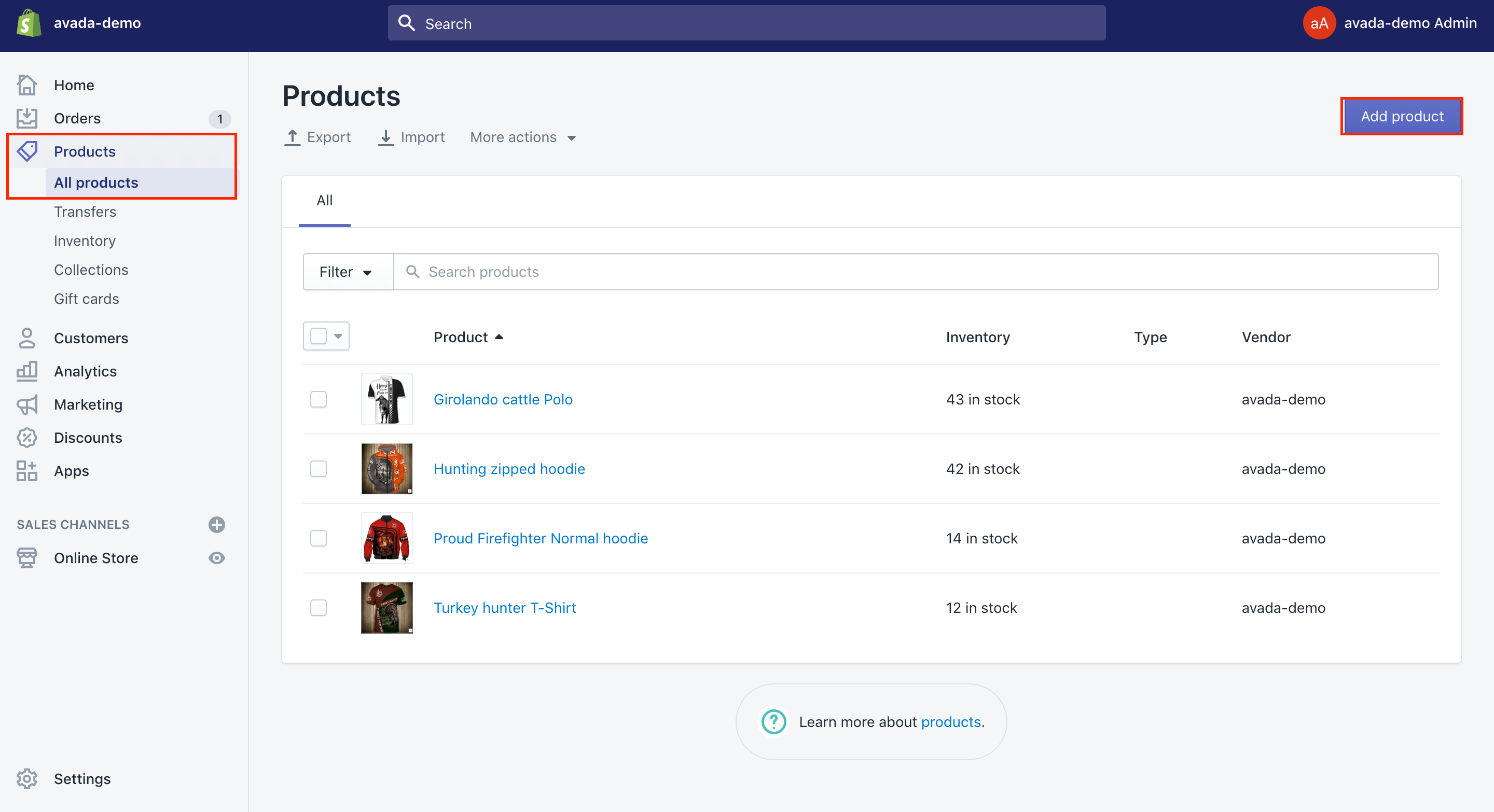 Step 2. Choose the title of the product you would like to insert attachments to.

Step 3. Head to More actions under this product title.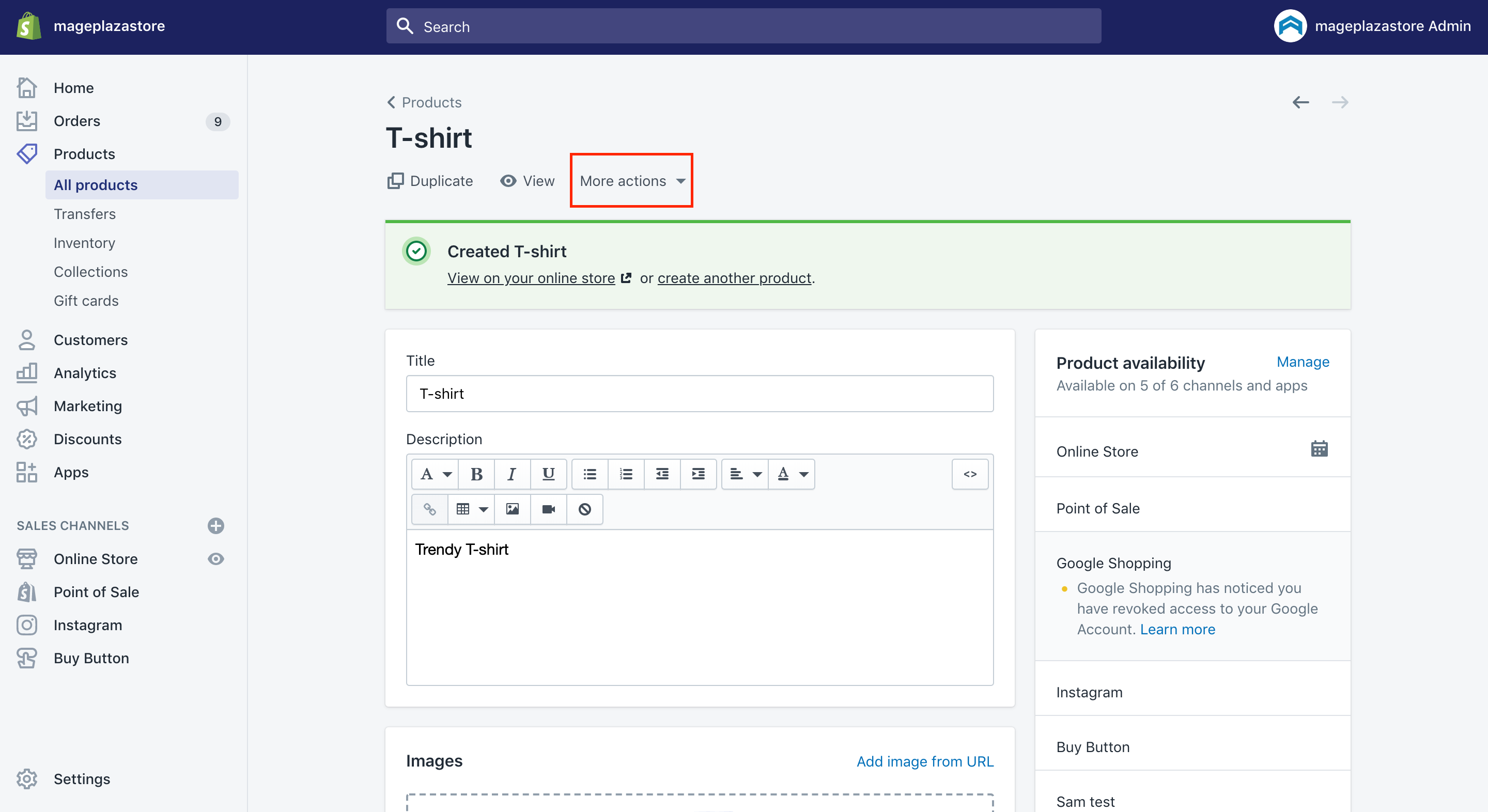 Step 4. Go to Add Digital Attachment. You will be taken to the downloads app page.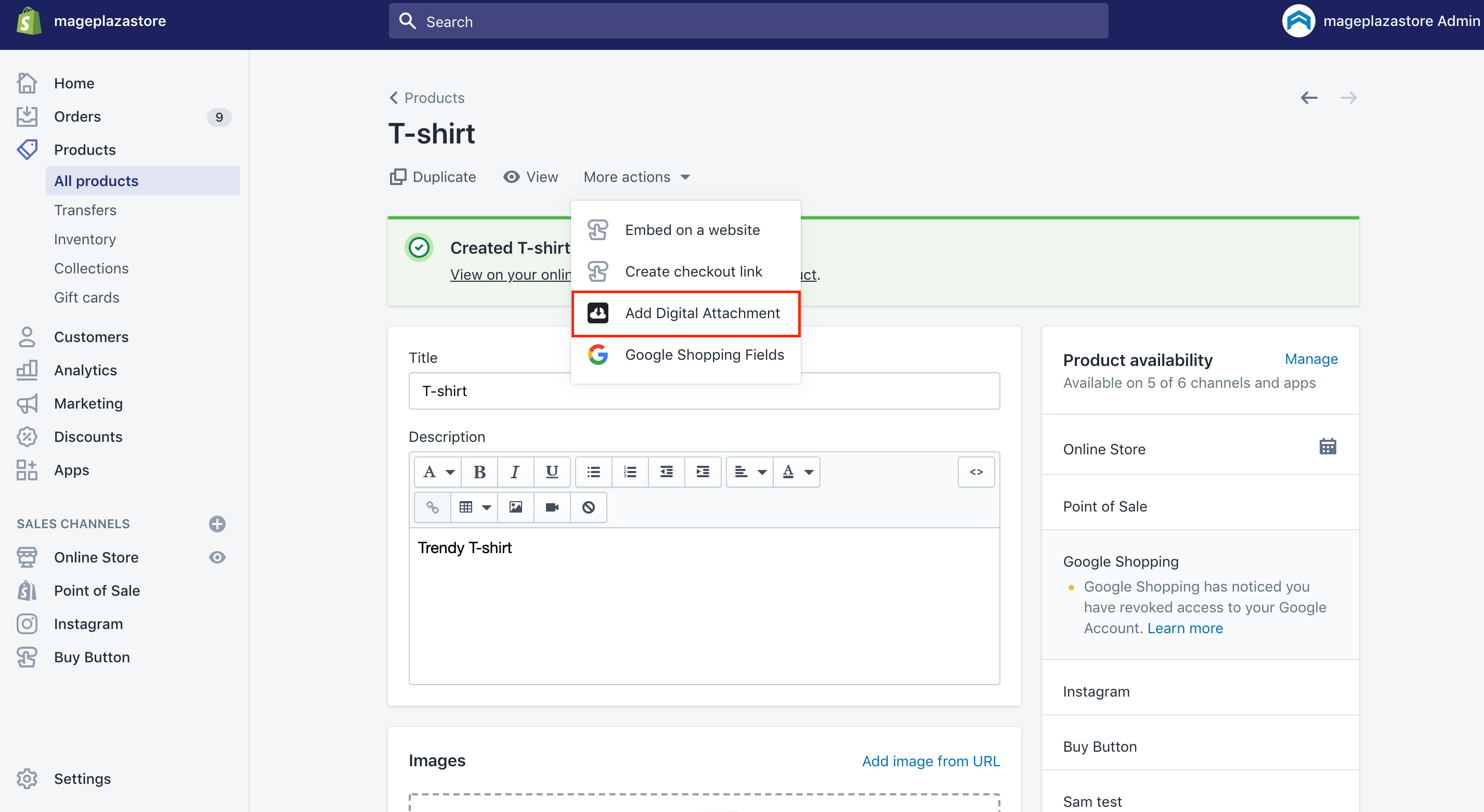 Step 5. Select Upload File.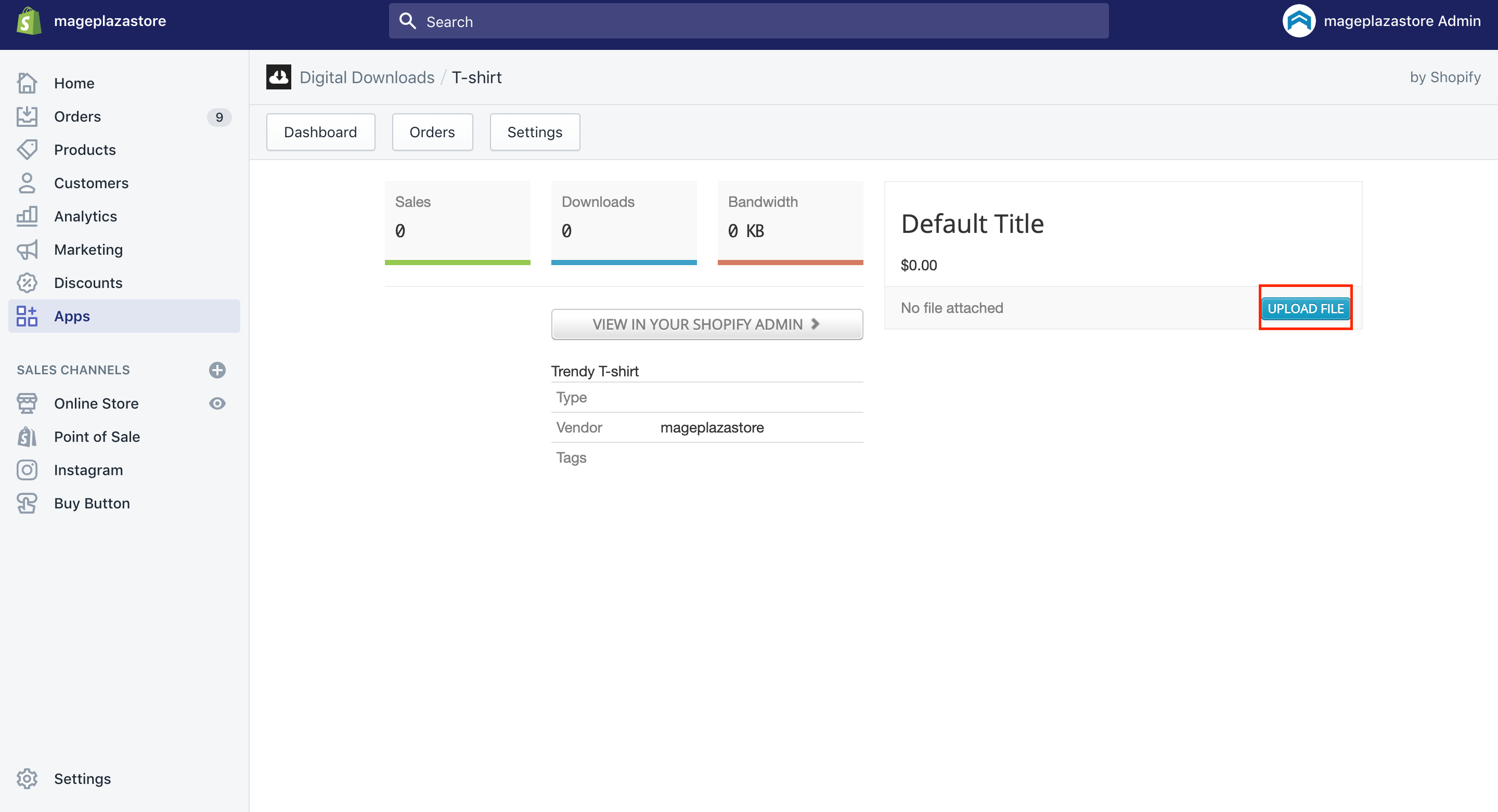 Step 6. Take the file you wish to attach to that product.
Adjust the fulfillment settings for your digital products
Your digital attachments can be reviewed and your fulfillment settings can be adjusted on the page Digital Downloads app. Those options for fulfilling a digital product are:
Automatically create fulfillment: If you choose this option, after a successful payment, customers buying this item will be automatically emailed a download link, as well as the order, will be marked as fulfilled. Use this option for all digital products like an MP3 or a PDF.

Manually create fulfillment: If you choose this option, you have to mark the order as fulfilled manually before the download link is sent to customers via emails. You had better use this option as the product is the combination of digital-physical items, like a vinyl record and an MP3 download.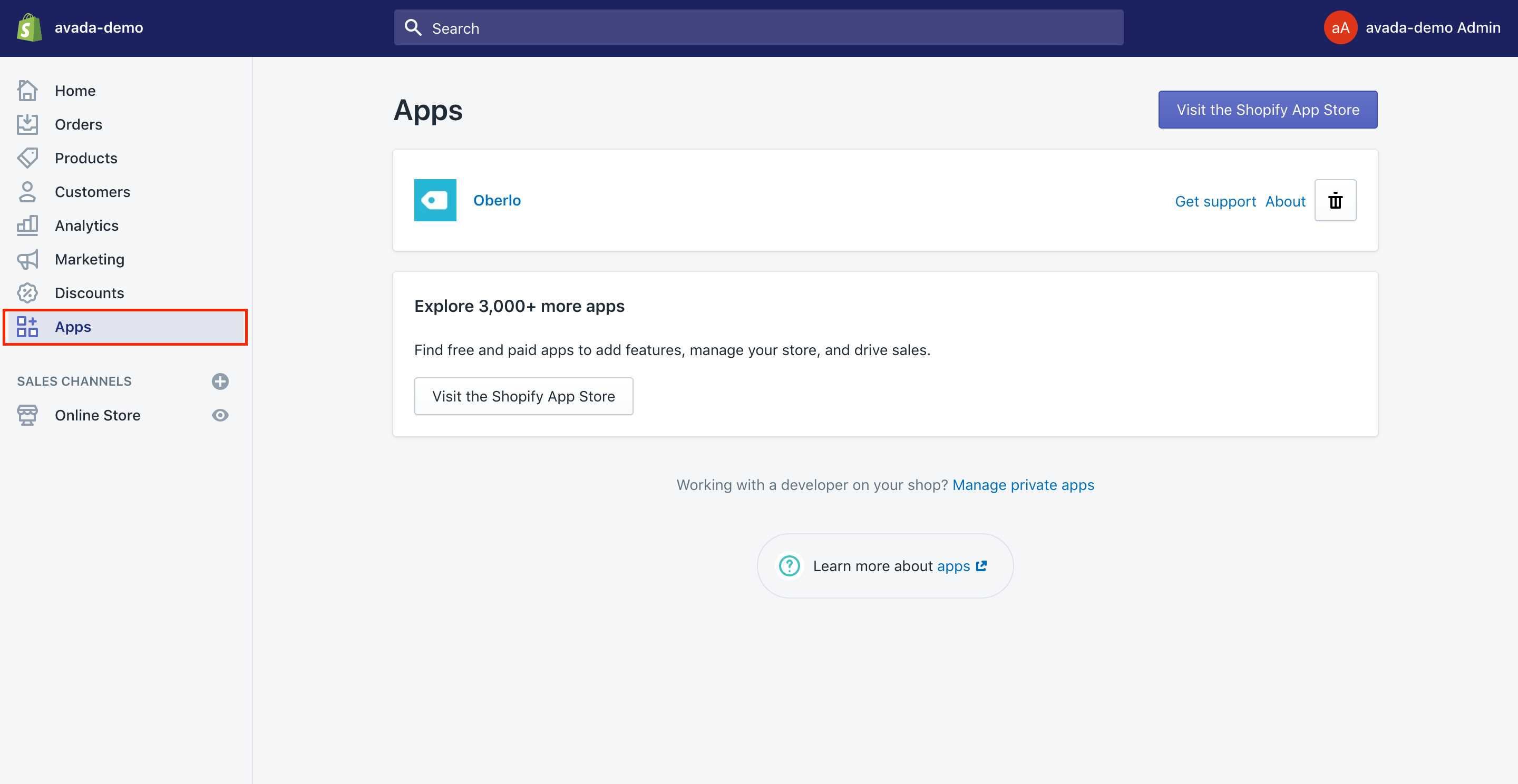 Step 2. Choose Digital Downloads.

Step 3. Click the digital product you want to review.

Step 4. Select the gear icon as well as opt for Settings in the drop-down list.

Step 5. Go to the fulfillment option under the Settings dialogue box.
If you use Manual Fulfillment since your products have a physical item, but you want to send the digital component as well to the customers after they finished purchasing, then you are able to send the customers a download link manually.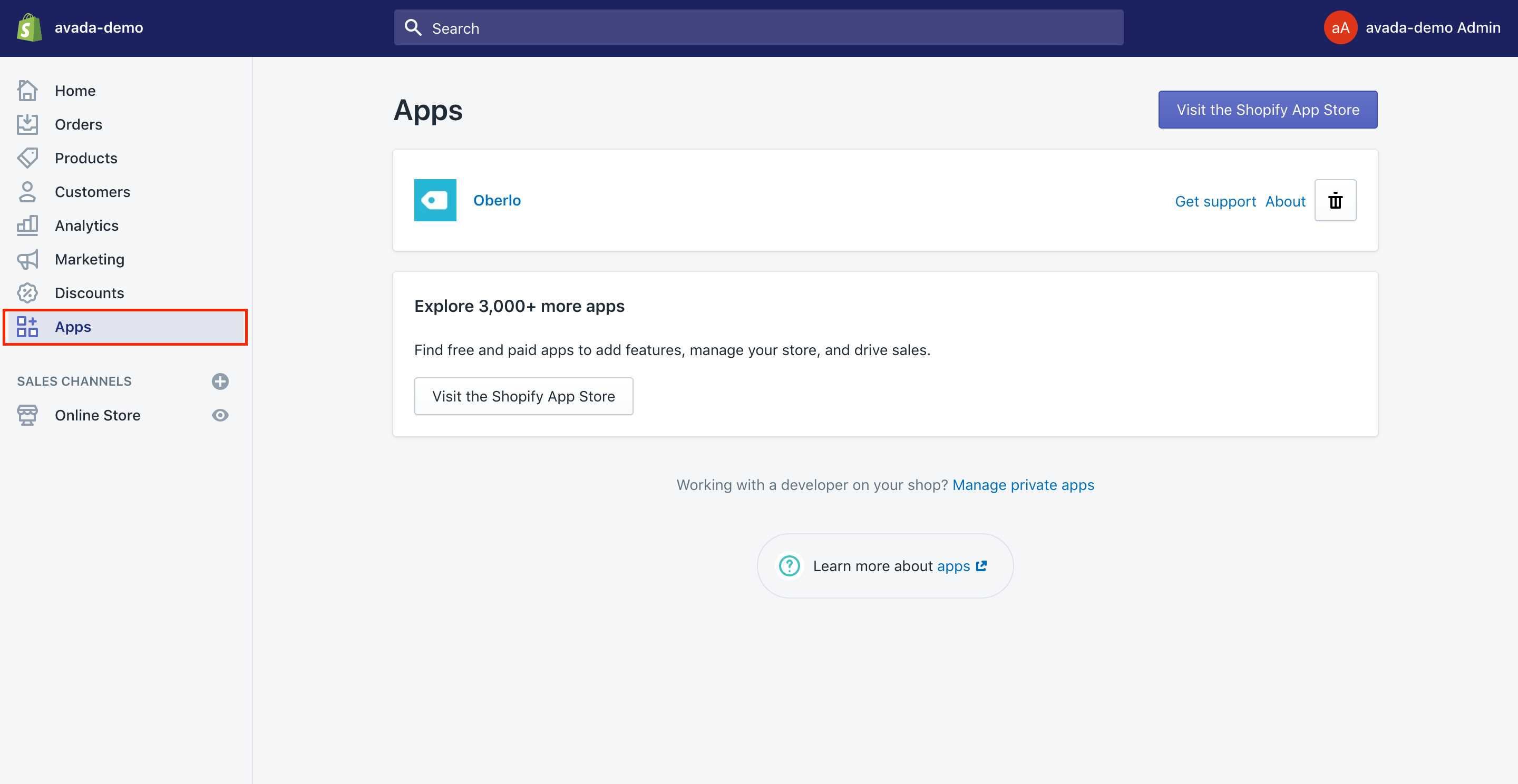 Step 2. Head to Digital Downloads.

Step 3. Click on the digital name you want to produce a download link for.

Step 4. Go to the gear icon before selecting Manual URLs.

Step 5. Go to Generate URL.

Step 6. Get that URL copied and send it to your customers. This enables the customers to download the digital attachment safely.
Set a download limit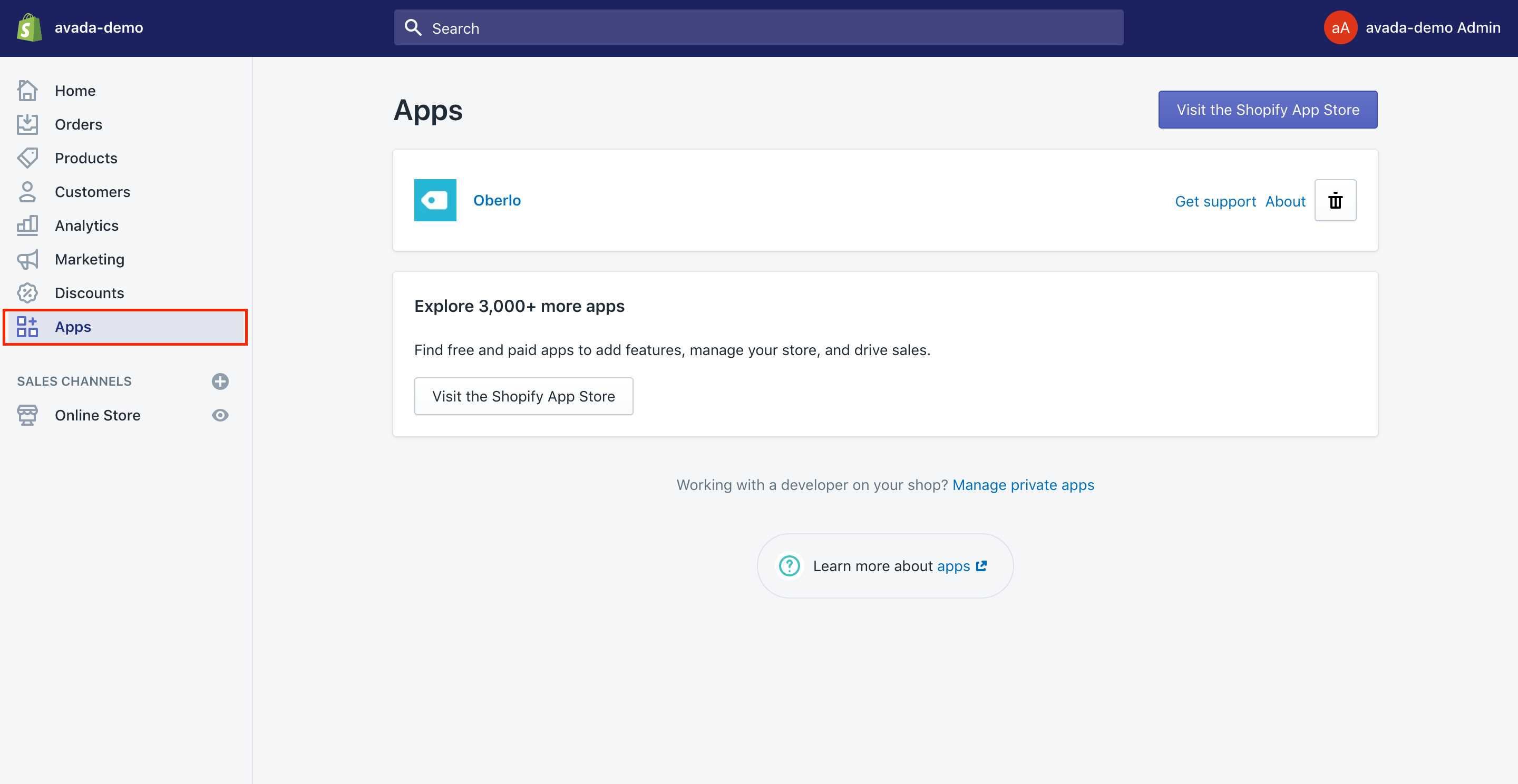 Step 2. Select Digital Downloads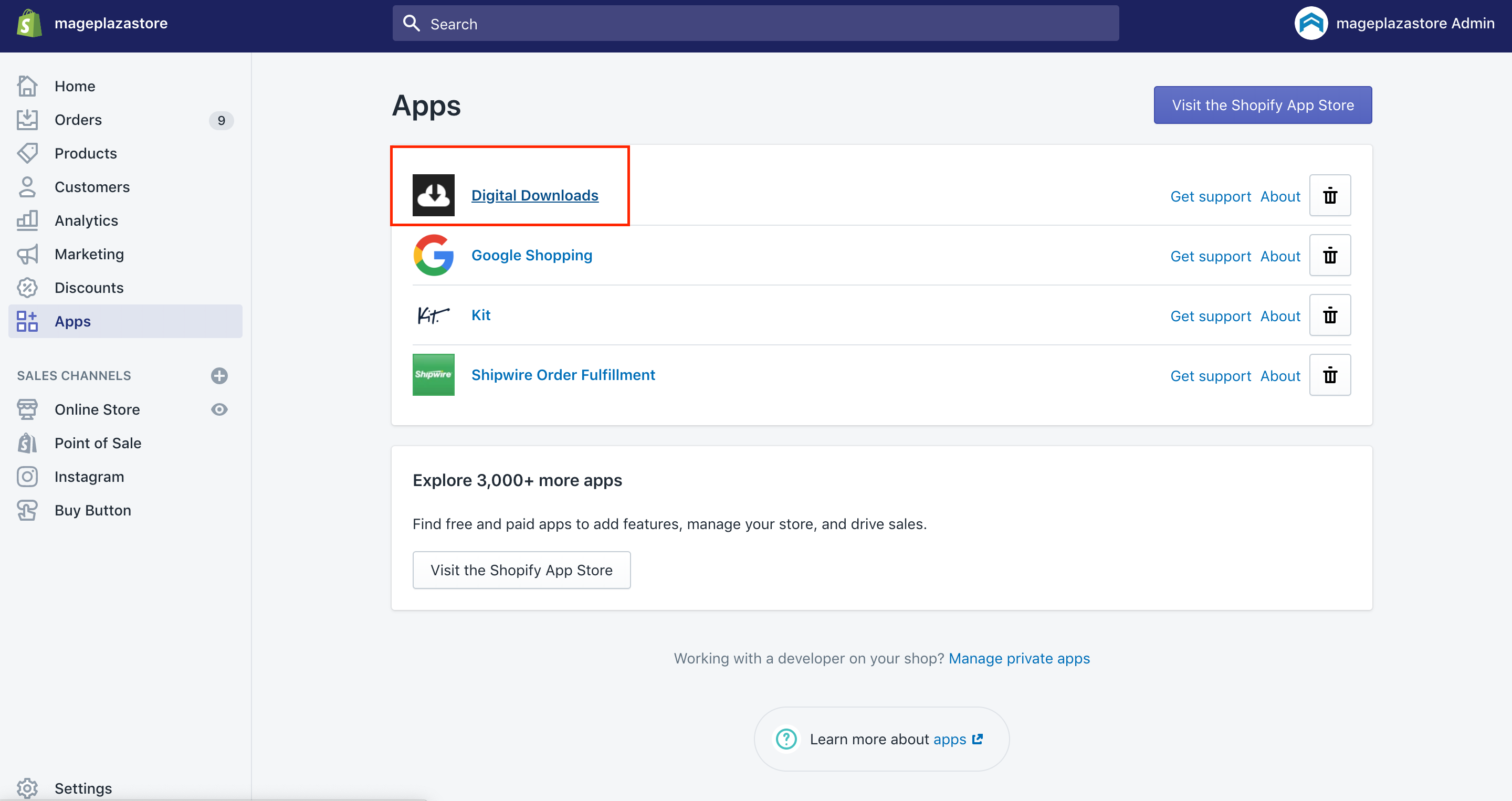 Step 3. Choose the gear icon and Settings in the drop-down list.

Step 4. you are able to type the number of times you want your customers to download your file.

Step 5. Go to Submit.
Modify Digital Downloads Order
In this part, the Orders section will bring you with backgrounds of orders that include your digital downloads which are purchased via your store. That section will show you:
date and time

order number

customers' name and email

the number of downloads each order
Like the Orders page in your admin, you can choose every entry to check your order's details:
Every order will display you:
customer name and email

selection to resend the fulfillment email

Option to resend fulfillment emails
This Orders area will inform you times a download is entirely completed, your customers' IP, and which operating system and browser are used to get the digital items downloaded.
Resend a download link
Step 1. From your own Shopify admin, choose Apps.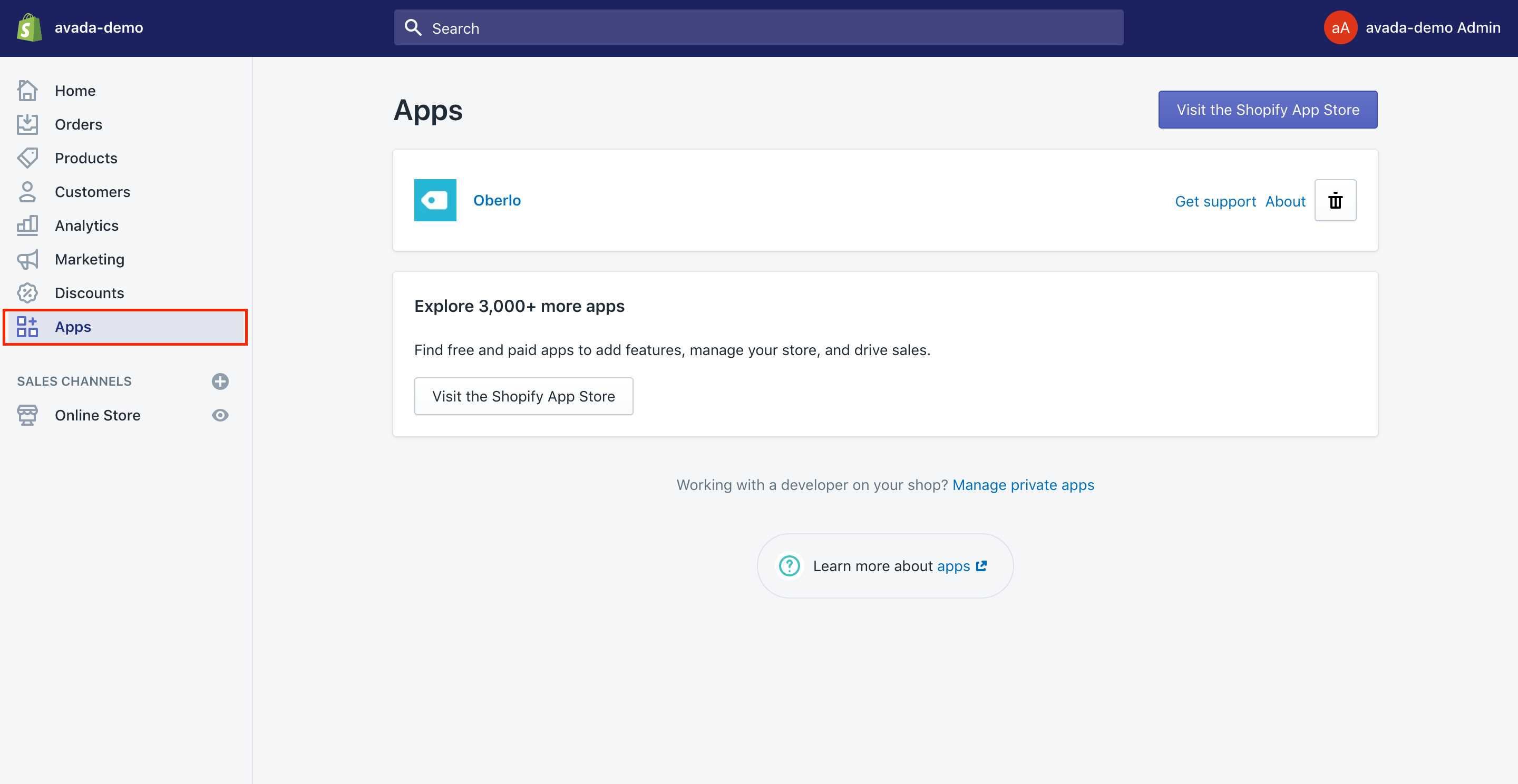 Step 2. Choose Digital Downloads.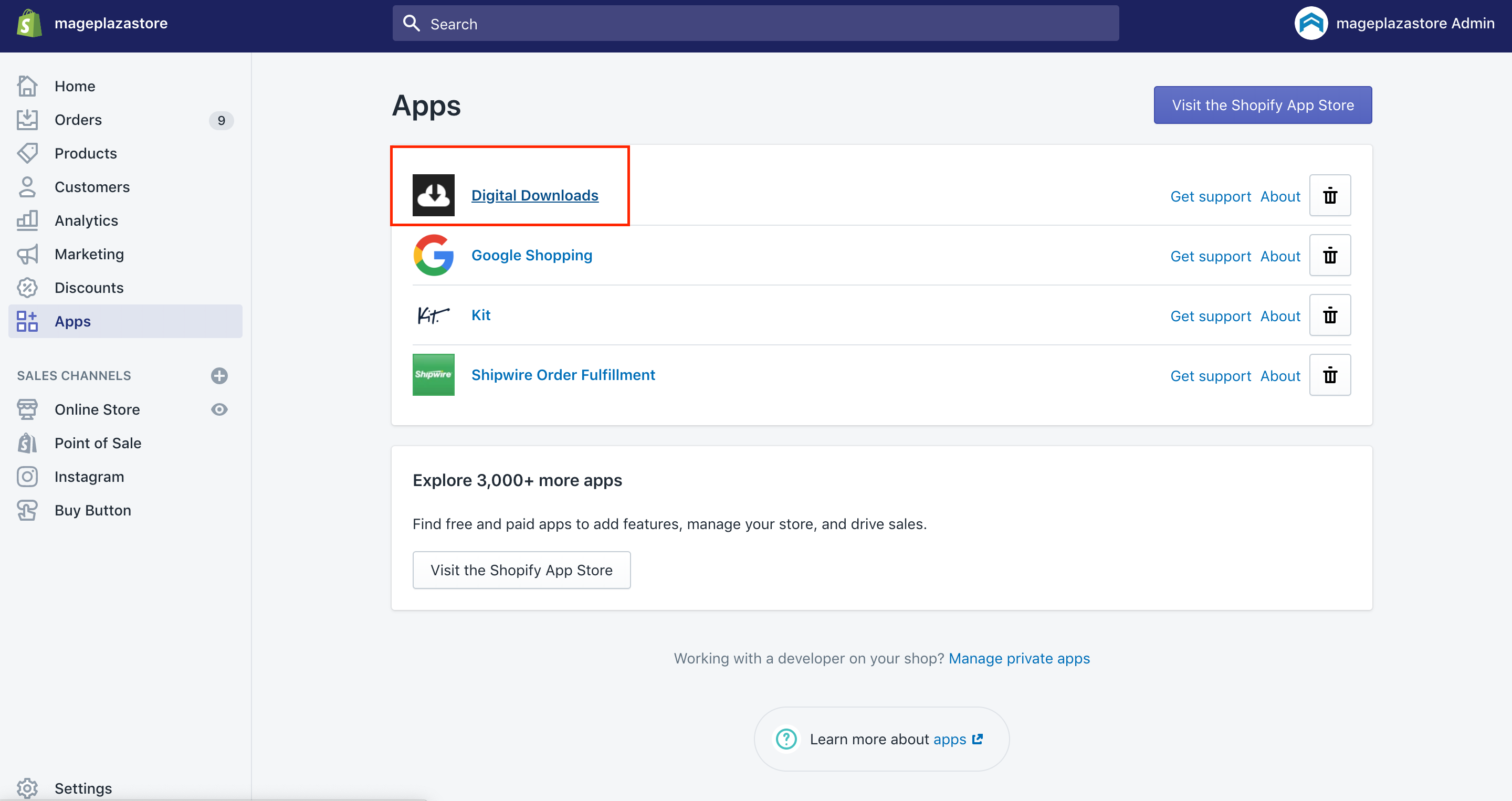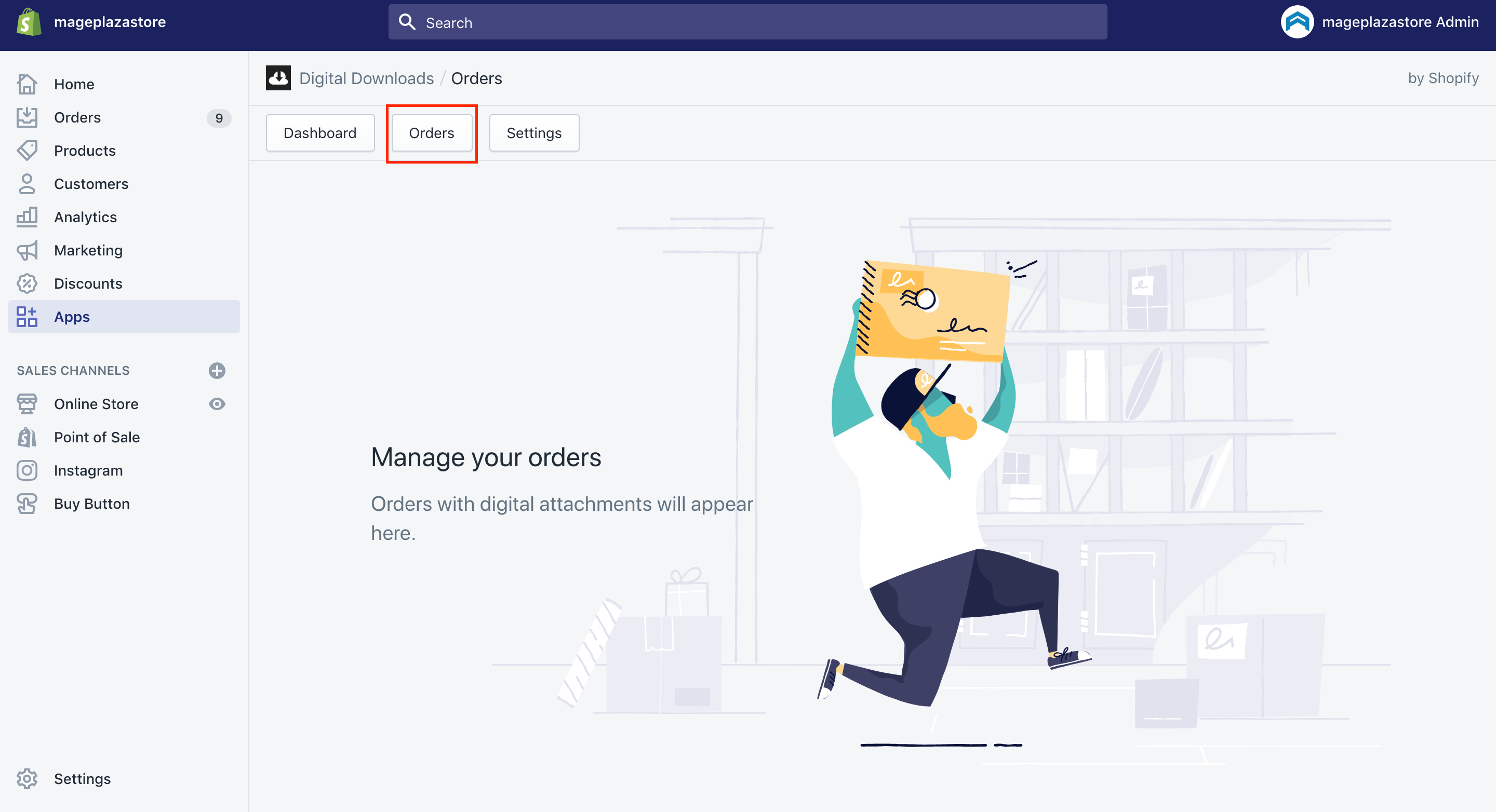 Step 4. Head to the order number you want to reissue the download link.

Step 5. Press on Resend download email.
Cancel a download
Shopify enables you to deactivate your customers' download link to prevent them from downloading a product.
Step 1. From your own Shopify admin, choose Apps.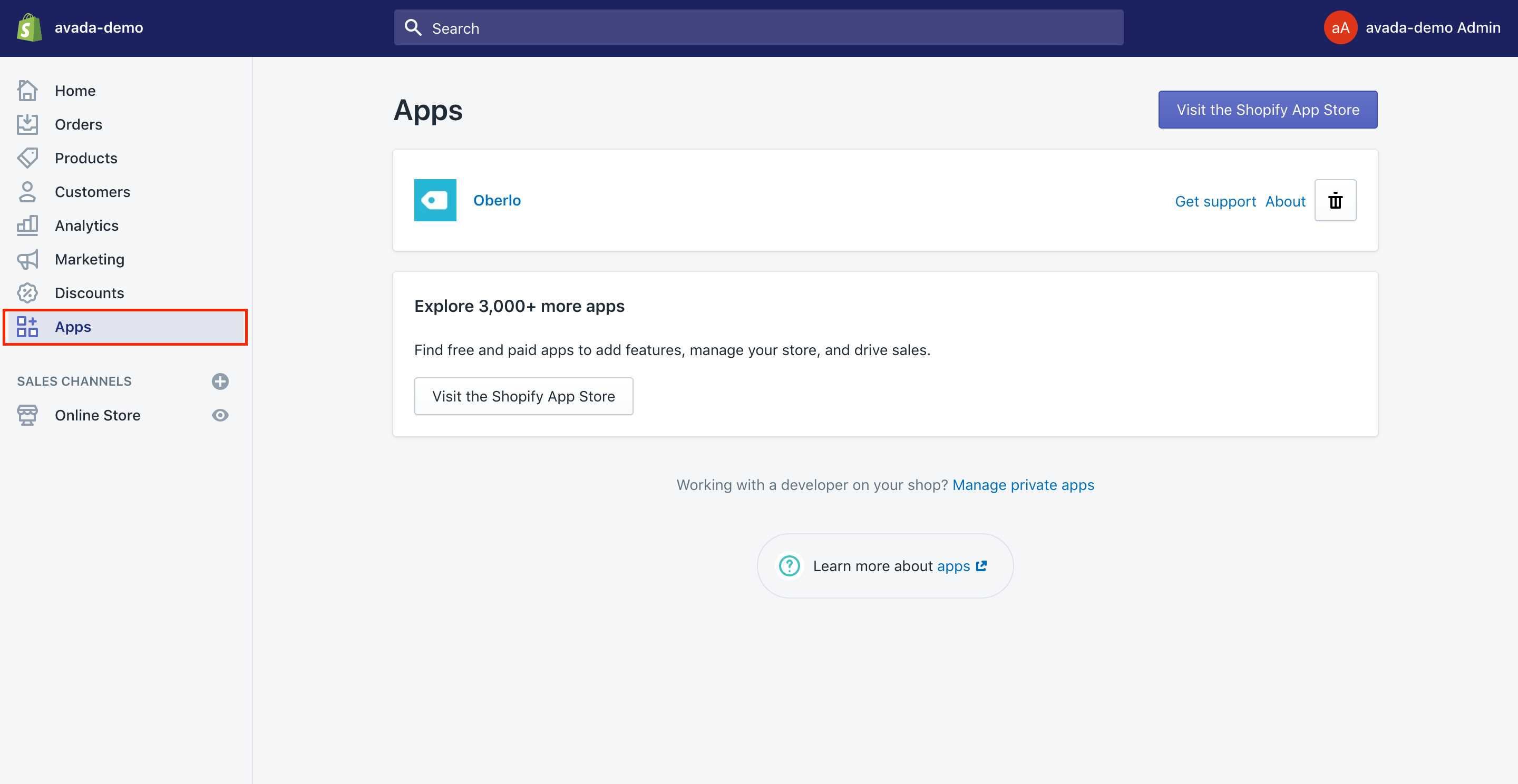 Step 2. Choose Digital Downloads.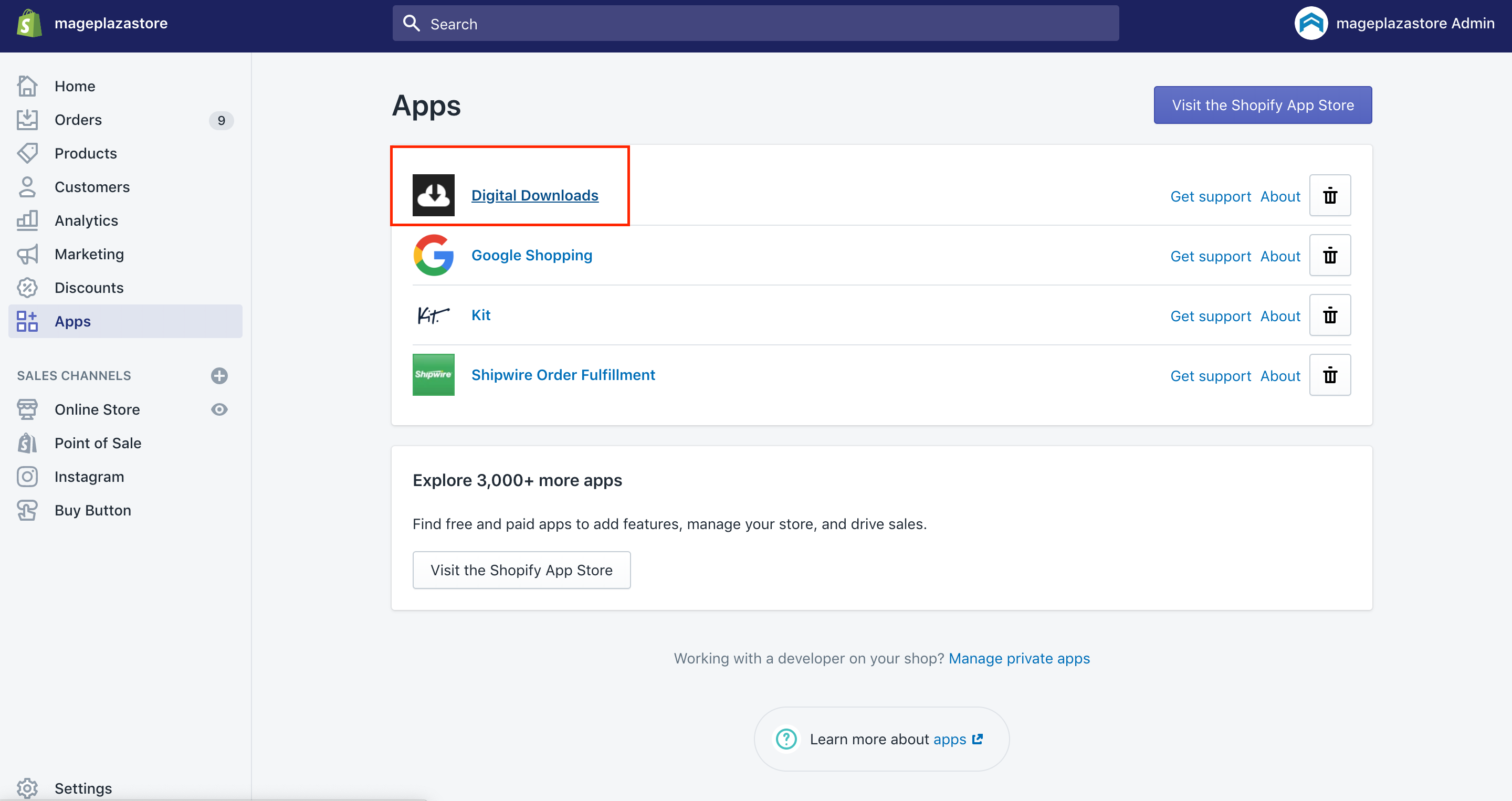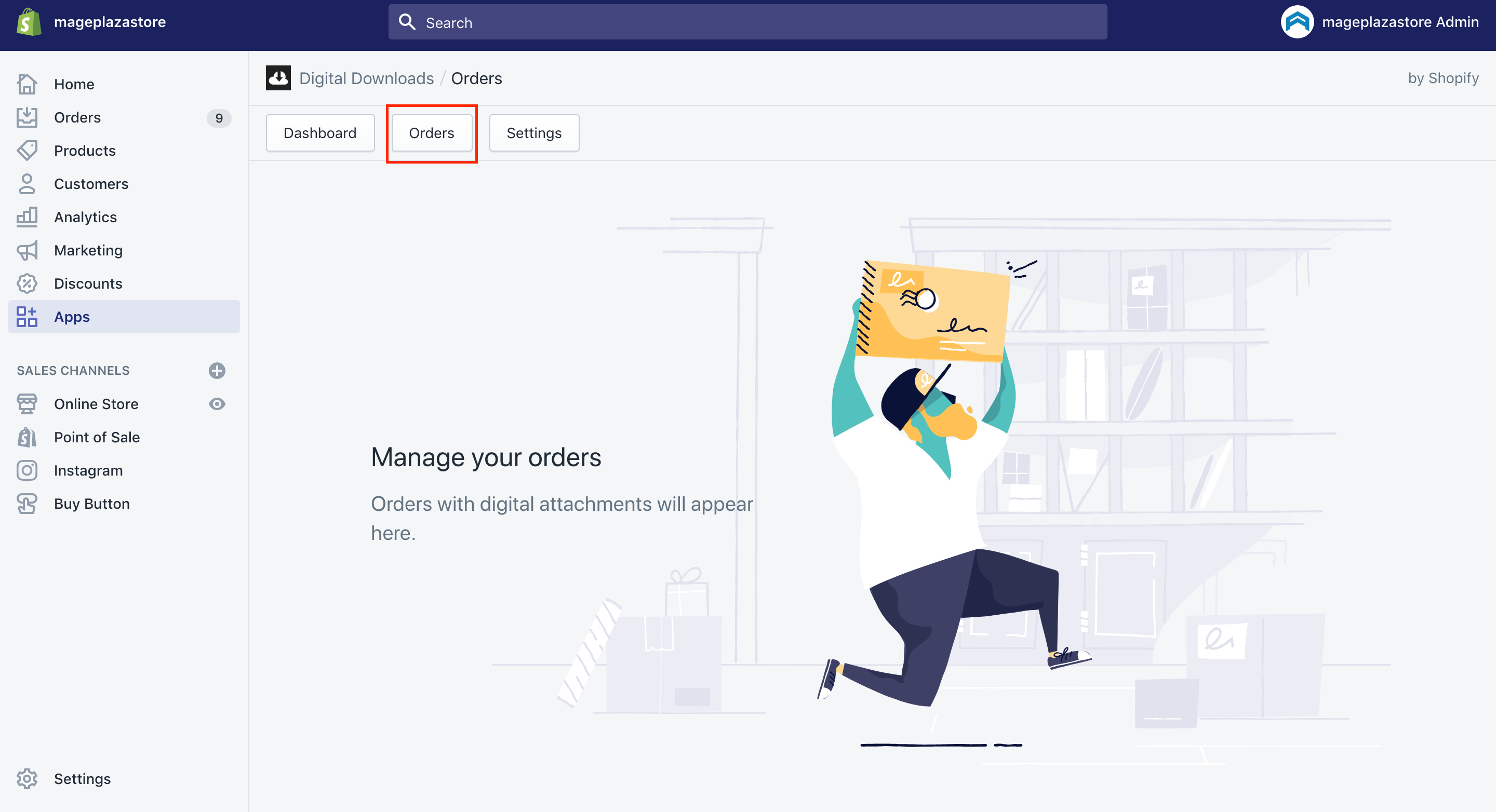 Step 4. Head to the order number you want to cancel the download link.

Step 5. Press on Cancel from the Download Details heading.
In case you would like to reactivate the customers' capability of downloading a digital item, then you can go back to the order page located in the Digital Downloads apps before choosing Activate from the Download Details heading.
Export a CSV file of Orders
Regarding a CSV file of orders, the CSV file export option is located at the bottom of the Orders page, which can help you create a spreadsheet file of many digital orders processed by the apps. That means there still exists a record of customers' orders in the report despite the fact that the product has not been downloaded yet.
You might want to know what the report includes. Here is the list:
order date and time
customer's first name and their email address
customers' last name
number of downloads
checkout ID linked to the order
total number of lines where you can add the items in the order
the order total (containing tax and shipping)
SKUs added in the order
date of the last update
order number (mentioned as the title)
Obey the following steps to help you export the CSV file:
Step 1. From your own Shopify admin, choose Apps.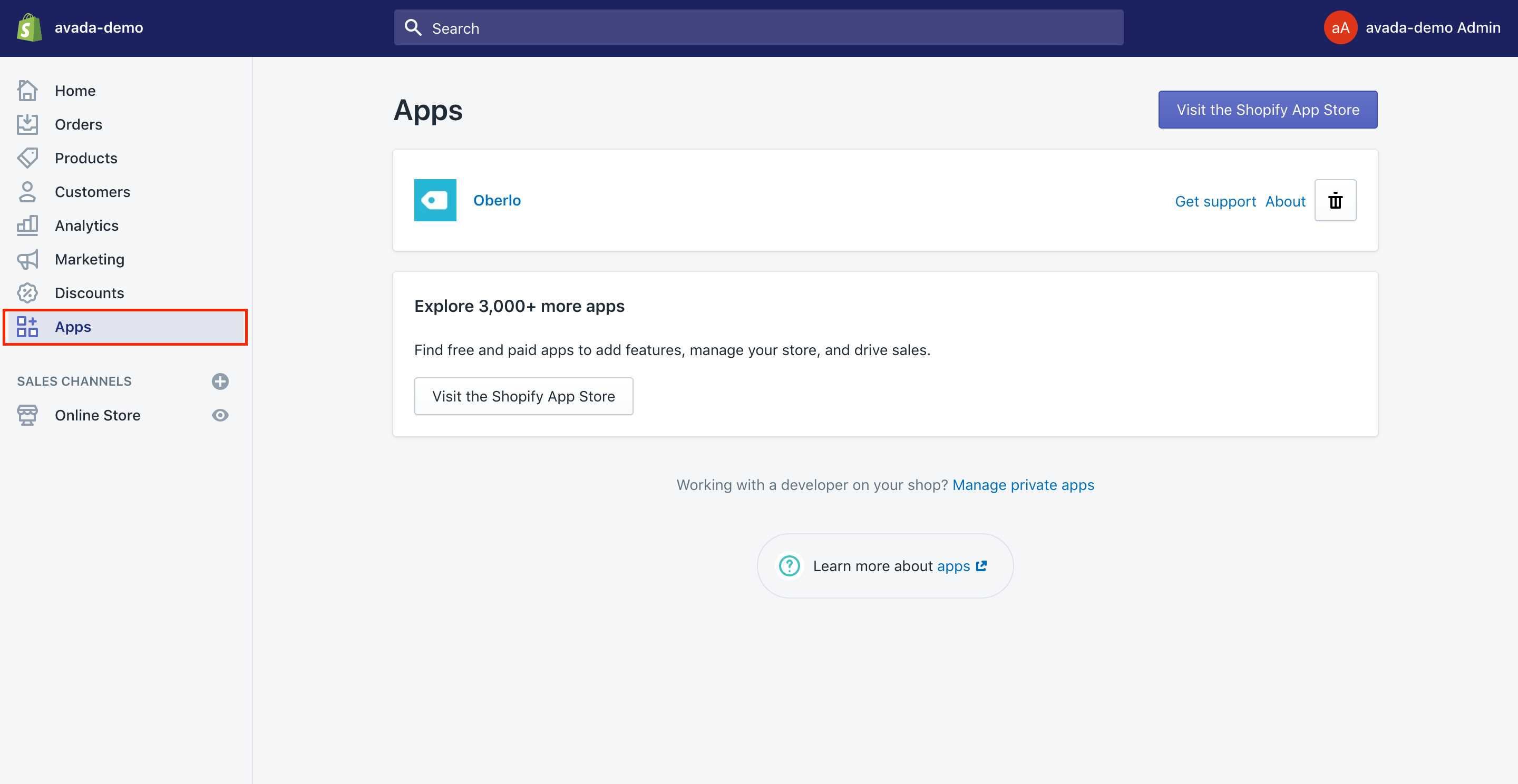 Step 2. Choose Digital Downloads.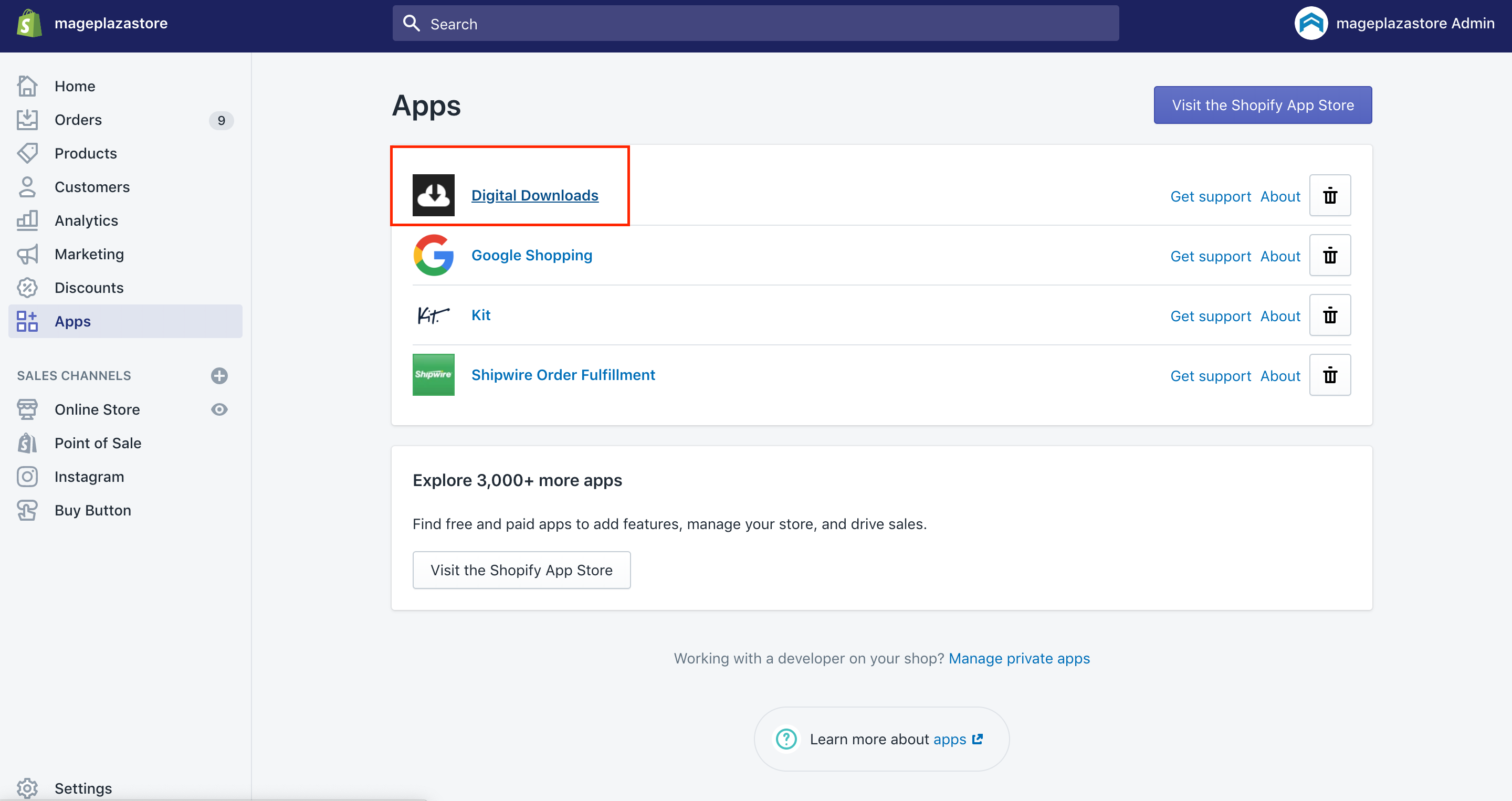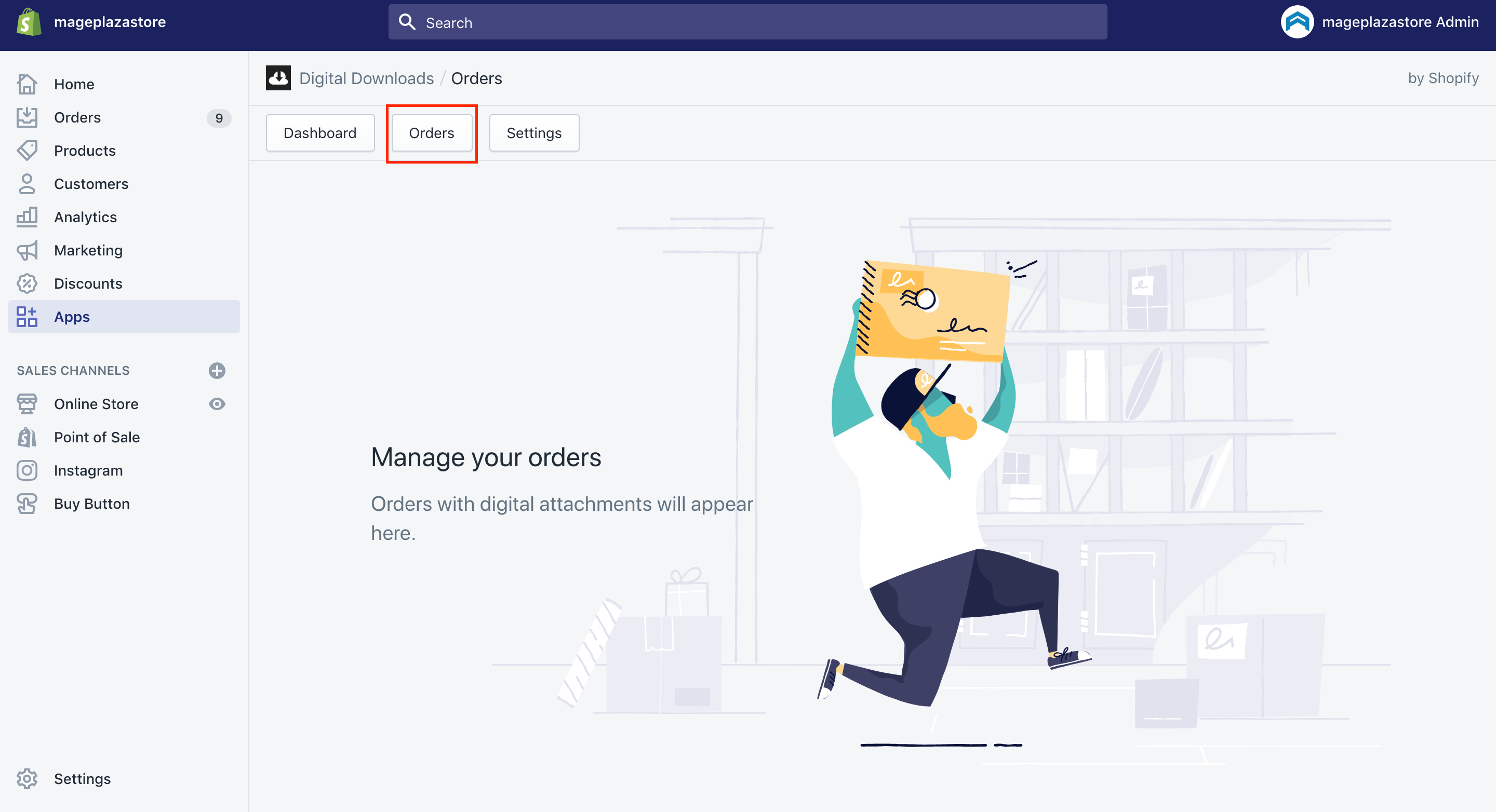 Step 4. Press on Export your orders.
Edit email templates
If you are reading this, you might be concerned about how to edit email templates.
The Settings area will offer you ways to get your emails personalized so that you can send them to the customers. Also, there will be two email templates that are connected to digital products.
Downloads ready: Your customers will receive this email as they are informed that their digital items are ready to be downloaded.

Attachment updated: Your customers also get this email as the digital items that they have already purchased are getting updated.
Follow those handy and simple steps below to edit an email template: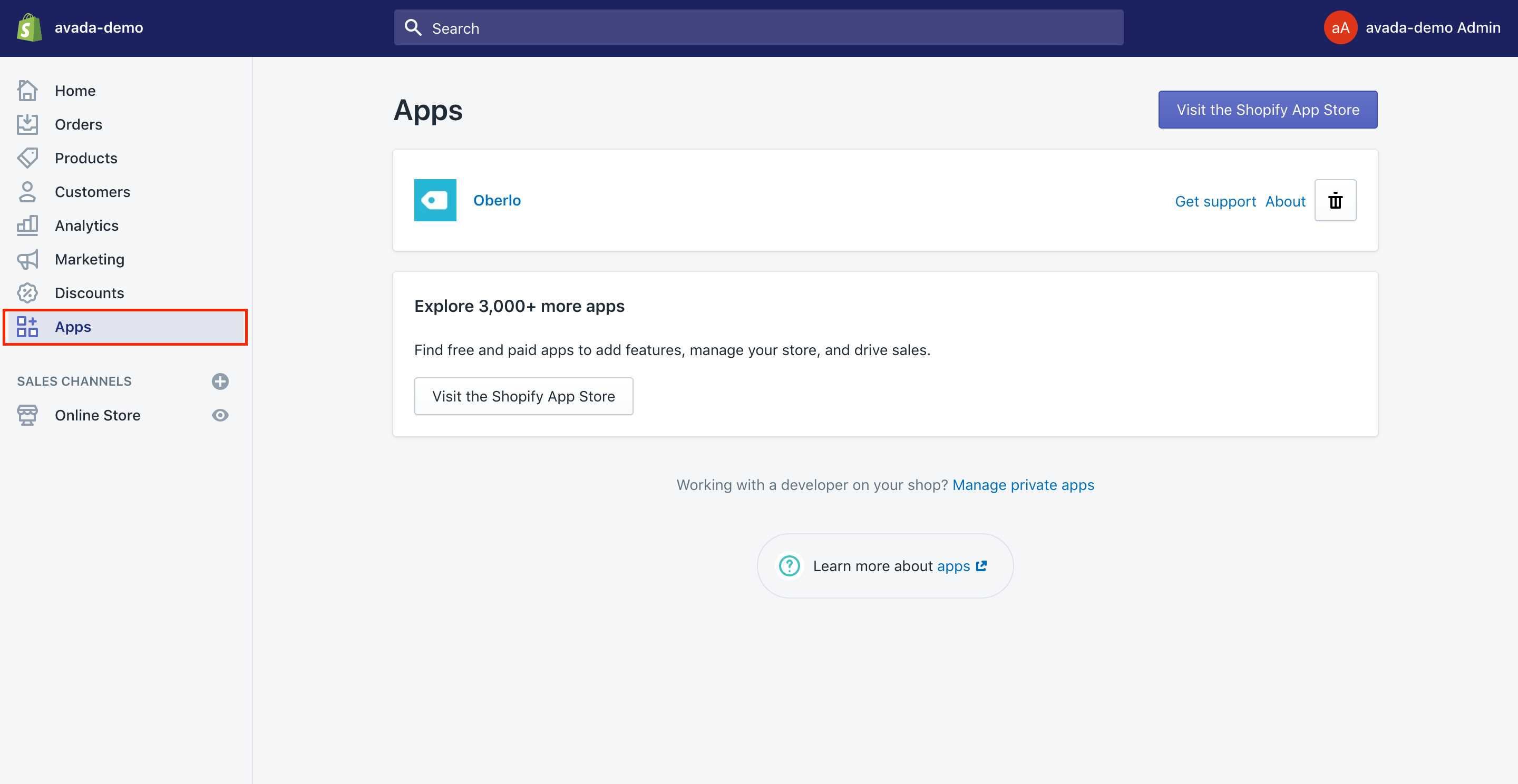 Step 2. Choose Digital Downloads.

Step 3. Go to Settings.

Step 4. Opt for the email template name you would like to edit.

Step 5. Make changes.

Step 6. Don't forget to press on Save.
Display a download link on the checkout page
Users are able to set if their customers can download their digital products directly from the checkout page or not by following these simple steps:
Step 1. Let's click on Apps from your Shopify admin.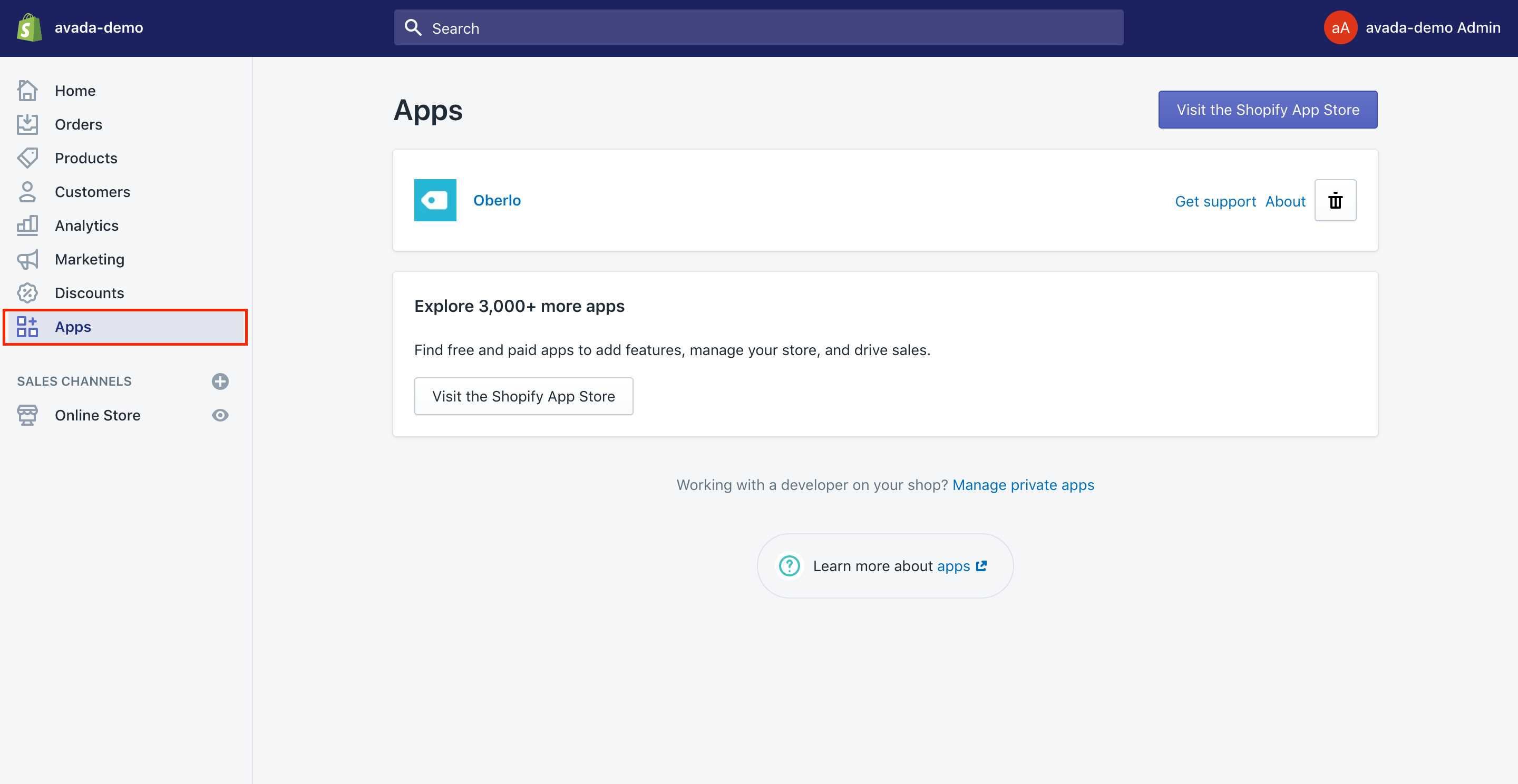 Step 2. Choose Digital Downloads

Step 3. Head to Settings

Step 4. Check or uncheck the box
Then, located next to the Checkout, you can check or uncheck the box beside the Display Download Link on checkout page.
In case you check the box beside the Display download link on checkout page, your customers will see a Download Now link located on the confirmation order page. At the same time, they also receive emails to allow them to download the file.

In case you uncheck the box beside the Display download link on checkout page, your customers will not see the Download now link on the confirmation order page. In this situation, they will receive the email that allows downloading the file.
Step 5. Press on Save to see what you have done.
Other apps to sell digital downloads on Shopify
In this part, we are going to introduce to you the top 3 most preferable apps to help you sell digital downloads on Shopify with ease.
SendOwl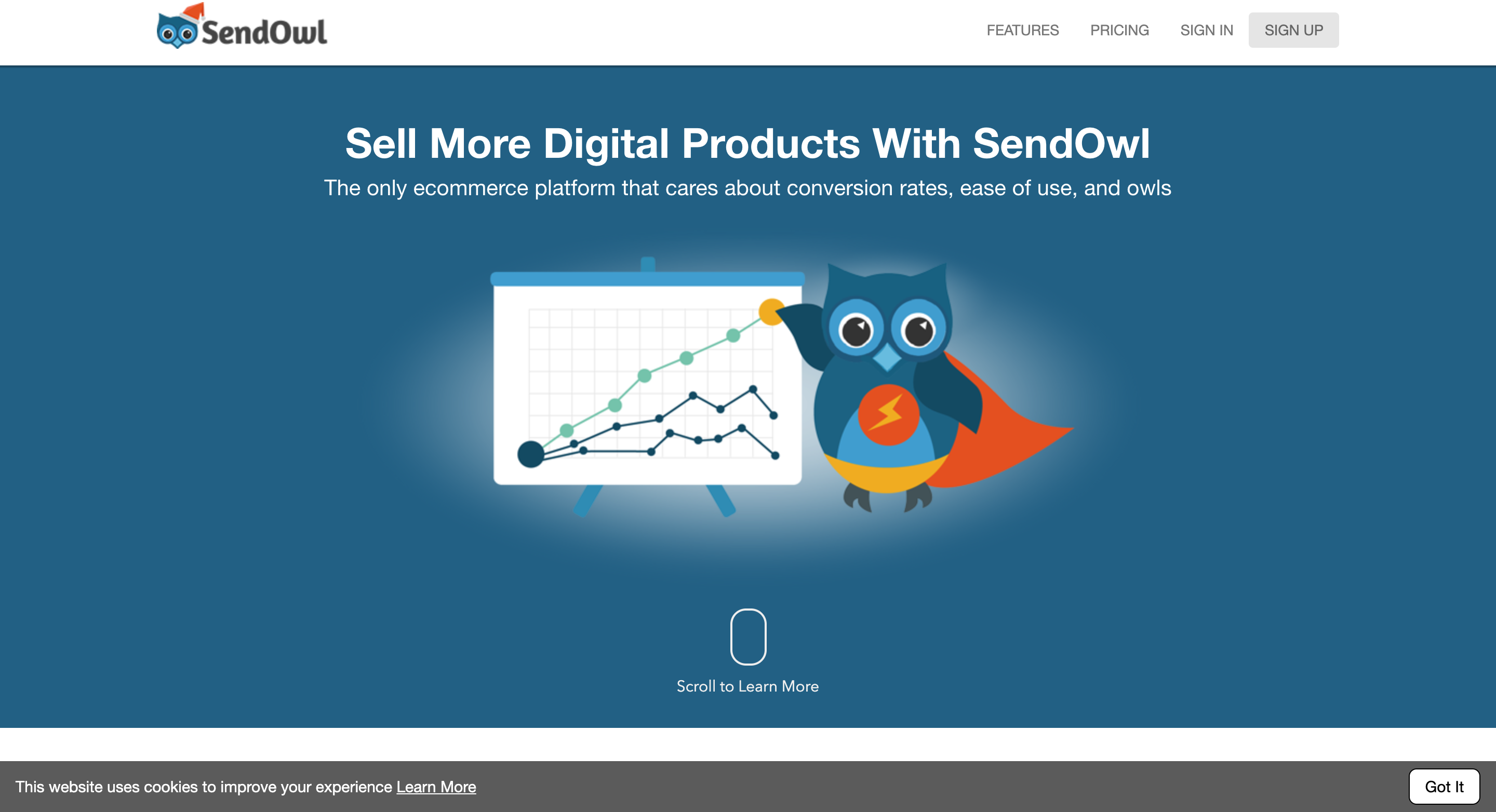 SendOwl is one of the most preferable apps to help you sell digital downloads on Shopify easily. SendOwl is highly optimized for selling more. In order to begin selling digital items, you need to upload files to serves and select products to associate it with. The rest will be automatically done.
You are able to sell from anywhere, consisting of websites, pages on social media channels or blogs. It is quite simple as well as a safe way to sell digital items and SendOwl provides you with the great support of many languages so that you can sell to customers who do not speak your own language.
SendOwl offers you build-in pre-checkout, along with post-payment upsells, discount codes or pay-what-you-want pricing. You are able to produce a mailing list through some resources including MailChimp as well as Campaign Monitor. This app also integrates with several biggest payment systems, consisting of Apple Pay, PayPal, or even Bitcoin.
In addition, SendOwl gives you instant and automatic delivery through expiring links. This app is a responsive checkout for mobile users. Take note that SendOwl can give you powerful Google-style analytics and reports.
Sky Pilot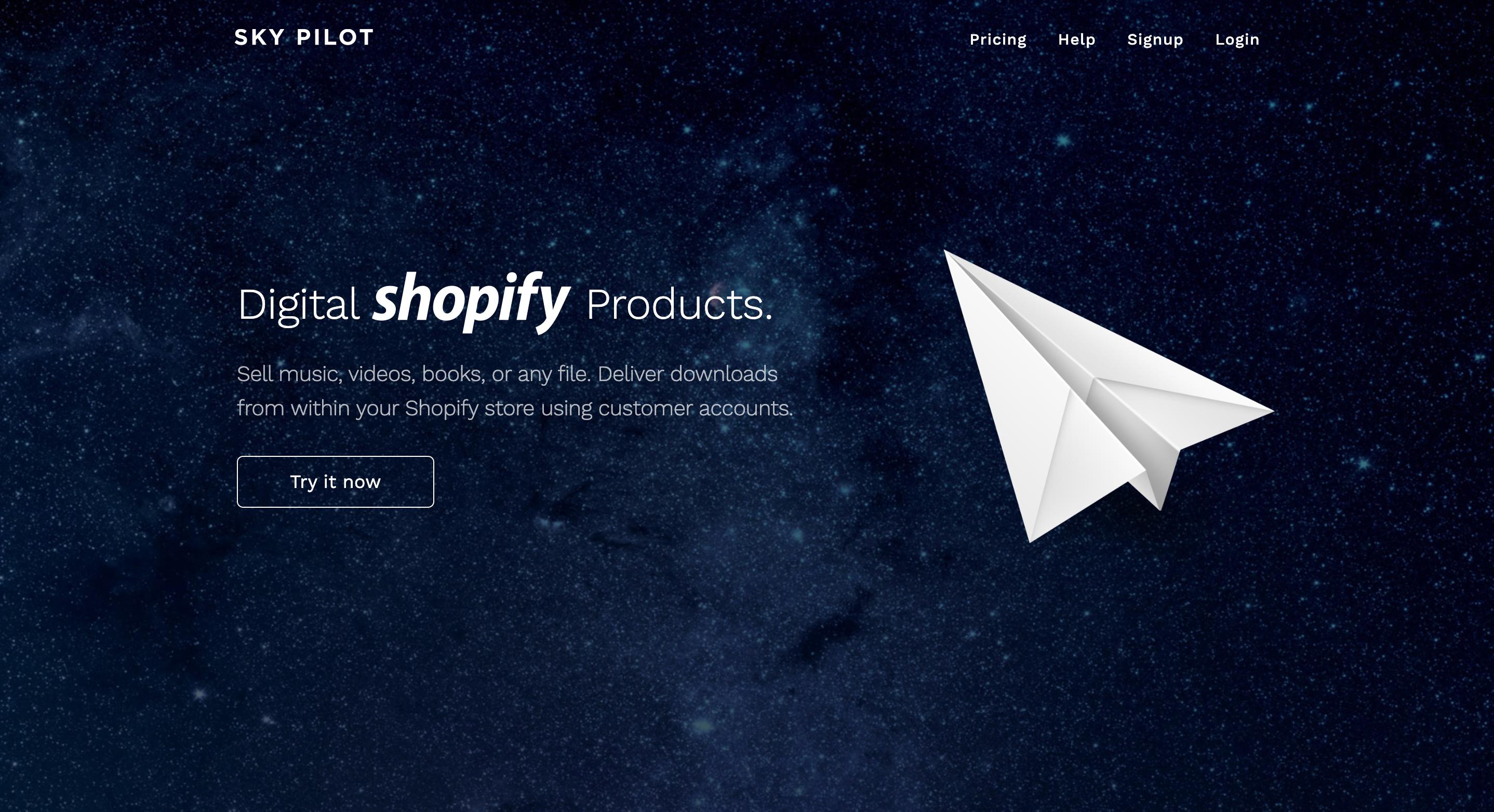 Sky Pilot is known as a plugin, which is designed for selling various kinds of content, consisting of PDFs, audio, images or downloadable as well as streaming videos. When it comes to the app, after completing successful payments, your customers will be sent to a page where they can see and download their purchases with a few clicks. In addition, this app also provides you with outstanding security with abuse alerts, expired access or limited downloads. It allows you to attach various files to an item.
Moreover, SkyPilot can integrate into order status pages, which enable your customers to access the download links immediately without having to wait for the teams' messages. SkyPilot can support many kinds of digital items with impeccable protection. It also assists in attaching downloadable links to many products. You will see that the delivery page is fully customizable and you are able to tweak it till it matches the appearance of your store.
Fetch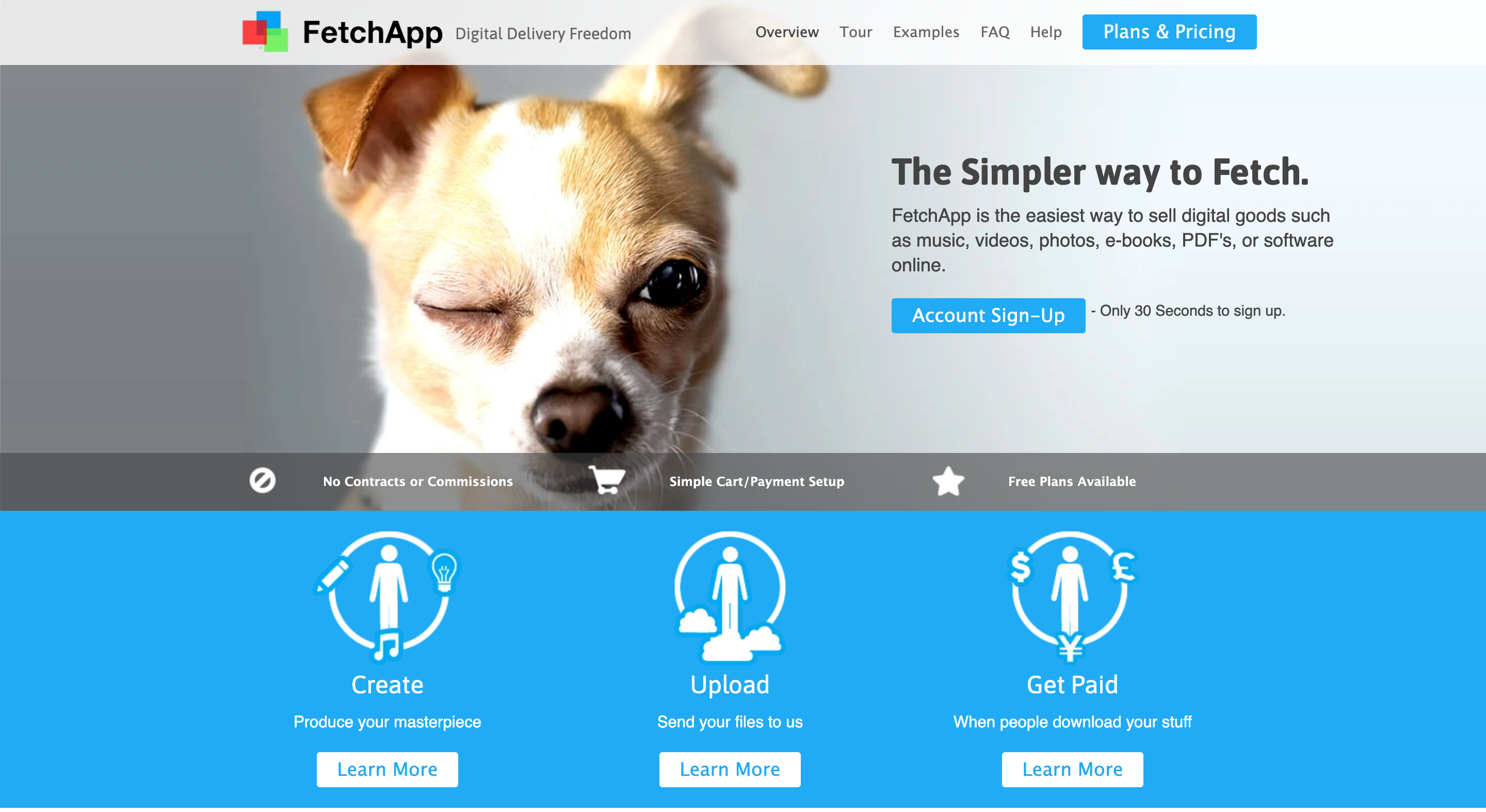 If you want to know and manage everything in your online store from the number of times your items are downloaded to the times before download links expire, the Fetch App can be a good solution.
Besides being easily applied, Fetch helps you get a dashboard to manage your items as well as orders to aid you in starting selling whenever you are able to copy and paste this link. This application also supports your products with various files to make the delivery effortless and get them bundled in a package. Additionally, Fetch lets you split big sized files into smaller files and sell a product in different parts.
Regarding payment processors, Fetch supports a series of payment processors such as Google Checkout, Paypal, Goodside, FoxyCart, and Shopify. This app offers you many item creations without re-uploading and integrates into social media campaigns as well as email newsletters.
Fetch will also take care of your customers as well by automatically shipping download links right after your payments through several steps in the purchasing process. With the Fetch app, you are able to produce orders manually, re-open, edit or resend them.
Why you should start selling digital downloads on Shopify?
Benefits of digital products
There are tons of reasons why you had better start your business with digital products instead of physical items. Here are some of them which are shown to you to make you act immediately:
People are eager to learn new skills
The Internet is another world that grows with digital changes as well as competition between creators. That is the reason why iGeneration, along with Millennial e-learning communities are seeking secure new skills in order to build up their brighter future.
Cost matters in business
Your actual cost will be about negligible than its large outcome. You are able to deliver info-goods without managing the cost. Buyers only need to press on the system to download and become members of the learning zone you are streaming from the video.
Storeless efforts
One of the most amazing features of digital items is it does not request store management which can have a huge amount of money, efforts, and time. The new storeless business model is perfect in many cases. This is the reasonable reasons to help starters run their digital businesses instead of physical ones.
No-shipment saves cost
Infor-goods do not have to use the shipping methods that can save loading-unloading as well as the career cost of each product. It can save risk as well.
Needless to use POS
Digital items are storeless, along with physical shop-less. It does not ask for paying rent in shopping malls and needless additional-staff costs. POS-less selling can push starters to opt for digital info-product businesses.
An automated system of earning
When you set up products in your web store, you do not need to think of the store back. All you have to do is to carry out content marketing for digital sales. You can even sell your items round the clock while you are sleeping.
Low risk
While there is no product handling, no shipping efforts, and no store management, it means the risk is zero. This is one of the greatest reasons that clever marketers use to select this info-product business model.
Benefits of Shopify
As everyone knows, Shopify is a platform to help you grow your significant sales on all kinds of products including info-goods. Despite its limitation, there are several reasons why you had batter choose this platform for your digital business.
Beginner-friendly
Shopify is suitable for beginners as well as advanced online merchants. It can meet all of the sizes and qualities of the business you wish for.
Comprehensive site with all integration
Shopify is very simple to work well with all of the essential tools and apps integrated with your site for the complete usage. It includes engaging attractive temples, along with high-quality design in each app and tool.
Natural leverage
To help develop your business naturally, Shopify contains organic powers in the digital sales that come from the trust of the platform given by Shopify. It allows your sites to convert the audience to prospect. You do not need to worry about extra barriers. It can solve all sorts of worries related to e-Commerce difficulties.
Shipping advantage
You do not need to ship out the digital products. All you have to do is to use apps for downloading the items while customers are going to buy. Additionally, in case your stores have mixed or both soft and hard products, Shopify can offer you more alternatives to ship out the goods safely and cheapy.
Flexible payment tools
Basically, Shopify accepts credit cards with the Shopify payment method. It can facilitate users Paypal as the default payment provider. If you are using Paypal instead of Shopify payments, you might have to pay charges based on the Shopify payment plans. You can change the payment methods at any time. In case your business is in the USA, you can integrate will acceptable tools like Visa, JCB, Mastercard, Discover or American Express and so on.
Domain and hosting benefits
Shopify users will have an opportunity to use existing domains or you can easily buy one on Shopify. In case you cannot afford the domain cost, you can keep going ahead of the free myshopify.com domain. Shopify offers you this free while you tend to sign up.
In fact, you do not need any additional web host as you will have a Shopify plan. It gives you secure and unlimited eCommerce hosting. All you have to do is to insert sites into the existing site by using the Buy button. You are not worried about dealing with the third-party hosting service.
Conclusion
We hope that our complete guide on how to sell digital downloads on Shopify will aid you in better understanding of many aspects of digital downloads and why you should start your business with them. Shopify is also a proper place to help starters reach closer to their dream.
If you have any questions or problems, don't forget to contact us for further discussion. We would love to hear more from you.
Related Posts: