Published on
4+ Best Shopify Auto Post Apps in 2023
4+ Best Shopify Auto Post Apps from hundreds of the Auto Post reviews in the market (Shopify Apps Store, Shopify Apps) as derived from AVADA Commerce Ranking which is using AVADA Commerce scores, rating reviews, search results, social metrics. The bellow reviews were picked manually by AVADA Commerce experts, if your app about Auto Post does not include in the list, feel free to contact us. The best Auto Post app collection is ranked and result in March 16, 2023, the price from $0. You find free, paid Auto Post apps or alternatives to Auto Post also. The Top 50+ Shopify Free Apps for Every Store.
Quick Comparisons of the Best Shopify Auto Post Apps
| Logo | App Name | Vendor | Pricing | Rating | Action |
| --- | --- | --- | --- | --- | --- |
| | Tweet Auto Posting | SpurIT | Free | 4/5 ⭐️ | |
| | Instablog ‑ Auto Post To Blog | The Scorpio Lab | $2.99/month | 0/5 ⭐️ | |
| | Twitter Auto Posting | SpurIT | $9.95 | 4/5 ⭐️ | |
| | Auto Post Products | Postingly | $9/month. 14-day free trial. | 4/5 ⭐️ | |
#1 Tweet Auto Posting by SpurIT
Tweet Auto Posting developed by SpurIT aims at posting tweets automatically with your new products to the Twitter account. In fact, the posts can be scheduled to be present at any time you want. If you want to insert over 10 products but you do not want to tweet them on the timeline, hence, the app helps you to specify like the first 3 products will be posted. In addition, the app allows you to exclude some products from your own newsfeed. You can also prepare a number of messages to customers with your products such as "New Holiday Specials! Get while they last" or "Check out our new featured product" and many more. Take note that each of your products can be posted in different messages so that customers will see that they look more authentic. With the app, you can insert many templates of messages you want to do. Adding your Twitter Profile to your site can aid in increasing the online presence as well as showing customers you take care of.
Features Highlights
Post products to users' Twitter Account to save users' efforts
Identify the quantity of products and time you want to post them
Boost up users' online presence
Encourage customers' loyalty and boost sales
Add keywords to message templates to improve SEO
Price: Free
Rating: 4 / 5
#2 Instablog ‑ Auto Post To Blog by The Scorpio Lab
If you are finding an app without any code, you should try the Instablog app. This app does no longer upload or alter any of your present subject matter code.
Your shop, like any commercial enterprise proprietor, is a treasured infant cared for seeing that day one. With that stated, this app made positive the Instablog app seamlessly integrates into your Shopify shop. There aren't coding required, in reality. So you just have to click the "Get" button, and you're ready. Simply take a seat returned and kick up your toes at the same time as you breeze through the installation. You may guide customers with first-class whilst assist them in getting the sensation of first magnificence provider with our terrific guide crew.
This app is currently running on new features. They focus on app creation and coding, allow us to know if we lack something, and we can get it completed.
Features Highlights
Can save your time and money
Can enhance search ranking
Be able to install instanty
Don't need any code
Support customers with first-class
Price: $2.99/month
Rating: 0 / 5
#3 Twitter Auto Posting by SpurIT
Twitter Auto Posting app posts new merchandise to your Twitter account and save your effort and time. Specify how many, which products, and what time you need them to be published.
It can boost your online enterprise presence, display customers your loyalty and grow your sales. You may schedule the posts to appear at any time you need. You may put together numerous messages customers will see along with the products. Every product may be posted with a unique message so that it appears genuine. You may upload as many message templates as you need. It's inclusive of your Twitter Profile on your website will increase your online presence and demonstrates clients you care.
Moreover, you can add key phrases to the message templates as a way to be posted alongside the products will increase your search engine optimization so that after people search for positive products, they can also find them in your Twitter timeline.
Features Highlights
Set time to post products on FB
Can control the number of products available
Can increase your company online presence
Can add keywords to the message templates
Save time and effort
Price: $9.95
Rating: 4 / 5
#4 Auto Post Products by Postingly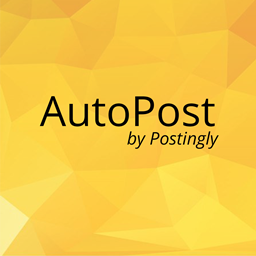 Auto Post Products, which is developed and published by Postingly team, is an important assistant for every eCommerce store owner to automate social media and save time from managing it on daily basis. Auto Post Products enables you to create the posting rules to set what and how the product will appear on your social media. With various options for modifying the rules to meet your needs, you can choose to post new products or select them randomly, post the product with photo or link, post a product from a certain collection or restrict posting from a certain category,... Also, this application allows users to schedule the time to post the product within a few seconds by clicking the one you want to share, adding its caption or copying it from the suggested text. In addition, to save time for your business, Auto Post Products automatically detects new products, sends emails for you to add their caption and approve its posting time then set the posting schedule for new products on autopilot. Let's save time posting on social media and improve your business with Auto Post Products!
Features Highlights
Create rules for posting products on social media
Provide various options to modify the posting rules
Schedule the posting time within a few seconds
Automatically detect new product and post on social media
Allow daily scheduling of products from your store to social media
Price: $9/month. 14-day free trial.
Rating: 4 / 5
Advertisement
How AVADA Commerce ranks 4 Shopify Auto Post apps list
These above 4 Auto Post apps for Shopify are ranked based on following criteria:
The ratings on $Shopify store
The app's rank on search engines
The prices and features
The app provider's reputation
Social media metrics such as Facebook, Twitter and Google +
Reviews and assessment by AVADA.io
Top 4+ Shopify Auto Post Apps
Special thanks to all vendors which contributed the best 4 Shopify Auto Post apps. We honestly recommend you to give every app above a try if possible. We create Shopify apps review series with the aim of helping Shopify online stores find the best Auto Post for their website. All of the information on the review (including features, description, prices, and links) is collected from the vendor's website or their own published page/ selling channels.
The list of the 4 best Shopify Auto Post apps is kept up-to-date on a regular basis by our team. Please feel free to reach us out if you have any questions related to this app review.
Don't see your app on the list? Wanna contribute more content to this review? Contact us
If you want to add or remove an item in the Auto Post list, feel free to contact us at Contact us
Find more themes, please visit our Shopify theme reviews!
People also searched for
shopify auto post apps
auto post apps for shopify
top auto post app for shopify
top shopify auto post apps