Even if you a tenderfoot at Ecommerce, you probably have heard of Shopify - one of the largest online selling platforms on earth. Anyone can start here and open their dream businesses, which sell globally in an instant.
So why is that? How can one platform be so useful that every entrepreneur thinks about starting there? What can Shopify offer for an online business owner like yourself?
600,000 merchants have found the answer, so be quick and find out now in this article. We will give you all you need to know about Shopify Ecommerce Platform and how the Shopify platform can work for your success. Let's dive in!
Related Posts:
What is Shopify?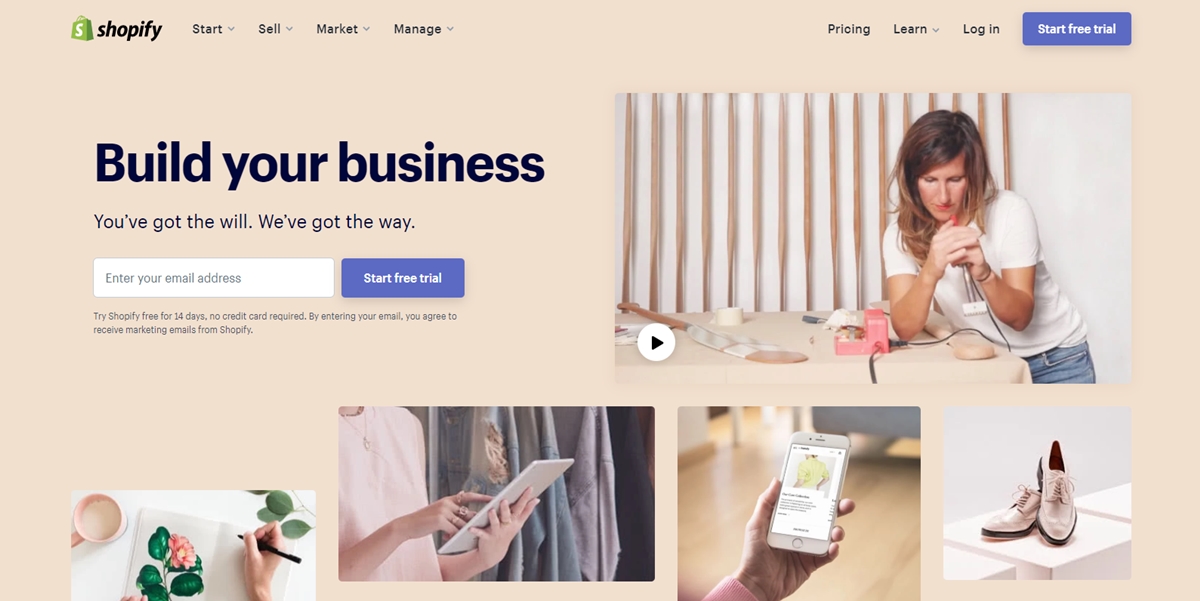 Shopify is a cloud-based SaaS (software as a service) that provides throughout solutions for eCommerce sites. With this, you can create a fully customized site with themes and apps that are well designed to start your business quickly without learning to code at all.
A required monthly fee will give you access to an admin panel where you can input store data, products, and process orders.
One of Shopify's most significant features is that your subscription includes a secure, reliable hosting for your website. You won't have to worry about the site's crash during peak traffic or hacker problems.
Shopify also provides 24/7 customer support via phone, email, live chat. They are one of the most trusted eCommerce platforms nowadays, and generally it's very safe to buy from a Shopify store. So you are in good hands to start your business with the platform.
The three most common plans for Shopify are Basic, Shopify, and Advanced. You can check the detailed pricing and features on Shopify, or our full review of Shopify.
However, there are two more special plans which are Lite and Plus, which we will go through now.
What is Shopify Lite?

At $9 per month starting point, Shopify Lite is an option for newly eCommerce businesses with a tight budget, which integrates with already existent websites or social media pages.
The features of this option are:
Social media integration (Facebook Page and Messenger)
Buy Buttons for easy purchase on Wordpress, Squarespace, Tumblr
24/7 customer support
Comprehensive resource library
In-person point of sale mobile app
So if you want a solid, customizable Facebook store with syncing tools, Shopify Lite is a great place to start. Especially when you are not ready to build a new website yet and just want to use your Facebook page or blog instead.
See the top pros and cons of Shopify Lite below to have a better understanding:
Pros
Really low cost
User-friendly for beginners
Excellent customer support
Tons of ways for integration with buy buttons
Great for businesses that sell in many places like stores, events, on-the-go sales
Simplistic Invoicing from the app
Cons
No storefront for your website
Only two people access
Lacking some famous social media platforms like Pinterest, Twitter for integration
A transaction fee of 2.9% +30¢ for credit card payment (higher than other plans)
Conclusion: Shopify Lite plan is great for owners who aren't ready for a new website yet, but want a way to take payments on social networks, in person, or on an existing website.
Further Reading:
What is Shopify Plus?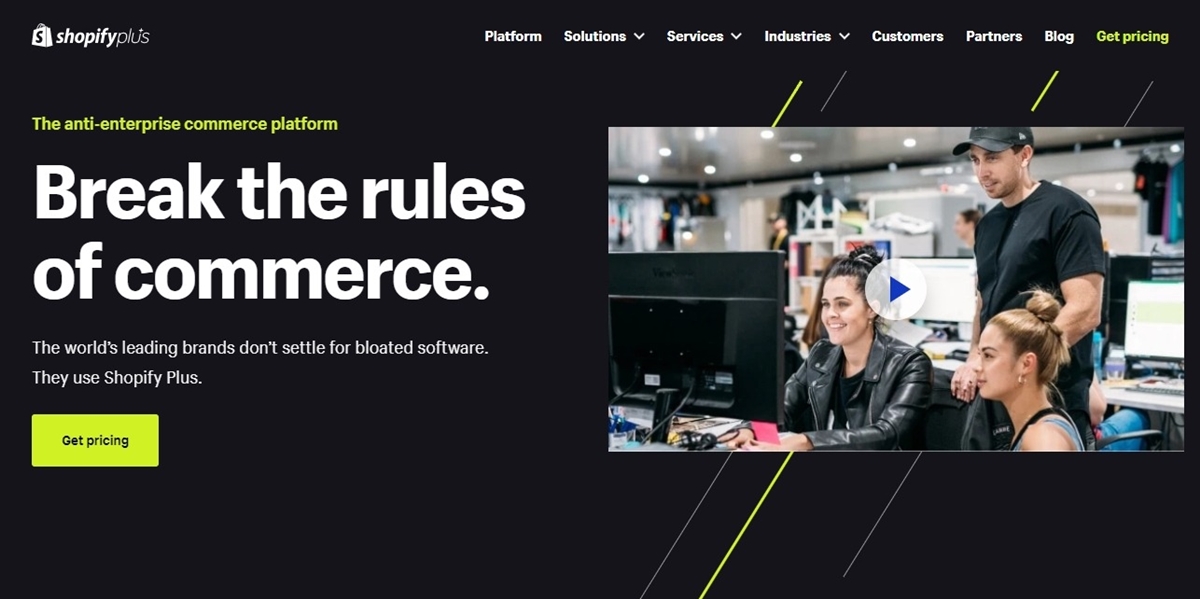 Simply put, Shopify Plus is an Enterprise eCommerce option for fast-growing businesses with a high volume of visitors and customers.
This is clearly a more advanced option, which can handle over 10,000 transactions per minute. It still works the same way as Shopify but with great customization and control.
So what is so special about Shopify Plus, well there are these exclusive features:
Shopify Flow: tailored homepage based on individual's interest
Script Editor: Sophisticated tools (called API) to customize every aspect of the online store
Expert analytics: integration from leading analytics companies to bring better insight
Launch Manager: Personal support for your business only, and a merchant support manager to ensure success
But nothing is perfect, so let's see all the pros and cons of Shopify Plus:
Pros
Predictable pricing based on levels of business
User-friendly platform
Usage of many API
Multi-channel sales capabilities
Unlimited staff accounts
Migration services for easy switch to the platform
First-class support service
Scalable SaaS hosting for growing business
Superb customization
Top security for a secure shopping experience
Trusted by big brands
No transaction fees
Cons
Limited CMS and content
Limitation on the custom back-end
Locked into the platform
Platform expertise required to have true customization
Negotiable but minimum fees per month are about $2,000
Conclusion: Obviously, this is an option for eCommerce enterprise with high demand, so if you have over $1 million of sales per month, consider this awesome plan.
Recommendation: Shopify Plus Reviews: Cost, Features, Pros & Cons
What Language is Shopify Written In?
The answer is: Liquid
Liquid - Language of Shopify is an open-source template language written in Ruby and created by Shopify. It is the backbone of the Shopify theme and has been used widely to load dynamic content on storefronts.
The language has been in production use since 2006 and is now trusted by many hosted web applications.
What Companies Use Shopify?

Shopify is now holding 10% of global eCommerce market share, and more than 600,000 merchants worldwide, so there is no doubt you will find some big brands on the platforms.
Here is a list of 37 gigantic names doing business on Shopify:
| | | | | | | |
| --- | --- | --- | --- | --- | --- | --- |
| Bulletproof | Budweiser | WaterAid | The Economist | The New York Times Shop | Leesa | Mattress |
| Sunday Somewhere | Penguin Books | Tesla Motors | Fashion Nova | Red Bull | Gymshark | Rebecca |
| Minkoff | Skinnydip London | KKW Beauty | Bootea | The National Portrait Gallery | Tattly | Kylie Cosmetics |
| Yeezy Supply | MVMT Watches | Jeffree Star Cosmetics | The Lady Gaga Official Shop | ColourPop | Big Baller Brand | Bombas |
| Chubbies | LeSportsac | PepsiCo | Lightbox Jewelry | Finisterre | Mavi | Emma Bridgewater |
| NICCE | HarperCollins | The Hummingbird Bakery | Nestlé | | | |
What is the Shopify POS?

Shopify POS is a point of sale service that can be installed on iOs and Android devices. The app allows you to manage your entire online and physical store through just one unified platform.
If you subscribe to Shopify POS, you will then receive from Shopify a full POS system alongside devices including a receipt printer (Star Micronics), APG cash drawers, a card reader (Shopify's proprietary machine powered by Swipe), and a Socket Mobile barcode scanner.
Through Shopify POS, you can instantly accept payments from multiple channels (online payments, credit cards, etc.), not to worry about third-party fees and restrictions.
Overview of Shopify POS Features:
Accept Two or More Payment Options
Gift Cards
Refunds and Store Credit
Multiple Sales Channels
Discounts
Custom Payment Options
Custom Sales
Automatic Tax Calculations
Portable Registers
Custom Receipts
Product Management
Store Management
Inventory Management
Shopify POS has a monthly fee along with rates depending on your plan, which are Shopify Lite: $9/mo, Basic Shopify: $29/mo, Shopify: $79/mo, and Advanced Shopify: $299/mo.
The retail kit will cost you about $229 more, which is now on sale at only $180. You can also try out other POS system for Shopify with more reasonable pricing plans.
What are Shopify apps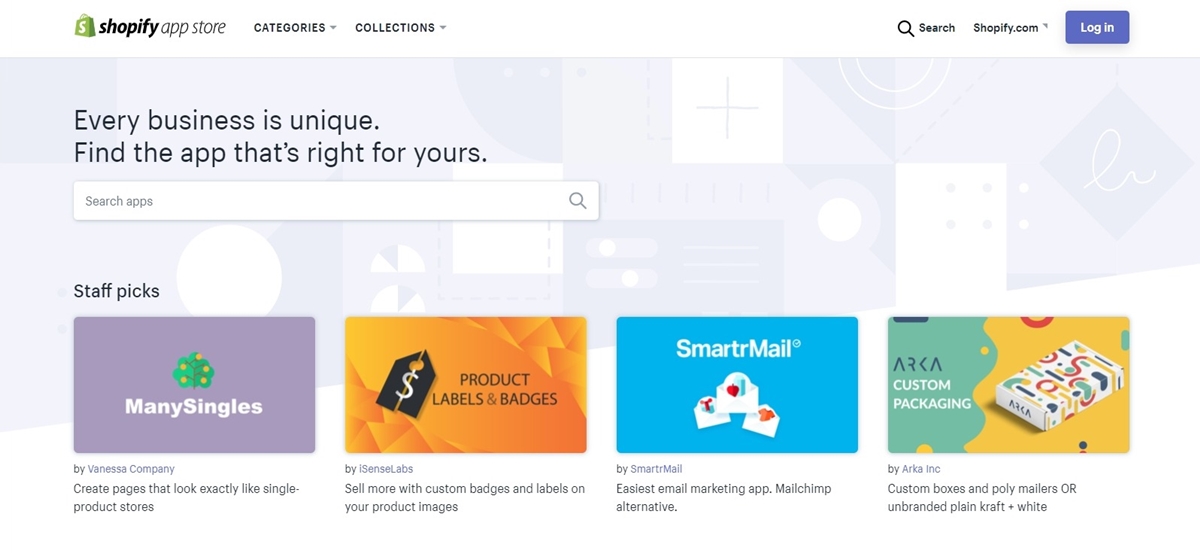 Shopify apps are things that make eCommerce store on Shopify so powerful, in which there are thousands to be found on the Shopify App Store. Whether you want to improve email marketing, add customer reviews, get in-depth analytics, or publish your products to Facebook, there's definitely an app for that.
You have over 1,200 apps with all sorts of features, ranging from inventory, customer service to marketing, all to boost up your store.
If you want to create your own app and sell on the Shopify App Store, it is possible too, and Liquid is really simple to use.
What is Shopify partner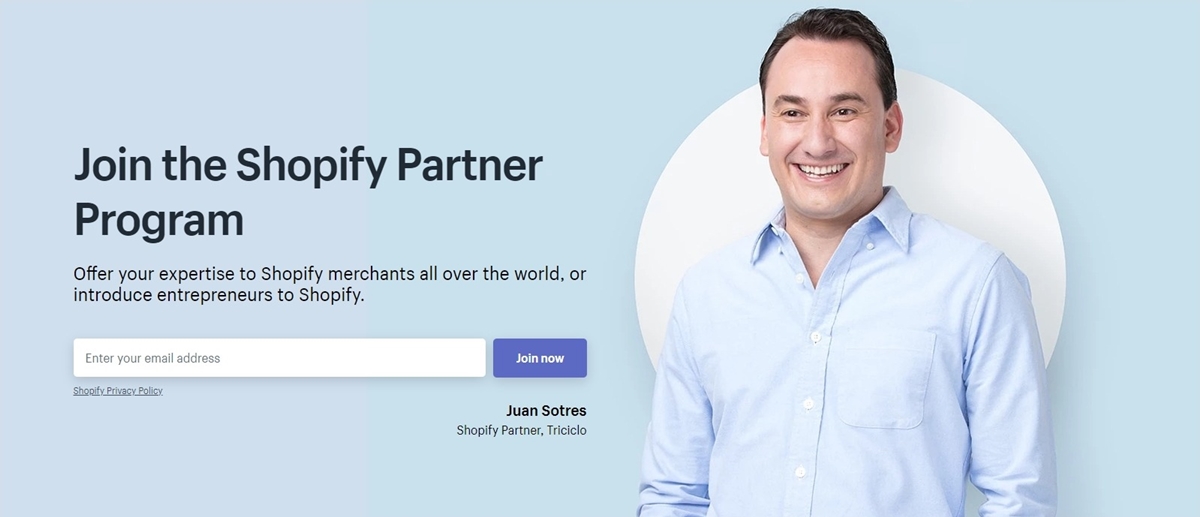 Shopify partner is a program for people to associate with Shopify and build websites, themes, apps, then earn revenue from doing that. Many designers, marketers, developers, affiliates have made their living out of this and helped merchants to improve business.
The partners can receive revenue from doing 3 activities:
Refer clients to Shopify
Create themes and publish them on the Shopify Theme Store
Create Shopify apps to publish on the Shopify App Store
If the partner has a track record of success (five examples) with Shopify, they can become Shopify Experts, which are promoted to merchants by Shopify as well.
From a store owner's point of view, this is a great source to ask for help in any field or niche. You can also learn it yourself with Shopify Partner Academy, where you learn all the skills you need for success in eCommerce.
If you want to hire someone, the categories from the experts are:
Marketing and sales
Store setup
Development and troubleshooting
Visual content and branding
Content writing
Expert guidance
What is Shopify API
The Shopify API is a powerful tool that you can use to enhance the performance of the store. API is shortened for the application program interface, which basically tells your site how to interact with specific data.
Imagine Shopify API as a helpful bridge connecting your client and the data needed. It is in demand since applications and services can only access data from your store if API helps them to integrate with the shopping cart.
This tiny API can help you reach all the necessary data and perform many operations on products, orders, categories, etc. Data is power and API harvest that for you.
For more information, you can read our guide on Shopify API.
Shopify Pros and Cons
We will only go briefly through this since we have already made a more detailed article about this. Now let's see what the pros and cons of Shopify are:
Pros
Ease of use: Everything can be done with a few clicks without the technical hassle of coding.
Designs: There are many excellent designs for your site, and they are mobile-friendly as well.
Flexibility: The systems and templates are all open-source, which means you can access and change as you wish.
Scaling: Big to small, Shopify can work with any type of business.
Apps and Community: The add-ons store are really helpful, with a large community to lend a helping hand when you need some help from the experts.
Support: 24/7 support with awards, that is all.
Cons
URL structure: Blog posts have a URL structure that is not optimized yet for SEO.
Transaction fees: You need to use Shopify Payments for free transactions, but it is not available everywhere.
Advanced features cost a lot more: The same with apps, something useful can be really expensive.
How does Shopify work?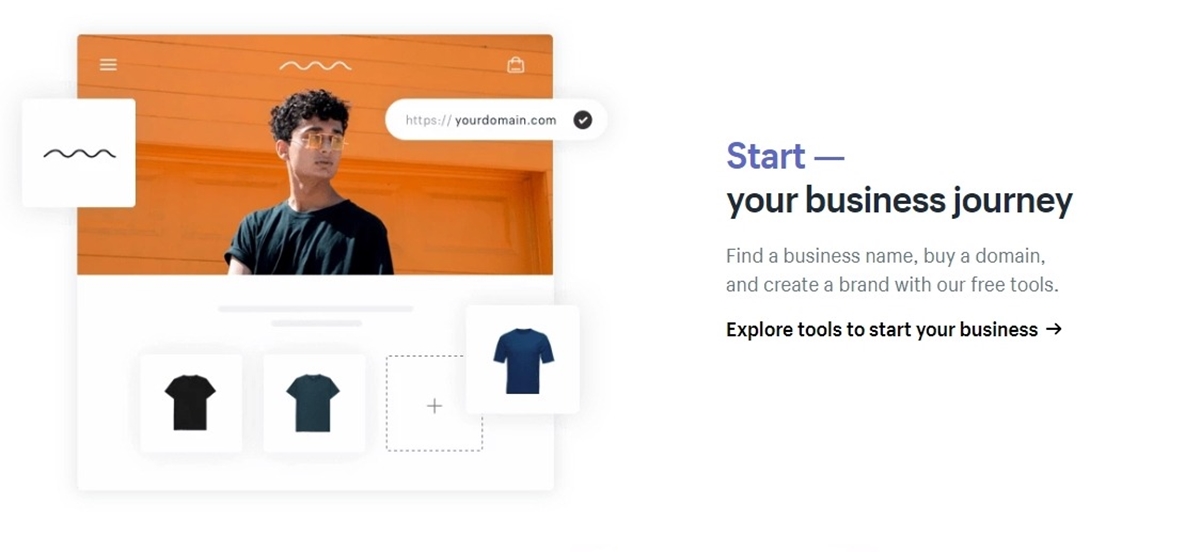 Shopify offers you a comprehensive eCommerce web builder completed with hundreds of templates ready to go to make your site in a few clicks.
The signing up process is simple, with a 14-day free trial for test out. All Shopify templates can be customized with text, logo, images, and videos to complement your brand's look. Once the theme is chosen, you can start selling right away with the built-in shopping carts.
Shopify works with more than 70 payment gateways and checkouts in more than 50 languages, which makes it easy to sell products anywhere in the world.
You also have an intuitive store and content management tools, with a full marketing suite and multiple features, such as abandoned cart recovery, search engine optimization.
It's no wonder that so many businesses are using the platform to get merchandise in the hands of customers.
What Can You Sell on Shopify
Anything, to be honest. As long as they are legal, Shopify is the platform to sell products from beauty to fashion, home, drinks, garden, sports… There are more than 377,000 storefronts made with Shopify right now, so you are sure to find a category for yourself.
Want to find your ideal product? Read our guide on how to easily find what to sell.
Do you need a license to sell on Shopify?
The answer is, in some cases. Most online sellers do not need to own a business license. The cases that require a license are when you use the Shopify payment gateway or if you earn over $20,000 per month.
However, you still should check your city and country requirements before you start. If you want to open a local business, there will be a process to work with the city's planning department.
How do you sell on Shopify?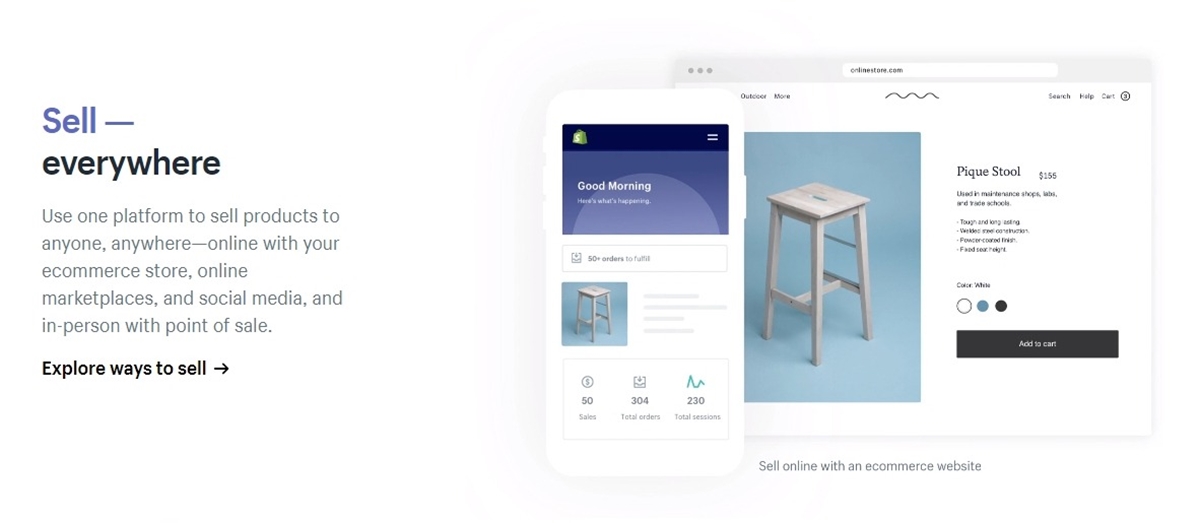 Well, first, you need to design your own Shopify store, upload products on it, and test your website to ensure that both desktop and mobile versions are ready for public view.
Then, you need to promote the heck out of your products. If you're selling online, a customer visits your online store. You can view in real-time in the Shopify admin whether that customer is adding a product to their cart or completing a purchase.
Then if a customer buys from your physical store, Shopify can process the payment for you, and you'll get paid. After payment has been made, you can process the order so that the customer receives the product.
You can access Shopify reports to have a better understanding of who your audiences are. Customers can also opt-in to your email list, which allows you to remarket to them.
Ultimately, Shopify allows you to not only build an online store but give you insights about your business so you can better serve your audience. With so many features, it's basically your go-to tool to building a successful online store.
How much does it cost to have a Shopify store?
This will depend on the plan and additional feature that you want your store to have. While Lite and Plus has its own target customer, the 3 basic plans provide options for small to big eCommerce stores.
Basic Shopify ($29/month): Suitable for small business, but the pricey 2.9% + 30¢ transaction fee can add up fast
Shopify ($79/month): Suitable for fast-growing business, which requires data reports and features like gift cards, abandoned cart recovery. If you have about $5,000 in revenue per month, this is good.
Advance Shopify ($299/month): Suitable for medium to large business, with about $10,000 revenue per month. This comes with shipping service and low transaction fees, better report as well.
Shopify Payment for no transaction fee is only available for users located in Puerto Rico, the UK, Canada, New Zealand, Ireland, Australia, Hong Kong, and Singapore.
You should also be aware of additional fees from apps, domain names, and email hosting which can cost from 10$/ month to several hundred dollars.
Conclusion
If you are serious about building a successful online store, Shopify is for sure an excellent platform that can help you achieve your goal. They are not exactly low cost, but very affordable.
If you just want to make about 200$ per month, then Shopify is probably not for you yet. But if you are aiming for thousands of dollars per month, it is the go-to platform with all you need in one.
So do you want to try Shopify and build your eCommerce empire now? Let me know in the comments and subscribe for more knowledge right in your inbox.
If you enjoy this article, you might also like: