Have you just created a store on Shopify, and now you want to use Klaviyo for your business's email marketing aspect, but now sure how to get started? In this article, I will explain to you how you can use Klaviyo with Shopify. First, you'll need a Klaviyo account so that you can integrate the app with your Shopify Store. If you don't already have a Klaviyo account, you can click here to create one.
This article covers the process of integrating an existing Klaviyo account with Shopify, as well as how to use the "Klaviyo Getting Started Wizard" to connect it to your Shopify store. But first, let's take a look at what Klaviyo is.
What is Klaviyo?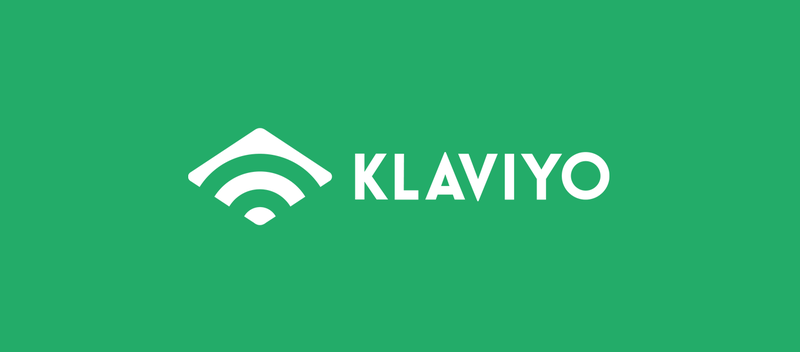 Klaviyo is feature-rich, cloud-based marketing automation and email software designed for eCommerce businesses. It is an easy-to-use solution that helps e-commerce entrepreneurs to configure, aim, optimize and track their Facebook, email, and Instagram marketing campaigns. The platform reduces over-reliance on conventional resources, such as spreadsheets, which promote efficient segmentation.
Here are some of the useful features that you can get from Klaviyo:
List segmentation. Klaviyo enables you to segment your subscriber list based on a number of criteria, such as their actions on your website, location, and open rates.
Target your subscriber list with Facebook ads. By connecting to the two platforms, you can target ads to your subscribers who are also on Facebook.
Set up automated email campaigns. By using various conditions and behavior set-ups, you can create email flows for any interaction scenario your subscribers have with your business.
User-friendly email builder. You don't need tech skills to build automation workflows, email templates, or add sign-up forms to your website.
Klavito's integration with Shopify is comprehensive. Klaviyo uses data from your Shopify store and sends abandoned cart emails to your customers automatically. It also produces customized product reviews and offers post-purchase engagement promotions.
Initiating the integration
Klaviyo Getting Started Wizard
This step is for people who don't have a Klaviyo account yet. This link will take you to the Klaviyo website where you can see the sign-up form and create your Klaviyo account.
Fill in the sign-up form and click on "Getting Started".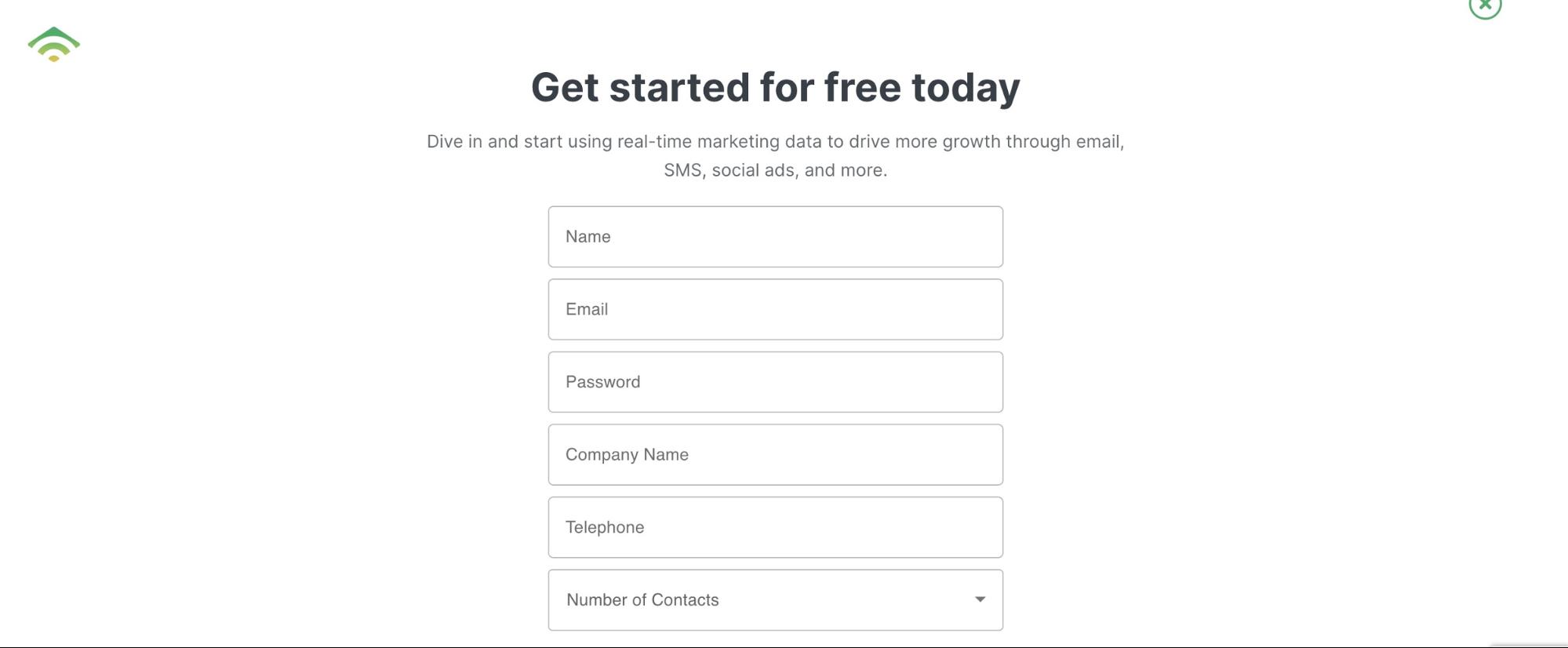 The Klaviyo Getting Started Wizard will guide you through the settings you need to apply for your Klaviyo account. One of these settings is integrating your account with your Shopify store.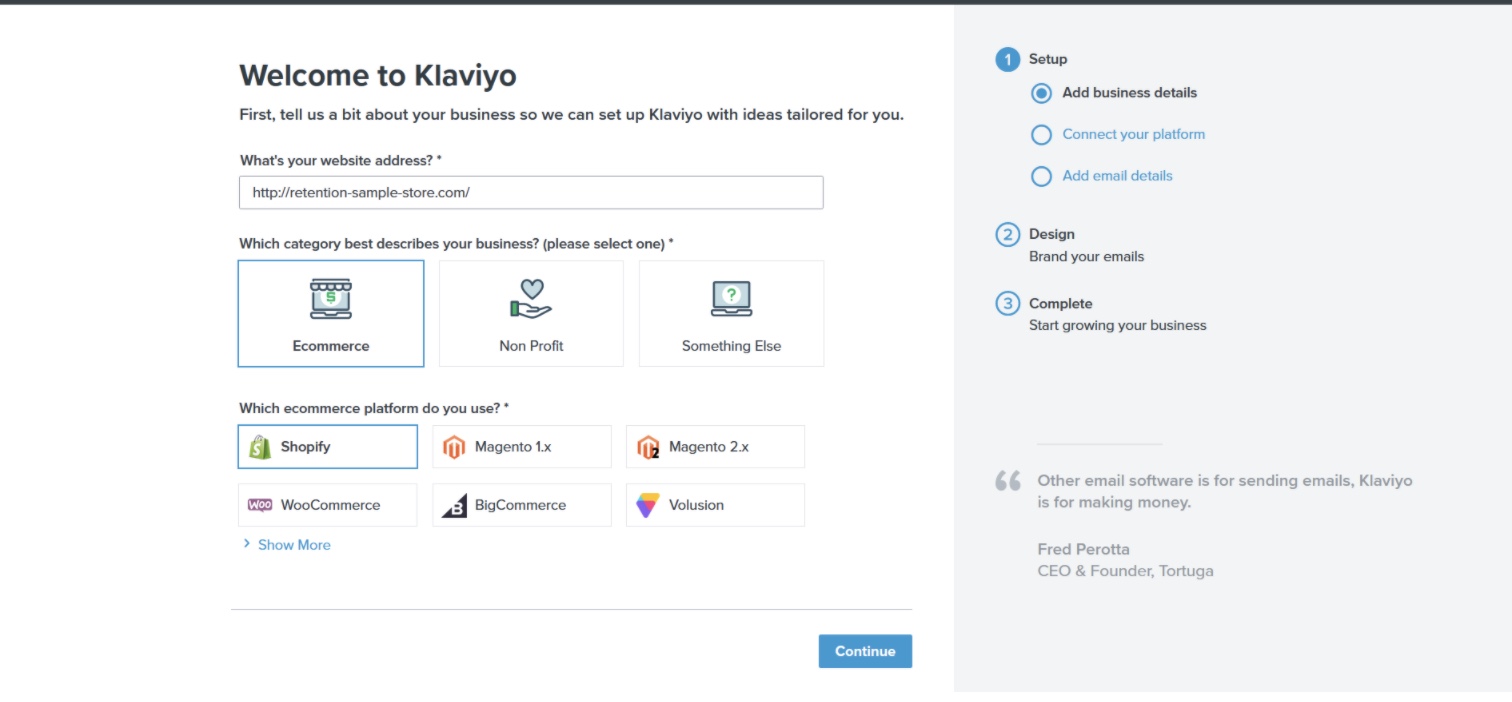 Provide your website domain, choose your business type and the eCommerce platform you're using (it's Shopify in this case), and click "Continue".
In the next step, you need to provide the myshopify.com URL of your website and click "Connect Shop account."
In case you don't know where to find this domain, you can go to the Online Store > Domain; the domain is under the "Primary Domain" area:

Return to Klaviyo, enter the Shopify URL, and click "Connect Shopify Account."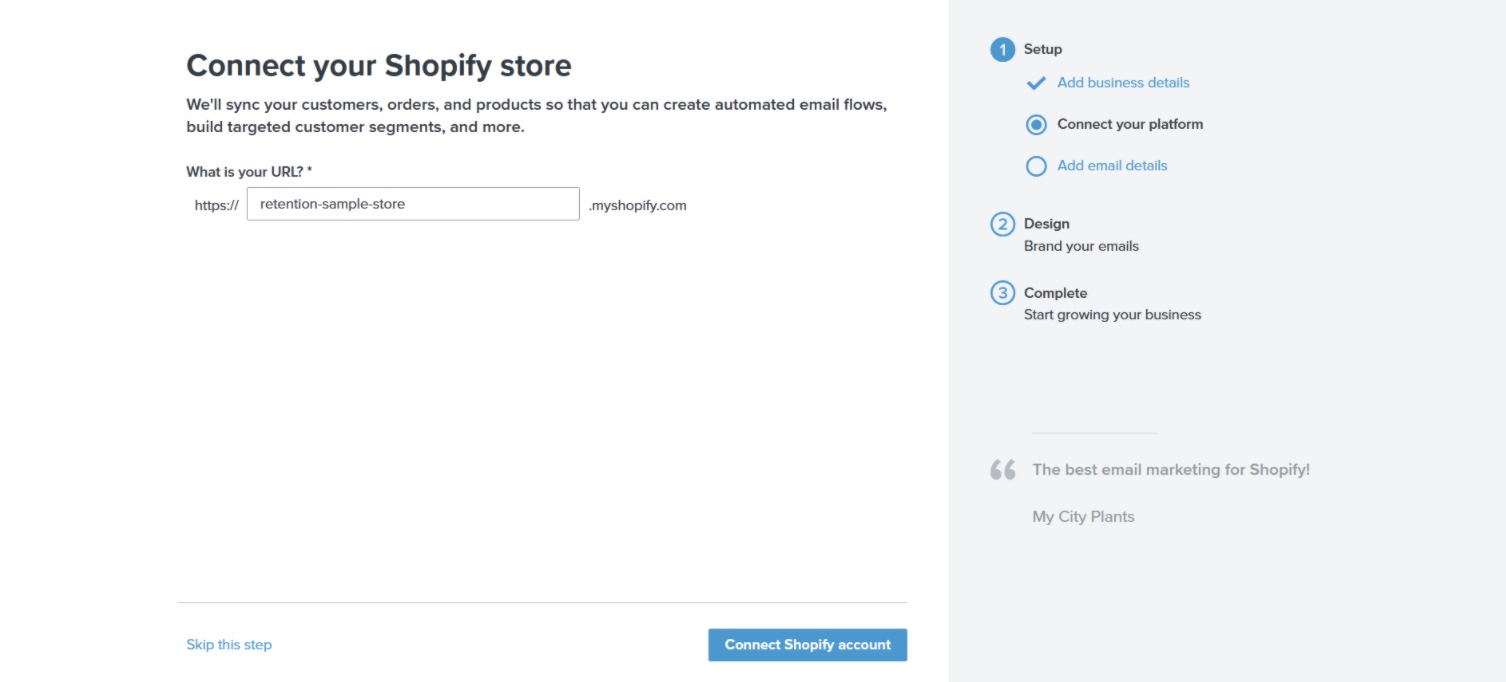 You will be taken to Shopify to confirm your integration. After you complete this step, you will be brought back to Klaviyo and get a confirmation that your integration is completed.
After you have finished all settings in the Getting Started Wizard and logged in to your Klaviyo account, you can go to the "Integrations" tab in the Klaviyo dashboard where you will see the "Enabled Integrations" tab.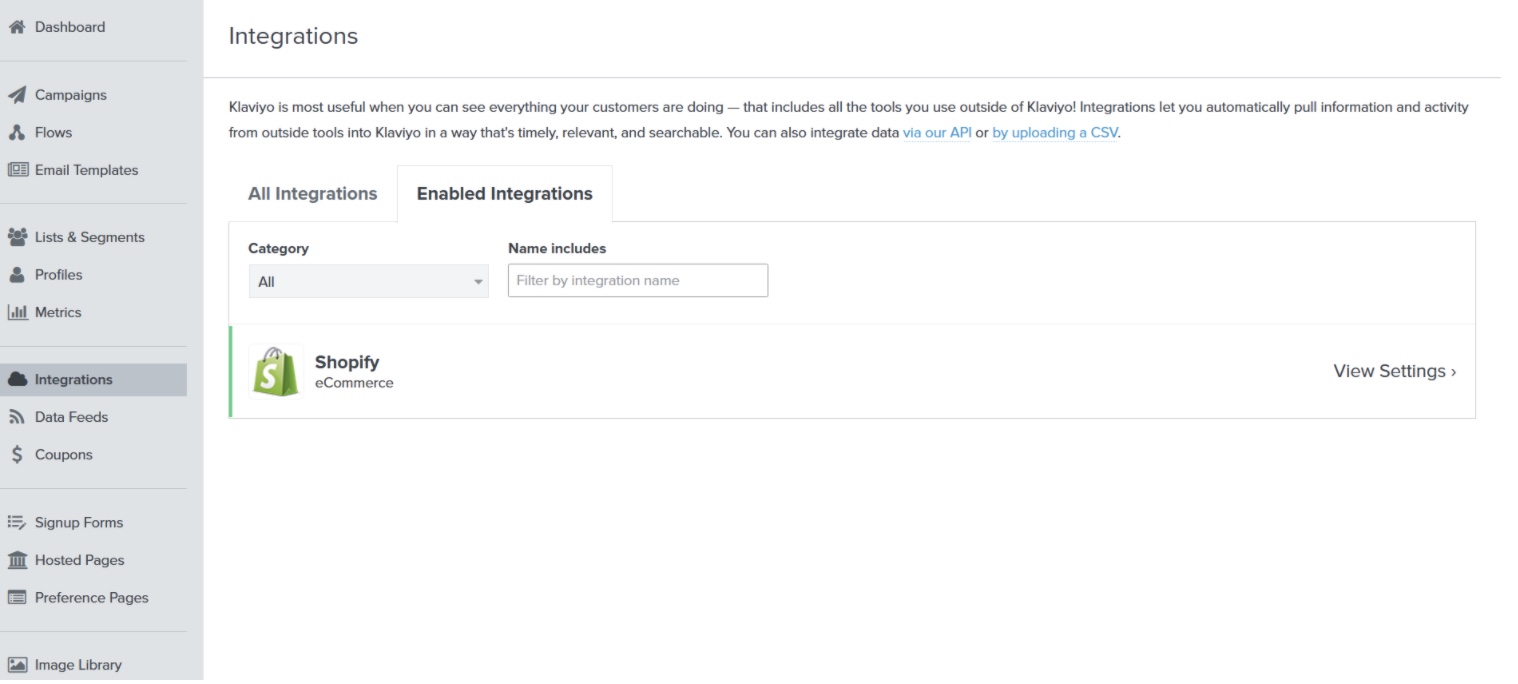 If you click on the "View Settings" dropdown at the bottom right corner, you can see and adjust additional settings that are essential for this integration. These settings are listed in more detail in the next section of this tutorial.
Klaviyo's Integration Tab
This step will show you how to integrate Shopify with your account through your Klaviyo dashboard's Integrations section. You can find this tab in the sidebar of Klaviyo. You can find this tab in the sidebar of Klaviyo.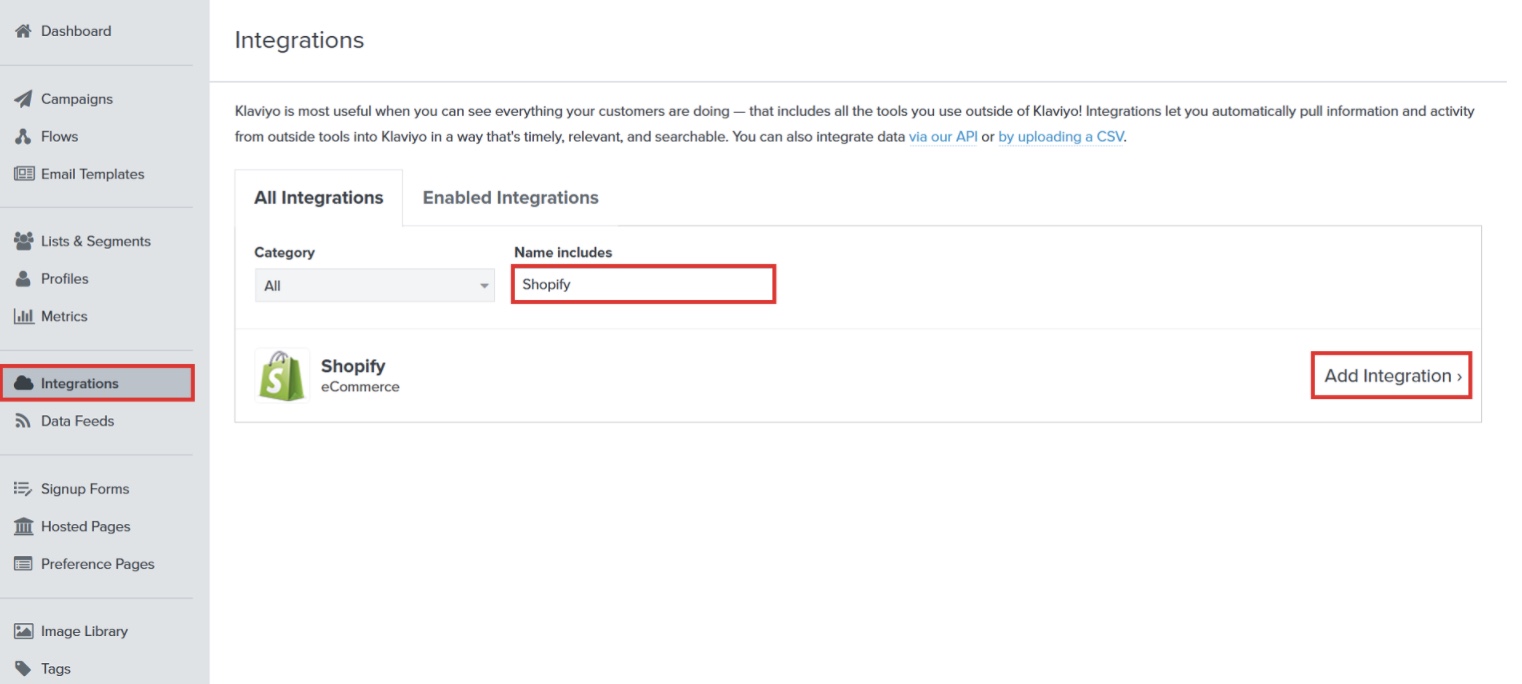 You will see two tabs, "All Integrations" and "Enabled Integrations" in the "Integrations" section. The "Enabled Integrations" tab is for integrations that have already been built-in Klaviyo. The "All Integrations" tab includes all the applications that can be integrated with Klaviyo.
Write "Shopify" in the search bar of the "All Integrations" tab, and when you find the app, click the "Add Integration" button to start the integration with your Shopify store.
There are some other settings on the next page that you need to finish before you can connect your Klaviyo account to your Shopify store.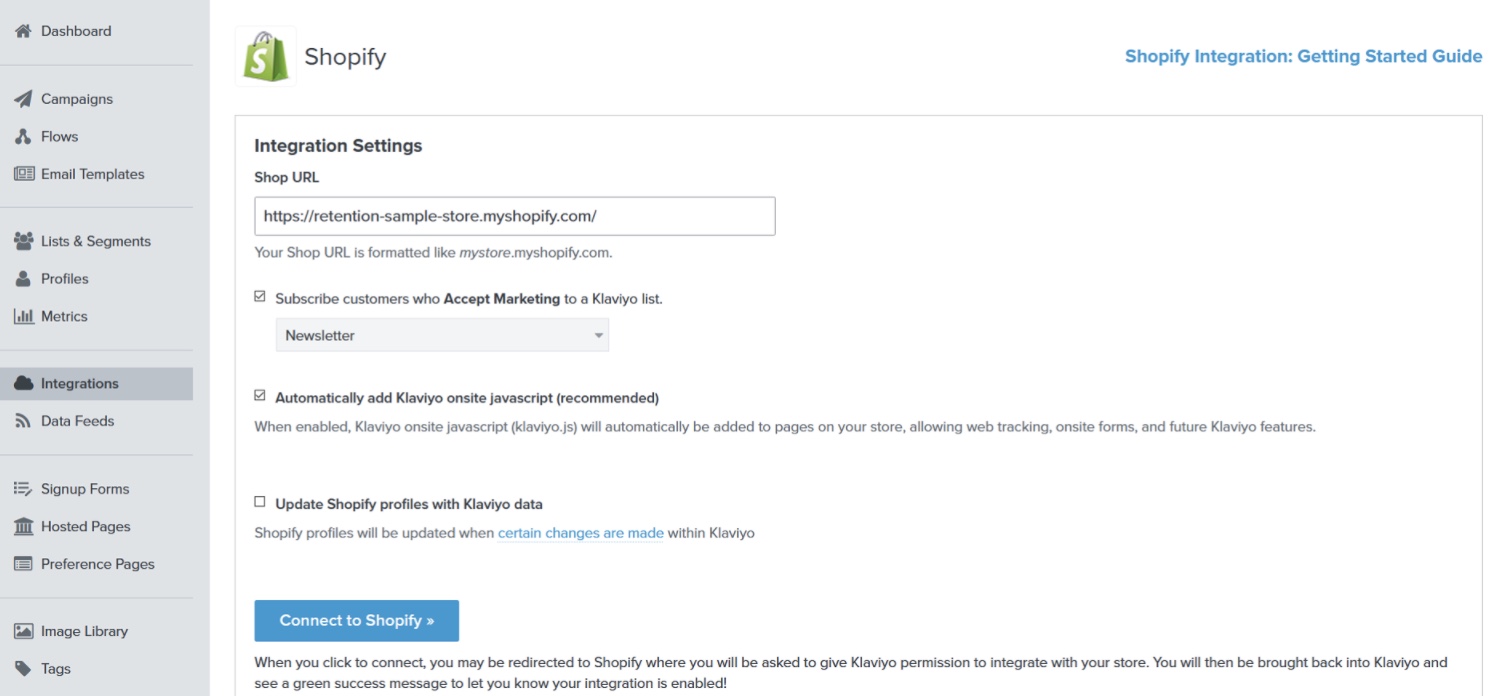 Integration Settings
Shop URL: As seen in the image above, the URL of your store needs to be added in this area. You can find the URL by logging in to your store.
Subscribe customers who subscribe to the Klaviyo list: make sure that you enable this feature. This is for people who place orders, initiate checkout, or subscribe to any Shopify built-in opt-in type. When they do any of these actions, their email will be captured and put in a list you created in Klaviyo. Remember that this is only for people who agree to get your emails. If they choose not to accept emails from you, they will not be included in any Klaviyo list, and you can only see them in the "Profiles" tab. They will still exist as a profile in Klaviyo, with a "Accept Marketing = False" label, and will only receive transactional emails.
Automatically add Klaviyo onsite javascript (recommended): it is highly recommended to enable this feature. This will automatically install all the scripts you need in your store to allow web tracking, on-site forms, and other Klaviyo features. You should only disable this if you manually incorporate Klaviyo into the Shopify Theme code, which may require a web developer to help you out with.
Sync Klaviyo data with Shopify data: Turning on this option will import subscribers' information from Klaviyo into your Shopify data. If the subscriber information you have amassed in Klaviyo is recent and you want to bring it into your Shopify, you can enable this choice.
After finishing these settings, click the "Connect to Shopify" button and confirm your integration. It's generally a good idea to use a Shopify Owner account rather than a Shopify Staff Member account to prevent potential problems with permissions, especially if your staff changes their access permission or leaves your company.
If all has been set correctly so far, you will be redirected to Shopify to confirm the integration for the last time. You will see a page that contains details like this.
Click "Install App" to proceed.
If all is done correctly, you will be taken back to Klaviyo where you will see a confirmation for the completed integration.

Klaviyo now will start syncing its data with Shopify and depending on how much data you currently have in your Shopify, the syncing will take from a few minutes for new stores to a few hours (or even days) for large Shopify stores with a lot of historical data.
Understanding Shopify Metrics
There are several metrics created in Klaviyo after the syncing is complete. You can see all of these metrics in the "Metrics" section in the Klaviyo dashboard.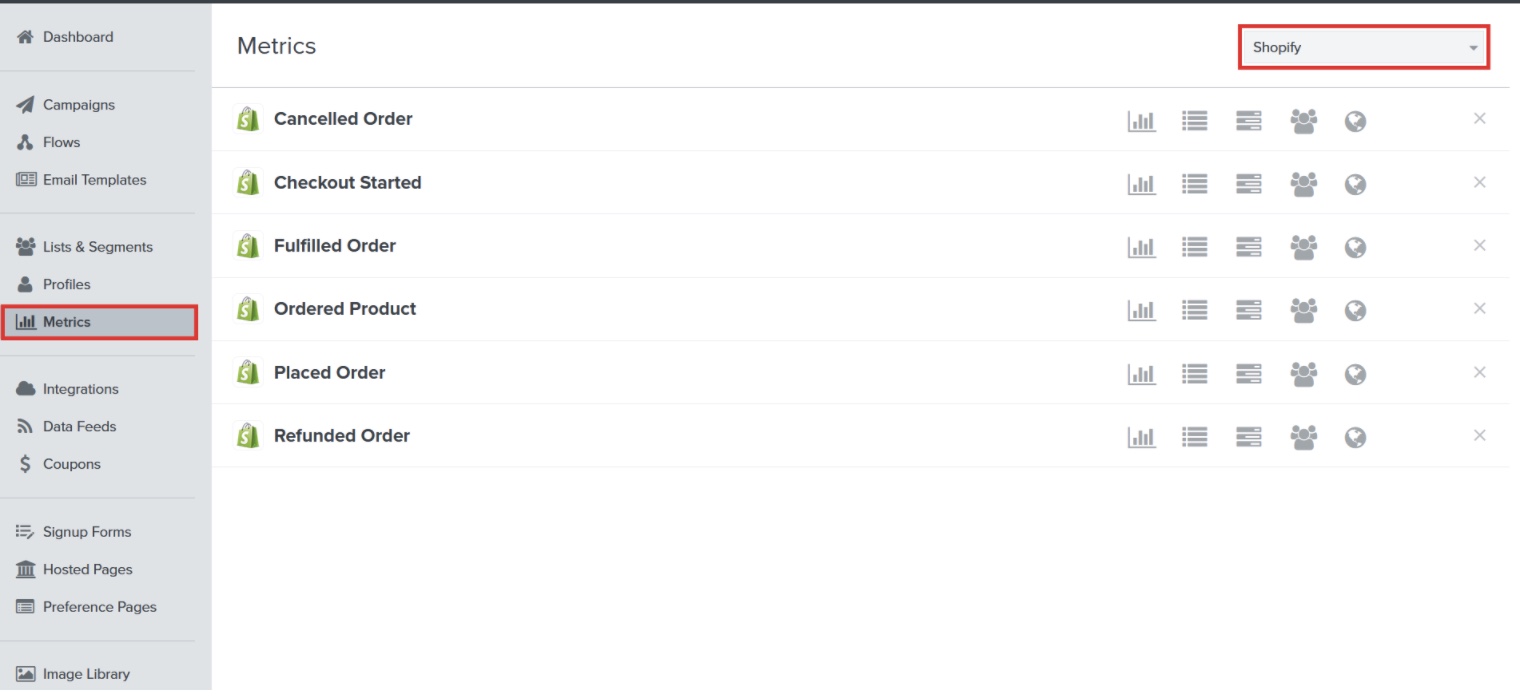 These metrics are updated in real-time and can be used to build email workflows or customer segments.
There are more specific data (the little icons on the far right of each bar) that you can view within these general metrics, including:
Charts. The first icon is charts that keep track of events over time. You can pick a time frame, view by day, week, or month, display filtered data for certain items or other parameters.
Activity Feed. This second icon is an Activity Feed that shows events in real-time. If an event is caused by a visitor, such as starting a checkout, you can see the event in the "Activity Feed" metric of the "Checkout Started" metric in real-time. Depending on the metric, you can see additional metric details, such as products in a cart, event properties, etc.
Cohorts. The next third icon is where you can see month-to-month progress grouped over time by the month of the user. You can also choose from a drop-down of different pre-made reports to visualize data with different parameters.
Best People. Klaviyo's algorithm scores people based on their past actions and will generate a list of the best people for each metric by the number of total events calculated or the value generated.
Activity Map. The world map icon is where you can see events for each metric on a world map which can be zoomed in and out regionally. You can track events in Real Time, Last Day, Last Week, or Last Month.
Setting up the "Active on Site" and "Viewed Product" Metrics for Shopify
There are two very important metrics that come with the integration that doesn't come as default but as custom APIs which need to be set up. Those are:
Active on Site
If you have activated "Add Klaviyo to the JavaScript site automatically" during the Shopify integration process (mentioned above), this metric will automatically become active after the integration is complete. This will monitor the activities of your current subscribers if they visit your website.
Viewed Product
To set up the code for the Viewed Product metric, you need to go to the top right corner in your Klaviyo dashboard, and in the dropdown menu click on "Setup Web Tracking."
This metric also keeps track of the actions of your subscribers as they visit your website, but at the product level. It will monitor which products subscribers see as they visit your website. You will need to manually set up the tracking code in your Shopify Theme if you want to activate this metric.
To set up the code for Viewed Product Metric, go to the top right corner of your Klaviyo Account and choose "Setup Web Tracking" in the drop-down menu.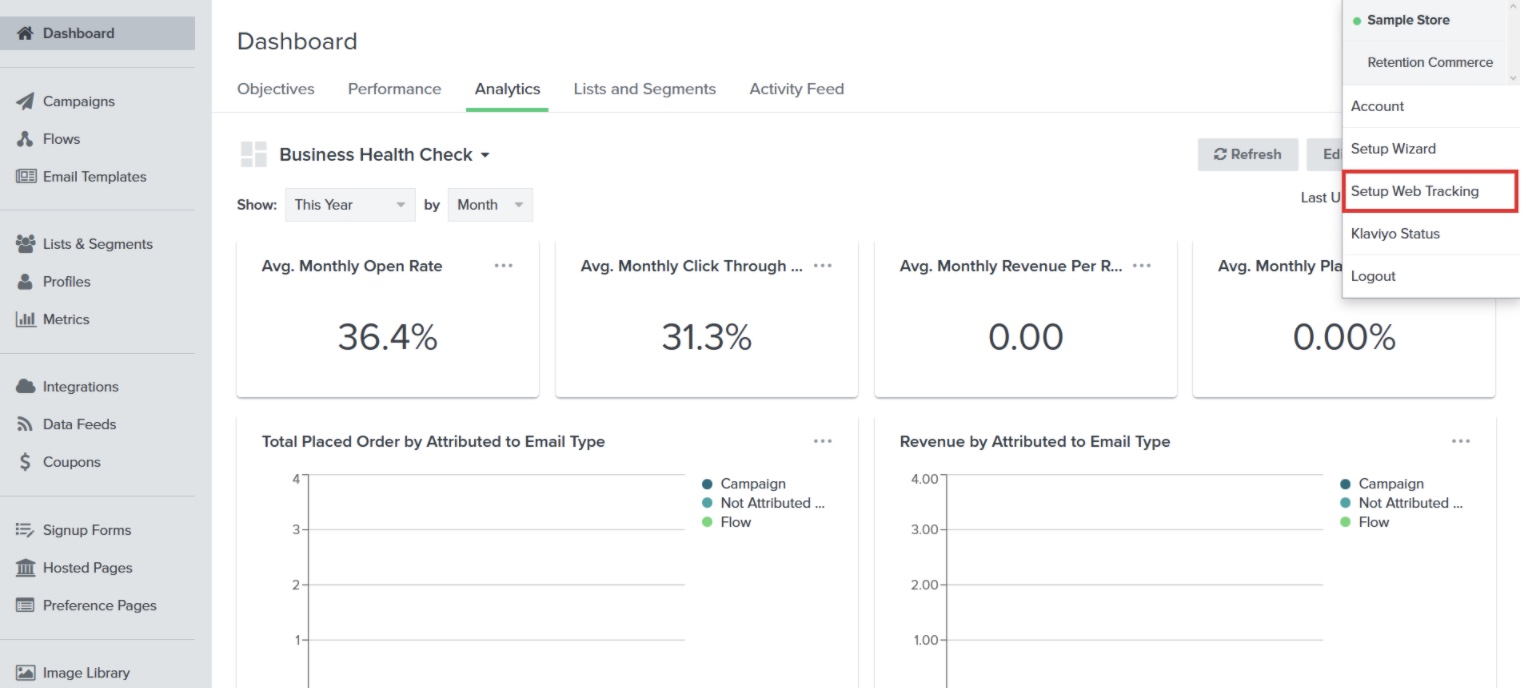 Then copy the code: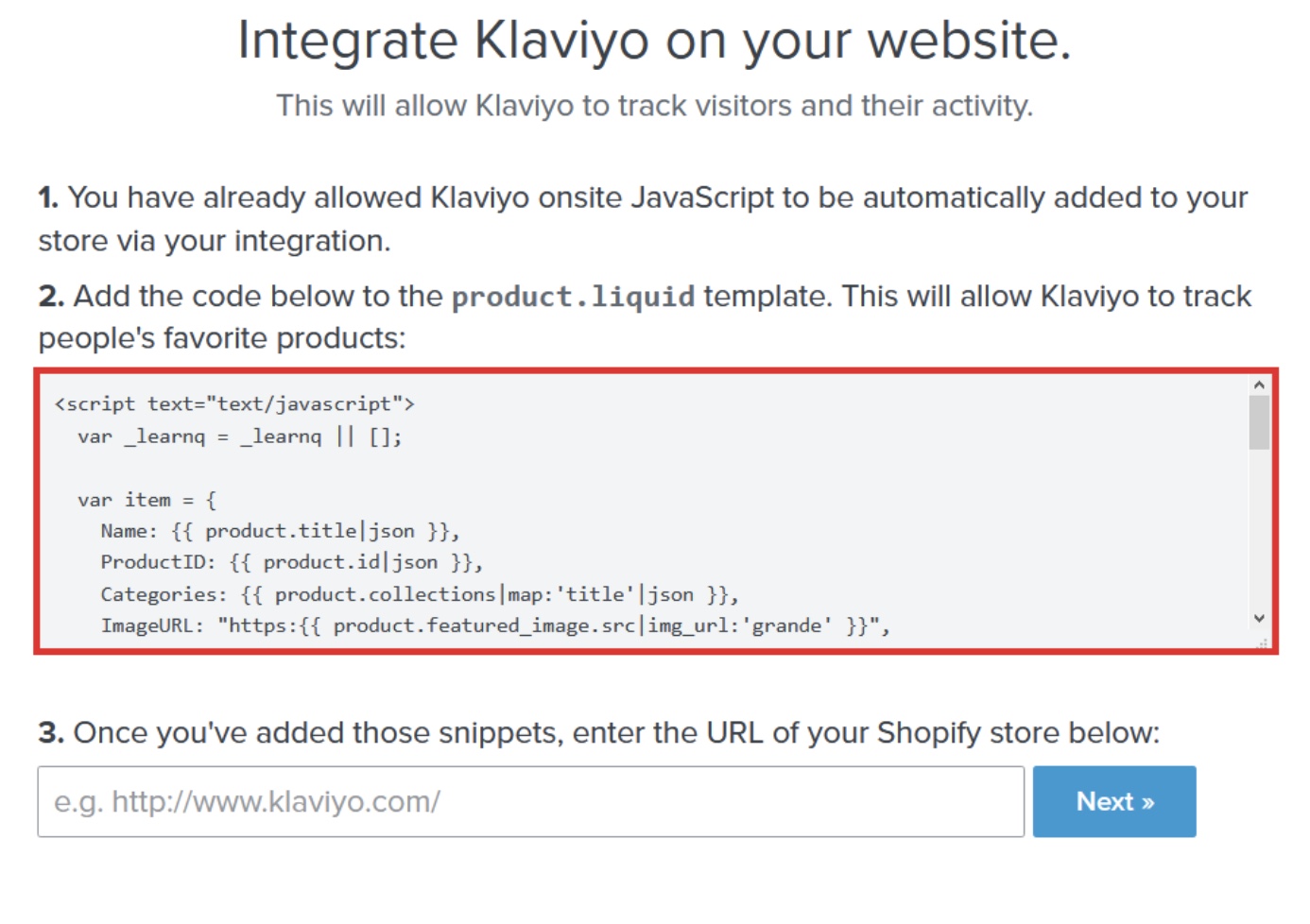 Then go to your Edit Code section of your Shopify store.

Go to the product.liquid template and at the bottom of the existing code, paste the Klaviyo code and click Save.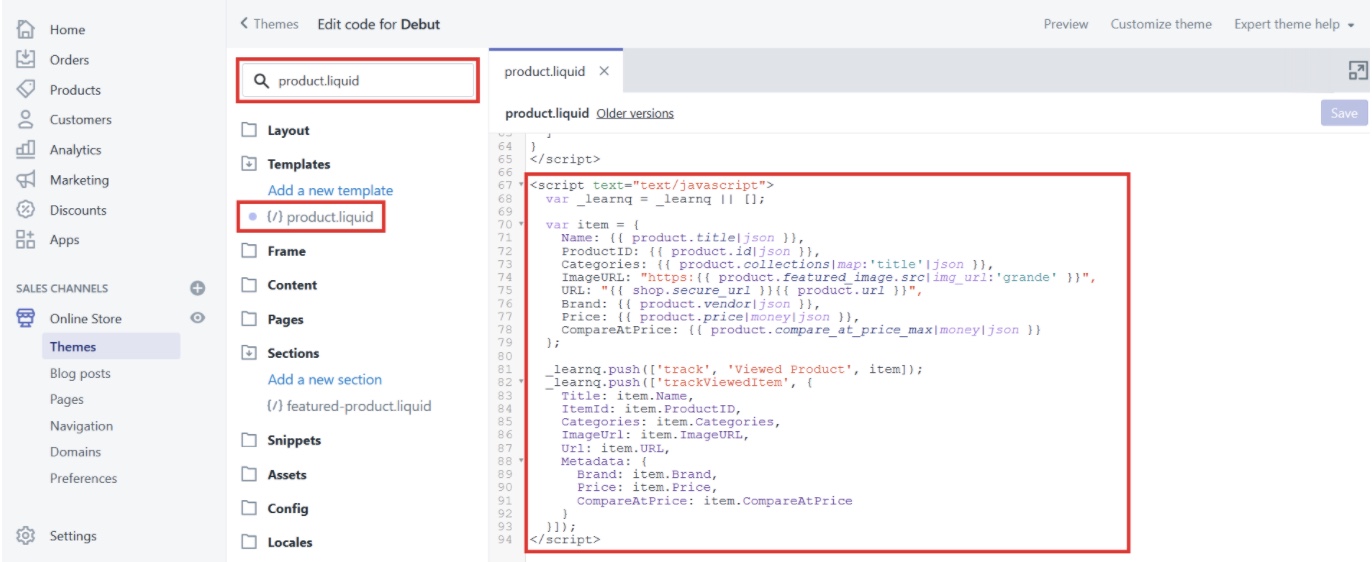 After finishing this step, you need to return to Klaviyo and input the URL of your Shopify store into the empty field and click "Next."

If you set up the code correctly, you will get a green button that says "Data Received. Continue."

This means that you have successfully added the Viewed Product code, and now Klaviyo will start tracking "Viewed Product" events.
Alternatives to Klaviyo
AVADA Email & SMS Marketing
Best SMS & Email Marketing Service for small businesses and start-ups ($9/month).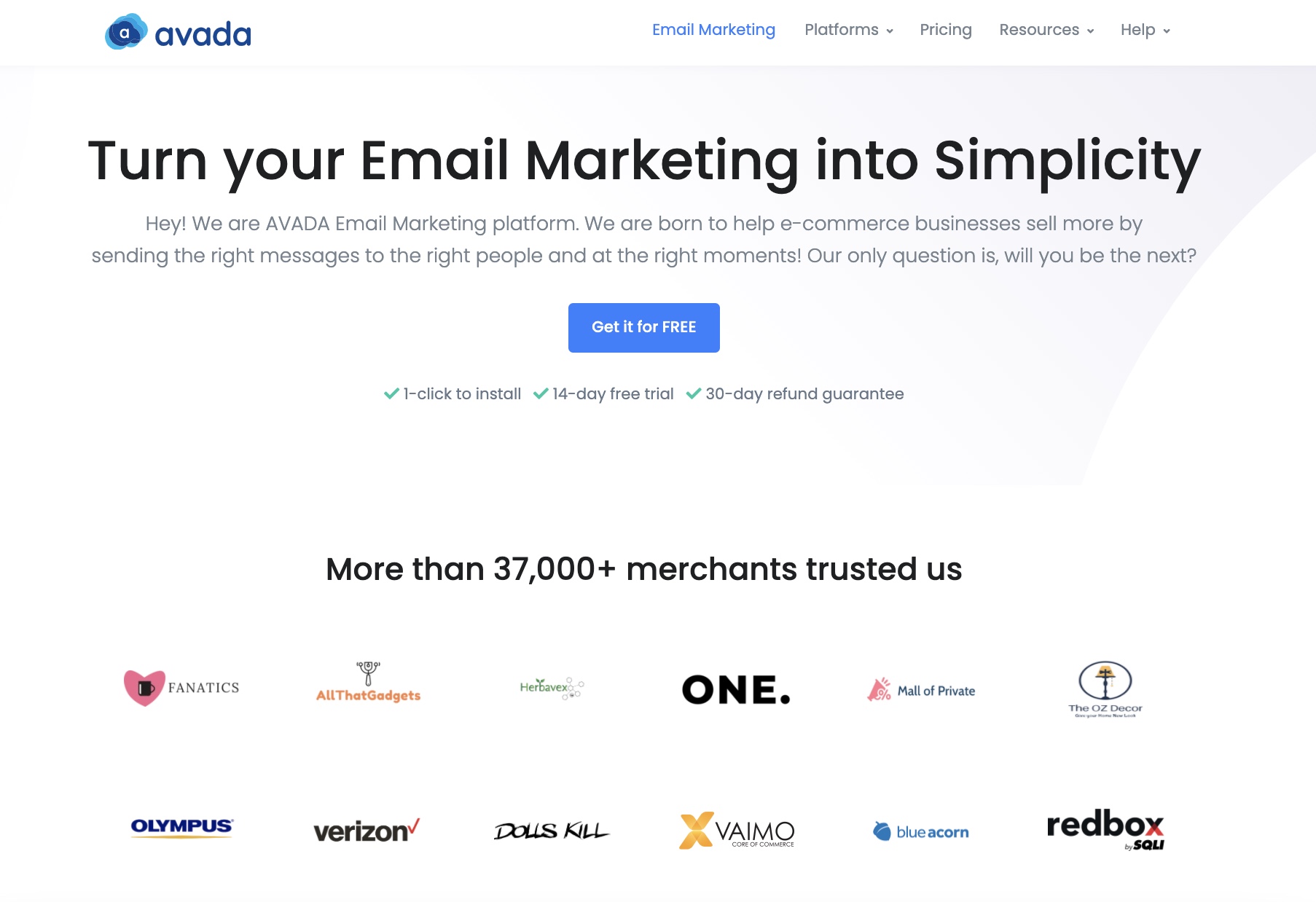 AVADA Marketing Automation simplifies digital marketing by unifying both email and SMS marketing in one platform. AVADA Email & SMS Marketing is a product of AVADA Commerce, the Shopify division of Mageplaza who is the number extension builder for Magento with more than 82,000 businesses using their extensions around the world. AVADA Email & SMS Marketing is built exclusively for eCommerce stores that are hosted by Shopify.
AVADA Email and SMS Marketing can help you deliver targeted messages to your email subscribers You will have access to a drag-and-drop email creator and dynamic email templates for easy email creation, as well as features for audience segmentation, email personalization, email automation, data analysis, and so on. AVADA Email and SMS marketing are already very user-friendly, but if you need help, you can rely on its prompt 24/7 customer service with any problem that you may have while using the app.
With their $9 per month Pro Plan, you can have a storage of 1,000 contacts, send unlimited emails per month and get access to all of the automation features. These include interactive sign-up forms and email workflows, SMS features, and all advanced features.
AVADA Email & SMS Marketing is one of the best options for small companies and start-ups who want to successfully target (and re-market) their customers. You can get started with their forever free trial, and their paid plans start with $9 a month.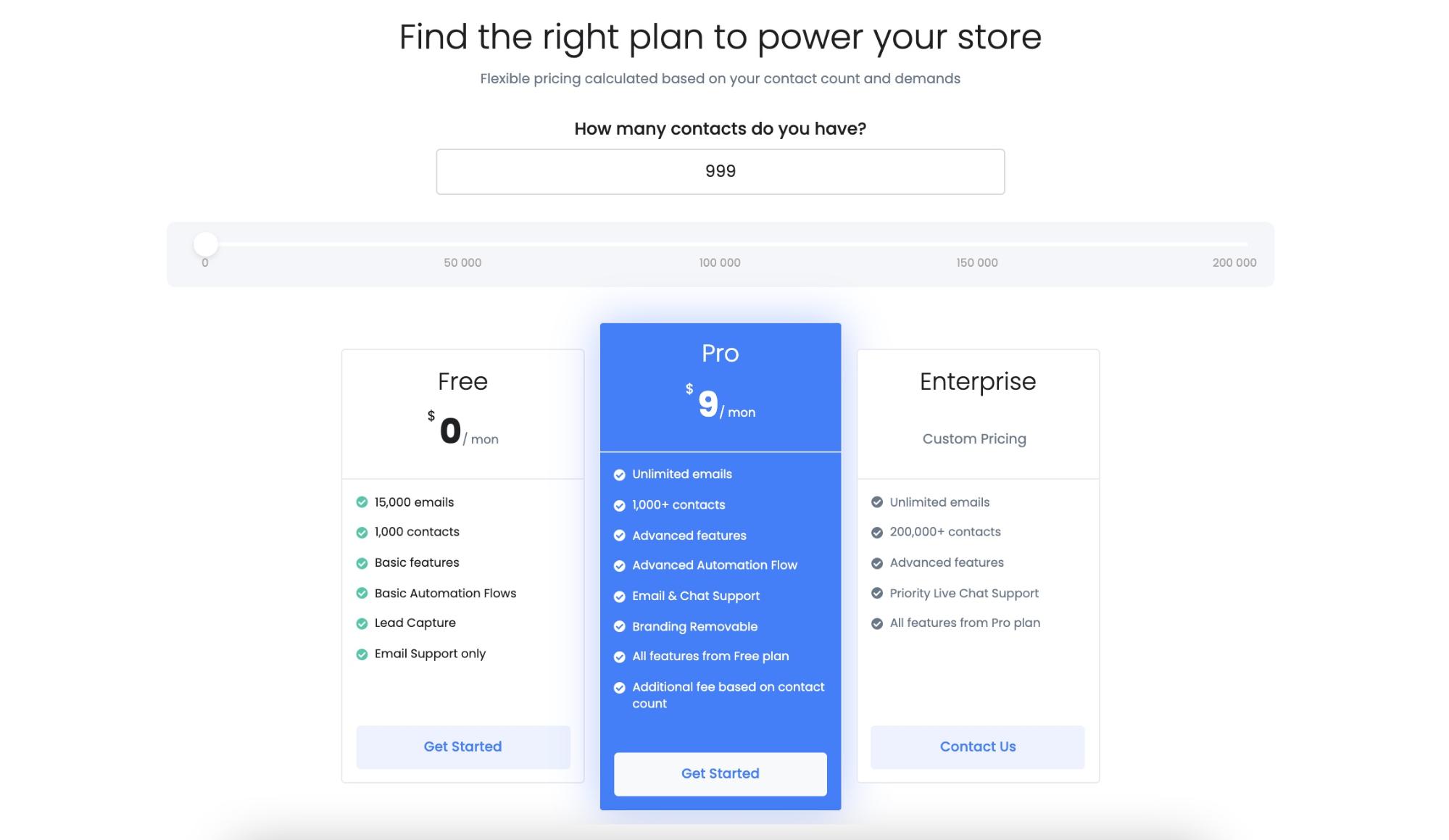 Sendinblue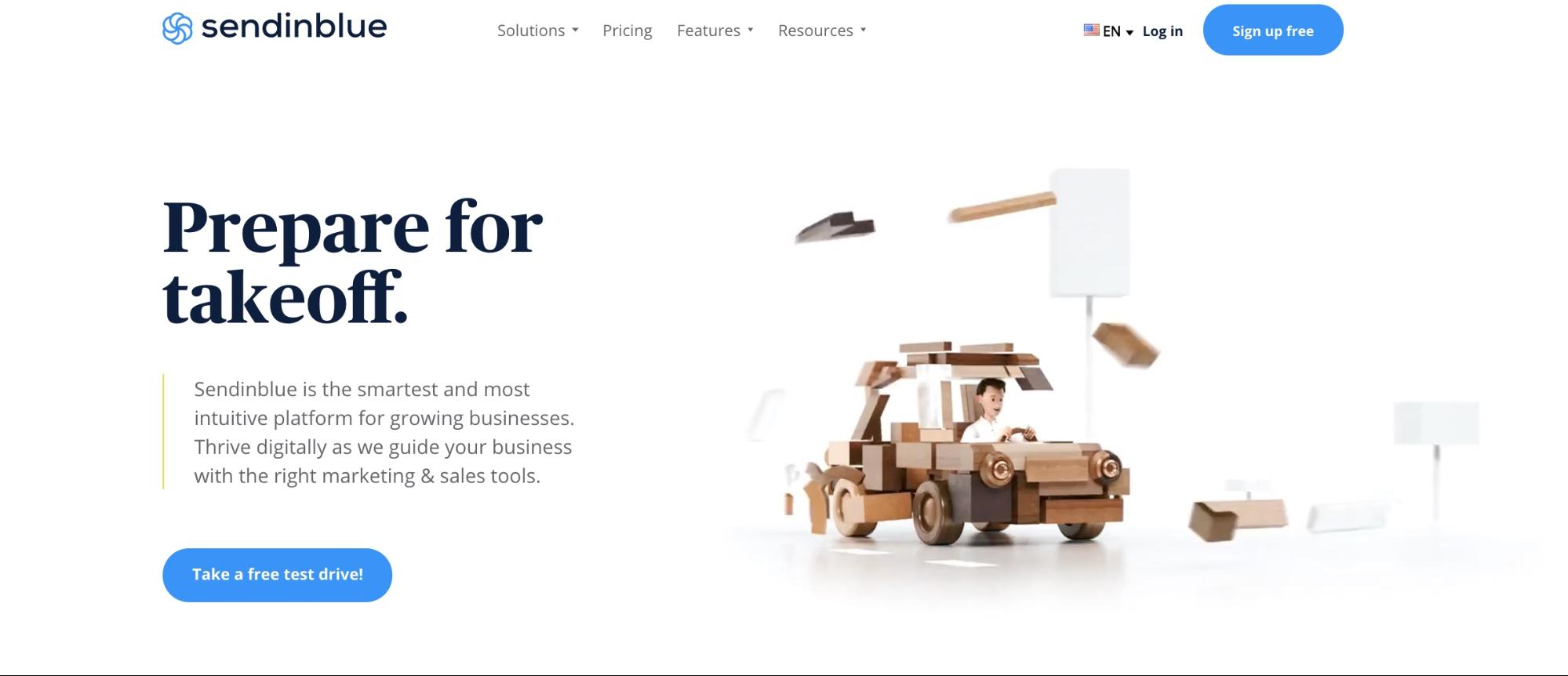 Sendinblue is an easy-to-use email marketing tool with a free plan that allows unlimited contact and sends 300 emails per day. If you're serious about expanding your list, you can upgrade to their Lite plan, which starts at $25 a month and provides unlimited contacts and up to 10,000 emails a month.
Sendinblue is built with ease of use in mind. Its simplicity helps you to quickly build clean and professional emails, automate welcome emails and opt-in website forms. They also provide live chat and CRM in their free plan, which includes a single automation workflow for up to 2,000 contacts.
Sendinblue also uses AI to predict and send emails at the right time of day in order to optimize interaction. You also can view real-time statistics with reports that include metrics such as open rates, deliverability, click-through rates, and heat maps. One of their best features is email automation workflow. This helps you to set up triggers and bring your subscribers into custom workflows based on how they interact with your website and email.
These automated triggers create actions like sending emails and SMS messages, segmenting your contacts into separate lists, and updating their information in your database. If you want advanced email marketing automation software on a budget, you can get started with their Lite Plan for $20/month and save 10% on annual plans.
These automated triggers create activities such as sending emails and SMS messages, segmenting your contacts into different lists, and updating their details in your database. If you want advanced email marketing automation tools, you can start with the $25/month Lite Plan and save 10% by paying annually.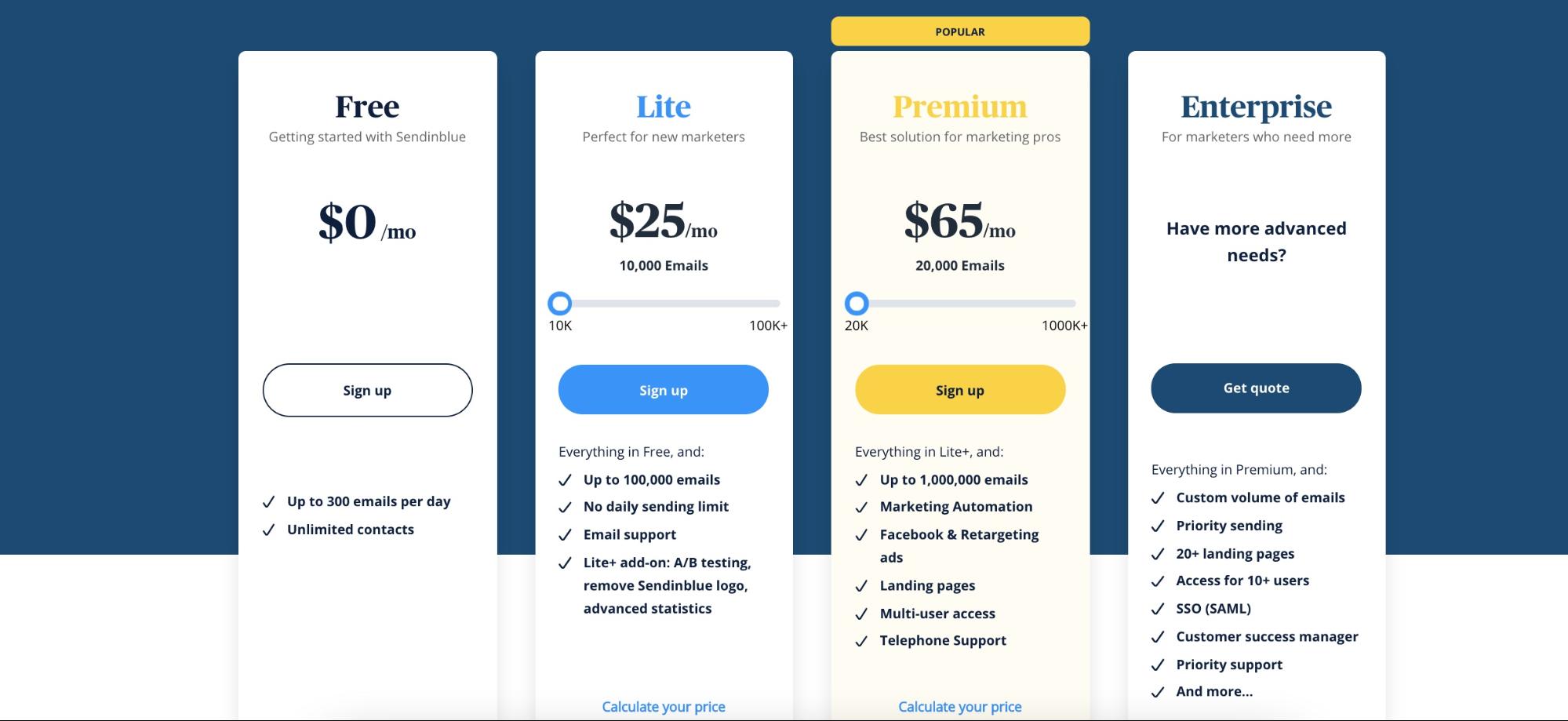 GetResponse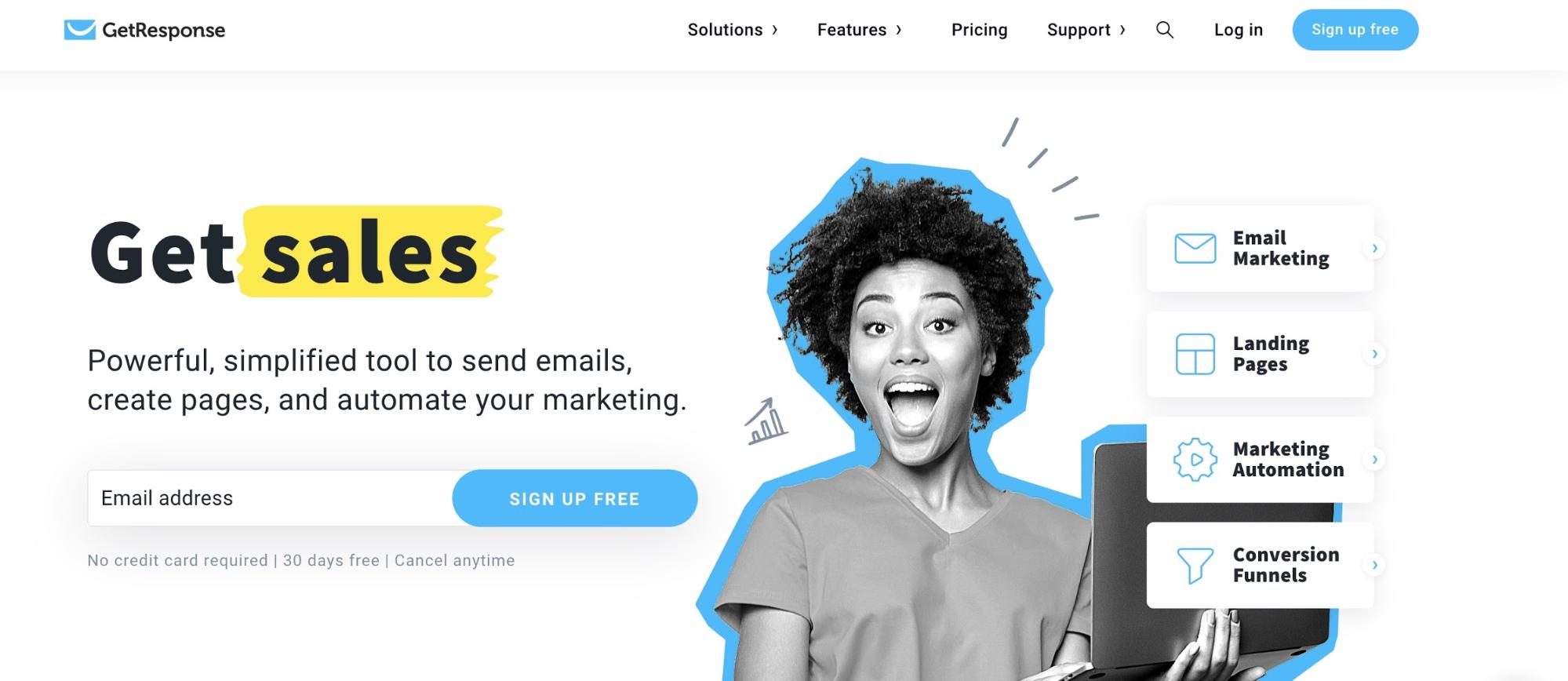 GetResponse is an all-in-one online marketing tool that can help you grow your business. They deliver email marketing campaigns, high-volume landing pages, and webinar tools to support the marketing efforts. The main highlight here is Autofunnel – a tool with 30+ ready-made landing pages, email templates, and sales-generating sequences. If you want to drive lead generation, product sales, or webinar registration, Autofunnel is the solution.
Overall, GetResponse is one of the best email marketing tools to create automated sales funnels and landing pages. You can get started with a 30-day free trial and upgrade to their $15/month Basic Plan. You also save between 18 and 30% with annual plans.
One problem is some of their 500 templates look a little out of fashion, and they've got middle-of-the-pack deliverability compared to others on this list. However, one of the greatest strengths of GetResponse is its smart automation software. Using these functions, you automatically create several advanced conditions for segmenting your lists. Their drag-and-drop builder is also very user-friendly and makes the design of high-quality emails a piece of cake.
Overall, GetResponse is one of the best email marketing software to create automated sales and landing pages. You can start a 30-day free trial and move to their $15/month Basic Plan. You also save between 18 and 30 percent by paying annually.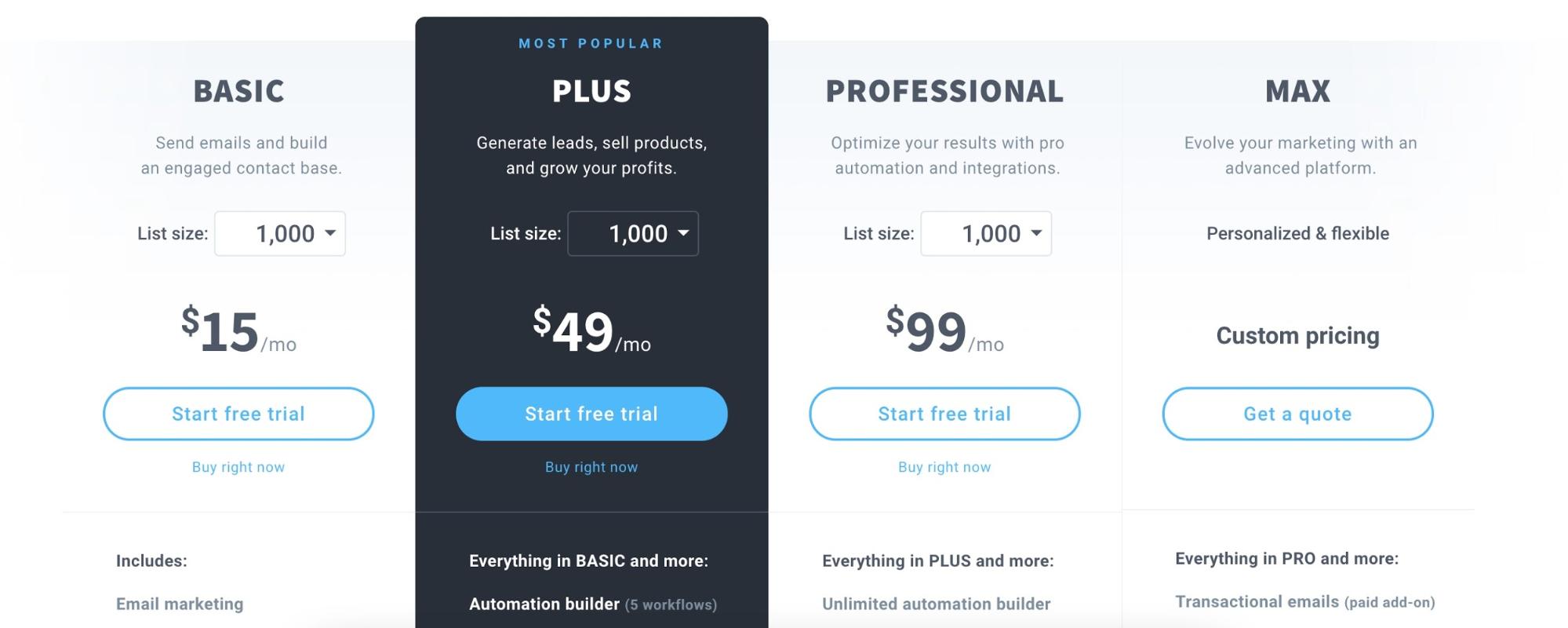 Final words
After you have finished everything mentioned in this article, you will be able to use Klaviyo with Shopify. If there's something important that I missed, please feel free to leave comments below for further discussion. :-)