Are you an eCommerce business owner? Are you thinking of making rules for your own store with specific terms and conditions? Then, congratulations, you are doing the right thing! Many store owners have overlooked this problem, and it can lead to many possible problems in the future.
Therefore, in this article, I'm going to give you a list of the best 10 terms and conditions generators that you can trust. It will just take you a few minutes to protect your business, website, customers with a clear set of terms and conditions. Let's not waste time and jump right in!
What is a terms and conditions generator?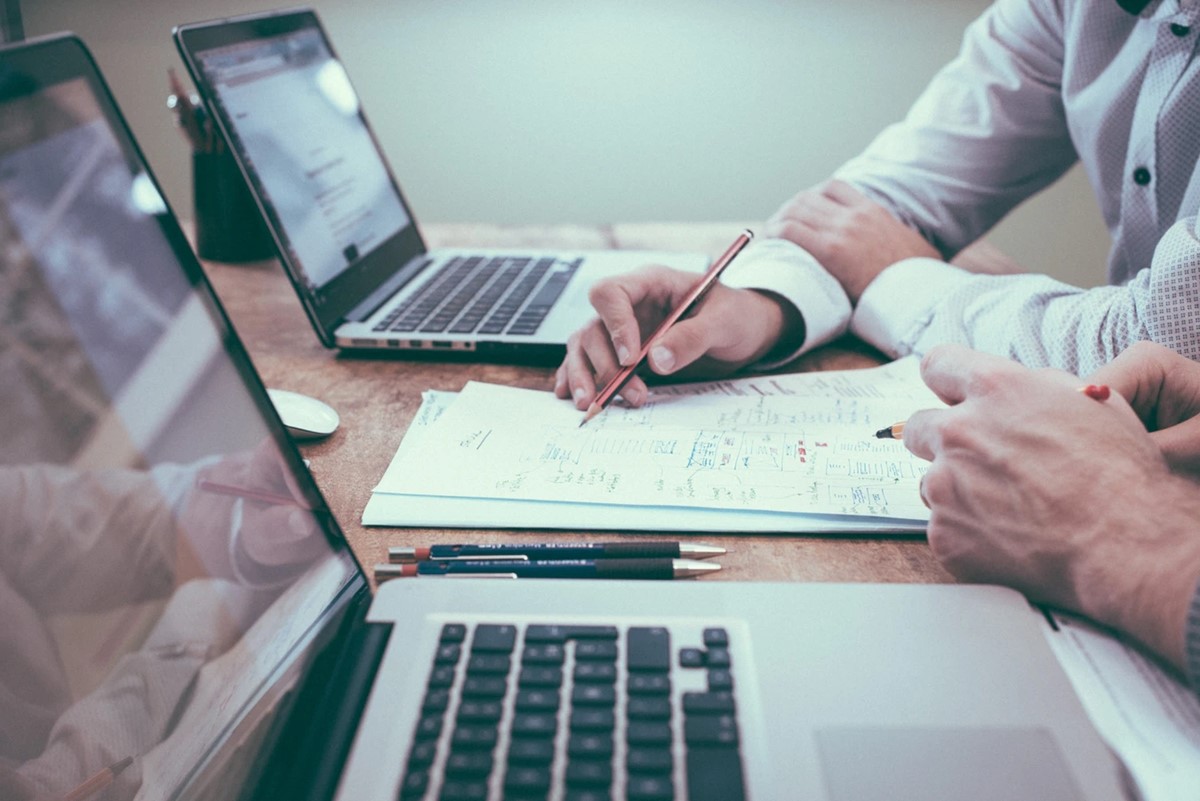 Terms and conditions, also known as terms of service or terms of use policies, is an important document made by a company to outline the rules or duties a person will be obligated to follow if they agree to use a service or product.
A term and conditions can be physical, such as a document placed inside of a safe closet, or it can be online, such as a pop-up when you sign up to have an account on social media. The document generally includes definitions, disclaimers, user rights and responsibilities, and any other policies that the company wishes to make clear with the customers.
It's important that every website or business that offers products or services have a terms and conditions agreement. So terms and conditions generator was made to produce a custom term of service policy template for any business.
Why do you need a terms and conditions generator?
Without a terms and conditions agreement, you can be sued for liabilities at any given time. For any reason possible, your business is at risk if it is not equipped with legal documents. If you don't have clear terms or conditions agreement, you can be held liable for any problems that happen to the end-users. Even if you think your business is safe for the user, a competent lawyer can still bring negative consequences to your business if you are not prepared.
Sooner or later, having a legal terms and conditions document will save your skin. This is where terms and conditions generators become helpful. You can have a ready-to-use template in just minutes and at little cost.
If you are just a small business, then hiring a professional lawyer may be too much to afford. Then a terms and conditions generator is the option to keep your online store safe and prepared. However, if you grow bigger, no automated terms and conditions generator can outweigh the expertise of a legal expert. So, consider hiring a lawyer when you have the budget.
How to choose a good terms and conditions generator?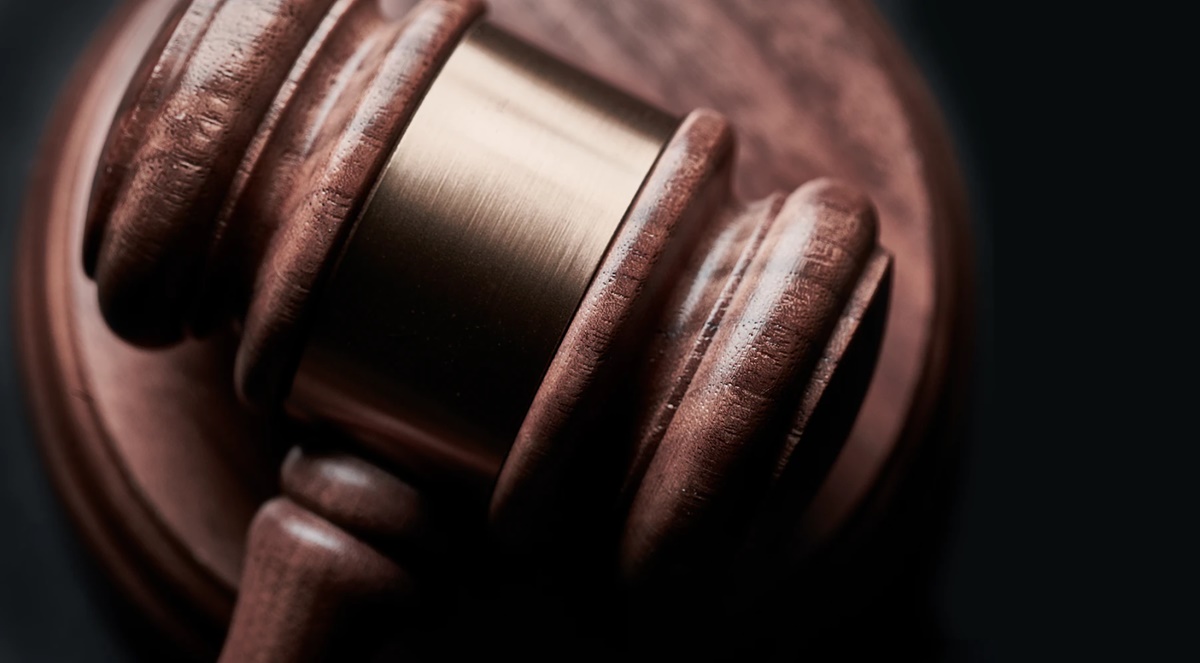 Each terms and conditions are different based on the requirement of each website, so it's difficult to say specifically which policy is essential. However, to make the terms and conditions generator that you are using is legit, check if it can generate the answers for the following questions:
Who are the owners of the website or business?
What will happen if the user does NOT agree with the terms and conditions?
Do you have the option to make changes to the terms and conditions?
Are you liable for any losses or damages?
At the very least, you need to make sure that these basic clauses are included in your terms and conditions generator. For a good terms and conditions generator, it would include many more additional fields, so your store is protected by all legal possibilities.
You Might Also Like:
10+ terms and conditions generators you can trust
After testing and reviewing many top-rated options, I decided to conclude these are the 10 best terms and conditions generators that you can trust:
1. Terms And Conditions Template - free templates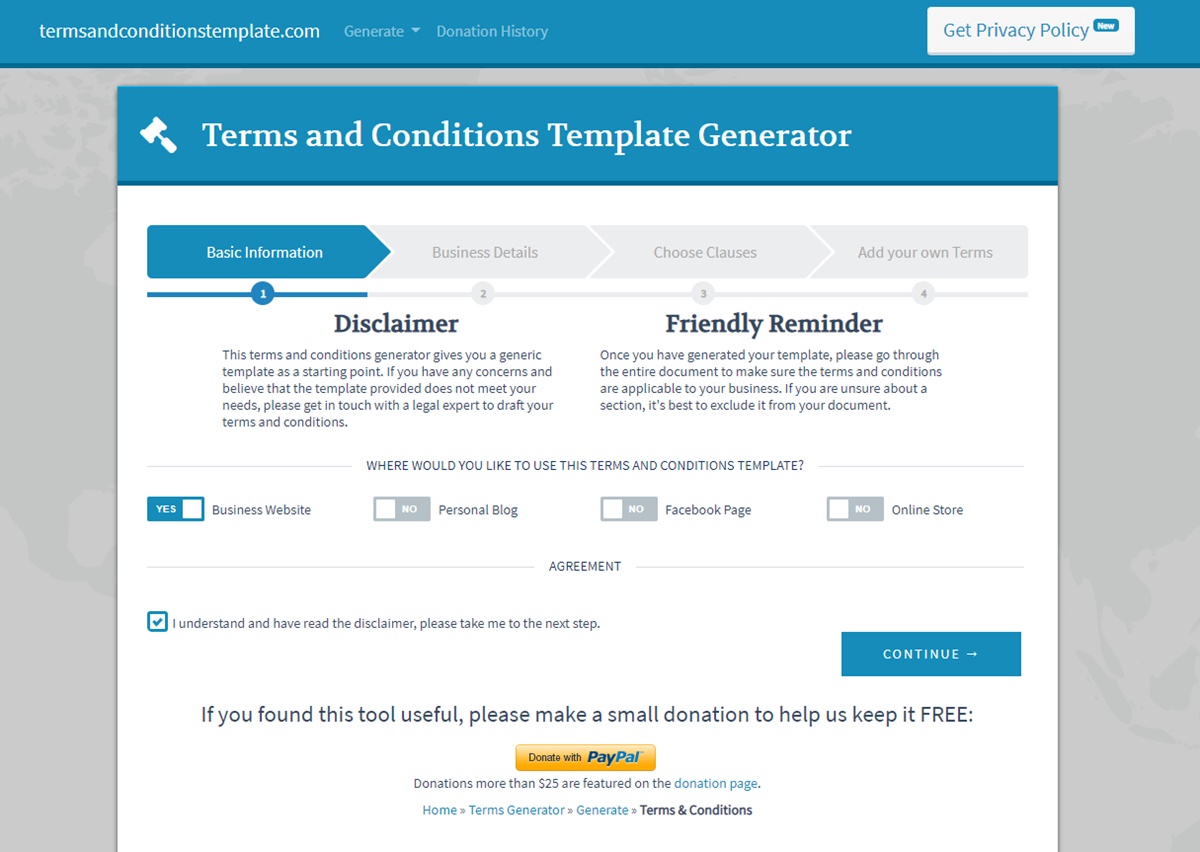 In the modern world, privacy and security is not cheap. So we should really appreciate a free terms and conditions generator like TermsAndConditionsTemplate . There are many websites and tools that only claim to be free but then charge for the full template, but this is different.
The tool is pretty good and, without question, is one of the best free terms and conditions generators for you to use. After providing some business information, you can choose from twelve clauses to generate your business's policy.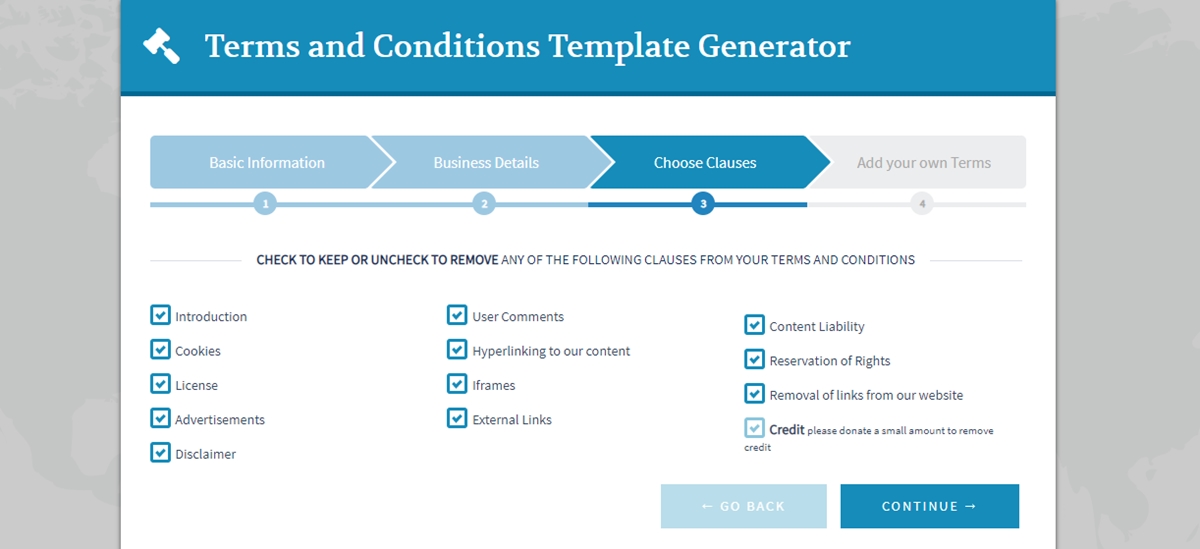 These include terms about Introduction, Cookies, License, Advertisements, Disclaimer, User Comments, Hyperlinking to our content, Iframes, External Links, Content Liability, Reservation of Rights, Removal of links from our website. And you can add your own terms as well.
If you want to remove the generator's credit or simply show appreciation to the free software, there is a PayPal button below on the site so you can donate any amount of money you like. The least amount to donate is $5.
2. Get Terms - Simple generator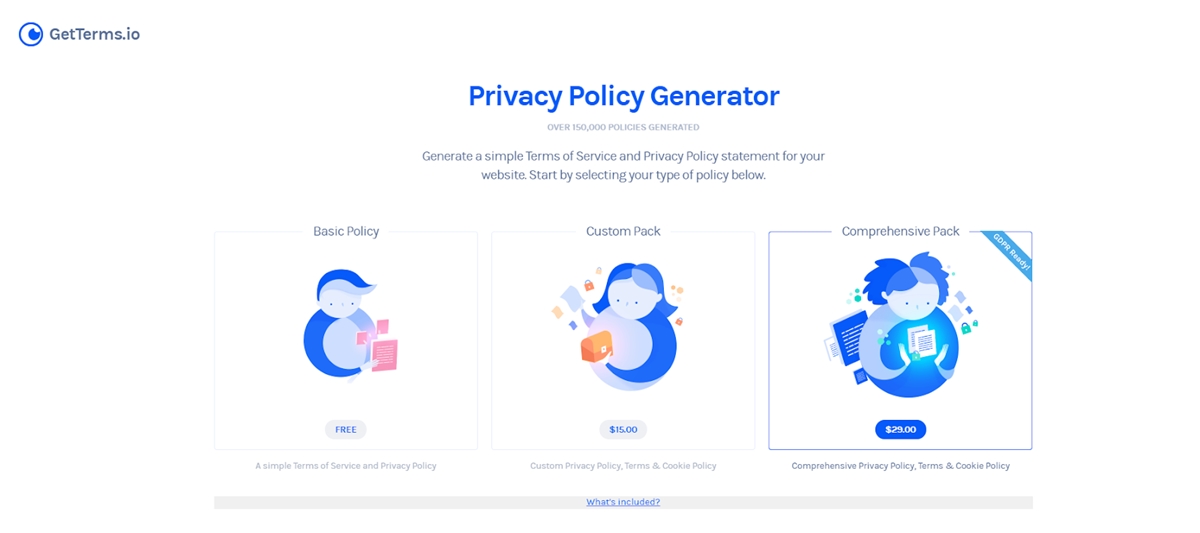 Get Terms allows you to generate a standard terms of service and basic privacy policy statement for your website. You simply just fill out a couple of fields on the website and you can create your own policy, free of charge. The privacy policy and terms of service are included in the free pack with both text and HTML versions. If you want to get more policy, there are two more options available at one-time charge.
The Custom Pack plan generates custom terms and conditions with customizable disclosures for Log data, Third-party privacy, Personal information, and Data officer contacts, and also a Cookie policy. The plan is currently at $15.00.
The Comprehensive Pack contains all the options of the Custom Pack, while being GDPR-ready - a data protection compliance that is very important to eCommerce businesses. There is also advanced customization for Data footprint, Business transfers, and User generated content. The plan is currently at $29.00.
3. Termly - free generator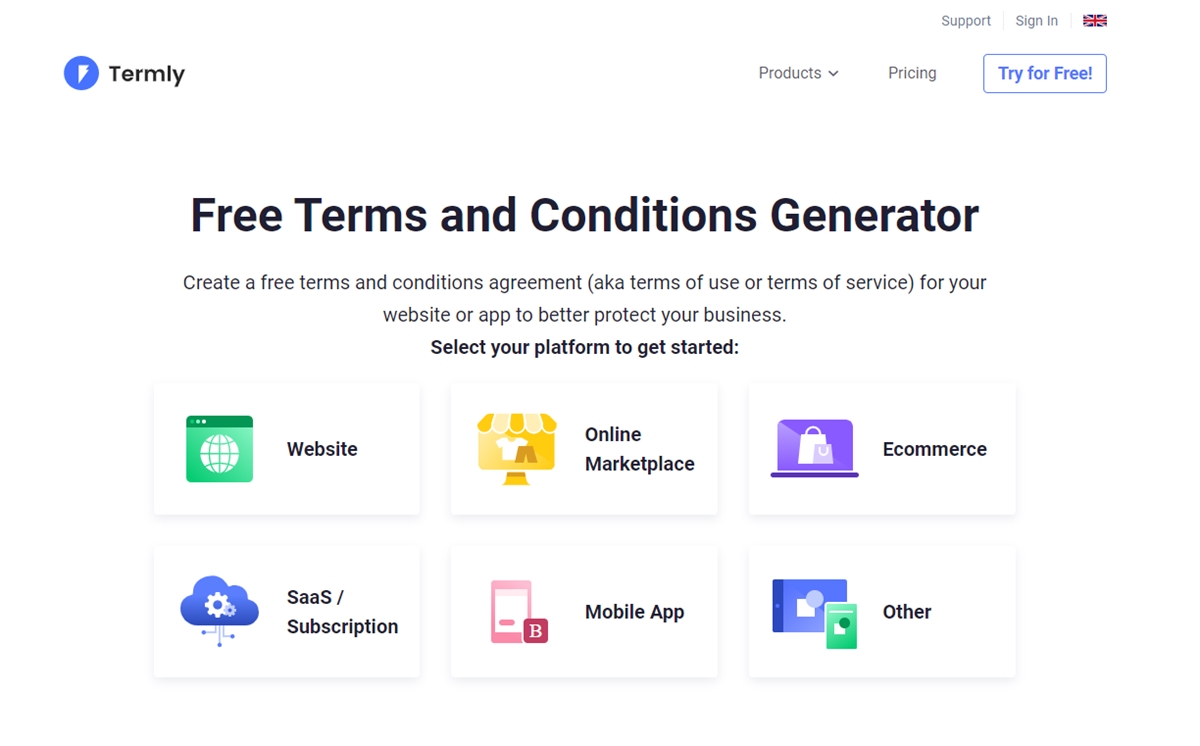 If you want to show professionalism, then your store's terms and conditions should not be presented in a word file without any arrangement. They should be put on a single page that customers can read, browse, and contact if needed. That is what Termly can do for your business.
The generator is one of the best tools for free terms and generator. The policy themes come in high quality, but there are some disadvantages. Firstly, they cannot be directly embedded onto your site and have Termly logos. Secondly, the terms and ser conditions by Termly are not fully customized.

If you want to solve this, you need to sign up for Termly's Pro+ packages which require $10 / month as a subscription fee. If you can look past this, Termly is definitely a worth considering generator with excellent legal documents. I personally would prefer one time payments, but the quality is still outshining here.
4. FormSwift - legally compliant generator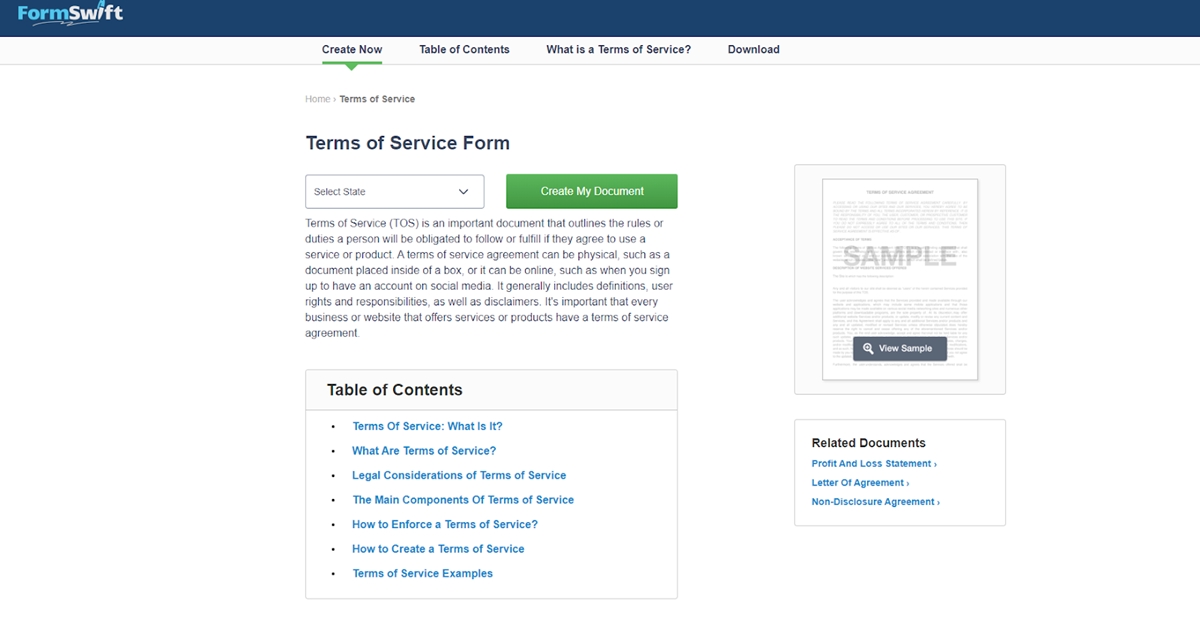 As another free terms and conditions generator, FormSwift promises to deliver your website legally compliant without you having to spend a single dollar. All you need to do is choose your state and you can start creating your legal documents.
Then, just like any other term and conditions tool, you will insert your company's information to adjust the terms of service. There is a sample form on the right side of the page so you can see the changes made on the document as you enter the required fields.
The downside of this generator is that it aims to help businesses inside the US only, so if you are outside of America, you should look at other alternatives.
Another disbenefit is that FormSwift doesn't seem to check if the information you entered is in the correct form. For instance, when asked to provide the company website, I only wrote the company's name but still got accepted to the next step. So be careful and recheck if the information that you provided is correct.
5. Privacy Policies - solid generator with fees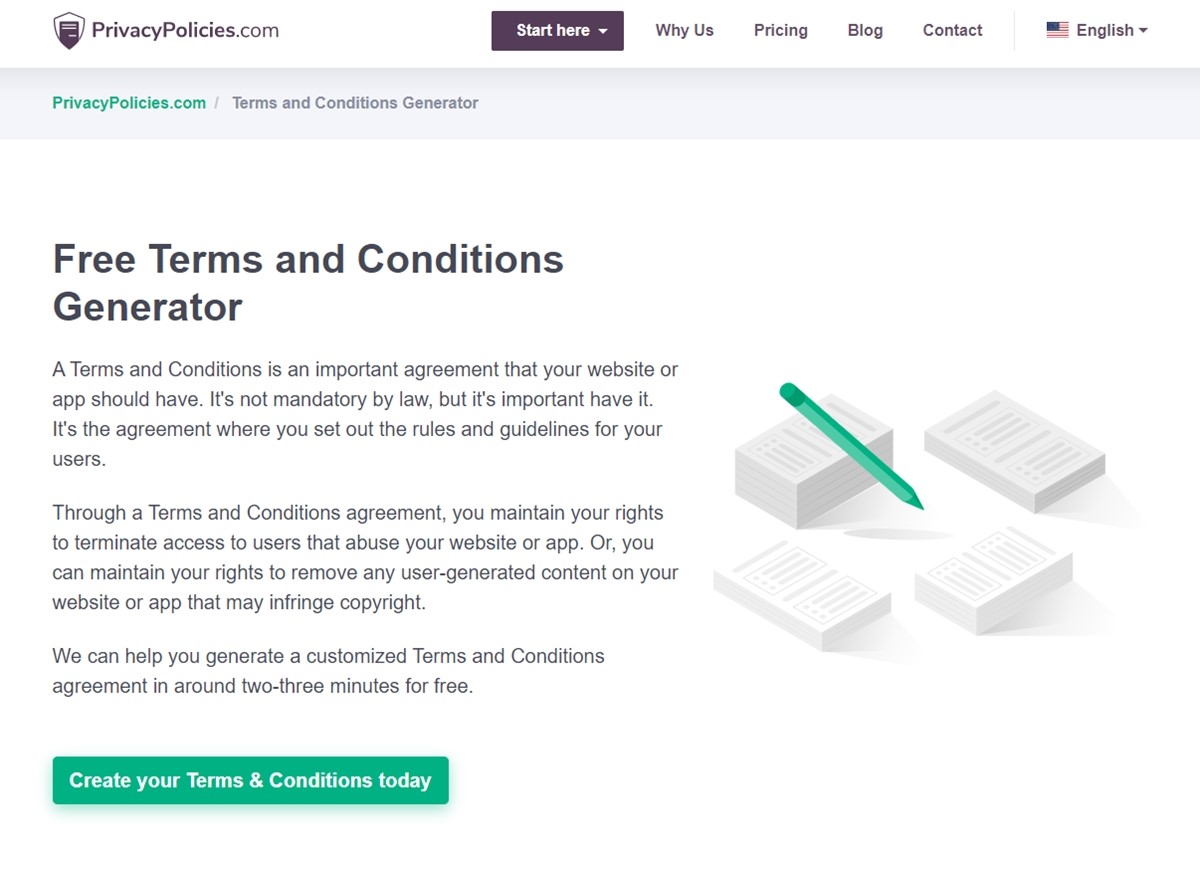 PrivacyPolicies.com advertises the tool itself as a free terms and conditions generator. The functions are quite similar to TermsFeed as you have to tick boxes which correspond with your business. But in reality, the tool is not quite free because some rather basic clauses require you to pay up.
The Free plan lets you host a separate Privacy Policy page with free policy revisions. There are also clauses for Analytic Tools and Ads. The Premium plan lets you download Privacy Policy as HTML, Docx, or plain text, and add more clauses for Payment Processors, Marketing, GDPR, CCPA, and CaIOPPA.
Leaving the price aside, Privacy Policies performs very well. Their documents are not so in-depth, but they have values that are worth checking out. The end price and the customization options are what make PrivacyPolicies an interesting choice to generate terms and conditions.
6. Terms Of Service Generator - Generic terms generator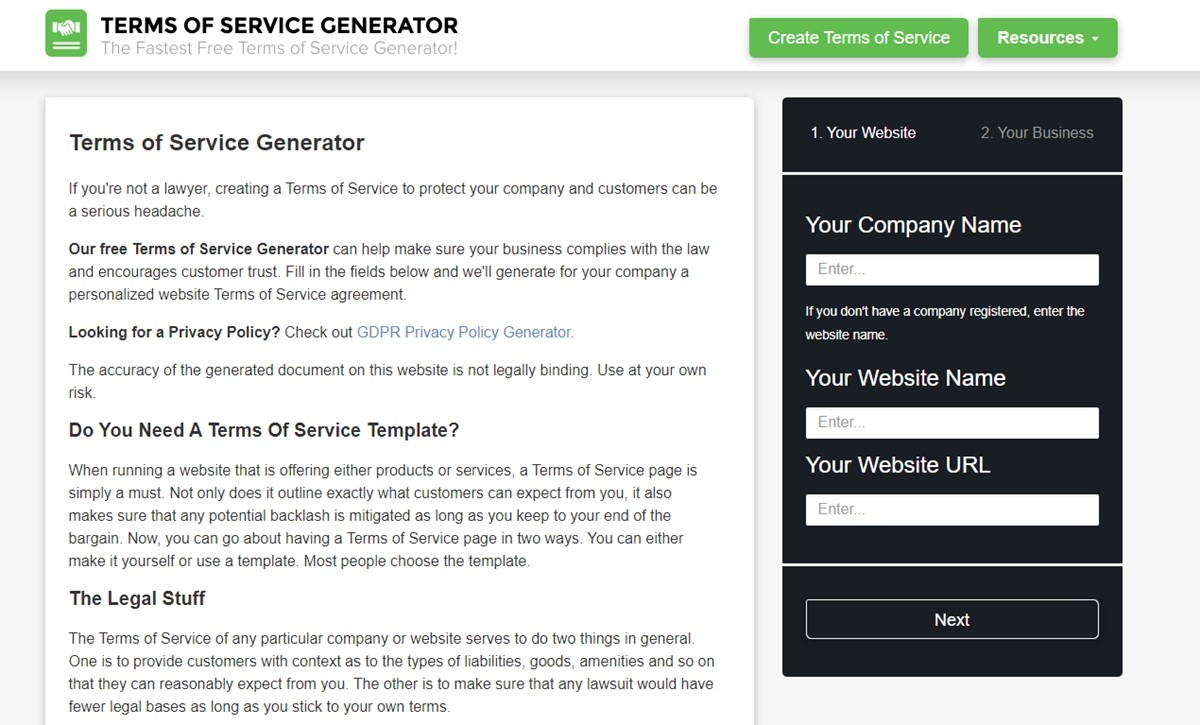 This is another free terms and conditions generator which can generate a legal document for you at no cost. Terms of Service Generator is simple, easy to use, and is quick to make a terms or service document in just seconds with all the general fields included.
However, that is a downside too, because since the template is quite generic, it can be counter efficient if you are in a court of law. If you want a quick template, it is a nice option. But if you want to choose services that correspond to your business or have customization, you should look at other options, such as TermFeed
7. Terms Feed - Trusted generator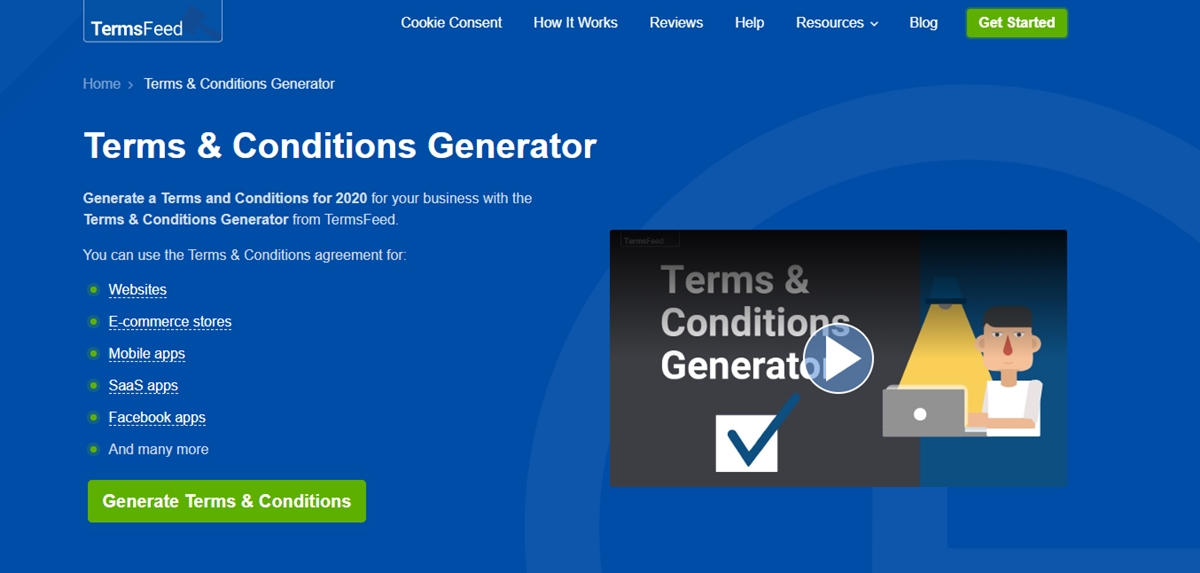 Highly praised by customers and other legal companies, TermsFeed is considered one of the most trusted terms and conditions generators on the market. It's a fantastic tool for small businesses and websites with many templates updated frequently.
While the terms and conditions made by TermsFeed are quite pricey (~ $20 - $30), they are quite worth it. Because you can get a fully functional and legally compliant terms of use document for that price. The tool can generate all the necessary clauses that a terms of service document requires while covering all the crucial information, and you just need to take a few minutes.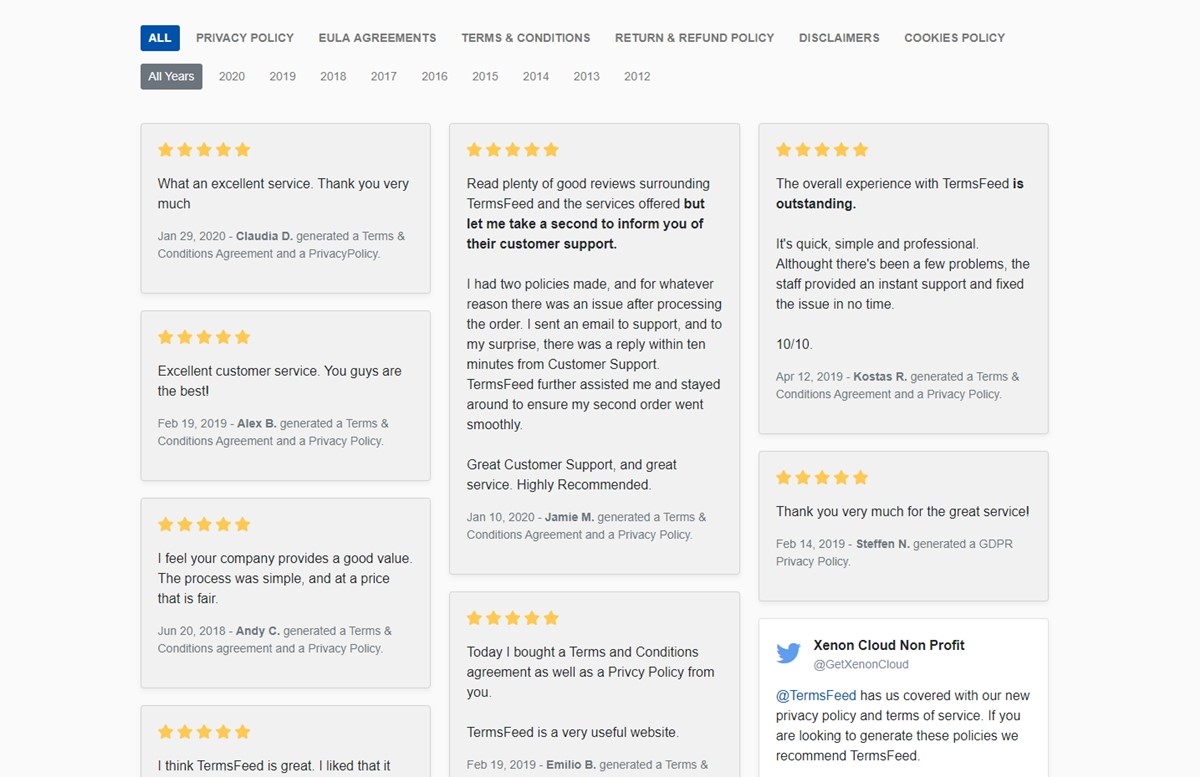 In my opinion, TermFeed's templates are quite close to a document handwritten by a team of lawyers - which really secure your business. However, if you have an eCommerce business with over a million users, your services and policies still deserve to be taken care of by a lawyer rather than automation. But for small businesses, TermsFeed is an excellent option.
8. Terms And Conditions Generator - Fastest terms generator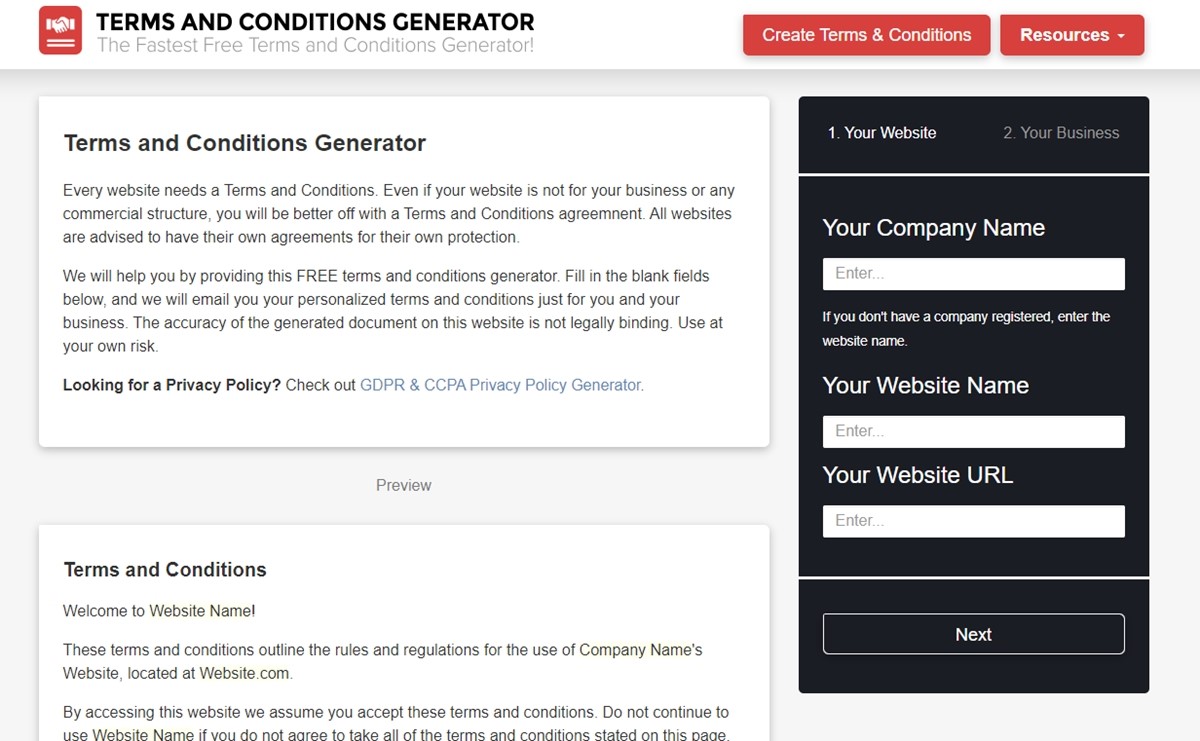 Quite like the Terms of Service Generator, this is a free tool that you can use to quickly generate a general terms and conditions document. Terms and Conditions Generator requires only a little information such as your company name, your website name, website URL, city, state, email, and you can get your template.
It is the fastest terms generator for a reason, since you can have your document ready in just about 15 seconds. But the final result is quite generic and may hold little weight if brought up in the court of law. If you are just starting out on your eCommerce journey, this is a totally fine option to begin.
9. Shopify terms and conditions generator - custom generator from Shopify

If you are a Shopify store owner, then you are in luck! Because Shopify themselves made a free terms and conditions generator that you can use. It is a part of the Shopify free tools - here you can access many other templates of privacy policy, refund policy, bill of lading, and more.
The tool is really easy to use and gives you the customized policy that is needed for your products and services. This generator can be accessed right at your Shopify store's dashboard too, so you don't have to leave the store's site to use it. And since Shopify made it for their stores, you can feel at ease about the business's legal documents.
10. Website Policies - Safe terms generator

And lastly, we have Website Policies - a free to use tool that claims to have their templates drafted by a real attorney. The best thing about this terms and conditions generator is that it doesn't use a template and can automatically update your store's privacy policy when laws/requirements have changed. You can get the Premium plan for a one-time payment at $19.95 and get additional clauses, add your own branding, and free lifetime automatic updates.
It is also one of the few companies that offer an affiliate program and lets you earn commission on your referrals. There are only three easy steps to generate your own business's terms and conditions and you can get the basic template for free. Since these templates can update, they may slow down the speed of your site's policy page.
Conclusion
There are lots of sites that can help you create your very own terms and conditions. However, it is critical that you consider all of the information that you want to include in your business's legal documents. The 10 terms and condition generators above can have you add or edit such a template to satisfy all of your needs.
However, as your eCommerce store continues to grow, it is still best to seek legal advice and have professional terms and conditions created for future protection. Use an online generator as you wish, but do your research on your country's legal system and prepare for all scenarios.
So what do you think? Are there any other terms and conditions generator that I missed? What have you used for your own business? Share your opinions in the comment box below. And as always, best of luck on your eCommerce business.