In the amazing world of eCommerce, dropshipping has gained popularity over time due to its strength in gaining profit without a big budget to start. All around the globe, people have picked up the trend and sell products online for buyers everywhere, and many chose Shopify to start.
The platform Shopify provides is easy to use, functional, customizable, and efficient. Hundreds of thousands of stores have been made using Shopify tools, and many Shopify dropshipping stores have succeeded in making unbelievable amounts of profit.
And the good news is you can do it too! By having the right strategy, an attractive website, and within no time, you can have enough customers to keep your business rolling with money. So here is a list of 39 most successful Shopify dropshipping stores to keep you high spirited and ready to start.
Learn more: Start a dropshipping store with Shopify
What are Shopify dropshipping stores?
Dropshipping is the perfect business model for entrepreneurs because they can set up a business with little up-front investment. Simply put, you don't need to store products when doing dropshipping; you only find customers and make sales while the supplier would do the producing, packaging, and shipping for you.
And at the moment, Shopify is the simplest platform to create and run a dropshipping store. Within thirty minutes, you can have a beautifully designed eCommerce site without learning any coding. And the tools Shopify provided made dropshipping all over the world easily.
With Shopify dropshipping method, you can quickly test different business ideas, make your products appealing, and take care of customers. And when your store grows, you can scale with Shopify plans to keep things running smoothly.
Shopify estimated that you only need about $500 to start dropshipping with the platform, which is a quite low price compared to all the tools and resources you can access when signing up as a user.
To learn more about dropshipping, you can read our Shopify dropshipping guide. For now, let's see the top successful Shopify dropshipping stores to gain experience and learn some valuable lessons for your eCommerce road ahead.
Free Webinar: How to Get Started with Dropshipping in 2022
Attend the free on-demand webinar that's helped over 300,000 entrepreneurs. Learn how to source top-selling products from thousands of suppliers without paying for products upfront, worrying about inventory, or shipping a single package yourself.
Top 39 Most successful Shopify dropshipping stores
In this section, I have gathered many successful names in doing dropshipping and divided them into relevant categories so you can easily follow them. But keep in mind that you should look for inspiration and business ideas at first, don't think of copying them for now.
Because dropshipping relies on how you can do things differently and sell the right niche products, creativity is the key to success. Now let's see the successful stores.
Clothing dropshipping stores
Clothing is probably one of the most common niches to do dropshipping. Products are light, customizable, stylish, and cheap enough for customers to decide on purchasing quickly. If you are good at creativity, you can sell your own designed clothing as well. And that is what some of the stores below have done.
Read more: Best Wholesale Clothing Vendors, Suppliers
1. Mooshe Socks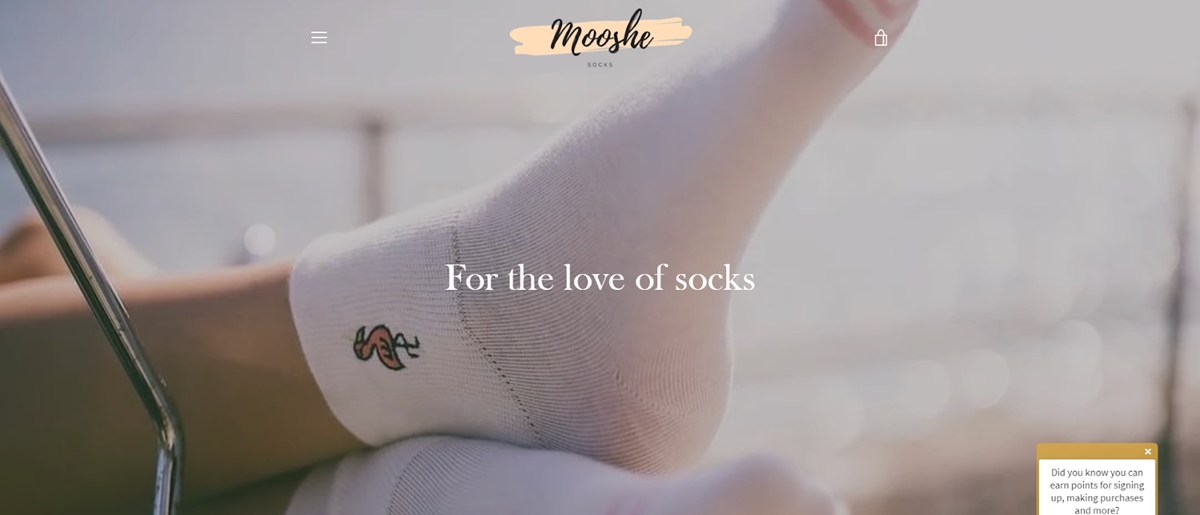 Just look at the store, and you immediately know what they are selling. That is right, socks! Cute, dumb, ridiculous socks. And at their high game, they make over $250 of sales per day.
Mooshe Socks is a great example of dropshipping. They have a niche product, a beautiful website, and a sense of style to come up with cool collections of socks. They even have a membership program, in which subscribers can receive a box of designer's socks each month.
2. Shopepie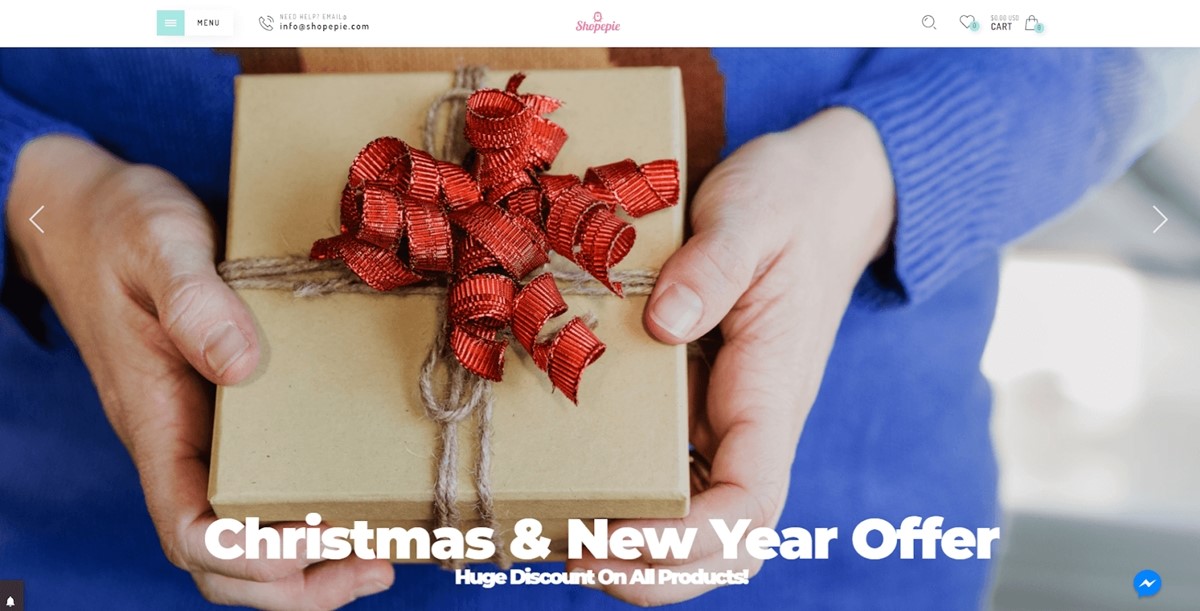 The next store has a wide range of hats to choose from. But before that, Shopepie sold many other clothing products like shirts and pants. My guess is that they decided that the niche of hats is what suits them best.
With over 17 types of hats to choose from, customers can browse thousands of products to choose which suits them. The store also has collections for seasons like Christmas or Super Bowl.
What you can learn from this store is how they design their product pages. They are neat, clean, with clear call-to-action buttons and good use of colors. The page also has loading animation every time a new page loads, which can be good or not based on your views. I like it, though, since it is quite different.
3. Hiut Denim Co

"Do one thing well" - a phrase that cannot suit dropshipping more. Hiut Denim Co. has managed to achieve the title as one of the most successful Shopify stores for doing that. Though just a simple clothing website, the store uses fantastic pictures and slick copywriting to make a unique vibe.
Not only do they promote their hometown products, but they also create a club around it, which is called "No Wash Club" - basically tells people not to wash a pair of denim jeans after at least six months. This can be an awesome idea to make your niche more special.
4. Aesthentials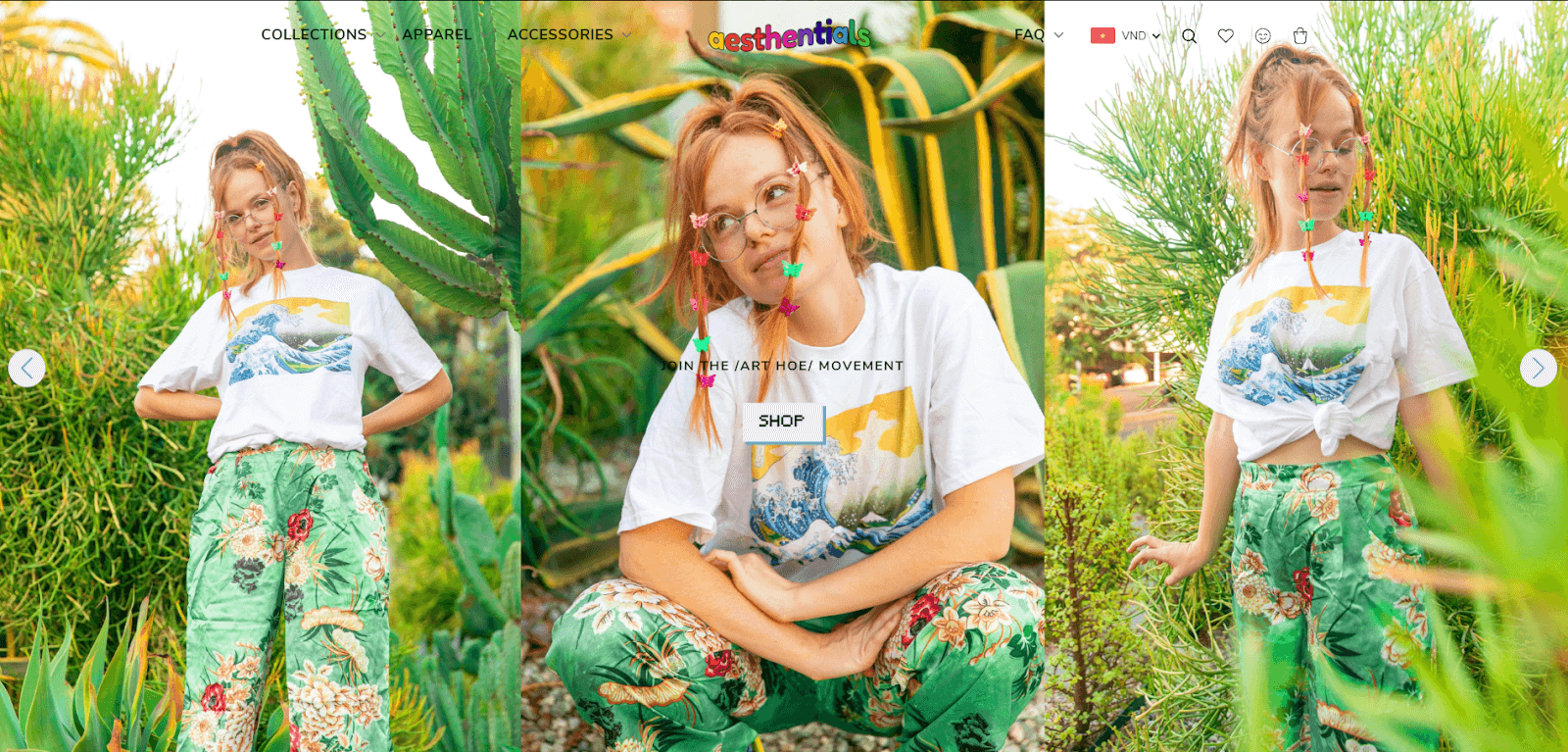 Focus on young girl's apparel, Aesthentials has an aesthetic vibe just like the name. Many products can be found related to young people's cultures or some memes. Overall, the store has a unique vibe that people would love to buy some items and show their characters.
Some more you can learn from the store is how they design the interface with 80s computer inspiration to match the style. They also have automatic currency addon, which shows pricing in the visitor's country currency immediately.
The business promotes itself by sponsorship programs for Instagram models to sign up with at least 2k+ followers. There is a designer program as well to have more original designs from all over the world.
5. Eliot Grey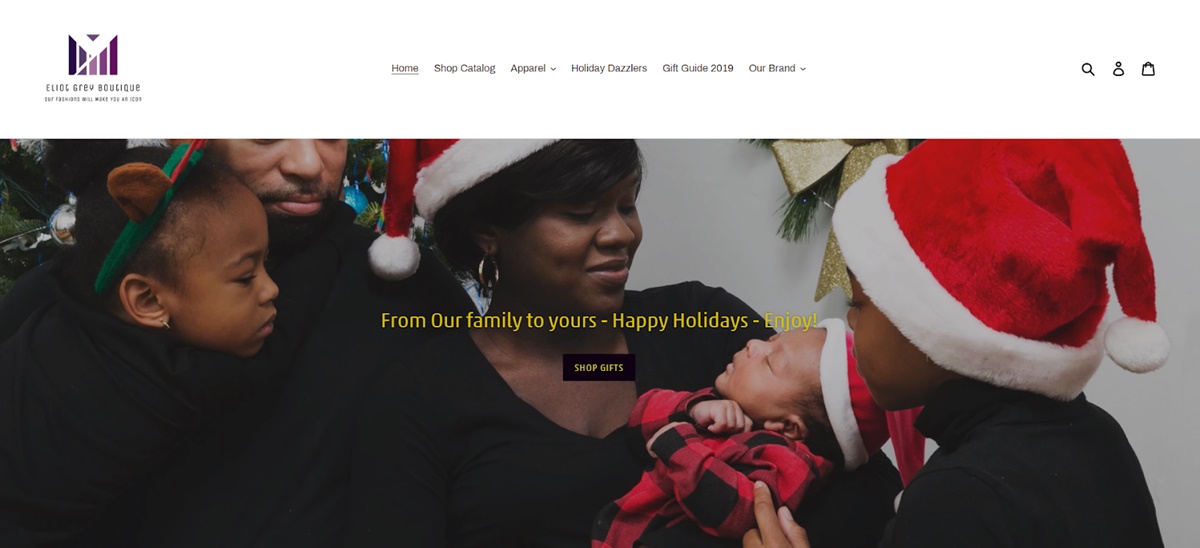 I'm writing this article near Christmas Day, so many sites have already spread some holiday love on their homepage, which you can learn too. Eliot Grey is specialized in men fashion items that are elegant and stylish, somewhat European style.
At the product page, you can see clear signs of dropshipping in shipping time and pictures, but what I appreciate is that they still try to make the images look professional and have a similar style.
It is the holiday season now, and they offer a list of gift items that you can quickly choose to wrap as presents. One more thing I would like to point out is that they have a frequently bought together section under the product page in increase sales per shopping cart.
6. Mari Gold Shadows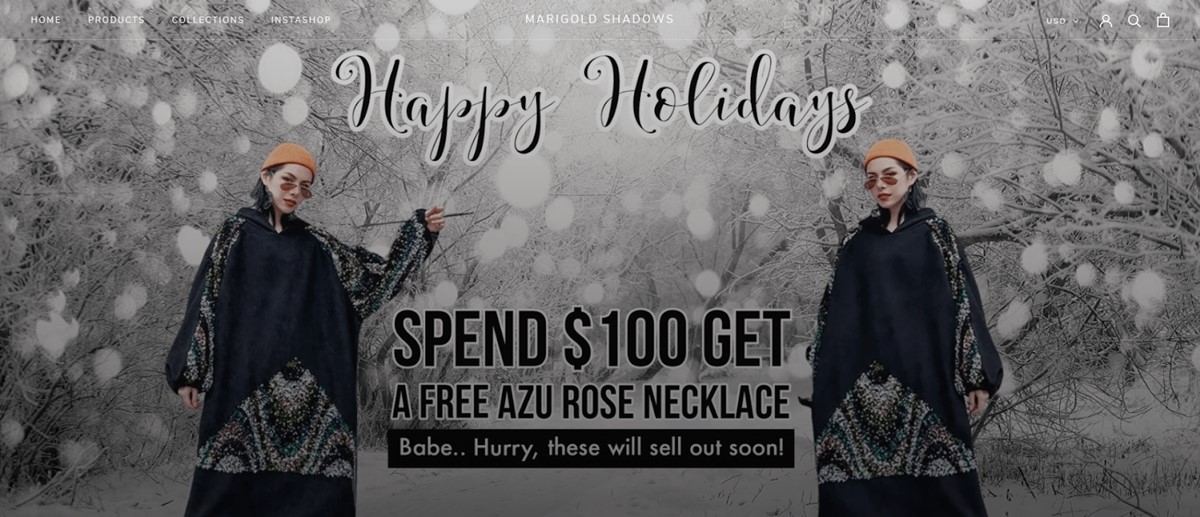 Young people's clothing is a gold mine to find a new niche, and that is what Mari Gold Shadows did. Looking stylish and high-fashion, all products have studio-quality pictures to showcase with beautiful models.
They also make collections based on these products so visitors can have more inspiration. A worth-mentioned feature is that the product page has a smooth infinite scrolling for pictures. Which is quite different, but I wish they could make the pictures larger.
7. Jean-Pierre Klifa

We've looked at many young people's clothing stores, so how about something for the older generation? Jean-Pierre Klifa is a great example of products for middle-aged women. The clothing has a suburb design and elegance to suit many occasions.
The store now has its own designer line of clothes, which is really inspirational if you are only at the start. What you can learn from this store is how a special niche can be found and create a long-lasting business. If you want your store to be a step to promote your own design, then it is totally possible in just a few steps with Shopify.
8. Be Activewear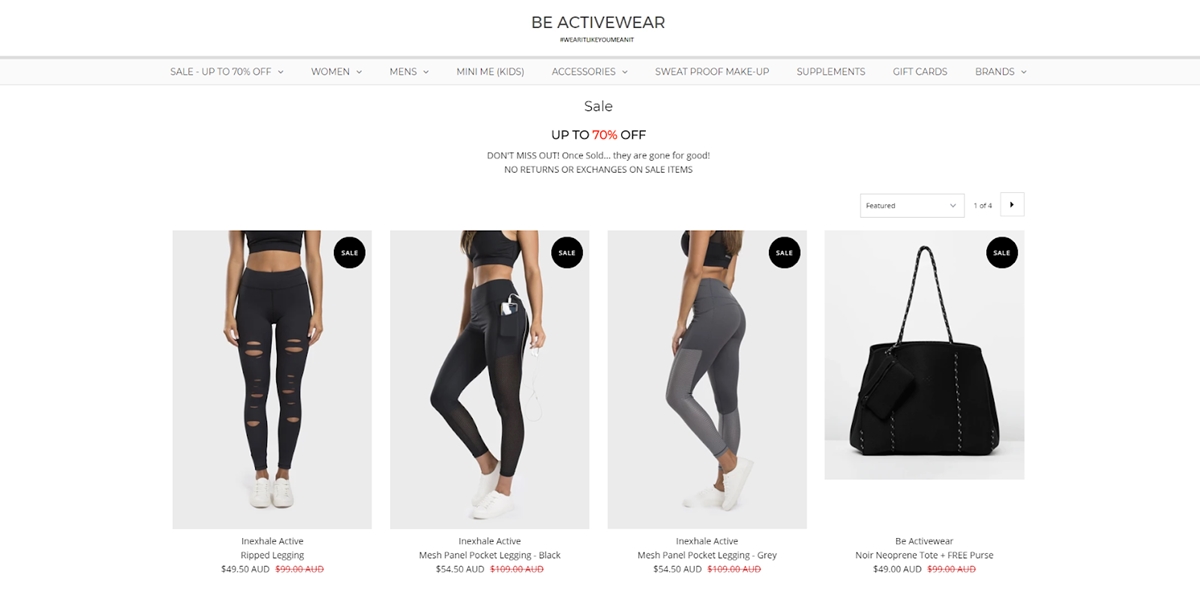 The company is 100% Australian owned and utilizes the dropshipping model for eCommerce with products in sportswear, innerwear, outerwear, and more. Sports apparel is a niche that many have chosen because they are easy to do branding and attract prospects.
Be Activewear goes one step ahead and makes a line of clothing for overweight people. These not only boost confidence in their bodies but also makes working out more suitable for them. Having over 60 leading brands and selling to over 50 countries worldwide, you sure can learn to go big with Be Activewear.
Accessories dropshipping stores
Accessories like necklaces, bracelets, earrings can be surprisingly profitable in dropshipping. They are stylish, light, easy to preserve, and can have a wide range of prices to test things out. So put on your shades and take a look at these accessories dropshipping stores for inspiration.
9. Treasure Fan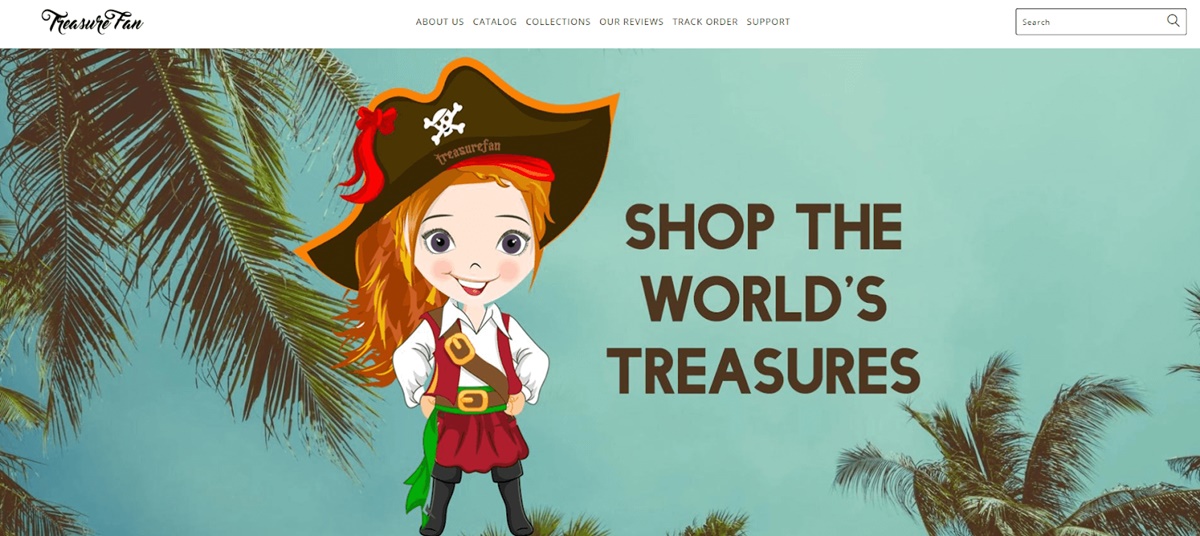 The first store is Treasure Fan, and while the banner may look childish, they have a variety of products that can fit many styles. From the t-rex earrings to crystal necklace, you can find them all here at very reasonable prices.
What you can learn from this store is that they have a dedicated page to customer reviews in order to increase credibility and showcase real images. They also have a track order page so people can keep up with where the product is in the shipping process.
Another thing worth mentioning is that they build a community on their Facebook page with almost 50,000 likes. The content posts are often in video forms with shopping links in the descriptions.
10. WP Standard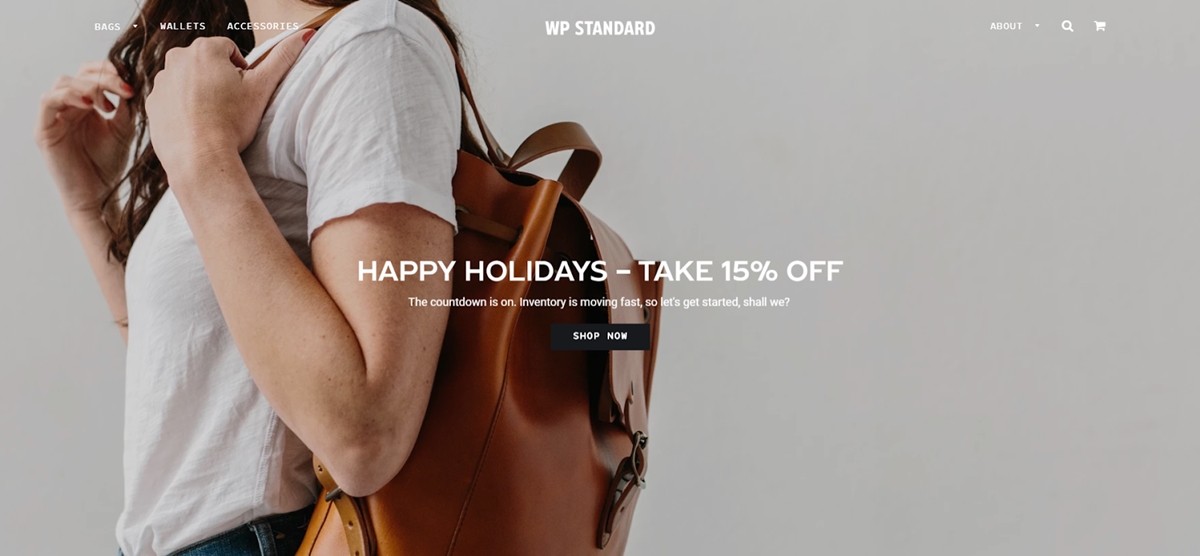 Starting as an idea in desperate times, Ryan Barr founded WP Standard and started selling Mexico leather products. Through time, the store grew bigger and bigger and is now considered one of the most successful Shopify stores ever.
WP Standard now has its own factory, workshop, labor, designers, but to think it all started as an idea is wild. But that is the case for you doing dropshipping too; if you dream big enough, the achievements can be big too.
11. WildFlower Cases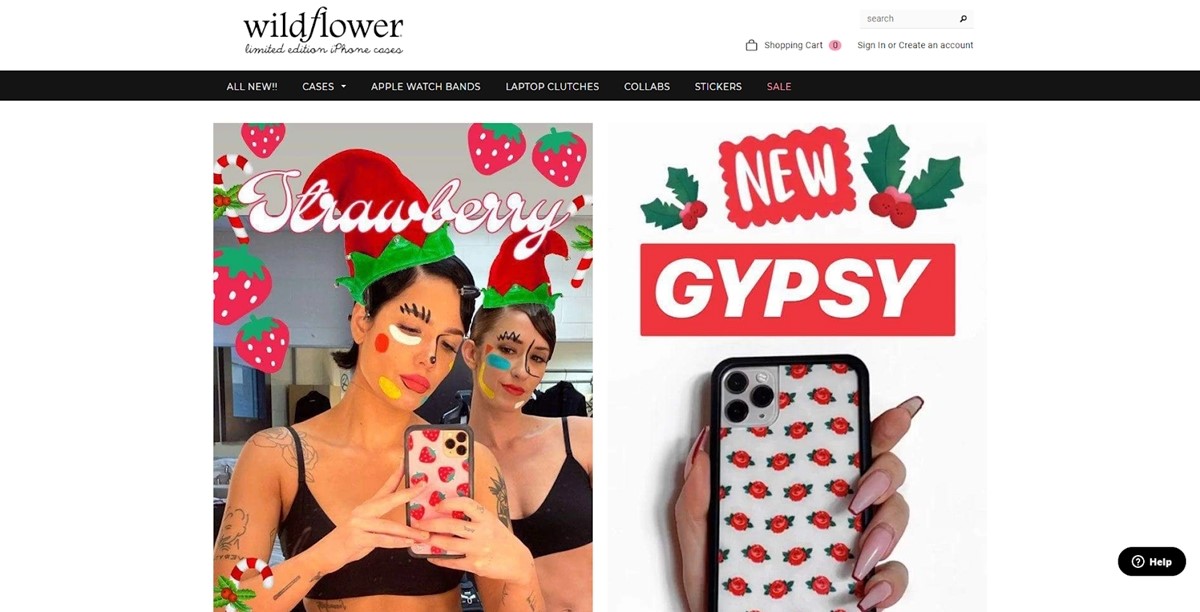 These may be the most expensive phone cases, but when you have a photo of Miley Cyrus using and urging you to sell more, you kinda have the right to. WildFlower Cases offer iPhone cases, Apple Watch bands, and laptop clutches on their site.
They have a collaboration program so Instagram models can post pictures using their cases, and let customer's pictures appear on the front page as well. One thing I would like to point out is that they show every size of a case on the product page, this is kind of distracting, and I wish they could keep it cleaner.
Pet dropshipping stores
What better niche to get people than buying for ones they love? And those cute, fluffy mates would make anyone want to give them the world with those big eyes. That is your chance; you can sell toys, beds, accessories, and many more for the pet owners. Take the following stores, for example.
Read more:
12. Meowingtons
Make $100k selling cat products, can you believe it? Because that is what Meowinngtons has achieved. They are dropshipping all cat-related items like toys, beds, or something for you as well. Look how cute your cat would be in a cop costume!
A cool feature that Meowingtons offers is that you can take a picture of your pet, send it to them, and they will make custom products with your cat's face on it. If you are into cats, why not try dropshipping the things you love?
13. Dog Pawty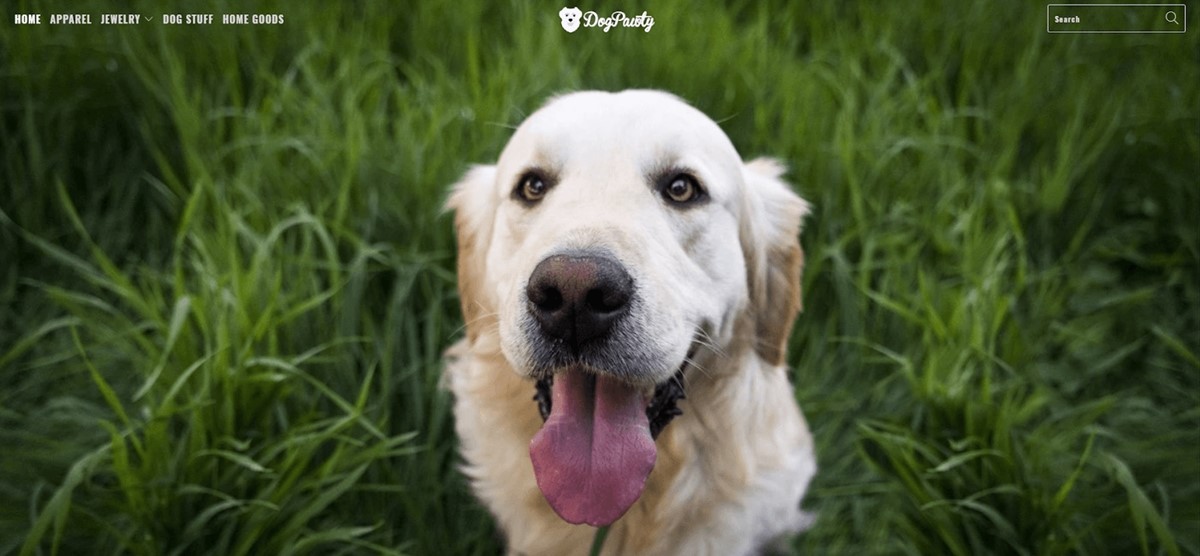 That's right. Good boys can have cool toys too! Dog Pawty offers a wide range of items for man's best friends like collars, toys, vests, and something for the owners, also, like shirts, necklaces, bracelets, rings.
What I think store owners should learn from this dropshipping store is how they design the store. The interface is clean, clear, and shows important details on the product page like color variants, security badges, and customer reviews.
Gadgets dropshipping stores
Gadgets can mean many things, from the tools you use to fix your car to a handy knife to use in the kitchen. But in general, these help a customer's life better by solving some common problems. The advantage of dropshipping gadgets is that you have many choices to test with customer's reactions, and the trend of helping products will probably never die out.
14. Inspire Uplift
Inspire Uplift has a beautifully designed homepage that will take you to many useful product pages. The customers can leave reviews with pictures, so the social proof is provided to boost more sales. A help center is available to answer all relevant questions with easy instructions.
Social media is something Inspire Uplift does really well too. They post content that invites customers to interact while uploading inspiring videos. The facebook page is like an entertainment center where people can come to discuss and improve their lives.
The site is currently inaccessible due to maintenance, but I will keep the pictures of this store updated as soon as possible.
15. BlueCrate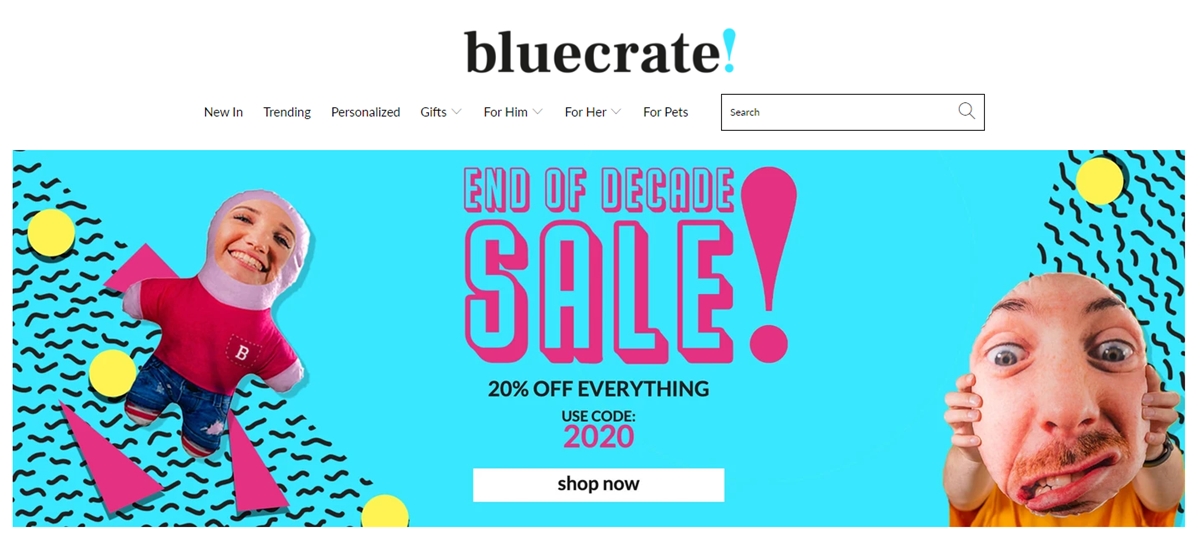 When you are doing drop shipping, content is really important because it is what makes you stand out from the noise. While you can pour money into ads, content is a cheaper way to ensure interaction and engagement.
That is what BlueCrate does with their one-of-a-kind products - which literally can have your faces on them. They also make self-made videos and fun images to showcase product features. And if you are wondering, they do make a seven-figure profit by doing that. So what are your crazy product ideas?
16. Dude Gadgets

Remember that when men grow, their toys grow bigger with them? Well, at least that is what Dude Gadgets believes in. They are out to do dropshipping with the coolest gadgets for guys all over the world like torch watch, car gadgets, pocket fisher rod, and more.
The site's design is quite similar to BlueCrate with a clean interface and focuses on product images. But the dedication to finding unique products is quite admirable. What I wish both sites could do more is having videos showing the products in action, that can really boost a customer's decision in purchasing.
17. Trendy Goods
So some trends may fade out, but you can always be Trendy Goods and ride every trend. They got all kinds of different items that can solve daily life problems in creative ways. Again, this store is under maintenance, so it is not accessible, I will keep it updated as soon as possible.
The product page looks like an improved version of the Amazon page with clear product images, bullet-point overview lists, and some data like ratings or views to increase the credibility of the item. Once again, I'm impressed by what products they could find to list online.
18. Gadgetox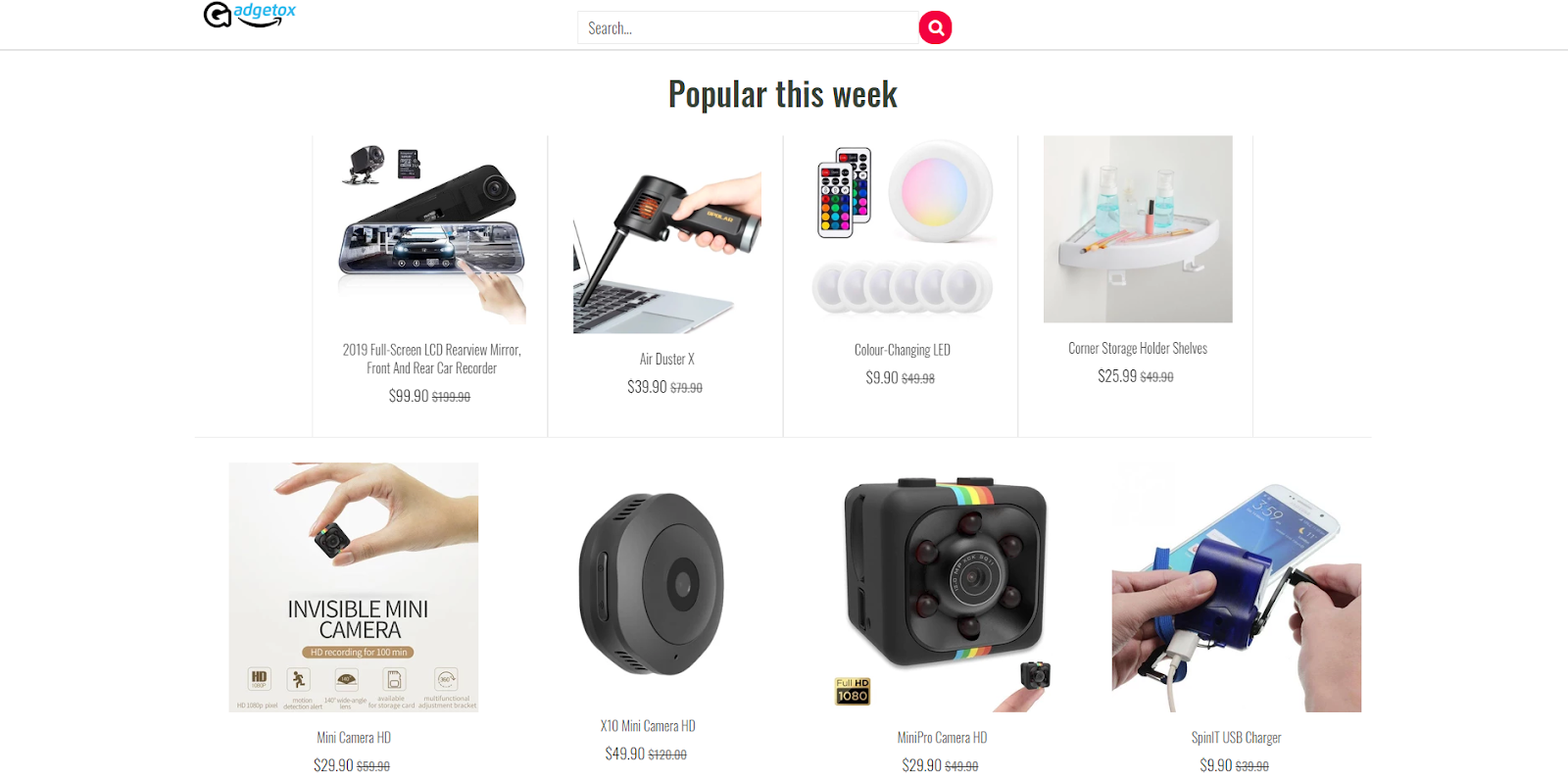 Not going for some fancy display, Gadgetox homepage shows the available items right the way, which is pretty much like Amazon if you think about it. They have all kinds of gadgets for mobile, car, or daily life activities, which are mostly technology-related.
The product pages have the best description spaces in all the gadget stores, in my opinion. It is big enough to show much content, and customers can click for more information in shipping or delivery. There is no section for customer reviews, though, which is a shame.
19. Phonebibi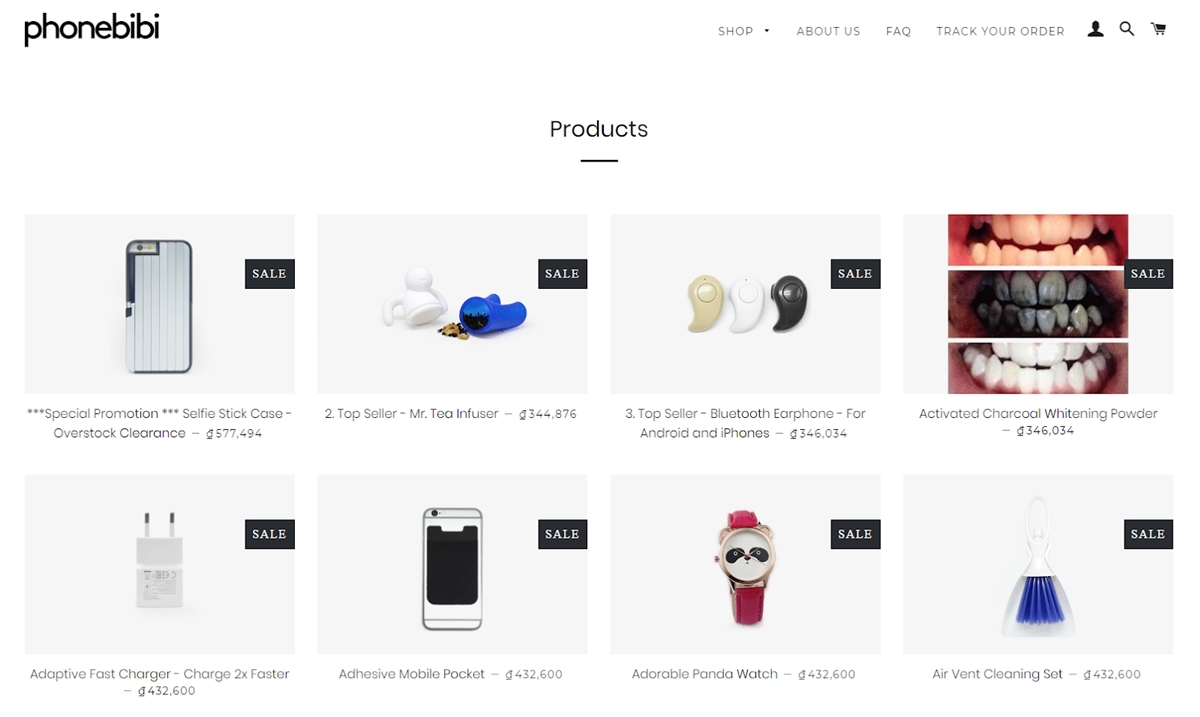 Phonebibi is a special case because I think at some point, they changed their minds and sold more than just phone cases, which may be a good direction since they have much more to provide like smart gadgets, bluetooth earphones, chargers, and more.
The products page looks minimalistic to showcase the best features, and they have a widget that can automatically show your country's currency. What I think they need to improve is the loading speed, it is quite slow. If you are doing dropshipping or eCommerce, your site's speed is really important.
General dropshipping stores
General, as you may figure, is pretty much everything. Think of a convenience store where you can buy all the essentials in your life. A general dropshipping store has the opportunity to test products in many fields and understand the customer's needs more thoroughly. Let's see the examples.
20. Wikipedeals

First, hat off to the name of the store, what is a better way to make people purchase from you than telling them you have the best deals on the internet? Wikipedeals has everything you can think of for your life like a detox mask, hair treatment, blow torch, and much more.
The site shows your country's currency right the way, and the product pages often have very clear descriptions with videos and photos. The number of reviews for each product is impressive too, which shows how many customers the site can be served.
21. Life Booster Shop

Next up in the list is the Life Booster Shop, a general store with all kinds of different products for home, kitchen, garden, beauty, travel, or car. The numbers of items are quite impressive, and there are many customer reviews for each item too.
What you can learn from this store is how they design their store to look festive and mood-lifting. The products are shown in clear pictures with detailed descriptions, and customer's photos help as social proof.
22. Hygo

Hygo is another great example of a general dropshipping store. They have items for beauty, kitchen, lights, car accessories, pets, babies, and health. All are displayed in a clean interface with detailed information.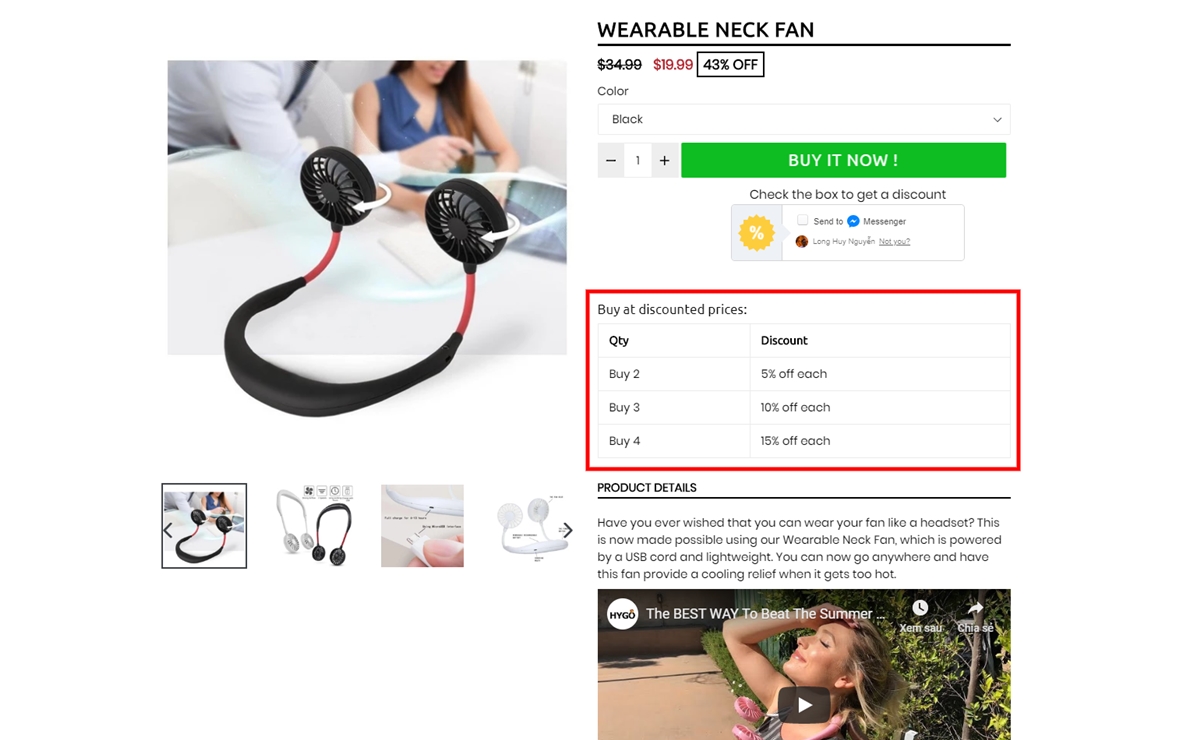 What I like is that the features are shown in the list form, which makes it easier to read, and customers can share or tweet about the product in a single button. They also have a buy more save more program, which lets customers save more when purchasing more items. This might be a great idea if you want to increase your dropshipping store's sales.
23. Until Gone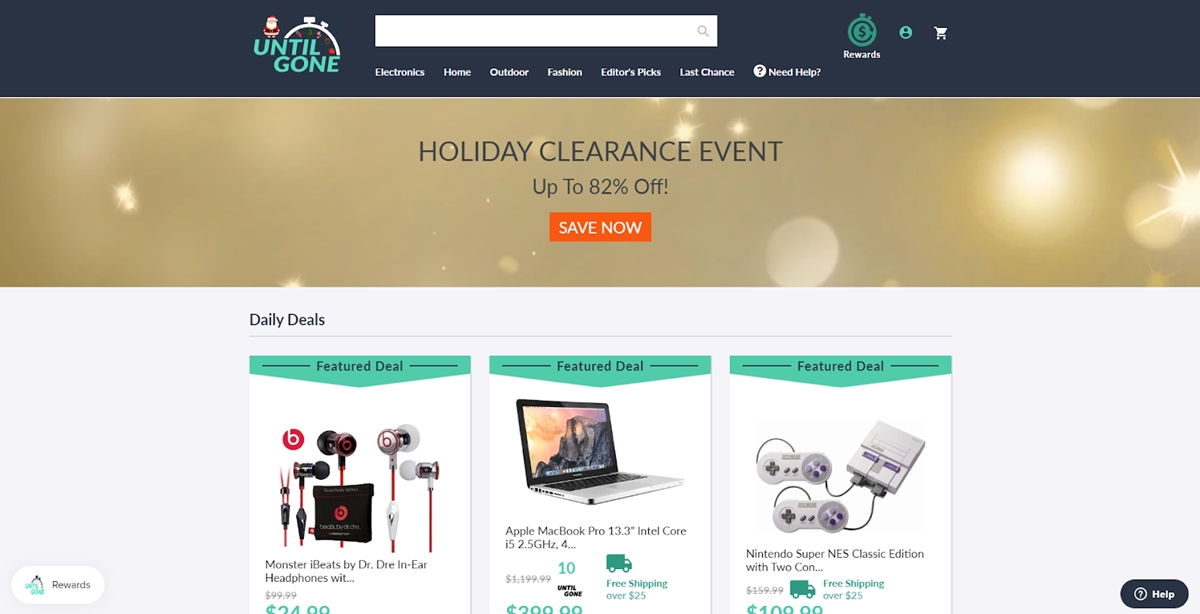 Another general dropshipping store in the form of best deals, Until Gone combines a reward system for customers to save more every time they purchase. There is also a referral reward when one invites a friend to purchase successfully.
The site has products in electronics, homes, outdoor, fashion, and a Last chance category for products at good prices in only a period of time. They have a widget from Trustpilot so customers can leave reviews. The site also accepts all major credit cards, which make transactions easier for customers.
24. Little Style Shop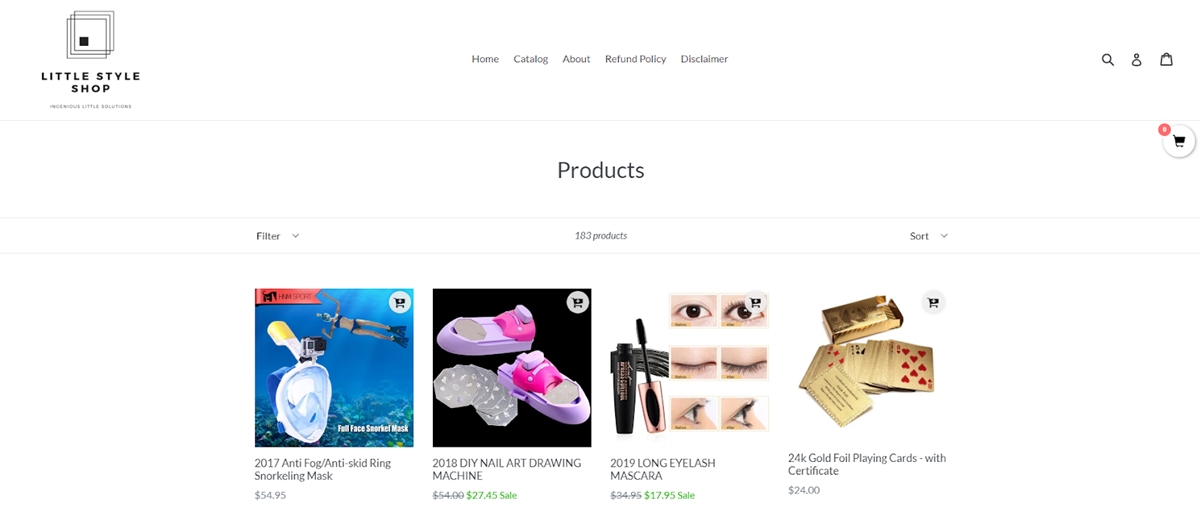 For the last general dropshipping store, we have Little Style Shop with 183 products available. They don't really have categories for these products since they look a bit confusing if you take a look at them. But the filter for bestselling and sorting prices is quite nice.
Despite the low effort in categories, the product descriptions are filled with details, images, and refund policy in two weeks. Their best selling items like the posture corrector even have instruction videos and sizing instructions, which show how much work you should put into your golden-egg item.
High-tech dropshipping stores
While general stores can sell high-tech products too, it is another commitment to say your store will only sell the best in technology. And when more and more people look for convenience provided by new smart items, you have the opportunity to make profit from dropshipping in the field.
25. Mini Smart World
Mini Smart World made that commitment and sold the best high-tech products like smartwatches, drones, phone accessories, charger backpack, wireless speakers, beauty, and more.
The store has had over 12,000 trusted customers, which is surely a win for a dropshipping store. The product pages are filled with details and pictures, videos to show the best features. Customers can also leave star ratings and real pictures of product usage.
Food dropshipping stores
Now, this may not sound familiar but think about it first. If a food company gladly applies your logo and does the shipping, you can dropship food from across the globe. Also, if you do a good job at marketing, you can expand your brand even more because food can make a trend with just some recommendations.
Read more:
26. Hello Matcha
Hello Matcha has only one thing in mind, and that is selling premium matcha powder in Australia. So they sourced suppliers from Kyoto, Japan and dropship the powder all over the continent.
They also provide matcha accessories like scoop, bold, and holder. There are dedicated pages about the benefits and process of preparing the tea to educate the customers. They have a blog too but it seems like it has not been updated recently.
27. SkinnyMe Tea
Australian seem to be good with tea since that is where SkinnyMe Tea is based as well. If you don't know, the business is famous for making seven-figures in sales and serving over 350,000 people. It is weird to think they started as dropshipping products from China.
Now they have their own factory, packaging, and source of ingredients, and a business that many would envy. There are also tea programs for different periods of days so people can test and get familiar with the products.
28. PipCorn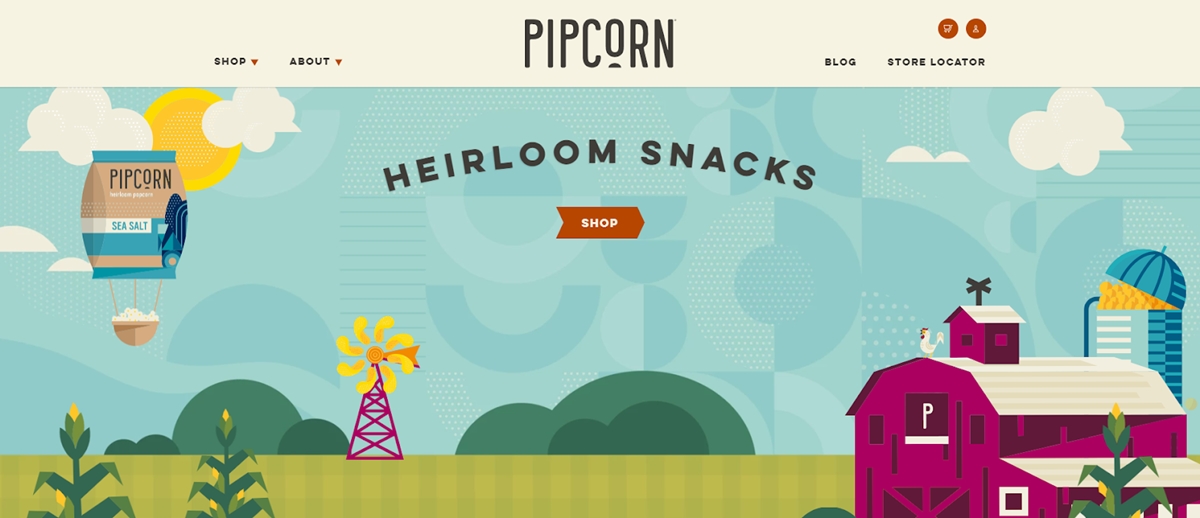 Heading to New York, we have PipCorn - a snack company that makes the tastiest popcorn ever. Their suppliers are from Indiana, who would help them with packaging and trying new ideas for products.
After that, they went on Shark Tank, got a deal, and now keep on making delicious popcorn bags. It is a wild ride and very inspirational for you to start your business. Check out their site for a fun experience just like the taste of popcorn.
Kids dropshipping stores
Toys, clothes, learning tools, the possibility is endless like a kid's future. So if you want to provide a smile on parents' faces, try dropshipping kid products. Keep them safe and entertaining and you can find your customers in no time.
Read more:
29. Finer and Dandy
Inspired by bringing safe products for children to US families, Finer & Dandy was born. They now design, create, and curate the most thoughtful clothing for kids that you can find. And they are stylish too!
So if you are thinking about dropshipping kid products, remember to keep them trustable, safe, and community-serving. Because the more your business can give, the more it can receive. Having a store is more about profit, it can be a chance for you to make things better.
Furniture dropshipping stores
There are new fields to explore every day, and one of those is doing dropshipping with furniture. Home decor products can be hard to ship, but they are also easy to do branding. If you make a stylish overview of your site, there is a high chance of success in dropshipping furniture.
Read more:
30. 18KARAT wholesale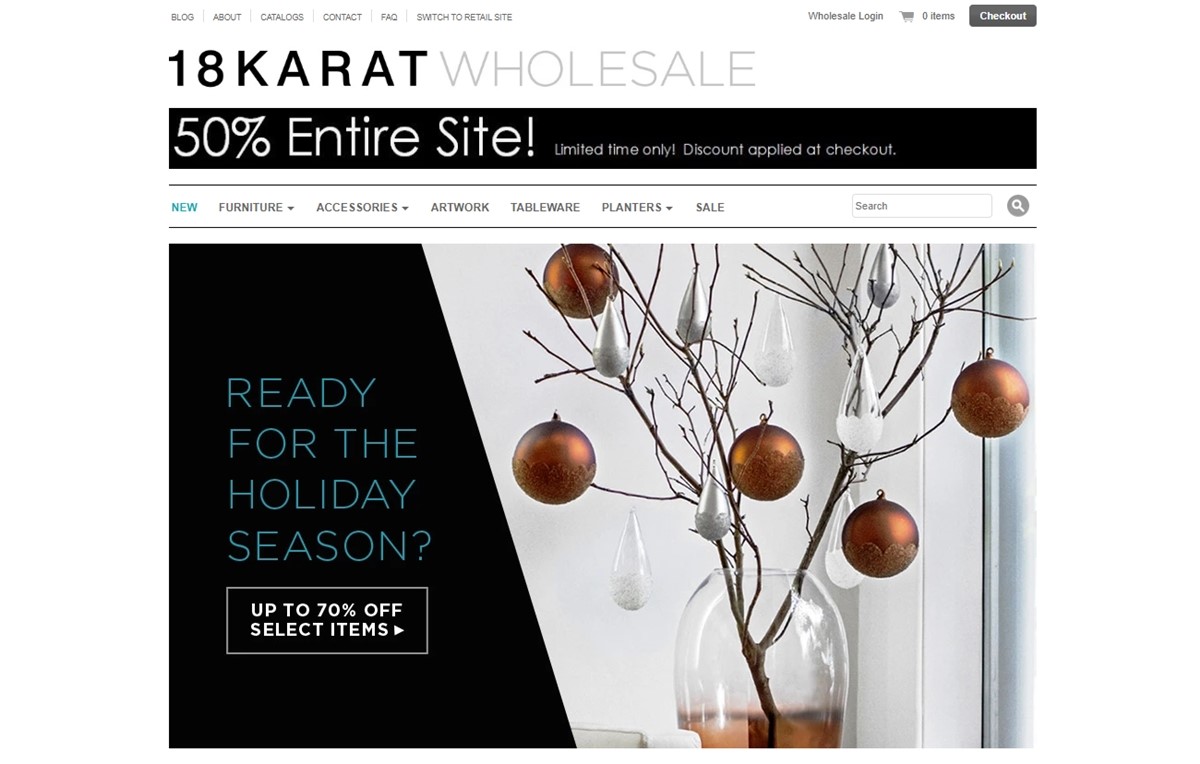 18KARAT wholesale has a great style that any furniture site can learn from. From the image background to the chosen font, everything goes well together and looks very appealing.
While they sell their own products, if you are looking for a supplier to collaborate in dropshipping, 18KARAT wholesale is an option too. They can make furniture in your design and ship for you.
31. Wayfair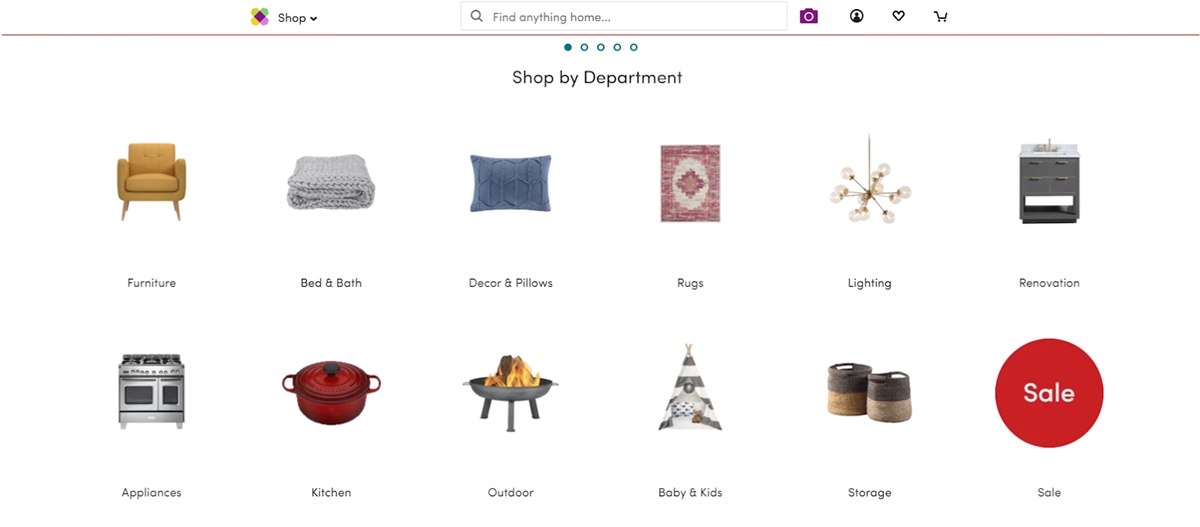 Wayfair is way too popular now to not recognize, with over 14 million items that customers can choose from. They are considered one of the most innovative retailer year after year because of reinventing the way people shop for furniture online.
But their success doesn't come from going solo, but from collaborating with other companies to bring a wide range of products and fast shipping time. That is what you can learn if you are going to dropship furniture, you need allies in supplying, packaging, and shipping to make it work. This certainly costs more than other types of dropshipping, but the profit can be worth it.
Cosmetics dropshipping stores
Now we come to a well-known field that many people choose to do dropshipping, which is cosmetic. The reason for this is because there are so many big and small brands in the game, it all comes down to who can promote better. And your customers would be fine waiting 2-3 weeks for cheaper products, so it is perfect to dropship since you need that kind of time to work with suppliers anyway.
Read more: Best Shopify Cosmetic Themes
32. Thrive Causemetics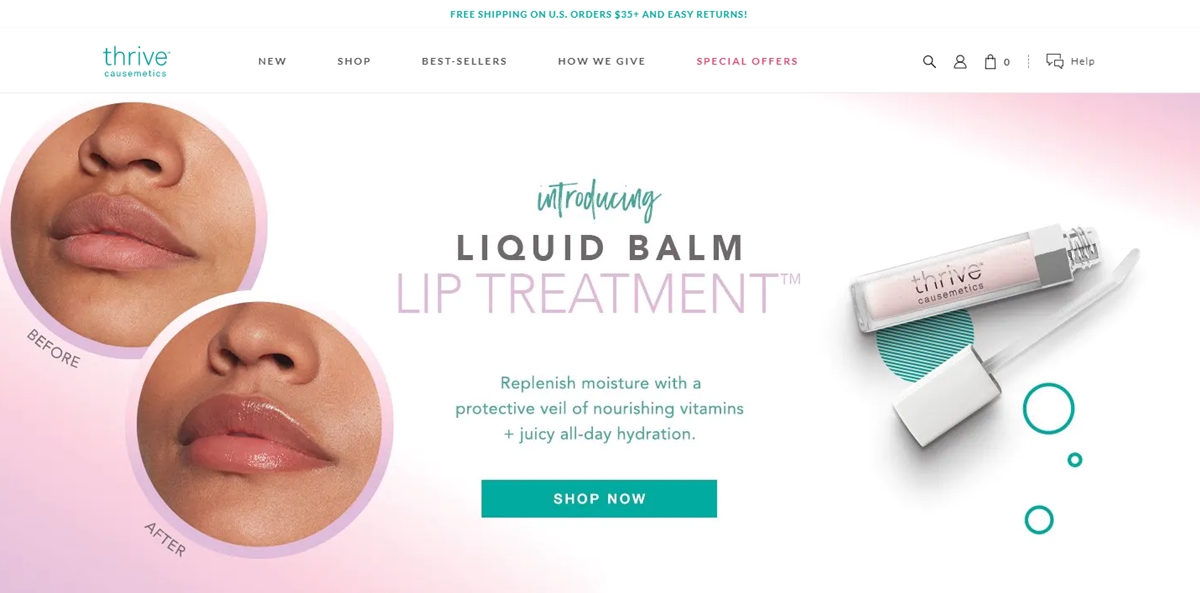 For a cosmetics store, Thrive Causemetics has fantastic features that make visitors stay longer. There is a great blend of colors and you can easily navigate the website to see all the products. Images helpt too with details about products and the benefits.
The store now has their own line of cosmetics, which is inspiring if you think about having yours one day. Your dropshipping store can be a step forward to your dream of owning a business of your own. They also have a filter for comments based on the user's skin, which I never knew a site would need.
33. Husky Beard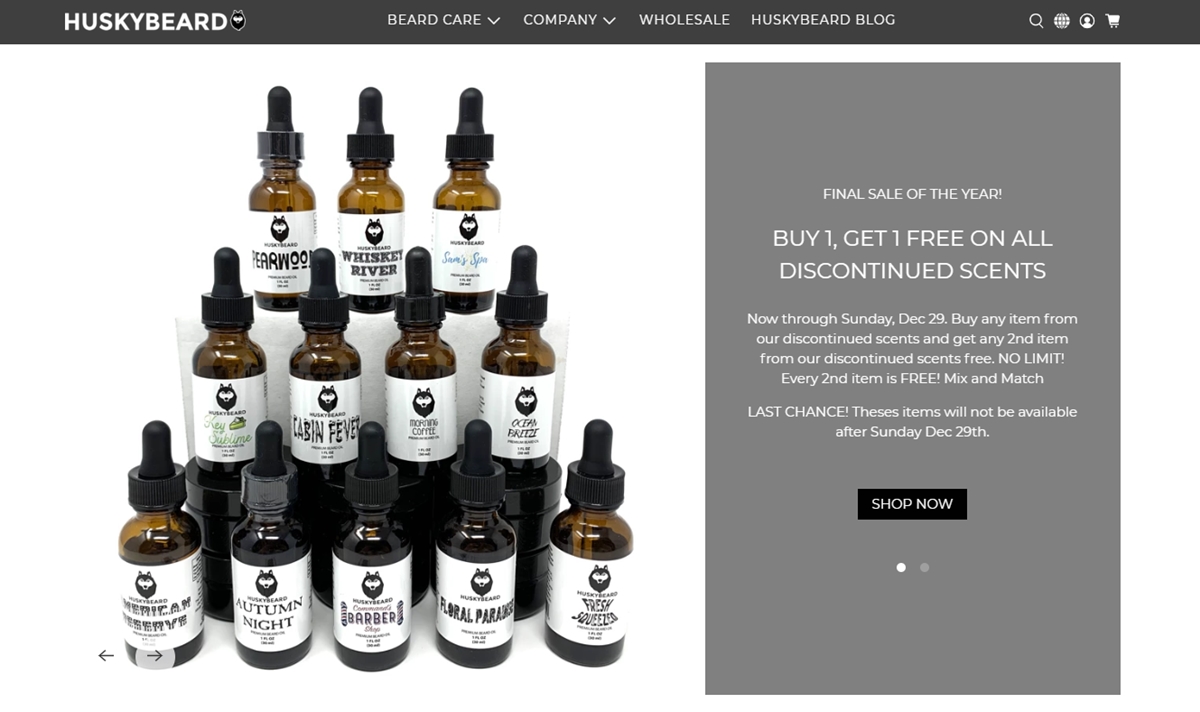 Husky Beard has something that many men will need to get over No Shave November - beard oil to take care of your beard. They provide many scents, vitamins, and combs, all to make the most majestic results.
The business has helped the owner provide for his wife and six children, so it is an undeniable success. The products are hand-made in the Netherlands, then branded with logo and can be shipped worldwide. Each product is filled with great customer reviews, so I gotta admire the owner for knowing how to pick the right products.
34. Lash Stuff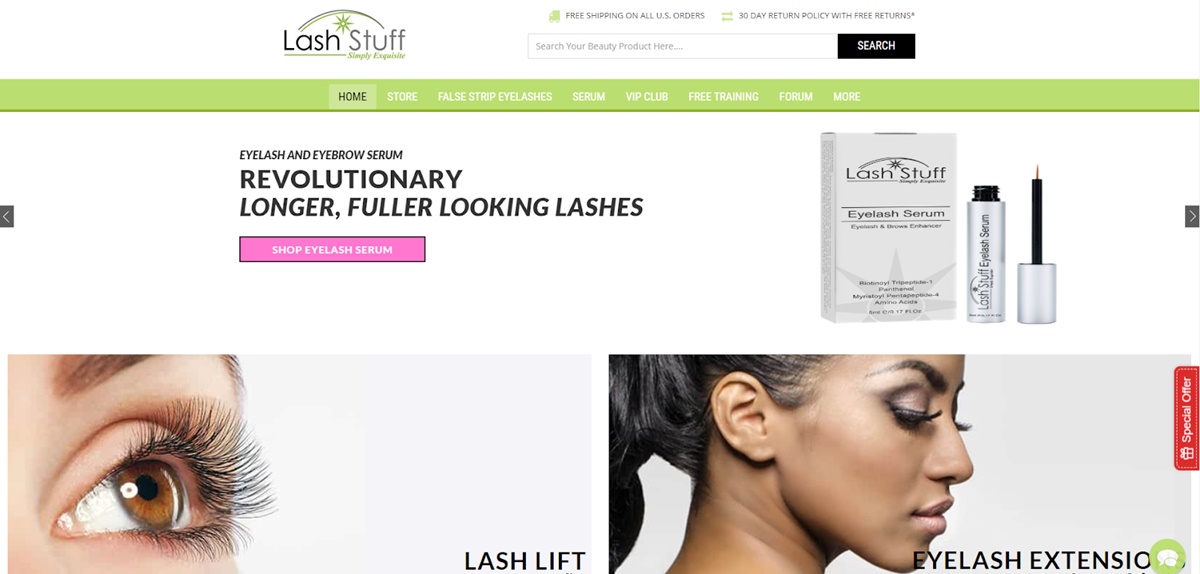 Niche products can be found anywhere, and for Lash Stuff, they sell eyelash extensions for profit. These are used to give you beautiful thick curve eyelashes in many colors. They also have serum and false strip eyelashes - which I'm still trying to figure out what they are for.
There is a VIP program for customers to gain special benefits like free shipping, free returns, free training. The training is for people who want to learn about eyelash extension surgery. A forum for members is also available to discuss all eyelashes-related topics.
Others dropshipping stores
Well, there is something that I just don't know which category to put in. These stores all succeeded in finding niche products that only suit them, which is even more incredible in the market nowadays. But that can be why they are successful Shopify dropshipping stores, let's take a look.
35. M2S Bikes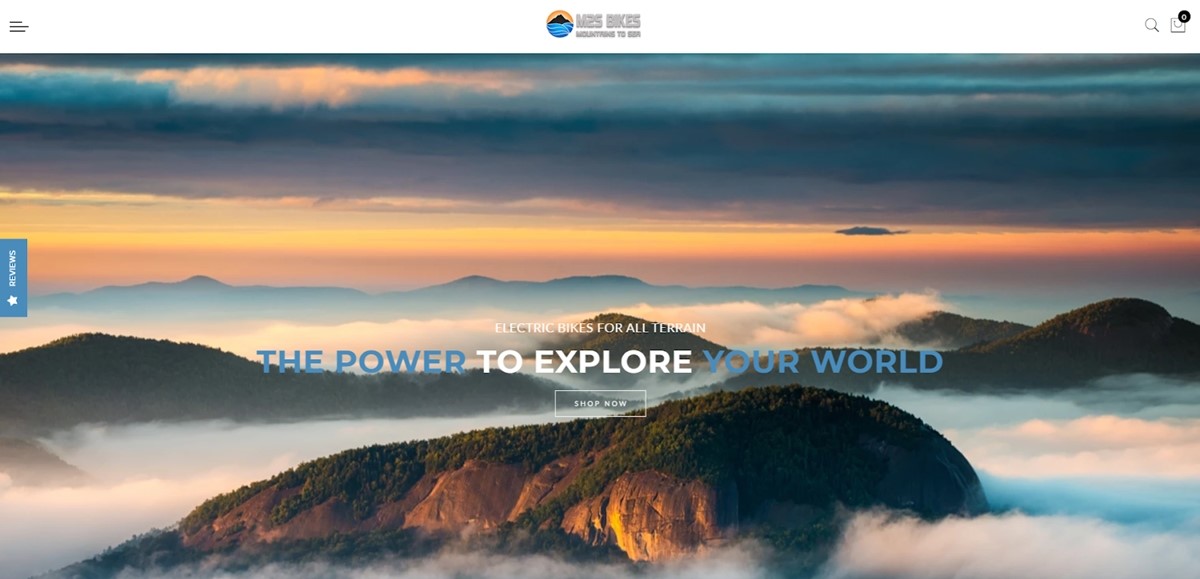 So get this, you are not selling just bikes, but electric bikes - which is a different niche on its own. That is what M2S Bikes has to offer on their site - powerful electric bikes that can ride from mountains to sea.
I think it is a great idea if you can dropship such products. All customer service can be done via emails or phones, while your products are manufactured and shipped from anywhere in the world. That is the power of eCommerce, the possibility lies in your hand, and of course, your budget.
36. Brilliant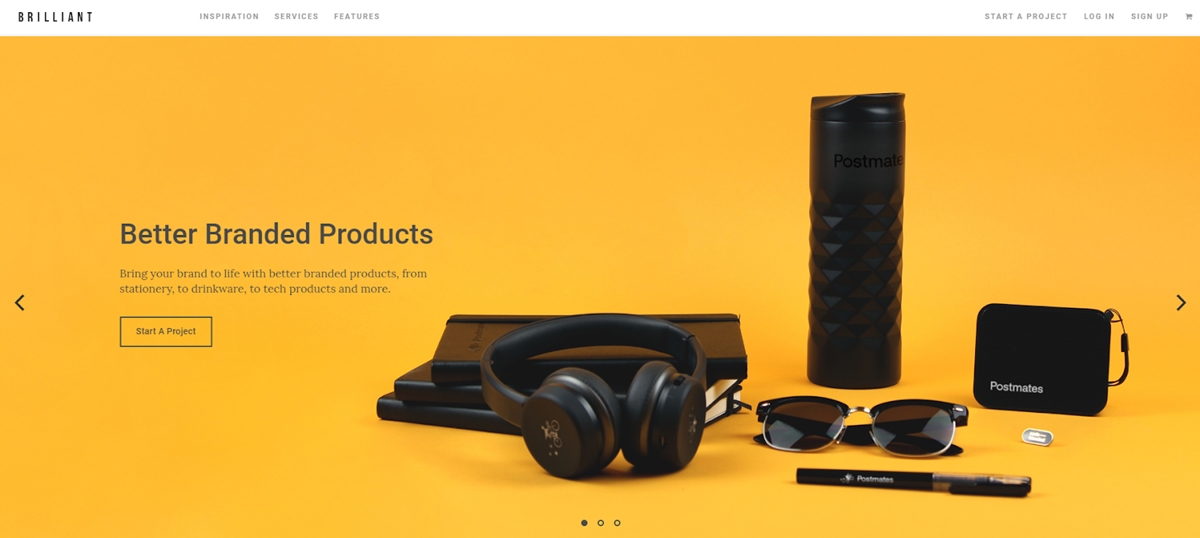 What if you don't promote products, but you promote the service that dropshippers need instead? Brilliant did that by branding themselves as a company that brand products for other companies. You can have headphones, pens, speakers, or anything with your logo on it.
So why is it dropshipping? Imagine you are promoting the service and do the designing yourself, but another company will do the storing, producing, and shipping for you. Oh, and if you are looking for a supplier to do dropshipping, Brilliant is available.
37. Wallplate Warehouse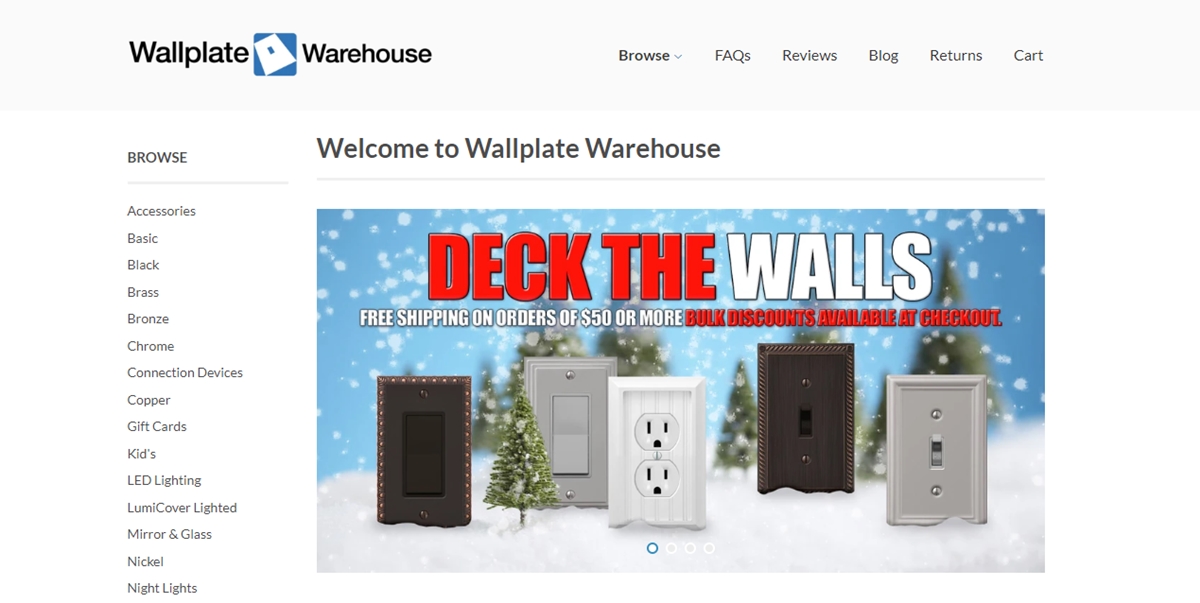 Making thousands of dollars selling wall plates, does it sound too good to be true? Not with Wallplate Warehouse - where they sell decorations for you switch plates in all styles, from classic to modern and many more.
And while you don't know you need one, this store has already sold to thousands of customers worldwide. This shows the power of dropshipping and your creativity, find the right products and you can sell things no one else has even touched.
38. Haus

For a site dealing with furniture, Haus stands out for their dedication to the contemporary style. Based in London where eCommerce is booming, they provide a wide range of furniture that are stylish and unique for modern houses.
What is impressive the most about them is the number of brands that are partners with them. There are over 80+ brands from all over the world that are named on their sites. The site's interface is simple and navigate, and you can learn a lot in using simple colors to make products stand out.
39. Luxy Hair

You can sell hair, too, in case you are wondering. Hair extensions to be exact, and that is what Luxy Hair has to offer. They have hair extensions in all kinds of length, colors, and styles to choose from.
Considered one of the most successful Shopify stores, what you can learn from Luxy Hair is how they do branding, educate their customers, and have the best pictures for each product. They now have even had their own factory in China to produce their own lines of products. There is also a long list of celebrities that use Luxy Hair products as well, which provides more than enough social proof to convince visitors purchasing their products.
Start dropshipping stores!
That is it, a list of 39 most successful Shopify dropshipping stores so you can gain inspiration and start running your own online store. They are all unique with their own niche products, promotion strategy, site's designs, but all overcame tough competition and gained undeniable success.
I hope they are enough to boost your confidence in starting an eCommerce business. Even though starting a new thing can be intimidating, the journey is what makes it worthwhile to try on!
What do you think? Is there any store that we missed? Are you ready to do dropshipping after the article? Leave your opinion in the comment section below and let us know.
You Might Also Like: