With the rise of online brands and the saturation of communication channels, it becomes harder for small businesses to shine through. Big corporations (and their big budgets) have occupied the most popular marketing channels and leave little air for small players.
Still, this doesn't mean that as a small business owner, you're doomed. On the contrary, with a little bit of personal touch and creativity, you can easily win customers' hearts with a few personalized tactics.
SMS marketing is often an overlooked channel in E-commerce, but it could be a perfect solution for you to attract customers in a non-intrusive and personalized way.
This guide will walk you through SMS marketing for small businesses, including importance, steps, ideas, and tips. Let's get started!
The essentials of SMS marketing for small businesses
As a small business owner or marketer, when you consider different marketing tactics, you need to do so in the context of your budget. Put differently, which methods can give you the most bang for your buck?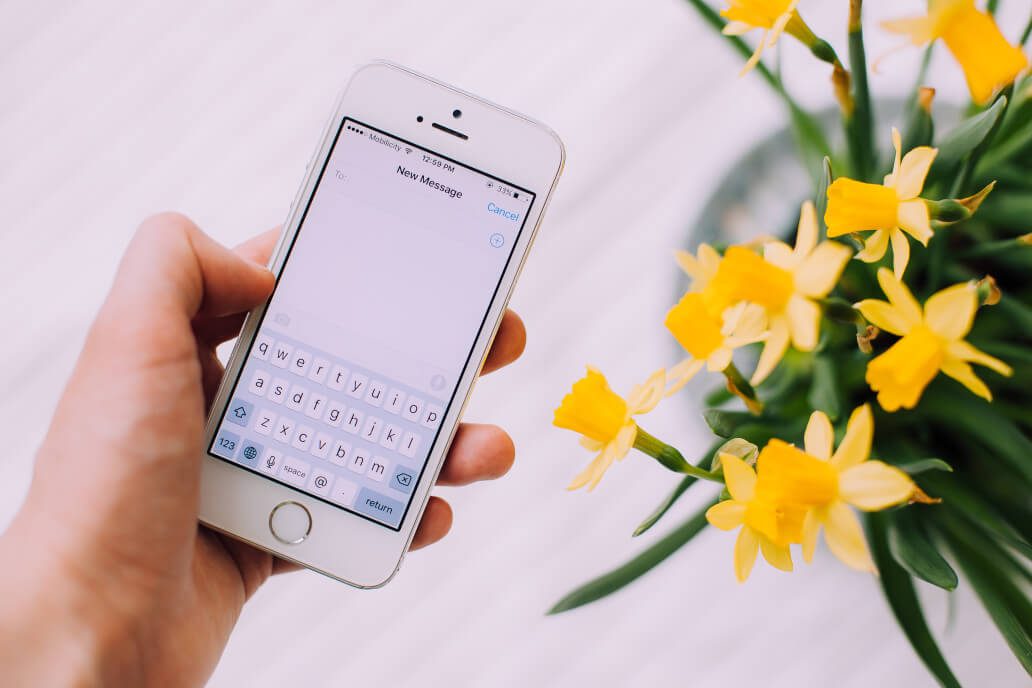 Look at the following statistics about SMS marketing and consider the ROI:
98% of SMS messages are opened
90% of SMS messages are read within three minutes of being sent
SMS messages have an impressive response rate of 45%
Take a moment to consider which other communication channels will be opened, read, and responded to on the same level as SMS marketing. They are far and few in between.
But that is not all - below are some more benefits of SMS marketing:
Recipients don't need an internet connection to receive your SMS message
SMS inboxes don't have spam filters that will catch your messages
Your message won't have as much competition as it'd on other channels
Perhaps the last point is the most important one. Even when your message could easily be drowned out and missed in a cluttered Facebook newsfeed or email inbox, it will be clearly visible in the SMS inbox.
5 steps to create an SMS marketing campaign for small businesses
"When using SMS, ask yourself: Does this marketing message warrant interrupting someone's dinner," says Greg Murphy - Product Manager of Mobile, Salesforce.
So, to avoid you ruining your customer's dinner - below is our guide to starting an SMS marketing campaign from scratch.
Step 1: Understand the potential benefits and determine upon your goals
First and foremost, ask yourself why you want to do SMS marketing and what you want to get out of it. Your goals - whether it is sending out product updates or offers, community building, or conversion - will define your campaign from the outset.
It's also essential to understand that SMS marketing has the potential to significantly drive higher numbers for metrics like open rate, customer response, and conversion rate than your standard email marketing efforts. Ensure you understand what these pay-offs look like for you before sending those messages.
Have a look at the breakdown detailing the particular benefits of SMS marketingto get started!
Step 2: Choose a trustworthy SMS marketing platform
Your campaign will require investment in some software package geared towards SMS marketing. Common SMS marketing platforms often offer a portal to segment and manage your lists, collect data about your customers, and send messages to them.
However, not all SMS marketing platforms are created equally. They'll offer your varying functionality at different prices. So, do your research on each, and then determine based on your needs and budget.
Step 3: Understand the legalities
There are important SMS marketing laws that small businesses need to consider before contacting customers. These widely vary depending on which country you're operating in, so understanding the local legislation is essential to avoid landing yourself in hot water.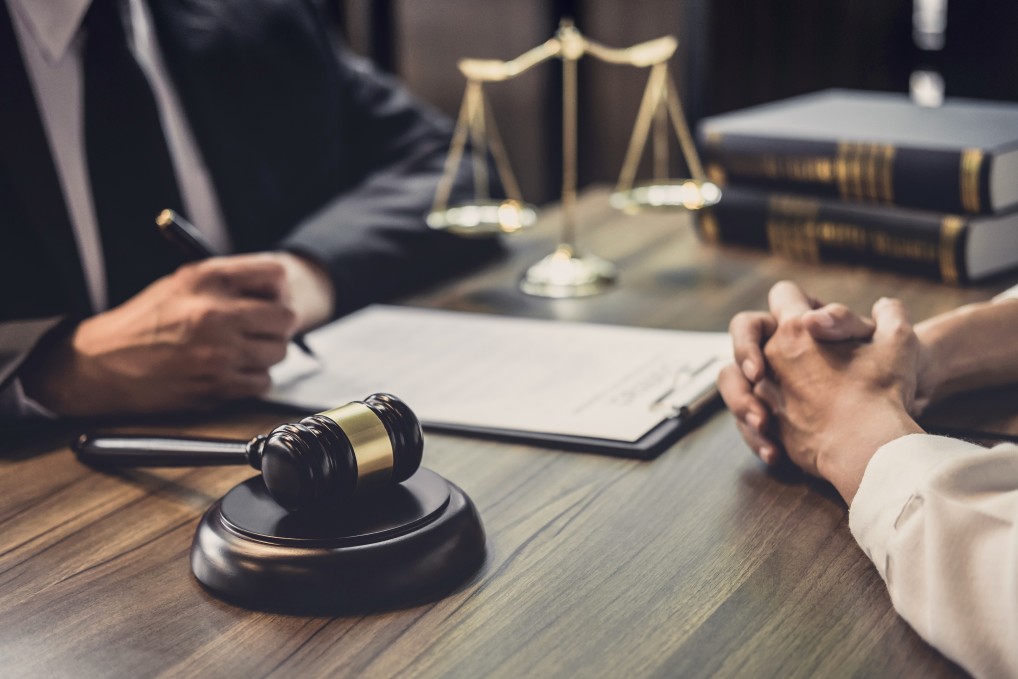 The TCPR (Telephone Consumer Protection Act) requires businesses to obtain explicit written consent before adding anyone to a marketing list in the US. Besides, subscribers must be given an opportunity to opt out of communications at any point.
The EU's GDPR (General Data Protection Regulation) serves a similar purpose, while the UK is governed by PECR (Privacy and Electronic Communications Regulations) and the Data Protection Act. Ensuring you're compliant with the relevant region is a must for any SMS marketing campaign.
For more information, head to our guide on SMS Marketing Laws.
Step 4: Educate your customers
Because lots of brands have no existing SMS marketing strategy in place, it's likely that many of your customers won't have interacted with a business in this way before. They may not understand what's in it for them and could feel reticent towards sharing their phone number with a company.
Therefore, it's up to you to educate customers on the benefits of using SMS to communicate with your business, as well as to reassure reluctant would-be subscribers. For example, if you provide custom pet portraits and want to keep in touch with potential customers through SMS, explain how a simple message can make the communication process easier.
Verb Energy has done this particularly well. This high-caffeine energy bar vendor uses an informational, transparent landing page to prompt customers to opt-in to its SMS-based subscription service: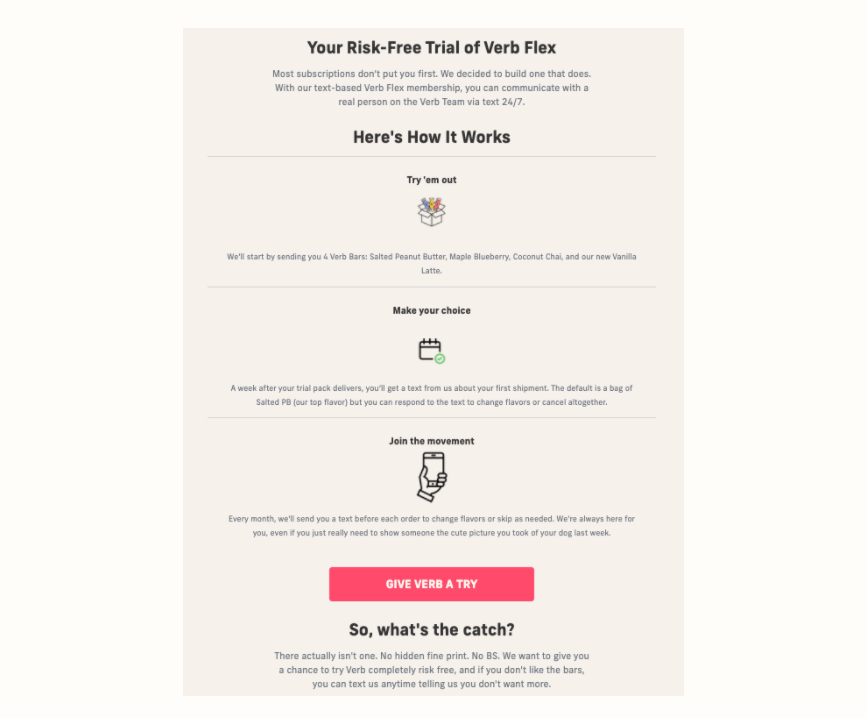 The landing page explains to visitors exactly what they're agreeing to before they subscribe. This articulates the benefits of signing up, while alleviating much of the fear factor around sharing phone numbers. The brand also publishes a detailed SMS policy on its website to further promote this transparency.
It's also necessary to point out that customer education is not reserved for your opt-in landing page. The fact that SMS is a relatively new marketing channel means that the in-channel content you deliver to subscribers must continue to explain its value on an ongoing basis.
Step 5: Nail your content
SMS marketing is a long-term play - it is about consistently promoting your brand, nurturing an audience, offering stellar customer support, and ultimately, converting. All of these things take time to develop, so it is no good just having a week's worth of content then quickly running out of things to say.
Plan a coherent SMS campaign that aligns well with your existing brand messaging and build a strong pipeline of content in place to support it.
This does not mean regurgitating the stuff you sent out in emails and put on your website, either. SMS requires short, straightforward, and value-packed content that people don't mind pinging up as a notification on their phones as they're going about their lives.
5 SMS marketing ideas for small businesses
Below are 5 SMS marketing ideas you can use to reach new customers, engage prospects, and drive sales.
1. Welcome new subscribers
When someone has just agreed to give you their number, it's better to reach out as soon as possible and build a relationship.
It makes sense to strike while the iron is hot. Why would you wait for a day, a week, or even a month to send your welcome message? By then, subscribers might have forgotten all about you, making them less likely to engage with your brand.
Welcoming new subscribers gives you a valid reason to get in touch. It is your chance to say who you are, what you do, and why they should buy your products.
Below is a welcome message from SkinTē - a green tea brand: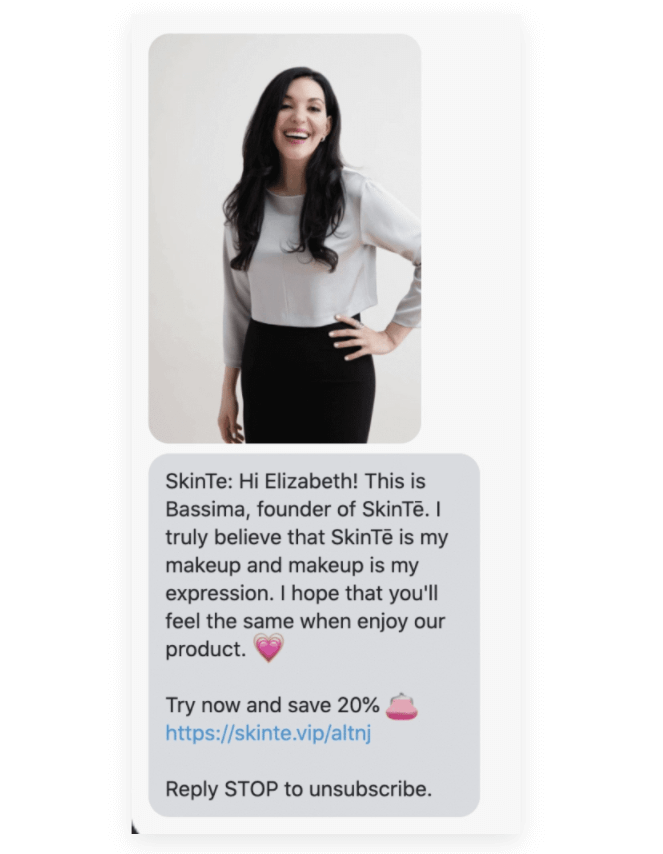 This message ticks so many boxes:
It is personalized
It introduces itself, explains what it does and its back story
It includes a clear CTA (call to action)
It gives recipients a chance to opt-out.
All that in fewer than 50 words.
2. Promote product launches
While the whole point of promoting new products is to drive sales, there is still room for subtlety. Many recipients won't respond positively to a text message that says: "Buy our new product… Go on, please!"
Whimsy + Wellness strikes the right balance between driving sales and keeping things bright and breezy: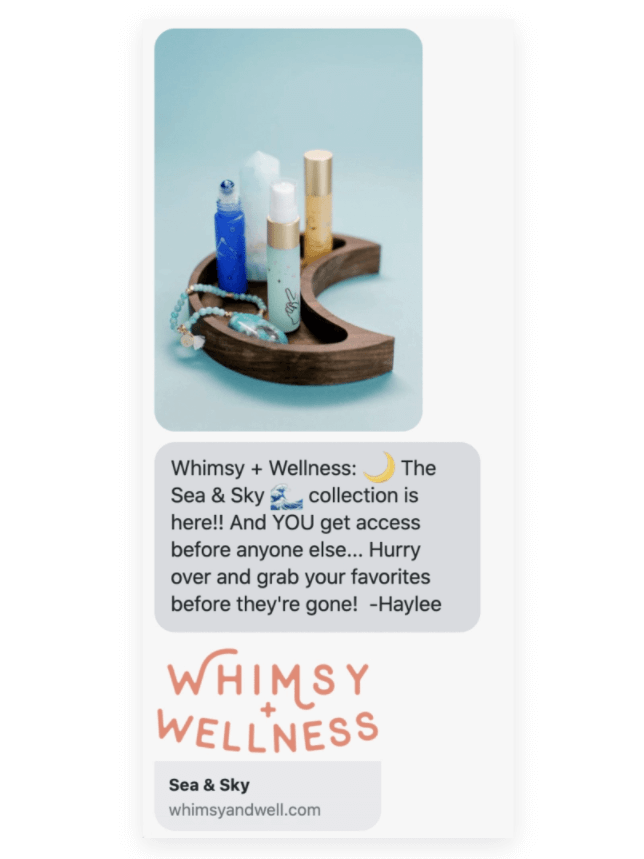 The message works for 2 main reasons:
Its tone of voice and use of emojis is informal and light, meaning it doesn't come across as too pushy
It gives the reader a clear reason to purchase now by instilling an air of FOMO (Fear of Missing out)
It is smart to offer a non-price-related incentive when promoting new products. If the only way to promote your latest product is through a discount, that does not speak too highly to the product's value. If possible, save that sort of marketing for end-out-line or out-of-season items.
3. Offer discounts & promotions
Whether you're running a special promotion or preparing for a key seasonal event, it is obviously in your interest to spread the word.
Chances are you are already doing that via social ads and email, but SMS can add an extra string to your marketing bow.
This is when you need to be salesy but smart. Let's see how Triangle T Boutique did: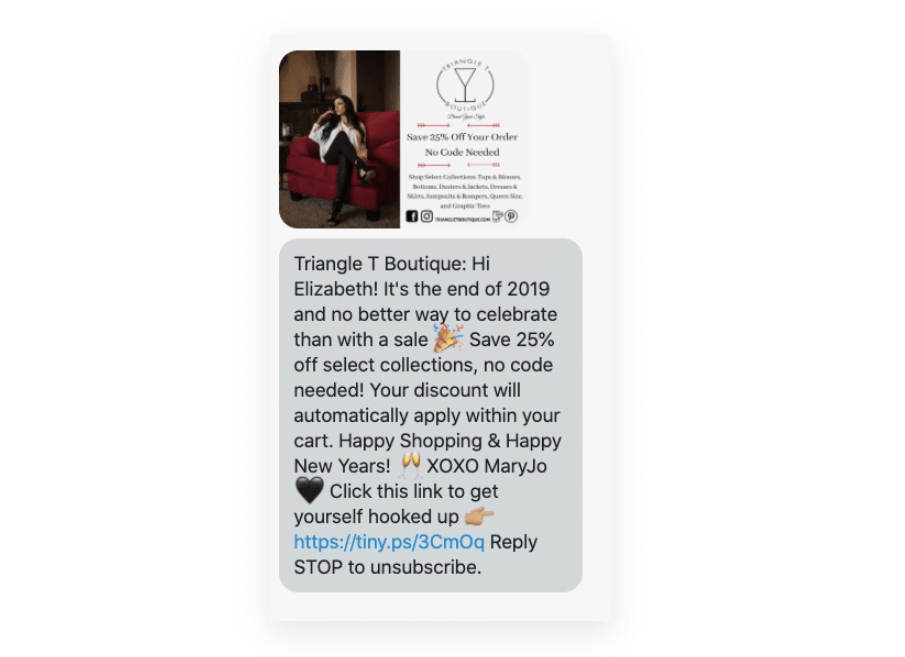 While it is a little bit "busy," it works well because it clearly spells out the offer: make a qualifying purchase, and then your discount will be automatically applied. That means there is no room for confusion during the checkout process.
4. Follow up with cart abandoners
According to studies, 2 in 3 people who start the checkout process will abandon carts before completion. So, cart abandonment is a big problem.
A lot of brands attempt to deal with it by sending emails. But SMS messaging can be a viable option, too, because its immediacy means that you're able to be on hand with a solution just moments after someone has ditched their cart.
Below is an example from Brooklinen: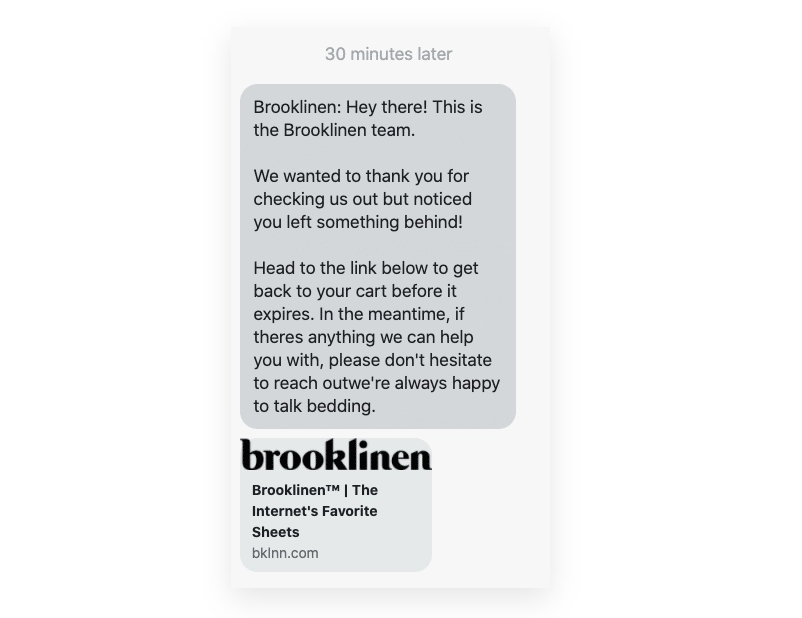 This message is not too pushy. Of course, it is driving the recipients to complete their purchase, but it does this in the guise of a customer support message: Did something go wrong? If so, how can we help you?
That's a better option than going straight in with an incentive to compel shoppers to finish their transaction.
5. Drive cross-sales
Whether by offering an incentive, teasing a new product, you have managed to close the deal.
Congrats!
But your work is not finished: there is a valuable opportunity to drive more sales through cross-selling. As you know what the customer likes, you are in a strong position to recommend complementary products.
That's precisely what NaturAll Club does: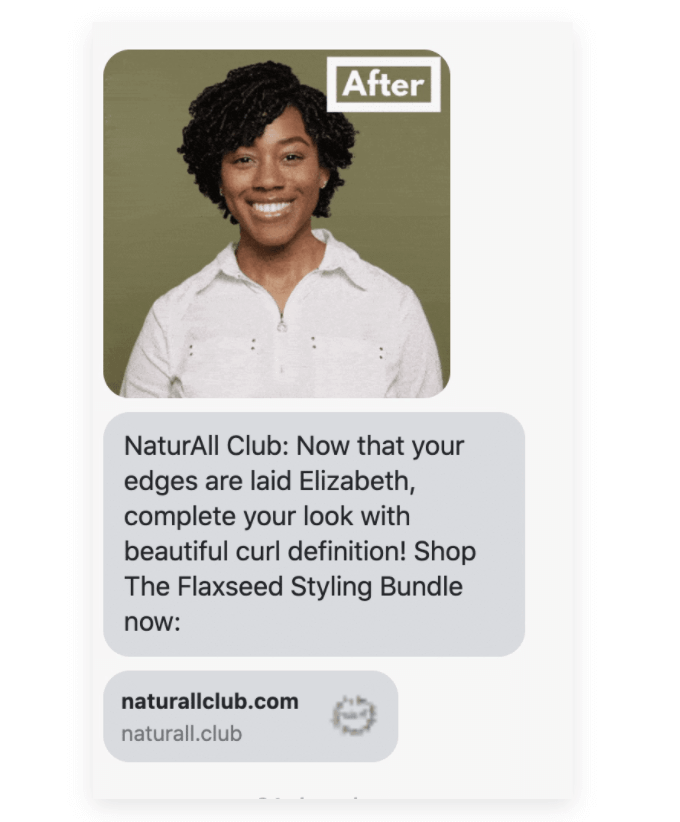 This text message works effectively because:
It states the benefit of the product that customers have already purchased...
...while making it sound like their look will not be "complete" until they have made a secondary purchase.
You can try adding a small discount to your cross-selling text messages - something along the lines of "You've bought Product X; Product Y will make it even better. And if you buy it now, we will give you 10% off."
7 tips for leveraging SMS marketing for small businesses
Below, we outline 7 SMS marketing tips for small businesses to get started. We hope you can learn something useful for your brand!
1. Get familiar with SMS marketing laws
Before starting to send SMS messages, brush up on SMS marketing laws.
In short, common SMS marketing laws require you to:
Only text people who have opted to receive your communications. Never (ever) text people who haven't given you consent to text them. There are multiple ways to gain opt-in, and they will vary depending on your business.

Keep your texts short and relevant. People will dismiss your message and unsubscribe from them if it doesn't contain the content they want to see. If your subscriber signs up for weekly deals, they should only receive weekly deals.

Give clear instructions for opting out. Recipients should know how to opt out of your messages, and the process should be easy to complete. At the end of your message, simple language such as "Reply STOP to unsubscribe from future texts" is recommended.
2. Make personalized and exclusive offers
SMS marketing allows you to share personalized messages and offers with your subscribers. Since its open rates are high, people are happy to see your offers. And when your message is personalized, you can imagine the level of happiness.
One can argue that recipients might open your message and forget about it. However, here's the catch. Make your text message personalized and add an engaging CTA to prompt the reader to respond to your message.
3. Your copy is important
Just as you'd carefully put together copy for your ads, store signs, emails, and brochures, your text messages should be prepared thoughtfully too.
Use natural, conversational language. Your recipients are human, and so are you! Avoid sounding like a robot; instead, use language that engages them.

Stay on brand. Don't confuse your recipients with slang and quippy copy if your brand does not present itself that way across other communication channels.

Include a strong CTA. Create a strong CTA that gets your subscribers to click on a link, visit your store, take advantage of a sale, or whatever you want them to do.
4. Use images when applicable
Images can make your text messages much more memorable and entice recipients to take action.
For instance, when promoting a product, you could add a photo of the item to your text message. Or, include an eye-catching image to announce an upcoming sale. Images can be helpful to get an extra copy in your message without taking up valuable character space.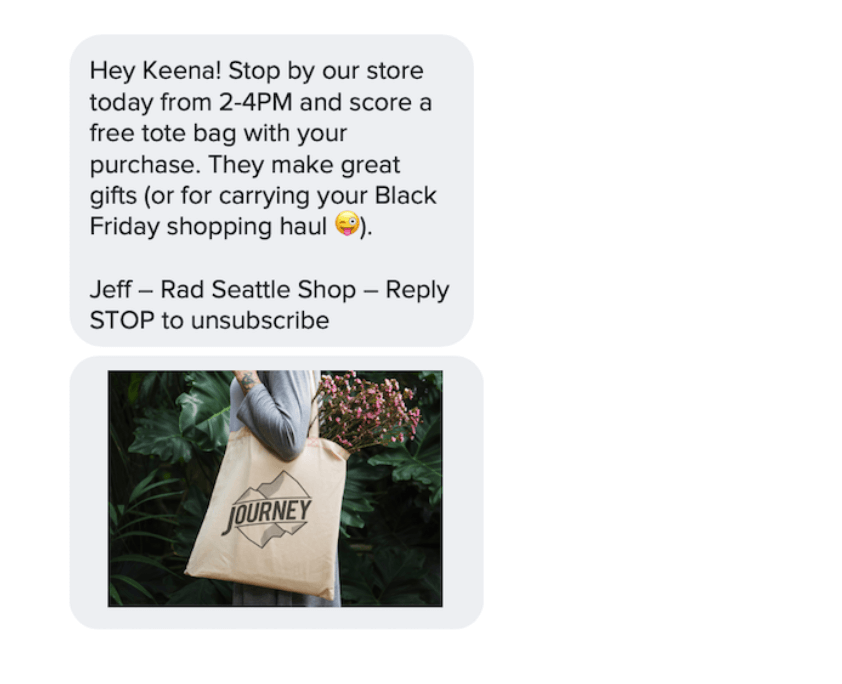 5. Pay attention to your sending frequency
Sending an abundance of SMS marketing messages will only lead recipients to opt-out of your list (they might view your text messages as spam).
When they opt-in, state clearly about your intended frequency if possible and stick to it. If customers sign up for notifications of upcoming events, they should only receive texts when those events come around. If they sign up for notifications of new product launches and first access to special deals, only send texts during those times.
Read more: SMS Marketing Opt-in: The A-Z Guide
6. Integrate SMS marketing with other marketing channels
When creating a marketing strategy for your upcoming event or sale, always include SMS marketing in the bucket of communication channels you target to promote.
There is a better chance of moving consumers through the leads or sales funnel if they see your messages on different platforms. It'll establish a good brand recall and increase the likelihood of people taking action.
For example, you can create automation workflows, including both SMS and email, to boost your sales.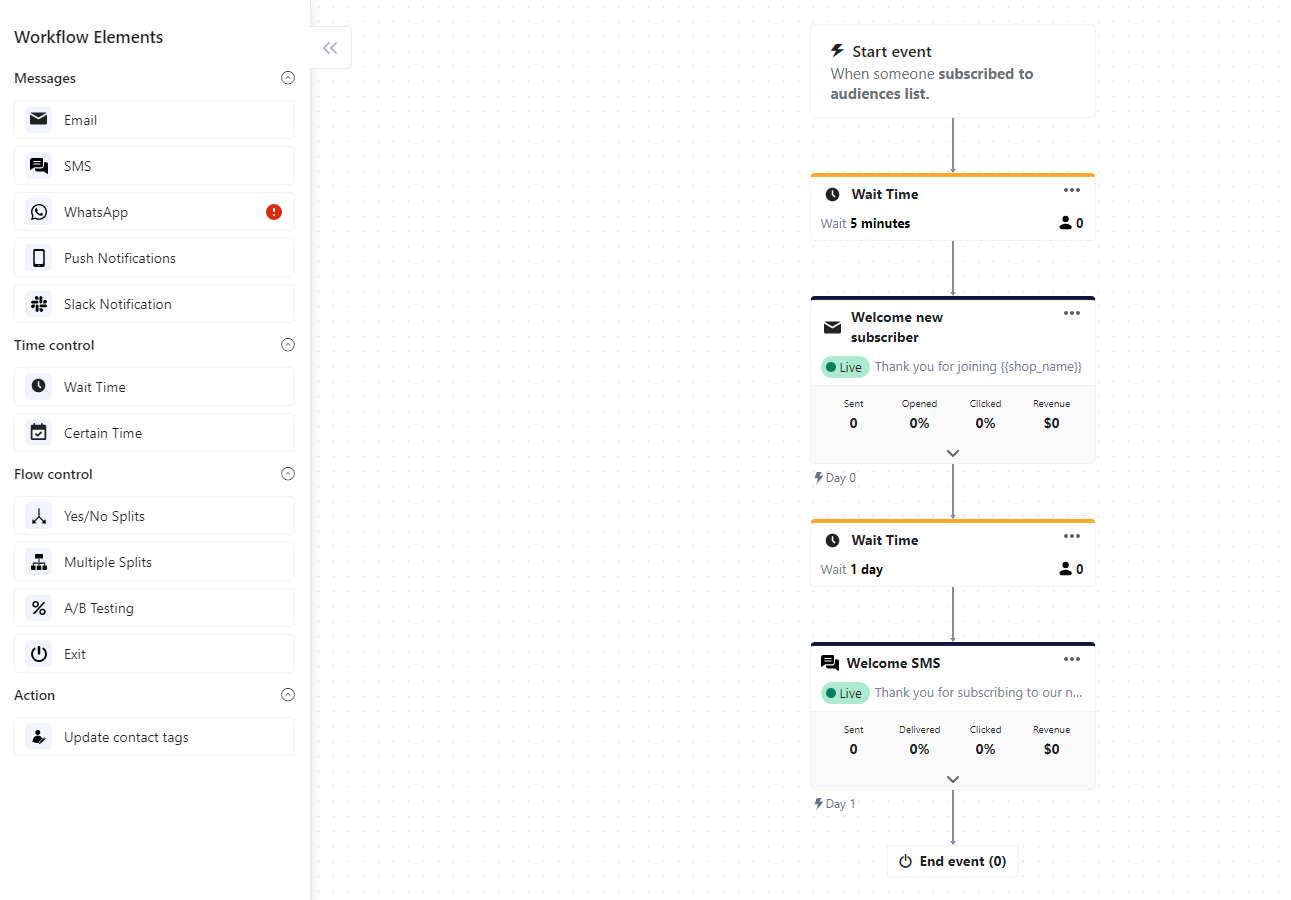 AVADA Commerce helps you do that instantly. It is easy to do, logical, and effective. For more information, check out our guide on How to Combine Email and SMS in Automation.
EXPLORE AVADA SMS & EMAIL COMBINATION
7. Don't forget about the metrics
It's vital to measure the performance of your SMS marketing efforts. When looking for business-texting software, consider features that track texting volume, so you will understand what time of the day recipients are more likely to text.
Besides, consider platforms that have keyword reporting to help you determine which keywords have better engagement and have a higher response rate.
Final thoughts
We hope with this guide, your small business can run effective SMS marketing campaigns. Let us know if you have any concerns about this topic! Happy sending!