More people switch to using Shopify to for its simplicity and special optimization for dropshipping. However, many online merchants suffer from trouble using the wrong themes that aren't effective in making sales or not optimized for conversions. Shopify e-commerce businesses and drop shippers tend to use the Shoptimized Shopify theme that is said to be the most popular and proper for Shopify stores.
Is it the best drop ship theme? Are there any better options out there that we don't know? In this Shoptimized Theme Review: Will It Help You To Increase Sales? post, we will give you a deeper look into the theme and experience of Shopify business using this theme before.
Let's find out whether the Shoptimized theme is the best for you or not!
What is Shoptimized Theme?
Before knowing what Shoptimized theme is, you should have a quick review of its community and its history.
Shoptimized is the name of the named community, which is Shoptimized™. It included E-commerce entrepreneurs gathering to share their knowledge and tips about how to increase the sales and stand out from many competitors in the same industry.
Shoptimized™ was designed and launched by Conversion Rate Expert, Bradley Long. He desired to use his own experience in online business to create a place for store owners worldwide to learn how to grow their business effectively. Bradley had worked with many of the world's most sophisticated brands as a conversion rate optimization consultant and devoted much to their successes. He had helped them gain double or even triple-digit growth within one year.
Therefore, in 2015, Bradley made up his mind and release this amazing training, which focuses on educating and teaching online merchants to develop their stores. The program was so successful that he decided to design another split-testing training for only Shopify stores, which is eCom Conversions. This training was the very first campaign in the world, having the same goal.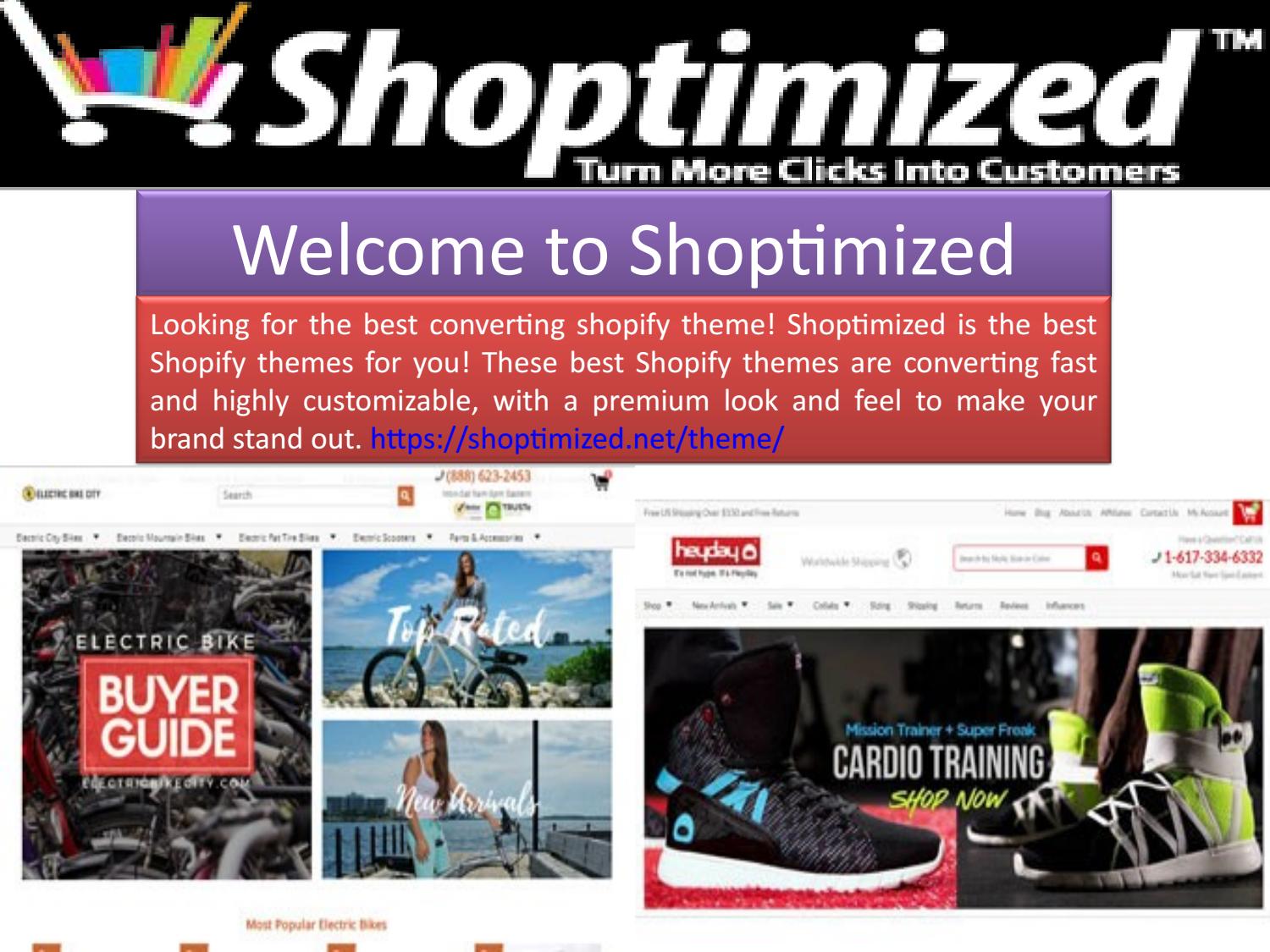 He then architected the Shoptimized™ Theme with the hope of giving his experience of 12 years working as a consultant and store owner to the users. Coming to Shoptimized™ Theme, users will find out what benefits and what hurts the conversions of their companies.
In general, Shoptimized™ quickly provides you with what's really working in the landscape of eCommerce while Shoptimized™ Theme is surely an easy-to-apply and highly converting Shopify theme for any online store owners
Read more:
Shoptimized theme reviews: Is it worth your money?
Shoptimized Features
Top Menu Navigation
The first feature we want to review is the top menu navigation of the Shoptimized Shopify theme. Here are what they provide:
In the top left-hand side: The social media icons where you can display a Facebook like and Share button. The buttons are followed by a geo IP message that says, "Spend A to get free shipping service to A country". A letter in this message will verify based on the IP and the current location of users. We think this feature is perfectly useful since this tailored message is done on IP can it create a nice sense of personal touch. That means your customers will feel like they are listened to and be more willing to come to your site. Additionally, you can then add a currency converter that users can change.

In the top right-hand side: Here comes the currency converter that international customers are looking at to adjust. Your Shopify shop is for not only local customers but more groups from multiple countries in the world. This tool will then make your store more flexible by offering many different currency and payment methods making international are more likely to make a purchase since they can now pay in their preferred and suitable ways.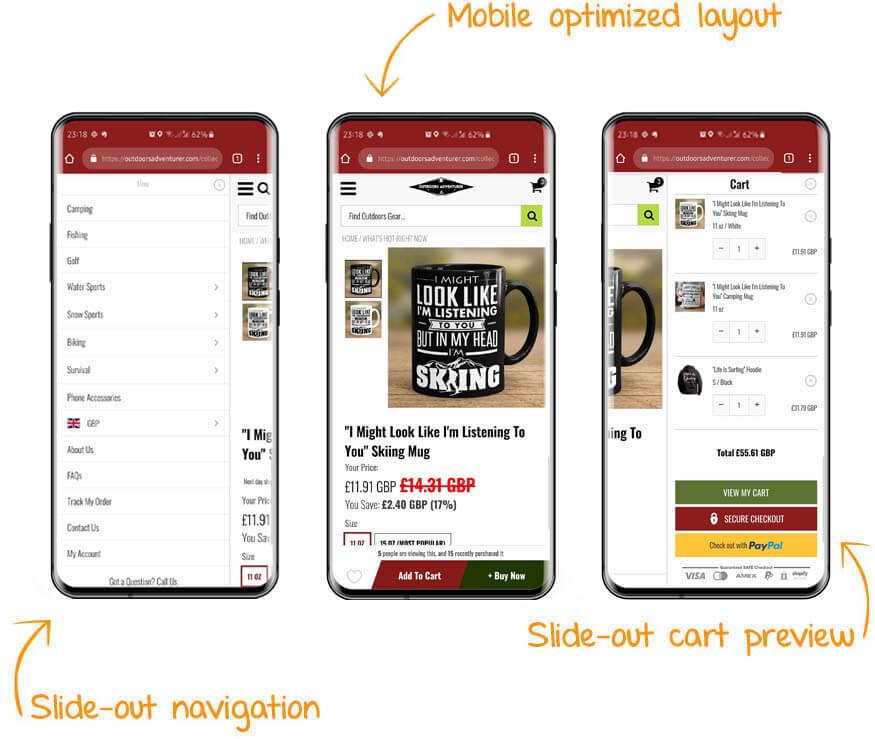 Next to the currency converter, you will notice a place where you can add links to your inner pages. They may include Blog, About Us, Contact Us, or My Account. One more feature that you can see in the top right is the cart icon showing the price. Any time a customer adds a product to their shopping cart, the Cart icon will pop up in a modal, and you can then edit the quantity number.
To see the items that have been added to the shopping cart, you can hover the mouse over this site and notice many buttons, trust badges, and shipping messages being filled in one place, which makes it look very busy. You still have a chance to quickly edit the cart site by clicking on the icon and see a right-side panel exposed.
One drawback when viewing is that the version on Mobile is not included opacity. Users have to edit and view it via Desktop or they will have to see the low-qualified imagery. This is also a difference between the Cart and the background.
The next row is where you can add in your business logo, slogan, and a search box aligned in the middle. You are free to customize these elements as you wish. To be more specific, the searching bar is the predictive search one.
That means when a user types certain words, it will base on the keywords and display pre-populate likely products. One the right is a Contact Us form that can be adjusted to anything you want to suit your store. This business contact information will help with your conversion rate.
Finally, the last row is connected with your categories and products. When you hover over the links, it will automatically display a dropdown menu that you can change to show a mega menu or a standard one.
Homepage Features
Next, let's find out what you can benefit from the homepage features of the Shoptimized theme:
Displaying a slideshow: Within the homepage is a slideshow where you can show your products provided. In fact, it is a big banner for users to edit and show what they want. Here you are enabled to include collections and HTML blocks. The product collections are contained by featured products, its price and review, and content tiles. For each product, you can include the current price, stock availability, or any tags like a free shipping icon, a quick buy button, the current sale price, pre-order option, in stock, and more.
You can choose to show or hide this on desktop and mobile devices. When uploading lifestyle photos or highlighting your brand's characteristics, it is vital to make sure your theme looks great when customers see it. Although it can be displayed on both devices, it is better on desktop or mobile with a widescreen monitor.
Having the header fixed: You can choose whether to have the header fixed or unfixed at the top when scrolling down the page. The content of the header will become a very thin line which includes only the business logo, search bar, phone number, or contact details while the top layer will be automatically hidden. Additionally, users are free to customize anything they want.

Creating your main content area with testimonials: When scrolling down the fold, you will be allowed to customize your main content section. Here is where you can upload photos of customers having your products on or using your services if you sell directly to your consumers.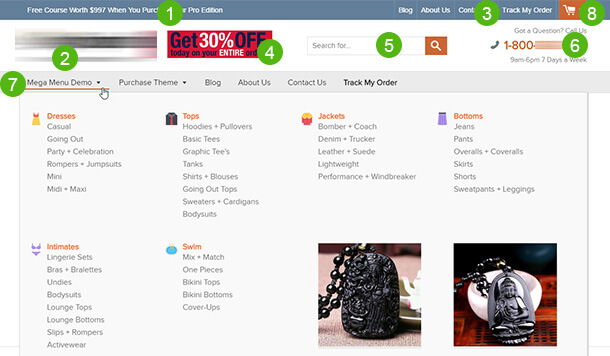 Simply put, you can include images with an HTML block and let users cycle through images. You can then add a Youtube or Vimeo video underneath and design the columns and rows based on your style. Below the videos or images is an area for your customer testimonials. In case you want to add more testimonials, you are free to use a grid or a carousel and be creative with them.
Having testimonials on your site is essential for businesses working online since they work well in building brand trust, social proof, and the brand's first impression with new customers. Remember that almost all content on the homepage can be toggled using the navigation.
Footer Features
The footer section locates towards the bottom of the page in which you can display images and text about your store. The Shoptimized Shopify template also provides users with many cool features.
You can freely customize the text and images to make it suitable for your brand. Some of the popular content online merchants tend to use are Call to action boxes such as a satisfaction guarantee, secure checkout buttons, icons or images about the money-back guarantee, unique selling points of your store, or trust badges.
They are used to inform your customers of the payment methods you accept and further information, which persuade more audience to visit and make a purchase. There is no limit to the amount of text or the number of images you can add here.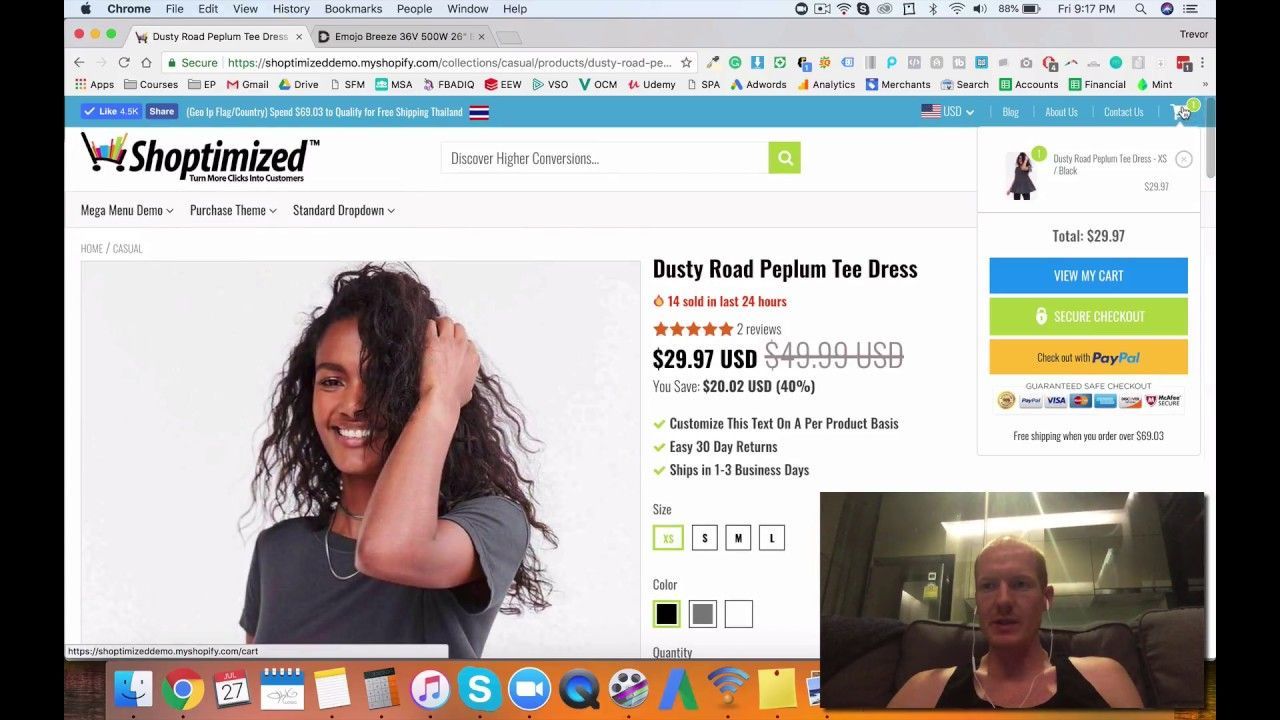 The main footer stays below the Call to action boxes which includes an email subscription widget in order to build up mailing list subscribers. That means you can add an email sign up form on the left of the footer section and pay your customers a particular incentive when signing up to your email list.
Besides money, merchants tend to attract the audience by offering them special discounts, guides, cheat sheets, and more. The reason why this tool is helpful for online businesses is that it helps merchants make more money in the backend of their eCommerce stores.
What's more, in the center of the footer is where users can add quick links to their inner pages. This tool is similar to what the Shoptimized Shopify theme provides in the header. Having a widget for showing pages in your store, you have a chance to indirectly provide important information about your brand. For example, you can include your Privacy Policy, Terms of Service, FAQ's, or Contact Us.
Finally, to display your business contact information, phone numbers, and opening hours of your store, you can add those data on the right-hand side.
Besides, the Shoptimized theme brings about a sub-footer in which you can add social media icons, your trademark information, or copyright details. Linking your social media profiles to your website is an effective way to gain social proof and then increase the number of new visitors or followers.
One more plus point of footer features is that you do not have to worry about whether your site is up to date or not since the date is automatically updated every day.
Product Page Features
The product page is the most important section where your customers will focus on to make most of their purchases. Therefore, it is necessary you should spend much attention on your product page to maximize the sales and conversions. Luckily, the Shoptimized theme provides many useful features to help users build better first impressions and bring about a smooth shopping experience for customers.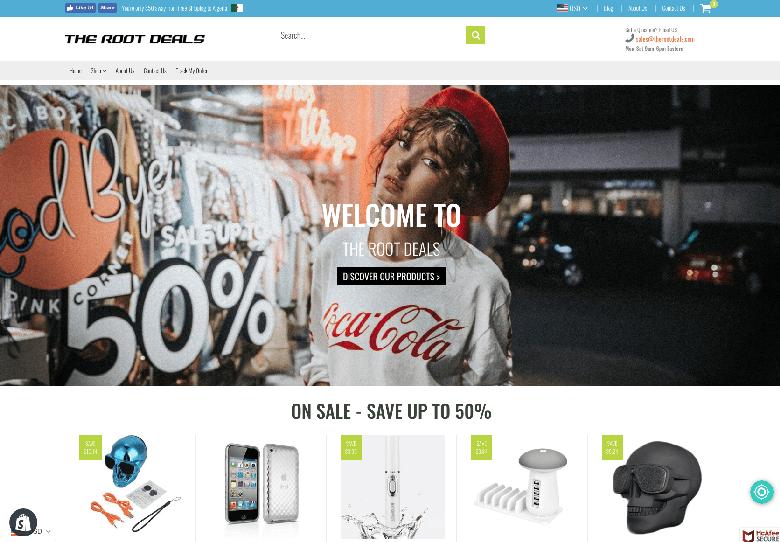 So, let's dig into to find out what you can benefit from such theme:
The hero picture: This one seems to be the biggest and most impressive among all. Here is what your customers look at to decide whether they should buy your products or not. In order to zoom in the image, customers should simply hover their mouse on top. The zooming tool is perfect for smaller products or those with fine details like jewelry or handmade accessories.

Adding Top Rated: You are enabled to include tags like Top Rated on top of the product images, which will inform your customers of your best-selling products.

Including many secondary images: Besides the hero image, you can also add the secondary images, which can be toggled by clicking on them.

Social sharing icons: This tool is provided below the thumbnails to let your customers easily share your products with their friends to look for suggestions or to recommend others.

Nice and bold title: This feature is similar to the price, which makes it look more professional and outstanding.

The number of items sold in a limited time: This is put between the product title and Add To Cart button. For example, if you want to display the number of products sold in the last 1 day, you can easily design one with a flashing emoji. This is noticeable but remember not to overuse or use it with the built-in social proof pop up.

Customize your own store: That means you are free to add product reviews, unique selling points of your store, or a built-in customization feature for users to personalize their items. Instead of spending money on installing many apps, you can just install Shoptimized them to fulfill all those tasks.

Trust badges: You can display trust badges under the Add To Cart button. However, this tool is said to be unnecessary.

CTAs: The Call to action button is easily adjusted, which allows users to test different button colors, sizes, and text.

Fake quantity countdown timer: This feature is put under the call to action button to persuade visitors to make their purchases more quickly. Based on a scarcity tactic, this tool is used to motivate consumer's buying decisions since they tend to buy things not to miss out on any great deal. To set that timer, you can simply add a tag to a product that you want and change the number of days or hours which the timer will start to count down from.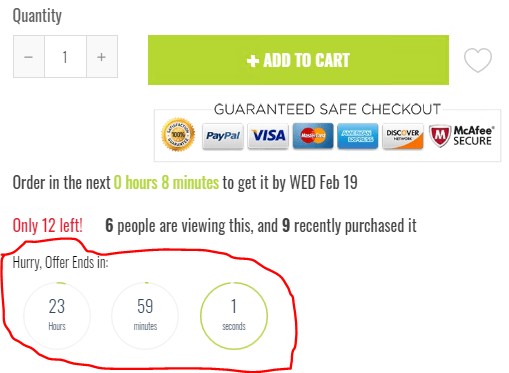 Fake live visitor counter: Apart from the quantity countdown timer, you can show a fake live visitor counter to boost the conversions. Like the countdown timer, the visitor counter is used to convince people to spend money buying your products by letting them know that other people are browsing your store. That means the shop they are looking at is legitimate and worth spending time and money on.

Shipping time estimator: Another cool feature is the shipping time estimator, which Amazon also uses to increase their conversions. This one helps to inform your customers of the time they want their packages to be shipped.

Set of default icons: Shoptimized theme helps you add icons that represent your business's value proposition and the highlighted advantages of making your brand stand out from others. The set of default icons that the theme provides is not really eye-catching and impressive. Instead, you should upload your own sets and use them as you wish.

Main product details: The main part displaying your business data and profiles is put below the folds. Being added in a tab format, the information contains everything important about your business for online visitors. By clicking on the tab, your customers can dial the data they see and keep the product page systematic and organized.

Displaying related products: Besides the main products, you can also display related products automatically cycling through by itself when scrolling down the page. This is a way to suggest other impressive products of your stores making customers desire to buy more.
Again, this feature is totally customizable, which means you can choose which products you want to display or the random mode letting the theme handle this task. The related products are often attached with customer testimonials to build trust and social proof
The floating bar: This cool feature appears when you scroll down the page. Displaying the name, price, and reviews about the product and an Add To Cart button, the floating bar is the tool existing only in the Shoptimized theme. We are not sure about this feature's effectiveness, but developing a one-page product store will help increase conversions. Or else, it might be rather annoying.
Related posts:
Cart Page Features
When coming to the Shoptimized Shopify theme, you will be provided multiple cart pages but we will only mention one that is the most popular among users. That is the cart page sidebar on the right. As we mentioned earlier, the features look cool on desktop but it lacks opacity to be at high quality on the mobile version.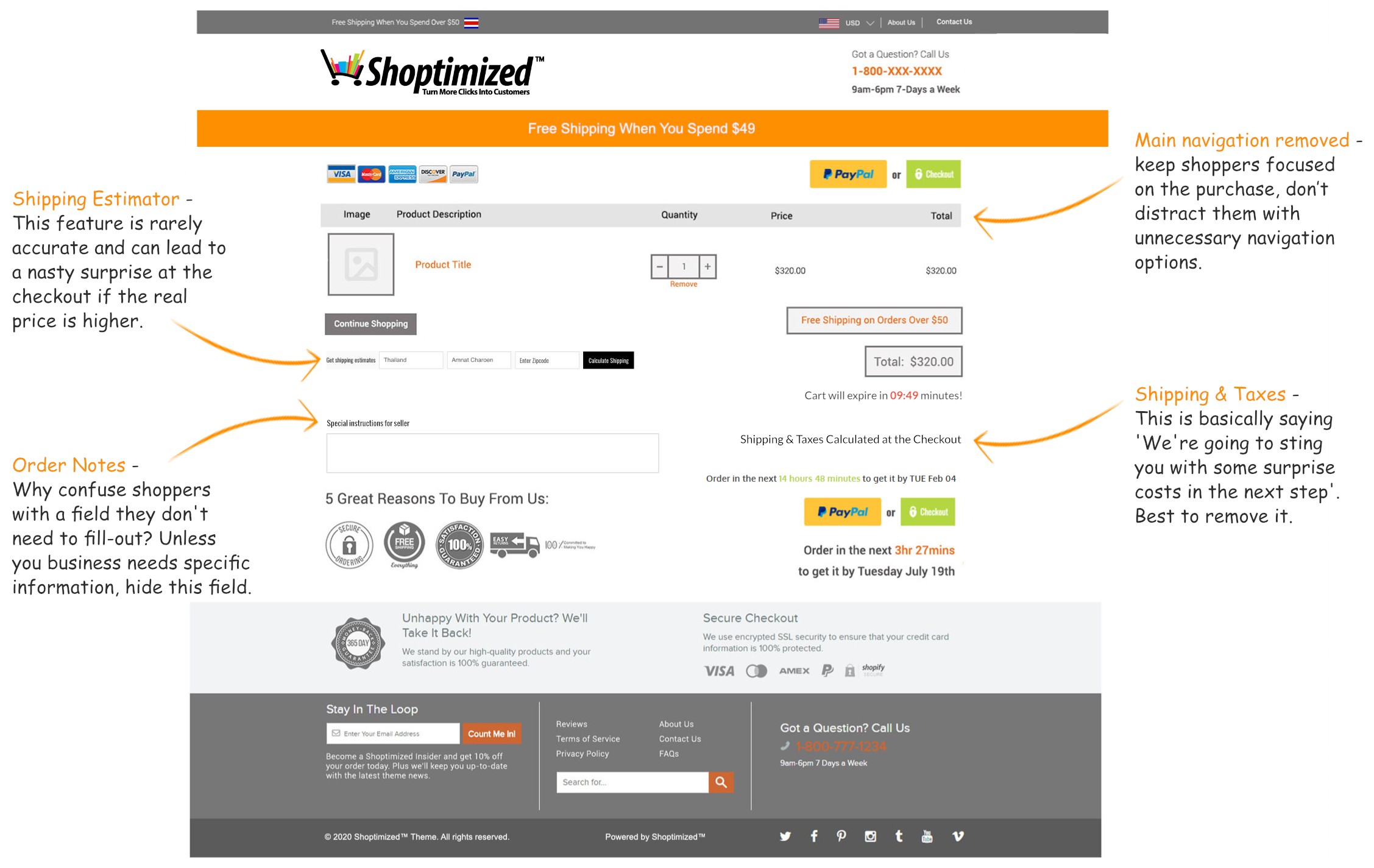 Despite this drawback, cart page features of Shoptimized theme is still impressive since it includes the title, a small image, the description box, the total price, View my cart, and the usual checkout buttons. In addition to those tools, you are enabled to encourage a higher add to cart amount via the "You're A away from unlocking free shipping" button. Here are what you can do with your Cart page:
Once a customer adds a product to their carts, the cart modal will be automatically activated. To come to the cart page, you should click on the View My Cart button.
Customers can choose to adjust their item quantity, Continue Shopping, view their cart, and secure checkout
The shipping message is used to inform the user that they qualify for free shipping.
There are no differences between the actual cart page and the default Shopify checkout page. Here you can add a fake cart expiry countdown timer anywhere you want within the page. This timer is effective in pushing your customers to the buying decisions before the time runs out. It looks very similar to Conversion Pirates script but on the actual cart page.
To come to the standard Shopify checkout page, customers need to click on the Secure Checkout button. The checkout page is hardly stock standard. However, it still includes a logo and multi-step checkout tabs.
Shoptimized Pricing
The Shoptimized Shopify Theme now offers three pricing plans for one, three, and then store license.
The Shoptimized theme is currently $167 for a single site license. You can also choose the plan with the three site license for $394. This option is ideal for online merchants who are putting efforts into growing the sales and size of their businesses. What's more, if you choose this plan, you can save up to $65.66 per store license. The things are similar when you choose the plan with the ten store license for $597.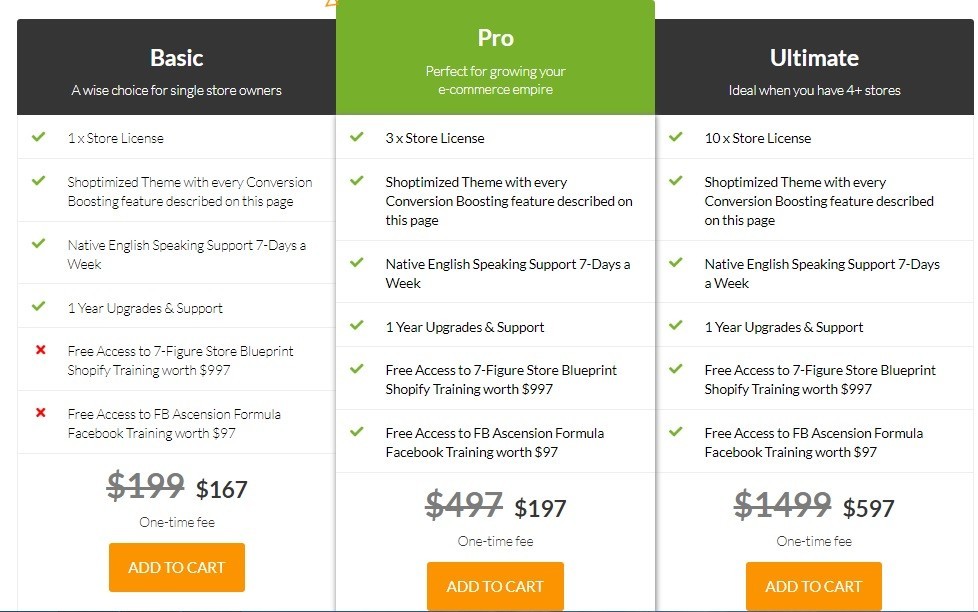 As you can see, the price to use the Shoptimized Shopify theme is nearly at the top end of the premium Shopify theme market. However, you will be given many useful features as well as functionality on both mobile and desktop, which makes it worth it.
There are two notes you should keep in mind when deciding to pay for the Shoptimized theme. Firstly, it is only a one-time fee and you don't need to care about any extra fee besides. Secondly, there is no coupon or discounts available for this theme. Therefore, give it up if you are looking for ways to decrease the price paid via some websites or spammers that are trying to convince you there is.
Shoptimized Customer support & Update
When it comes to Updates, the Shoptimized Theme is regularly updated so that your store is surely continuing to be compatible with the Shopify's software. The Shoptimized Theme has long been developed had multiple different versions. Users receive many update files and every time they update, the new version is much more expensive than when the original theme was started.
Besides, the Shoptimized theme also offers many features in terms of customer support and updates, which may be:
If you choose the pricing plan for one site license only, you will be given unlimited updates for one year
If you are an entrepreneur and do not have much time, they provide you with a one-time setup service and customization package for $99.
They offer a support portal that can only be reached by the member's area.
They also provide a done for your package or store setup which costs $597 and includes the theme license.
For me, the price is too expensive for entrepreneurs, especially newbies. Moreover, the quality of the update is not surely claimable. Therefore, it is highly recommended that you spend money buying a course and trying to learn and figure it out on your own.
Who is Shoptimized Theme for?
Shoptimized Shopify theme is compliant with the world's leading authority on eCommerce conversion and usability best practice. In general, the Shoptimized theme is for you if:
You want a specialized theme to boost your conversions without paying the monthly cost. There are many apps out there that can help you gain more profit from each and every online visitor to your website. However, the cost for those services may be up to $167 per month—on top of your Shopify subscription fee. On the other hand, the Shoptimized theme pays you to use it by saving you nearly $2,000 a year on app subscription.

You want a theme that loads much faster than the typical Shopify theme.

Your main goal is increasing brand engagement and preference. The Shoptimized theme holds three key principles which are social proof, scarcity, and authority. They are all focusing on what customers tend to think while shopping in order to indirectly convince them to make more purchases from your stores.

You want to freely design and customize every element of your brand and product selection. The Shoptimized theme allows you to adjust things easily using its collections and galleries or uploading your own.

You want a theme that includes a free updater app and a real-time social-proof stats app.

You want to have a theme having more than 30 conversion-boosting features that make it easy to create a professional site.

You want to approach the only Shopify theme that is built for mobile-first.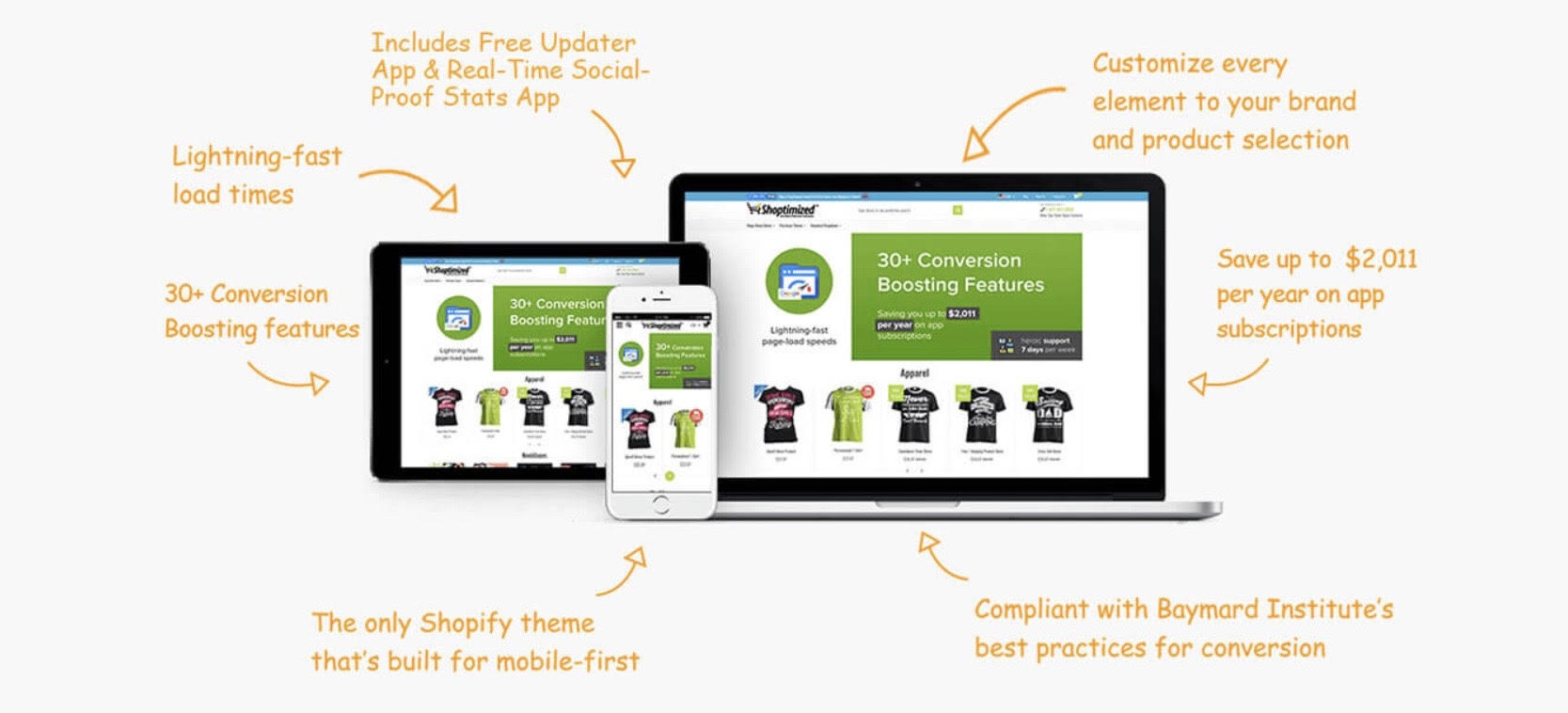 What do customers say about Shoptimized Theme?
Here are what other Shoptimized™ Theme users are saying.
"Thanks to the Shoptimized Theme, I've been seeing conversion rates up to 12%. I am so glad that I found the Shoptimized Theme early when I started building my stores. Finding a high converting theme can be expensive and exhausting because you don't know what works until you try it. Since I've installed the Shoptimized Theme I know for a fact that I found the perfect theme and will look no further.
It is mobile optimized with all the features needed for a highly converting store. It is easy to install and customize to fit your store and brand. Furthermore, it is very flexible, so you can add and change things if you'd like to.
Thanks to the Shoptimized Theme, I've been seeing conversion rates up to 12% when selling retail, which has exceeded my expectations. It's also always being updated which gives me peace of mind. Highly, HIGHLY recommend!!!" Mr. Yoel Cohen said.
"Designed by a team who are themselves selling day in, day out on Shopify. The Shoptimized Theme makes setting up your Shopify store super easy. What I like best about it is that the theme has been designed by a team who are themselves selling day in, day out on Shopify, so they have designed a theme specifically to boost conversions and make it easy for customers to use – both of which are very important in an e-commerce setting. Shoptimized is the only theme I have used for my store, and I have had a number of compliments on the look and user experience." - Tanya Smith Lorenz.

"My conversion rates were much better than with my previous theme. The Shoptimized template helped save me a lot of time with great features that are helpful for marketers. My conversion rates were much better than with my previous theme. A great tool for those who run Shopify stores, and built by one of the biggest sellers in the Shopify industry!" - Jason Tax
Srdjan Kokotovic did 6-figures a month when they used Shoptimized and had no complaints. He said he had switched themes at least a dozen times but he always came back to Shoptimized thanks to its versatility and built-in marketing functions.
Another positive experience comes from Deshayla Flowers who noted this was gold. "This is a very important part of the business. If your website is not converting your wasting money on traffic" she said.
"The Shoptimized theme is probably my favorite theme out on the market atm. Versatile, lots of customization options and built with conversions in mind", Dima Kritchevski commented.
Josh Orion praised that the Shoptimized theme works fast on mobile as well as a desktop and that this is so far the best theme he has seen to date.
In general, users often have a good experience with the Shoptimized Theme but there are still minus points such as the Pop-ups which are annoying combined with the fake visitor counter. Also, the Default icons are not good-looking. You are suggested not to use these icons but to design on your own so that your store will be consistent throughout the whole buying process.
More Customers' reviews from Trustpilot: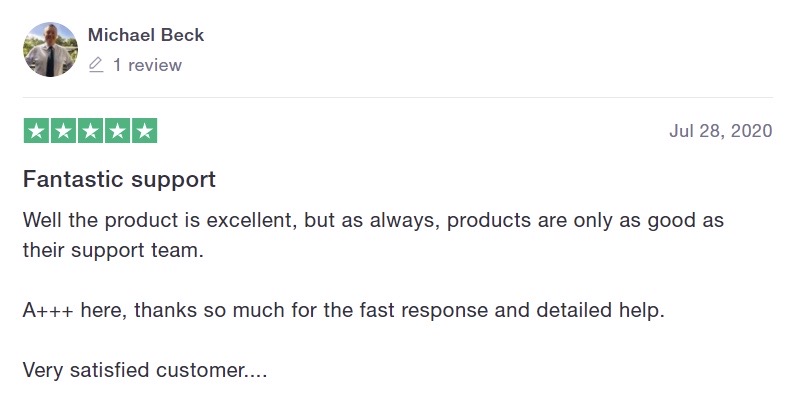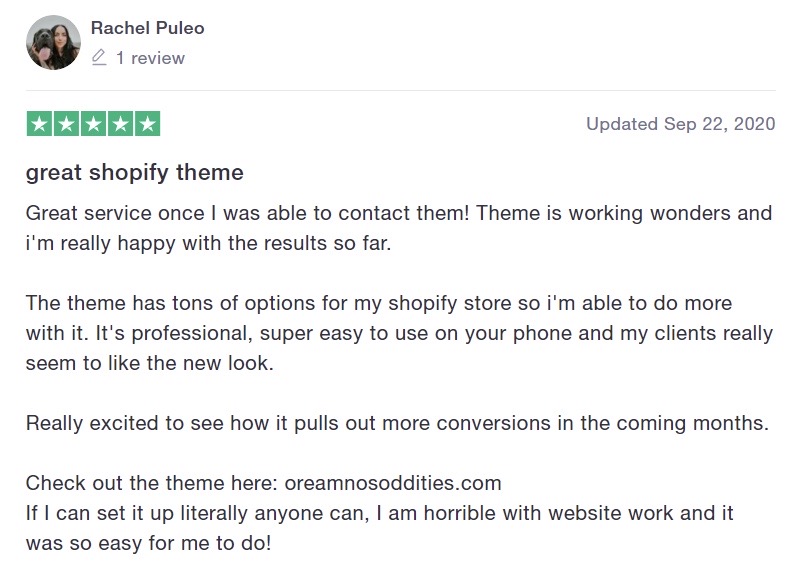 Read more:
Final Thoughts
To sum up, Shopimized Theme is a great them which owns many effective tools for Shopify store owners. Working well on mobile, tablet, and desktop, the Shoptimized theme also provides users with multiple customizations and more than 20 different plugins. You are highly recommended to use a free or premium theme to save money from recurring monthly fees instead of using extra plugins and apps.
But is it the best theme for you? I will say No since the Shoptimized theme still holds many drawbacks. The font used in the theme is so small and thin that it is hard for users to read on the monitor or iPhone. Also, such a small font makes the demo store look unfashionable and kinda cheap.
Additionally, the fake scarcity features make your store the same as other stores that use the same theme. There's no chance for you to stand out from your competitors since all businesses can approach this theme.
So, Shoptimized Shopify Theme is great but not the best. If we miss something, be free to leave us a comment in the section below. Share it with your friends and visit our website for more if you find this post helpful.