The past year has had all of us stay indoors because of COVID. No wonder, then, that making money without having to get out of the house is a rising need. What once felt like a daydream is now a reality for millions of people. The internet has been a sales channel for more than a decade since Amazon started its online store. It is also a marketing network, a community center, all in one—plus so many more.
There are several innovative ways to make money online beyond online surveying and selling used items on Craigslist. Some businesses and side hustles are more suited to a laptop lifestyle than others. In this guide, I will introduce all of the ways you can make money online in 2021, and hopefully, you can find one that works for you. Let's jump right into it!
Start Dropshipping Businesss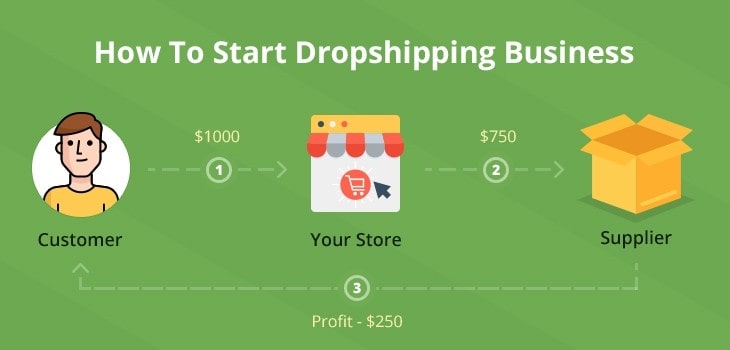 Last year, many business trends around the world witnessed a boom in a very short time. One such trend was the rising popularity of eCommerce. There are a variety of ways to operate an online business, some of which require a minimum initial investment and little-to-non inventory.
I'm talking about dropshipping. Dropshipping is a business model in which you don't need to keep an inventory of the products you're selling. Instead, when a customer orders something from your shop, your supplier fulfills the order for you. Since low start-up costs are low, it's an increasingly common way to make money online for new entrepreneurs and pros alike in 2021.
Dropshippers tend to catch new trends to make profits. And while there is nothing wrong with following a trending product surge, realize that there are still several types of goods that are steady and offer great opportunities to do well. Some of the product categories that perform well consistent year after year are:
Women's fashion. This is one of the most popular product categories in the dropshipping world. In this category, there is a wide range of interesting niches, such as skirts, t-shirts, accessories, intimates, hoodies, socks, etc. As these goods have a wide demand, are purchased relatively regularly, and are marketed effectively by great marketing, they are a consistent top performer for a dropshipping business.
Jewelry. If you're trying to turn jewelry into a successful small business, dropshipping is a good way to try. You may sell them in a number of categories, including fine jewelry, fashion or costume, and collectibles. Or you can sell jewelry made of different materials, such as stones, wood, textiles, or metals.
Home and garden. This is one of those dropshipping product niches that never go out of fashion. People are still trying to add personal touches to their room to make it feel personal and cozy, which can make this an enjoyable (and profitable) niche to join.
Beauty. The demand for beauty and personal care is expected to be worth $511.4 billion by the end of 2021. Beauty is a booming sector driven by younger millennials joining the market and reinforced by social media and eCommerce. You also have a wide range of sub-niches when it comes to beauty; you can sell makeup, skincare, haircare, personal care, fragrances, and more.
That may sound appealing. But there's a big obstacle to conquer with dropshipping: you're selling an established product. The simplicity of starting a dropshipping company also means that you will be facing competition—so it relies heavily on customer service. That means you're giving up a very valuable piece of control and need to understand that, to be able to succeed, you're going to have to contend with a well-chosen niche and innovative marketing.
May in your interest: A Comprehensive Guide to Dropshipping Business
Sell on Etsy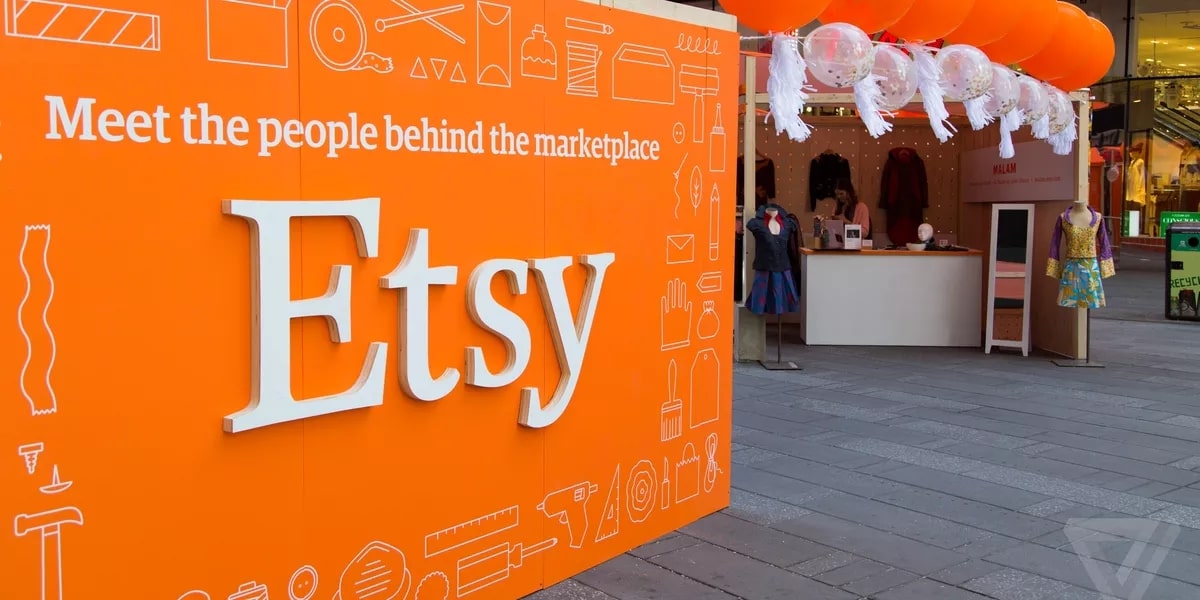 Each online marketplace, from Etsy to Amazon, has its own advantages and disadvantages. The pros are that you get access to their enormous active customer base; they are people visiting these marketplaces on a daily basis when they decide to buy something, so setting up a shop on these platforms enables you to reach this group of online shoppers. Etsy has about 45.7 million active buyers so it's a great place to start a store to make money online.
Read more: How to sell on Etsy?
Sell on Amazon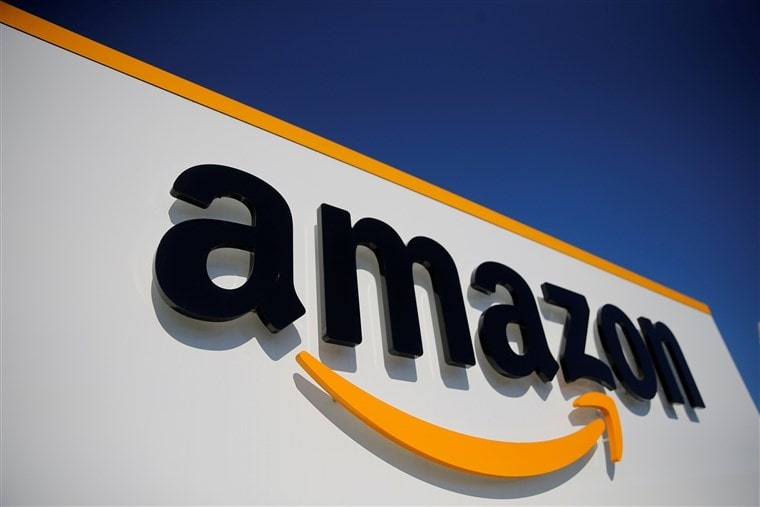 Amazon has become a profitable platform that new eCommerce entrepreneurs want to take advantage of. It takes a few minutes to create an account, and a few more minutes to get a product listed.
The Amazon marketplace has an enormous customer base and is a global marketplace. To start marketing money online, you can use Amazon to do your market research as its optimization listing will help you find your items and unlock new opportunities. And Amazon's in-app promotions will improve the exposure of your brand to highly targeted audiences.
Read more: How to do product research on Amazon?
However, the long-term sustainability of doing business on Amazon is being questioned by lots of eCommerce veterans. While the marketplace is great for making it easy for shoppers to find products that they're looking for, it's very difficult for sellers to get their brands noticed by shoppers. Amazon provides a lot of resellers for the same item that a customer wants to buy, so your brand can go unnoticed in this ocean of similar suppliers. Paying for Amazon ads or making efforts to differentiate your brand can help, and you can end up working harder to generate sales, yet your bottom line doesn't necessarily increase.
While selling on Amazon is a potential way to make money online, there are some obstacles that you might want to consider:
Amazon decides the rules for its marketplace. We know that Amazon is a pioneer in gathering and using consumer data to create optimal shopping experiences, but that knowledge is not shared with you. If you compete head-to-head with a product owned by Amazon, it's going to be hard to win.

Amazon prefers its third-party resellers to Fulfillment by Amazon (FBA). FBA is Amazon's fulfillment service provided to its sellers. When you sign up for this service, your inventory will be kept in its distribution centers, and when a customer orders it, Amazon will fulfill the order for you. You must use FBA to apply for Amazon Prime and Amazon Super Saver Delivery, two ways to help retailers increase conversion rates and earn money.

You don't own the relationship with your customers; Amazon does. When shoppers buy from Amazon, in their minds they're buying from the Amazon brand, not from yours. This means you get the money, but not the brand awareness out of your sales.
That said, Amazon is a huge additional sales channel for your Shopify company. Similarly, with Etsy, you can use Amazon to bring your items in front of an established audience, learn about them, and use your eCommerce website as the main sales platform. You can also integrate Shopify with Amazon to handle listings and sync inventory more quickly and easily.
Print on demand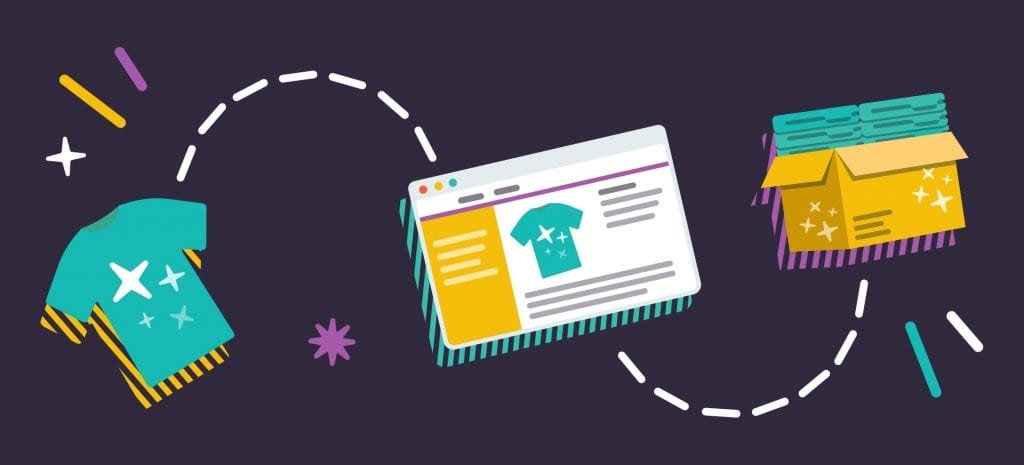 Printing on demand enables sellers to customize white-label products with their own designs and to pay for inventory after an order is placed, removing the need to retain inventory (which is what makes it a subset of dropshipping). When a customer places an order, the print-on-demand service will incorporate the design onto the product, fulfills the order, and delivers it to the customer.
The most important benefit provided by print on demand over drop-shipping is that you have complete control over the theme of your products — a primary differentiator for product categories where the design is a distinguishing attribute, such as t-shirts or community-related items.
When you're trying to make money online, you can use print-on-demand services to do other useful things such as:
Test online market ideas or new product lines without taking the risk of purchasing inventories.
Monetize an audience that you've already created, whether it's on YouTube, social media, or a personal blog.
Offer a wide variety of items by selling t-shirts, books, accessories, belts, mugs, phone cases, laptop skins, wall art, and more.
Overall, the print-on-demand allows you to quickly create customized products. You won't have to worry about shipping or delivery since they will be handled completely by your supplier. And because you don't have an inventory to think about, it's a low-risk, low-investment way to make money online.
Sell Digital products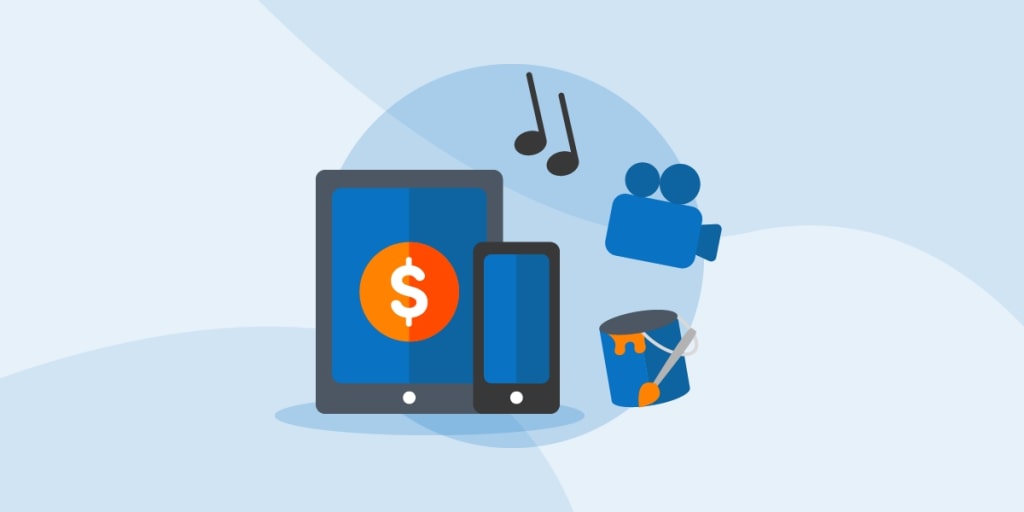 Digital products have some of the highest margins of any product you might market. The upfront costs of production may be high, but the variable costs of selling digital goods are relatively low. When media or software has been developed, it doesn't cost a fortune, if anything at all, to distribute the product to consumers.
At its heart, a digital commodity is an intangible asset that can be sold indefinitely without restoring an inventory. They are also contained in downloadable files, such as a PDF, plug-in, or interactive document. These products have become such a strong source of passive income that many of the top skilled influencers, bloggers, or public icons release digital products such as guides, ebooks, models, study results, plans, and tutors.
Read more: How to sell digital products on Etsy
Some key advantages of selling digital products are:
It's scalable. There is no limit on how many units you can sell. There's no inventory. There are no producers. There is no delivery or logistics. It's just selling the product. When a buyer orders a digital product, it is delivered immediately without your assistance.
Low overhead costs, high-profit margin. Since there is no recurring cost of products or shipping costs, you retain much of the profit for each sale.
E-learning is becoming more and more common. The e-learning market is expected to hit $325 billion by 2025. Digital products are a great way to make the most out of this trend and earn money online.
Digital goods can be a perfect side hustle that can make you good extra income. Many creators are making them add another revenue stream to their companies, whether they are a consultancy, education, membership, etc. You may create a profile on Twitter and LinkedIn or build a list of email subscribers to advertise your products and make sales.
Since the barrier to selling digital goods is so low, there is no need for much upfront investment or risk. The best scenario is that your product is blowing up in popularity and you're selling 10,000 units. The worst case is that just some customers buy and you lose a couple of hours of your time.
Sell Custom products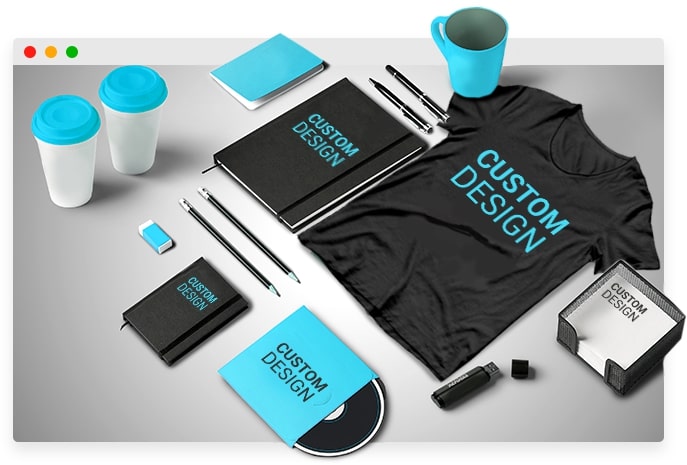 Although the choices of making money online mentioned above come with the convenience of having to bear the risk of expensive inventory, they do come with some constraints — mainly that you don't have complete control over the product you're selling.
And when you think of the most direct-to-consumer brands, that's what comes to mind: original and innovative products that make meaningful changes or add interesting details to ordinary products. Personally, I bought a lot of messenger bags, but I never saw anything like what is produced by Vermilyea Pelle; they have some of the best quality hand-made leather goods on the market.
Producing handmade products is common among jewelry brands, fashion brands, and home decor brands. It gives you complete control over the production of your products and the quality of your products. The only downsides are: (1) it can be time-consuming and labor-intensive, and (2) it is difficult to scale up. The cost of manufacturing goods by hand is the cost of materials, storage of finished products, and labor.
With that being said, a custom product doesn't have to be made entirely by hand. There is a range of ways to locate a producer or supplier to help bring the product to life. You may, for example:
Using domestic or international producers. If you have a specific product that you don't want to or not able to produce on your own, you may be able to find a manufacturer to make those products for you. The Alibaba marketplace is a popular way of doing this. You can use this marketplace to identify potential manufacturers, convey your vision to them, and have them handle the production. This will entail some initial investment due to minimum order quantity and storage, but it is a good way to retain ownership over the inventory while keeping the cost per unit low.
Read more:
Resell wholesale products. Buying and reselling wholesale is another way to make money online. You purchase products in bulk that you want directly from manufacturers, typically brands that are already reliable quality-wise on the market, at a discounted rate, and then resell them at a higher price in your online store. This is similar to the retail business model, and it requires an initial investment in inventory.
Make Money with Media
Media is a very broad word, but the best definition is available whether you are a producer of music, video, digital art, paid newsletter, magazines, or podcasts on the market. Media appears to be closely connected to digital goods, but the difference with media is that it seems to be oriented towards artistic ventures—for example, a writer beginning a paid newsletter subscription or an artist starts selling art online.
The best part of selling the media is that, very often, it's a way for people to express themselves online. Artists and creators who have not had access to networks, galleries, or PR in the past can now create a brand, develop a fan base, and make money online to do what they enjoy. Harry Hambley, a cartoonist behind a famous brand, inspires artists to pursue their dreams as an artist. In an interview with BBC, he explains his refusal of going to university to draw cartoons online. He says to the BBC, "You should always do whatever you're inspired by."
Read more: Inspiring music store examples and how to build one?
Sell Online courses and workshops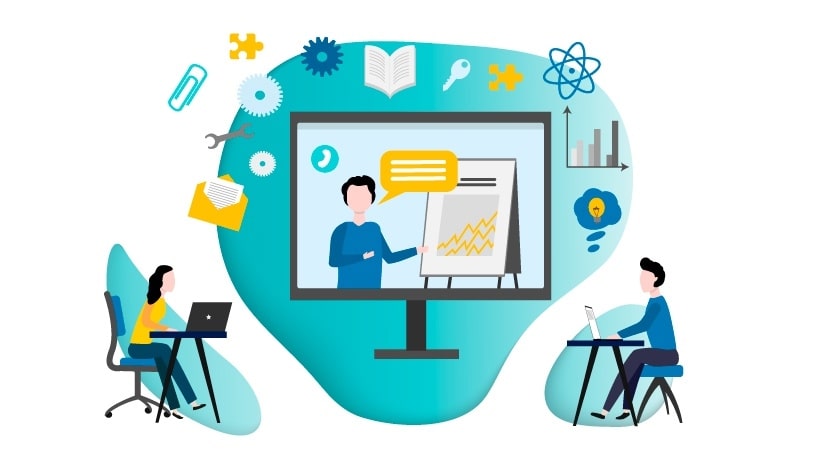 It's hard to build a very great online course. You need to grasp the ins and outs of a particular topic and then have the expertise (and dedication) to codify the information and either write or record your best advice to customers. And, of course, once it's completed, you need to successfully market the course—often the most challenging aspect of it.
There is also an appetite for online courses and education. In reality, your biggest obstacle is the web itself, where there are thousands of wonderful tools available for free. And the content on every subject is getting better every day.
But the seemingly infinite opportunities available on the web are exactly why paid courses are valuable: they filter out the fluff and only share the good stuff. Many creators have found success in converting their mostly free videos or blog posts into paid courses. The reason people pay is not just because of the content, but because of the way it is structured and presented. Part of the benefit is the time saved not to filter through hundreds of YouTube videos and random websites, and instead to get a clear course from an engaging teacher.
Keep in mind, however, that although there are a multitude of content-creating topics, there are far fewer topics people are willing to pay for. Typically, best-selling courses teach people useful skills that help them make progress in their work, or deepen their enjoyment of a favorite hobby. That explains why Microsoft Excel courses are often bestsellers.
Again, it's always better to go to a market where there are people who are willing to pay for what you produce. Professionals are likely to spend most of the money on courses, so if there's a way for you to take the experience you have acquired from work and bundle them in a course, you've already got your main selling point: help your customers become better off by teaching them to develop their skills.
Affiliate marketing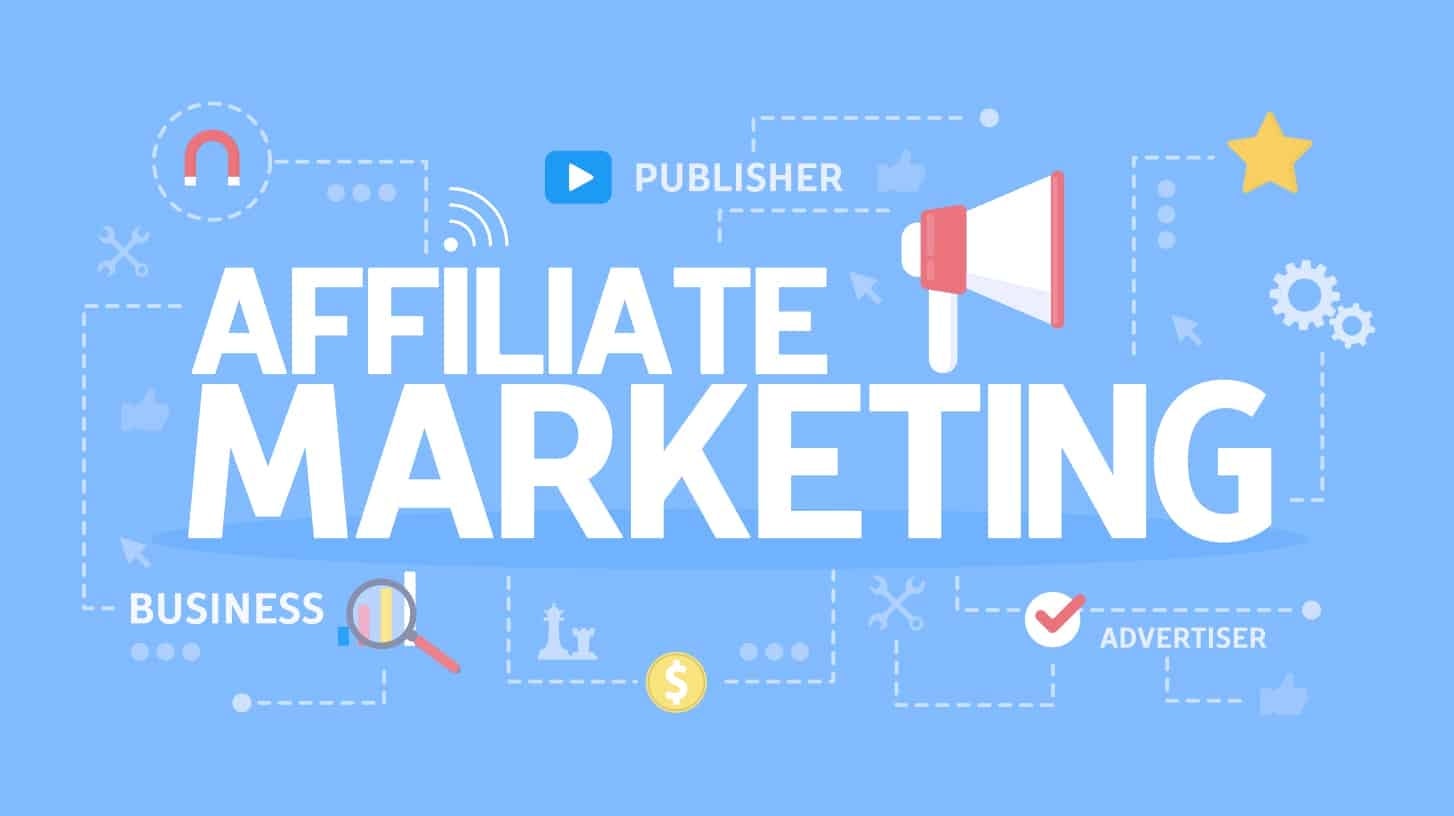 Affiliate marketing is a marketing contract in which an online retailer pays a commission to a third-party website (the affiliate) for traffic or sales generated from its referrals. So, how does monetization work for this business model? Basically, publishers or individuals can apply for affiliate programs offered by established brands in order to be added as an official affiliate. If you are accepted (or simply approved), you will be paid commissions for the sales you bring to that brand from your website.
Read more:
If anyone buys a product after clicking on your page, you will earn a referral credit and a commission. The commission you get depends on the partner program and the product being sold—commodity products on Amazon.com won't give you much, but a high-ticket account will pay hundreds or even thousands of dollars in commission. Best affiliate content helps its audience solve a problem or make a decision by recommending the right solution.
Since affiliate marketing works best when you help a shopper understand why a specific product is a right choice for them, you will usually see this model of making money online implemented on content-focused websites. Search engine optimization (SEO) plays an important role here, and you'll see everything from home-grown sites to huge, internationally recognized publications vying for terms such as "best fish for 2.5 gallon tank"
Choosing the right niche is also the right way to go in this area. Since you don't have a team of fifty experienced authors, you're not going to compete with professional publications such as Wirecutter as a general review site. However, you might be able to differentiate yourself by covering things about Star Wars or high-intensity interval training. Point is, it's generally easier to grow in a distinct niche and expand to related areas than to compete with giants, particularly when you get started.
Freelance services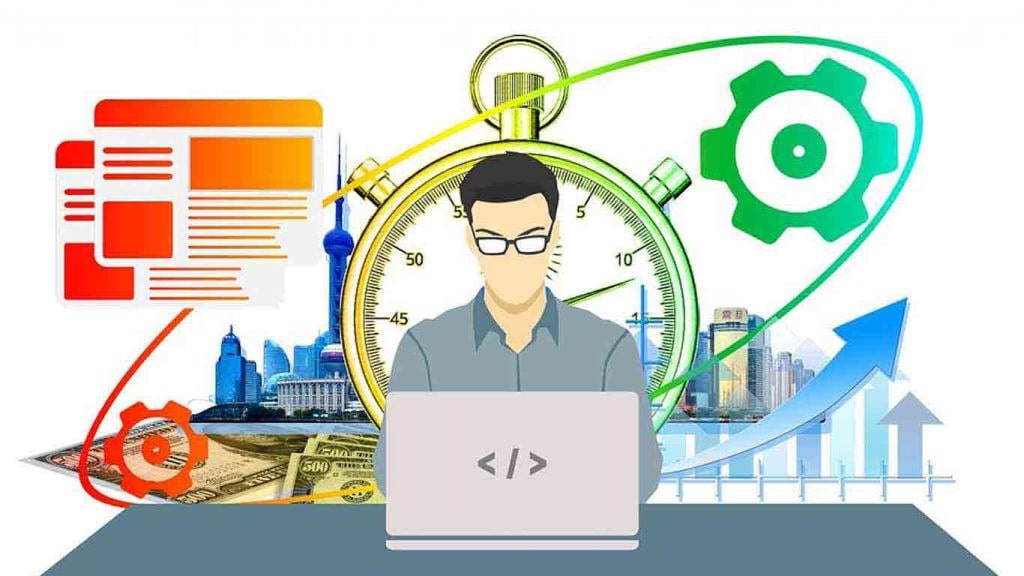 Freelance writing, data entry, graphic design, digital marketing—nearly any job a business wants to outsource can be a potential freelance job. These days, authors, illustrators, and designers, developers make their full-time freelance living, not just in their spare time.
Almost all of these services are ideally suited to business customers, for reasons similar to why business software is an appealing product: business customers are willing to invest. What most freelancers are fast to learn is that they have more control over the price they can charge when they deliver the results they promise. Put another way, companies employ freelancers to build content that drives traffic and leads, not just words, so if you want to become freelance and make money online, promise your customers the result and deliver it with solid evidence such as case studies and testimonials.
The other lesson freelancers will pick up, often through mistakes, is the need to niche down when they get started. Why would an organization explicitly employ you with thousands of employees providing very similar services? You're not making the work of a manager simpler by providing ordinary service and expertise. So be careful of the false appeal of a solution for everyone. That would be like a mechanic attempting to broaden his customer base by naming his shop "General Fix-It Emporium."
A more effective solution is to focus on a common pain point at the top of the market or niche. Even then, niches such as "Marketing Content for Tech Companies" are a little crowded—you could get even better results if you sell a reliable solution in a subset of a certain industry, such as enhancing the sales pipeline for enterprise software companies.
The last thing to remember when it comes to freelance work is that you earn money as long as you work. You can make decent money with a limited number of high-paying customers, but the moment you stop working, the cash flow will dry up.
Blogging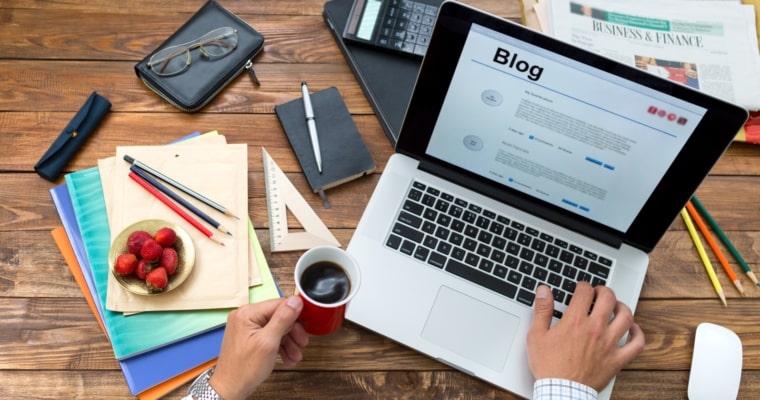 You have probably read some kind of blog before (you are right now!). Businesses use blogging to share information and ideas, create communities, and get more leads and sales. Blogging has countless advantages, such as creating thoughtful market leadership and improving the brand's search engine exposure.
Blogging to make money online has expanded beyond big business and side hustle and bustle. Anyone can create an audience by putting on a lot of content and making a lot of money out of their blog. Bloggers often prefer to take a personal approach that resonates with the target audience versus having information from a business blog.
Read more: The best blogs on Shopify for inspiration
People start their own blogs for many reasons, some of them are:
Educating readers on a topic they're experts at.
Sharing their thoughts, passions, or life experiences
Building a personal brand
Selling products or services
The key to building a profitable blog is to choose the right niche. There's no lack of them on the Internet. You may be an authority on topics at a specific location (e.g. restaurants in Toronto) or for a specific segment in those categories (like vegan keto recipes and lifestyle). Focusing on a niche lets you talk to the audience and create high-quality content for them, which can bring in leads and sales for your blogging business.
But how are you going to make money from blogging? Once you learn how to build a blog, you can monetize it in several ways:
Selling physical items that your readers will enjoy, such as pillows or t-shirts.
Offering digital items such as designs, digital art, classes, models, or photography that you can create and sell repeatedly.
Selling freelance services such as consulting, publishing, accounting, or other money-making hobbies
Becoming an influencer and providing paid sponsorships to brands
Selling subscriptions or memberships to exclusive content.
Although blogging is a low investment business idea, it can take lots of time to pay off. Chances are, you won't find yourself overnight on page 1 of Google's search results. But with the right niche and dedication, you're going to be well on your way to making money online with your blog.
Final words
There is no denying that there are fast ways to make extra money online, such as taking Swagbucks surveys or reselling used products to eBay. But is that really the way you want to spend your time? There are many better ways to make money that helps you earn more money—you could pick up freelance jobs, build a dropshipping store, or promote other people's products on your blog. It's just a little bit of know-how and dedication to making it happen. Start building something today with any of the methods introduced in this article to start making money online. Make sure your time and resources are well spent and it will pay dividends over time as you build up your online presence, find new customers, and make sales.