Shopify delivers an impressive forum for online marketing for customers without any intermediaries. The physical constraints are simply removed. Then why would your store need a Shopify mobile app?
More than half of the traffic comes from smartphone users when it comes to website traffic. There are a few issues with this. Websites, particularly big electronic commerce stores, may also have loads of data that takes time to load. That's when a Shopify mobile app comes in handy. This will help you get a smartphone app that makes shopping simpler or even easier access to functionalities in your store.
Why your Shopify store needs a mobile app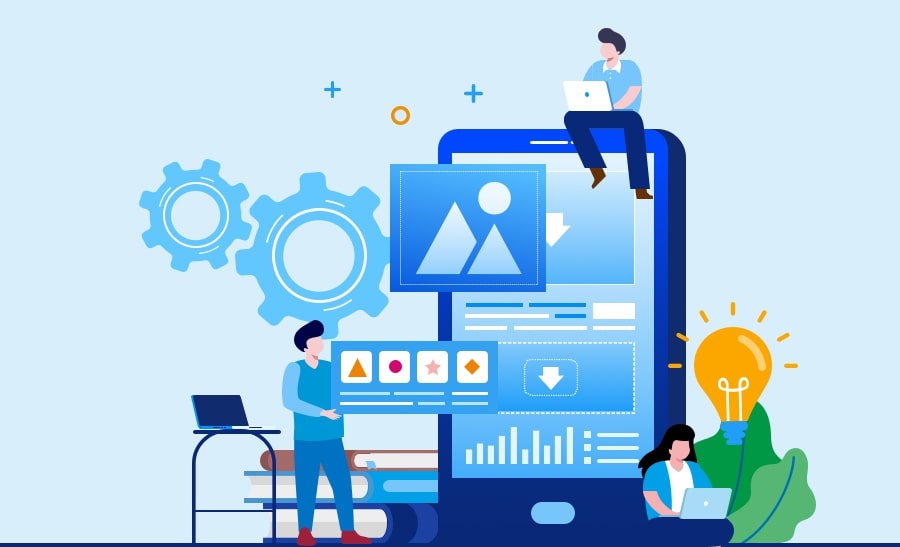 A mobile app provides businesses the best platform to provide consumers with customized information. It becomes much easier to convert prospective consumers by offering a seamless shopping experience with tailored content. Customers often find shopping applications that are more accessible than the internet. The mobile app for Shopify Store has significant benefits.
Both mobile apps and mobile websites have their own special benefits, but mobile apps tend to be the distinctive preference of shoppers when it comes to online shopping. Research has found that people favor "indigenous" applications to the internet. This is because the native eCommerce applications are easier and more accessible.
Personalization of online retail is crucial to attracting customers, and mobile apps offer the best shopping experience. Since we understand that firms, small or large, would go for a specialist eCommerce app, here are some key explanations why you need a mobile app for your shop.
Increases sales and conversion
A Shopify app will be your best option to improve your store's sales in different ways. For instance, a simple and smooth check-out process simplifies the time to shop for your customers. They don't think long and hard and they don't wait to complete the purchase once they have found what they are searching for. By issuing Unlimited Push Notifications to inform the customers of their remaining orders, you will reduce the number of carts abandoned.
You can evaluate the driving forces of traffic inside your eCommerce store with advanced analytics. You can boost the customers' functionality and eliminate them as distractions in the checkout process. Finally, you can use the Shopify mobile app to run sales announcements and festive coupon deals.
Improves brand image
The branding of a company/product is about emphasizing the best things that consumers want. The distribution of the unique features of your product that are present on the market from no other product. Successful engagement through the right communication networks forms the basis of branding with the target group.
A mobile application is the brand's natural outgrowth. You are also investing in increased customer loyalty and favorable feedback while investing in mobile app growth.
Also, your company logo is always shown on consumer mobiles with your Shopify app. Your brand gets absolute and enduring exposure without any further investment. In addition, you should not only supply your store's distinctive merchandise but also stress the ideals and beliefs of your brand.
Enhances customer retention
Customer retention is the secret to success for your online business, as shopping becomes more customized and user-focused. A mobile Shopify app helps the consumer base tremendously. Your mobile Shopify app will still be in front of your customers. Whenever your customers open their phones to find a new deal, they are alerted by your Shopify mobile app.
Push notifications will be sent to inform consumers of any orders that they have left behind. This makes the consumers feel more appreciated and important.
Websites are not enough
You have a splendid website for your store Shopify. It is fantastic. But even then, the pace of traffic and change in your online shop is very poor. The quest and ordering style of people has evolved over the years. Today, due to advanced mobile technologies more than 70 percent of people use their smartphones to browse online.
It is also a painful process to view websites and compare web-based items. The data you are looking for is not shown prominently. Similarly, consumers view their website Shopify on their phones. As a result, the conversion rate is poor and bad.
Mobile applications, on the other hand, deliver customized shopping. Both specifics and comparisons about the product can be handled easily. In addition, a smartphone app in the shape of a mobile application Shopify enables users to select from their connections.
Some key features needed for a Shopify mobile app

For a mobile app builder Shopify, several features are required. You want to see products advertised, purchases made, and analysis provided. Apps should give visitors on your web a smoother experience.
Push notification
The push notification marketing route is one feature that you certainly would like to include. This is when messages sent to the customer's mobile device from the application remind the brand. This may include new items, promotions, and future discounts. For existing customers, this is a perfect method to advertise.
Easy coding
While many people claim that a smartphone app manufacturer needs many technological qualifications, many of the devices need no experience or skills. You will then conveniently create your brand's great mobile app. You will then get it to clients who want an app.
Drag-and-drop editor
The overarching goal of your design is to simplify and easily communicate with the customer. Each item in front of the consumer should take part in the action that he needs. An ideal design should be clear, easy to use and optimized to call for action. To implement this design, an optimal drag-and-drop editor would offer a great help in displaying your products without any distortions.
Although many people claim that a mobile app builder requires a great deal of technological knowledge, many applications don't actually need any of those.
Top 12+ Best mobile app builders for your Shopify store
Mobile App Builder by Plobal Apps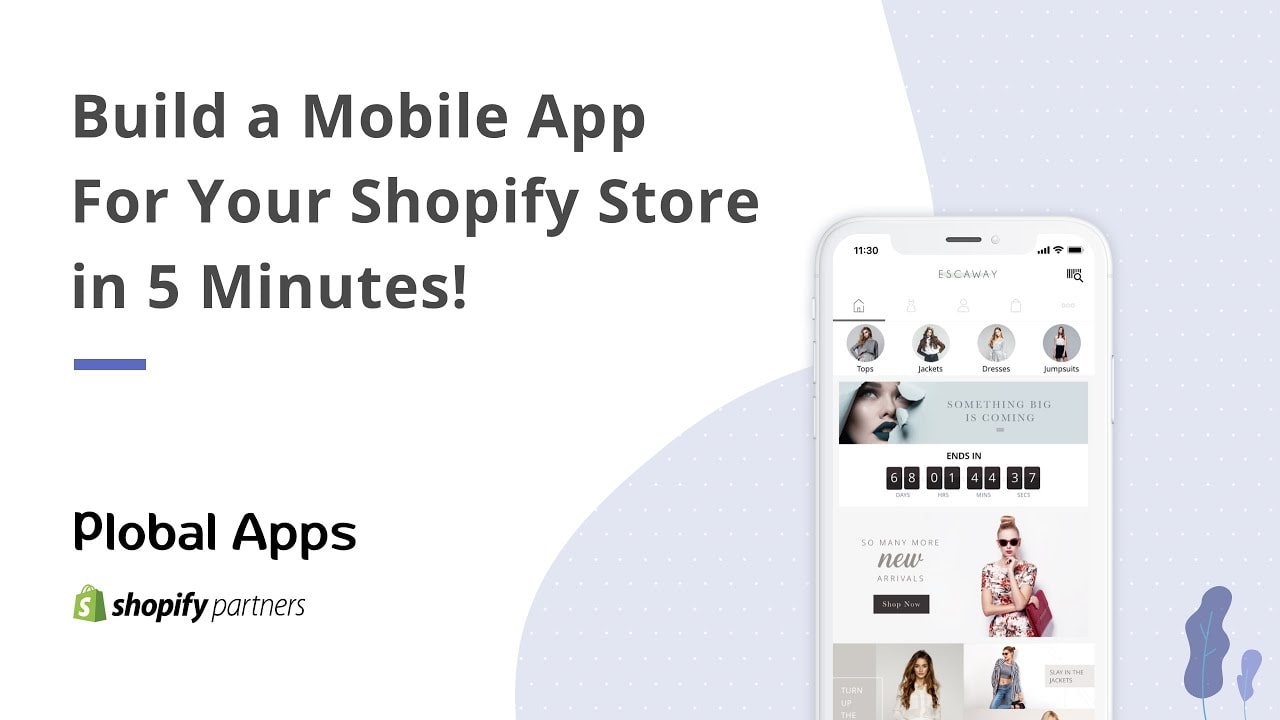 Plobal Apps guarantees an increase in revenue and conversion, helping to create a native mobile product. The programming standard is outstanding and many brands are trusting the software.
There are several features that allow you to get the brand out. For example, you can give your application automatic push alerts. In addition, the integration of Apple Pay enables consumers to buy a product easily and smoothly to boost their customer experiences. You can also automatically sell in a variety of currencies.
There are many other user-personalized features to improve the shopping experience. The product suggestion section is AI-driven, which will help you increase orders and your profits. Layouts and banners can also be optimized to boost commitments and conversions. The developers also have a lot of assistance including 24/7 customer service, a screen demo, and a free tool to improve your organic mobile app installations.
Highlight features
Unlimited product and category volume
Simple drag and drop builder with zero codings
1000+ powerful mobile commerce features such as push notifications
In-app barcode scanner
Product recommendations available
24/7 support and success team to scale your revenues
Pricing
A 7-day free trial is available for all plans.
Power plan - $299/month
Native Android and iOS Apps
Flexible Design Layouts
Unlimited Push Notifications
Basic Analytics
Premium plan - $799/month
Apple Pay
FB & Google Ads SDKs
Scheduled Push Notifications
Geo-fenced Push Notifications
Abandoned Cart Campaigns
Advanced App Analytics
Enterprise plan - $1299/month
Dedicated Support Teams
AI Product Recommendations
A/B Test Push Notifications '- Plus Certified App' Integrations
Segment-Based Campaigns
Mobile App Builder by JCurve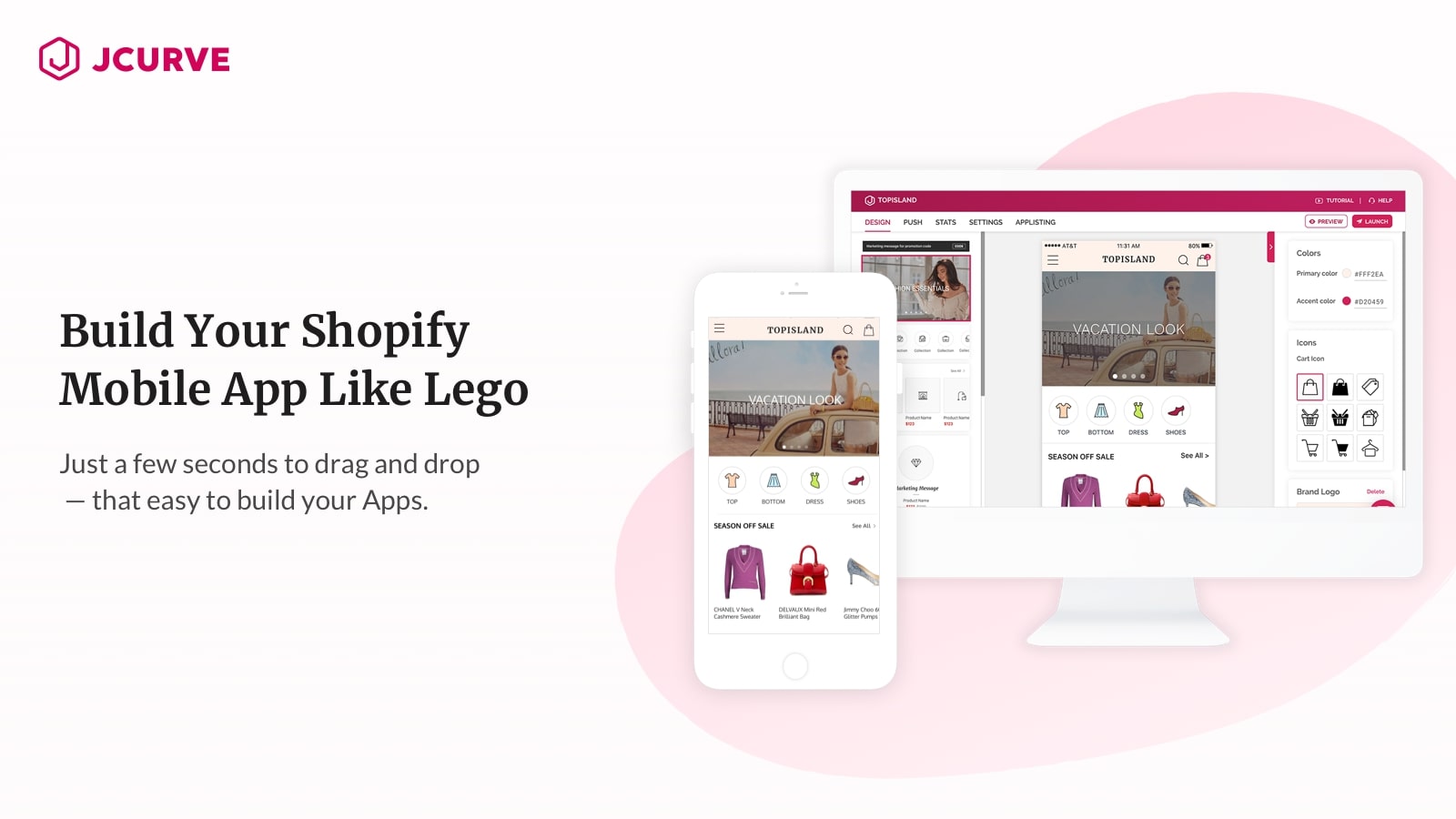 JCurve provides a perfect mobile app builder for your Shopify store. It's easy to access and lets you reach users who choose to use a friendly interface rather than a complicated website or device. The JCurve app is really simple to use, using a Lego-Block Type Builder for building the iOS and Android versions.
When you have completed the app, Whatsapp and Facebook Messenger will provide unrivaled customer service. These live chat systems allow you to live and thus boost orders to customers. You can improve your sales and engagement with the public via pushing notifications and scheduling. Scheduling also helps you set up marketing plans and then encourage the software to function during other activities.
To take advantage of the application, in more than 100 countries, you can launch your iPhone or Android. You can now see how people engage with predictive analytics with your mobile app. This will tell you what products are common and what sectors need more attention. It will also inform you how effective push notifications are.
Highlight features
Easy Lego-block style mobile app builder
Unlimited & scheduled marketing campaigns
Order tracking feature
Support in 10 languages
Advanced analytics report details
Seamless customer support via major social media
Smart App Banner
Cart reminder
Pricing
All plans include a 14-day free trial for initial testing.
Starter Plan - $39.99/month
Pick Android or iOS(iPhone) App
Max 15 UI Design Block
Unlimited Push Marketing
Mobile Customer Analytics
No Mandatory Annual Commitment
Growth Plan - $69.99/month
Included STARTER Features
Android & iOS App Launch
Unlimited Image Animated Push Marketing
Unlimited Scheduled Push Marketing
Power Plan - $99/month
Included all Growth Features
Abandoned Cart Reminder
Wishlist
Integration popular app (review, intercom, Google/Facebook analytics)
Apptuse - Ecommerce mobile app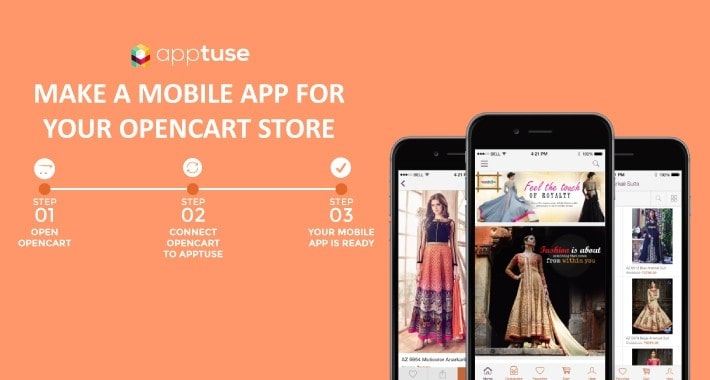 Apptuse is one of the easiest app constructors to use. When you set up your mobile app, no extra programming is needed, but your current site and your payment portal will work. And there's no problem, no coding is required for those new to the coding.
The app aims to work on any platform and system, making it a versatile app builder that everyone who needs to keep their store up and running can use. And you can quickly bring consumers to the items they want with efficient sorting and search features.
The regular push alerts option as well as social media options including content sharing on social media networks are offered to grow your business.
Highlight features
A scalable platform from 10 to 1000 orders per day
Easy-to-use app with no advanced programming required
User-based campaigns
Tag filtering
Advanced multi-testing
Multiple layers of protection for ultimate security
Hassle-free app publishing
Advanced analytics
Support in various languages
Pricing
Beginner Plan - $49/month
iPhone, iPad & Android app
Custom Branding
Custom Content
Real-Time Updates
Up to 5000 Products in Store
Manual Inventory Sync
Auto Sync Every 24 Hours
Automatic App Updates
100 notifications per month
1 App rebuild per month
Professional Plan - $99/month
All features from the Beginner Plan included
15000 + Products in Store
Auto Sync Every 12 Hours
500 push notifications per month
3 app rebuild requests per month
MageNative Mobile App

If you want a mobile app for Android and iOS users, MageNative is a fantastic choice. The app ensures high-performance apps that deliver exactly what customers want: a quick shopping experience.
Not only an outstanding shopping experience, but there are also a lot of solutions available that will help you navigate your store on your mobile App. Real-time synchronization ensures that your applications don't have any out-of-stock products that can deceive customers.
The app also provides various payment solutions including Andriod Pay, Apply Pay, and credit card payment options. So you can almost instantly be able to make transactions. Customers will add items to their preferred list, scan and filter products, and more as they use your well-designed mobile app.
Highlight features
Unlimited built-in push notifications features
Easy drag and drop feature with few codings needed
Smart interface
Robust customer-personalized features: wishlist, RTL, search, filter, etc.
RTL
Advanced app analytics
Pricing
All plans include a 30-day free trial for initial testing.
Basic Plan - $29/month
Either Android or iOS Native app
Real-Time Auto Store Sync
Push Notification
3 Free Themes
5 Blocks with 10 repetitions
Growth Plan - $49/month
Native Android + IOS App
Scheduled Push Notifications
Multi-Language & Multi-currency
6 Free Themes
7 Blocks with 15 repetitions
Enterprise Plan - $69/month
AI Product Recommendations
Customer Success Expert
24x7 Support
9 Free Themes
Unlimited Blocks with 20 repetitions
Mobile App Builder - Vajro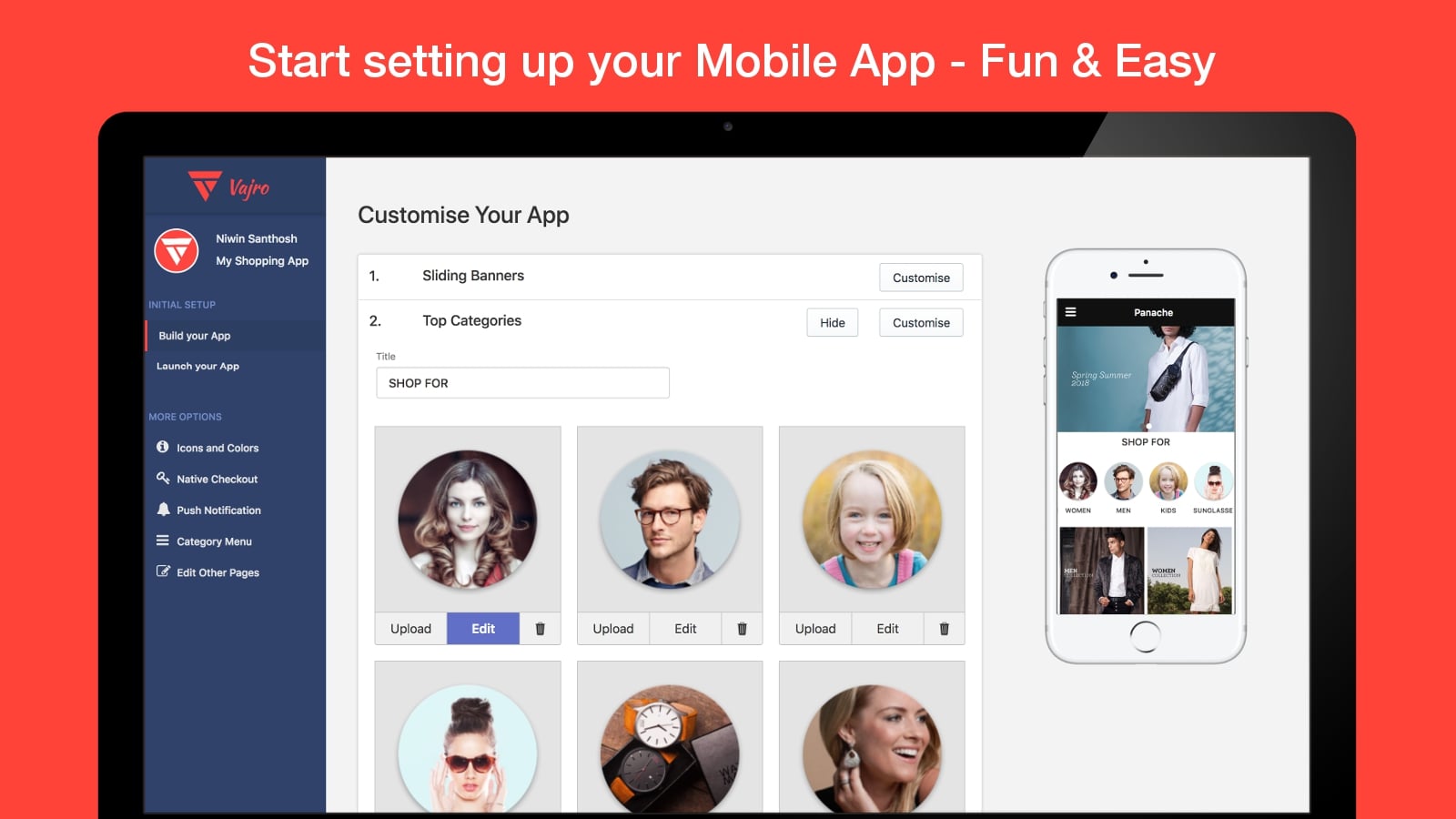 Mobile App Builder - Vajro App is a world-class instant native to the smartphone app you can automatically update. You can use an intuitive developer to build your mobile app so that you can create something in minutes. There are over 20 themes and a building block that allows you to introduce the brand to the application.
To help return consumers to their app, you can generate an infinite amount of push notifications. You can use animated pictures and videos for your Push Notifications to make them stand-out and entertaining more than your rivals do. You can also help to restore abandoned carts through customer updates. You can also engage inactive users with awesome campaigns.
The Vajro Mobile Application has different marketing functions to boost sales in your use. For example, there are strong links, integration of social media advertising, live video promotions, and product recommendations.
Highlight features
Easy setup with no coding knowledge required
20 pre-built themes available
Push notifications containing images, gifs, and more
Abandoned carts notifications
Seamless and secure checkout
Useful analytics and scaling
24/7 support
Integration with AVADA Size Chart
Pricing
Vajro offers 3 different pricing plans with a generous 60-day free trial available for all plans. Recurring charges, including monthly or usage-based charges, are billed every 30 days.
Startup Plan - $99/month
Native iOS and Android App
Native Checkout
Customer analytics
Product Review Integrations
Growth Plan - $199/month
Startup Plan Features
Live Video Sale
Unlimited Push Notifications
Google, Facebook Ad Integration
Apple pay integration
Power Premium Plan - $399/month
Growth Plan Features
Multi-currency & language
Automated Push Notification
Advanced analytics
Premium integrations
Tapcart Mobile App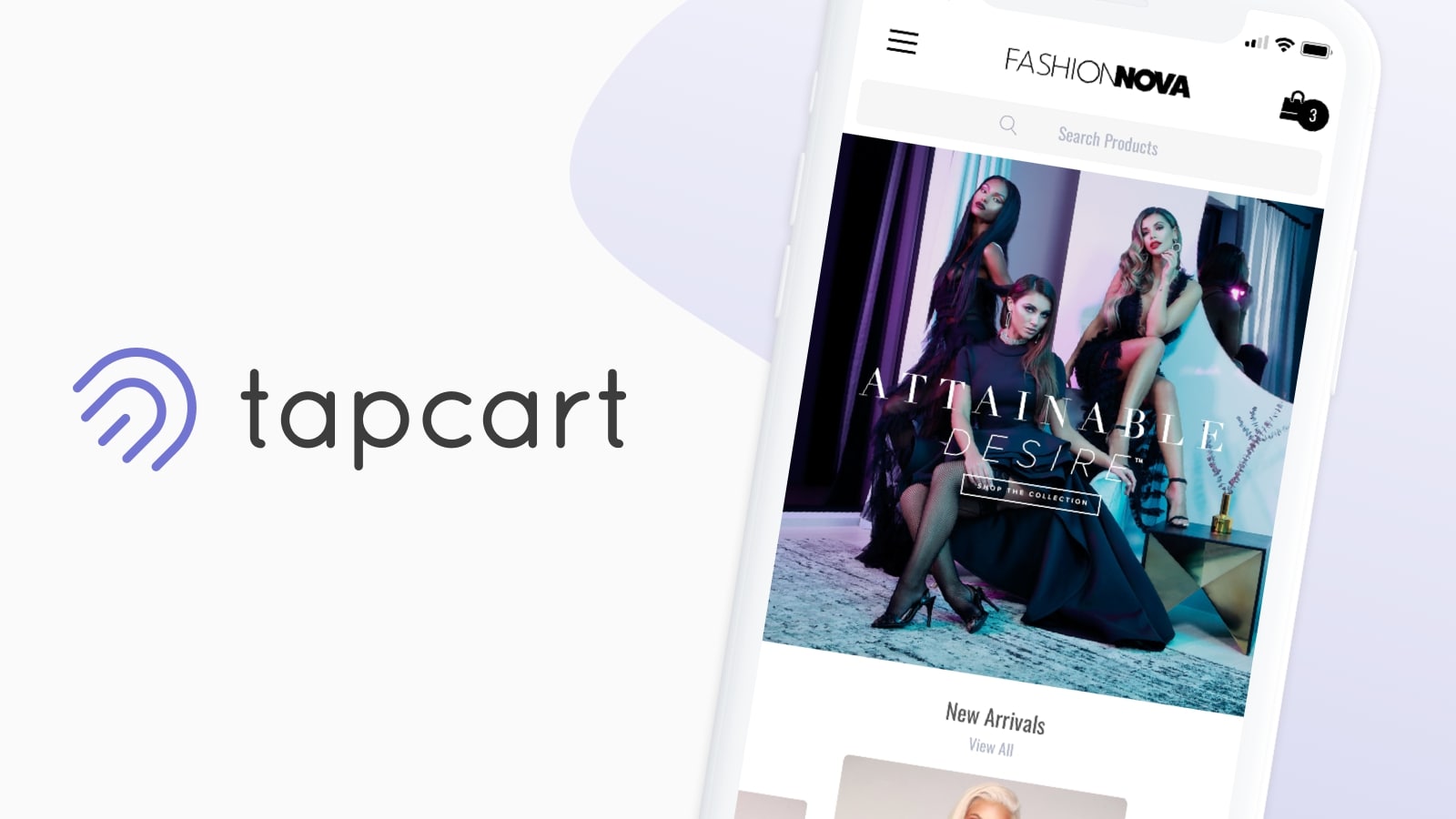 Tapcart Mobile App is a Tapcart Inc. app to allow consumer service rates to be increased easily by online store owners. This app allows you to give your consumers unlimited push notifications to keep them current with the exclusive deals and promotions of your shop. It is possible to build a sign through an intuitive platform with lots of features that will easily complement your brand. In order to catch consumer attention, increase customer commitment, and inspire consumers, you should view your items, collected products, and new material in a splendid way.
With this tool, the customers can verify Apply Pay and Google Pay in just a few seconds. The consumer may also plan all the critical information for a smoother, more seamless experience which reduces the volume of abandoned carts.
Highlight features
Intuitive design
Integration with other Shopify apps
Effective push notifications for re-engagement
Feature new products, collections, and in-app content
One-page checkout within seconds with Apply Pay
Matching with the site's branding
Pricing
Tapcart offers 3 different pricing options with a 7-day free trial applied for all plans. Note that external charges billed by the external provider may apply, but they won't be included in your invoice. Recurring charges, including monthly or usage-based charges, are billed every 30 days.
Tapcart Core Plan - $99/month
iPhone & Android app
Design with up to 6 blocks
Unlimited push notifications
Real-time app updates
Tapcart Plus Plan - $199/month
Design with up to 15 blocks
Premium & scheduled push
Up to 3 standard integrations
Implementation specialist
Tapcart Enterprise - $999/month
Design with unlimited blocks
Unlimited & premium integrations
Dedicated app manager
EasyMobile - Mobile App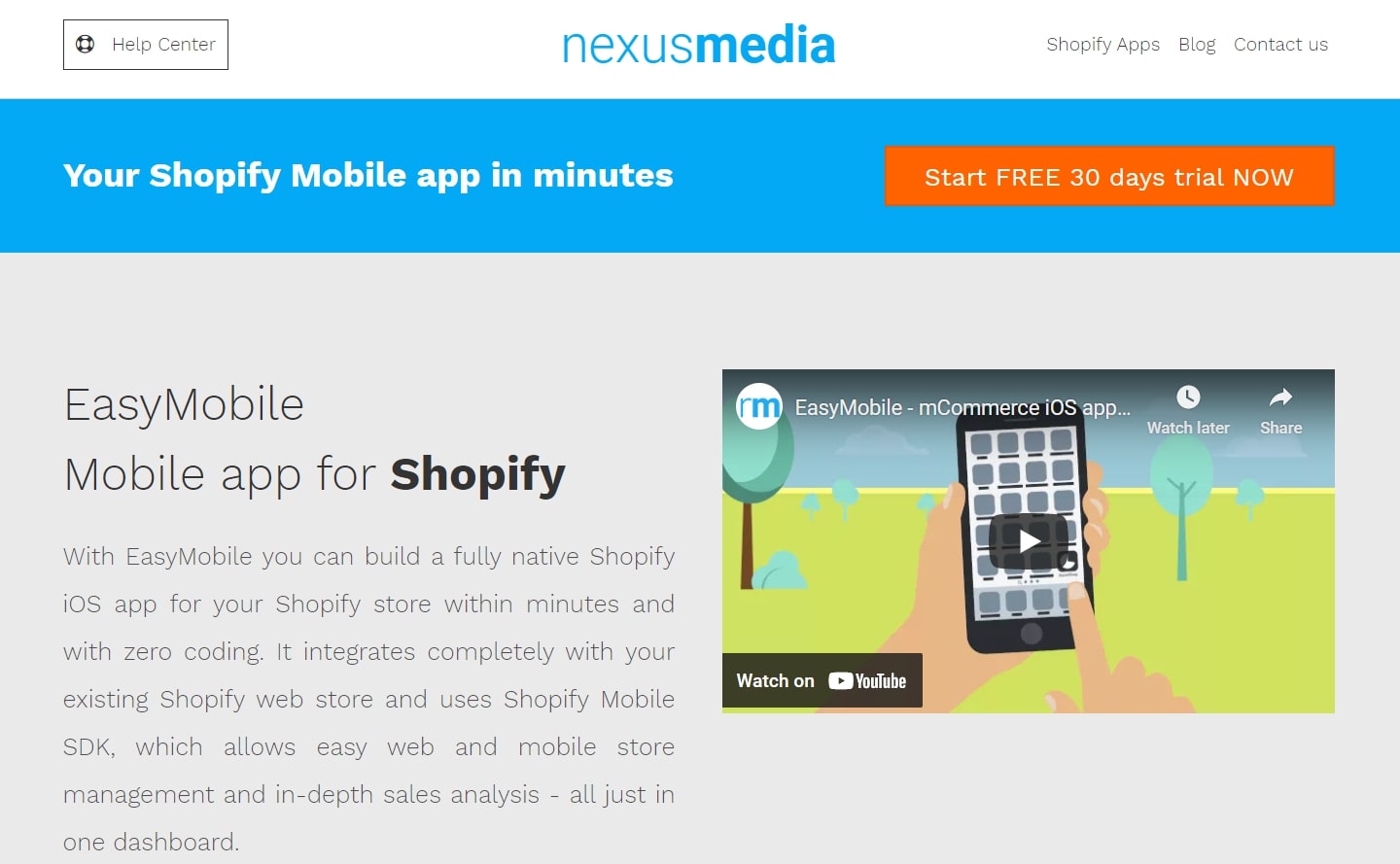 EasyMobile – NexusMedia's mobile app is one of the powerful applications you can use to create your store's mobile app. You can get more orders from consumers by using their intelligent features. With this app, you can send customized messages, make ads more customer-relevant and worthwhile. As a result, acquisition costs will be substantially lower.
Instant push notifications are the first button deemed a successful means of attracting customers' attention. They will appear to make consumers interested in the items at the right moment. Thanks to this, they'd like to browse for the products. This app will particularly simplify the mobile checkout. Your customers can skip the frustration and complete the check-out with only one button. Customers can also use Apple Pay to order goods on their cell phones within seconds and create a loyal, high-cost customer base.
Highlight features
Offline access to your store
Intuitive design for iOS and Android
Comprehensive product page layout
Well-designed product catalog
Easy check-out via the shopping cart
Simple tap check-out via Apple Pay
Native Shopify Mobile DSK
Personalized messages for customers
Pricing
EasyMobile offers 1 monthly pricing plan for $20 per month with a 30-day free trial available for initial testing. You can also consider adding the Apple Pay submission service for $100 (one-time payment) as well.
Shopney - Mobile App Builder
Shopney delivers the best mobile shopping app options for the Shopify and Shopify Plus brands to thrive in the eCommerce mobile-centered environment. Shoney's iOS and Android mobile apps help Shopify retailers at all levels speed up their development and fulfillment with our top-of-the-line mobile shopping experience. Shopney offers you an innovative mobile platform and a smooth mobile shopping experience. You can quickly build your app within minutes.
You can select the right style for your brand by sector and inventory size with Shopney. You can also turn your consumers in real-time with live in-app chat. Shopney provides several other features, including limitless, rich push notifications, abandoned cart notifications, and back-up notifications, to use for your company. Build your mobile app with Shopney to increase mobile strength.
Highlight features
Native iOS and Android mobile apps
Various theme options
Easy Drag&Drop Design
In-App chat
Easy setup & synchronization
Support for all payment gateways
Order tracking
Rich push and abandoned carts notifications
Multi-Language Localization
Pricing
Shopney offers 3 different pricing plans as below.
Silver Plan - $99/month
Native iOS & Android Application
15 Language Localization
Unlimited Rich Push Notifications
Back In Stock Notifications
In-App Chat
Gold Plan - $199/month
Scheduled Push Notification
Abandoned Cart Notification
More Design and Layout Options
Deep Linking
Exclusive service & support
Platinum Plan - $499/month
Unlimited Design Elements
Platinum Integrations
Customizable Fonts
Multi-Currency Support
Dedicated Success Manager
AppNotch - Easy Web to App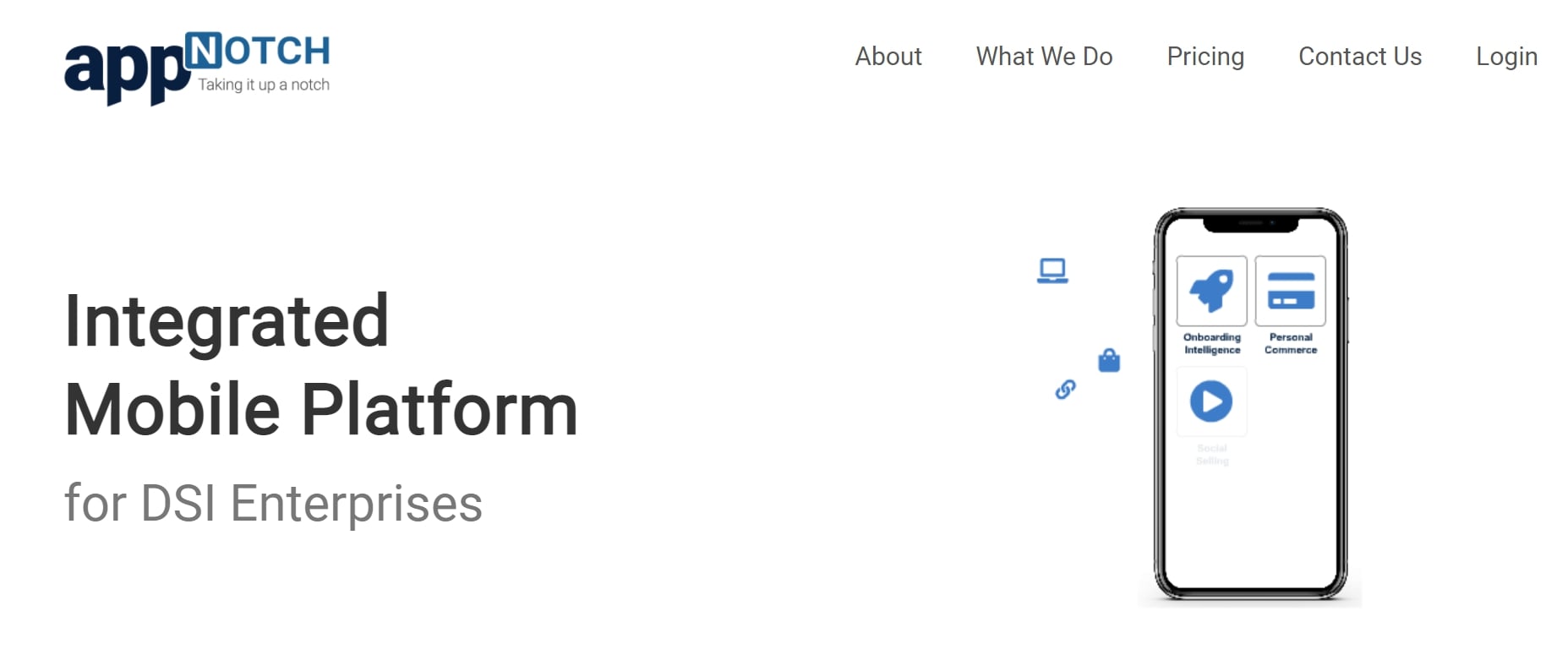 AppNotch Shopify application is an efficient method for turning stores into an Android app. Shop owners can use push alerts, sharing options, etc. in very short and simple steps. Shop owners may introduce the more common Facebook social media in their shops without coding.
App users can also adjust the groups and planned updates. The push notification is sent to any customer who comes to the shops once, which efficiently improves sales. This app can be updated on any shop owner's Google Play Store to only require a Google Developer account.
Highlight features
Powerful and effective push notifications
Robust communication
Integrations with big social media such as Facebook, Twitter, Instagram
Modifiable features and categories
Website synchronization
Google Analytics Report available
Support on Android
Pricing
AppNotch offers a monthly plan for $25 per month. You can pay an extra $99 (one-time payment) fee for publishing if you want.
MobiApp - Mobile App Builder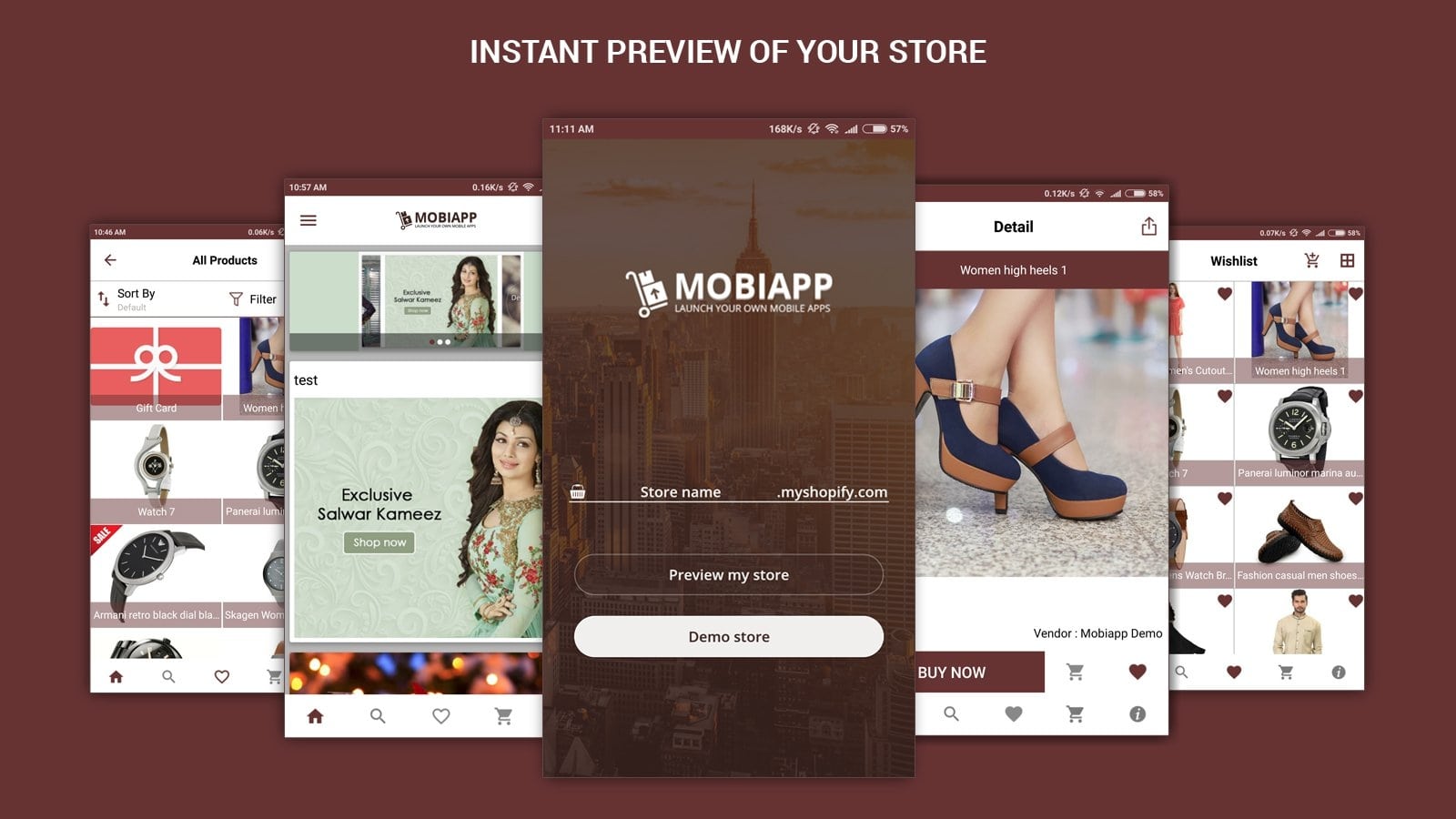 MobiApp enables you to create the app to your own personal theme with several choices. A variety of formats and styles allow you to create a fantastic application that encourages users to return. And you can update your app with product sync, so you can quickly update the app with products or new products, without losing sales or frustrating consumers.
Like in several applications, the users who have downloaded the software will be eligible to get unrestricted push notices. You will therefore market to customers who use the app at an early point. You should also give app users a special code to get a dial to improve sales with the program.
Highlight features
Hassle-free installation with no coding required
Attractive UI Design
Shopify Admin Dashboard to help manage customers and orders easily
Multiple pre-defined and custom templates/layouts
Comprehensive customer-personalized features: sorting and search, filter, wishlist, etc.
Google Analytics
Area Serviceability Checker
Pricing
MobiApp offers 1 pricing plan of $39.99 per month, with a 15-day free trial available for initial testing.
Drobile - Mobile App Designer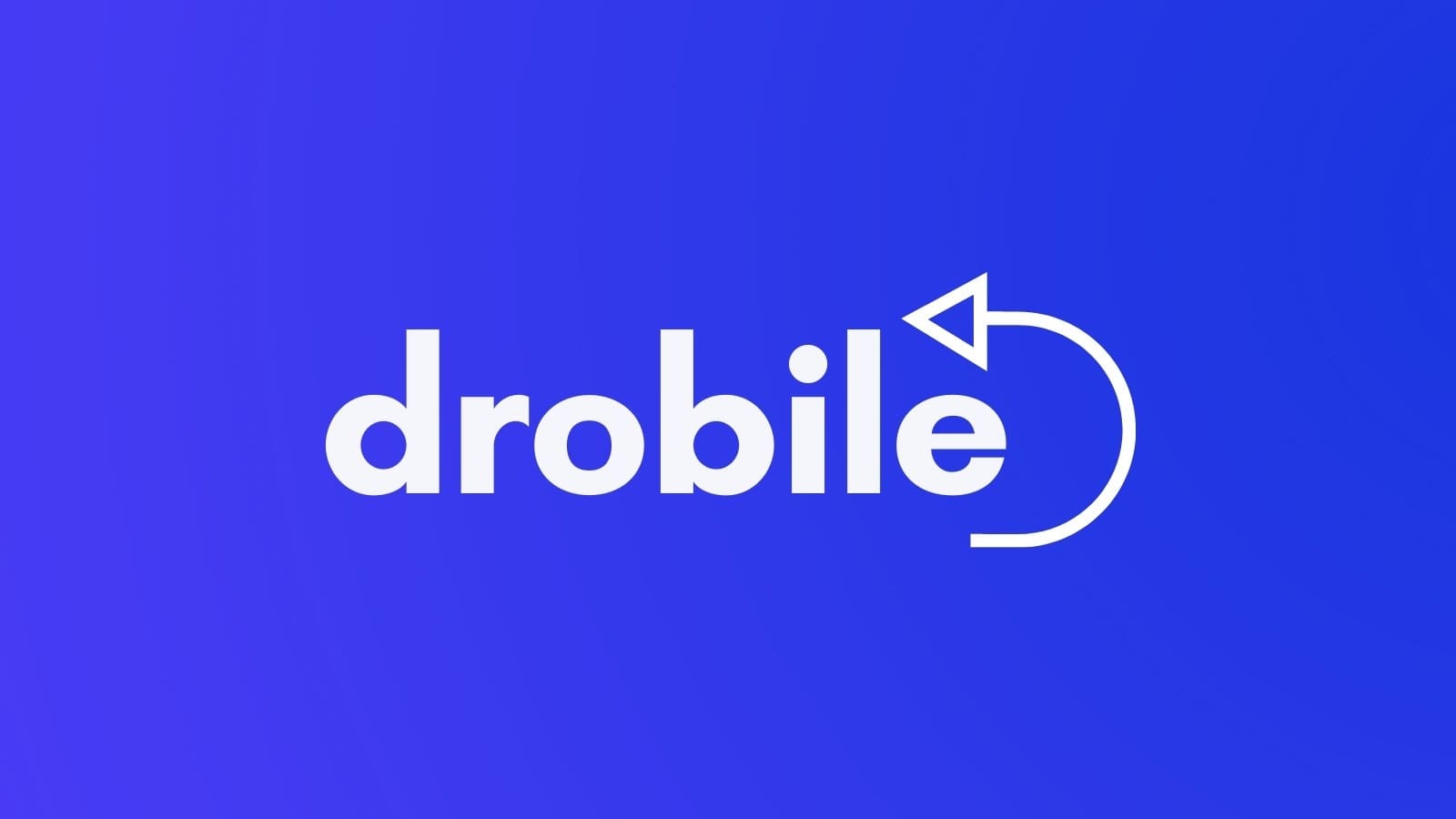 The easy-to-use Drobile Mobile App Designer can take your branding and marketing to a whole new level. The ready design has everything done for you, from the log-in steps to the final checkout process.
If you wish to make adjustments, they can be done in seconds. Therefore, regardless of what modifications you have, the app can be maintained and appropriate. You can also add more cool features to your mobile app. This provides push notifications for consumers who have a new product/sale back to the app.
You may also offer a perfect system to reward consumers. This can foster customary return and loyalty. Custom analytics are available to see how the mobile app functions. There are also several payment gateways.
Highlight features
Customizable products and collections within seconds (no codings required)
Unlimited push notifications
Integrated reward programs
Support in multiple languages and currencies
Unlimited payment gateways integrated
Custom analytics to see the app's performance
Pricing
Pro Plan - $80/month
Get your app designed
BOTH iPhone & Android Apps
UNLIMITED Push Notifications
App Analytics
Google & Apple Pay
Plus Plan - $150/month
All PRO features included
Early Access to New Features
Integrated Rewards Program
Multi-Language
Multi-Currency
Premium plan - $500/month
All PLUS Features +
Automated Push Notifications
Premium Integrations
Advanced Analytics
AI Product Recommendations
PWAfy ‑ Mobile App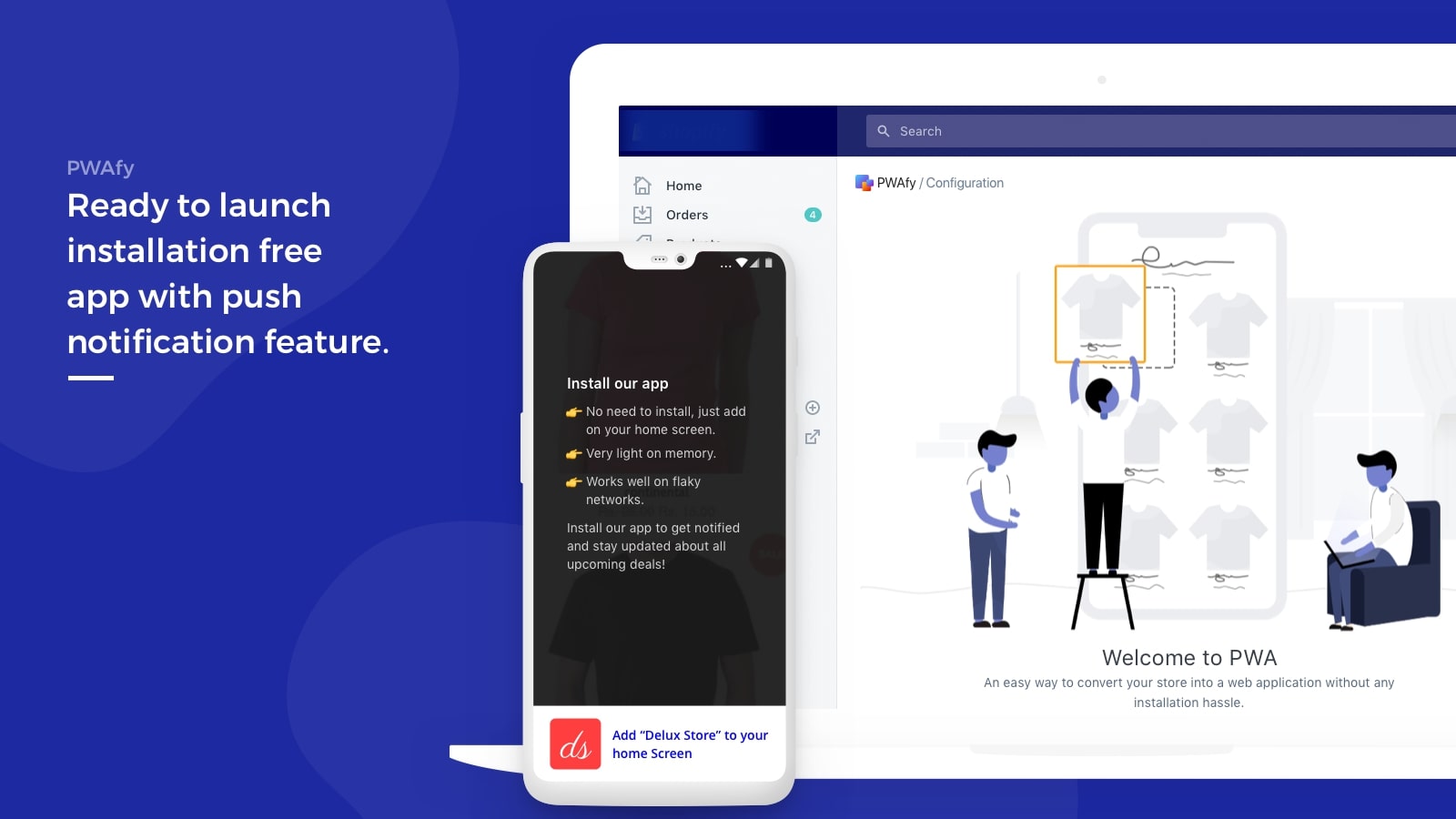 PWAfy - Mobile App helps you to build an interface to download and use users on your mobile devices, one of the most inexpensive on the list. It has all the functionality you would expect of a mobile app developer at a heavy price. There are, though, such limitations.
For example, analytics are more relevant than other solutions on the market, though there are push notifications. Moreover, without the user needing to download the application, the software works. Although users may enjoy it for the first time, retaining customers is difficult.
Highlight features
Custom Splash screen
High compatibility with other applications
Easy to use and configurable
Offline browsing available
Push notifications
Low cost
Quick access to newcomers
Pricing
PWAfy ‑ Mobile App costs $9 per month with a 7-day free trial available for initial testing. Recurring charges including monthly and user-based fees are required to be paid every 30 days.
Final verdict
The top mobile app developer for Shopify is a tough choice as so many wonderful options are currently open in the market. The only thing you should know is that you would need an app if you don't even have an app. More consumers make buying options and complete purchases using mobile apps. So as an online merchant, please make sure you have one of the best mobile app developers for your Shopify store, as stated above.