Ah, the holiday season is here - one of the busiest and most rewarding times of the year for many eCommerce businesses. This year, if you want to make that final push with the last quarter's revenue, you would need to act more aggressively than before. Because many more eCommerce players have joined the game, and customers have so many more options on their plates.
While there are many ways to impress and dazzle your customers, nothing beats good old emails in people's inboxes. Personalized, perfectly timed, and beautifully designed holiday emails are an excellent tool to communicate your brand's message while presenting exclusive promotion and rewards programs.
In this guide, you will learn how to make inviting holiday email templates that you can customize for different audience segments, as well as attract new buyers in the joy of the season. Let's get prepped up for a marvelous selling season!
Why do you need email marketing for the holiday season?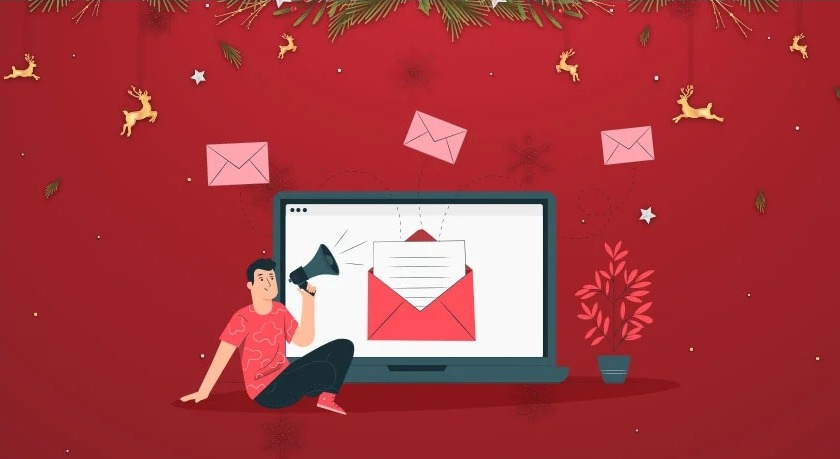 The holiday is the best time for connecting people. And for eCommerce, as consumers are actively looking for good deals, you can reach out to your current customers and subscribers, and new buyers. If your offer is sharable to buyers' family and friends, it is even better. Email marketing is your fantastic tool to present your holiday offer because of the following reasons:
Emails can be automated and personalized
You wouldn't want a Christmas gift that is not prepared for you only, right? Same thing with eCommerce offers, no consumer wants to receive a mass message that everyone else gets. By segmenting your audience and creating personalized holiday emails, you can have a 6x higher transaction rate!
Also, in such a busy time like the holidays, it is so convenient to put your marketing on autopilot with email campaigns, from newsletter to welcome emails and cart abandonment. Most email marketing tools can help you with such tasks.
Emails let recipients instantly buy
With a simple 'Buy Now' button in your emails, subscribers can purchase so easily. With calls to action, you can highlight your offers, gift ideas, events, and abandoned items so consumers can buy in just a couple of clicks. Your customers are just as busy during this time, so a little help to speed up their shopping is much appreciated.
Emails can support any type of campaign
This may sound like a bit of stretching, but it is not at all! You can use emails to promote holiday sales, invite subscribers to an event, showcase gift ideas, and much more. With social media advertising, reward programs, giveaways, offline events, contests, etc., email marketing can all enhance your campaign's results.
Emails are great to view on mobiles
Many subscribers nowadays rely on their mobiles and tablets to view emails or holiday shopping. In past years, purchases made on mobile devices have increased tremendously. With a powerful email marketing tool, you can have great email templates for both desktop and mobile, and your recipients can have an enjoyable reading experience everywhere.
6 ways to make awesome holiday email templates
To prepare your emails for the holidays, it is important to have some templates beforehand. This way, you can have emails ready for upcoming campaigns and only need to customize a little bit for a touch of personalization. Keep reading and you will find 6 awesome ways to create holiday email templates for your best selling season.
Holiday gift guide template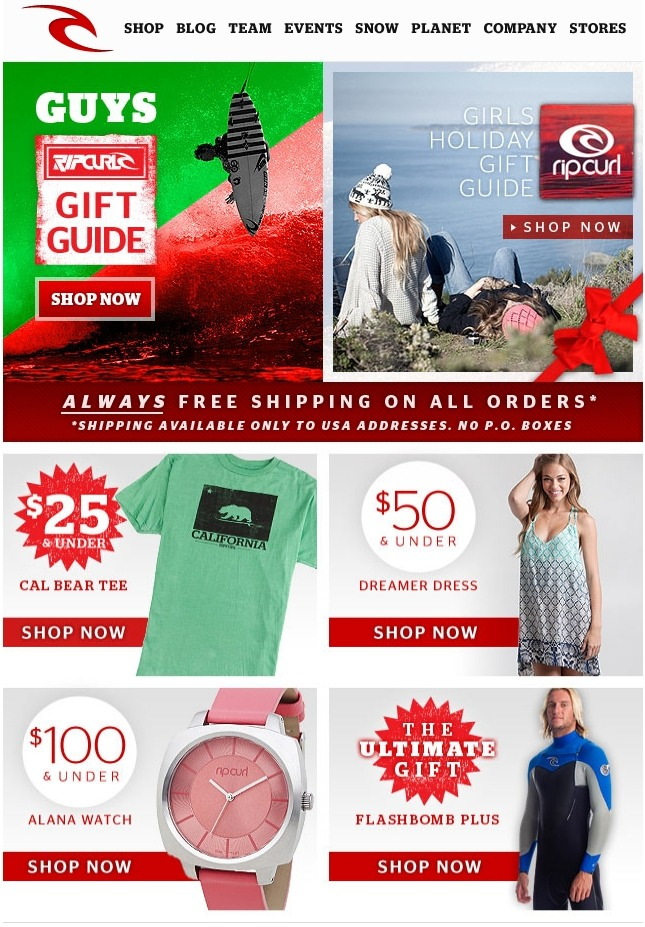 We are all busy, and even those who don't tend to wait until the very last minute before buying gifts. Naturally, the closer to Christmas, the more sales you can get and the more intensive your marketing efforts would be. So you can help last-minute shoppers by offering a gift guide with some fantastic ideas.
Your gift guide may be the inspiration consumers need to buy items their friends and family have wished for. The image above is an example of a gift guide email from Rip Curl - showing product ideas for both guys and girls. You can send more than one guide throughout the season, starting about one week before the big day.
For example, "Here is what you can buy for your dad this Christmas, only under $100!"
You can draw inspiration from many categories, such as gifts for family members, friends, hobbies, interests, age groups, colors, product types, price points, and more.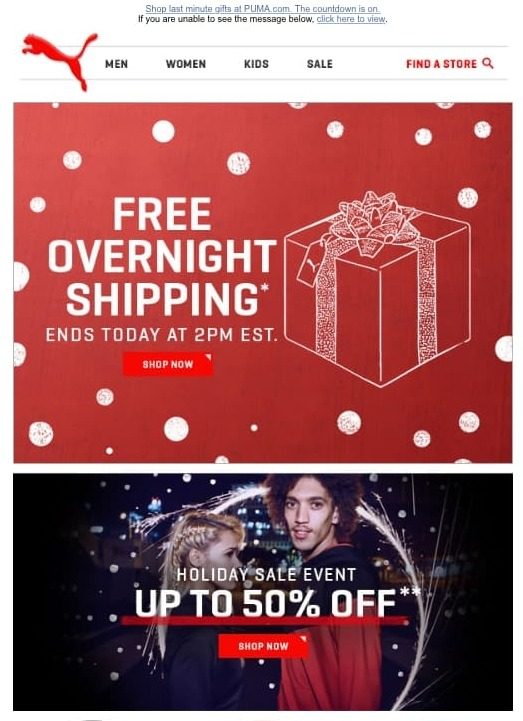 If you want to have a little more push in your gift guide email template, consider highlighting guaranteed on-time shipping so products would arrive before Christmas or on Christmas Day. See how Puma offers overnight free shipping in their holiday email - they quickly communicate with late shoppers that they can get their gifts in time.
What you can do as an eCommerce store:
Prepare a list of products that can act as gifts this holiday season and add them into your gift guide email. If you are selling only a few products, elaborate in your emails on how they can be the perfect gifts. Your email template should have many image boxes for different recommendations for each group of customers.
Gift for referral template
There is always something special about holiday gifts. We like giving them just as much as we like receiving them. So why not combining these two - letting customers buy something for themselves and their friends? One way to do this is letting subscribers get a deal every time they successfully refer your brand to a friend.
There are many approaches to this, and to match the holiday spirit, here are some ideas:
Give subscribers 10% off when they refer your brand to a friend.
Send a high value coupon when their friends purchase or subscribe.
Send gifts to subscribers when their friends buy high value products.
Let customers buy discounted products for their friends and themselves.
For example: Birchbox sends deluxe samples to subscribers when they buy their friend a one-year subscription (above image).
What you can do as an eCommerce store:
This is a simple idea yet matches the holiday spirit so well. You can apply the method to almost any eCommerce business and positively impact the sales revenue, whether by offering coupons, gifts, store credits, or gift cards. The method encourages consumers to buy a gift knowing that there is extra value for themselves as well.
For this type of holiday email template, you need to think about the offer you're going to have and how you can design the emails to match the spirit. The infamous red color of Christmas is highly exciting for recipients, so try it. And you should also prepare some physical gift cards if you want to include them in the product packaging.
Special holiday sale template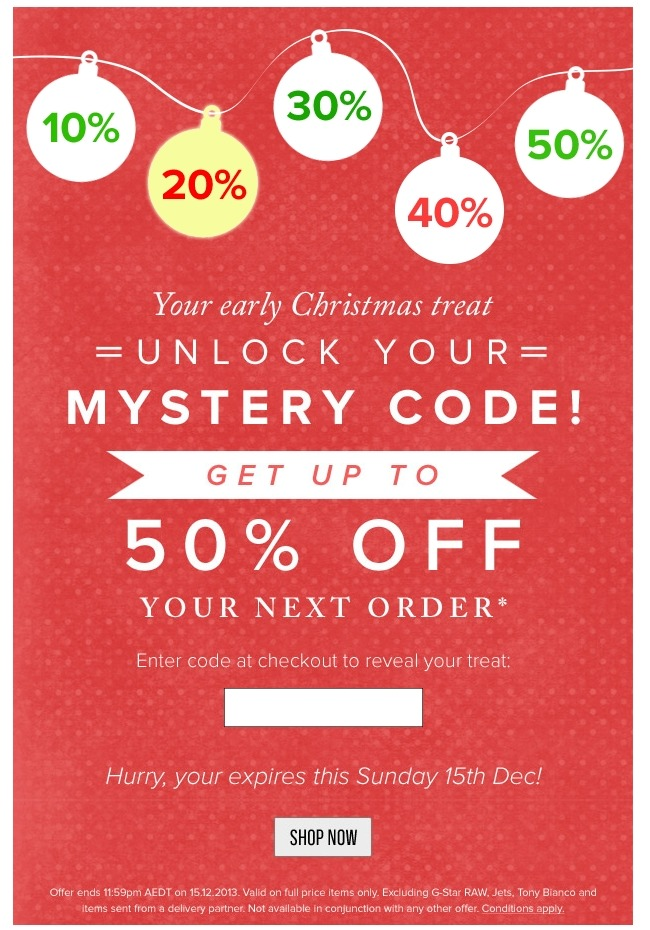 With many people, the holiday season is all about finding the sweet deals on their wishlist items. For eCommerce businesses, this is the time to have a powerful promotion campaign and end the year with a good chunk of revenue. And special holiday sales is highly anticipated by consumers, too, so having some email templates ready is without a doubt beneficial.
To stand out of a specially crowded inbox this holiday season, your emails need to have personalization and exclusivity. Remind your subscribers that being on your email list is a good thing, or attract new buyers with exceptional deals. My favorite approach is to target existing customers with exclusive offers.
In the example above, recipients can open the emails to receive their special codes and get up to 50% off on their next order. You can further personalize your emails by calling out the customer's name or letting them know more about the exclusive offer.
What you can do as an eCommerce store:
Special holiday sale emails are a must for any online store since you will have your own promotion campaign for sure. A template will give you some ideas on which offers you can give to different groups of buyers and how you can show appreciation to existing customers. Prepare your audience segments and exclusive offers for each, then make sure your email templates communicate the offer clearly and quickly.
Last minute deal template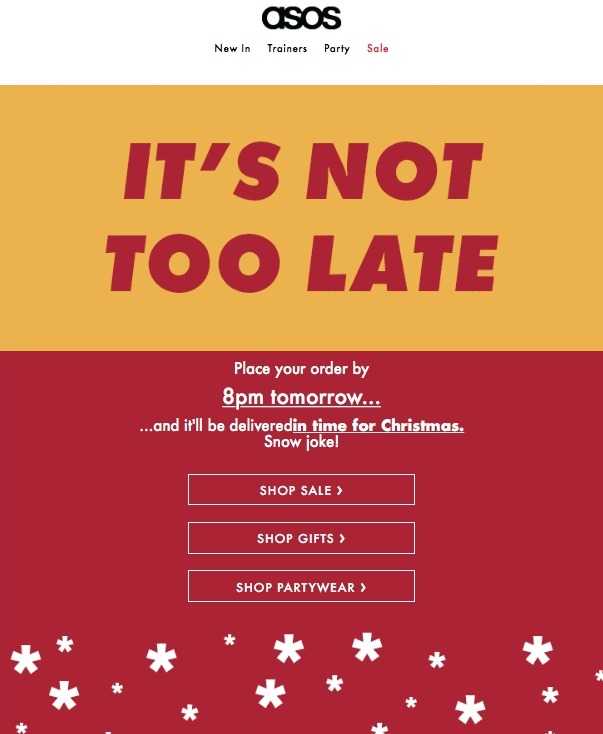 As mentioned before, you will always see some last-minute shoppers coming to your inbox the night before Christmas day. To remind them about your deals and save yourself from working through Christmas, a last-minute deal email will help late shoppers buy what they need in time.
See how Asos highlights their offer by making the phrase "It's not too late" as popping as possible with an animated GIF. Then, they let consumers know that they can still buy items before 8pm the next day and have items shipped in time for Christmas. You can also inform buyers about your working schedule and if you can support during the holiday or not.
What you can do as an eCommerce store:
Making this email template is easy, but what you need to do is know your schedule in the busiest time of the year. When should be the last day to offer on-time shipping and when your promotion would end? This is entirely up to you and your business's working schedule. Then, prepare a last minute deal email template to send about one day before the sales end.
Post-holiday template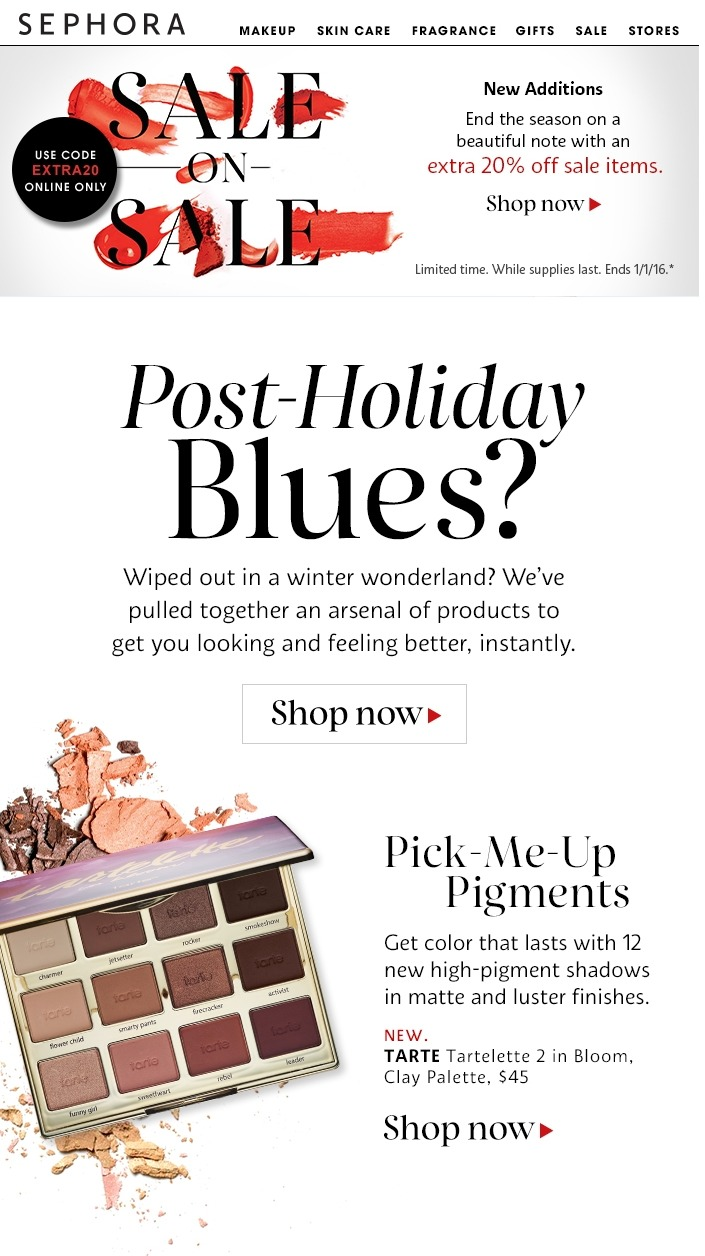 When the holiday is over, you don't have to stop sending emails. You can still send a few post-holiday deals to your subscribers and snatch a few more sales. Also, if consumers are staying home and getting bored this holiday, they may as well use the gift cards you sent to them.
That is what Sephora did with an email in January, asking if their subscribers have any post-holiday blue. They even took a step further and got all the products ready, recipients just needed to click on what they like and start buying.
What you can do as an eCommerce store:
Your customers will need a few items to prepare for a new year, especially after such a strange year. So, think how you can help them feel great about 2021 by having the best products from your brand, then include them in your post-holiday email templates. You can introduce must-have items if things are still the same next year, or how to prepare for a new 'normal'.
Year review template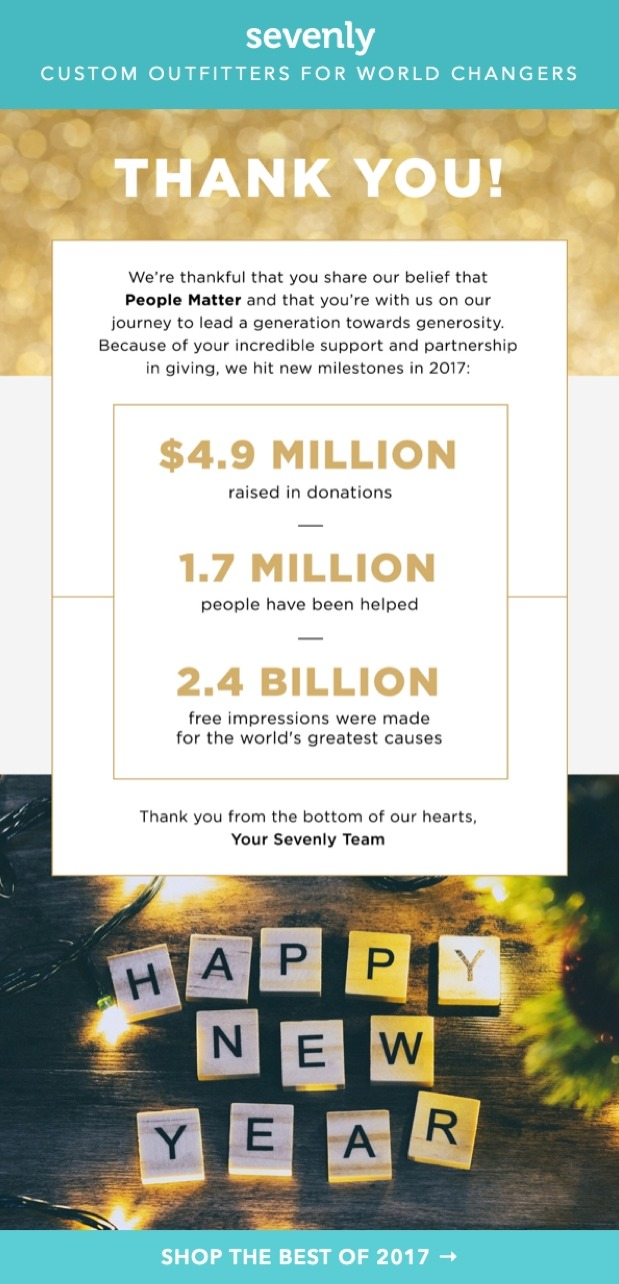 I know, it is not a good year to review for many people. But what if you can still find some silver linings and make your dear customers a part of the good news? And while other brands are trying to blow out sales or new products, you can focus on customers and show what they've contributed to.
This type of holiday email won't ask recipients to buy nor have a big return on investment. But, it can be one of your most engaging holiday email campaigns. Why? Because it is humane. It is not just about summarizing what people have bought from you over the year - it is about how your customers helped your company achieve something.
For example, Sevenly sends a year review email summarizing their charity campaign in the last year and how much they could donate, thanks to customers. This is not only a special thank you, it also lets buyers know they've made a difference in someone else's life.
What you can do as an eCommerce store:
Sharing about your revenue wouldn't mean much to customers, so prepare some information that is worth sharing, such as the user's personal achievements with your business, your charity records, or your community's growth. Prepare an engaging year review email template with as much personalization as possible will make your emails much more engaging.
How to create a holiday email template?
With all of the ideas above, I'm sure you've got some ideas in mind for your holiday email templates. Next, let's use a tool to help you set up these templates easily and automate them to save time. The tool we will be using is AVADA Email Marketing - a free to use app with beautiful templates that you can easily customize for your campaign.
Here are the steps in details:
Step 1: Sign in to AVADA Email Marketing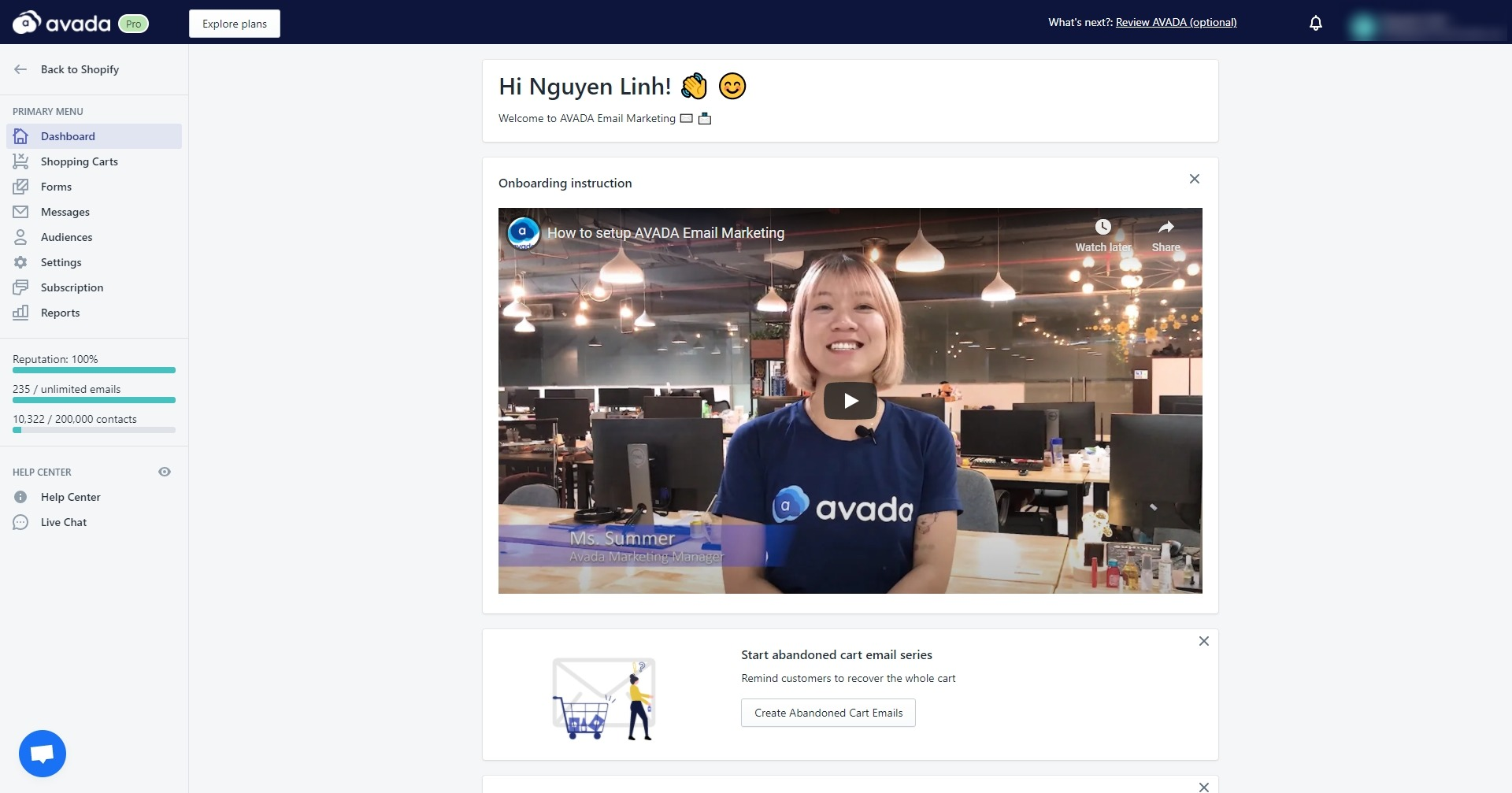 Head to AVADA Email Marketing official page and sign up for an account. The app is free to start, so don't worry about the cost now. You can upgrade your account later for more features and contacts. Once you are done with creating your account, you will get access to the app's dashboard, looking like the image above.
As you can see, even with the free version, you still have all the tools you need to create an effective email marketing campaign, with opt in forms, shopping carts, audiences, reports, and more.
Step 2: Create a new campaign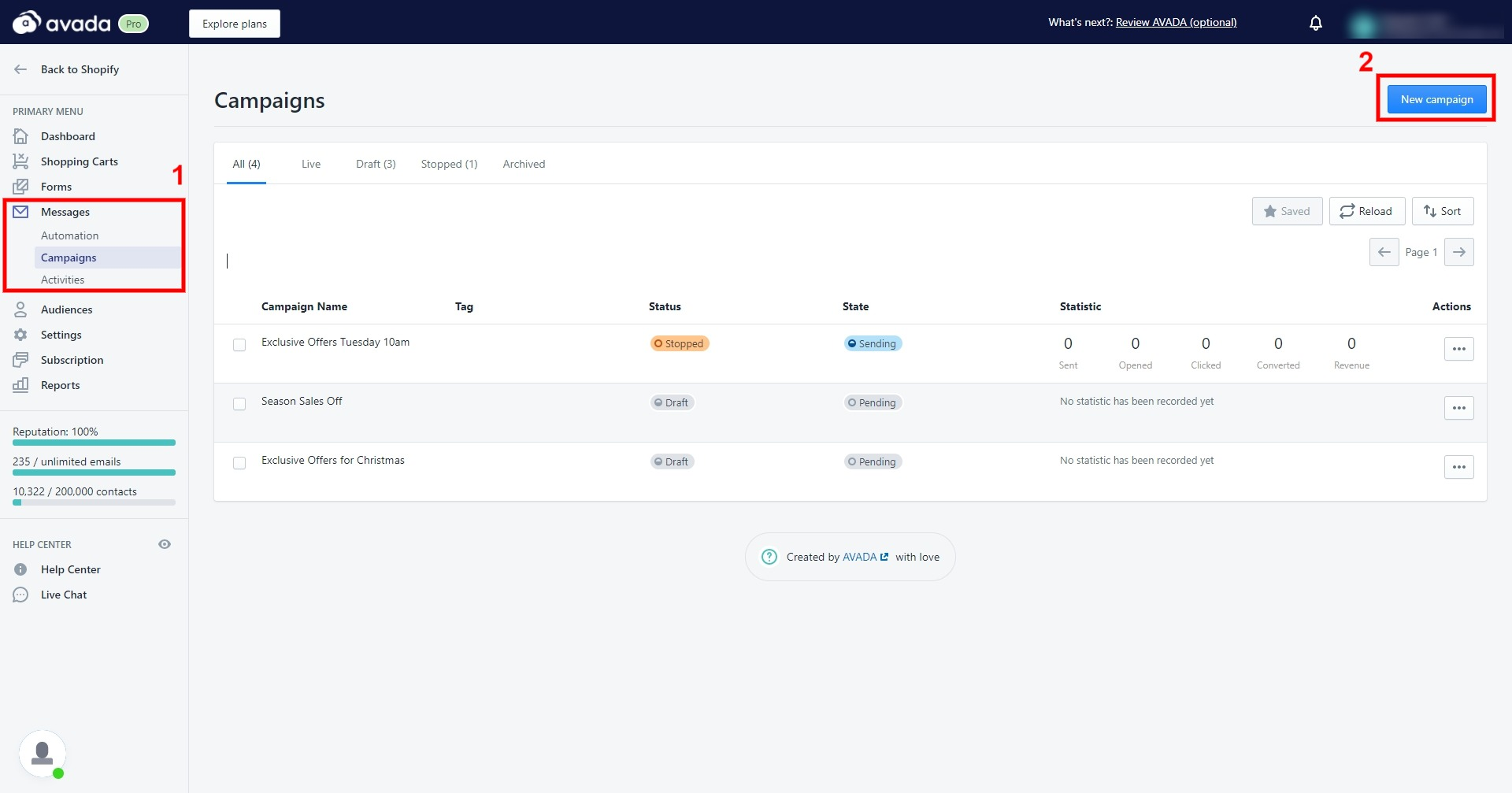 To start creating your holiday email template, let's begin the process of making a campaign. Click on 'Messages' -> 'Campaigns' -> 'New campaign'.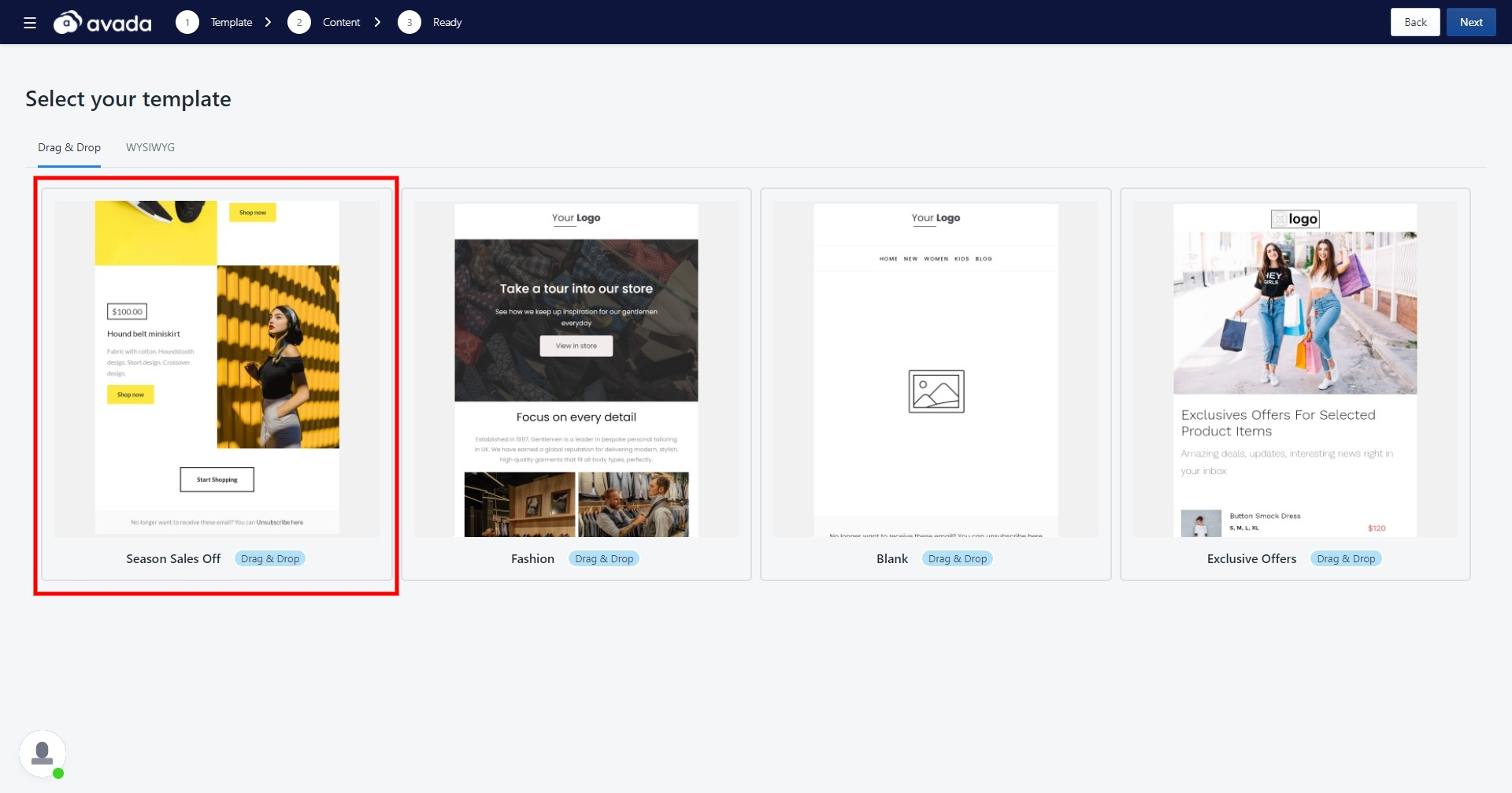 In the first step, you will see many email templates for you to select. With these pre-built themes, you can easily create personalized holiday email campaigns. Later, you can add audience segments and workflows to further automate your holiday campaign. As an example, I will select a season sale-off template for a promotion newsletter campaign during Christmas and New Year.
Click on the Seasons Sales OFF template, then click 'Next'.
Step 3: Edit the email template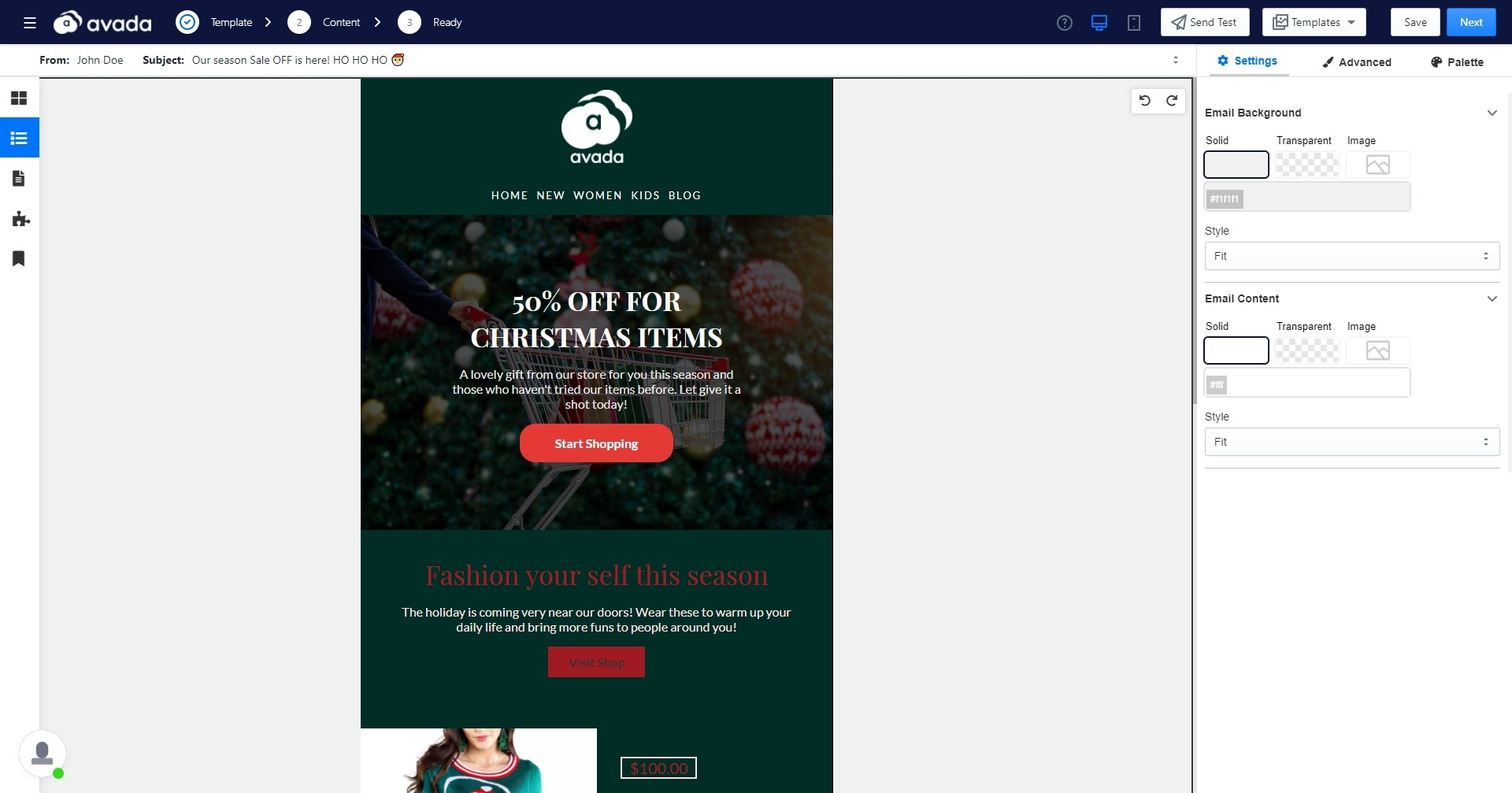 Once selected, you can start editing your email template for your holiday newsletter. In the picture, you can see the pre-built palette for Christmas that I have used for the email. The Christmas spirit has already filled the air with these recognizable colors.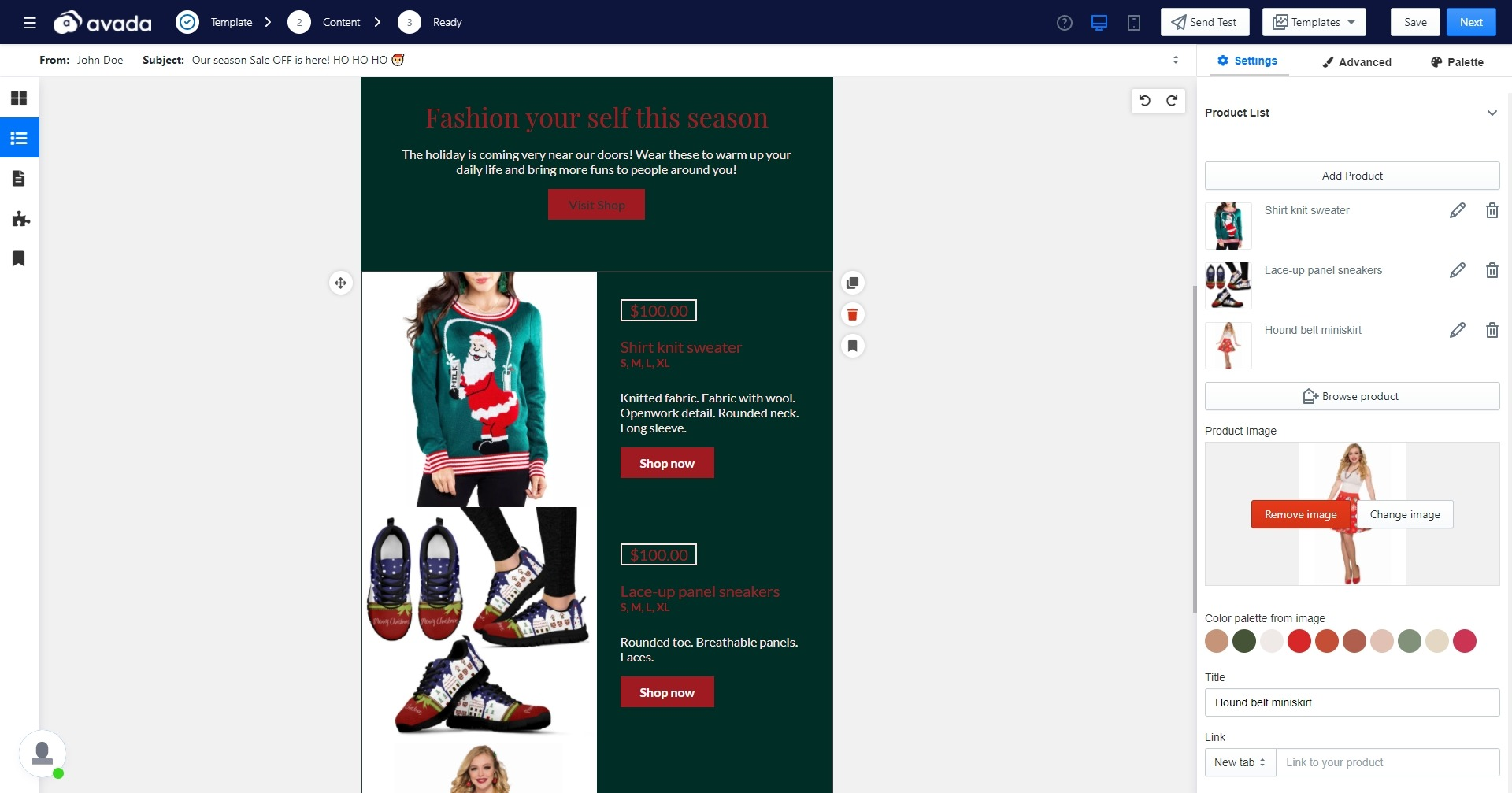 Scroll down, and you can see the gift ideas that I had for my customers this holiday season. There are sweatshirts, shoes, and dresses, for which the whole family can enjoy receiving. The buttons are highlighted so customers can easily check out the products and purchase.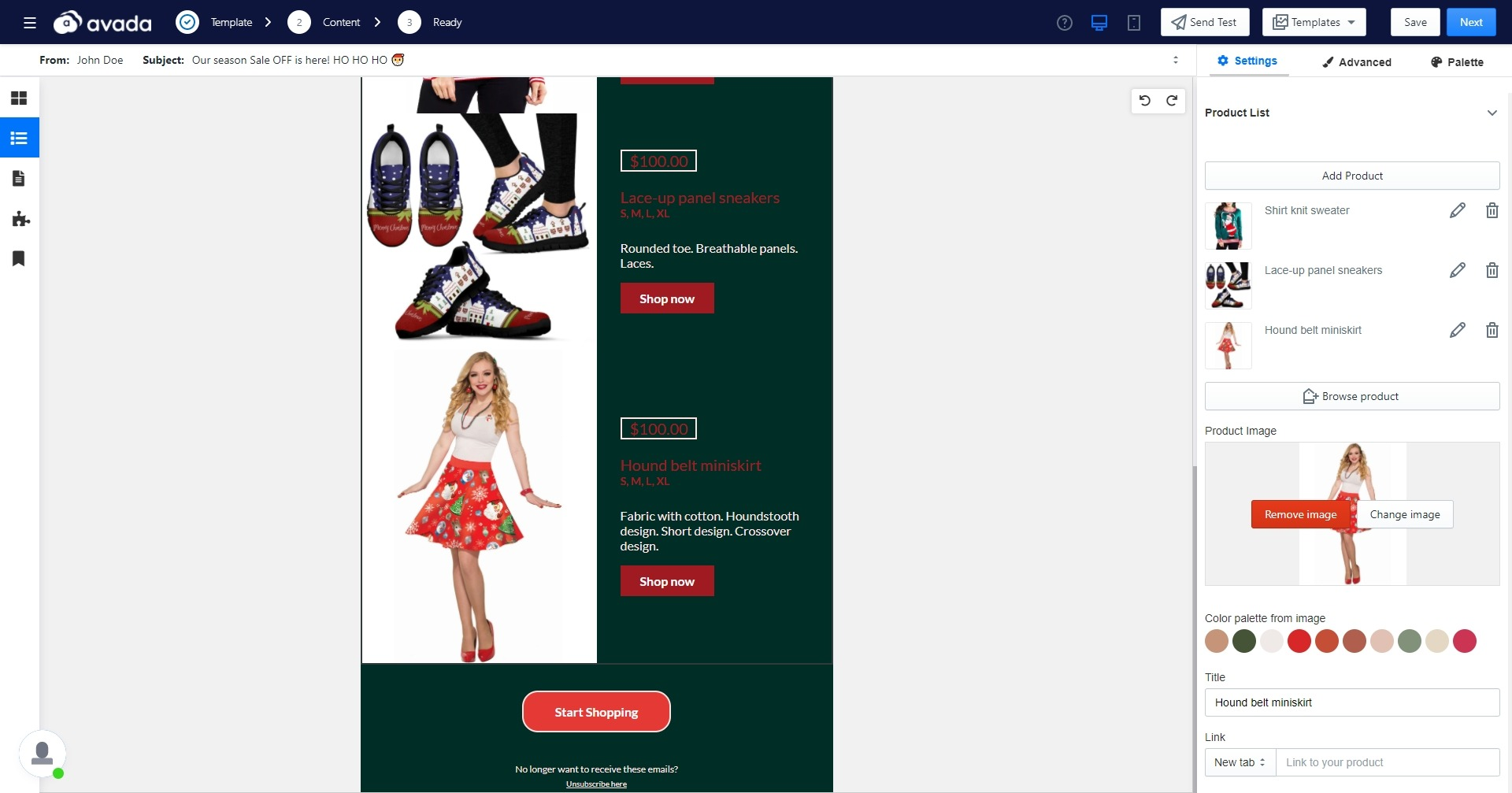 In the footer, we have one more call to action so customers can start holiday shopping on your website. Another essential part is the unsubscribe button, which allows recipients to opt out of your list if they wish to. A smooth shopping experience should have the option of unsubscribing.
After that, you should have finished editing your holiday email. You can view your email in a mobile version and change your template at this step as well. Click 'Next' to continue to the next step.
Step 4: Set the automated timing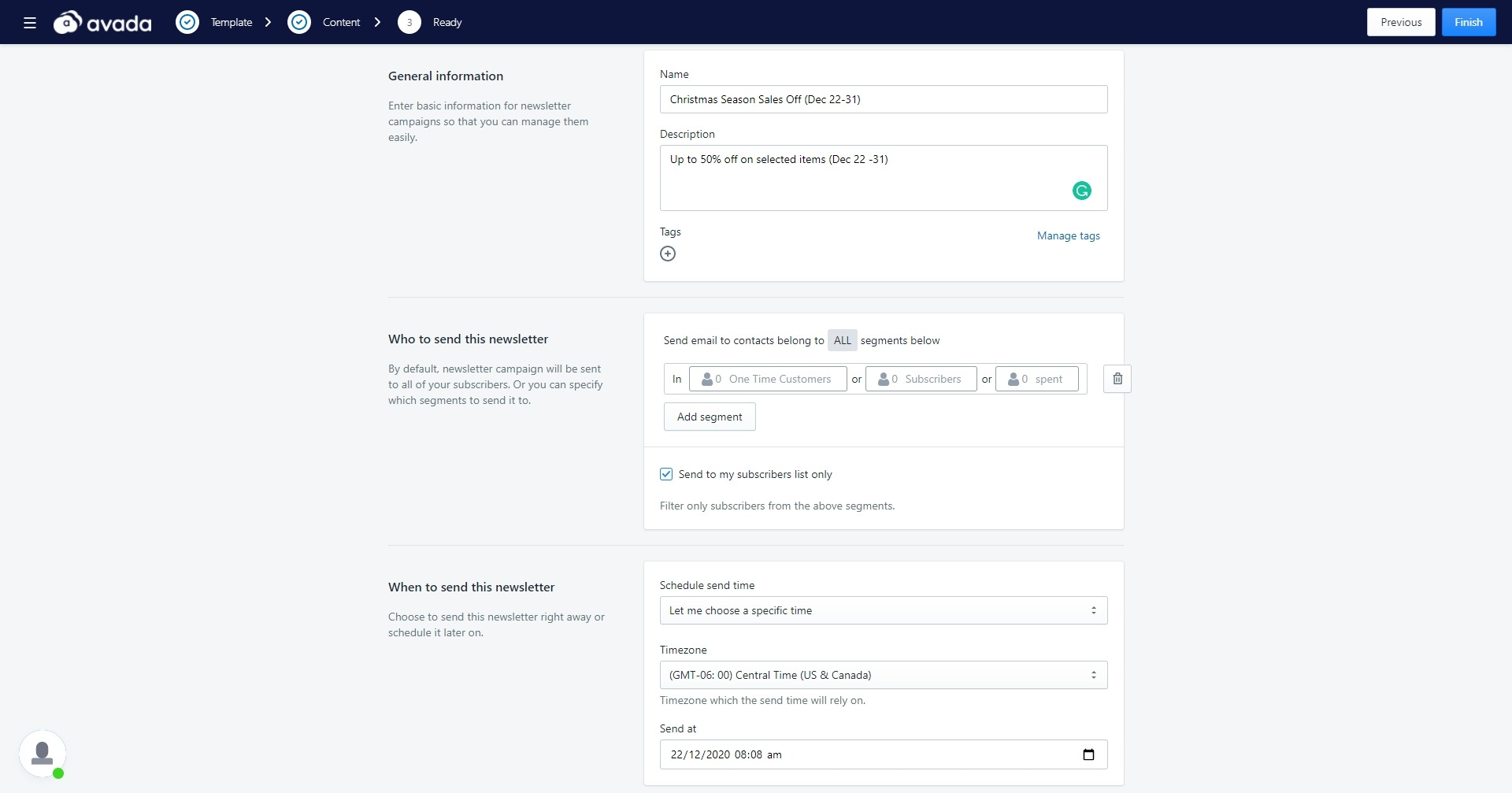 In this step, you will fill in the necessary details for your holiday email campaign, including name, description, audience segments, and sending time. You can customize the groups of audience and sending time or time zone to make sure your campaign starts at your desired day. I sent it two days before Christmas so customers can purchase throughout the holiday season and enter the new year. With free shipping, this type of buying shouldn't be a problem.
Click 'Finish' to launch your holiday campaign.
Step 5: Launch!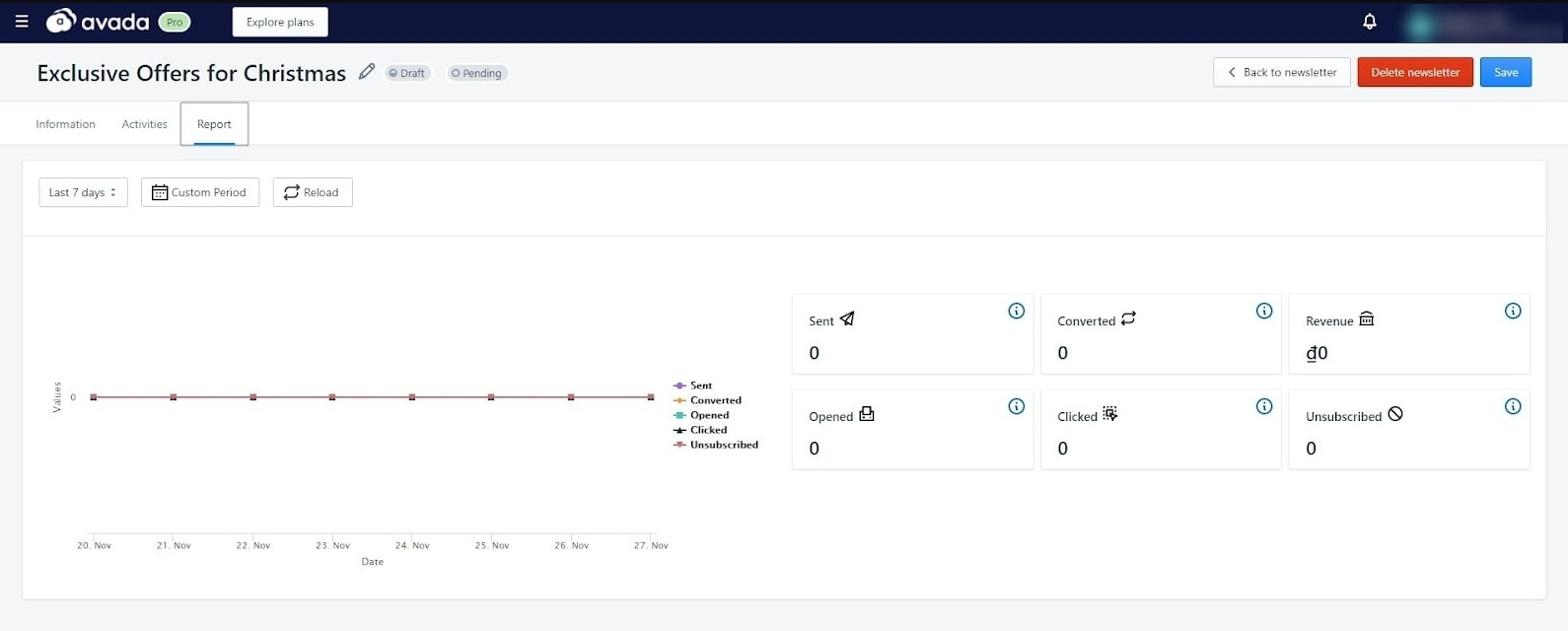 After launching, you can view your holiday camping's data on Sent, Converted, Revenue, Opened, Clicked, and Unsubscribed. IN this step, you can still edit the email and other information.
There you have it, your holiday email template is ready to launch now!
Start Free Trial - AVADA Email Marketing
Final words
Now that you know how to create a fantastic holiday email template with AVADA Email Marketing, it is time to craft your campaigns and get ready for a high performance sales season. If you are not sure about your email skill, don't worry because we have more stunning templates, you just need to sign up and give it a go.
Are you ready for the busiest time of the year for your eCommerce business? Share us your holiday email idea in the comment section, and thanks for reading!