Shopify dropshipping stores for sale are like real estates; there are good ones, and there are really bad ones. So, if you know how to choose good stores that are well-maintained and have potential, you can have a good business to develop without having to start from scratch. These days, there are hundreds of thousands of eCommerce dropshipping stores on Shopify, and many of them are currently for sale.
So, how can you find a dropshipping store for sales on Shopify? And how can you make the right decision when it comes to buying a Shopify dropshipping store? This article will show you.
1. Where can you find a Shopify dropshipping store for sale?

There are many marketplaces where online businesses are for sale, but there is one particular marketplace that is better than the rest; it's Exchange. Currently, there have been more than 3,000 eCommerce stores for sale on Exchange, and there are lots of dropshipping stores among them. With Exchange, you can certainly find and buy a dropshipping store that fits you so that you can skip the building stage of a business, and jump right into the running stage.
Exchange is a marketplace owned by Shopify, which is dedicated to buying and selling Shopify eCommerce businesses.
Via Exchange, merchants can put their dropshipping stores up for sale, and they'll need to provide many kinds of information such as traffic, current revenue, etc. These numbers are pulled directly from their Shopify data. What makes Exchange secure for you as a buyer is that sellers cannot edit these pieces of information. That means what you see is not cooked in any way.
Shopify dropshipping stores for sale on Exchange vary from freshly-built stores to successful businesses. For this reason, prices vary. Starter stores can cost you as little as $50, whereas established empires with 6-figure revenues can be for sale for over a million dollars.
Further Reading: Shopify Exchange Review: Ideal Marketplace to Buy and Sell Businesses
2. How to find and buy a dropshipping store on Exchange?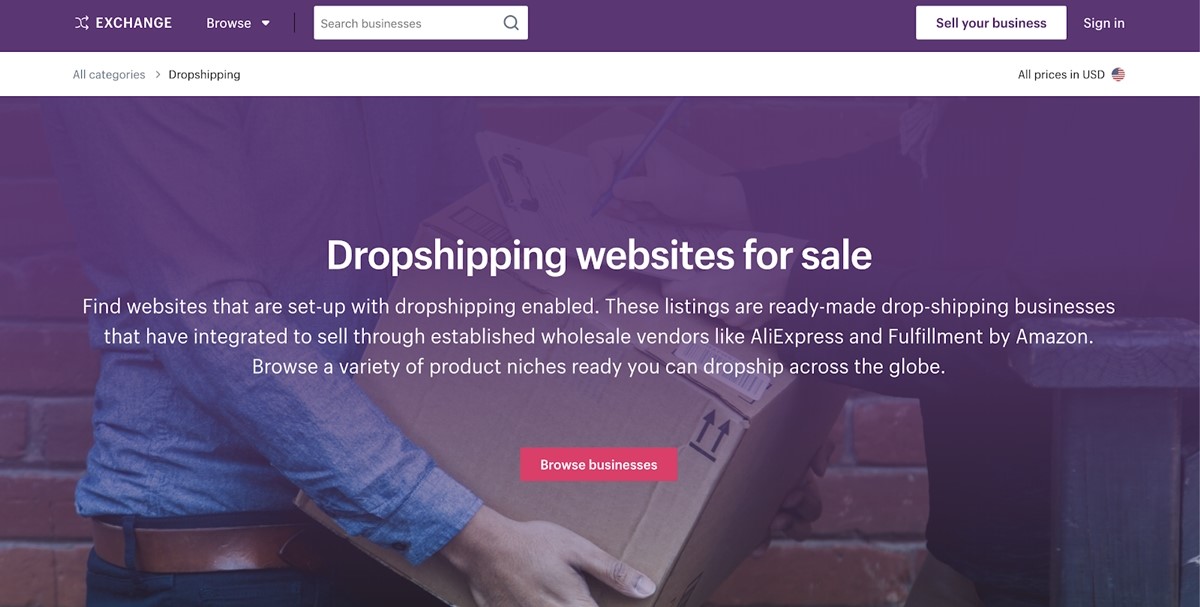 There is a section on Exchange that dedicates to dropshipping businesses.
Starter dropshipping stores are already built and ready to run, but have generated less than $100 in revenue. For this reason, when you look at this type of store, you should evaluate them based on the potential that you see in the products, and whether you can unlock that potential through marketing.
There are many dropshipping businesses for sale Which are available on the Exchange Marketplace, and you can filter them easily with the Categories to find a suitable dropshipping store. The prices of these dropshipping stores can range from a few hundred dollars to even millions, so have fun scrolling.
There is one thing to mention: If you buy a Shopify store that uses the dropshipping business model, it is unlikely to inherit inventory since the nature of dropshipping is not handling your own inventory. That is for your suppliers.
However, you can still purchase branding assets like domain name, content, social media accounts, mailing lists, and all of the effort the owner made to gain traffic for the site. So buying a dropshipping business on Exchange can still work well for those who like to save some time.
So, How to find a suitable dropshipping store for sale to buy? When you're on Exchange browsing for finding a dropshipping store for sale to purchase, first you need to determine what kind of investment you want to make here:
What are the revenue levels that you're looking for?
How much money are you willing to pay?
Do you want a store that you need to maintain, or do you want a store that you want to build up from the starter level via marketing?
Most importantly, when you find a dropshipping store that attracts you, do you see that you can add something special to that store that the previous owner could not?
These questions can be the foundation that you can use as a guideline to make your buying decisions. Now, here's how you should evaluate and buy any particular dropshipping store.
2.1. Do your due diligence: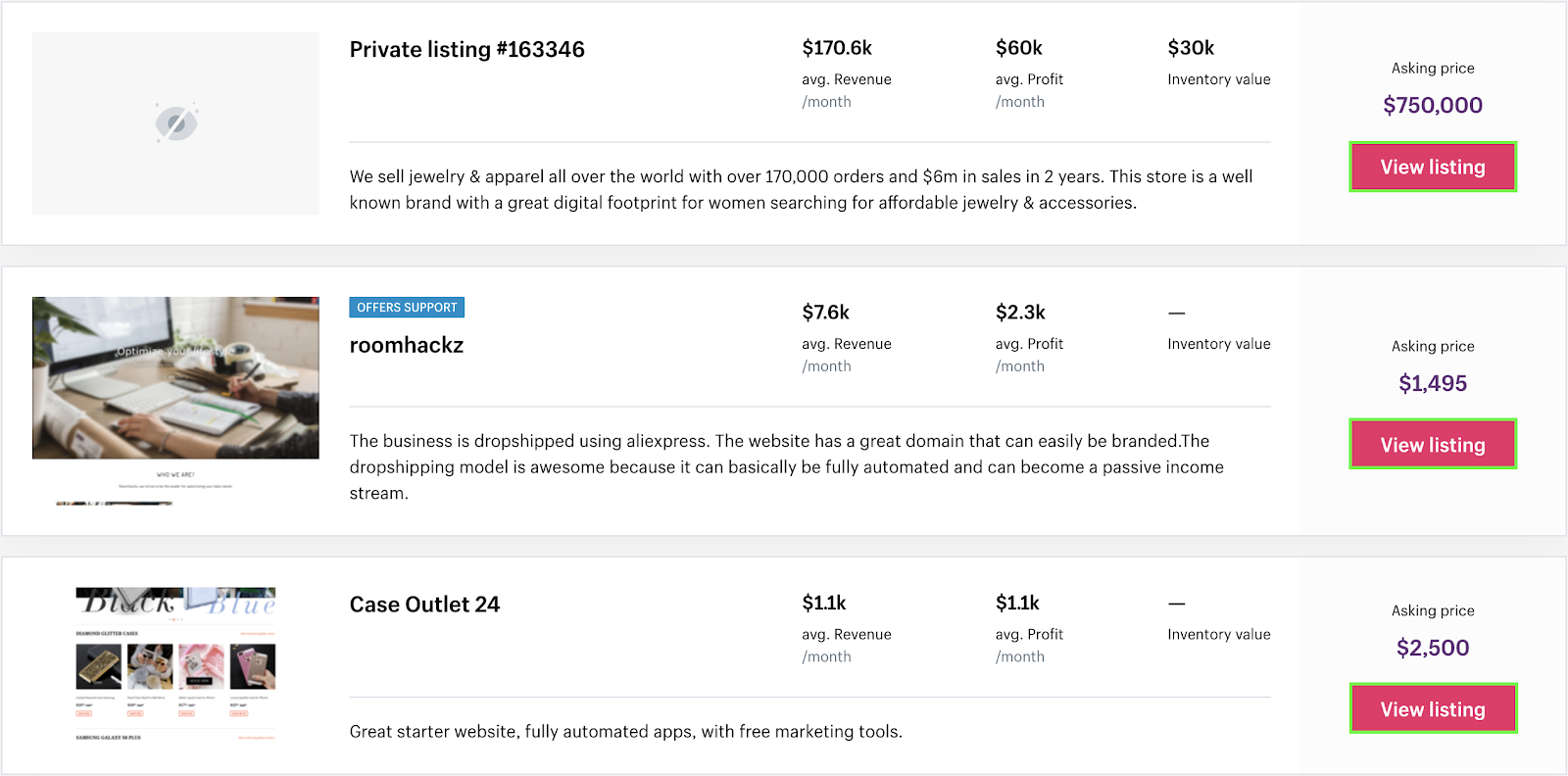 Each listing will provide you with a description of what you're going to get from the dropshipping store. The information includes traffic and revenue over the past year, and there you can see the seller's desired price over which you can certainly negotiate with the seller. Some sellers even go the extra mile and state why they put their dropshipping store up for sale; oftentimes, the reason is a lack of time, or they face a life-changing event.
In the listing, you will also see information about what the seller will provide you for their desired price; here are some examples:
Physical inventory
Email list
Supplier lists
Social media accounts
Logo and branding assets
Personal support after sale
Product photos
Domain
etc.
Buyers and sellers can interact with each other directly via Exchange with an anonymous email to discuss further details about the dropshipping store or the sale.
Important note: Some sellers stop their marketing activities right away when they put their dropshiping stores up for sale, so there can be a (huge) drop in traffic and revenue.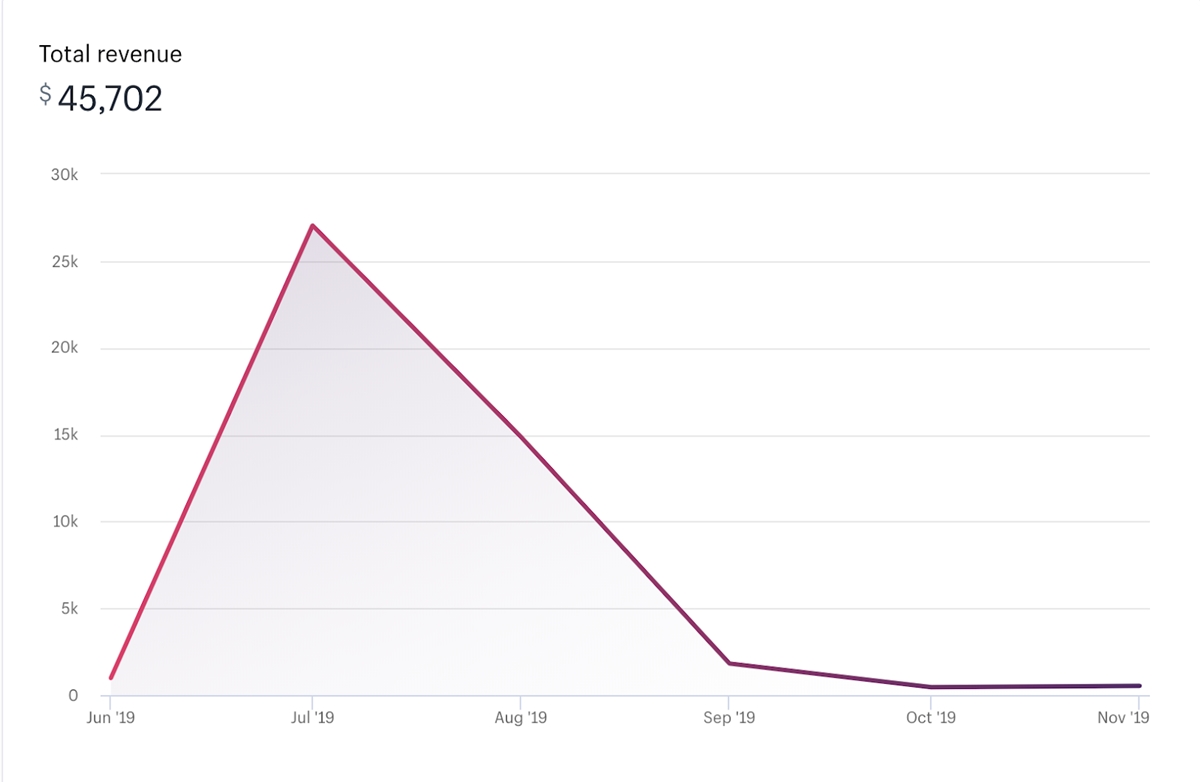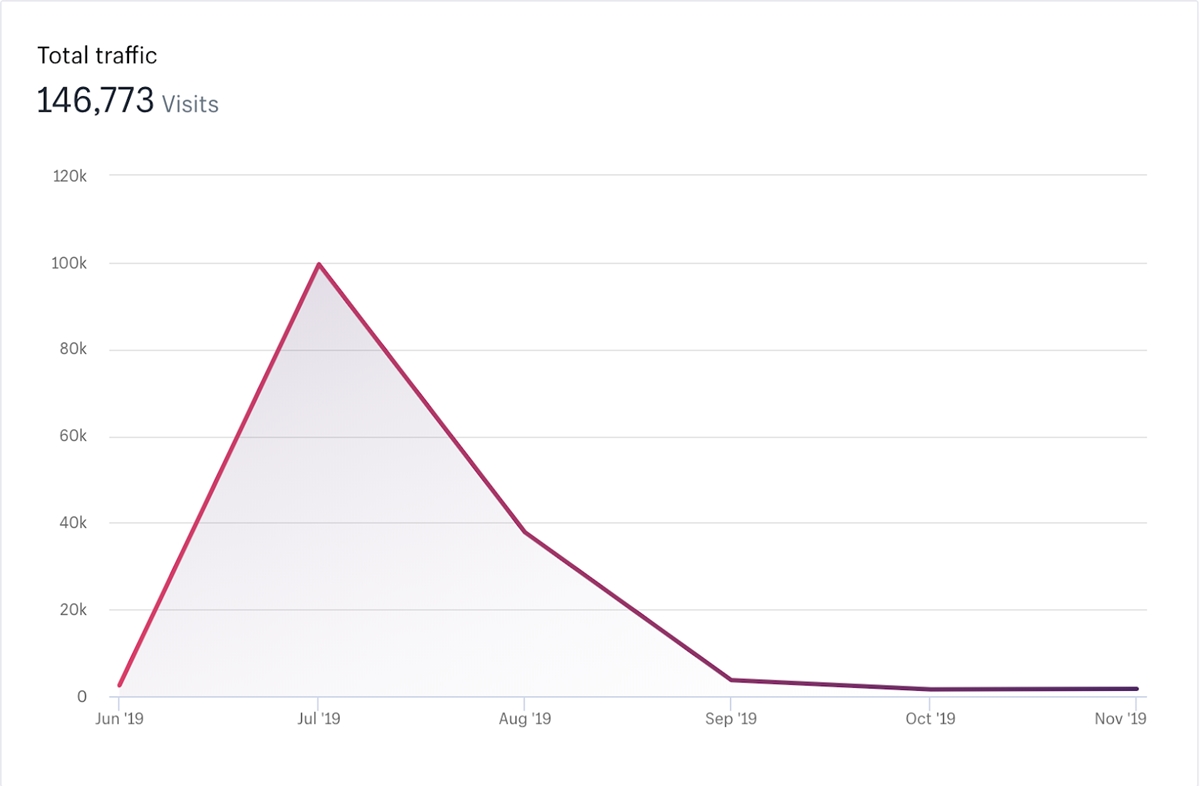 Additionally, while Shopify can verify traffic and revenue for you, it cannot verify profit margins, so make sure you dive deeper into the numbers of your favorite store.
1. Find out and understand all traffic sources:
Make sure that you know exactly where the current owner gets their traffic from (mostly Facebook ads I guess), and find out whether you can get traffic from that same source after you buy the store.
2. Look into the financial details:
What were the dropshipping store's past expenses (such as inventory and marketing). Make sure that you know how much they were spending to get the results that they are showing to you.
3. Look at their social media accounts:
See whether the likes and engagement on their social media accounts are genuine, and don't take the number of followers at face value. Anyone can buy followers and post likes at a very low price.
4. Get everything needed for you to run the store.
Make sure that whatever you're going to need to run the store properly, have them included in the deal.
5. Ask them why they sell their store.
If the seller does not list their reason, ask them, and see how they respond. You just need to judge their authenticity with your gut feelings.
Once you have done everything you can to find out as much as you can about a store, you can contact the seller for further discussion.

2.2. Begin the transaction:
Exchange has teamed up with Escrow.com to make sure that you're going to have a safe transaction. In case you have not heard of Escrow.com, it is a payment method that has your money protected by a third party (Escrow.com) until both the buyer and seller have agreed that all of the conditions of their deal have been fully met.
To start an Escrow transaction, you and the seller need to agree on a contract with clear terms and conditions (such as what's included in the deal, whether the seller will offer further support for the buyer after the deal is done or how long the seller will give buyer to inspect the store after the exchange is made).

After the seller and buyer have come up with a mutual contract, the buyer will then pay Escrow whatever the price they have agreed to with the seller. Escrow will protect the buyer's money until both parties of the deal confirm to Escrow that they are 100% happy with the deal, and everything is settled. Then, Escrow will transfer the money over to the seller, and the deal is done there.
2.3. Get the ownership transferred:
It often takes 3-5 days for the transfer process to complete. To make this process go smoothly, you should have a checklist of everything included in the deal and check them one by one until all of them are crossed off the list.
You can always reach out to the Escrow support reps if you have any questions related to the transaction. They offer excellent support in this area.
There will be a period of time called the Escrow period, where you will have time to inspect the store more carefully before Escrow transfers your money to the seller. During this period of time, you should:
Check the supplier's responsiveness and the quality of their support.
Change the passwords of all the accounts you receive access to, as well as remove the original seller.
Take full advantage of any support that the seller provides so you can understand how to replicate their past results. You should ask every question you have while you can.
Once the Escrow period is over, the exchange is done, and you will be the new owner of the store. Now you are free to direct it how you wish.
Final words
Exchange is a wonderful marketplace for you to find a Shopify dropshipping store for sale. It has all the infrastructure to ensure that you will find the right dropshipping store, and your money will be protected until you're happy to let it go. Now, With detailed guide above on finding a dropshipping store for sale, Go check it out and find yourself a dropshipping store to start your business dream today!
Related Posts: