Dropshipping is one of the most popular business models these days due to its low requirements for entry. Without the need to purchase and maintain inventory, dropshipping is a gateway for entrepreneurs who cannot afford the substantial initial investment to join the entrepreneurship world.
In this article, you will learn how to build an Aliexpress dropshipping store from scratch. It doesn't matter if you are a newbie who has little experience with dropshipping. With a bit of patience and guidance in this article, you will be able to build up a store that is highly automated and ready to convert sales.
This is a step-by-step tutorial on how to start dropshipping on Shopify with Aliexpress. It consists of a total of 20 steps, and here we'll use two essential tools to build up your store: Shopify and Oberlo. With just these duo, you will be able to put together a simple and straightforward dropshipping process that can make running your business as efficient as possible.
So, get your notebook, grab some coffee, and get ready to walk through along this in-depth guide. But first, let's have a quick look at what dropshipping, Aliexpress, and Shopify are.
1. What is dropshipping?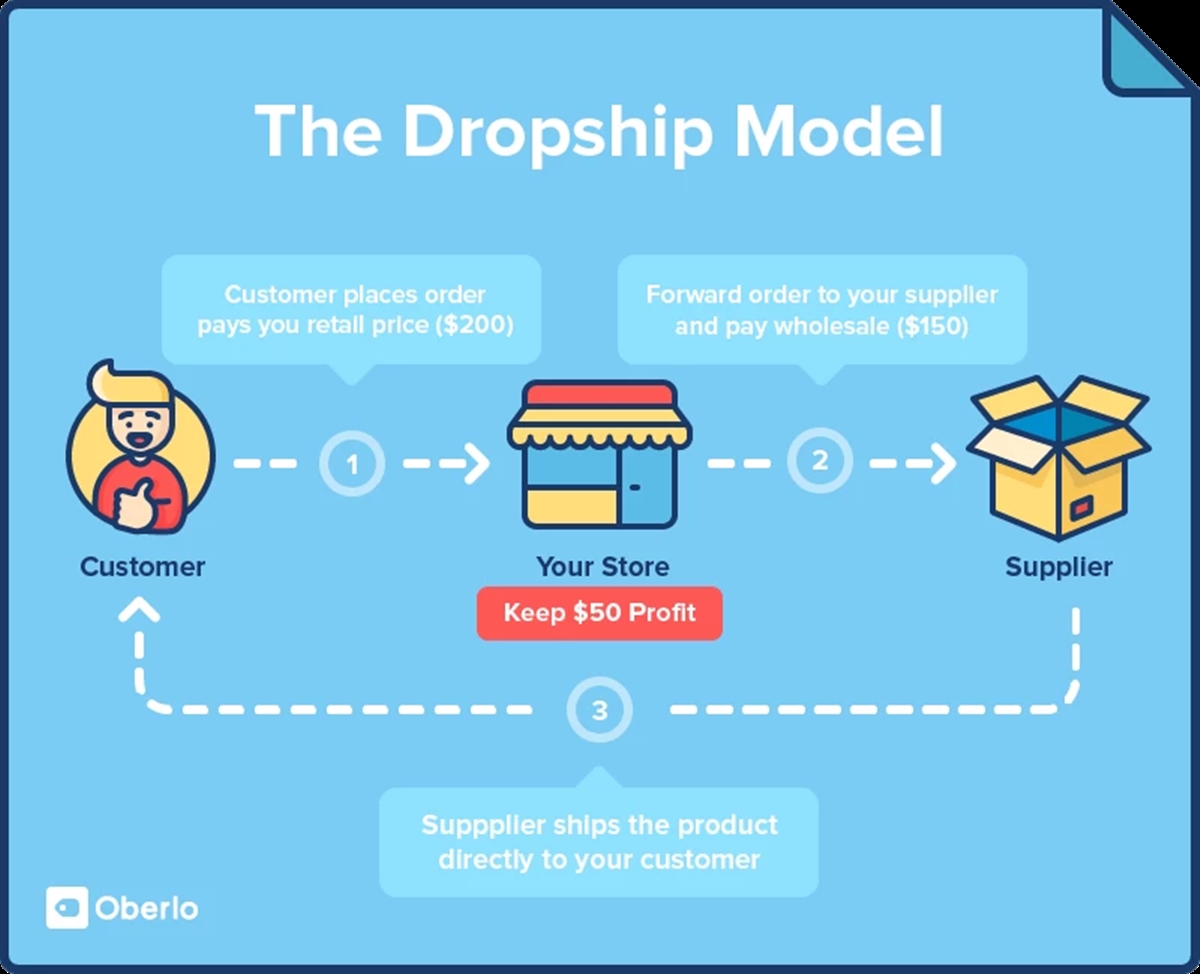 Dropshipping is a business model that has become popular, thanks to the rise of the Internet. Dropshipping entrepreneurs are the seller of their drop ship products without:
purchasing or maintaining inventory and

order fulfillment.
Instead, they partner with dropship suppliers who own inventory and make sales/marketing efforts to sell products from those suppliers at their markups. When a dropshipping merchant receives a sale from their customer, that order will go directly to the supplier of that product, who then will fulfill and ship the order directly to the customer. The dropship merchant gets to keep their markup, and again, they don't have to be involved in any order fulfillment and delivery.
Furth Reading: How Does Dropshipping Work On Shopify?
2. What is Aliexpress?
Aliexpress is an eCommerce marketplace based in China. Built and owned by the Alibaba Group, Aliexpress was launched in 2010 and is the connector between Chinese small businesses and international buyers who want to buy low-cost products from China.
What makes Aliexpress accessible is the low-cost labor in China, which makes products on Aliexpress much more competitive than other eCommerce platforms. There are also millions of products from all types of industries, such as clothing, electronics, and jewelry, in this online marketplace.
Aliexpress has been the go-to destination for people who want to dropship products from China as it has made finding Chinese suppliers and products to sell very easy. To dropship with Aliexpress, all you need to do is find the products that you want to sell, add them to your store, set up your pricing with your desired markup, and then sell.
When a customer places an order with you, you need to pay for the wholesale cost of that product, on which you have agreed with your supplier. Then, your Aliexress supplier will deliver the product directly to your customer.
Recommended: 13+ Best Dropship Companies with No Membership Fees
3. What is Shopify?
Shopify is an eCommerce platform that allows anyone to build up an online store and sell products. Shopify was founded more than ten years again by Tobi, who then wanted to sell snowboards with his own company (Snowdevil) at that time. Thanks to that experience, Tobi realized that it was incredibly difficult to sell snowboards as there was not an easy-to-use eCommerce platform back in the days. So, he decided to create a platform by himself, and that was when Shopify was born.
Shopify is now the leading eCommerce hosting platform made for businesses of all sizes. It doesn't matter where you sell (in-store, from your garage or out of the trunk of your car), and it doesn't matter what your business model is (retail, dropshipping or wholesale), Shopify has you covered.
4. How to start a dropshipping business on Shopify with Aliexpress?
So now, let's go through each of the 20 steps that will help you start a dropshipping business with Aliexress on Shopify.
Step 1: Sign up for a Shopify account.
You can try Shopify for 14 days for free, but after that, you will need to pay for, at least, the Basic plan at $39/month to be able to build up a dropshipping business.
To sign up, go to Shopify.com and click the Start free trial button on the homepage.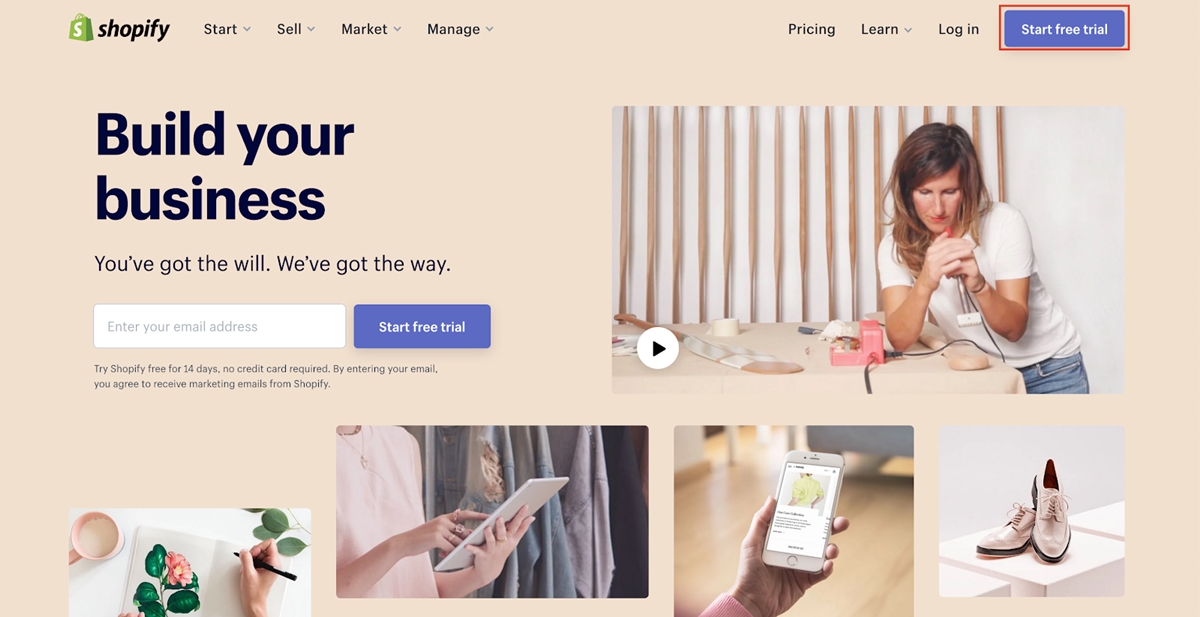 Then, enter your email, a password, and a store name on the next dialog. For your store name, don't come up with something too complicated. Use something short and easy to remember. The best store name is no more than two or three words. Any name longer than that is much harder to remember and looks sort of unreliable in the customers' eyes.
If you struggle to come up with the right name, here's a list of business name generators that can suggest you tons of proper names to choose from.
Next, Fill out the next survey. You can just select anything here because this information is not important.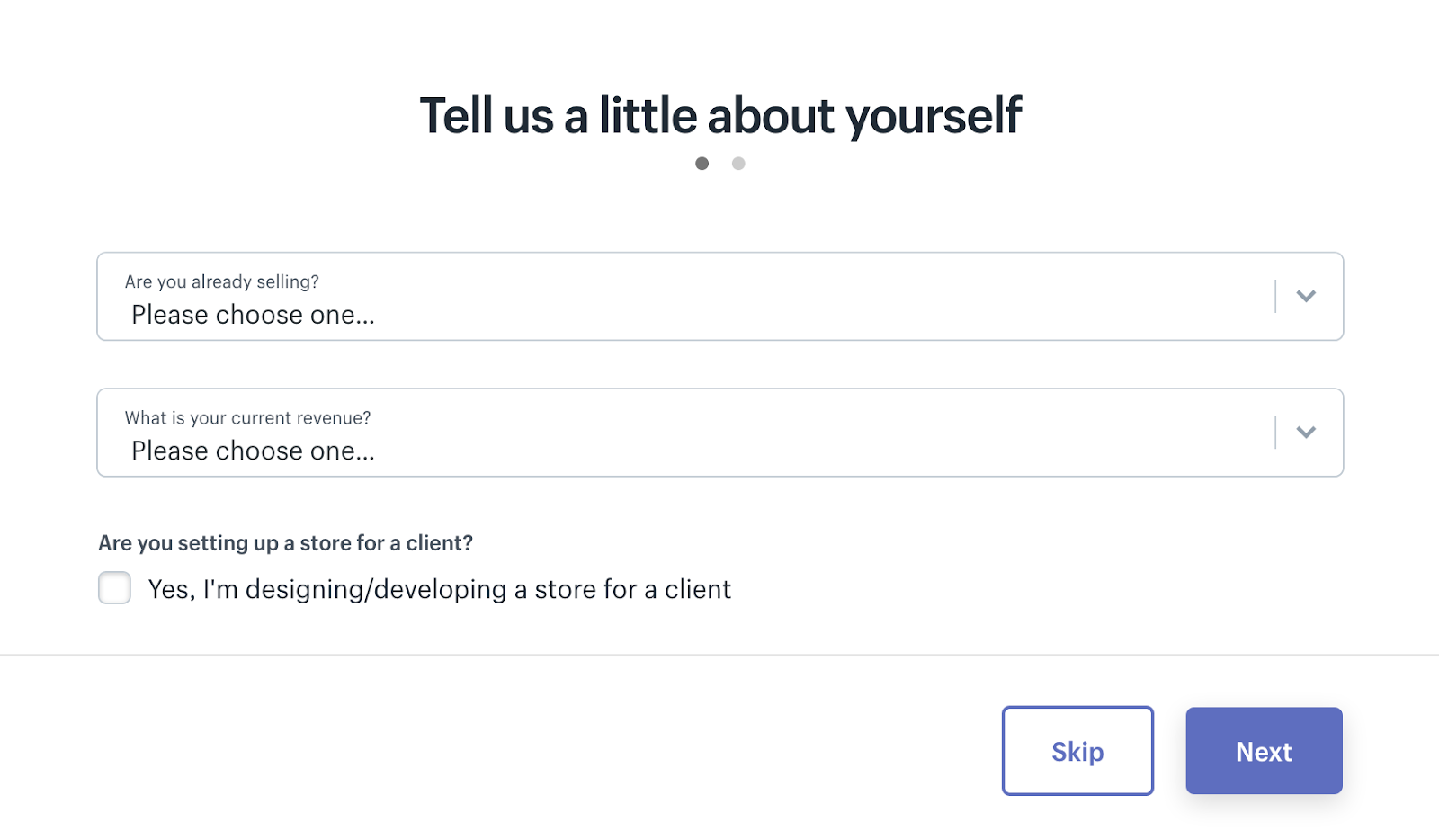 Finally, type in your personal details, then click enter store. Your store is now created successfully!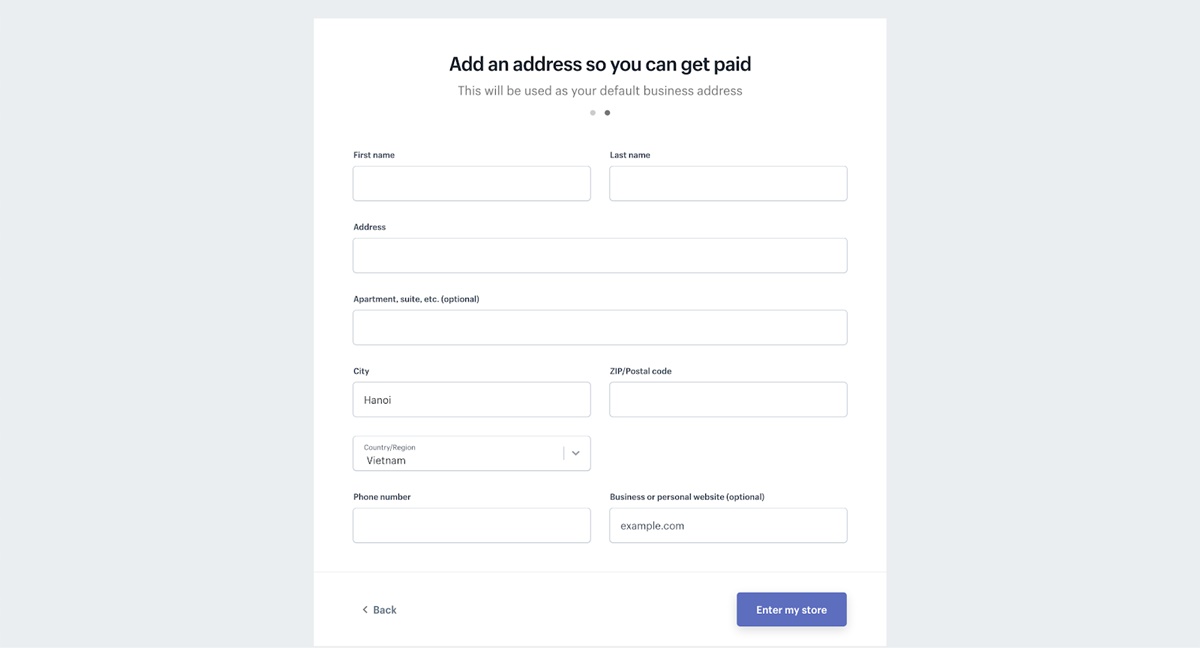 Step 2: Install a theme.
Now, you need to add a theme for your store. There're tons of themes in the Shopify theme store (both free and paid). For this example, let's go for a free theme. I'd love to choose Minimal, which is a great free Shopify theme.
To add a theme, click Online Store on your Dashboard.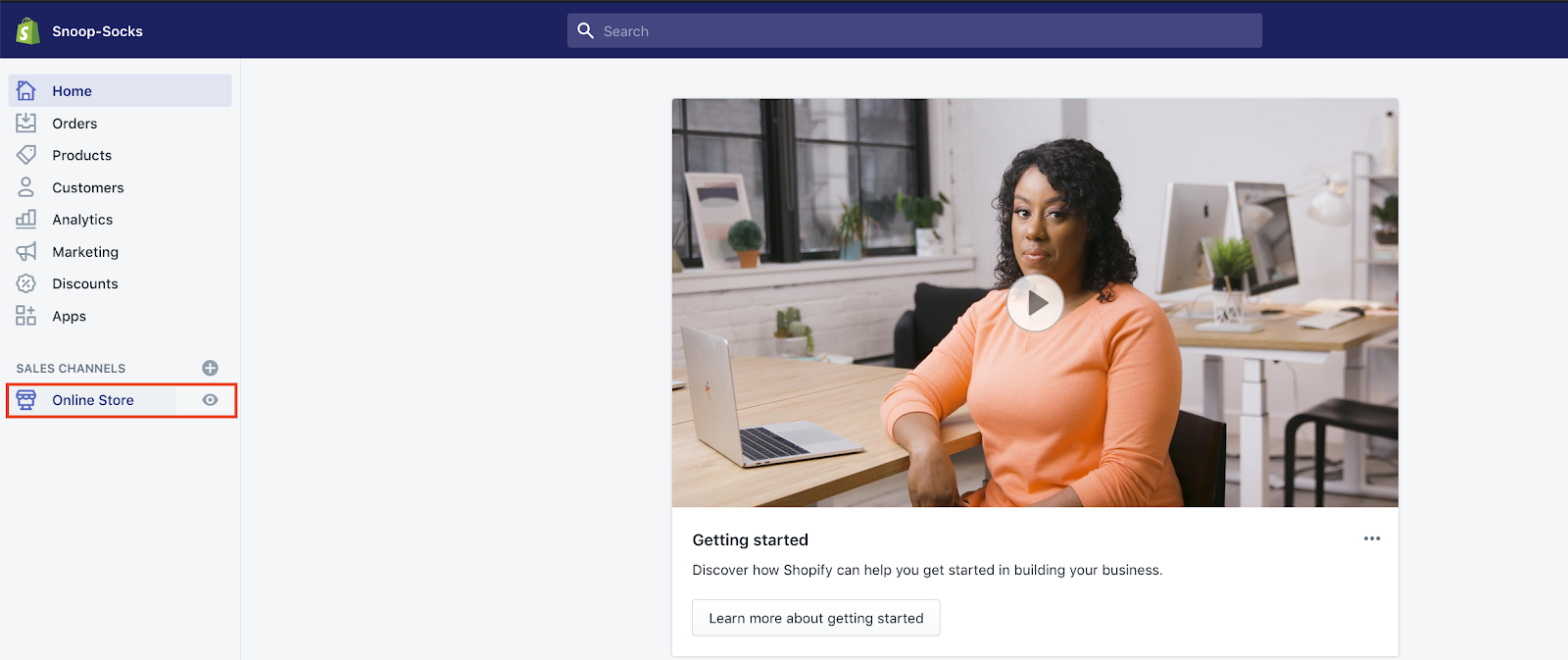 Click Explore free themes, then scroll down and choose the theme Minimal. This theme comes in three variants, but let's use the Modern option for this example.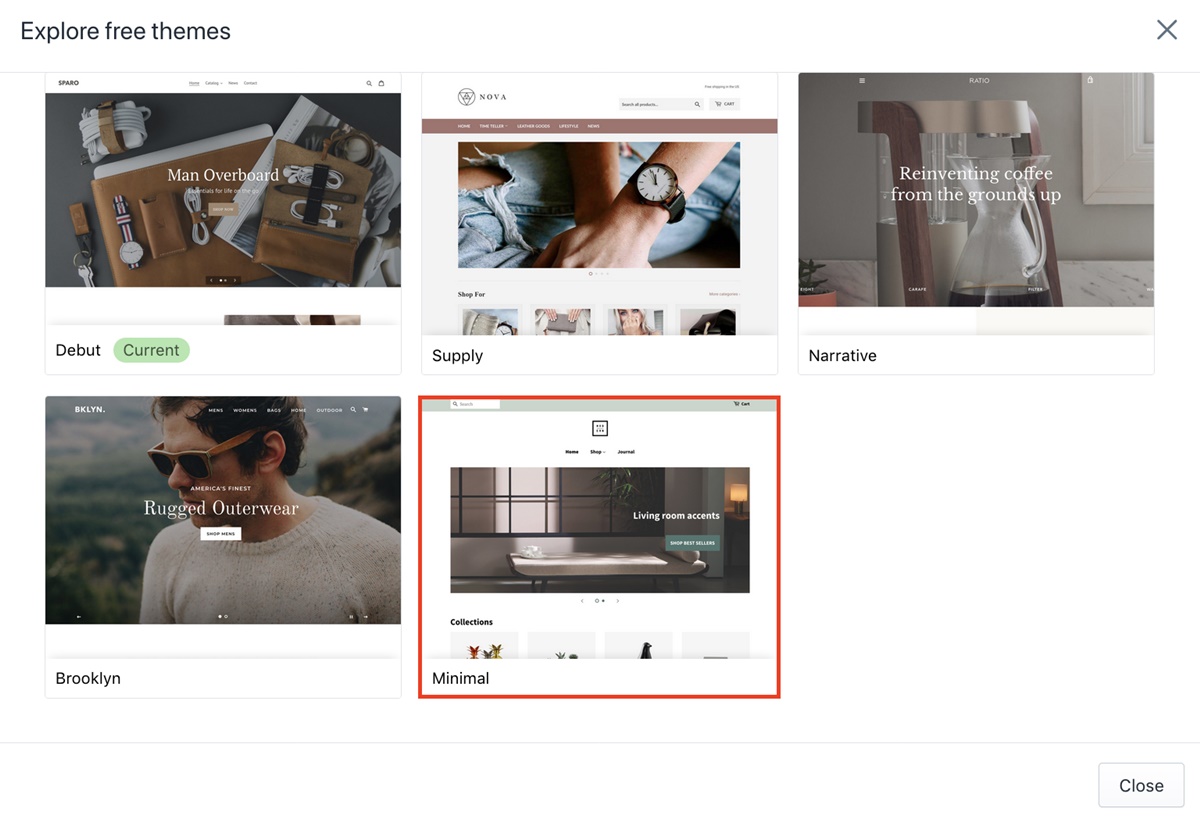 Now you've successfully added a theme to your store. Let's move on to the next step.
Recommended: 13+ Best Shopify Themes for Dropshipping
Step 3: Install Oberlo.
Oberlo is the secret weapon that will help automate your store. Shopify owns this tool, and it conducts order fulfillment for you through Aliexpress. Without an automation app like Oberlo, fulfilling orders via Aliexpress would be a tedious and time-consuming job.
In your Dashboard, click Apps, then go to the Visit Shopify App Store button on the next page. You might see that Oberlo is right in your Dashboard like in the picture, but let's do this the traditional way so that you can learn how to add any app to your store.
In the search bar, search for Oberlo.

Add Oberlo to your store.

Click the Install app button on the next page.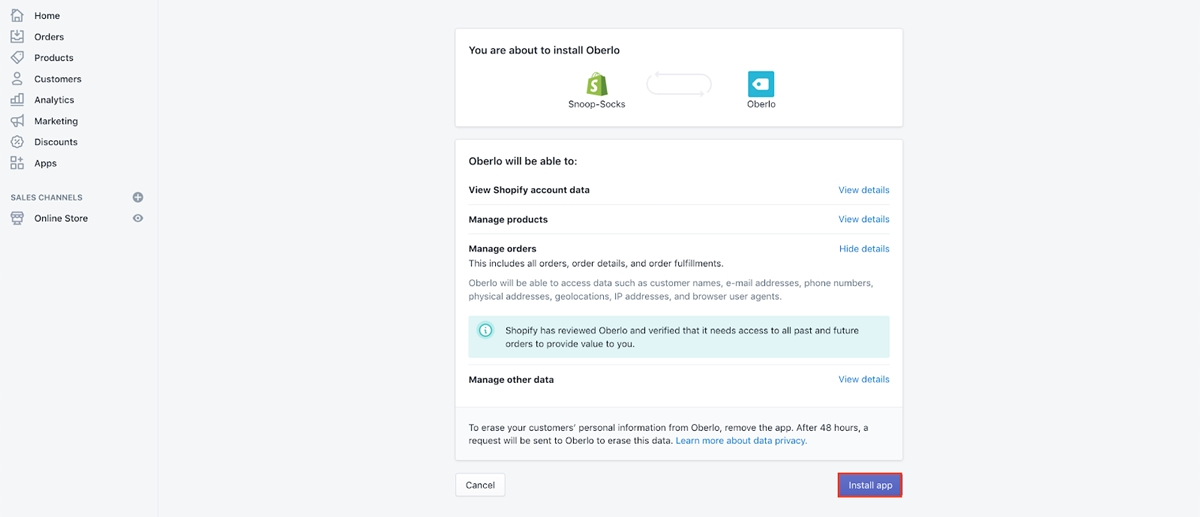 Once Oberlo has been added to your store, you will be taken to the Oberlo site. In your Oberlo Dashboard, click the Settings button on the bottom left corner. Now you need to set a few things up.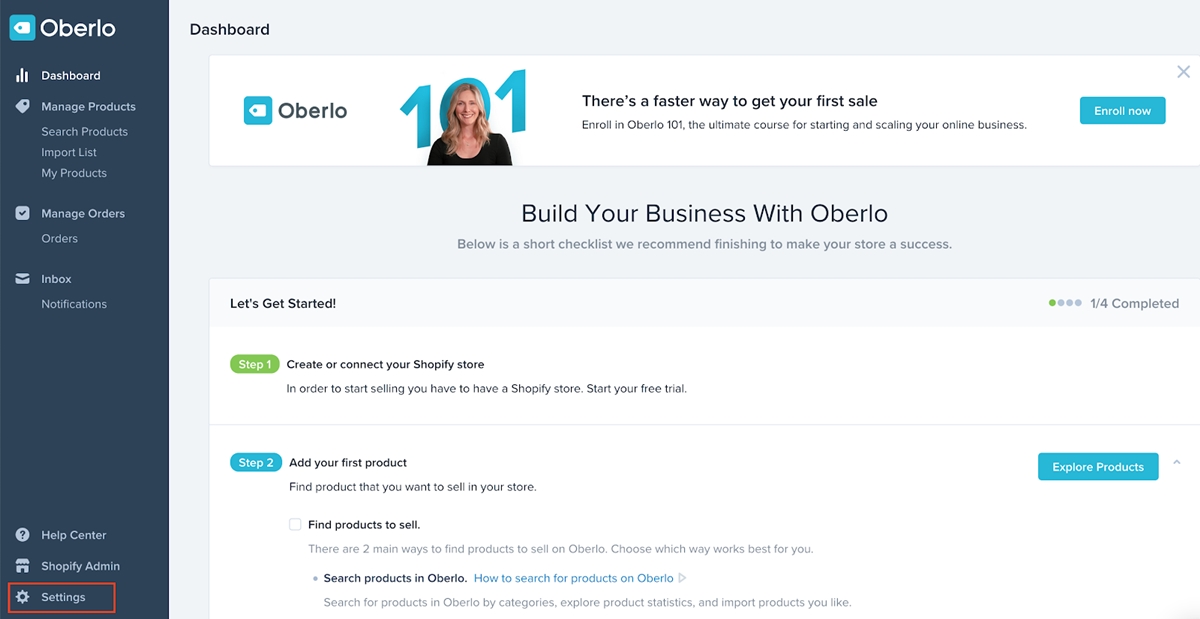 First, type in your store name, and change the unit of measurement for product weight from kilograms (kg) to pounds (lb).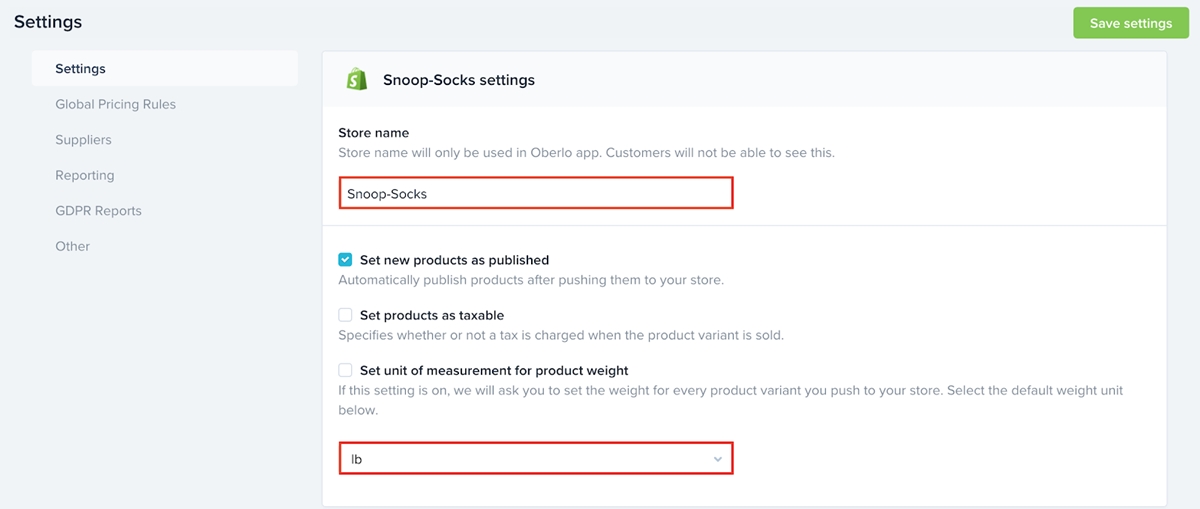 Next, scroll down to the Auto updates section, check all Notify Me boxes for the first two sections, and set the following questions to Set Quantity to Zero:
'When product is no longer available'
'When variant is no longer available'

For the next two sections, have the Notify Me boxes checked. For the When cost changes event, make it Do Nothing, and for the When inventory changes event, choose Update Automatically.

Then click the Save settings button at the top left corner of the page.
Scroll back up to the top of the page, and go to the Suppliers section.

In that section, set your default shipping method to ePacket and type in your phone number.

For the Custom note section, copy and paste the below text:
I'm dropshipping. Please DO NOT put any invoices, QR codes, promotions, or your brand name logo in the shipments. Please ship as soon as possible for repeat business. Thank you!
This is so that Aliexpress suppliers can know that you're dropshipping, and they will package the order accordingly.
And don't forget to save the settings.
Further Reading: Oberlo Shipping Time: Is it Too Long Shipping Times?
Step 4: Install the Oberlo extension for Chrome.
Apart from the Ober app, you'll also need to Oberlo Chrome extension. This extension will help you import any product you want to sell directly from Aliexpress to Oberlo.
In the Supplier section in your setting, click on Chrome extension.

You will be directed to the Chrome app store, click Add to Chrome and the Oberlo extension will be installed.
Recommended: 11 Best Oberlo alternatives for Shopify
Step 5: Import Aliexpress products to your store with Oberlo.
First off, you need to open up Chrome and Aliexpress in two separate tabs.
On Aliexpress, search for the name of the product that you want to import to your store. Make sure that you sort by Orders so that the top-selling items will show up first.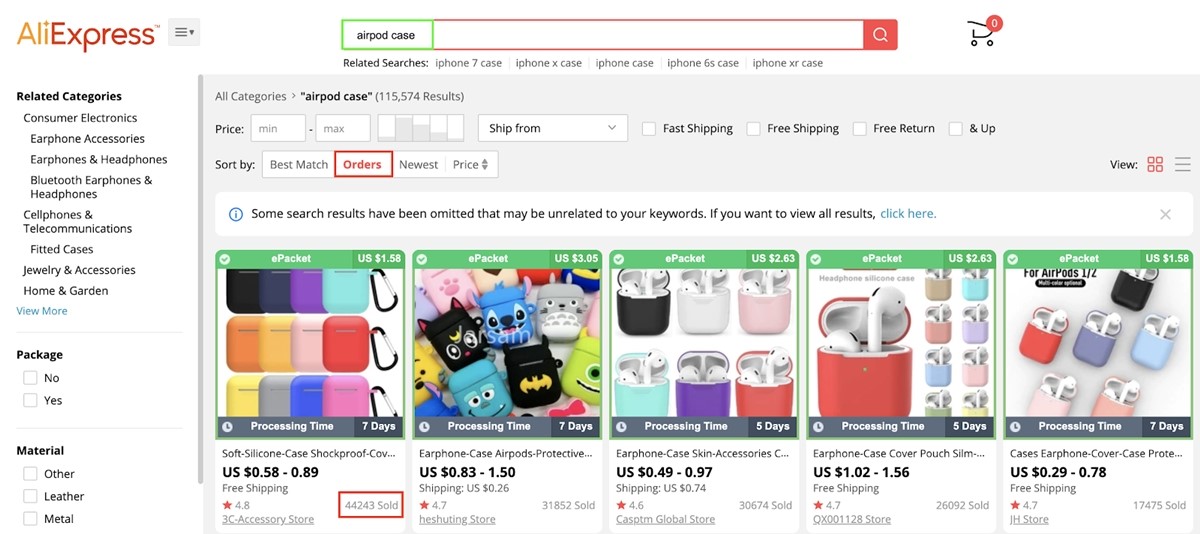 When you find an item that you want to sell, click on the Oberlo extension icon on the top right corner of your browser and click Add to import list.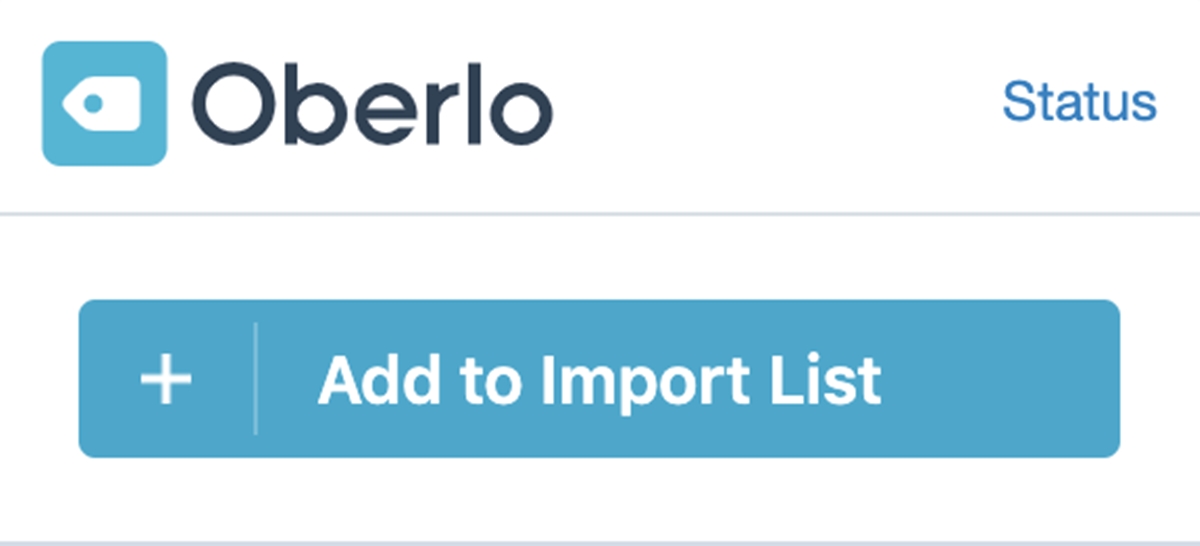 Of course, you're not going to want just to import and sell one product. Adding 20-25 products to your store is recommended, as having a decent number of product offerings will make your store look professional. Also, when you execute advertising for your store later, having many products will give you options to test and find out what your market is into.
Once you have added your last item, click Open import list.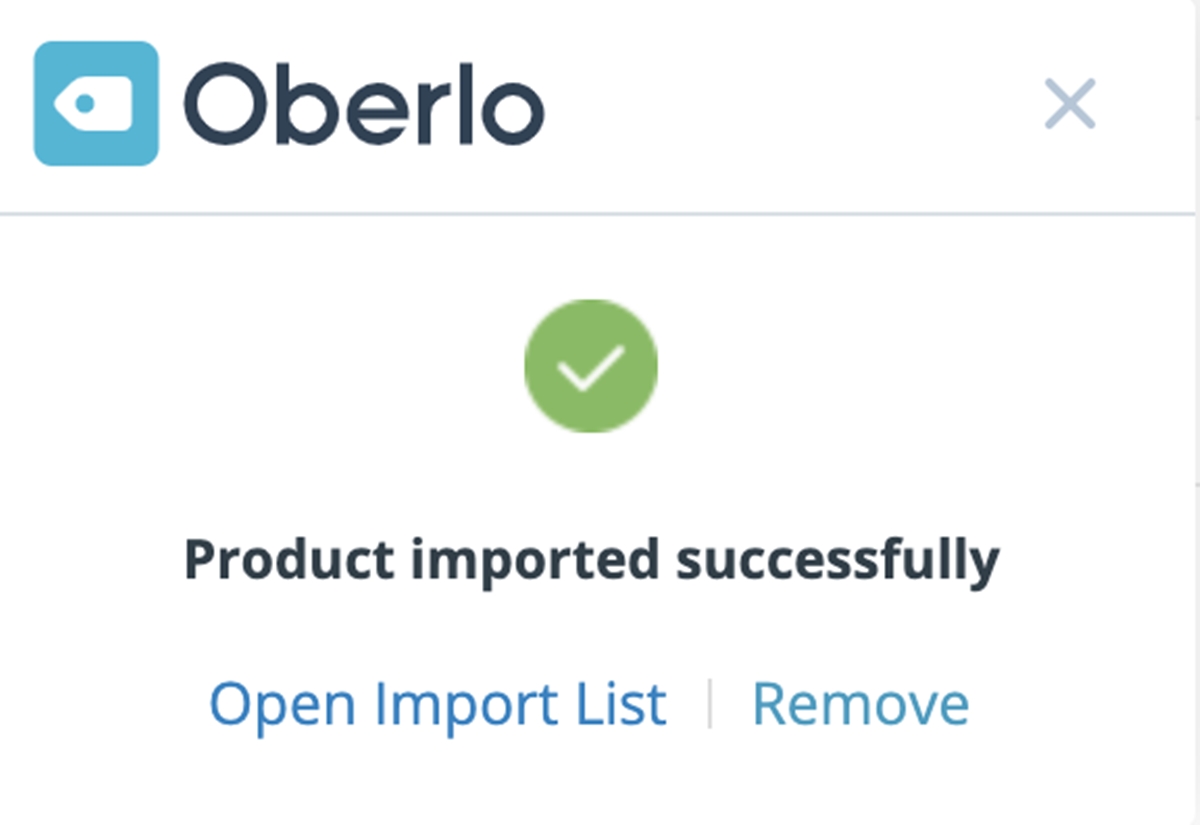 You will be directed to the list of products you have just imported in your Oberlo Dashboard.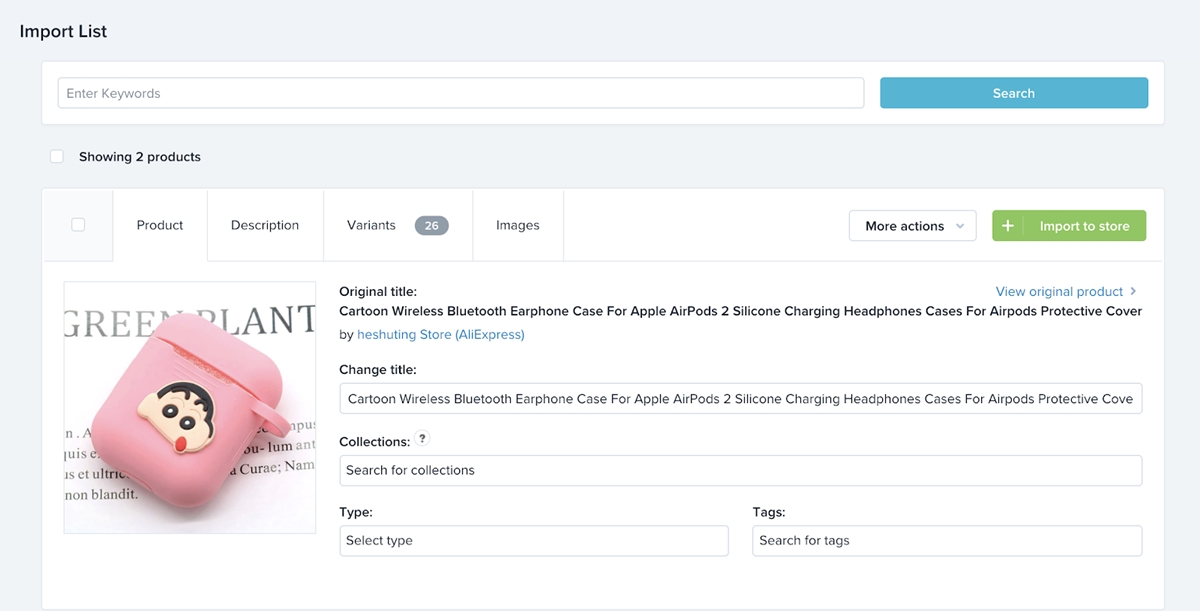 Step 6: Import products from Oberlo to Shopify
You need to import products from your Oberlo collection to Shopify. Otherwise, the product will not show up in your Shopify data.
For whatever product you want to import to your Shopify store, click the Import to store button.

Step 7: Add product categories
A category is simply a group of similar products. For example, if you're selling airpods cases, iPhone cases, iPhone chargers in the same store, you'll want to separate them into dedicated categories so that your customers can easily find what they need.
Keep reading if you already know which categories you need to add to your store. If you don't, take time to look at all of your products, and find out how you should categorize them. To add product categories to your store, follow the steps below.
Go back to your Shopify Dashboard, go to Products, and click Collections under the sub-menu.

Click Create collection.

In the Title box, enter a name for the category you want to create. For instance, if you're selling airpods cases in your store, you can use airpods cases to name the category.
You can write a few lines of description to make it clearer about the segment.
Under Collection type, check the Manual option. This will allow you to add products to the collection one by one, and you can choose only the products that belong to the segment.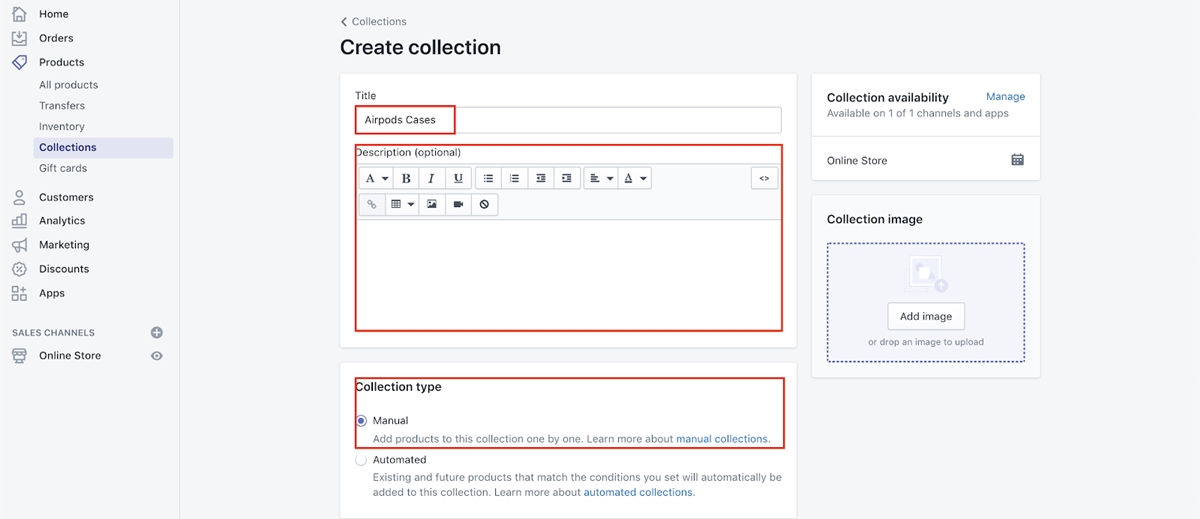 Step 8: Edit your produce pages
Now, this is where you need to pay lots of attention to because this is what your customers will see. Your product page contains the product description, pricing, etc. Follow this step carefully.
In your Shopify Dashboard, go to All Products, then choose the product that you want to edit.

Remove the existing title and enter your own. The long title here comes directly from Aliexpress, but you might not want to display that kind of really unattractive titles, so wipe it out and create a better, more appealing title on your own.

Remove the existing product description and write something better. You should create a description that is appealing, SEO-optimized, and can emphasize the benefits of your products. Click here for our ultimate guide on how to execute SEO for eCommerce.

Scrolling down to the Variants section, you will see that there are different variants.
For the ones that you don't want to sell, click the trash symbol to delete them. For the ones you want to sell, click the Edit button to change the variant information.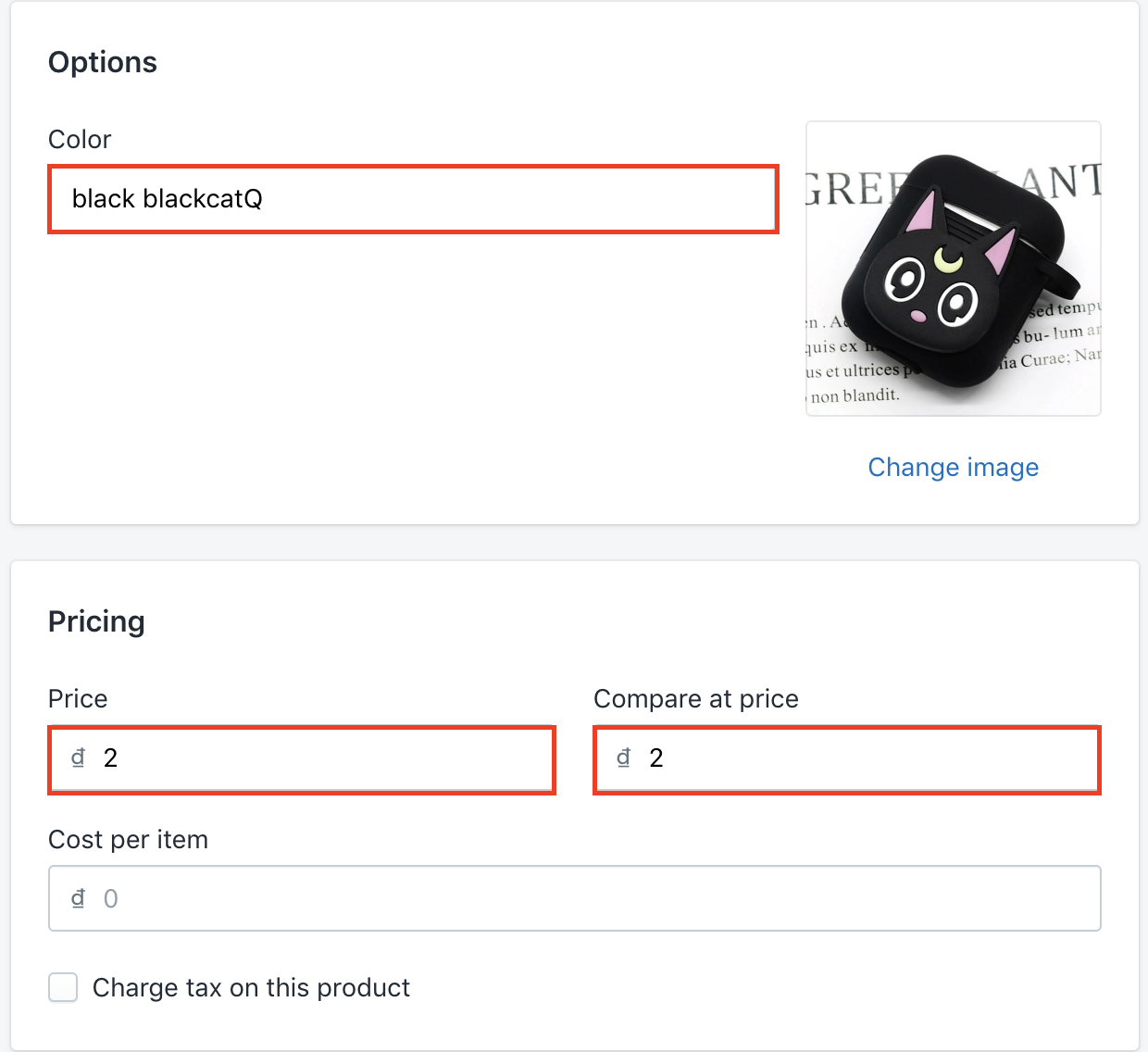 Now you can change the name of the variant and price. You can insert a Compare at price if you think you're selling at a better price point than your competition, or you have a discount for that variant. Make sure that the Compare at price price makes sense and does not look fishy.
Step 9: Add trust badges to your product pages (for free)
In your Shopify Dashboard, go to Apps and click Visit the Shopify app store.

Search for free trust badges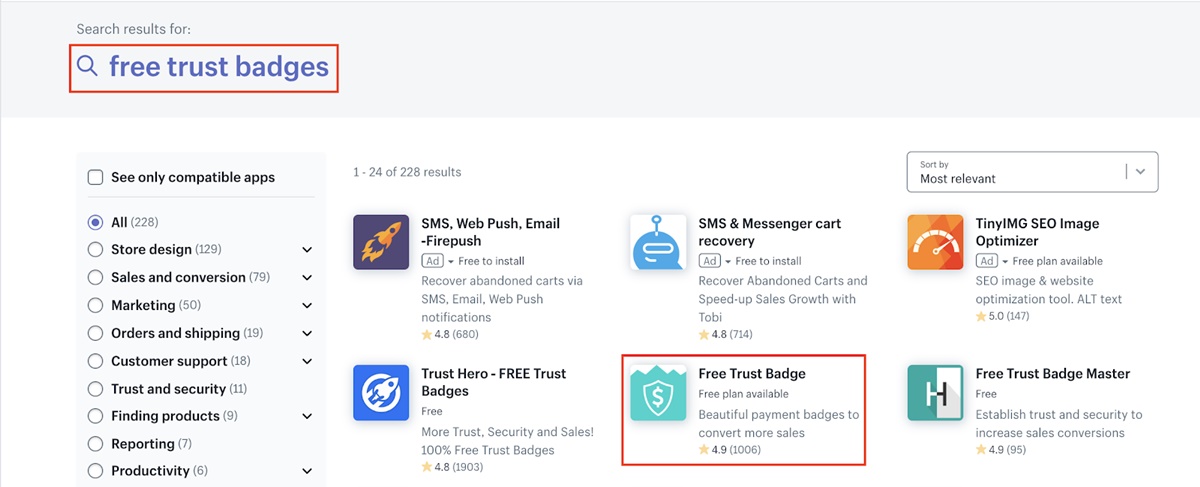 Then click the Add app button on the app's page and then click Install app on the following page.

When the installation finishes, you will be directed to the app. Scroll down on that page until you see Design settings. You can make changes to the badges based on how you want them to display.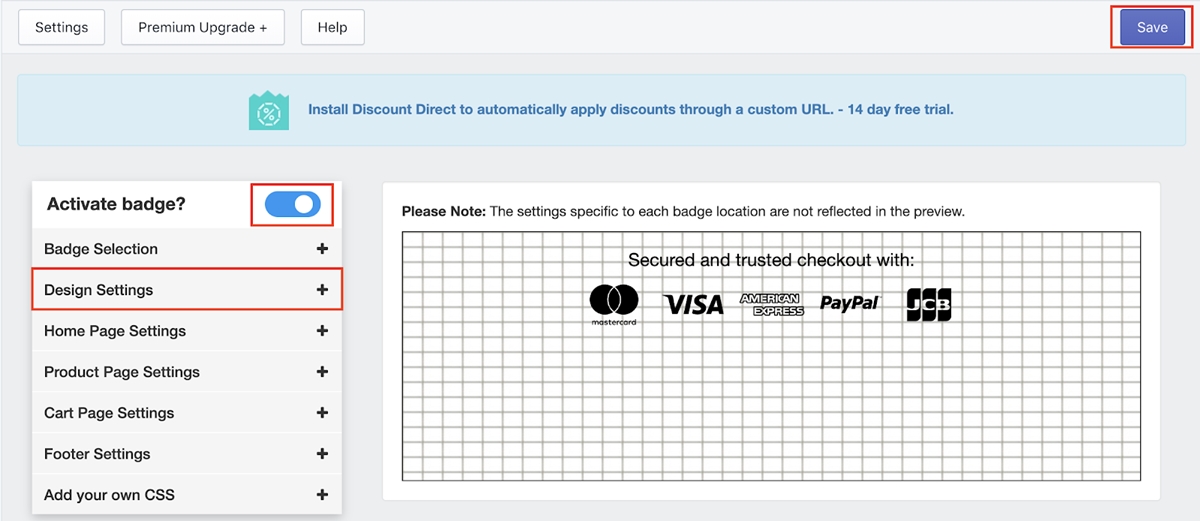 Then swipe right the Active badge slide and click Save at the top right corner.
Step 10: Add free shipping to your orders
It can be frustrating at times to work out how much you should charge for each item. Therefore, it is recommended for you as a beginner to have just one shipping option for all of the items in your store.
The shipping is not free in reality, of course. But instead of charging shipping fees separately, you include the shipping cost into your product prices. For instance, for a product that costs $5 originally and the shipping cost for it is $1, instead of showing the two costs separately, you can combine both of them and put the price at $6. This makes it look like the shipping is free to the customers. Additionally, setting up shipping costs this way allows you to use free shipping to advertise on Facebook later on.
In retail, free delivery is a powerful sales pitch as it has the word free in it. Everyone loves free things. Also, most people hate shipping costs. They are like some sort of hidden costs that surprises everyone at checkout, and it makes the product feel more expensive. Lots of people abandon their checkout because shipping costs feel too high for them. So, you can make your customers feel better by giving them "free shipping".
Here's how you can set up free shipping for your store.
Go to your Shopify Dashboard, click Settings, then go to Shipping.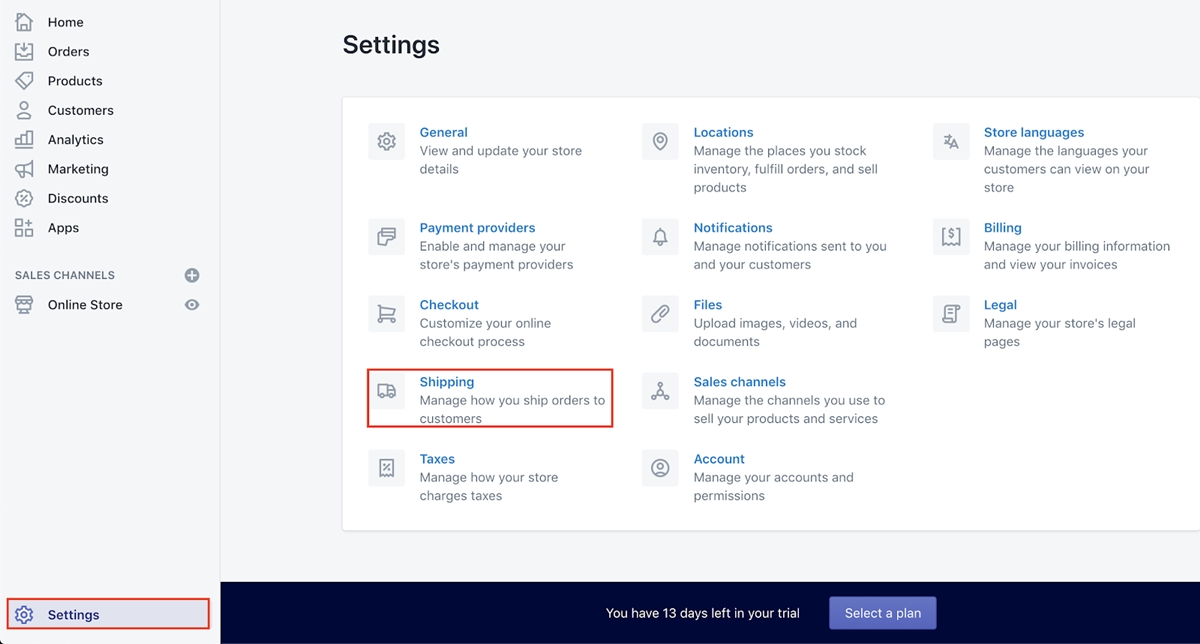 Next, click Manage rates in the Rates at checkout section.

Delete both of the Domestic and Rest of the world shipping options.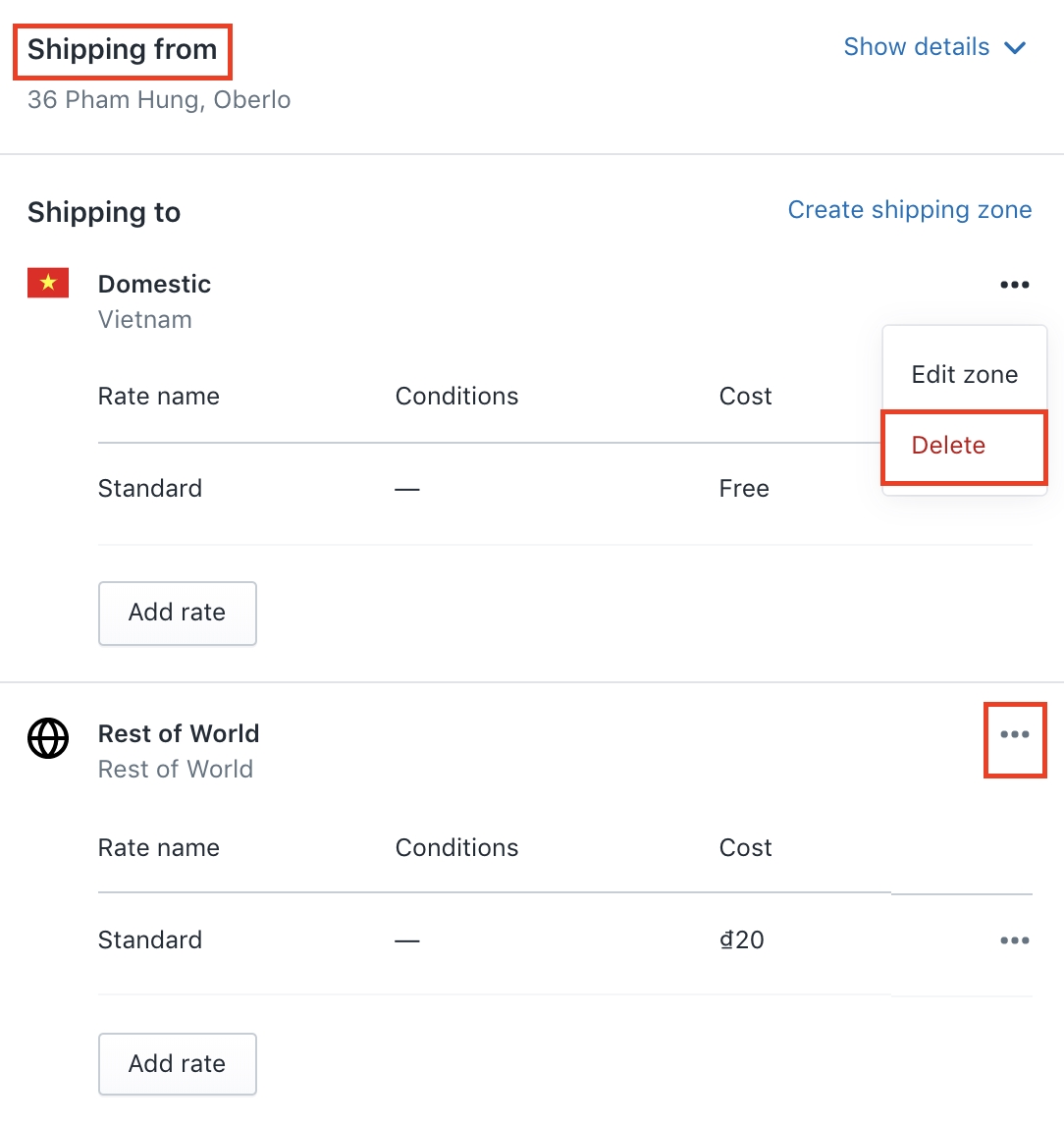 Create a new shipping option by clicking Create shipping zone.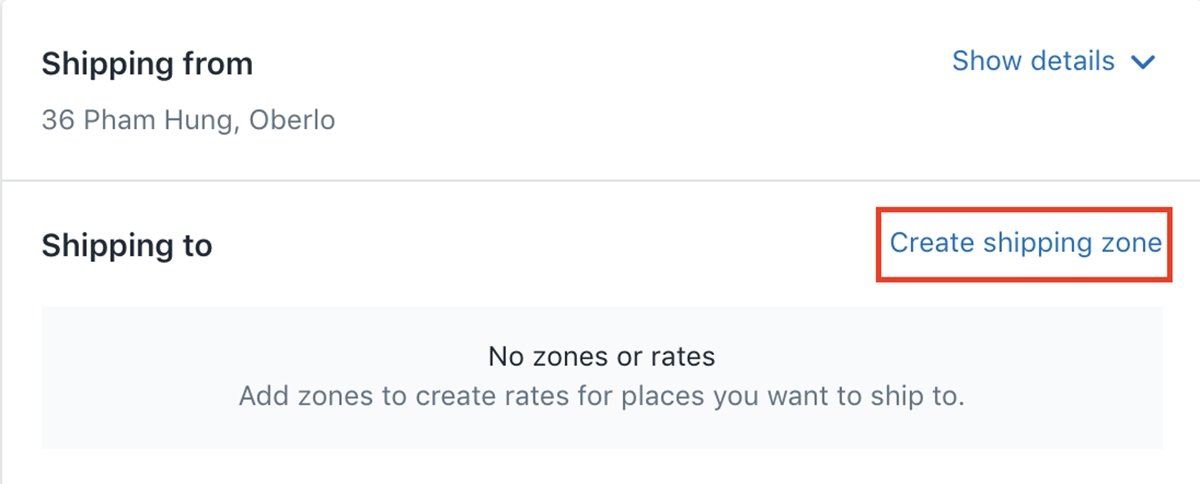 In the following dialog, put "Free Shipping" into the Zone name section, and in the location section, choose United States (or whatever location you dropship in). Then click Done.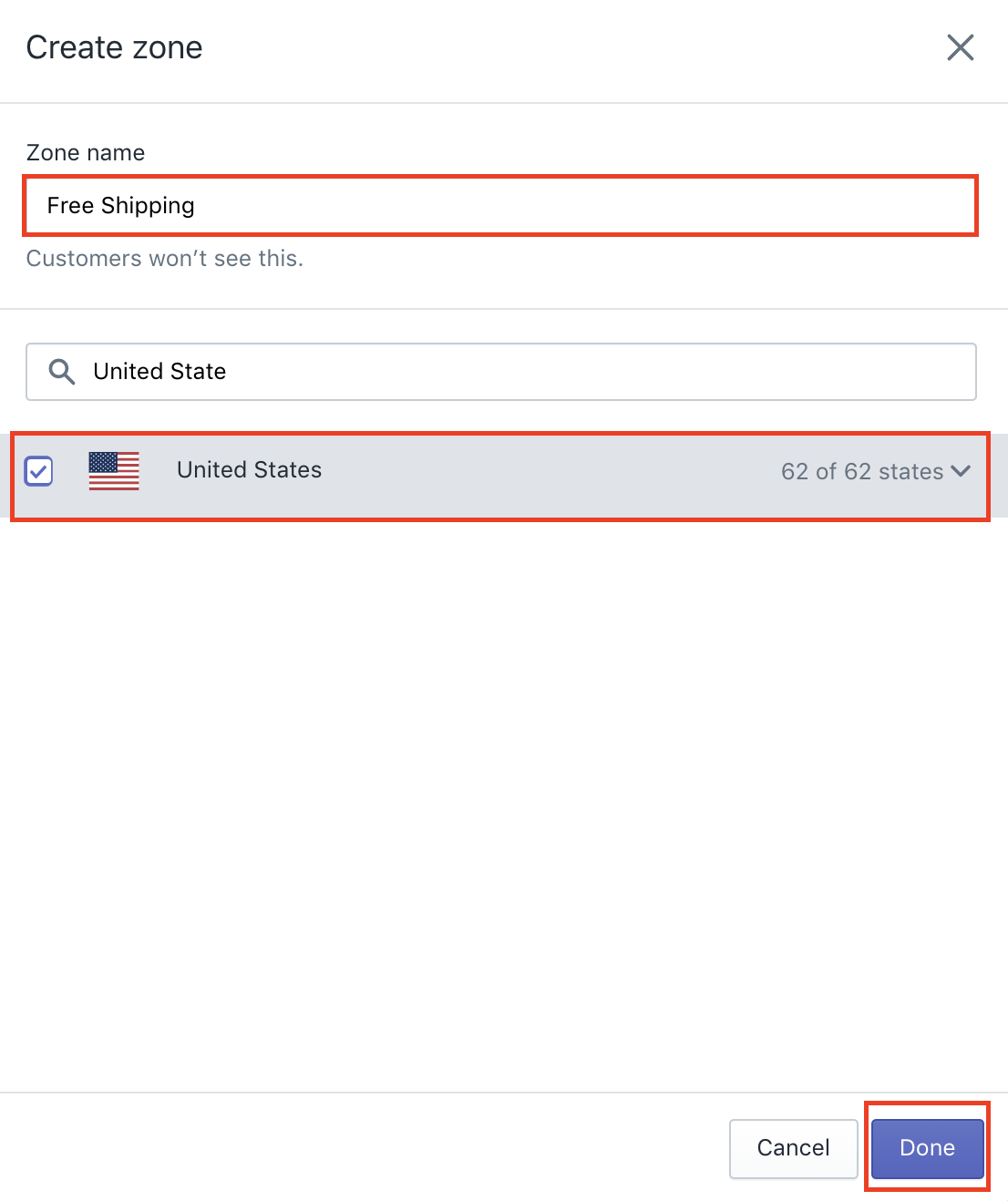 Next, click Add rate.
Choose Set up your own rates and leave the cost at $0, then click Done.
Then click Save on the top right corner.
Step 11: Set up your metrics and payments
Go to Settings on your Shopify Dashboard and click General.
Scroll down to the Standards and Formats section. Set the Unit system as "Imperial system" and Default weight unit as "Pound (lb)".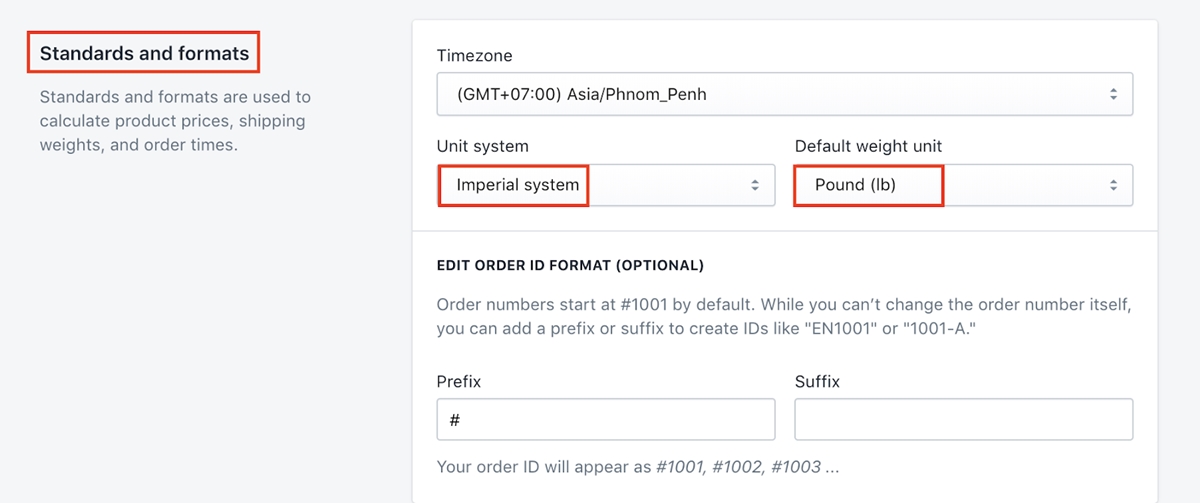 Scroll down to the Store Currency section, and set your store currency as "US Dollars (USD)".

Go back to the Settings section and click Payment providers.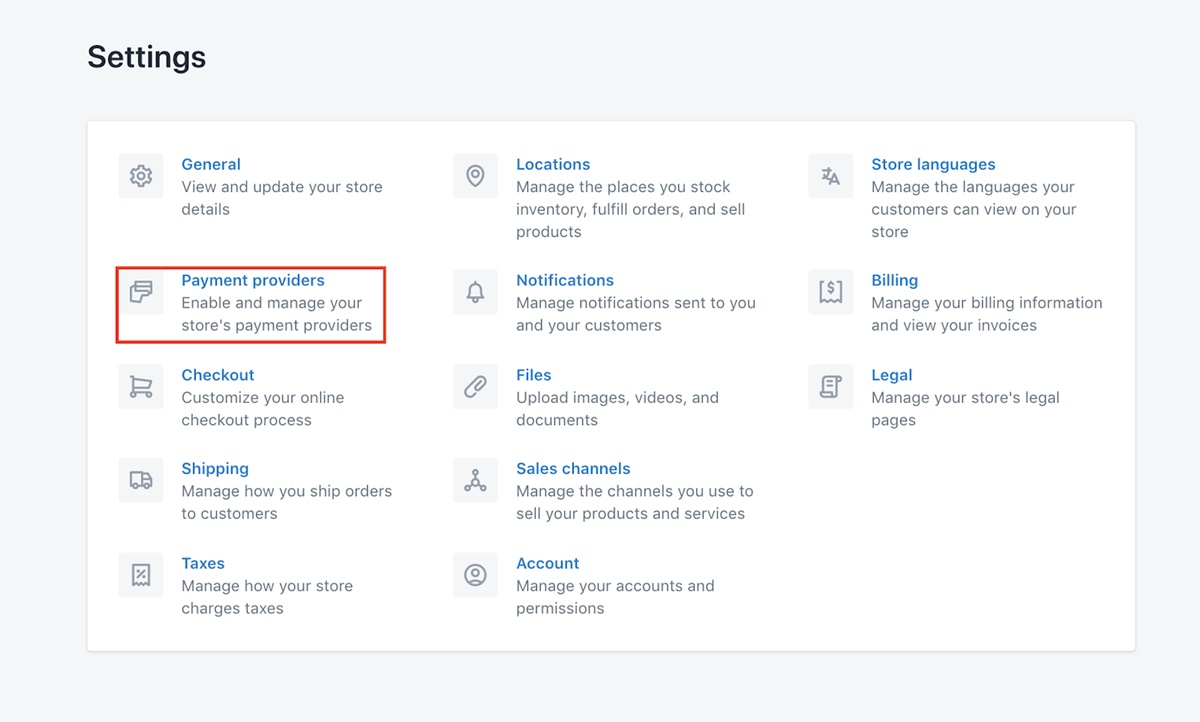 Activate Shopify Payments.
Fill out all of the details on the next page. It is very important that all of the information you enter here is accurate, as this is a legal requirement for all sellers.

Once you have finished your Shopify Payments activation, move on to activate Paypal express checkout. In the Payment Providers section, select Activate Paypal Express Checkout.

You will be required to log in to your Paypal account in the following page, and just keep following the next step to finish this activation.
Step 12: Add branding to your checkout gate.
You will need two things to complete this step: your brand logo and your brand color. If you have not had a logo, you can use these free logo generators to create one for yourself.
Your brand color should align with the product that you're selling. I'm opening up a store that sells airpods cases, so let's use the black color as the brand color.
Once you have decided your logo and brand color, move on to the next steps.
Click Online store on your Dashboard. Then go to Themes and click the Customize button.

In the Theme settings tab, click Checkout.

Insert your logo in the Logo section.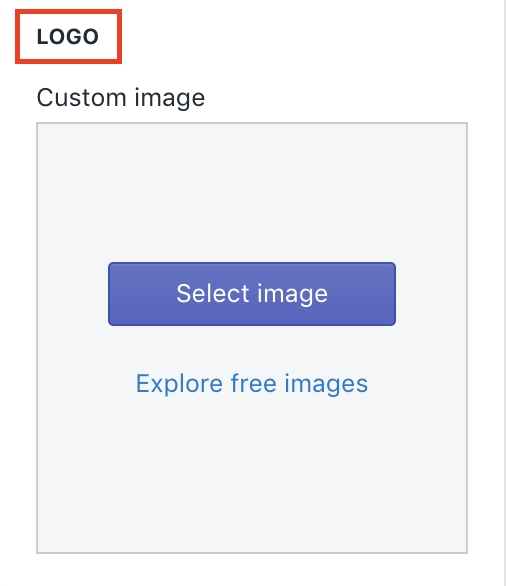 Scroll down to the Colors section, click Buttons and choose your brand color.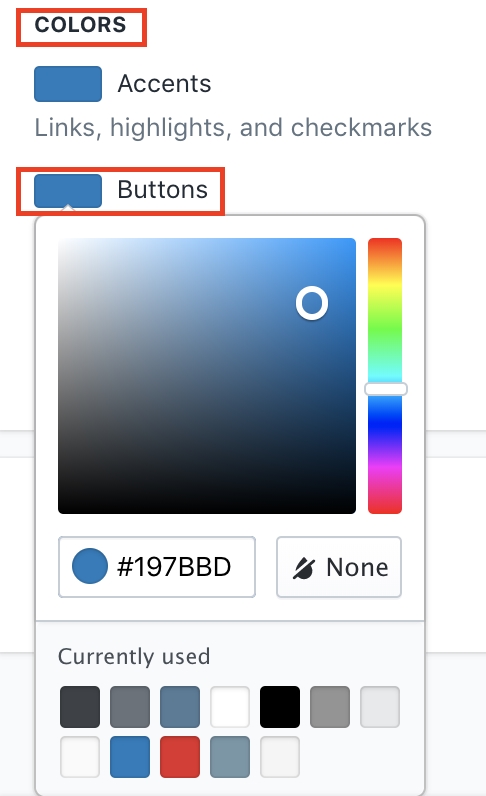 Step 13: Create an About page.
A great About page is made of three components:
What your store is selling
What your mission is
Why the customers should choose you over the competition.
As long as what you put in your About page contains these three elements, you are good to go. Please keep note that you should treat your About page as a formal introduction about your business, not some sort of desperate sales pitch. That means you should not just say: "We sell high-quality airpods cases to help you protect your pricey Apple airpods, and our prices are better than our competitors".
Take time to craft an appealing copy for your About page that your customers will love to read. Once it's ready, follow the next steps to create an About page.
Go to Online Store in your Dashboard, and click Pages. Then click Add page.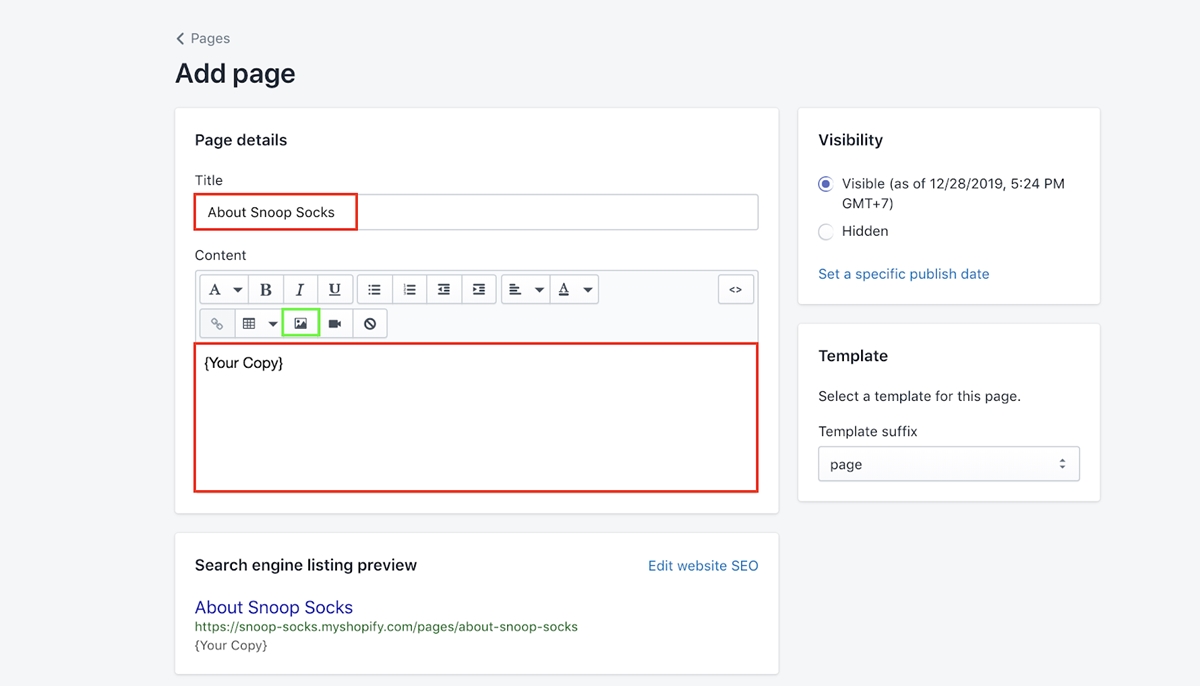 If you have any great picture that can highlight your product, put it into the copy by clicking the picture icon circled in green.
Once you have finished, click Save.
Step 14: Create a Contact page:
Creating a contact page is much simpler than adding branding to your checkout or creating an About page. What you need to do here is creating a page that contains your contact information so that your customers can reach out to you when they need your help.
In the Page section, click Add page.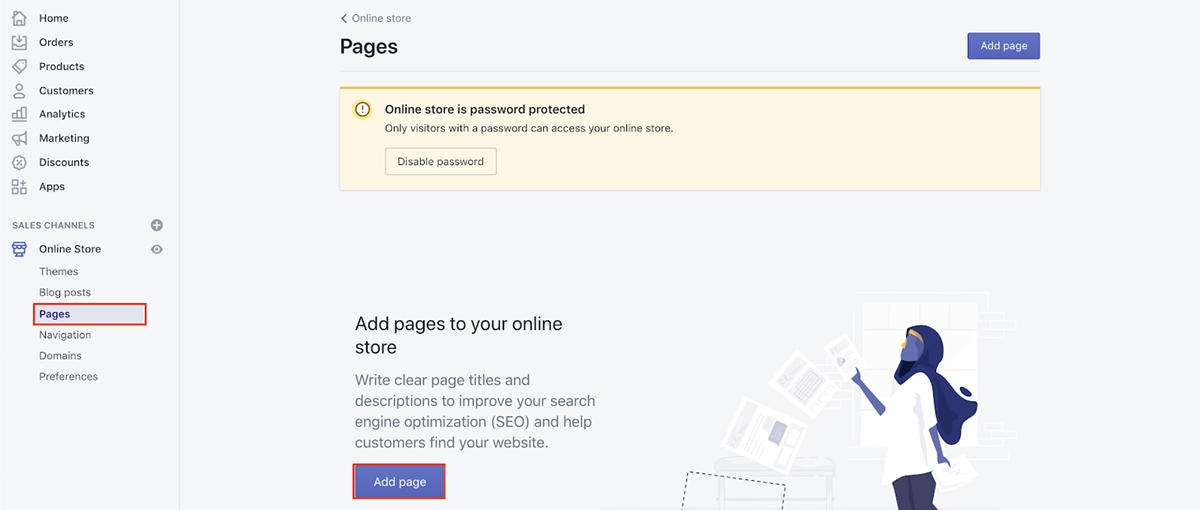 Next, in the Title box, enter "Contact us", and add your contact information into the description box.
In the Template section, select page.contact in the drop-down list. Then click Save.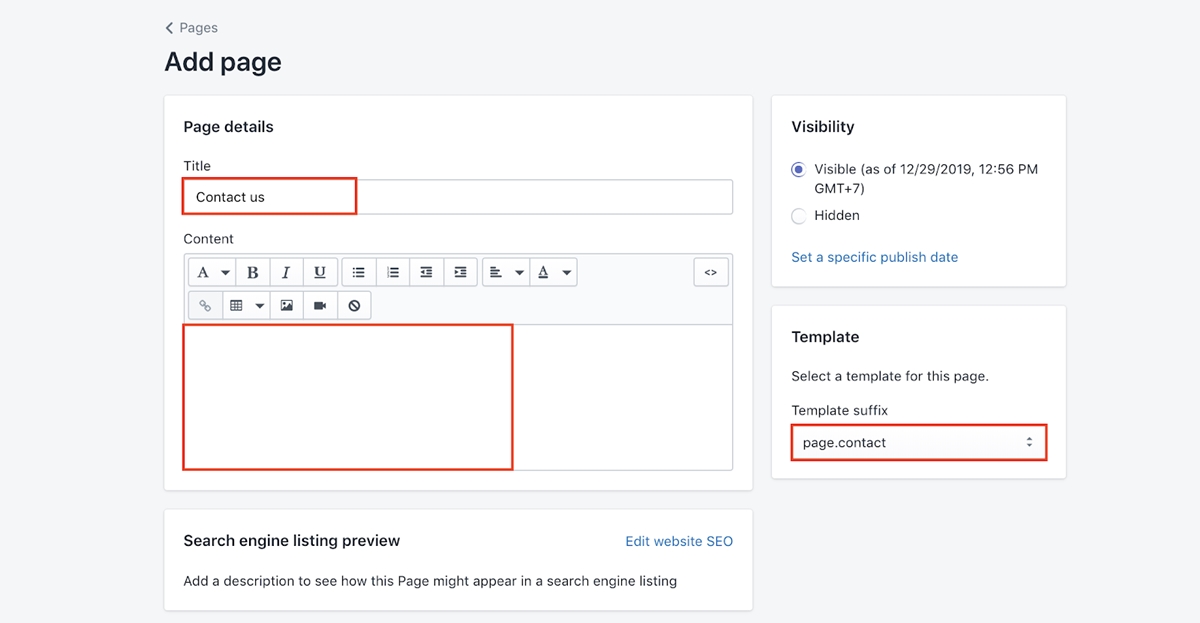 Step 15: Add menus to your store:
There are two types of menus: header menu and footer menu.
Header menu is the categories that you usually see in the top navigation bar of a website.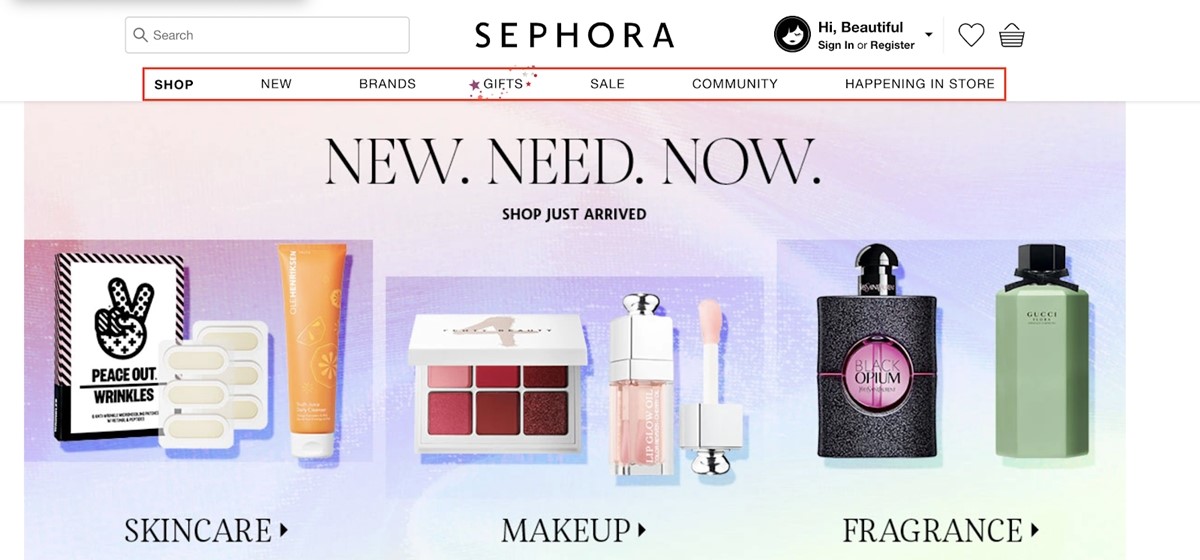 You can follow the below steps to create menus like this on Shopify.
In Online store, click Navigation > Main Menu.

Footer Menu is the categories that you usually see at the bottom of a website. I will get to it shortly.

Click Add Menu if you want to create a new category.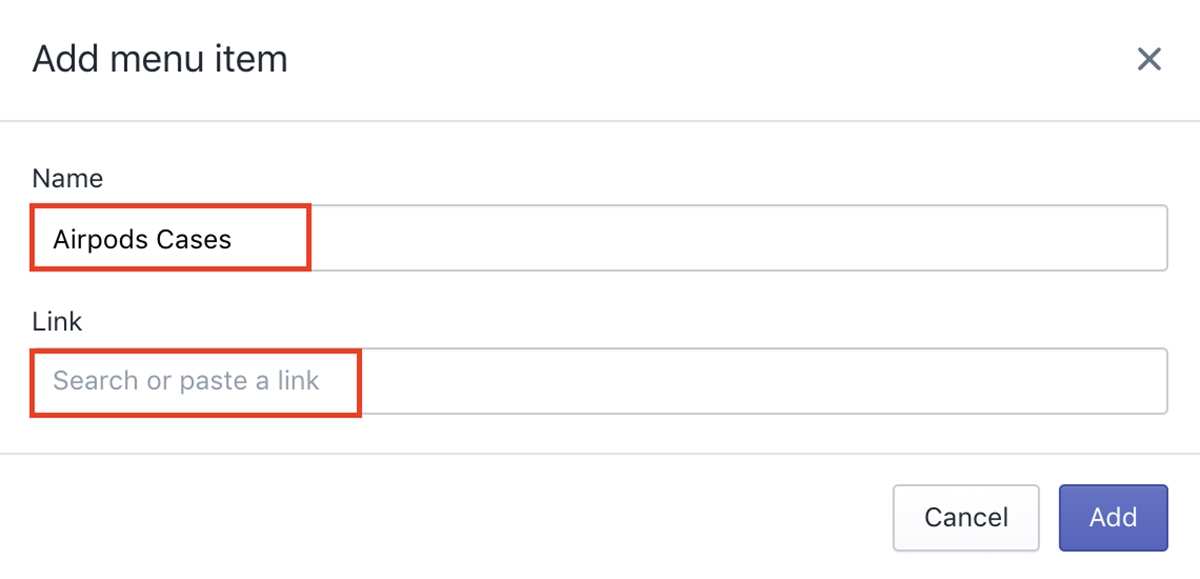 Enter a name for that category, and insert a link to that category. To get the link of a category (that you've created in Step 7), go to Collection under Products choose the category, and click View.

You can delete an existing category by clicking the trash icon. If you want to change the placement of a category, you can hold the dots symbol and drag it.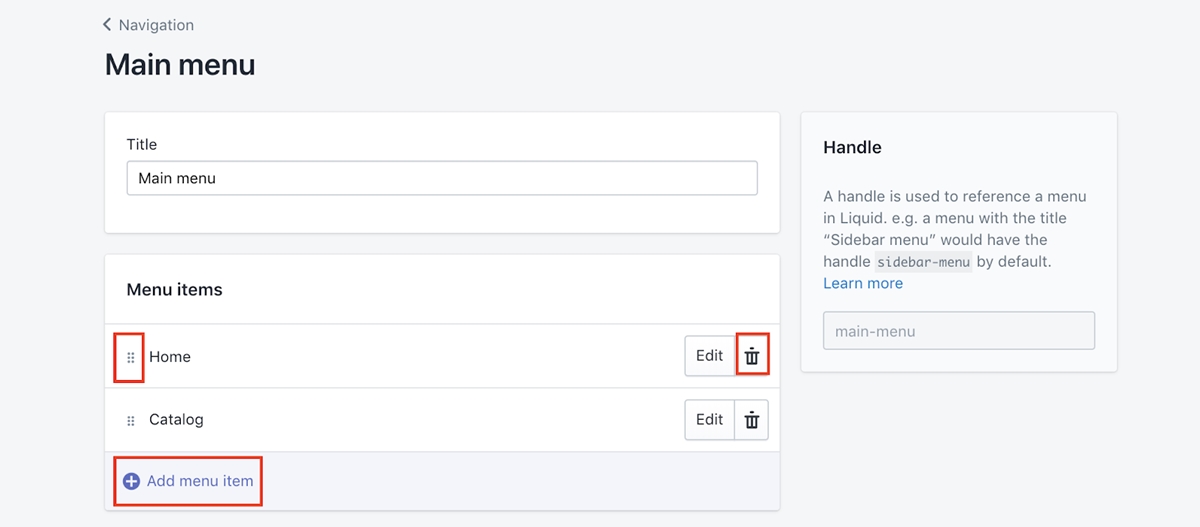 To add Footer menu, go back to the Navigation page, and select Footer menu

Follow the same steps as creating your header menu, and create your footer menu items. Then click Save menu.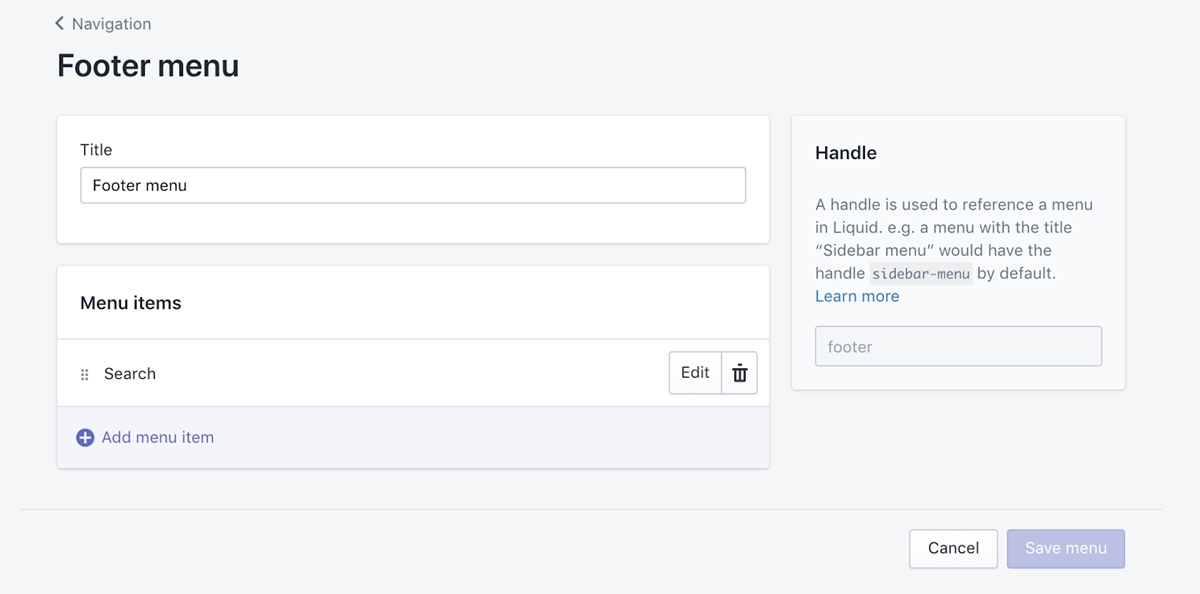 Step 16: Create your store design and home page
Under Online store, go to Theme, then click Customize.

Under Sections click Header and insert your logo image.

Then, upload your logo image in Logo image.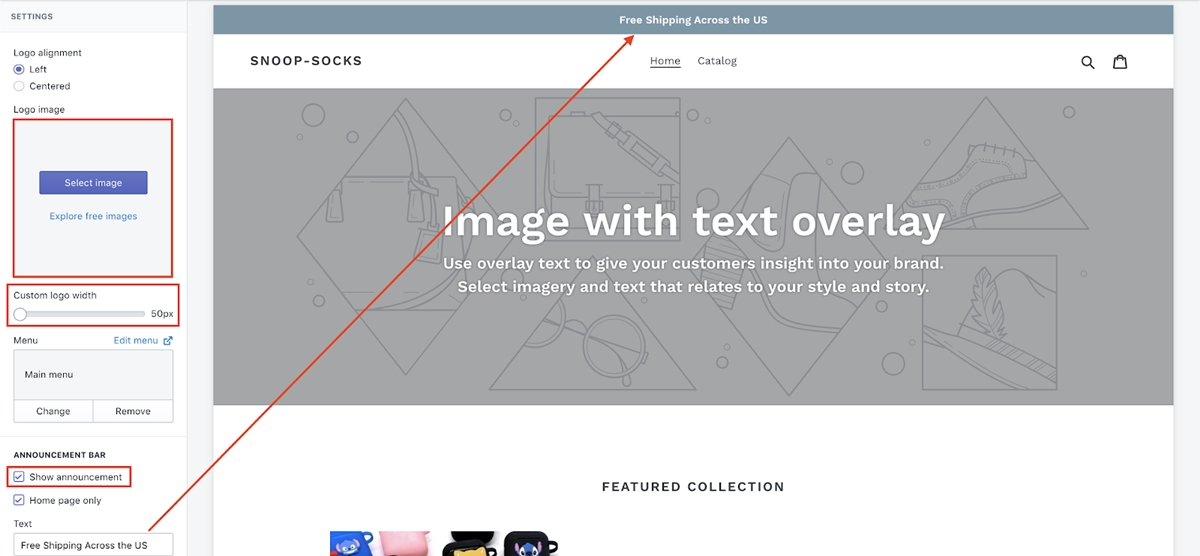 You can change the size of your logo in Custom logo width. The Show announcement box gives you a colored bar at the top of your website where you can announce something important.
Now you need to add your slideshow. Slideshow is the big picture(s) that you usually see on the homepage of a website.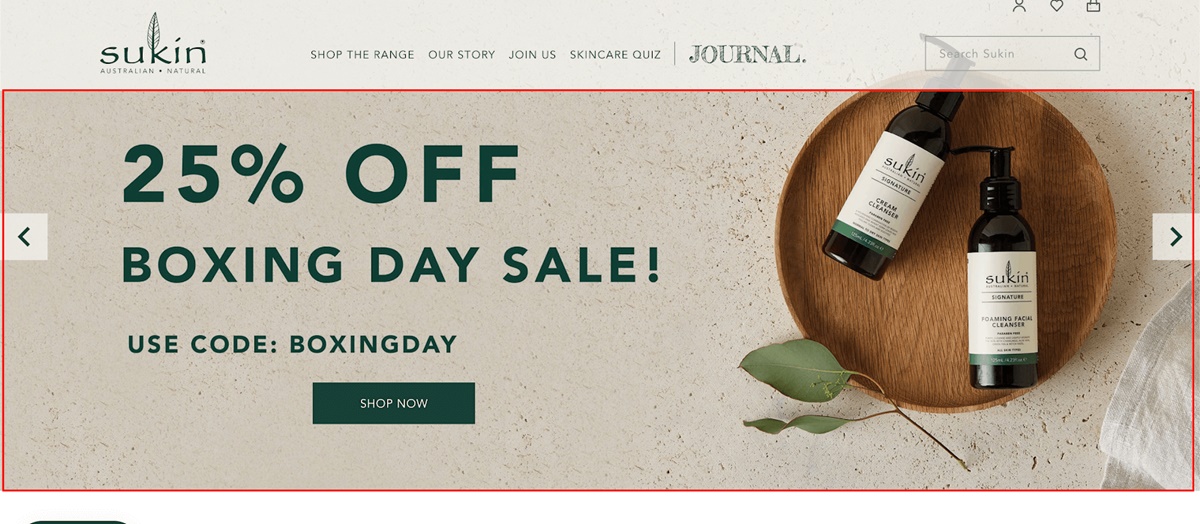 To add this slideshow, go back to Sections and click Slideshow, then under Content upload the image(s) you want to feature in your slideshow.
Next, add a collection that you want to showcase in your homepage. This is usually best sellers or new arrivals.
Go back to Sections, and click Featured collection, then choose/change the collection that you want to showcase.

Next, change the overall theme colors of your store to fit your brand colors.
Go to Theme settings instead of Section, then click Colors.

Here, you have the option to change the color of the text, button, etc on your website. Make changes to the colors based on how you see fit.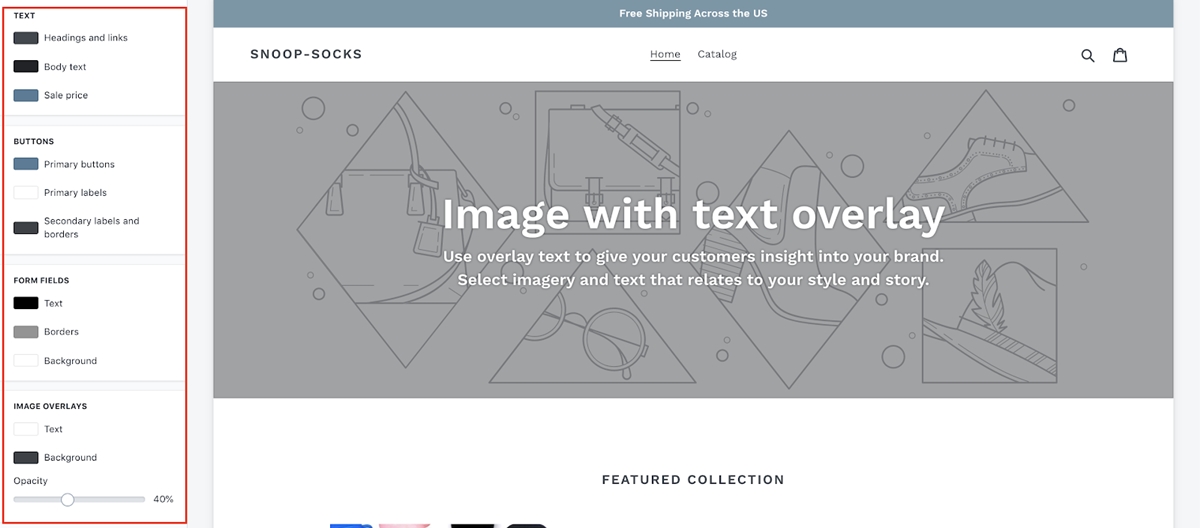 Choose typography.
You might want to choose the typography for text on your website, so here's how. Go back to Theme settings, and choose Typography.

When you finish this, remember to click Save on the top left corner so that everything that you have changed is saved.
Step 17: Add Facebook Messenger Live Chat
Before adding Facebook Messenger Live Chat, make sure that you have already got a Facebook Fan Page.
Now, get back to your Shopify Dashboard and go to the Shopify App store under Apps.

Search for "Facebook chat", and select "Facebook Chat Box - Live Chat".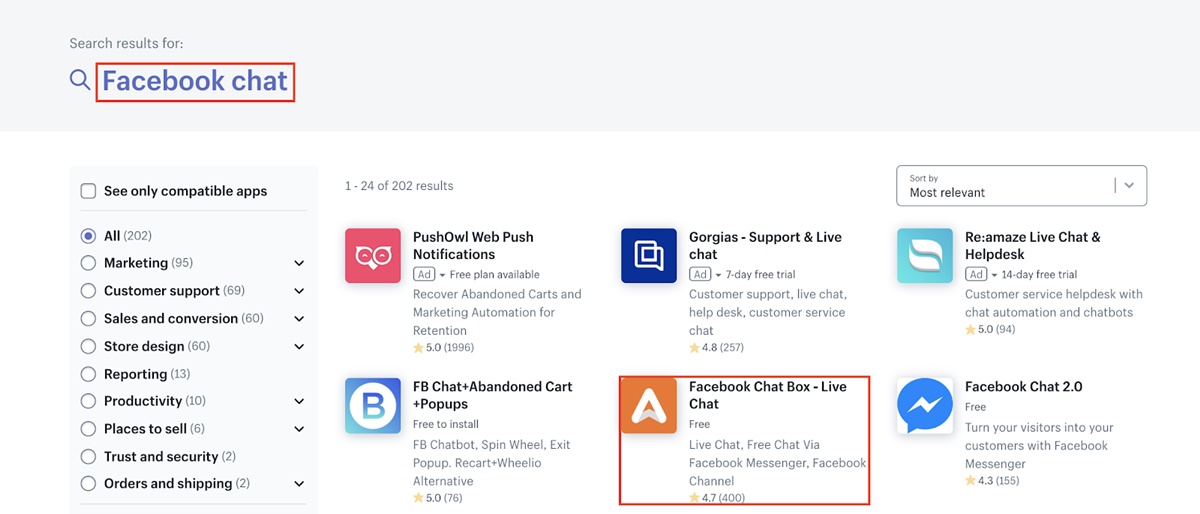 Then click Add App, and then click Install App.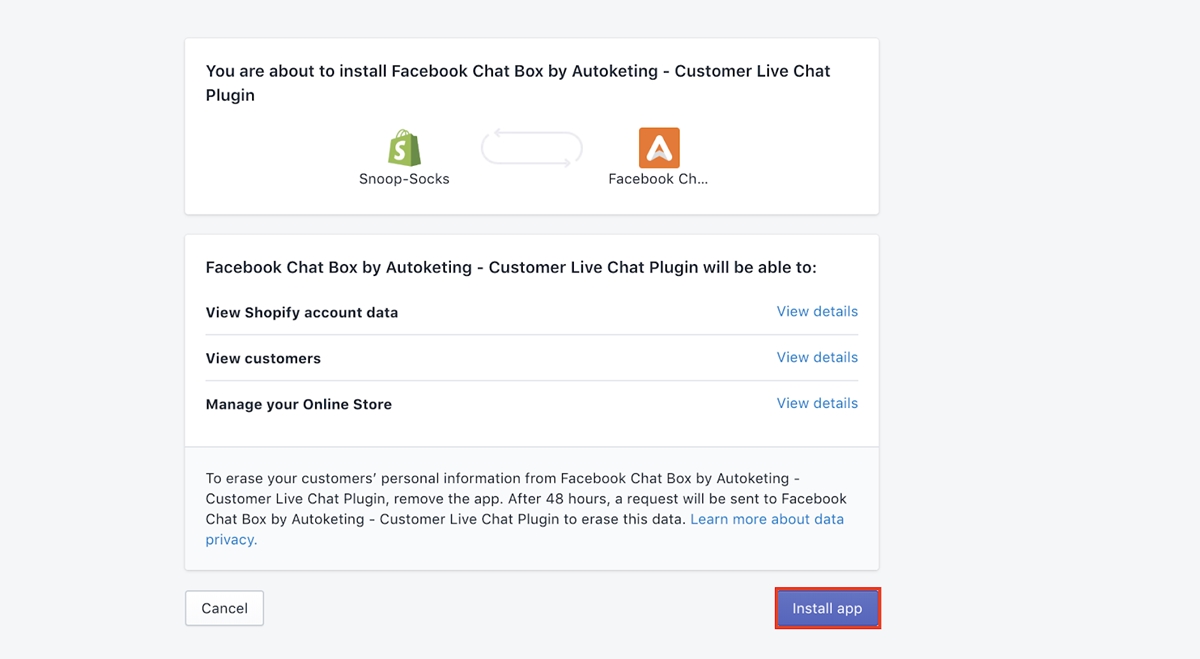 Connect the app to your Facebook Fanpage by clicking Connect Account. Do the following required steps and your Fan Page will be connected.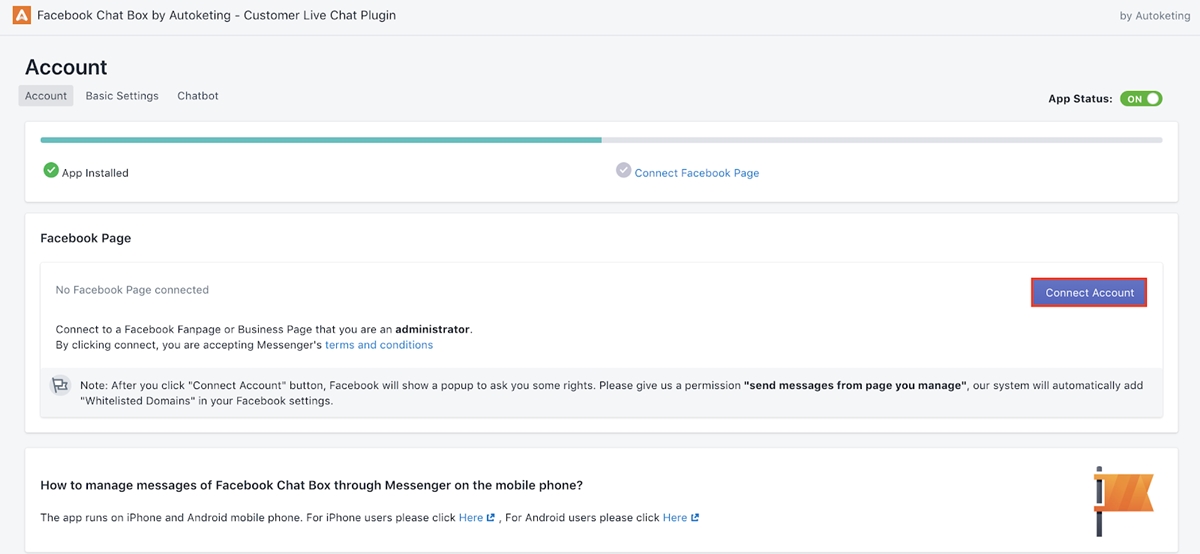 Go to Basic Setting to change your greeting message and the color of the messenger icon on your website, then click Save.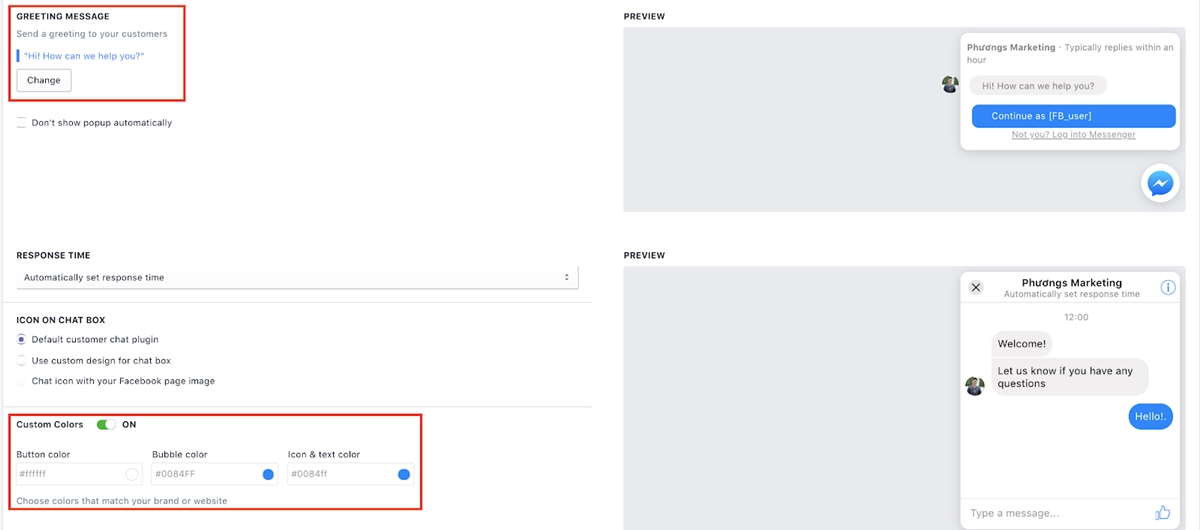 Step 18: Select a Payment Plan
In your Dashboard, go to Settings, then click Account.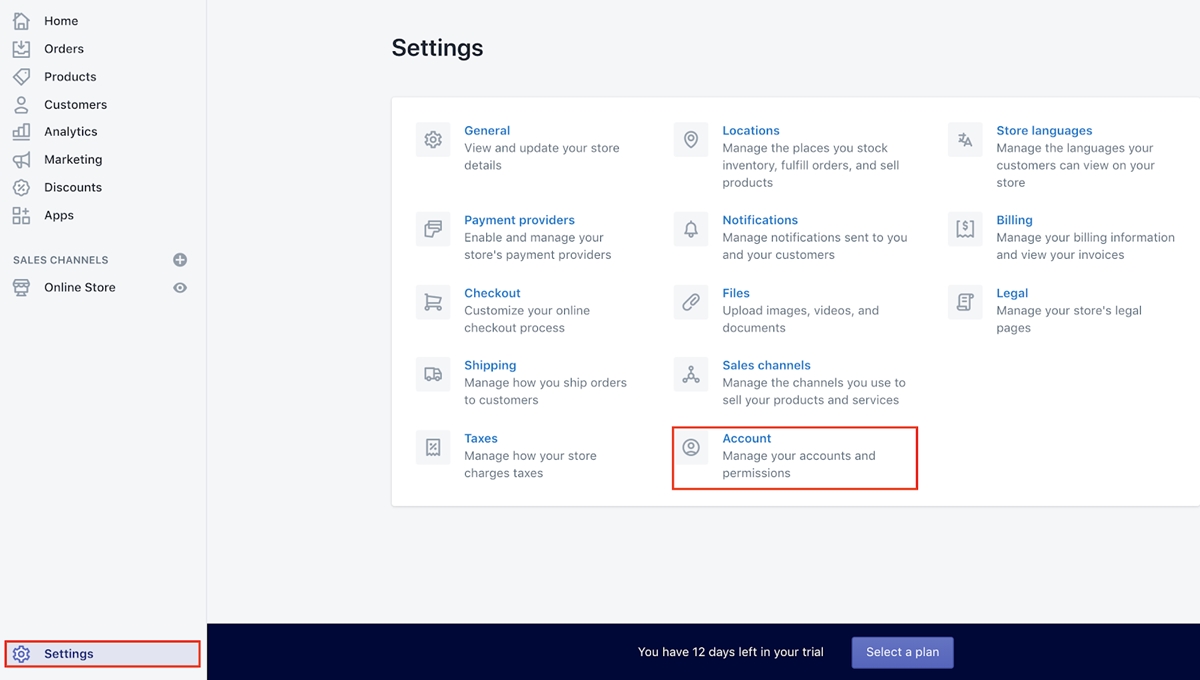 Click Compare plans, and select the $39/month plan. This is the minimum plan that you need to sign up for to start doing dropshipping on Shopify. When your store grows bigger, you can sign up for higher plans for more functionality.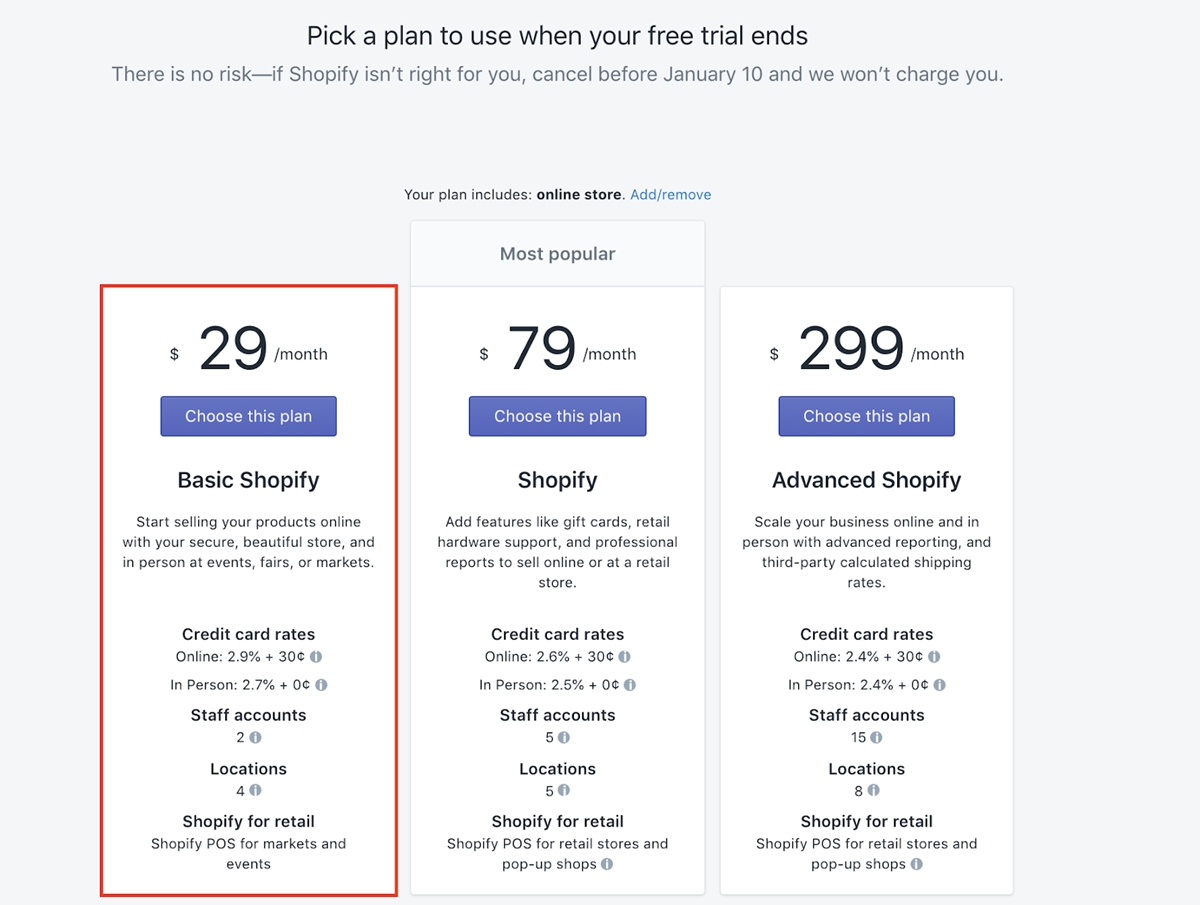 Choose how you want to be billed, add your credit card to pay, and then click Start plan.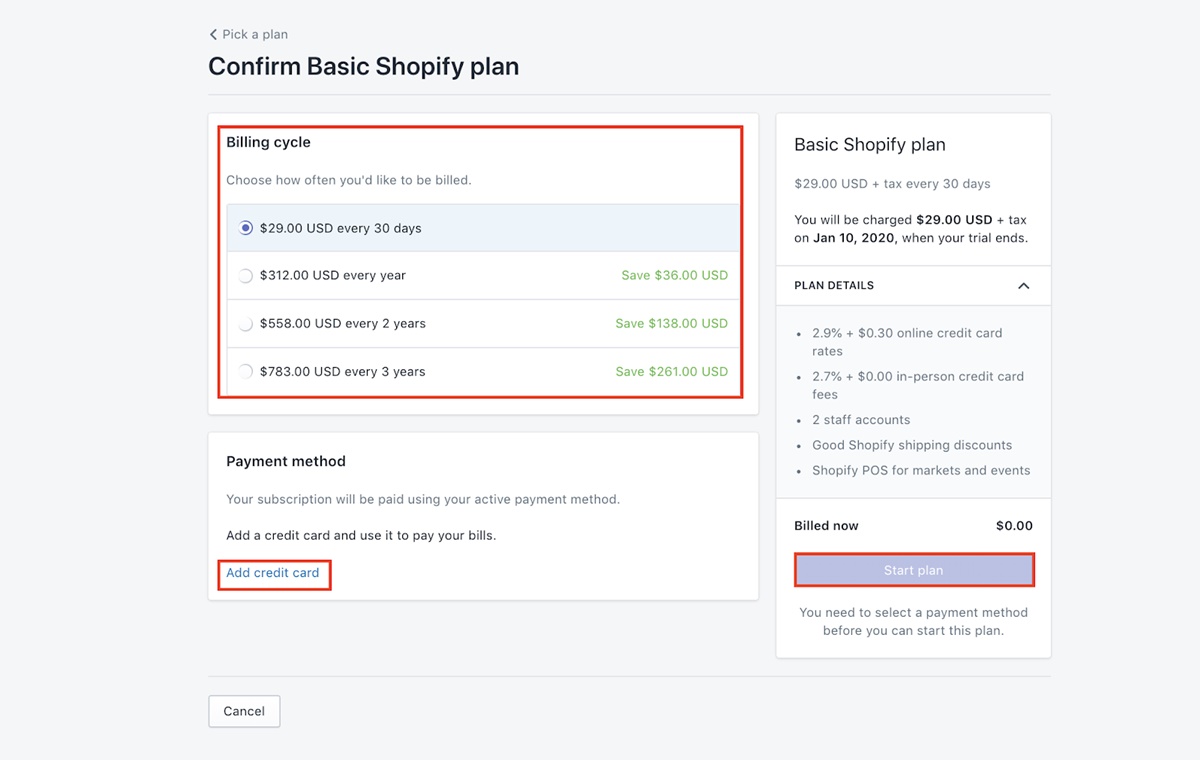 Step 19: Choose a domain name
Before we get into the details, make sure that you're going to choose a ".com" domain. Don't pick any other domain name. ".com" domains are the best option for eCommerce businesses.
In Online store, click Domain name, then click Buy new domain.

Enter your desired domain name in the box. If it has been taken, find a different one. If it's available, click Buy.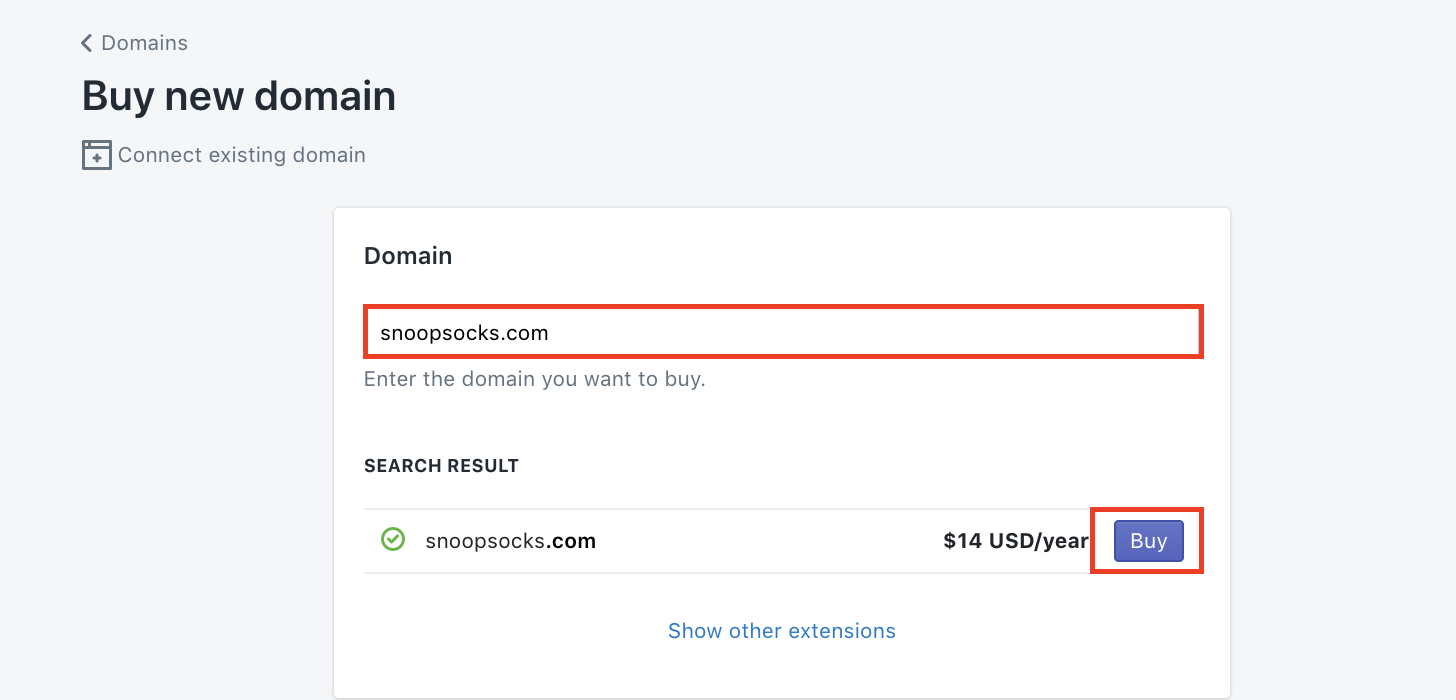 Step 20: Bring your store online!
At this point, your store is being protected by a password, and no one can visit it without the password. To remove the password, you need to sign up for a paid plan, which you have already done in Step 18.
Now, to disable the password, go to Preferences under Online store, and scroll down to the bottom.

Once you have signed up for a plan, you will be able to untick Enable Password.
That's it!!! Now your store is fully set up, and it has gone live! Congratulations!
Final words
I hope that you have learned how to fully set up a Shopify store to start doing dropshipping with Aliexpress. Dropshipping is not an easy path, but it's a very rewarding path when it comes to doing online business.
I hope you will remain patient, as well as keep learning along the way to develop a successful dropshipping business. :-)
Related Posts: