Your business's success doesn't only revolve around marketing to your potential customers all the time.
If you can keep your previous customers around, you won't have to worry much about reaching out to more people. Selling to an existing customer is not only 70% easier but you also benefit from a handful of referrals.
When was the last time you purchased something without seeking for reviews? According to HubSpot Research, 81% of customers ask for recommendations from their friends, family, and colleagues before buying a product or service.
That is to say, keeping your existing customers happy and sound is the key to take your business on a whole new level. If you don't hear back from your previous customers much, you are leaving a whole lots of money on the table.
We've put together 9 customer retention tactics to help you on taking your business to the next level.
Let's find out!
9 Effective Customer Retention Tactics
1. Personalization
Smart business marketers and owners have already known that personalized marketing is the future of any to every industry. Whether you own an online retail store, business website, or simply a software house, deliver the right content to your customers based on their culture and behavior like search or purchase record.
Since online businesses acquire personal information at the checkout stage, personalization is an easier way to keep pace with the customer retention rate.
Using customers' first name, their shopping history, and other info when reaching out through email marketing makes a clear difference. It increases customer satisfaction and loyalty.
Look at how Sephora, a cosmetic & makeup brand, leveraged personalized emails like a pro: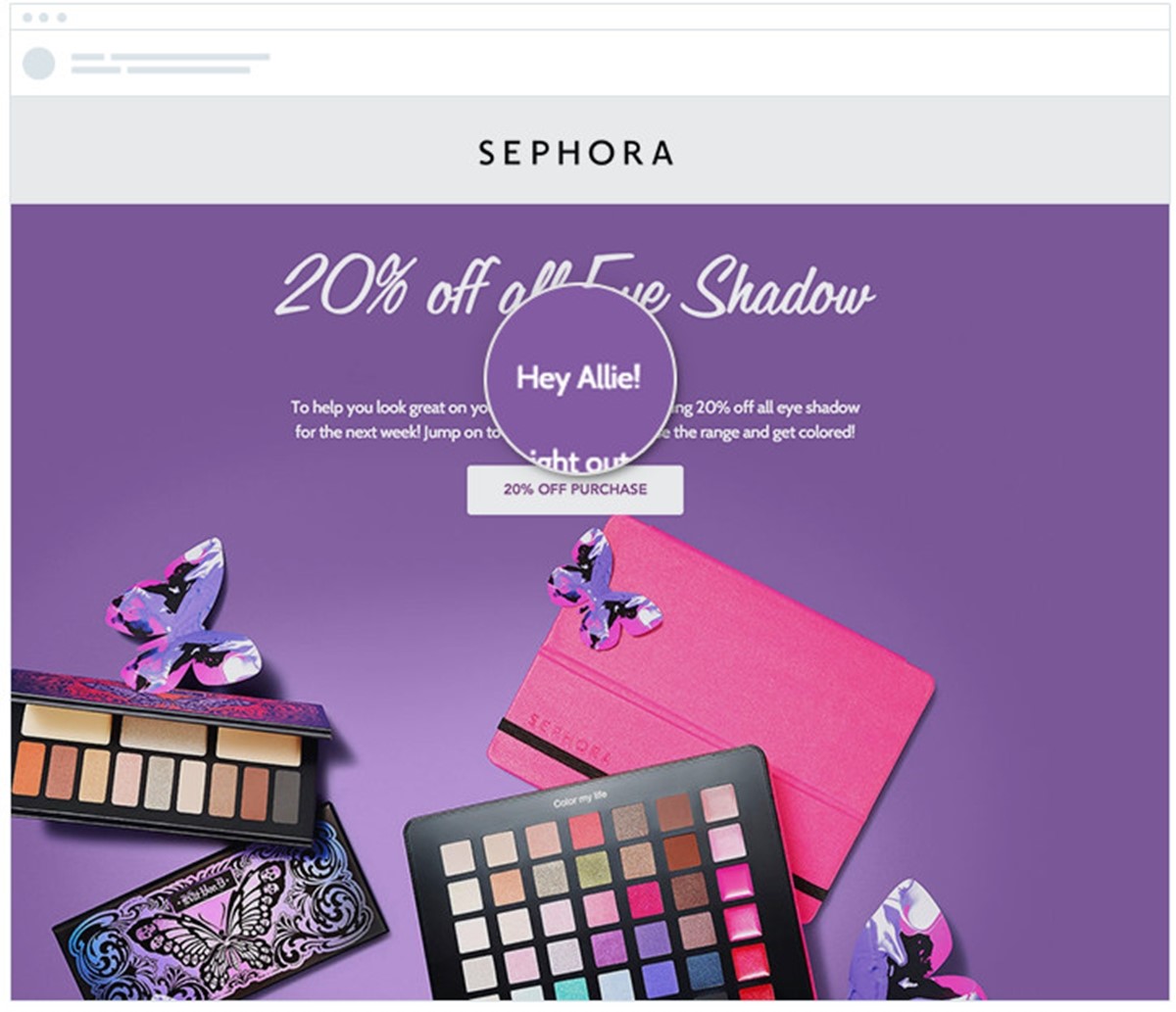 Note: Personalized marketing works best for almost all businesses provided the excellent customer support and quality products they sell.
2. Referral marketing
Word-of-mouth works almost all the time, it brings back positive marketing effect to businesses. Let's have a look at the following stats:
92% of consumers trust the recommendations from their friends and family.
88% of people trust online reviews from other consumers
The goal is not just to keep your existing customers around, but to motivate them enough to refer your brand to their friends and family.
This doesn't only add value to your conversions but also reduces the customer acquisition costs.
Offering referral programs or discounts to customers each time they checkout is a good strategy. You are not only asking them to come back for more, but also empowering your brand image.
For example, providing a unique referral link at the time of checkout is a good strategy. Upon purchasing from that link, the referrer gets 500 points that can later be traded for a discount on your store. Sounds good?
Here is an example Airbnb, a well-known marketplace for awesome tourism experience, that is using referral marketing like a pro:

3. Running rewards program
Adding a rewards program helps in increasing your brand community. Though it may seem like you're spending from your pocket, the ROI is worth it.
Let's go with an example, you had an average of 10 sales per day this month. Then what's next? How do you plan to benefit from these customers besides this month's revenue?
Give them something in return!
Increase your customer loyalty with points, lucky draws, VIP tiers, and referral discounts. Offering these benefits help businesses keep their customers for as long as possible.
With your store points, referral discounts, and VIP tiers benefits, they'll have to forfeit offers from other stores offering the same products/service as you.
For example, YSL , a fashion company, provides its customers 10 points for every $1 they spend. These points can later be used for future purchases. Giving them another reason to shop more!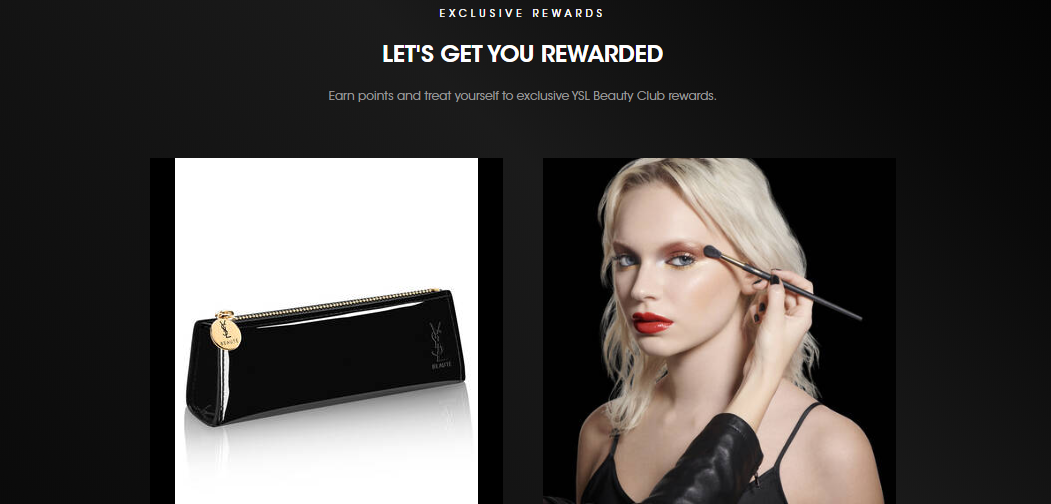 4. Games/contests
Irrespective of your business type, make your customers feel like being a part of a brand community, they tend to share it with others.
Thus, arranging games, contests, annual events, or lucky draws now and then is a good strategy to have customers invest more in your business.
Imagine customers telling their loved ones about your top-tier VIP program and how it helped them buy a product at a 50% price. You would absolutely get more. Maybe not the sales right away, but at least you would get more subscribers, which means more potential.
Pro Tip: It is best to promote gamification on business social media profiles. From generating leads to increasing engagement, one can do a lot with simple games and contests.
There are dozens of contest ideas, let's take an example of HallMark UK and Ireland. They held a contest on their Instagram account with a special prize. Followers just simply like and comment on their post to win. The brand use hashtags like #giveaway, #freebie, #commentoenter, #liketoenter to amplify the contest.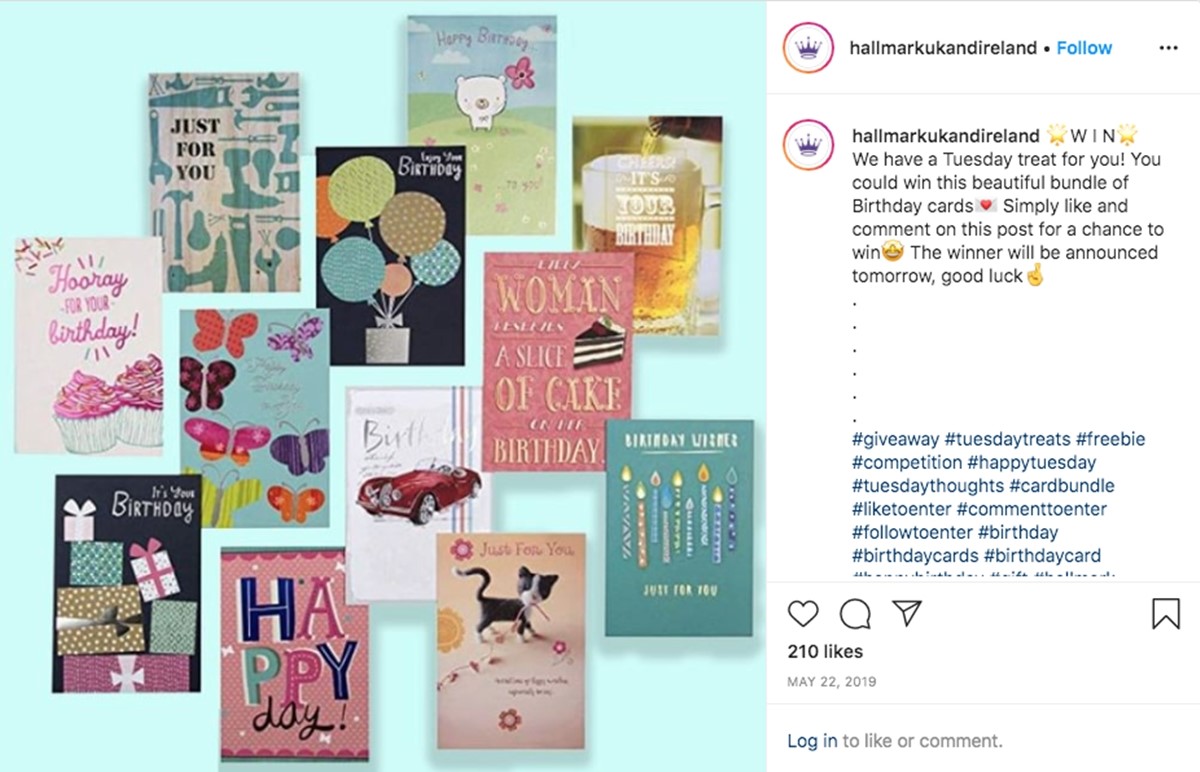 For more creative social media contest ideas, find out here.
5. Seeking customer feedback
Customer feedback is an easy way to determine if the selling process went smoothly and customers are happy with the service to let alone the products. Moreover, asking your customers about their experiences shows a sense of responsibility and they feel valued to your brand.
Just like personalized marketing, addressing customers with their name when asking for feedback will add value to your emails. There are greater chances that customers who respond to those feedback enquiring emails will come back for more.
If not, the best you can do is learning how to improve the selling experience for future customers.
Following are some of the best ways to getting opinions and suggestions from your valuable customers:
Interact with customers through business social media profiles
Create polls and surveys on social media accounts as well as your business website
Utilize email marketing – personalized emails improve the response rate
Have a live chat option on your website (we'll discuss its importance shortly)
Whatever you decide, make sure to keep the feedback receiving process shorter and simple.
6. Live chat and customer support
Everyone hates reaching out to customer support through emails and then waiting by their inbox for the next 1-3 business days.
Conversational commerce is trending these days. Consumers and businesses want to connect right away.
79% of consumers prefer to live chat over social media or email support because it offers instant responses. If you haven't installed live-chat support on your website, you might already be a step behind your competitors. The ideal option would be to implement a contact center solution that enables omnichannels engagement for chats, emails, phone calls, SMSes, WhatsApp, and other social media interactions with customers on the same platform.
Be it a problem while checking out, return policy, refund, or any query you can think of, an e-commerce store's support must be available to their customers all the time – at least during business hours.
Following are some proven tips to create an efficient live-chat support system:
Make live chat personalized for customers
Answer promptly – at least during business hours
Don't be too pushy
Ask for feedback at the end of the conversation
Live chat support employed with FAQ pages, social media channels, allow customers to solve their problems easily. Giving customers another reason to choose you over others.
Let's go with an example of Ahrefs live chat support system. They have a quick turnaround, user-friendly live chat window, and most of the time, users get their answer with even talking to the representative.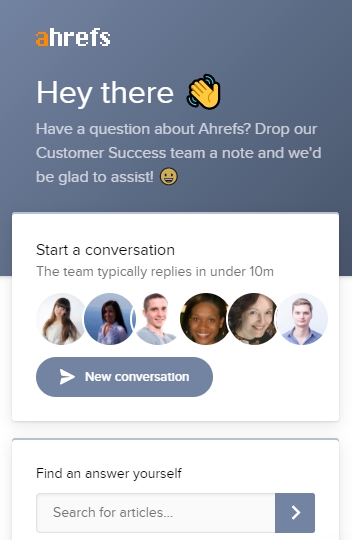 7. Create "magic moments" for customers
Brands with exceptional customer experience sell 5.7 times more than their competitors with bad customer experience. Moreover, 73% of consumers claim that a good selling experience influences brand loyalties.
Offering superior customer experience helps you retain customers for a longer period, increase referrals, and improve the overall brand image.
To make that happen, arrange "magic moments" for customers; it will add value to their experience. Magic moments are things you specifically create for your customers to get them by surprise.
Nordstrom sent a "thank you" message to their customers in the holiday email campaign like below: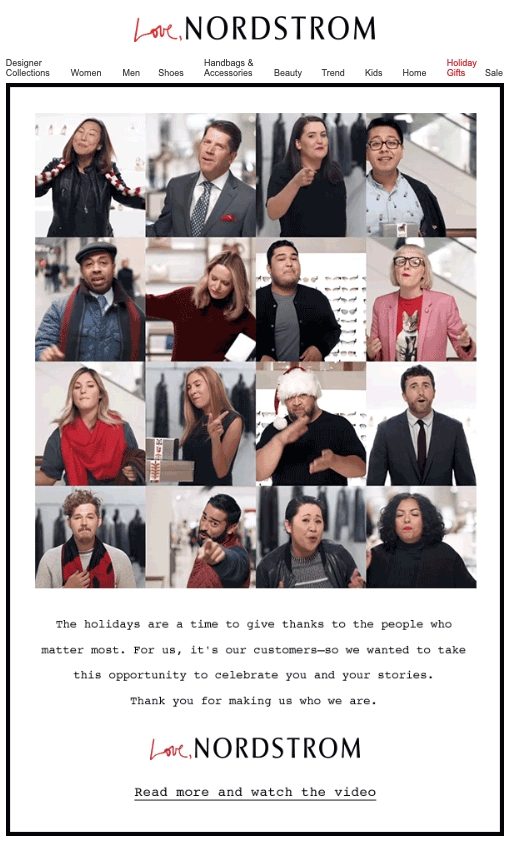 Can you do better than them? Absolutely yes!
For example, offering free samples, a personalized thank you, or a 10% discount on the next order reflects how much you care about your customers. No matter how you decide to connect with your customers, it will strengthen the emotional connection between customers and your brand.
8. Follow up after purchase
If you believe that customer experience ends after purchase, that's probably why your customer retention rate isn't improving lately.
Make sure to stay in touch with your customers after they make a purchase. We've already discussed the importance of getting a clear insight into customer experience through feedback. Let's take it to the next level.
Here is an efficient post-purchase follow-up checklist to follow to improve your customer retention:
1. Order Confirmation: Send an Order Confirmation Email right after the purchase

2. Product Education: Offer product education material. This should be done right after the product is delivered to the customer. Product education material may include a video-tutorial, a link to the FAQ page, or an ultimate step-by-step guide.

3. Review: After that, the final and most important step is sending a review request email. It gives you a clear insight to improve your customer experience, product quality, and more.
9. Improvise and overcome
If it's your first time, now you have all the strategies, tools, and tactics to start creating a unique formula to improve your customer retention. Many businesses make the mistake of optimizing their customer retention tactics for once and never get back to them again.
Parting words...
Make sure to be consistent and keep trying to devise your strategies out of the above-mentioned customer retention tactics. However, make sure to observe the current strategy for at least 2 weeks before you start trying something new.
In case of further questions or suggestions, feel free to leave a reply or contact us.
Author's bio:
Hannah started as a copywriter, but it turns out her true passion is e-commerce marketing.
She is naturally inquisitive about human behaviour and its interaction with the digital world. Now, she's part of the HappyPoints team with a goal to help Shopify merchants boost their business.
Her team helps merchants launch their e-commerce websites and optimize their sales conversions with fully managed Shopify store setup and theme customizations.