It seems like many brands choose millennials as their coveted target market, but some reach the demographic better than others. A typical example in this scenario is Chipotle Mexican Grill.
Chipotle is one of the most well-known brands that have large loyal millennial followings. Their fans even call them by an adorable nickname of "Chipotbae," which is a combination of Chipotle and "bae" (before anyone else). People have even paid a real amount of money to advertise their love for Chipotle on their clothing. I know it's hard to top that!
Chipotle has widely spread a cultural reverence among millennials so strong that even if you think their burritos are overrated, you would never dare say that in front of your peers. People think it's 'cool' to love Chipotle, to tweet about this brand, and to wait half of an hour in a queue for it. The fast-food brand has mastered the recipe for its burritos, but it's also found the perfect formula for brand superstardom.
You might ask, why can Chipotle achieve that popularity and success? What are their marketing strategies and how they put them into practice?
In this guide, you'll find answers to these above questions.
Let's explore right now!
An overview of Chipotle
Chipotle's brief history
Chipotle Mexican Grill, often called simply as Chipotle, is an American fast-casual restaurant chain that serves a simple menu of Mexican-inspired food. Its name stems from chipotle, a smoked hot chili pepper used in Mexican cooking.
The CEO of Chipotle, Steve Ells, was a classically trained chef in San Francisco and was trying to find a way to fund his own fine-dining restaurant. So, in 1993, he decided to open up a burrito store in Colorado, near the campus of the University of Denver. Since that time, Chipotle has grown to more than 2,000 store locations, which together serve over one million customers every day.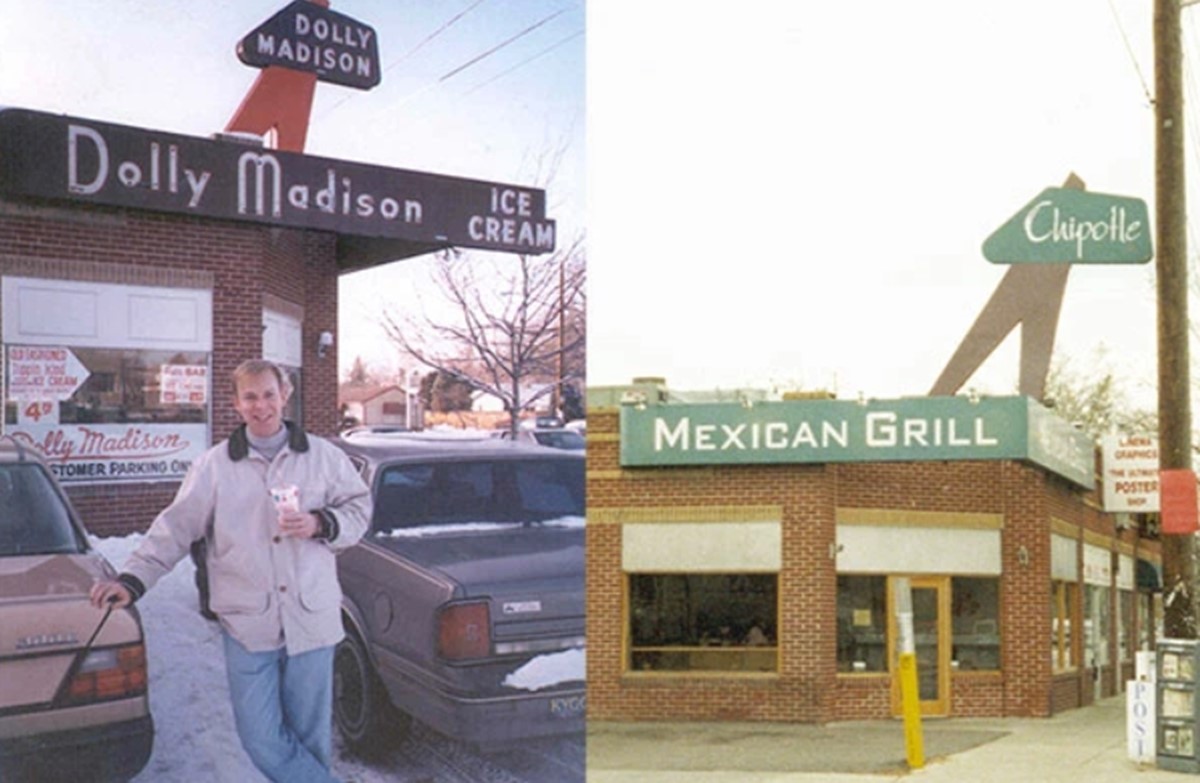 Since its initial public offering (IPO) in 2006, Chipotle has grown rapidly and developed a portfolio of subsidiary brands, such as the Asian-inspired ShopHouse Kitchen, Pizzeria Locale, and Tasty Made, a new burger joint.
Chipotle's target market
The ideal target market of Chipotle is millennials, college students, and younger professionals aged 18-28. Many of these people consider cooking as a hobby and will make a majority of their meals from their own kitchen, specifically using fresh and healthy food. This is due to an increased awareness of health care in today's society.
When these target customers are pressed for time (which is a common occurrence with this population of people), they will find another healthy alternative for their meals. They turn to fast-casual restaurants like Chipotle to eat healthy food without sacrificing time.
By focusing on this target market, Chipotle can gain customers with their philosophy of "Food with Integrity," and attract an enormous loyal customer base who are often in need of a quick bite to eat with friends.
Chipotle's products
Perhaps the most significant success factor of Chipotle is its ingredients, which include GMO-free (Genetically Modified Organism), cage-free poultry, grass-fed beef, and locally farm-grown vegetables, and toppings. Chipotle emphasizes that they always prioritize using fresh and healthy ingredients in their products.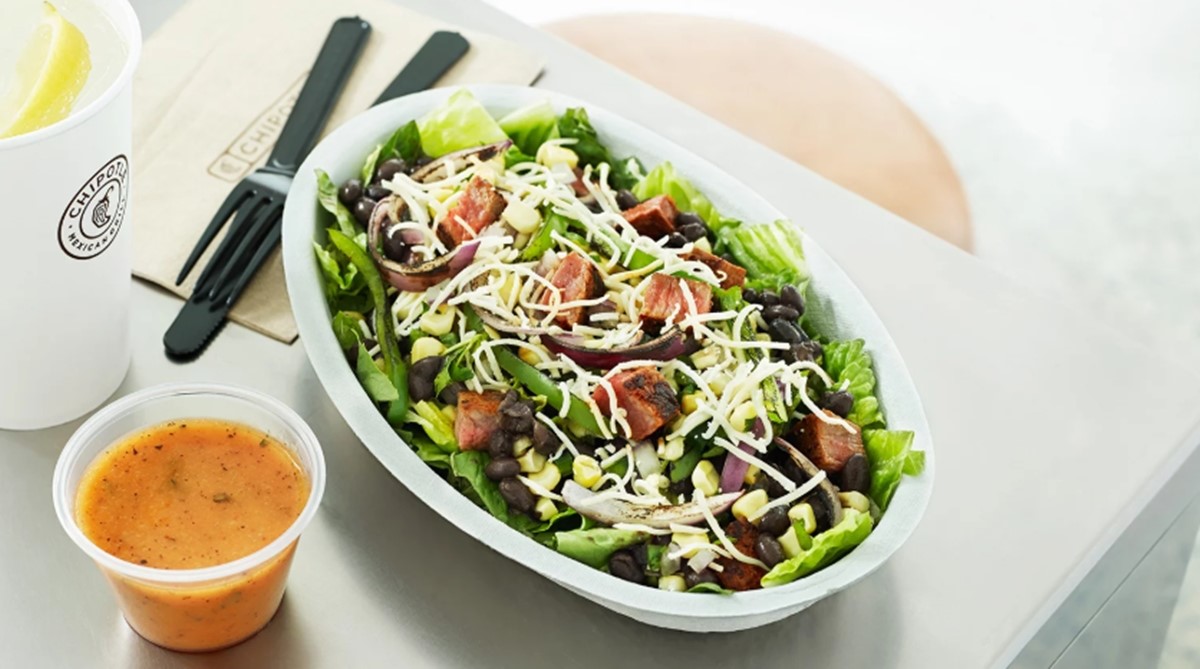 More than burritos, Chipotle serves burrito bowls, tacos, salads, tortilla chips, guacamole, and a variety of beverages. Customers choose and follow their food through an assembly line right in front of them, which helps assure the quality of their food. Chipotle also provides catering services in addition to on-premise selling at its restaurants.
Why is Chipotle so popular and successful?
Steve Ells used to admit that he did everything wrong when he opened Chipotle: his design was minimal, his food was too expensive, and his portions were too large. However, twenty-six years later, his company has a market cap of $23.23 billion and reported $5.586 billion in revenue in 2019.
By doing "wrong" when combining the fast-food and sit-down restaurant world, Steve Ells has turned Chipotle into a hybrid restaurant that serves delicious and quick food at reasonable prices.
Below are some major reasons why Chipotle can become so wildly popular and successful.
1. Food with Integrity
The "Food with Integrity" motto of Chipotle was inspired by what the founder Ste Ells learned about American food production. Ells is committed to serving food that was ethically and naturally produced. And in 2013, Chipotle instituted a GMO-free policy for its ingredients.
Customers love the fact that they are consuming fresh and healthy ingredients in their burritos. They then will find naturally-raised or organically-produced food, instead of ordering fast food from McDonald's or Wendy's. Additionally, natural products make the food better tasting. These two factors are so appealing that they create a significant loyal customer base of Chipotle.
2. Food customization
You have complete control over the choice of your food by picking the exact ingredients you love. You can choose meat followed by rice and beans, and finally salads and toppings. The assembly line type of restaurant is quick, easy, and tailored to each customer.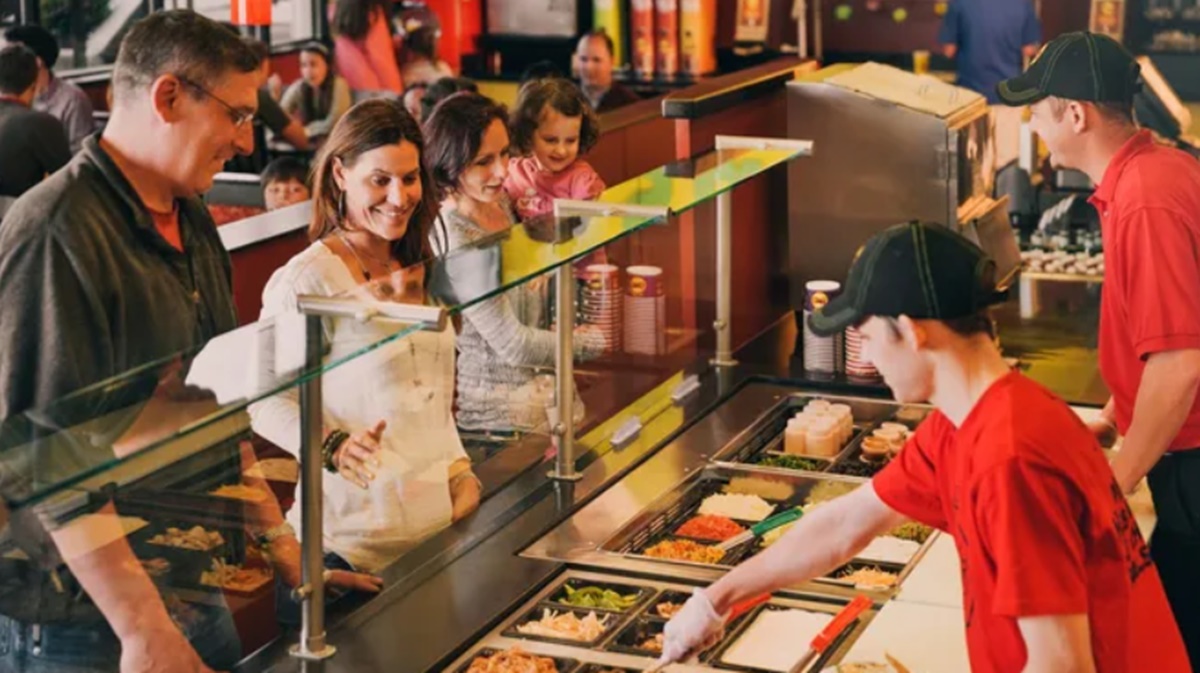 3. No franchises
Chipotle makes itself unique when growing without establishing a franchising system. Although Chipotle could develop more rapidly with franchises, it would risk losing control over its culture, suppliers, and taste.
By managing all the Chipotle stores, the company can be sure that from location to location, the taste, price, and design are identical. This also assures and enhances the consistency of the brand.
4. Small menu
You may think this a disadvantage, but it's not really. A smaller menu holds three benefits. Firstly, Chipotle can effectively reduce costs by purchasing a smaller variety of supplies in bulk at lower prices.
Secondly, a small menu means quick service. At other fast food stores, the kitchen can get confused by the orders and can make mistakes. At Chipotle, the consumer is watching and can point out if the employee forgets to add any ingredients. It's quick, simple, and customers love it.
Finally, a small menu quickly shows customers what's for sale each time they visit the restaurant. It would save time for both customers and employees when they do not need to explain it to one by one.
5 outstanding marketing strategies of Chipotle
Apart from 4 main reasons mentioned earlier, marketing strategies of Chipotle have contributed a lot to building a strong brand image.
We've gathered and analyzed 5 of Chipotle's best marketing strategies in this article for your reference, let's get rolling!
1. Be active on social media channels
The main task for Chipotle's marketing team is to target and win over millennials. So, to gain a good reputation from the young generation, Chipotle does not rely much on traditional media. Instead, Chipotle's advertising outlets revolve around a significant online and social media presence.
Chipotle builds a consistent image across Facebook, Twitter, Instagram, Youtube, Pinterest, and LinkedIn. Chipotle's social media doesn't sound like a $5.6 billion revenue burrito chain; it seems like your best friend. Their posts reference a genuine millennial voice, which incorporates the proper use of the latest lingo in a clever and natural way.
Moreover, the brand is truly "social" and creating a personal bond with their customers. Statistics show that Chipotle responds to 83% of all Facebook posts, and this figure climbs up to 90% on Twitter. Chipotle actually understands that each customer is an individual with a personality behind, and tries to get to know their customer, engages with them in genuine conversations.
In an effort to closer approach target customers, Chipotle is the first major restaurant brand to market itself on TikTok - a relatively new and popular social media channel for the young. Chipotle created their own video challenge called the #ChipotleLidFlip, which encourages followers to try to flip their lids over their Chipotle bowls.
The campaign attracted 276 million views on over 110,000 video submissions only within the first week. Chipotle also partnered with David Dobrik, who has 5.8 million followers on the app, to lead the charge and prompt other users to join in the fun.
After the first success on TikTok, Chipotle initiated different challenges, including the #GuacDance campaign on Guacamole Day, and #Boorito transformation on Halloween occasion, which are both viral and drive massive engagement from the app users.
Learn more: Can You Make Money On TikTok?
2. Shine in content marketing
Unique content marketing is a great way to reach out to the prospects and give them something valuable. This is exactly what Chipotle understands and follows.
Their unique "Cultivating Thought" campaign came from the idea that the company should put something worth reading on their cups and food bags. In a smart move, Chipotle asked 10 well-known authors to write stories, generating a lot of buzzes and goodwill. This content marketing strategy proves that the company understands the power of storytelling, and their willingness to adopt new and off-the-beaten-path ideas.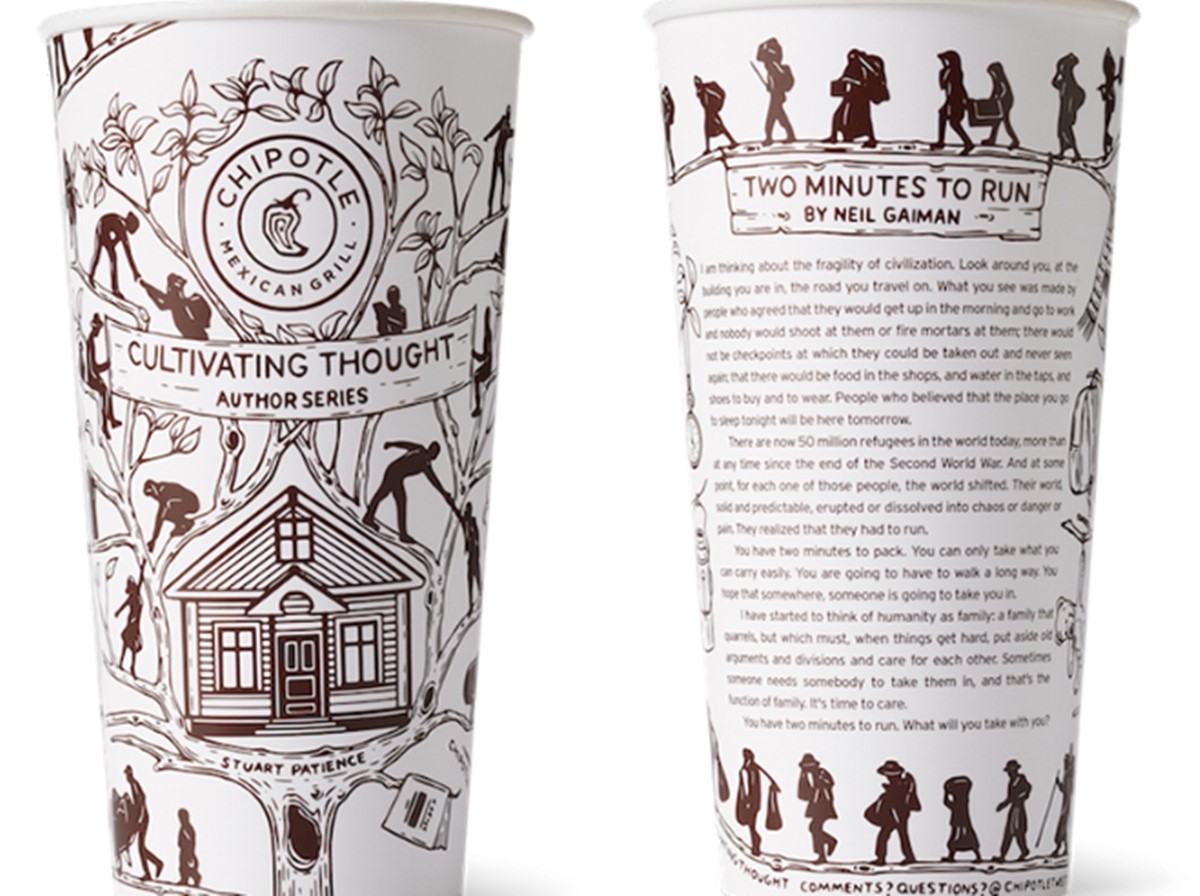 Besides, Chipotle has been running a sponsored-content "Food for Thought" area within The Huffington Post, dedicated to raising awareness about the process of growing and preparing food. The platform offers articles and opinions from industry experts and knowledgeable consumers, along with links to Chipotle's videos and apps.
Last but not least, the brand focuses on creating exciting content through the use of music and animation graphics. One of the most notable content marketing ads is "Back to the Start," which tells the story of a farmer who industrializes his farm, and eventually realizes that he is happier with more humane farming techniques, reverting to the old ways.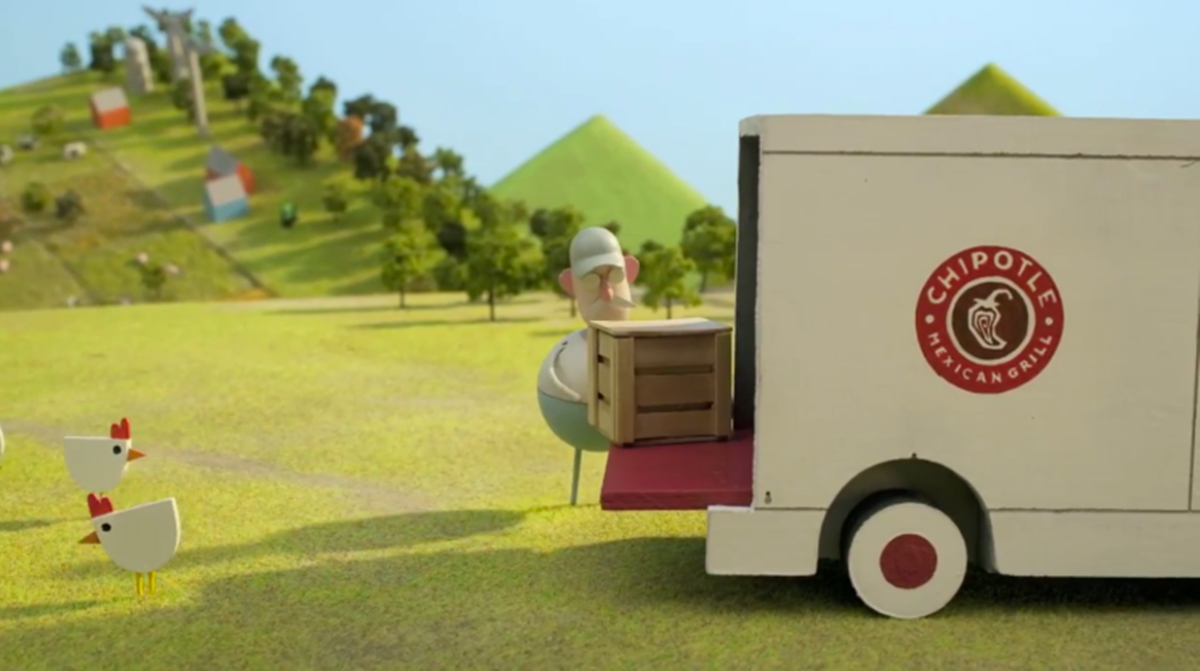 Then the company produced a short film named "The Scarecrow," and an original show series titled "Farmed and Dangerous." All of these achieved immense attention from the public, with millions of views on YouTube, lots of retweets and reposts on Twitter and Facebook.
Every piece of content they create relates to their core value of "Food with Integrity" - to get customers to think about where their food comes from, and to eat responsibly. That's why Entrepreneur.com called Chipotle's content marketing as "a lesson in subtle but powerful marketing."
3. Host festivals and events
Connection-marketing programs of Chipotle include The Cultivate Festival, a series of festivals throughout America combining live music, celebrity chef demonstrations and experiences, which inform attendees about organic and sustainable food sources. This event has been held in various markets each year since 2011.
In 2013, the festival attracted 300,000 attendees across Chicago, Denver, and San Francisco. The media coverage around the events has promoted strong and positive brand perception benefits, even among non-attendees.
4. Stir up a little competition
Chipotle knows how to create a competitive edge to beat the competition by its sense of humor and creativeness. Chipotle came up with a pretty smart way to get people to express their deep love for burritos by running a contest on Twitter and Facebook. Chipotle asked people to post a haiku for the chance to win prizes. The top 20 poems with the most retweets, likes, and shares will win a dinner for two.
From a haiku contest to other mini-games that could earn you Chipotle coupons, the brand produces engaging activities that its audiences are willing to participate in for a prize that is worth the effort.
5. Give free burritos
While many brands have been trying to coax celebrities and influencers into talking about their products, Chipotle has been using a slightly different strategy.
The brand waits for well-known people to express their love for Chipotle's food either privately or publicly, and then sends them a card that gives them a free burrito per day for life. The company asks for nothing in return, but many pro athletes have taken to social media to sing the company's praises after receiving one.
That's exactly what USA soccer star Abby Wambach, skateboarder Tony Hawk, the NBA's Mario Chalmers and Drew Gooden, pro lacrosse player Paul Rabi, and other athletes receive until their final days.
No one can deny that it is such an effective strategy, as with no monetary exchange, consumers can believe these athletes love Chipotle when they mention the brand. This works much better than unconvincing product placement and celebrity endorsements that consumers are usually bombarded with.
And recently, in honor of National Burrito Day on April 2, Chipotle gave away 100,000 free burritos to healthcare workers. They want to express their profound gratitude to brave individuals fighting the frontlines amidst the COVID-19 outbreak.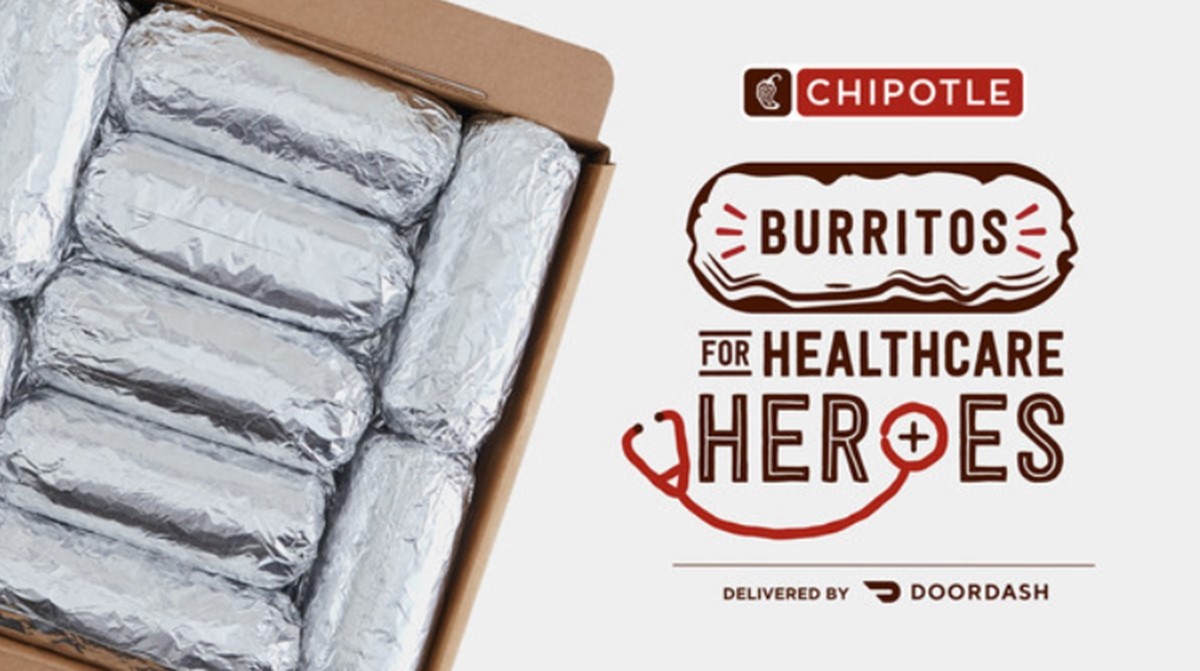 What can you learn from Chipotle's success?
Now that you've read how efficiently the brand manages its marketing strategies, you might be wondering what you can learn from their experience. Have a look at a few ways to get inspired for your next campaigns!
Listen to your customers. Your company can build your brand presence across offline channels, or social media presence. However, to reach your audiences, you need to listen and involve them. Consumers will feel valued and appreciated when you understand what they want and expect from your brand.
Use stories in your content. People love stories. Therefore, when you use stories in your content campaigns, you are able to connect and engage with your customers.
Delight customers with fresh and creative campaigns. It is essential for brands to catch up with the latest trends, organize creative contests and games to enhance brand awareness, and interact with audiences.
We can learn a lot from the success story of Chipotle, but their failure can also bring back some valuable lessons. In 2015, Chipotle was forced to report a series of food poisoning issues. Outbreaks of E.coli, Salmonella, and Norovirus are all linked to food contamination at the restaurant chain.
Since the beginning of the first outbreak, the company has been forthcoming and aggressive in addressing it. Chipotle closed affected stores for deep cleaning, and moved quickly to implement new food safety procedures. They even did something that few restaurants ever voluntarily do - closed all stores across the United States on February 8, during the lunch rush to conduct a meeting on food safety.
By implementing quick and effective actions, the company has come back with increasing sales and revenues. However, their scandal taught businesses to:
Frequently check the quality of products and services before selling out.
Provide internal training programs on safety standards for all employees.
Prepare a plan in advance to deal with potential crises in an honest and forthright manner.
The bottom line
Chipotle has been working so hard to make itself more visible to customers. Despite its contamination crisis, we cannot deny its success over the last few years. Effective management associated with dedicated and innovative marketing strategies has helped its campaigns get off the ground.
Through this article, we hope that you can take a few lessons from Chipotle, both from their success and failure, and use what you've learned to run your business more effectively!
You Might Also Like: