It's not always important to put too much focus on your ecommerce site's overall conversion rate, but you'll definitely want to spend some time on first-time visitors, particularly from low-intent traffic sources — they'll need the most convincing proof on their way to making a purchase. That is where email as a marketing medium can provide enormous value.
Email, in addition to being the go-to tool for recapturing these otherwise lost profits, has high conversion rates in a number of industries. According to data, companies will receive $44 for every dollar spent on email marketing, with a 6.05 percent conversion rate for landing page traffic sent via email.
Convincing someone to send you their email address on their first visit to your ecommerce site is easier than convincing them to make a purchase—it costs them nothing, and you can even add incentives, such as discounts or a free gift, to encourage them to sign up for your email list.
To begin reaping these benefits and realizing the full potential of email marketing, you must first create a list of email subscribers. You'll build your list as you make sales, so why wait? There are steps you can take right now to begin building your email list before selling your first product. In this article, I will share with you the best strategies you can use to build your email marketing list. Let's jump right into the details!
What is an email marketing list?
An email list is a list of people who have subscribed to your newsletters. It is a list of email addresses gathered by you online or in person, such as by signup forms, apps, or the placement of an individual email signup form in your shop. As you can see in this guide, there are various methods for collecting emails.
Email addresses are simply data; what you do with them after that is where the real magic happens. Any email list has the potential to become a source of revenue. You can build a close relationship with your subscribers if you take the right approach. When you communicate with your subscribers, listen to their desires, and tailor your solutions to their specific tastes, your list will turn into a high-converting tool full of loyal customers.
Why need to build an email marketing list subscription?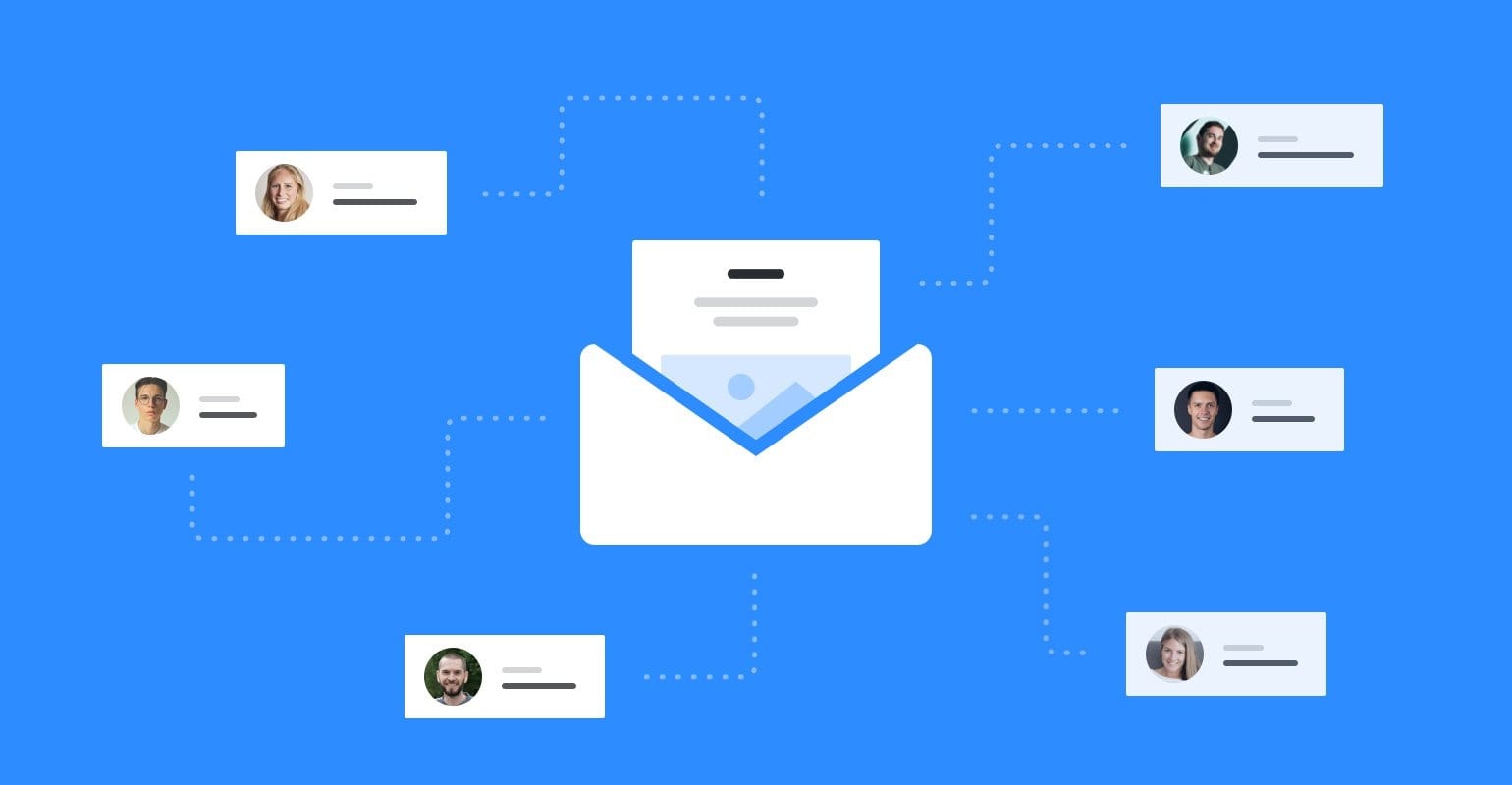 Several studies indicate that email list subscription remains the most profitable digital platform for ROI, with Adobe recording a ROI of $40 for every $1 spent and Data Marketing Association (DMA) reporting a ROI of $42 for the same amount in 2019. According to data from Emarsys' latest survey of small and medium-sized companies with annual sales less than $100 million, email marketing brings in more than 80% of all customer acquisition and retention.
These remarkable findings have not dwindled over the years, despite mounting evidence that social networking sites are cannibalizing email. According to a 2018 email marketing industry census sponsored by Adestra, more respondents (78 percent) rate email marketing as excellent or decent; a 12% rise from 2008. Here are five reasons why you should create an email list.
Direct contact with potential customers
Creating an email list helps you reach out to potential customers of your products/services without going through any gatekeeper. You send a message directly to their inbox with no restrictions on the number of occasions or the amount of information you can send them.
More effective marketing schedule
It's difficult to organize online marketing campaigns without understanding who you're interacting with and how you're going to reach them. If you have a mailing list, you can choose how, where, and who to email. This simply means that you can sort your contacts into various categories, perhaps based on their preferences, where they are on the customer buying journey, or other demographic factors, and then send them personalized offers.
Focus more on potential customers
An email list helps you to identify and separate people who have already shown an interest in your services or products and those who don't. With this information, you can put more focus on what the interested customers want and follow them up with a different approach.
Increased rate of return visitors
Every visitor to your website can be a potential customer to your business. However, more than 70% of those leaving your website right now are unlikely to return. This is especially true if you fail to incorporate tactics to encourage them to come back, such as using an email list to contact them on a regular basis. People are more likely to return to your website if you give them an email inviting them to a promotional deal or new services.
Boost revenue
Using an email list to contact your website visitors directly could turn each of them into a lead. All you have to do is set up an email list subscription on your website and ask for their contact details so you can follow up with them.
How to build your email marketing list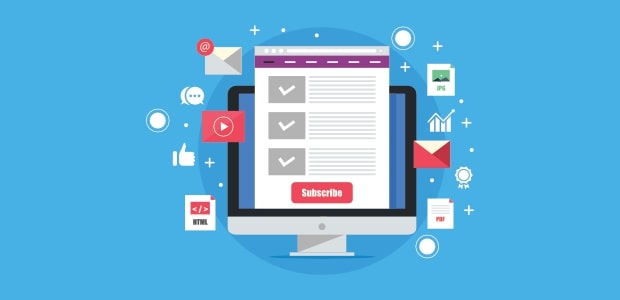 Your website, like your email list, is a valuable asset that is entirely under your power. And, since some of your most important subscribers are interested shoppers who did not make a purchase on their first visit, it makes sense to start building an email list for your online store. Here's a few approaches you can use to build one.
1. Choose your email marketing provider
If you want to send emails as a company rather than to your best friend or sister, you will want to use an email marketing provider. Don't just use your Gmail account to send emails to your yoga students. Not only would you be violating email laws (yes, they do exist), but you'll still have no way to expand your list because people won't be able to sign up for it. And the good news is that you can get started for free, so there's really no need to worry!
There are numerous options on the market, but I'd recommend AVADA Email & SMS Marketing. AVADA Email & SMS Marketing is free for up to 1,000 users and 15,000 emails, and is ideal for new businesses. It also gives you so many more features while staying intuitive and simple to use. Their monthly prices begin at $9 and there's a free forever plan for you to try out the app.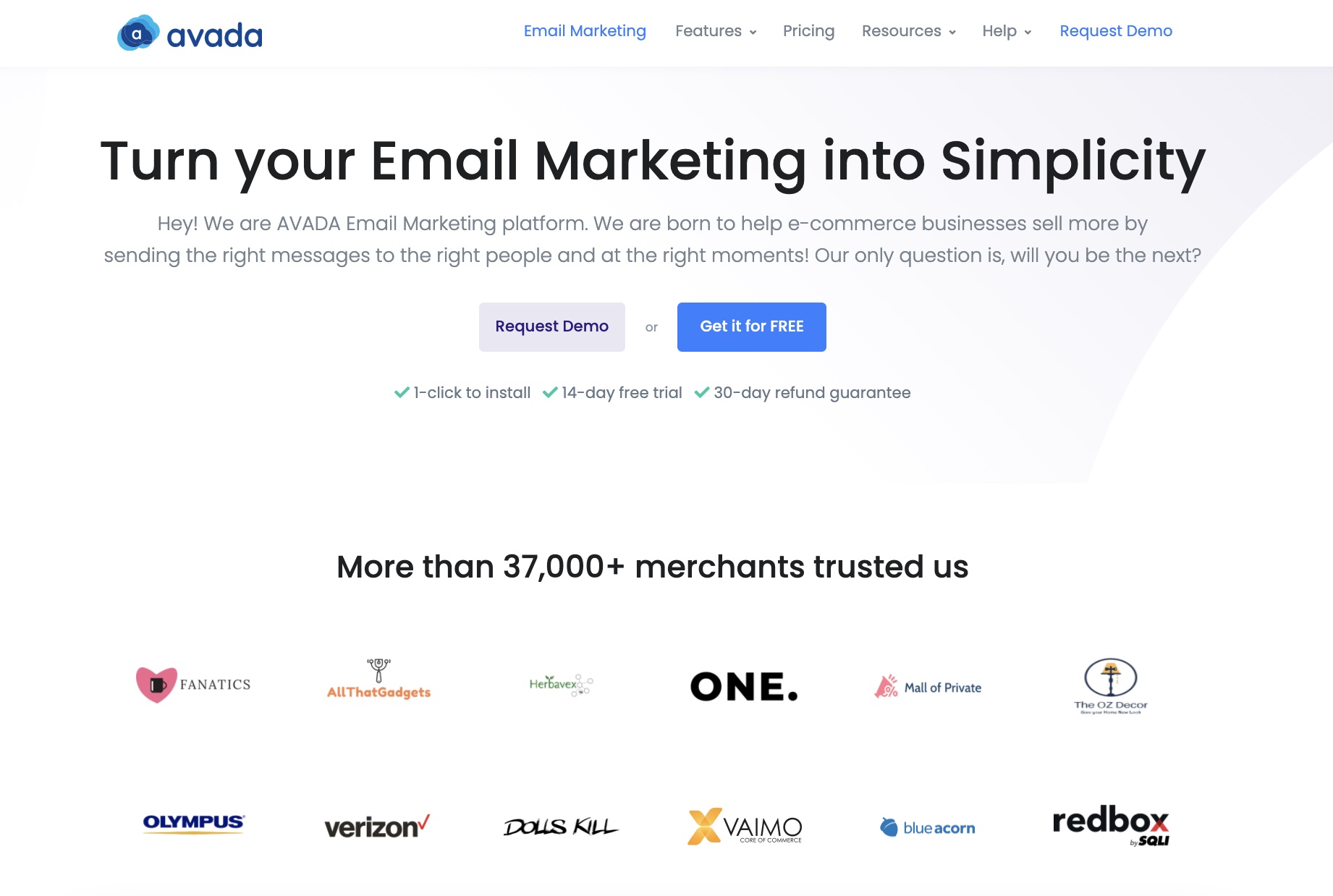 Here are some of the reasons why you should get AVADA Email & SMS Marketing to help you build an email list:
The platform is well-designed and highly user-friendly.
It has good tagging and segmentation capabilities. For example, when you send out a last-minute discount promo to everyone else, you might exclude people who have already registered for your upcoming retreat. AND it's also very easy to set up.
Their customer service is very quick and helpful.
The app has advanced email automation features.
The drag-and-drop editor will help you create pop-ups to collect email from your customers in no time!
However, if you need more options, take a look at our "Top 12 Best email marketing softwares, tools & services" article.
2. Have multiple locations where customers can sign up for your email list
Providing several calls to action (CTAs) for your customers to sign up for your promotions is one of the easiest ways to create an email list from scratch. It is prudent to place an opportunity in a prominent spot, but you should also cover your bases and place additional CTAs in alternate paths a customer can take to reach your website. These often act as a reminder to website users who overlooked the first CTA. But don't overdo it. Keep your CTAs to two to four places on your website, such as these.
Your homepage
Your About Us or bio page
The sidebar of a blog post
The bottom of pages
Your site header
Your contact page
A popup
Using a double opt-in process wherever you place your email capture. A double opt-in sign-up ensures that your email service provider can give new subscribers a confirmation email to make sure they want to be on your list or their email is valid. This technique also ensures that your customers are aware that you are using permission-based email marketing, as well as that bots are not adding fake email addresses to your list. AVADA Email & SMS Marketing provides you with an option to send doubt opt-ins for every new subscriber.

3. Offer an incentive to email subscribers
Giving your customers a reason to sign up will help you gather email addresses more quickly. According to the Radicati Community Email Statistics, the number of emails sent every day reached 293 billion in 2019, and this figure is projected to grow to 347 billion by the end of 2023. Why should a customer read your email when there are thousands more in their inbox? The answer to that question is critical to running an effective email marketing campaign with a healthy contact list and open rate. So, you will give your customers a reason to let your emails into their inbox, and the most effective incentive will depend on the nature of your business. Here are some examples:
A coupon for a free drink at your restaurant
A promo code for a free product
Free shipping on an online order
An online workshop or training course
An e-book, workbook, app or other resource
An exclusive newsletter
These incentives don't have to cost you a fortune, but they do need to offer solid value to email subscribers if you want to acquire email sign-ups.
4. Run a promotion or contest
Again, building an email list is all about providing value and incentives. Running a contest is one of the simplest and most transparent ways of incentivizing people to share their email addresses. People enjoy winning, particularly when all they need to do is give their email address.
5. Run Facebook lead ads
Small businesses often underestimate the effectiveness of Facebook ads. With a monthly user base of 2 billion and a range of targeting choices, Facebook can be a very powerful tool for identifying new customers and building email lists. Facebook lead ads are even more useful for email list building because you can set up a form that potential customers can fill out without leaving their Facebook app.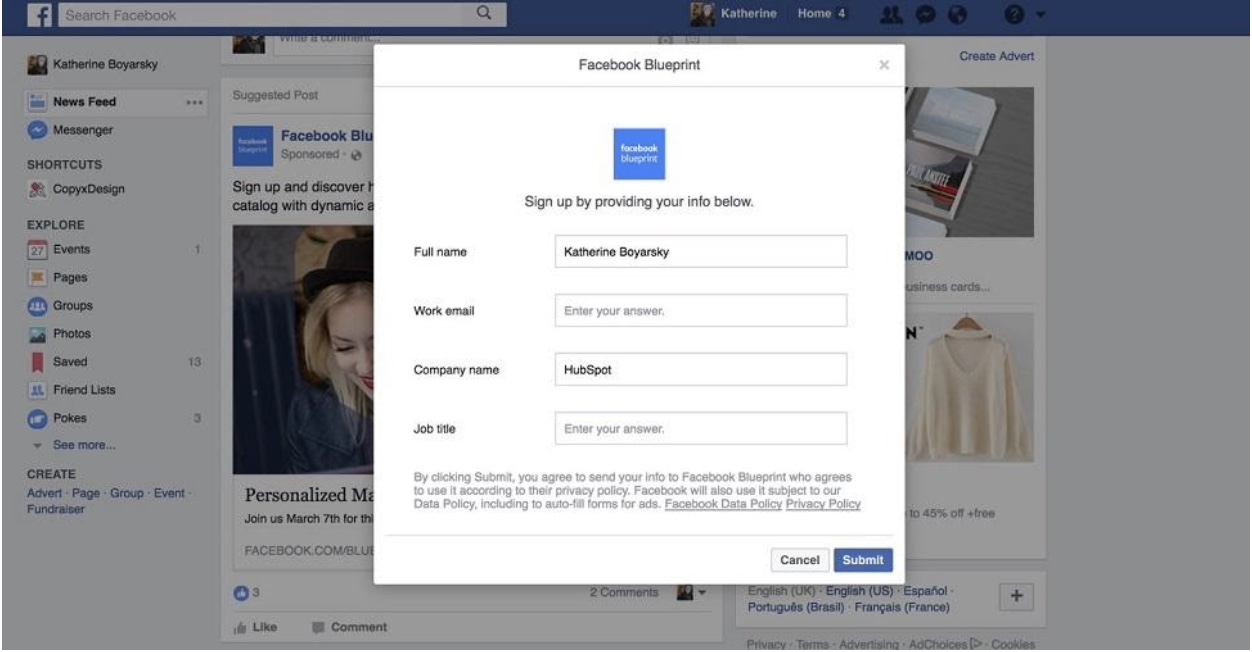 Your advertisement can include everything from an ebook to a checklist, a product sample to a detailed guide. You should expect strong interaction if you target the right audience with Facebook lead ads as long as the lead magnets are valuable for your target audience.
Read more: Facebook Ads: The Complete Guide for Beginners
6. Use Gamification
Gamification in list building is the method of integrating interactive elements of game play into a lead capture form to promote interaction. Quizzes, assessments, polls, spin-to-win (a.k.a wheel of fortune) pop-ups, and scratchcards are all examples of gamification.
Gamification provides shoppers with unique rewards such as 10-50 percent discounts or other freebies that they must claim by entering their email address. Gamification's importance stems from its ability to cater to consumer psychology. Customers are attracted by rewards that are easy to get. This entices your website visitors who think they are getting something for free and will happily sign up to take advantage of it.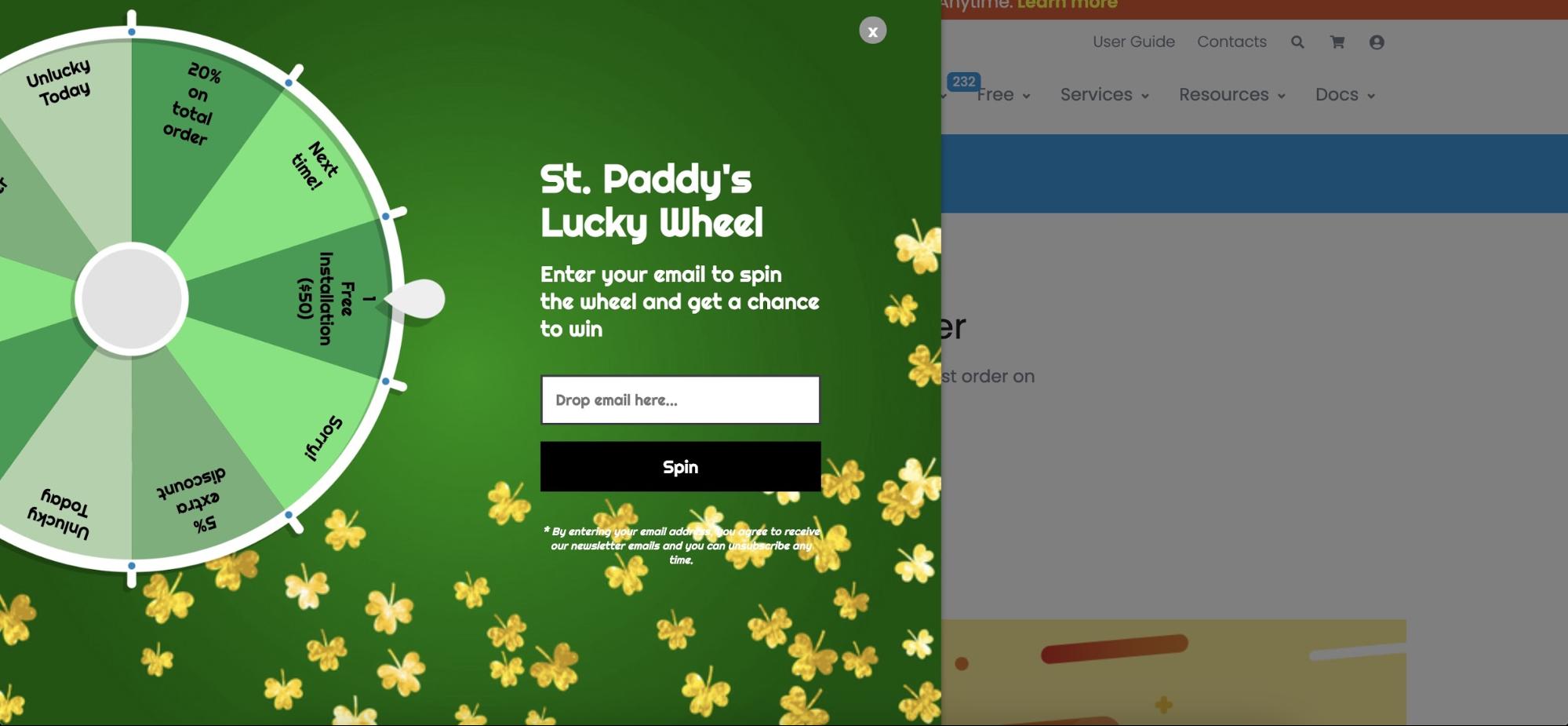 Similarly, contests, giveaways, and sweepstakes can be used to incorporate gamification into the list building strategy. Brands love engaging in joint promotions because it helps them to build a higher-value prize and thereby attract more subscribers to their email list. In reality, 33% of contestants are willing to receive additional marketing messages about the brand.
Blu Dot, an online furniture retailer, has been crushing it with giveaways. They not only gave away $5,000 in furniture for their 20th anniversary, but they also recently held a Modern Heist promotion in which they gave away a 1972 El Camino complete with their own furniture.
7. Minimize sign-up detail requirements
Popups and subscription landing pages should not take the customers more than a minute to provide their email address. It is important to keep the subscription questions to a minimum when requesting a consumer's contact details in a sign-up form. You risk scaring away potential subscribers if you request too much information. Since prospects are already taking the time to subscribe, make the process simpler for them.
You can shorten the subscription process by asking for only a name and email address, or just an email address. The more inquiries you make, the higher your bounce rate is likely to be. However, it's worth remembering that consumers who take the time to fill out longer forms are more likely to be interested in your product.
When you just ask for a name, you can get more leads than when you ask for a name, email, and phone number. However, if you already have a wide contact list and want to extend it with just serious leads, consider adding more information fields.
8. Don't buy email list, and don't spam
There are a few approaches to creating an email list that you should definitely avoid. First and foremost, do not send spam. With anti-spam regulations in effect, provide your audience with only valuable content.
Be very straightforward about what you're selling, and resist the urge to sell something in every email. You add value to your customers by sending informative and educational emails, which results in an easier "ask" when sending sales emails. Furthermore, sending bulk marketing emails via your own email service, such as Google, Outlook, or Yahoo, will cause your emails to be flagged as spam, even though they are not. Using a third-party email client such as AVADA Email & SMS Marketing.
Buying contacts is another tactic that seldom works. Although you can start with $100 CPM (cost per thousand), buying contacts can end up costing you much more in the long run, such as your brand reputation. Avoid purchasing an email address database since these addresses are usually not targeted traffic leads. Sending emails to the wrong target audience from a bulk contact list will land you in the trash box, and you can be reported as spam.
Final words
Email list building remains at the top of the most common and successful marketing strategies even in 2021. Email marketing is unbeatable when it comes to engaging consumers on a personal level. Email lists that have been carefully curated and highly customized are sure to attract repeat business to your eCommerce website.
Although it is not possible to expand your email list to hundreds of thousands of subscribers overnight, these techniques will assist you in getting started in creating a large list of email subscribers. I hope this article has provided you with valuable information about how to build an email marketing list. Please feel free to leave comments below for further discussion on this topic!