How to Build an Online Store on Shopify quickly? is known as one of the most popular questions for anyone who has spent time trying to maximize the efficiency of working on this platform. Creating an online store on Shopify is a must-try to help all of your amazing products reach closer to your visitors and turn them into your own royal customers. Luckily, this job now does not take you much time since you are able to create your own store in just a few minutes.
Although an online shop can be created on different platforms, Shopify should still top your lists. Shopify is the easiest way to found your online store. No matter the fact that you want to make a little money on the side or make it a full-time job, the Shopify platform is one of the fastest ways to get online as well as start selling. In fact, setting up a store on Shopify used to take plenty of time and even many people did not know how to do it. However, everything has much changed recently because, with just a few minutes and clicks, an eCommerce store can easily appear and look perfect on your sites as what you are wishing for.
Hence, in this article, you will be introduced on how to use Shopify to Build an Online Store in 10 Minutes.
Related posts
Why you need to build a Shopify Store?
Besides WordPress, Shopify is an online platform that brings you lots of more benefits when it comes to your online store.
Firstly, you do not have to know the web code since Shopify guides you with the entire process. Additionally, it allows you to insert your favorite domain name, manage the store for you and get the backend complicated. With the Shopify platform, you can design your store with ease and choose from many existing themes. At the same time, the Shopify platform assists you in processing and tracking all of your orders with payments and save your time on focusing on your own business.
Learn more about the benefits of Shopify in our Shopify Review article.
5 Steps to Build a Shopify Store
Step 1: Sign Up for Shopify
The first thing you need to do is to sign up for your Shopify. Make sure that you prepare yourself a registered Shopify account to make everything go smoothly.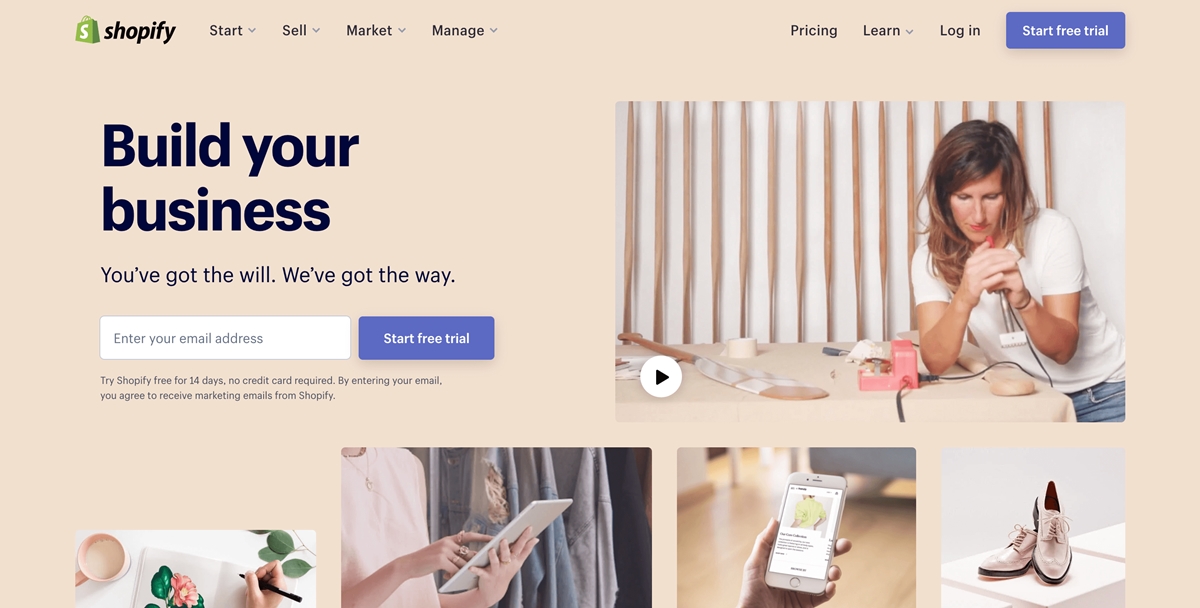 Get yourself navigated to the Shopify website and click right away on the Start Free Trial button. In order to use this great platform, let's fill in all of your personal information, including your email address, password, and store name.
Next, you are able to click on Next and introduce yourself by telling more details of your plan to sell. To complete, don't forget to choose Create your store button.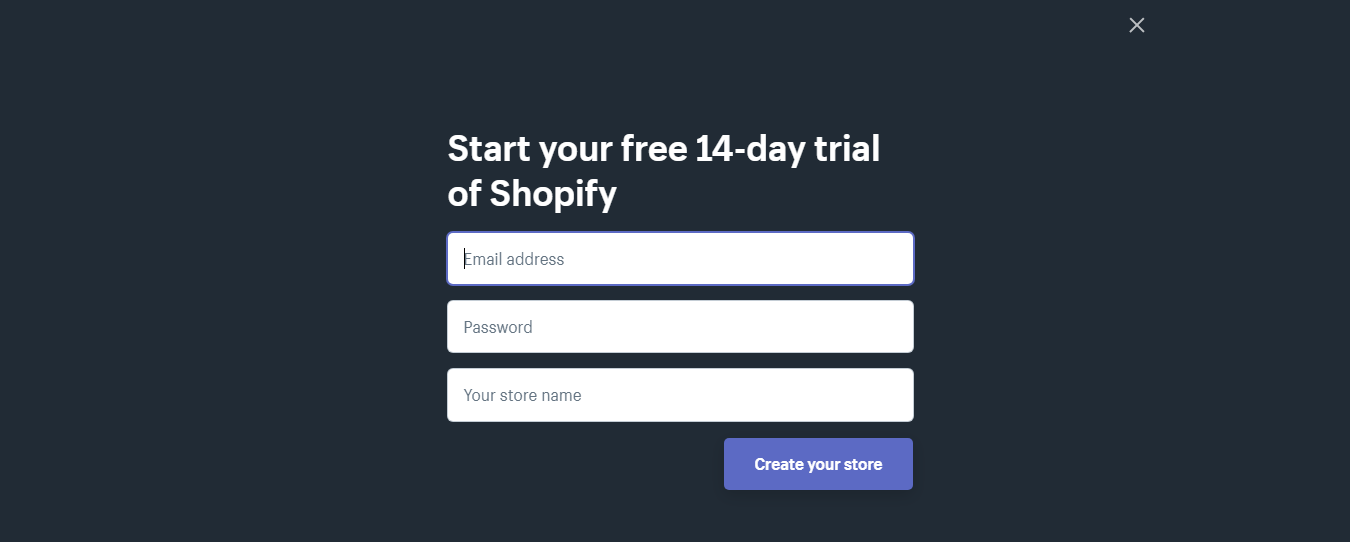 Then, you will be asked if you want to create a brick a mortar store, and an online shop. Let's finish this step by choosing an online shop and fulfilling your personal information like your name, location, and phone number which are used to identify the currencies as well as tax rates.
Finally, click on Enter My Store.

Step 2: Add a Product to your Store
When it comes to the Shopify backend, it will outline the process of getting your own shop done. First, let's insert your products into your sites, then choose Add Product.

You should remember that the Add Product page is the same as what you see on WordPress. Your mission is to fill in those product details such as title, description, price, and vendor. You can add as many products as you like to your page, but make sure that all are saved at the end.
Read more:
Step 3: Customize the Look of your Site
In this step, you should be back to the main dashboard before selecting Customize The Look of Your Site.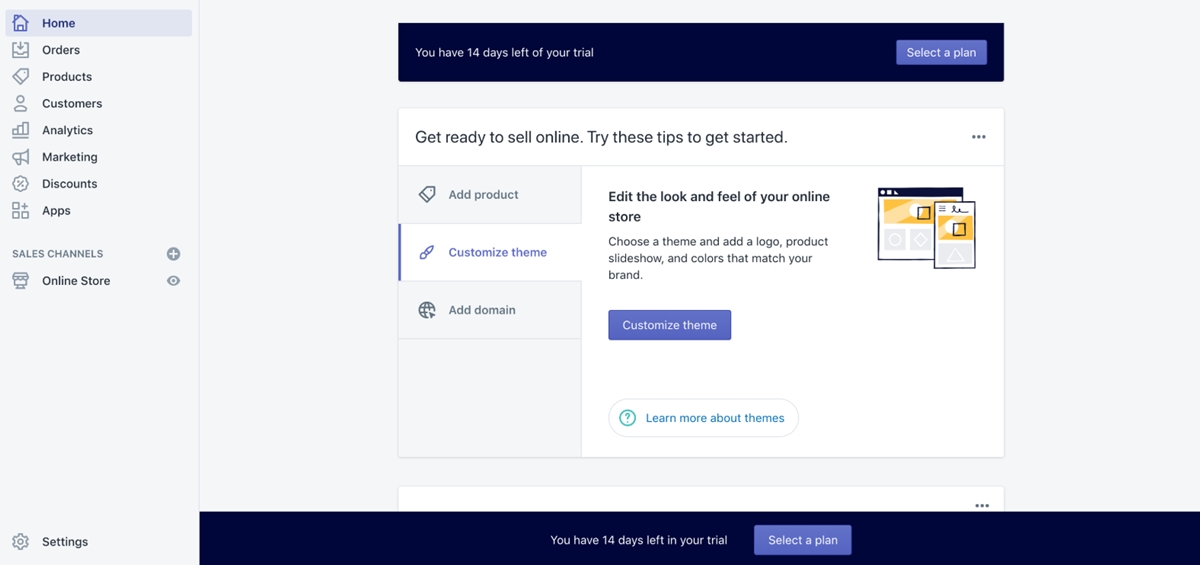 Next, you will be required to customize from logos to colors there. Despite the fact that it might take you time, the important part you would like to concentrate on is the link to Visit The Theme Store.
Therefore, users can feel free to browse a great number of themes in Shopify to create an amazing look on their sites.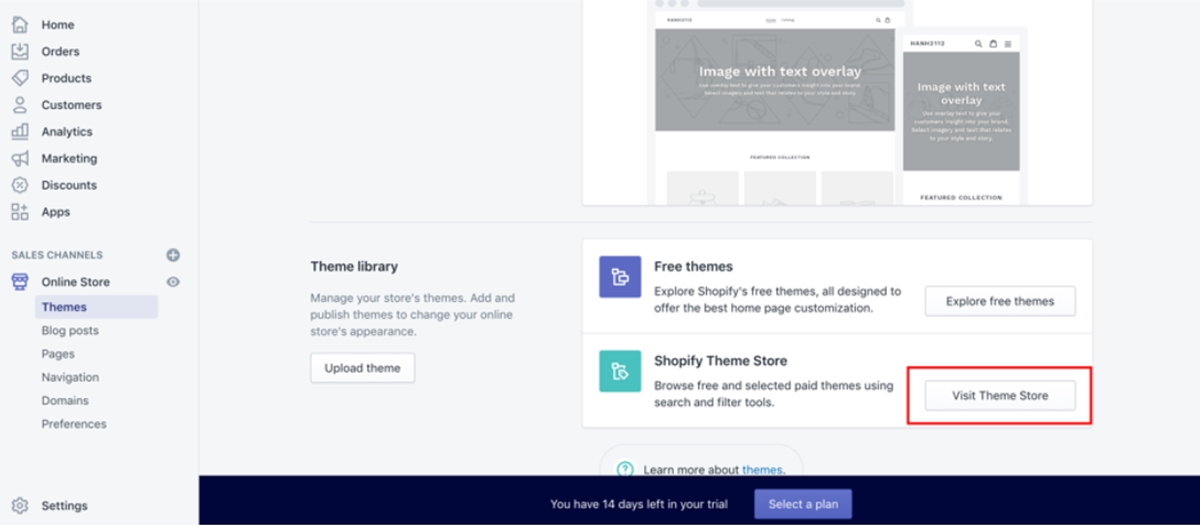 Step 4: Set up your Domain
To build your own domain, you had better follow this process. After selecting your desired template, along with your favorite design, you can choose and buy a domain to make your site become official and live.
You can return to your dashboard, then choose the spot asking you to Add A Domain. It might ask you if you wish to transfer an existing domain or register a new one. Select your own domain and complete your payment. In addition, you have to specify which payment you want to go with.
After payment completion, now, it is time for you to see your websites.


Further Reading: The Complete Guide on How To Choose A Domain Name
Step 5: Activate Your Payment Processor
To activate your payment process, you can press on the tab located on the left of your dashboard, named Payments. This area lets you choose from a series of payment processors from Stripe to Authorize.net. In fact, Shopify owns its payment processor so that users can easily implement those steps. This action allows you to approve the payments and put them into an account.
Finally, don't hesitate to click on the Launch Website button to make your real store live.
If you have gone through all of the amazing steps above, then your sites are ready to launch successfully, which marks your turning-point of online business.
Read more:
Conclusion
We hope that our answer to your questions on how to use Shopify to build an online store satisfy you in a great way and brings you a good experience as working on Shopify. From now on, you are allowed to activate your stores and turn them into a hot spot for visitors for their purchasing.
If you find this article helpful, don't forget to share it with your friends and leave us your comments. In case of misunderstanding, do feel free to drop us any questions you might have in the process of completing your online store.
Related Posts: