Bootstrap has dominated the world, and millions of developers are using it. For merchants on Shopify who are always finding ways to develop and enhance their online stores, Bootstrap will be a great choice.
What about Bootstrap themes? Bootstrap themes are simply Bootstrap code which is essentially HTML, CSS, and Javascript, that you can utilize to customize your websites.
With the launch of Bootstrap 4.x, we here provide you with the following list of 10+ Best Shopify Bootstrap themes Compatible with Bootstrap 4.x. Let's find out what themes we have!
What is Bootstrap 4.x
Bootstrap is a free and open-source CSS framework that you can use to promote the process of web development so as to build websites as quickly as possible. It includes CSS- and (optionally) JavaScript-based designs themes for typography, forms, buttons, modals, image carousels, navigation, and other interface components. Plus, Bootstrap also allows you to create responsive designs.
Bootstrap 4.x was launched on October 29, 2014. Bootstrap 4.x is the newest version of Bootstrap, which supports the latest, constant releases of almost all major browsers and platforms.
Now it's time to explore 10+ Best Shopify Bootstrap themes Compatible with Bootstrap 4.x.
10+ Best Shopify Bootstrap themes Compatible with Bootstrap 4.x
Ella theme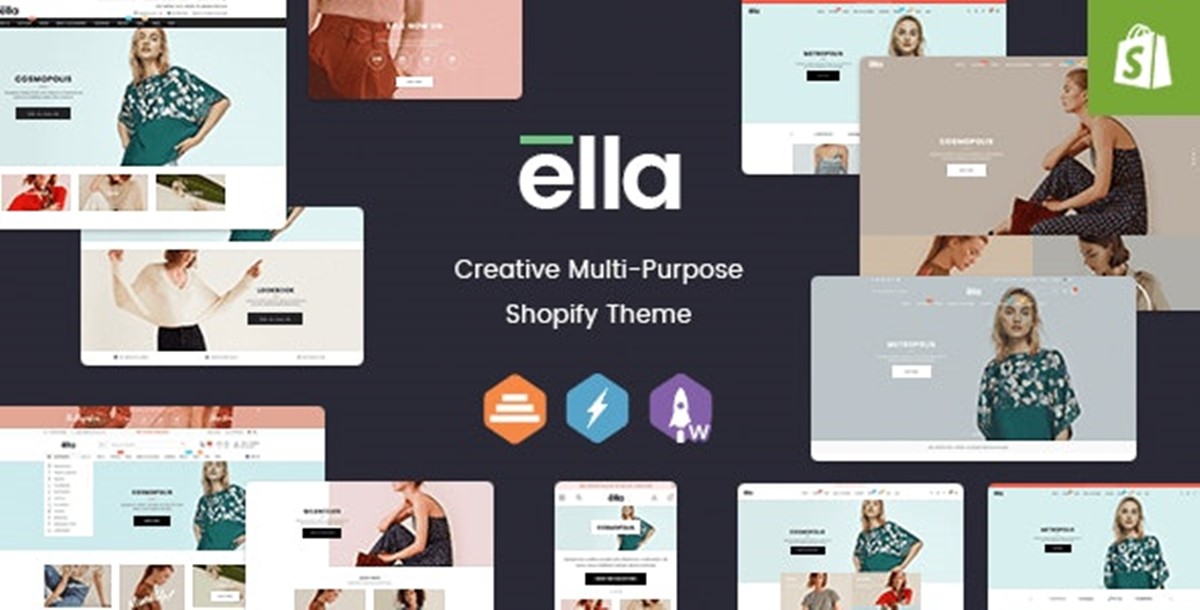 ELLA is an All-in-one Shopify theme with a wide range of layouts and designs that gives you the ability to create various structures and meet any specific needs. Besides, this template also offers you a list of Child themes for different kinds of business.
Ella is a responsive, eye-catching template. With the impressive banner & product blocks on 15+ Homepage layouts, 07+ stunning Shopping pages, and 09+ Product pages, Ella assists you in highlighting your products and increasing your sales significantly.
The wonderful UI/UX and Mobile Optimized layout of Ella ensure a seamless shopping experience for visitors on mobile devices. In addition, this theme provides an endless list of professional and creative style options and advanced features as well.
Moreover, Ella will certainly support regular updates to offer new features and new layouts. Ella is such a good choice that you should consider in order to build a professional and successful e-commerce website store.
Wokiee theme
More than a theme, it's Wokiee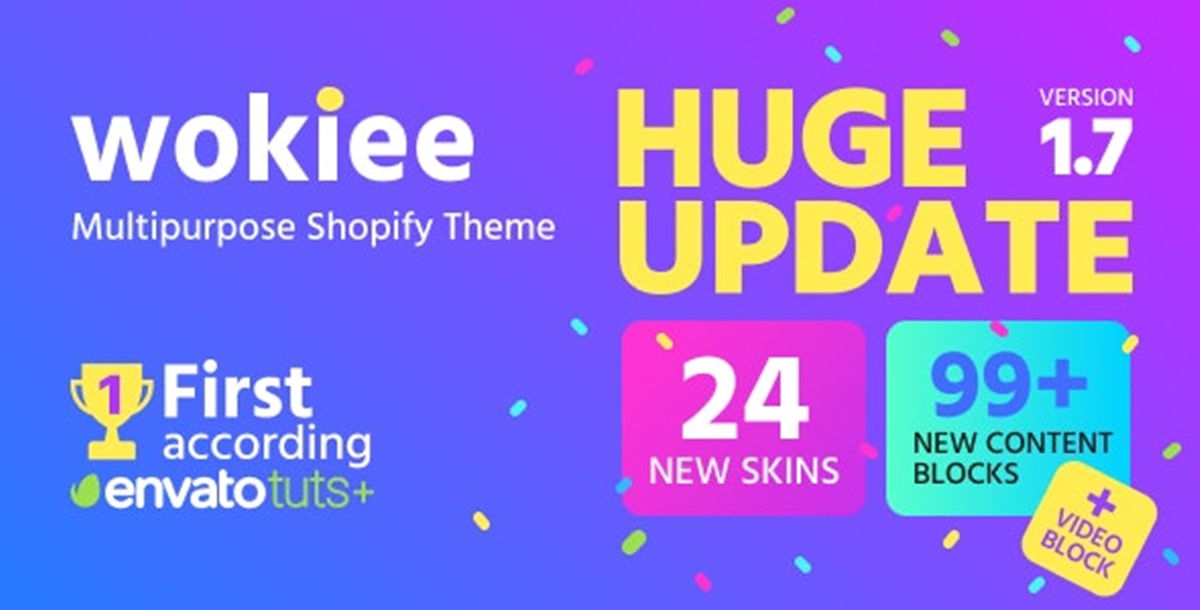 WOKIEE is one of the most excellent Premium Shopify themes. It is a robust design tool that brings numerous benefits to your current webshop. It provides tools and modules in order to build a super-fast responsive website with incredible UX. There are tons of beautiful layouts and styles to create various structures and meet any specific requirements.
With Wokiee, you can avoid high-priced web development and significantly reduce your design costs. This template gives you full control of your website via your Content Management System. That means it allows you to edit the navigation, site content, photos, products, collections, and beyond.
Porto theme - Bootstrap based Shopify theme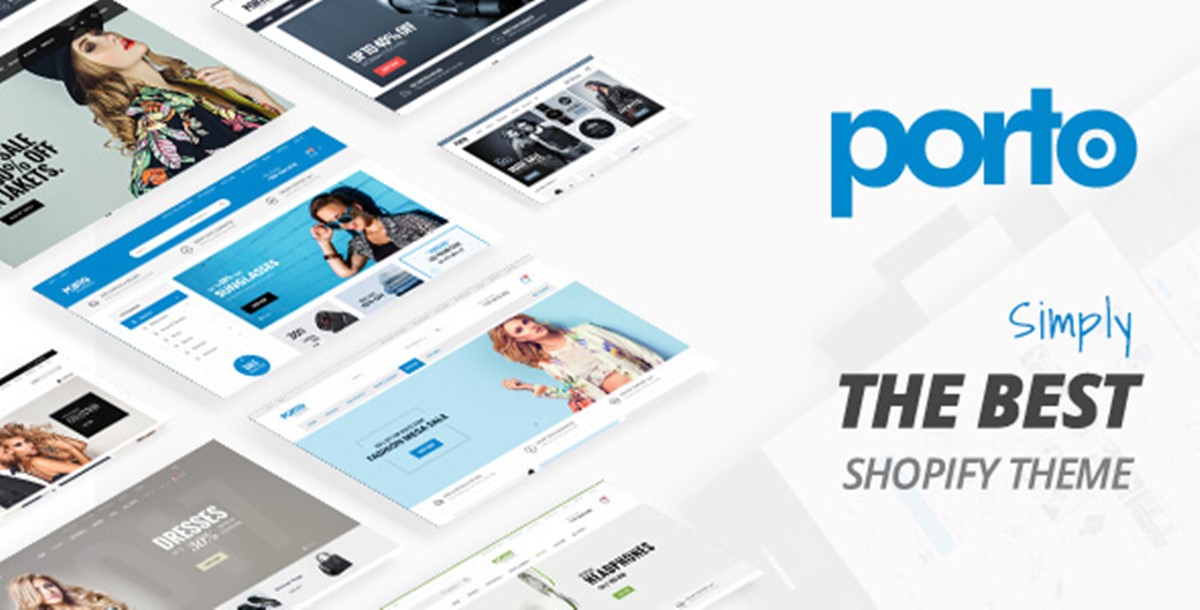 PORTO is an Ultimate Shopify Theme that satisfies all your requirements. The theme is created based on Exclusive UI & UX design elements and experience, which helps to build a fast and responsive website. Porto comes with 20+ niche demos & layouts and styles in order to design your own dream store on Shopify. With this template, you can reduce the cost of development and design premium Shopify theme Porto. Through your Content Management System, you can feel free to customize the aspects of your online shop, such as navigation, site content, images, products, collections, and more.
Give it a try to Porto Shopify Template and then explore its amazing features.
Shella - Multipurpose Shopify theme
SHELLA is a professional, responsive, fashion Shopify template. In addition to having similar features with other themes, Shella also provides some unique ones that are exclusively in this theme, for example, builder, true collection filers, fashion icons, and so much more.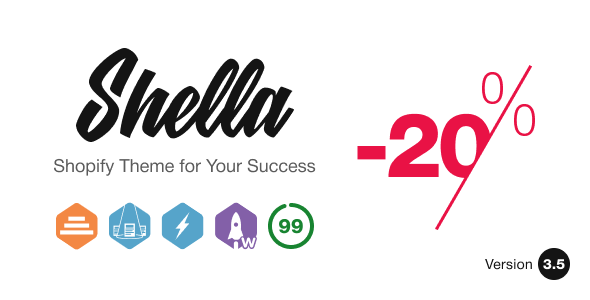 In the latest version of Shella - version 3.5, the template offers 4 levels navigation menu, review slider at the homepage, banner at product listing, sub-collections, separate logo for mobile, unique filter blocks per collection, and slider at collection page.
Electro 5.0 theme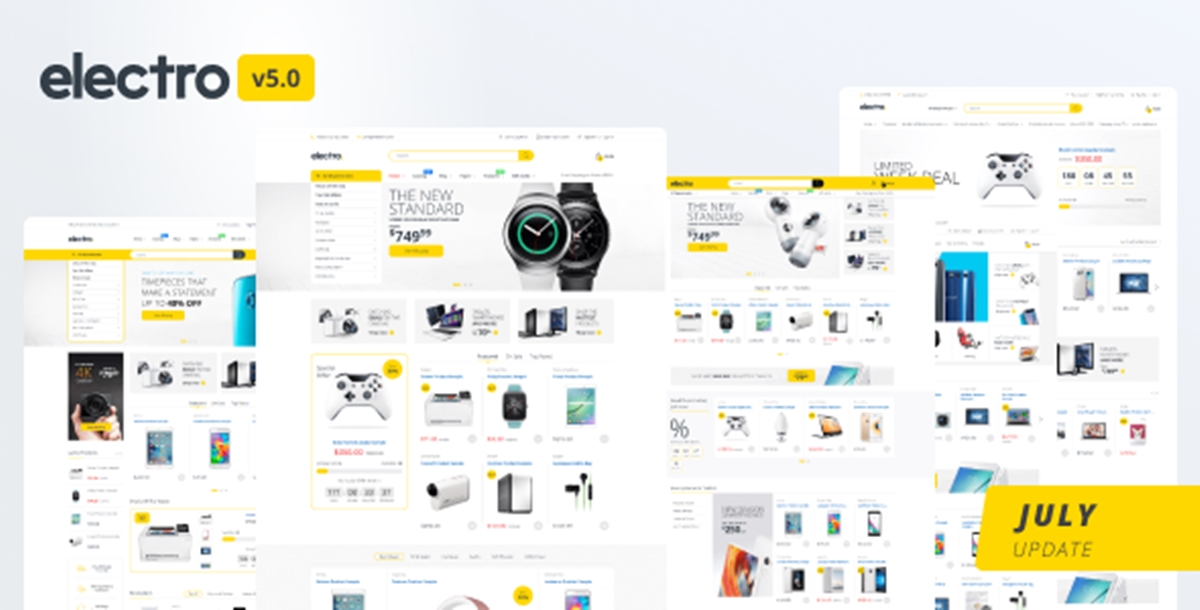 ELECTRO is a clean, modern, user-friendly, responsive template with numerous functions and vertical menus. It's good Bootstrap theme for your small business. This will be a good choice for your Shopify Gadgets and Digital store. You can build an eye-catching and multi-functional website as your favorite without knowing a thing about complex code. Besides, Electro has an unlimited source of the design. You can freely change all colors, customize sections, and add new elements if you want. Furthermore, the 5.0 version of Electro supports RTL layout and offers you directions in many languages.
Handy - Handmade Shopify theme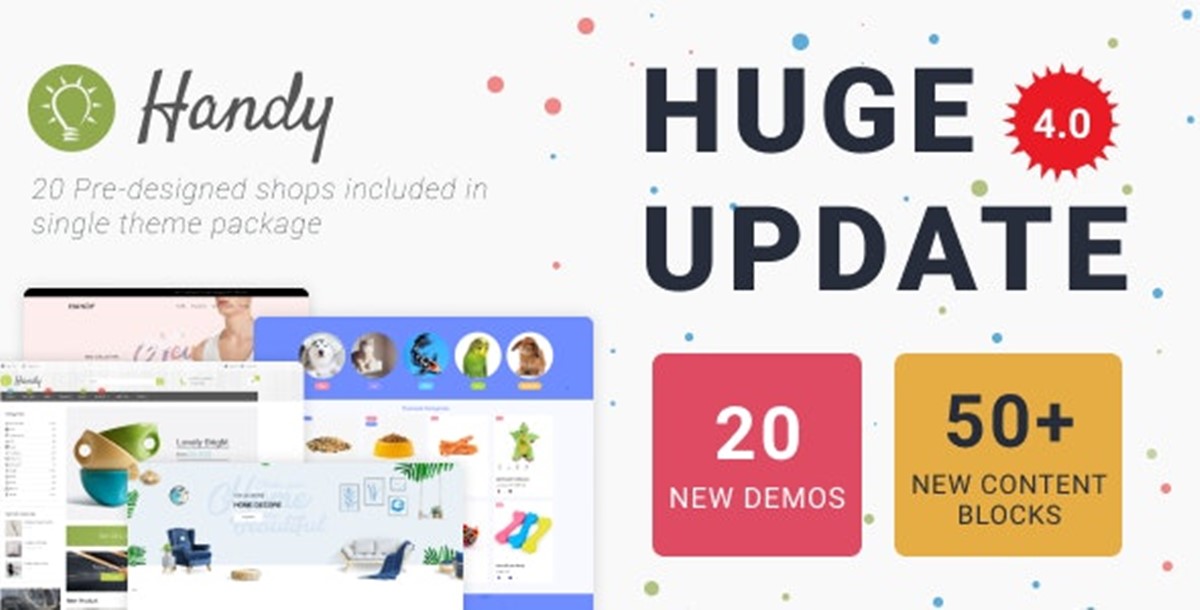 HANDY is a classy, responsive, simple-to-use Shopify template. It will be a perfect selection for merchants who are going to open their handmade online store or produce a handmade goods marketplace. More than 20 pre-designed stores are included in the singular theme. The theme has a number of incredible features, like out of the box layout configuration that you can use to choose custom layouts, megamenu, EU privacy cookie, video slideshow. Plus, it's possible for you to change any colors through the Shopify template control panel. Moreover, users can also save up to $1000 per year when choosing this template.
Elessi - Responsive Shopify theme
ELESSI is an awesome, modern, user-friendly Shopify Template. With the aim of promoting the customer experience, Elessi provides a number of features such as Unique product filtering, Unique Compare, Multiple ajax off-canvas Wishlist & Cart Sidebar, Product Quick View (Off-canvas or Popup) and One Click them installs.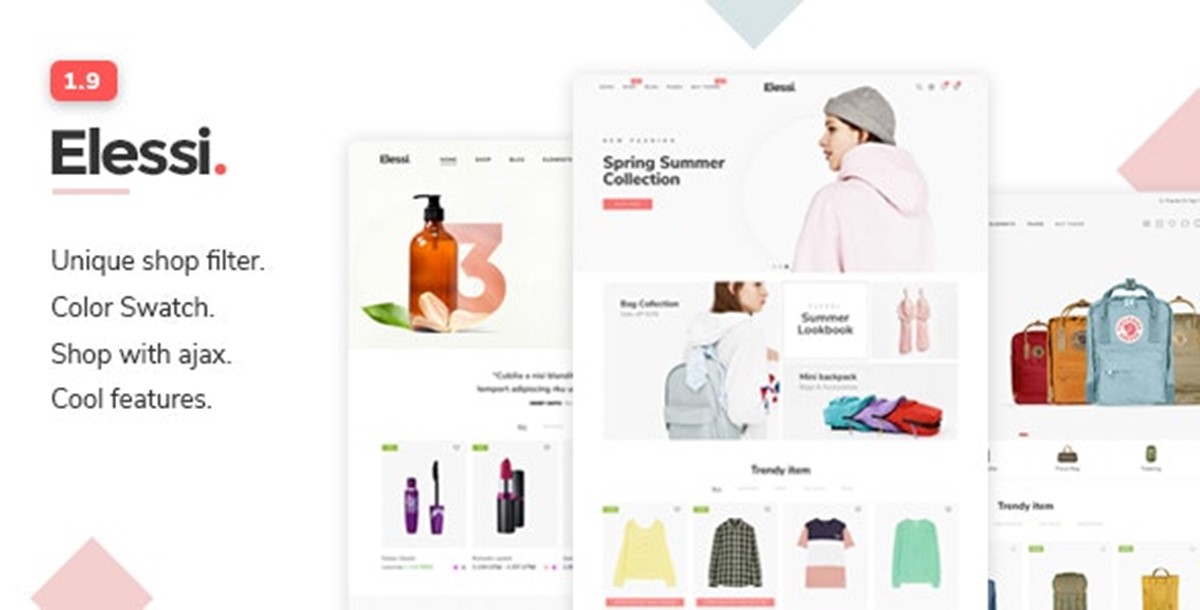 Thanks to a minimal and optimized code, Elessi becomes one of the fastest Shopify Templates on the market. With responsive design and development, the theme will scale to meet the parameters and dimensions of any device you're using. Besides, Smart Lazy Loading will help you load photos much faster and view the optimized photo size on any screen.
Goodwin - Ultimate Responsive Shopify Theme
GOODWIN is a multi-functional Shopify Template with over 14 ready-made Homepage layouts and more than 50 other pages. Goodwin is a good choice for a variety of category store page websites, such as fashion, accessories, shoes, bags, T-shirts, furniture, toys, books, pets shop, and so much more. The theme is so easy-to-control, giving you the ability to build a lot of unique and modern websites.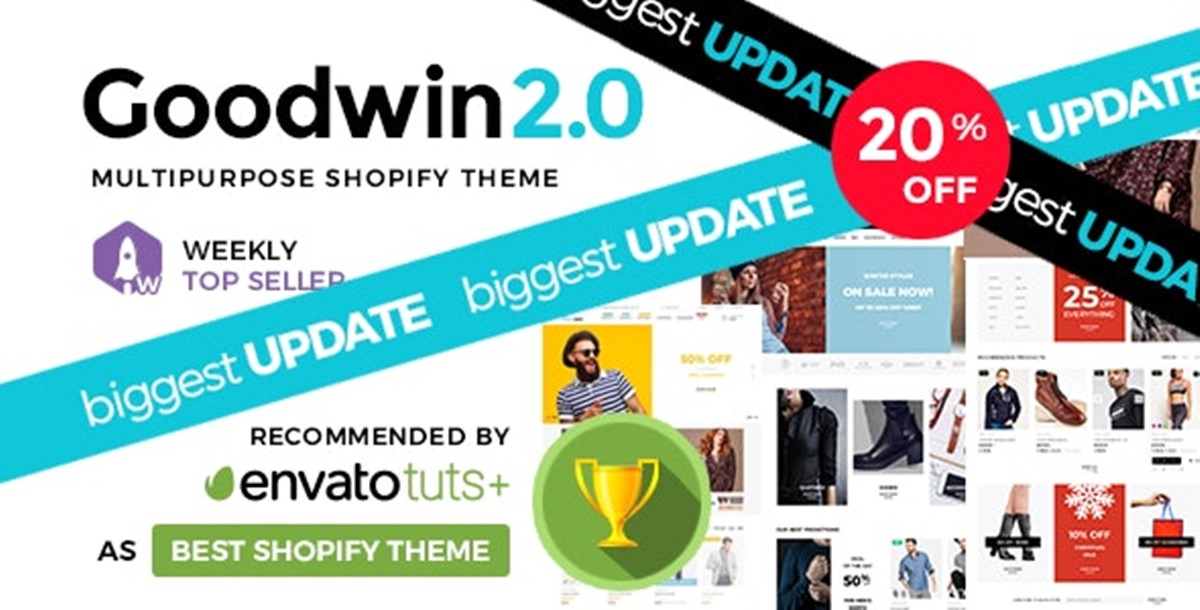 Lezada - Multipurpose Shopify Theme
E-commerce is considered to be the most developing kind of website today, so to succeed in this tough competition a high-quality website is compulsory. Lezada is a perfect choice that you should consider.
LEZADA is an excellent responsive Shopify Theme that you can utilize to create any kind of eCommerce websites. With this theme, you can sell Electronics, Digital Products, Fashion Products, Hats, Sunglasses, Accessories and other retail products. A wide range of ready-made pages are available like 220 Home Versions, 11+ Revolution Slider, 40+ Drag and Drop Sections, RTL version, 10+ Header Variation, and 6+ Footer variations. Besides, Lezada is designed with Bootstrap 4, CSS3, HTML 5, and W3C validated markup. It has a great number of other user-friendly features and Cross-Browser as well. Moreover, with the help of the detailed documentation and Google Analytics, you can easily customize your store. Discuss Comment section, Facebook Comment, Product Share Option, Ajax Shop Cart, and Wishlist will allow you to connect your customers widely.
Choose this wonderful Shopify Theme and then fuel a boom with your eCommerce business idea.
iOne - Minimal Responsive Shopify Theme
IONE - Minimal Responsive Shopify Theme is one of the most outstanding e-commerce themes on the market. This template ensures faster and smoother experience for users. It provides more than 12 Pixel Perfect Demos for anyone who is going to start from scratch.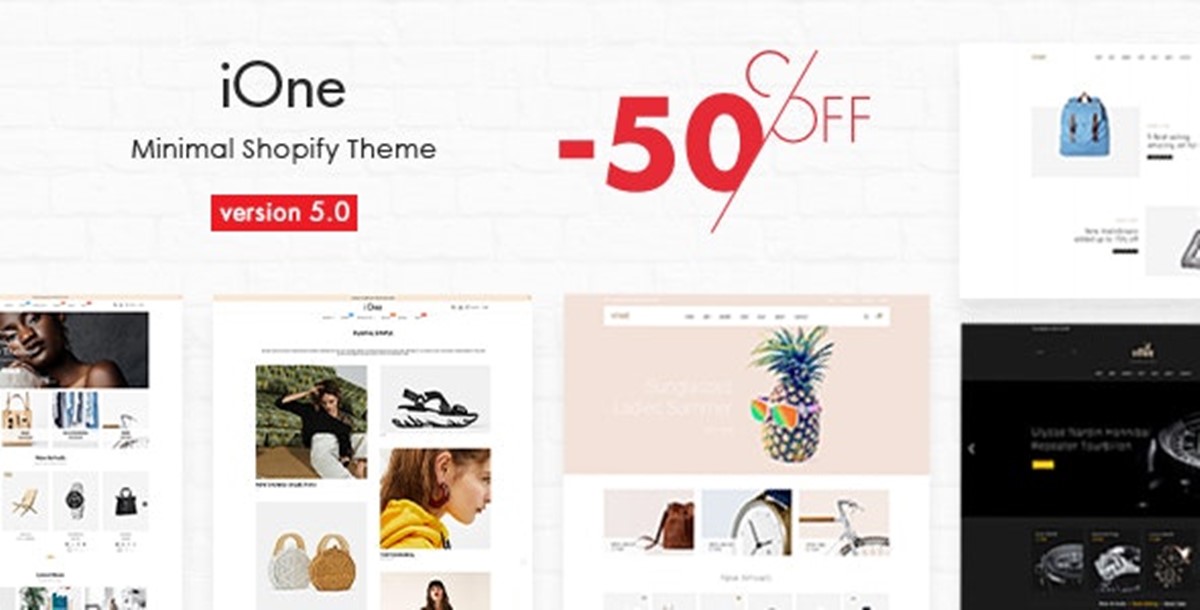 Instagram has become one of the most significant and effective marketing channels these days. With iOne, your online store will be integrated with Instagram so that you can take advantage of your Instagram traffic by displaying real photos on your Shopify store. Moreover, Instant Search AutoComplete brings the most relevant results, personalized products, and query suggestions to those who go to your site.
Ap Strollik - Single Product Shopify theme
AP STROLLIK is an amazing, responsive Shopify theme for your online store. The theme comes with basic layout and light animation effects. There is one demo site designed for an eCommerce site to sell Deluxe Travel Cart that you can use to sell other single products. Design concepts allow you to display your product smartly. With the 360 Product View, your passive product display will be turned into an interactive, engaging shopping display.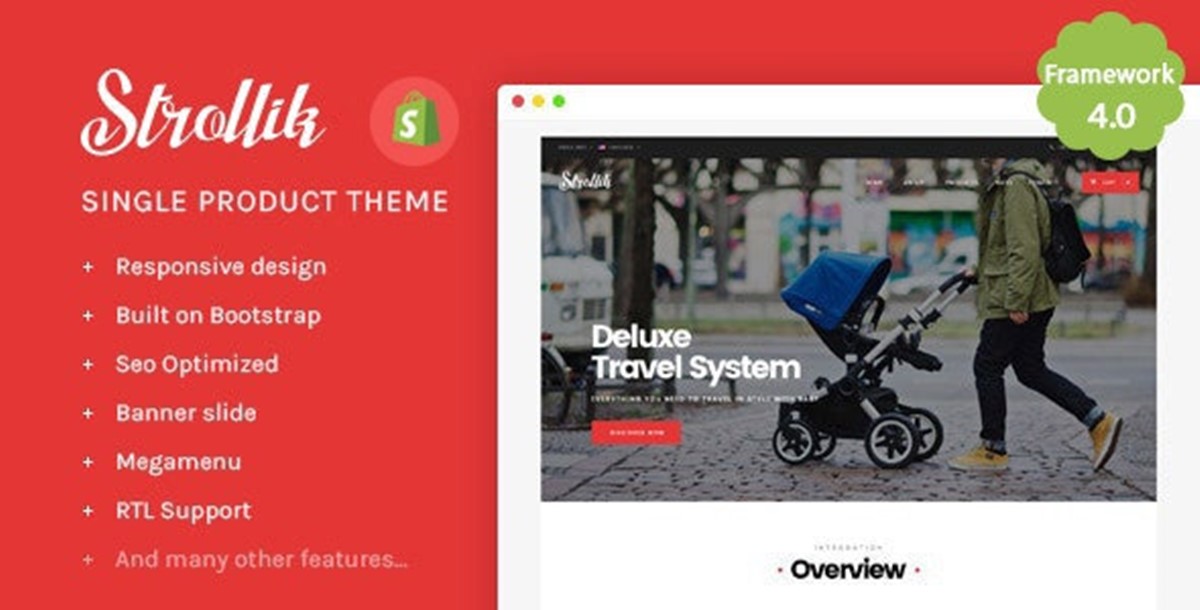 In addition, Ap Strollik was created with the best Shopify Framework. This template includes incredible features such as Swipe, Animation and Owl Carousel elements in order to build a smooth sense. There are a number of styles and layouts for you to customize your shop as you want.
Minimal Fashion Shopify Theme - The Look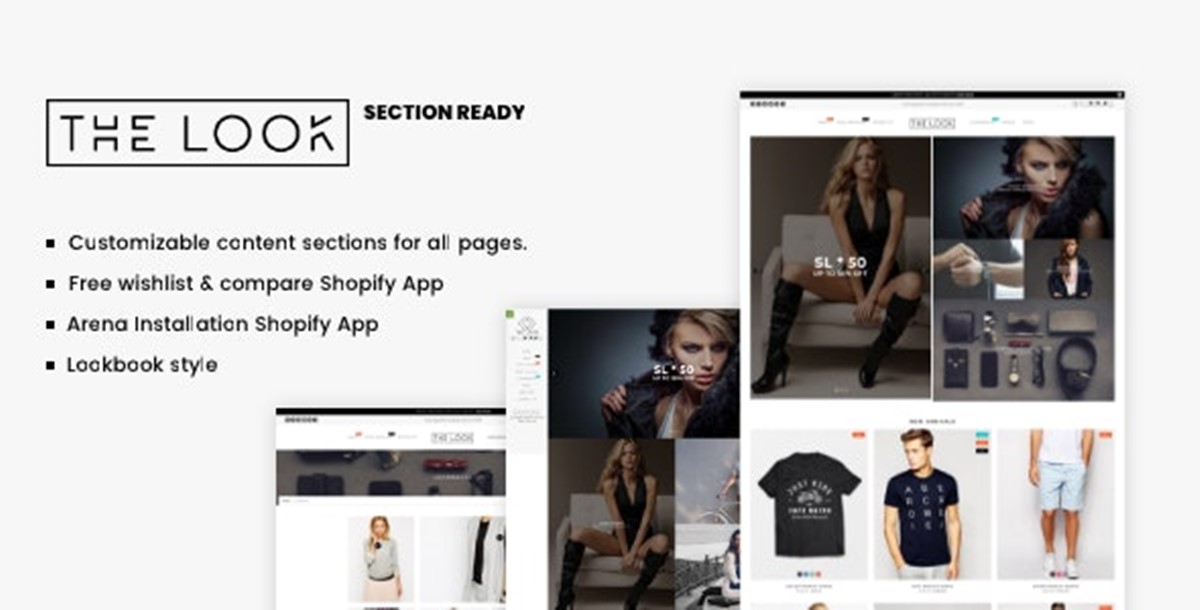 THE LOOK is considered to be a clean, professional, responsive Shopify template for online fashion stores. For beginners who don't have time to start from scratch, there are two homepage demo styles available for you. When you decide to install The Look, you'll get dedicated support and lifetime free updates. Many more great features of the theme are waiting for you to explore!
Conclusion
To sum up, if you are a merchant on Shopify and are looking for a versatile theme for your store, this article would help you a lot. A clean, professional, responsive theme will definitely enhance the growth of your websites.
Through this 10+ Best Shopify Bootstrap themes Compatible with Bootstrap 4.x, I believe you can find the ideal theme for your own online store. Leave us a comment if you have any questions or need some advice. We're willing to serve you.
You Might Also Like: