If you are searching for a platform or a new marketplace to get success in running a business, Bonanza must be familiar to you. However, whether it is legit to use or not still remains a question for many merchants.
Therefore, we have this post today, which will cover all things you need to know about Bonanza. After reading the information we provide, you will surely know what Bonanza is, how to sell on Bonanza, effective ways to pull the most of this platform to make Bonanza work well for your business, and if it is legit to apply Bonanza to your company.
Let's get started and have a closer look at Bonanza and how it works!
What is Bonanza marketplace?
Before getting to know what Bonanza marketplace is, let's quickly reviews some of its highlights:
Bonanza's website: bonanza.com
Bonanza marketplace is designed and started in 2008
Bonanza's goal is being a place that matched independent sellers and buyers around the world
Bonanza supports a huge range of products, featuring some of the best brands out there
It is free to use Bonanza
Bonanza does provide a membership subscription if you need
Customer support of Bonanza is available via email
So, what exactly is it, and how does it work?
Being designed and coming into use by Bill Harding since 2008, Bonanza came from an expectation of the author aiming to create an online marketplace after a garage sale project's failure. Though Bonanza is expected to make the selling process much more simple, it was not successful until it was named as "an exciting eBay alternative" by the eCommerce blog. Just after this article was published, the number of Sellers increased significantly.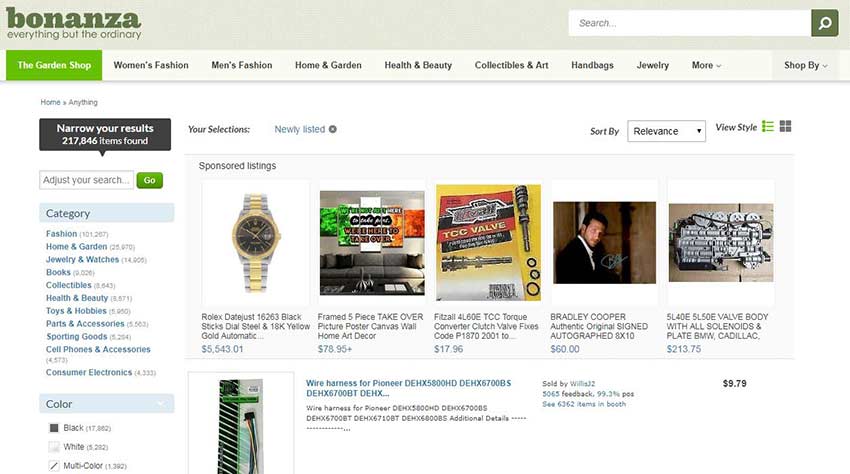 Similar to its rivals in the marketplace, Bonanza is simply a business platform. Nonetheless, Bonanza is for selling and buying anything but the ordinary. When using this marketplace, online merchants can build an online store and list their products for sale. Customers will be able to approach their sites to look through the listed products and decide to purchase.
To help customers easily and quickly find what they are looking for and buying, Bonanza has its products divided into many different categories. With the help of a venue like Bonanza, buyers can buy anything from a household device to clothes, technological software, or even a piece of jewelry.
Nowadays, crafters and small handmade businesses also look at Bonanza as their new marketplace. There are more and more unique and handmade items for sale on Bonanza than eBay, but fewer household brand names than Amazon. Knowing that its customers are also selling their products on other channels, Bonanza makes it even more convenient by creating Bonanzas integrations for them to import items from these sales channels.
When buyers adds an item to their shopping cart, they can choose to pay for the set price or negotiate for a discount code or an offer. Don't worry since payments made on the Bonanza website is managed via a safe and secure checkout facility.
Bonanza is just like eBay, which means it does not own the products listed on the site. Also, it is not related to any transactions between sellers and buyers. It won't receive any payment for purchases. Instead, if a user uses Bonanza for any purchase, he will pay the particular Seller directly.
Is Bonanza legit & safe?
Is it legit to use Bonanza?
It is important to identify whether an online business platform is legit or not before using it because you're going to spend money on it. It is because a legit platform is less likely to be a scam. So, what about Bonanza?
Yes, Bonanza is legit. It is our short conclusion. Let's see why we conclude that without a doubt.
Firstly, Bonanza is a fully registered business, which means that a scam store will not reach out for company registration.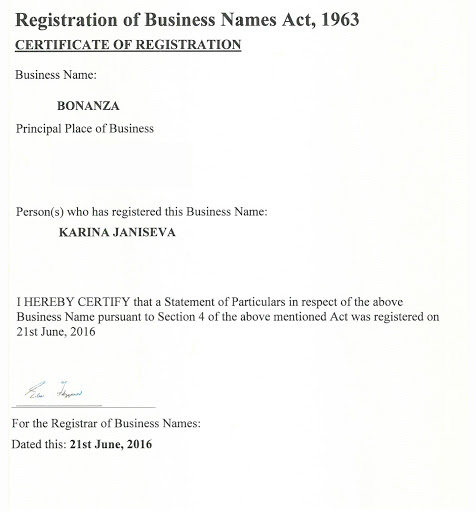 Secondly, Bonanza is widely known and recognized within the industry. Unlike many scam platforms that work in the shadow and are known by very few people, Bonanza is featured by reliable publishers and media giants, including Time Magazine, CNN, Mashable, and so on. Moreover, it is even called "The best entrepreneurial company in America" in 2016 by Entrepreneur Magazine.
Last but not least, Bonanza ticks the box when it comes to fitness for purpose. That means when using Bonanza; sellers can use the platform's features to list, and sell their products and buyers can get delivery of real and functional products when placing orders on the platform. Some sellers do gain some sales success using Bonanza, and some buyers do get delivery of those products.
To sum up, Bonanza is a legit online marketplace, although it is possibly affected by fraudsters in buying. This is a similar issue coming up with all other marketplaces. Don't worry since Bonanza focuses on being discerning in identifying legit buyers.
Is it safe to use Bonanza?
Again, yes, Bonanza is safe, and it prioritizes the protection of users' data.
When you use an eCommerce platform, you need to share sensitive information to be enabled to use its services. They may include your personal data like a contact number or payment method details like credit card information. Nowadays, there are more cyber fraudsters, identity thieves, and other negative factors ready to steal your data from such sensitive information. That means users need to use an eCommerce platform that adequately protects users' data and prevents them from leaking out to unauthorized third parties.
However, when using Bonanza, you don't need to be worry since such a marketplace use industry-standard security protocols to protect your data. When you provide your personal information on the website, the Bonanza system will encrypt the transmission of that data by using a special technology called Secure Sockets Layer (SSL).
Bonanza selling experience reviews: Why you should sell on Bonanza?
Ease of use
Appearing as a seller-centric marketplace, Bonanza claims to be one of the most suitable platforms for those wanting to sell online on a marketplace. Online business asks for many efforts and time spending on managing and balancing so sellers need a marketplace that is easy to use. In terms of this, no marketplace is more simple than Bonanza.
To use this platform for selling items, you need to take note of the following simple steps:
Step 1: Open an account
Let's sign up for a Bonanza account. If you have one, come to the homepage. In case you do not, you should click on the Start selling now button on the website. After the page opens up, you can now provide a username, password, and booth title. You can also shorten this process by logging in via an existing Facebook or Google account.
Step 2: Set up your own booth
Next, let's enter your personal information in the right sections. After that, answer the provided questions to confirm the checkout providers, which means how you will want your customers to pay you.
Remember that Bonanza asks for a PayPal account, so you will then have to connect the account to your booth. Besides, you can also add Amazon Pay and Stripe to your list.
In this step, you will have to choose whether you want Bonanza to advertise your items.
Step 3: Finish setup
Coming to the last stage, you will need to enter your credit card details and click on the Finish Setup button before starting to add your items.
To add items to your booth, you can manually do it by choosing the Add or edit items from the drop-down menu. After that, let's click on the Add a new item button in the page opening. You should then enter all necessary information about the item, such as its description, features, price, photos, and more.
To complete the process and make them live, click on the Save these changes option to allow this item to be displayed.
From the selling link, you are also able to import listing from other marketplaces. Let's just select your import option from the drop-down menu, including import from Amazon, import from eBay, or import from other sales channels. Next, you can now choose your import settings and click on the Import items button. Now the mandatory sections when importing listings consist of title, price, and category.
Finally, it's time you should active your booth. You start from the selling page, choose the Add or edit items, and click on the Open booth. After completing the required fields, you can click on the Finalize Booth and wait for the pending approval.
Pricing & fees
Pricing and fee seem to be one of the most important things that users will consider while deciding to use the platform.
In general, Bonanza will charge you no fee to open a booth and list your products. If you decide to use Bonanza for long-term purpose, you just need to pay a small amount since it will collect only a small percentage of your final sale price once the product sells. The pricing plans and Bonanza fees are quite complex for some people, but it is surely much less than that of eBay and Amazon. Moreover, Bonanza is a risk-free platform, which means you will lose nothing if you accidentally close your booth and leave.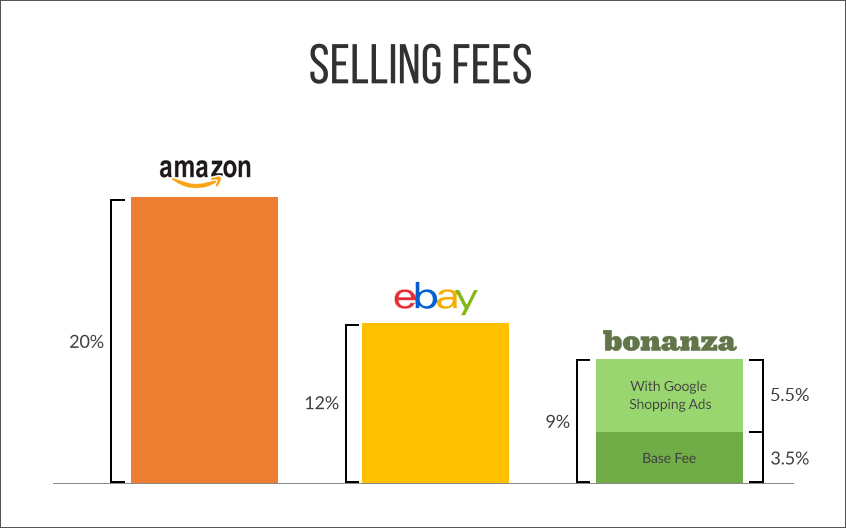 Being free in offering accounts for users to start selling, Bonanza is still charging for membership subscriptions. You will have access to more selling services and features, and your traffic to listings will be driven more. There are three main plans for membership subscriptions, which include Gold, Platinum, and Titan.
Gold plan costs $40 per month and $25 per month if you decide to bill annually.
Platinum plan costs $70 per month and $55 per month if you decide to bill annually.
Titan plan costs $200 per month and $167 per month if you decide to bill annually.
As mentioned above, there will be free if your item sells. Its charges are depending on the Final Order Value. Final Order Value or FOV is what Bonanza calculates as the item purchases price plus any portion of the shipping fee over $10. When it comes to an item costing 30$ with $12 shipping, the Final Order Value will be $32. Nonetheless, a $30 item with $10 shipping only has the Final Order Value of $30.
As you can see, you will have to pay Bonanza 3.5% of the Final Order Value for all the values under $500 (with a minimum fee of $0.5). The $30 item with $12 shipping will have the cost of $1.12 (i.e., 3.5% of $32). On the other hand, if you have a $10 item with $2 shipping, 3.5% of $10 (Final Order Value) is just $0.35 which is less than the minimum fee. So, the fee of Bonanza is the minimum fee of $0.5.
Coming to all Final Order Value over $500, the charge of Bonanza will be 3.5% of the first $500 with an addition of 1.5% of the amount over $500. In terms of an item costing $650 with $15 shipping, Final Order Value will be $155, and the charges of Bonanza will then be $22.925.
It is ideal to use Bonanza if you are a newbie in online business. It is because Bonanza not only charges nothing for listing items but also costs relatively less for extra fees. Final Order Values of Bonanza will often be less than $500, which means sellers will need to pay 3.5% of these Final Order Values.
Apart from the drawback of being complicated, one more minus point of Bonanza's pricing and the fee is that the portion of shipping fees over $10 will go into measuring Bonanza's fee. So, it is possible to say that Bonanza is cheap if you add items to sell but rather expensive if you decide to purchase a membership subscription.
Payment
Besides pricing and fee, as a seller, you also need to care about making a payment. Only when you have accumulated $3.00 in fees will the Bonanza fee be due. In addition to it, Bonanza fee bills once a month.
It also offers two familiar methods for its users to pay its fees (Final value fee) easily. They include PayPal and Credit Cards (Mastercard, Visa, Discover, JCB, or American Express. Paying methods of Bonanza are so simple, which makes us less stressed when handling to pay. Additionally, suppose you are afraid of missing the day to pay the fee of Bonanza every month. In that case, the marketplace even simplifies the whole process by charging your credit card automatically at the end of the month. That means you just need to set up the method once and the platform will take all other steps.
In case you are running a business with a long-term purpose and expecting to pay manually rather than monthly, you can start with PayPal since it is the only one offering that. When you choose to pay manually via the app PayPal, you don't need to spend time every month to pay the fee until the end of the next 4 months. And even if the payment is not made, your credit card will be charged automatically by the 5th of this month.
One drawback coming with payment and methods is that Bonanza will not enable you, as a seller, to accumulate a large number of fees while you are waiting for the end of the month for the next time paying bills.
Instead, the platform will automatically take money from sellers if they have had $100 in fees. However, if you are just a newbie using Bonanza, it will automatically charge you if you have accumulated $25 in fees. The compulsory condition is that the time you have joined the Bonanza community is under 3 months.
Advertising on Bonanza
We always know Bonanza thanks to its membership subscriptions, which are used to attract more people to see your product to boost your sales. But we didn't notice that it also offers advertising programs. Once you choose one advertising program for your business, the platform will surely push traffic to your product paying for clicking on an ad that brings shoppers to your listing.
There are four advertising levels. The higher your opt-in level, the more you have to pay, and the more buyer traffic is driven to your listing.
The basic level takes you 9% max fee while the standard level one costs 13% max fee. The superior level makes you pay 19% max fee and the elite level costs up to 30% max fee. The max fee of your selected level is the level of fee above which you will not pay when selling your items. In case the total spends that Bonanza uses to drive the traffic for your item sale is lower than the selected max fee, you can choose whether to pay less than the max fee or not.
Additionally, Bonanza's advertising program is considered free of risk since the marketplace will cover the advertising cost until your items are sold. This is applied to all advertising levels you can choose.
Customer support
Another feature that we also need to look at when deciding to use a platform is customer support. It is because we may easily have questions and issues with our orders. A good platform will be one that is welcome to help us solve our problems.
When coming to Bonanza, you will be provided a Help Center, which will quickly help you answer questions related to Selling, Buying, and Account. In order to aid navigation, each category opens up subcategories.
For instance, if you click on the Buying section, you will be led to "An item I bought," "Shopping on Bonanza," "General Questions," and "Others". When you then click on the "An item I bought" section, you will see many subcategories such as: how do I cancel my orders, I want a refund, How can I track my shipment, never received my item, item not as described, how to report a seller and more.
Thanks to thế categories and subcategories, you will be guided to the correct articles answering many of the questions you are asking.
Additionally, Bonanza offers a direct support service in case its users want. If you are a buyer, you will be provided the contact of the seller so that you can directly call them for help (everything about pre-sale or post-sale).
In terms of pre-sale, you can call or direct the seller from the item description page by clicking on the contact seller button and filling the message box before sending. When it comes to post-sale, you can contact the seller from the Account page which is followed by clicking on the Recent purchases option.
You can also indirectly contact the seller via Bonanza. That means you contact the marketplace and your issues will be reported to a seller. To handle this, let's send them an email from the Contact link of the website. Remember that you need to be logged in before sending a message. Those who are not a member cannot communicate directly with the platform. But this is actually not necessary since you can only get support from Bonanza if you have a problem with removing a seller.
Pros and Cons
Pros
Since Bonanza has lower fees for sellers than eBay, it will bring about most items that you will be interested in buying. Moreover, you have a chance to make many bids on a random product that is good for securing the best possible deal. Also, Bonanza offers the Better Business Bureau rating for its users.
Cons
Besides those advantages, Bonanza still holds some drawbacks. Though it is safe to use Bonanza, users still need to be aware of possible scams and fraudulent activity. You can totally buy the wrong item from an existing account on Bonanza.com. Therefore, it is necessary to read sellers' reviews carefully before buying anything so that you can trust the shop you decide to spend money on.
Be careful since many sellers don't have reviews on Bonanza, which means you might risk yourself by investing to buy a product from those merchants.
How to start selling on Bonanza?
Process to get started with Bonanza selling website
Even though you have a shortage of technical skills, you will still find it easy and simple to begin using Bonanza. Here is the process to straightforwardly use it:
Visit the Start Selling page of Bonanza and provide information to let them know whether you have already worked for a business online before or not.
Choose a name for your booth and you will see it appear on your store panel. You should name it according to your brand name or business slogan.
Click on the Open your booth button
Choose the payment method you would like to have and provide your personal information.
Enter your credit card data to be billed for seller fees after that.
Choose if you want to pay to have your products advertised online on other channels. Remember you don't need to be so serious with this decision since you can totally change it later.
You can choose the best membership option for you if you expect a membership. In case you don't, be free to skip this section.
Now you're set up and ready to sell!
Tips to be successful in selling with Bonanza website
After getting started with Bonanza selling website, it's high time we suggest some useful tips to get successful in selling on this platform.
Sell on other platforms besides Bonanza
It is easy to notice that most negative reviews about Bonanza are made by those having only a sale a month. In fact, isn't it really good?
It is similar to any other sales channel. If you put all eggs in one basket, which means you use only one marketplace, you basically have only one presence. You will find it hard to be successful. Instead, what about selling on many platforms at the same time, such as ArtYah, Etsy, and eBay.
So, remember to do more proactive marketing and multichannel selling to get success in the eCommerce business in general.
Market your own listings
By marketing your own listings, you can totally do yourself as well as Bonanza a favor. Besides organic Bonanza traffic, you also take advantage of other sources by being proactive with your marketing strategies.
Normally, using social media is a great way to drive traffic to your Bonanza listings. To do it, you can easily find a Facebook group filled with users who have the same characteristics and problems that your services are offering to solve. Then, share it there to drive more traffic.
Luckily, Bonanza marketplace has an integrated way to enable users to do just that.
Take advantage of coupons, freebies, and mixed item discounts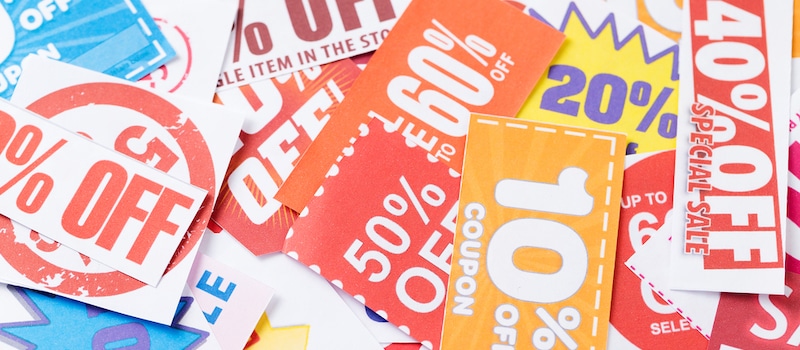 Customers tend to be attracted by stores that offer discounts and coupons for them. Therefore, don't forget to make use of this tip when using Bonanza. Surprisingly, this is also another feature that sets Bonanza apart from eBay.
Coupons are quite similar to discount codes which are given to a buyer so that he can buy products with free shipping or a percentage sale off.
Freebies are unique items or services that the store decides to give away with each transaction for its buyers via a specific campaign.
A mixed item discounts strategy is when a customer buys more than one item, he will get the lower final price.
Make use of the chat feature
Bonanza provides the inbuilt chat feature, which is originally designed to answer customer questions or haggle on a price. Nonetheless, if you use it in a smart way, the chat feature can be a great way to boost your brand engagement and build a good relationship with your customer.
Your customers are likely to rely on and make a purchase from those who are welcome and human-like. So, let's chat to your buyers no matter what you are selling. Being a fast way to build a relation between sellers and buyers, chatting also helps make your customers feel that they are investing in the right place.
Conclusion
Now you must have a better understanding of the Bonanza marketplace as well as how it works. It is totally legit and safe to use this platform. Being a famous eBay alternative solution, Bonanza is likely to bring about benefits for buyers and sellers.
Though Bonanza cannot be as good as some giants out there, it is suitable to get started with this platform if you want to get the attention to do just that.
Hopefully, this article is helpful to you, which can be used to apply to your business process. If you have any questions or trouble related to the topic, be free to leave a comment in the section below. Share it with your friends and visit us for more interesting posts.
Good luck with your business!