If you're planning to build up a dropshipping business, you might have heard of many platforms that enable you to set up and manage your store. Among the great names are BigCommerce and Shopify. So, why does someone choose to use Shopify, while others choose to use BigCommerce? What are the key differences between these two platforms that make each of them different from one another?
You will find all of the answers in this article as I will break down in detail the key features of both Shopify and BigCommerce, compare Bigcommerce vs Shopify, and then select the winner. At the end of this article, according to your own needs, you will no longer be confused about which platform you should choose to house your dropshipping store.
Before we dive into the main details, let's go for a quick review of what Shopify and BigCommerce is, so that there are no mismatch of information between us regarding these platforms.
What is Shopify?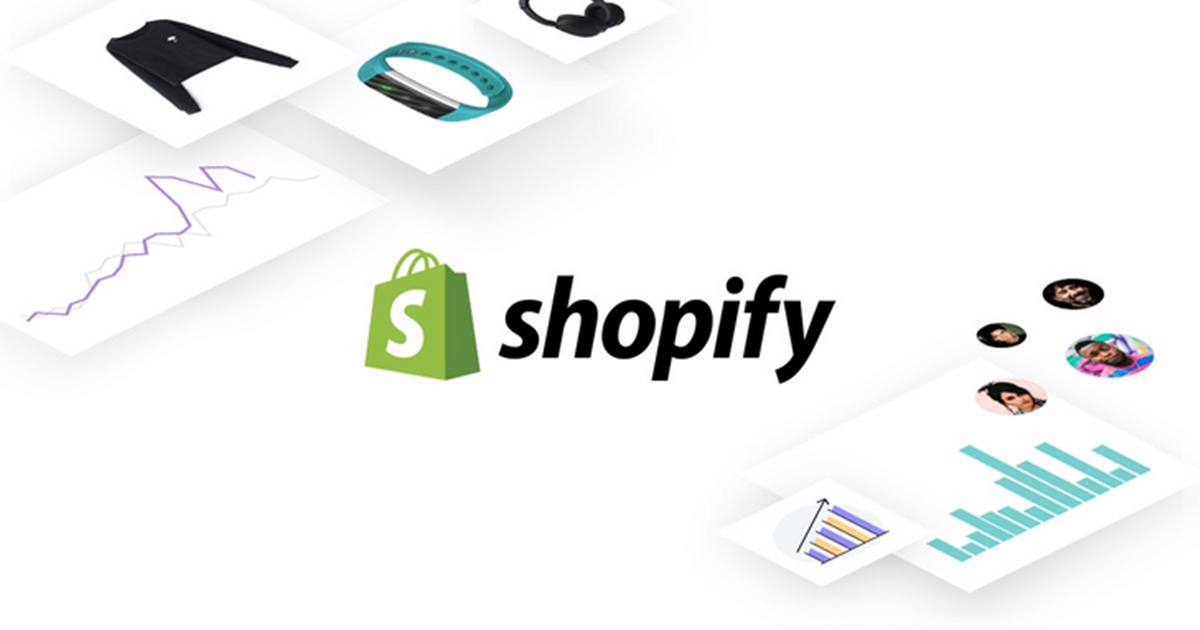 Shopify is an eCommerce platform that you can use to build up your store both online and offline. So the saying goes, "bloggers use WordPress, store owners use Shopify". It enables you to sell online with your own website, as well as in person with the Shopify POS.
Shopify is an eCommerce website builder that has features for everyone, no matter whether they are beginners or eCommerce experts.
Shopify offers a free trial of 3 days so that you can test it out for yourself before making any financial commitments. During your period of free trial, you can build up your own online store, try out free Shopify apps, and if you're bold and go on to try selling, you will probably make your first sale with the free plan too.
Shopify's pricing plans start at $5/month if you go for the Starter plan. However, most first-time store owners start with the Shopify Basic plan at $39/month as this plan gives them more room to customize.
If you are a veteran in eCommerce business and looking to scale up your store, The Shopify, Advanced Shopify or Shopify Plus plan might be suitable for you depending on your specific business needs.
What is BigCommerce?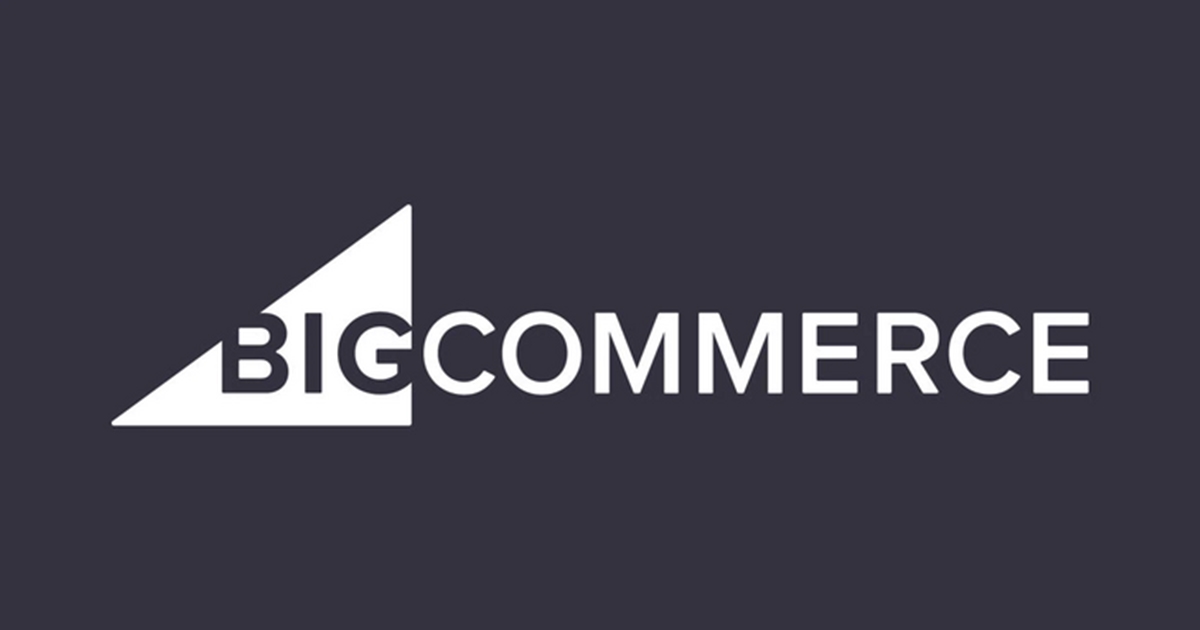 Similar to Shopify, BigCommerce is an eCommerce store builder that powers tens of thousands of online stores in more than 150 countries. The product offers a wide range of customizable templates to help you design your online store based on your own brand aesthetics; you can use BigCommerce to sell both physical and digital products; and there are also many tools provided to help you promote your store.
With BigCommerce, you can do everything yourself, from adding products, to uploading product images, to processing orders, so on and so forth.
BigCommerce was founded in 2009. Since then, the company has been providing two plans for new or small to midsize companies, and two premium plans for large or high-volume businesses. Each of these plans comes with various features ranging from fraud monitoring, abandoned cart recovering, to product ratings, and many more.
BigCommerce serves a wide range of industries including electronics, health products, fashion, gifts, jewelry and many others. Lastly, BigCommerce can be integrated with various shopping and comparison sites such as eBay, Shopzilla, Shopping.com, and NexTag.
BigCommerce vs Shopify: Advantages and disadvantages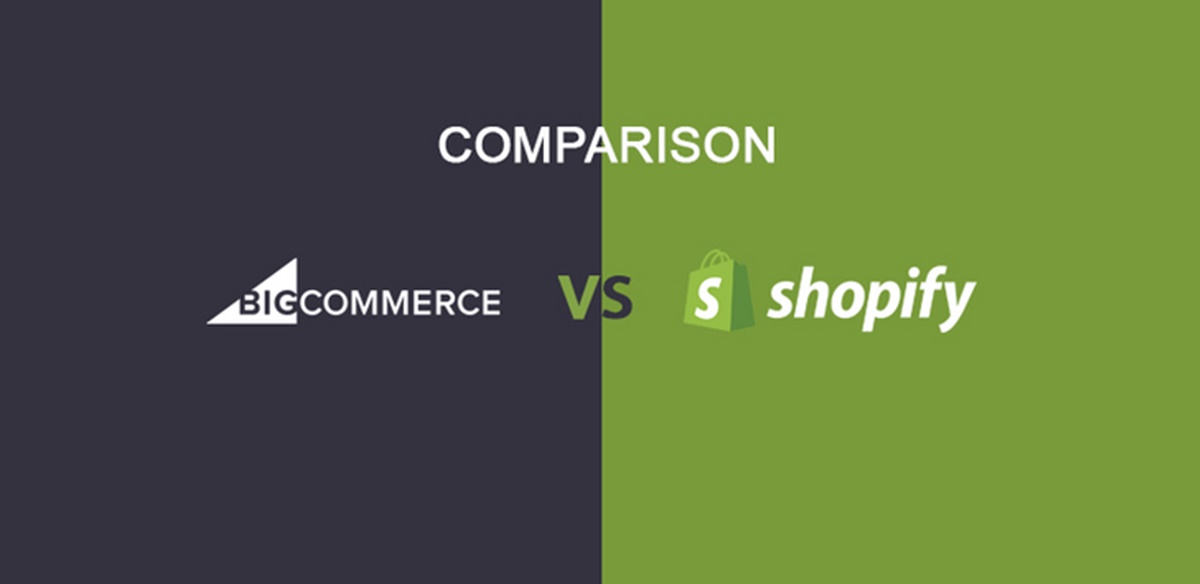 Shopify's Pros and Cons
Thanks to its ease of use, Shopify can be used by anyone, from beginners without no website development to experts, without having to hire a developer. It's a comprehensive eCommerce solution, and great for anyone who dreams of starting their own business.
It's a good idea to go for Shopify if you're totally new to online business, and don't have needed experience to build a website on self-hosted platforms. You will receive tons of help from Shopify support reps in no time.
However, if you're already running an established business and looking to switch to a new platform, I wouldn't recommend you to select Shopify, but BigCommerce instead.
Advantages:
More integrations and apps
No selling limits
Fast load time and website speed
Easy and intuitive to use.
Disadvantages:
You need third-party apps to get the functionality you want
SEO features not really strong
Transaction fees for third-party gateways
BigCommerce's Pros and Cons:
BigCommerce might be better for owners of larger brands who want to scale their business further. If you have an established brand, and are looking to scale up your business, I'd recommend using BigCommerce as it provides more features than Shopify does.
Advantages:
Better cart abandonment saver setup
Real-time shipping quotes and gift cards available at $29/month (It's $105/month with Shopify)
BigCommerce's collection of SEO tools will help you market your website easier; BigCommerce is better than Shopify in terms of search engine optimization.
Disadvantages:
No built-in on-click selling
Selling limits
Fewer apps and integrations than Shopify
BigCommerce vs. Shopify: Pricing Comparison
Pricing is usually the top factor when we want to make any purchase. We need to know the price first because it doesn't matter how great a product is if we simply don't have enough money to pay for it.
Fortunately, both BigCommerce and Shopify have a plan for everyone, no matter whether you are on a budget, or can invest a big amount to scale up your business.
Shopify Pricing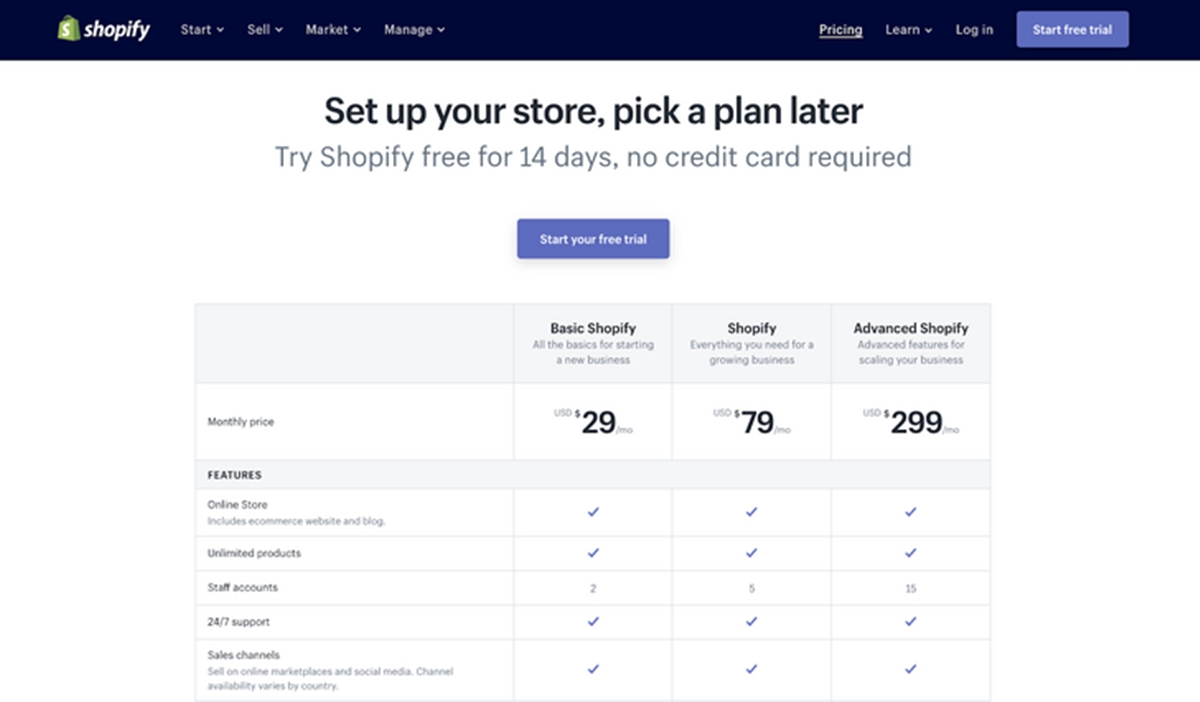 Shopify offers its users four monthly pricing plans:
The Shopify Starter Plan: $5/month (This plan is hidden from the pricing page)
The Basic Shopify Plan: $39/month
The Shopify Plan: $105/month
The Advanced Shopify Plan: $399/month
BigCommerce's Pricing: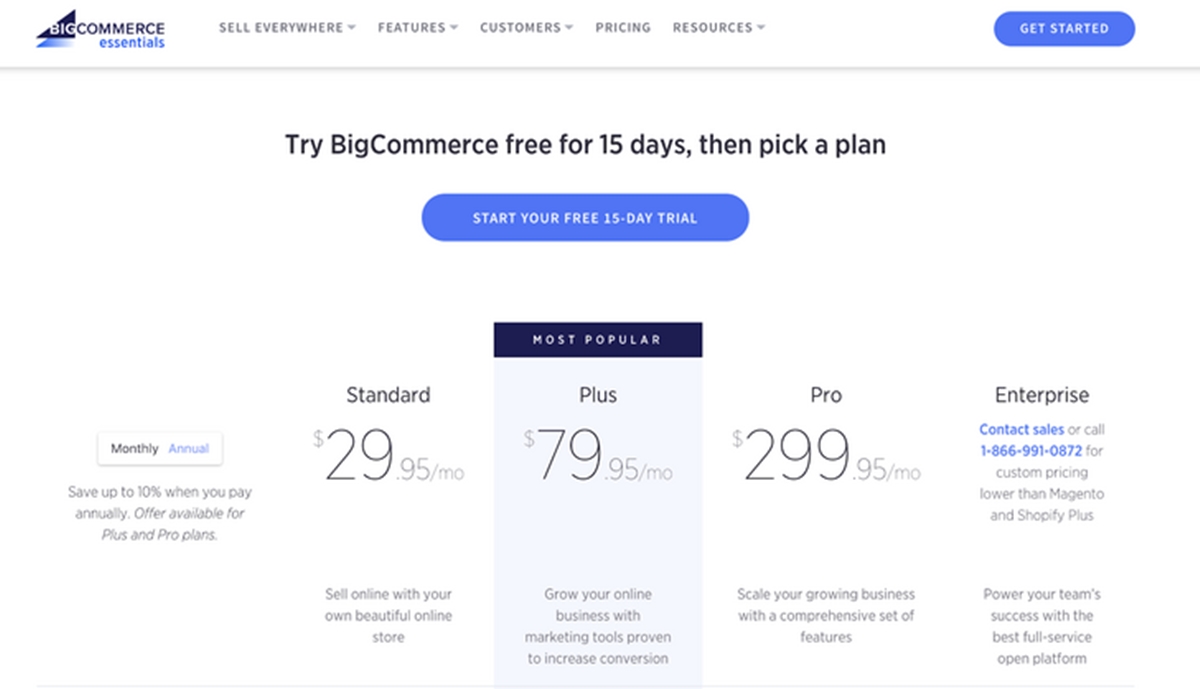 Unlike Shopify, BigCommerce offers three pricing tiers:
The Standard Plan: $29.95/month
The Plus Plan: $79.95/month
The Pro Plan: $249.95/month
Comparison:
At first, it seems like Shopify has an advantage over BigCommerce when it comes to pricing, but it's not really the case. The "Starter" plan that Shopify offers is not a good choice for people who need a standalone, functional eCommerce website.
The Shopify Starter plan provides you the option to sell on Facebook, and use the Shopify buy button on your existing website (e.g., if you have a Wordpress seite, and now you want to add a selling function to it).
Also, it allows you to accept credit card payment, manage inventory with Shopify's software, but the most important thing it does not provide is a standalone website.
In this article, I'm comparing BigCommerce and Shopify in the aspect of hosting eCommerce stores, and as the Shopify Starter plan does not fall within this area, I'm going to dive deeper into it.
If you want to understand the Starter plan better, we have a dedicated article that breaks down all of the Shopify's pricing plans (the Starter plan included).
Let's get back to the three main pricing plans of BigCommerce and Shopify. You can see that there is not much of a difference between the price points that both platforms offer. However, at a deeper level, there are a few key differences.
For each platform, there are some other fees and limitations involved. Apart from credit card processing fees that both platforms charge, Shopify impose transaction fees on every sale that you make if you don't use Shopify Payments (their own payment processor).
Also, you need to keep in mind that if you are not based in any of its 15 supported countries, you can't use Shopify Payments, and then the transaction fee is from 0.5% to 2.0% based on which plan you sign up for.
In comparison with Shopify, BigCommerce doesn't impose transaction fees on sales that you make, but it has a limited number of sale volume you can make on each plan.
For example, with the Standard plan at $29.95, you can make up to $50,000 a year, but once you expand over that number, you're forced to upgrade to the Plus plan.
Shopify does not force you to upgrade based on your sales volume, which means you can still stick with the Basic plan when you reach $1,000,000 in sales.
On top of this, certain necessary features are restricted to higher plans on BigCommerce, but you can get them on the starter plan on Shopify, and vice versa.
For instance, BigCommerce offers abandoned cart saver for the Plus and higher plans only while Shopify offers this feature on the starter plan. On the other hand, Shopify offers Gift cards on the Shopify plan only whereas BigCommerce offers it on its starter plan.
Winner:
Pricing-wise, both BigCommerce and Shopify have their own upsides and downsides. You have to face a limit of sales volume with BigCommerce and transactions fees with Shopify.
If you're a starter who starts your business on a budget, and don't want to lose any penny to transaction fees, it is a better choice to go for BigCommerce (assuming that Shopify Payment is not supported in your country). If you are in the 11 supported countries and use Shopify Payments, Shopify is a better deal.
BigCommerce vs. Shopify: Features comparison
Shopify's Features:
| | Basic Shopify $39/month | Shopify $105/month | Advanced Shopify $399/month |
| --- | --- | --- | --- |
| One-click Upsells | No | No | No |
| Abandoned Cart Email | Yes | Yes | Yes |
| Digital Products | Yes | Yes | Yes |
| Personalized Products | No | No | No |
| Product Export/Import | Yes | Yes | Yes |
| Product Search | No | No | No |
| Ratings & Reviews | Yes | Yes | Yes |
| Real Time Shipping Rates/Tracking | No | Yes | Yes |
| Reward Points | No | No | No |
| SEO Tools | No | No | No |
| Subscription/Recurring | No | No | No |
| Zoomable Product Images | Yes | Yes | Yes |
| Upselling & Cross Selling | No | No | No |
BigCommerce's Features:
| | BigCommerce Standard $29.95/month | BigCommerce Plus $79.95/month | BigCommerce Pro $299.95/month |
| --- | --- | --- | --- |
| One-click Upsells | No | No | No |
| Abandoned Cart Email | No | Yes | Yes |
| Digital Products | Yes | Yes | Yes |
| Personalized Products | No | No | No |
| Product Export/Import | Yes | Yes | Yes |
| Product Search | Yes | Yes | Yes |
| Ratings & Reviews | Yes | Yes | Yes |
| Real Time Shipping Rates/Tracking | Yes | Yes | Yes |
| Reward Points | No | No | No |
| SEO Tools | Yes | Yes | Yes |
| Subscription/Recurring | No | No | No |
| Zoomable Product Images | Yes | Yes | Yes |
| Upselling & Cross Selling | No | No | No |
Feature Comparison:
Both BigCommerce and Shopify provide you with standard eCommerce features. You can have an unlimited number of products, process credit cards, manage your inventory, collect and display ratings/reviews, and so on. However, from the tables above, BigCommerce does have more features out of the box than Shopify does.
When it comes to product search, BigCommerce has a more advanced built-in site search feature. The search feature of Shopify works fine if you sell a medium number of products. On top of that, BigCommerce's coupon and discount features are more
Also, you can provide your customers with a comparison of two or more products side-by-side via your category pages on BigCommerce, while Shopify doesn't offer this built-in function. BigCommerce also presents related products to customers whereas this feature is not on Shopify without an app.
You can get real-time shipping rates no matter which BigCommerce pricing plan you sign up for, but on Shopify, you need to be at least on the Shopify plan at $105/month or purchase an app.
BigCommerce doesn't win Shopify over everything though. For instance, BigCommerce doesn't offer abandoned cart saver on its starter plan while Shopify does. Also, the Shopify app is much bigger than the BigCommerce one. That means you can add more functions with apps on Shopify than on BigCommerce.
Finally, both BigCommerce and Shopify are not fully GDPR compliant. What does that mean? It means that while you can have a privacy policy, set up cookie notices, and get consent before signing people up to your mailing list, both platforms don't provide an option for visitors to give prior consent to the cookies.
Winner of feature comparison:
Right out of the box? I'd say it's BigCommerce, but if you want more features later on, Shopify is the winner thanks to its huge app store.
BigCommerce vs. Shopify: Theme Design comparison
Here's the truth. No matter how great your products are, if your front store is a mess, your website visitors will drop without even looking at your product. That's because web design is the first thing that online shoppers use to evaluate a store, just as offline shoppers judge a brick-and-mortar store with its store design.
So, in terms of web design, how BigCommerce and Shopify compare to one another? Let's start with Shopify.
Shopify's theme design: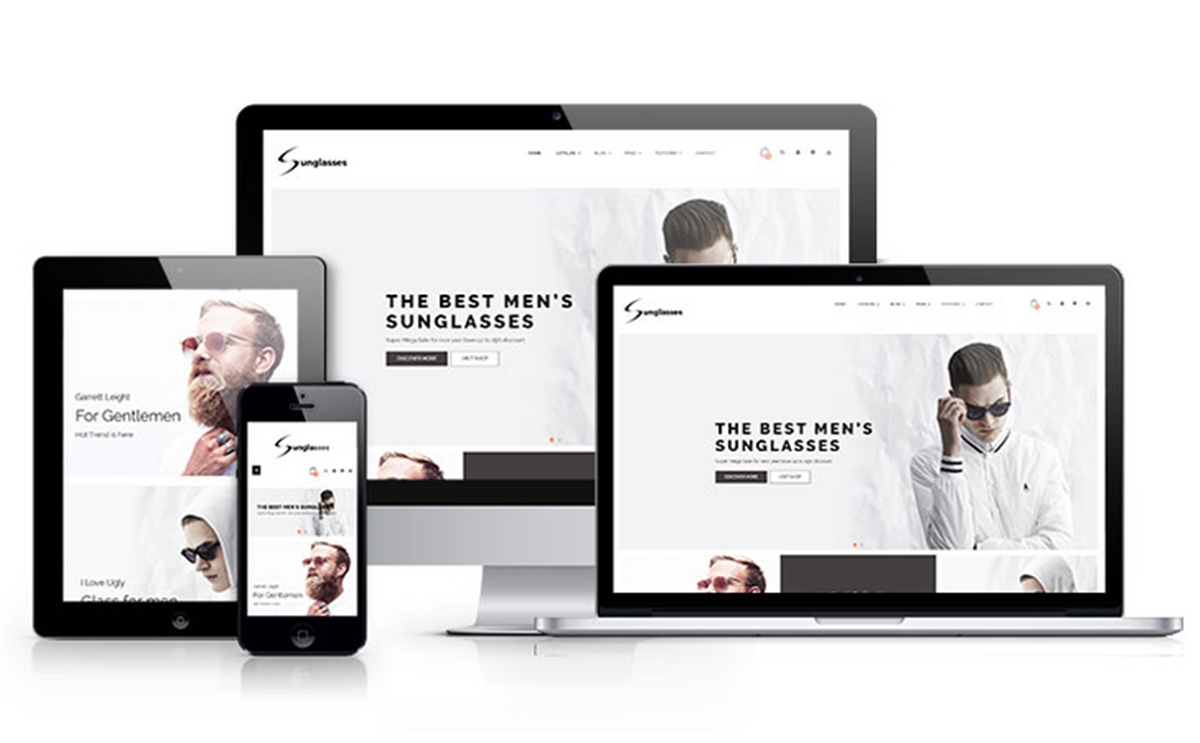 With Shopify, you will have access to more than 100 themes to select from (both free and paid ones). The common theme of Shopify themes is that they all look modern, stylish and have a minimalist feeling to them. Shopify themes are grouped into many different categories for many industries, so it's going to be very easy to find a theme that is suitable for your specific niche or market.
Shopify themes are mostly designed by third-party theme designers. Premium themes that Shopify offer range from $80 to $180 and are all a single one-time payment. If you want to try out the platform first before making any theme purchase, there are seven functional free themes to select from.
The Shopify community of users has been creating great things with this wonderful library of themes, and tons of the live stores are truly impressive. You can dig into this gallery of existing Shopify stores to get inspirations for your upcoming store.
BigCommerce's theme design: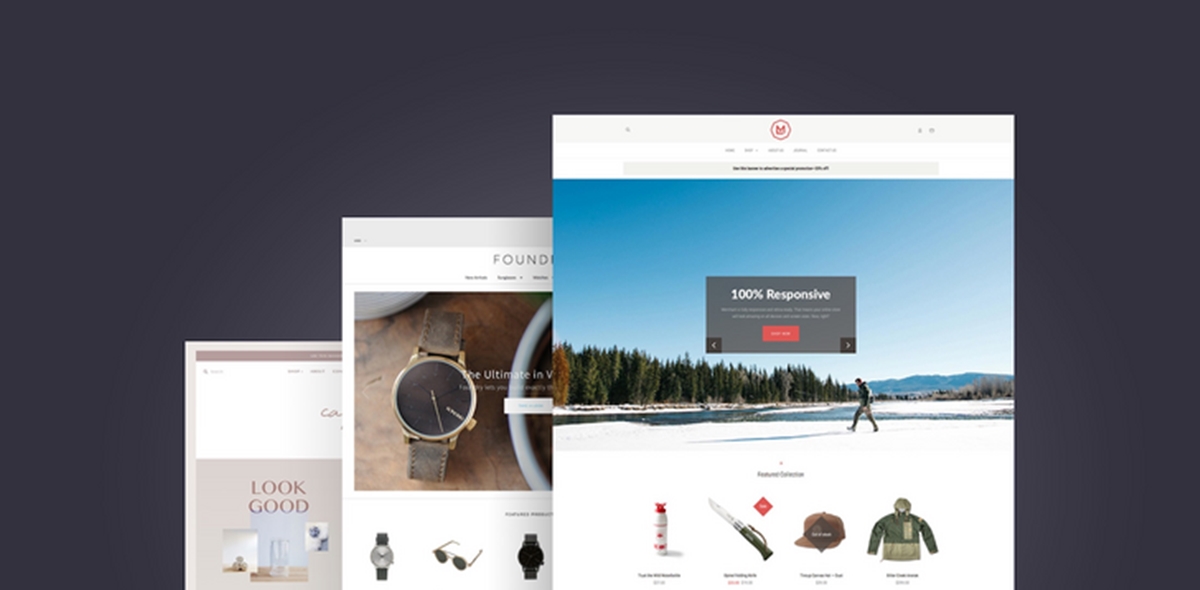 When it comes to theme design, BigCommerce is a player that could be just as strong as Shopify. BigCommerce offers a quite extensive catalog of both free and paid themes, and they are all grouped into separate categories for different industries. All of them are also responsive and fully customizable.
Similar to Shopify, BigCommerce does have a dedicated gallery of existing user sites. You can go check them out to see how BigCommerce yields its theme design power.
Theme Design Comparison
Although both BigCommerce and Shopify offer free themes to start off with, BigCommerce's free templates look kind of like variants of each other than unique designs. In contrast, the 10 free themes that Shopify offers have significant variation between them. With a little programming or a good web developer, you can modify the themes on either platform to suit your needs. If you don't have both of those, you can pay a small fee to get the platforms' developers to do it for you.
Both Shopify's and BigCommerce's themes are responsive, fully customizable. The highest priced premium themes on Shopify are lower than those on BigCommerce. Shopify's highest price is $180, while BigCommerce's one is $235.
Winner of Theme Design:
Pricing-wise, yes, it's obvious that Shopify wins. But, to judge which platform has better theme design, you have to decide it for yourself, because tastes are individual.
BigCommerce vs. Shopify: Ease of Use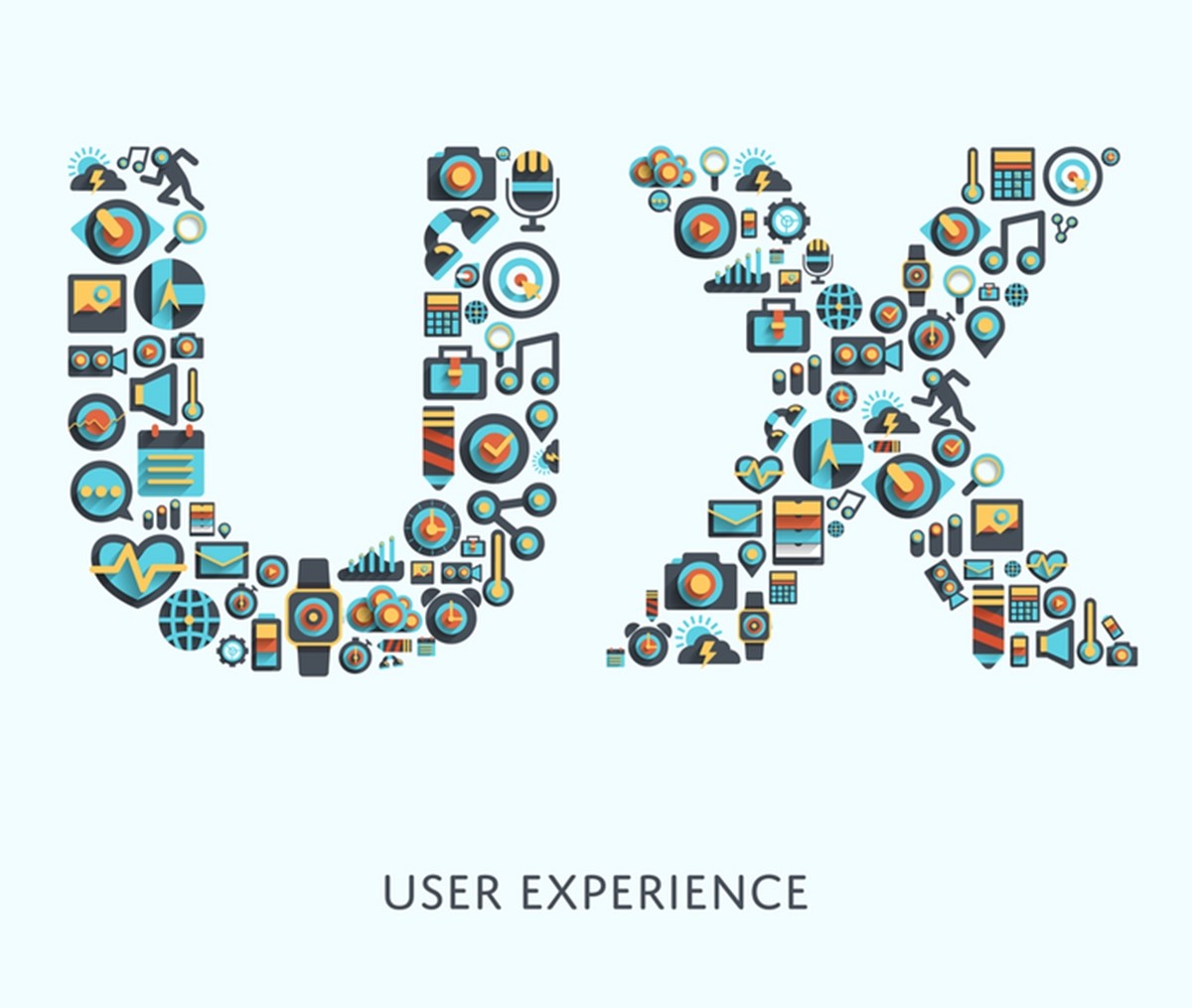 Both BigCommerce and Shopify have a user-friendly interface. They both have similar dashboards that allow you to easily manage everything in your front store.
Shopify:
Shopify's user interface is one of the cleanest on the website-solution market. Everything you're looking for to manage your store is readily available in the sidebar to the left. It's super easy to add products, edit your site's content, create discounts, and so on.
BigCommerce:
BigCommerce offers an admin panel that is just as user-friendly as Shopify does. Since BigCommerce delivers more features out of the box than Shopify, you'll have to learn more elements in order to navigate the backend of your store.
From my view, however, it's very worth spending a little extra time to get a well-functioning store with which you can take full advantage of reporting and discounting features.
Comparison:
There is one particular area in which Shopify is dominated by BigCommerce; it is on-page customization. If you love the ease of use provided by a drag-and-drop builder, Shopify doesn't have what you need. BigCommerce, on the other hand, has a very user-friendly drag-and-drop builder.
BigCommerce and Shopify both provide the feature navigation and usability you can expect from a top shopping-cart solution. I would say, for beginners, Shopify wins over BigCommerce here (an extremely narrow win), because it's a simpler solution right out of the box (which is why I say for beginners). That's just my personal view, and your choice will depend entirely on personal needs.
You'll just have to try out both platforms to see which is more intuitive for you. It's very easy and free to do so as BigCommerce and Shopify both offer a free plan for you to try out its backend.
If you want advanced customization, you can edit the HTML and CSS code on both solutions. And when something goes wrong with your online store, you will need a good customer support team to get you up and running as soon as possible.
While both BigCommerce and Shopify provide numerous support options, Shopify is more upfront with their contact information (which means you can find it easier than on BigCommerce).
The quality of support you receive, however, will be relatively the same. Both Shopify and BigCommerce are open for 24/7 live chat, email, and phone support, with support documentation and an involved user community.
Winner:
When it comes to ease of use, Shopify is a slightly better choice than BigCommerce.
BigCommerce vs. Shopify: Performance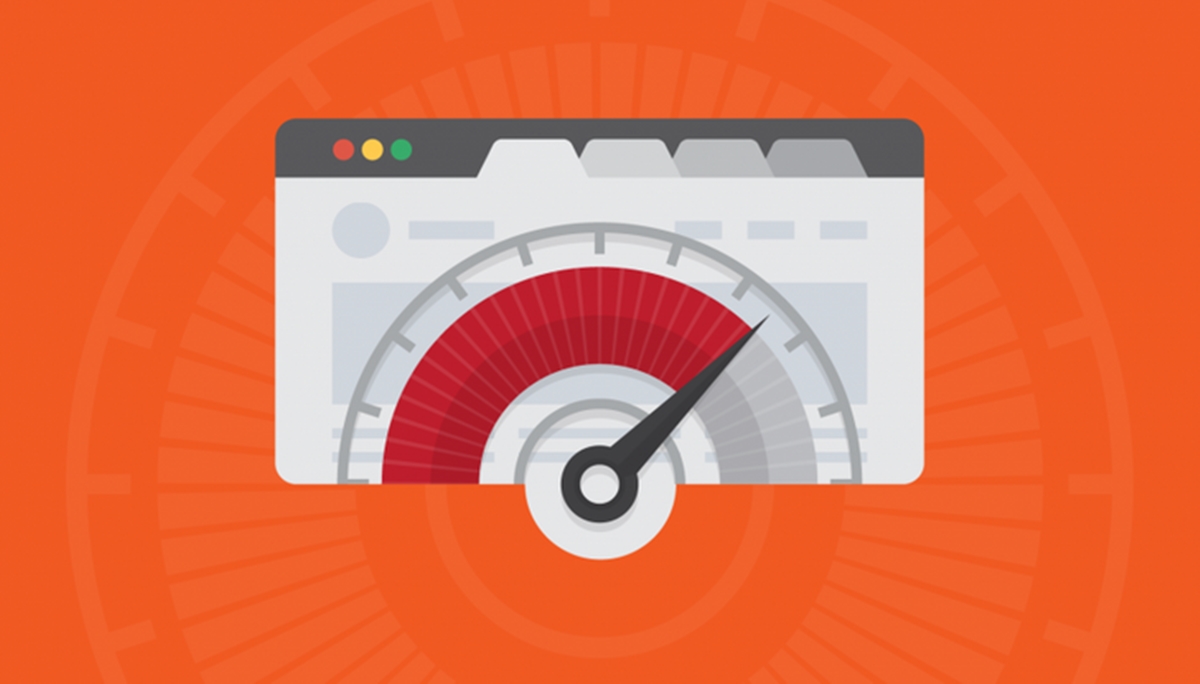 When it comes to online shopping, performance capability ranks probably just second on the scale of importance (right behind web design). Performance capability is how fast your website can load. Online shoppers have little patience for slow-loading websites (Have you ever waited more than 5 seconds for a website to load? I barely have…).
Therefore, if your website loads too slow, visitors will just drop before they see your products. So, how BigCommerce and Shopify compare to one another in terms of performance capacity?
Performance Comparison:
| Platform | Performance | Load Time | Mobile Speed | Desktop Speed |
| --- | --- | --- | --- | --- |
| Shopify | 3.9 | 1.3 | 63 | 75 |
| Bigcommerce | 4.5 | 2.2 | 63 | 80 |
Regarding loading speed, both platforms have a very fast loading time. Although Shopify is a bit faster, BigCommerce's average loading time isn't bad at all. Shopify came first with its loading speed at an average time of 1.3 seconds, while BigCommerce's average load time is 2.2 seconds.
I also used Google PageSpeed to check speed scores for both platforms on mobile devices and PC. Both are great, but BigCommerce is slightly better when it comes to PC. On mobile devices, they both hit 63/100.
Winner of Performance:
It's hard to decide a true winner here. I'd say both are great, and you won't notice a difference between the two platforms when it comes to performance.
BigCommerce SEO vs. Shopify SEO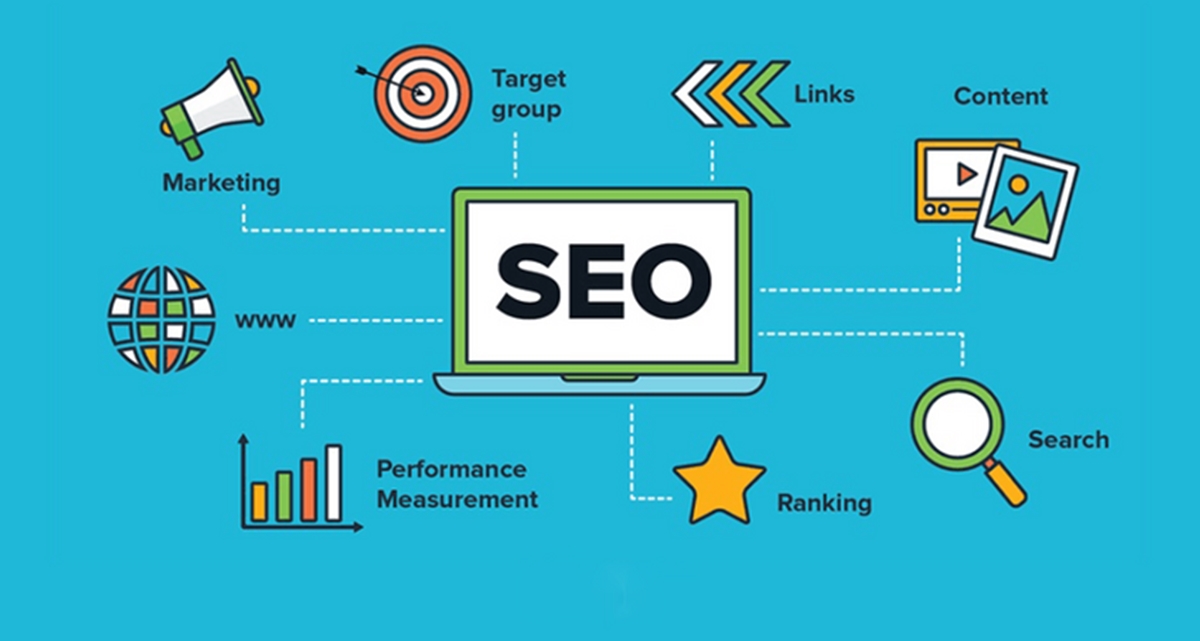 To sell products, the most important thing you need to ensure is that your customers can find you. SEO is one of the best ways to make that happen. Organic search and in PPC ads take the guesswork out of driving traffic to online stores. They use knowledge of common search algorithm behavior to optimize landing page content and page features to bring traffic to your store.
SEO Comparison
While Shopify and BigCommerce both understand deeply the importance of this feature, Shopify's SEO falls somewhat behind BigCommerce's SEO functionality. One of the reasons is Shopiy's rigid URL structure.
Shorter and intelligible URLs are what Google looks for and ranks highly. For that reason, having fully editable URLs for the sake of optimization works far better than forcing some strings, which is exactly what Shopify does with its URL structure. In particular, on Shopify, /products/ and /collections/ are an enforced part of its URL, while BigCommerce allows for full editing of its URLs.
The Robots.txt file blocks Google's access to certain URLs. As Google recommends, you should use it for dynamic pages like search results and the shopping cart page. However, Shopify doesn't allow you to edit this file whereas BigCommerce allows you to modify it from your dashboard.
Accelerated load time also plays an important role in SEO. BigCommerce has AMP automatically enabled on all free templates and some premium ones. You can also choose what type of content this feature is enabled for. This is not something that Shopify has as a built-in feature, and you'll need an app.
These are the areas where BigCommerce does better than Shopify when it comes to SEO. Apart from them both platforms enable you to modify your product title, descriptions, easy 301 redirects, etc.
Blogging. Both platforms have the blogging functionality built-in. With this feature, you can generate content that ranks well on search engines. But, this blogging feature is quite basic compared to what you can get on WordPress. For instance, there's no RSS feeds in BigCommerce and no blog categories in Shopify.
Winner of SEO
While both Shopify and BigCommerce cannot compete with Wordpress in terms of SEO and blogging, BigCommerce has some more advanced features for these areas than Shopify does. Overall, the ranking of BigCommerce sites on Google is higher than that of Shopify sites on average.
BigCommerce Support vs. Shopify Support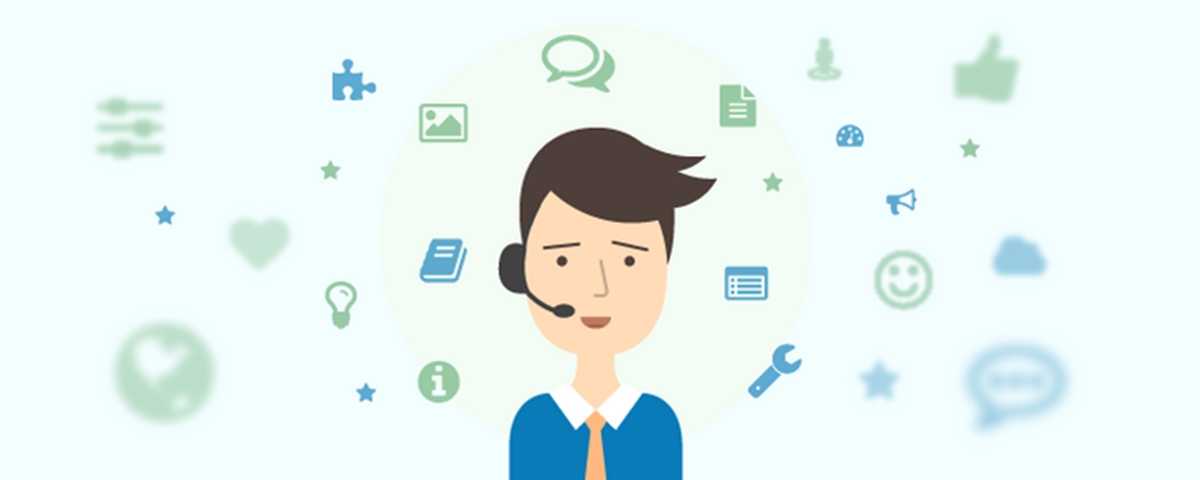 Shopify Support:
Shopify's support is available 24/7. You can contact them via phone call, email, live chat or social media. In comparison with Bigcommerce, with which you have to search for solutions to your problem before being given access to the contact details you're looking for, Shopify enables you to have access to their support immediately.
One thing that is slightly unclear about Shopify's phone support is they don't specify who can access it; with Shopify, phone numbers are provided for specific countries, but the website doesn't make it clear about what number you should dial if you're based in a country that does not belong to the list.
Bigcommerce, in contrast, not only lists more phone numbers for more countries, but it also provides an any other country option. So if phone support is what you prefer, Bigcommerce's offering is arguably more comprehensive and easier to access than Shopify's offering.
BigCommerce Support:
BigCommerce also provides you with 24/7 support via phone, email and live chat. However, as mentioned above, before you get access to a phone number or email addresses, you are encouraged to fill in a form and review potential solutions suggested by Bigcommerce first.
However, noted that Bigcommerce provides a skip this step option for users who know 100% that they need support from a human being!
Why should you use BigCommerce Instead of Shopify?
No transaction fees applied no matter what payment gateway you want to use.
With the exception of the abandoned-cart-recovery functionality which is available on the Standard Bigcommerce plan only, you generally get more eCommerce features on the $29.95 and $79.95 Bigcommerce plans than on the Shopify counterparts.
It's easier to create AMP versions of your store in Bigcommerce than in Shopify (and that is free too).
While you can get a comprehensive set of reports available across all of the BigCommerce plans, Shopify doesn't provide enough of the necessary reports on its $39 plan.
Real-time carrier quotes are available much more cheaply with Bigcommerce — this functionality is included in its $29 per month plan, whereas Shopify only provides it on its $399 per month plan.
You can easily include custom fields and file uploads as product options with Bigcommerce. This function is not readily available with Shopify, where workarounds or app installations are required.
The Bigcommerce abandoned cart saver functionality is more flexible than Shopify's.
With BigCommerce, you can sell in more currencies more easily.
Credit card fees are slightly lower (if you are based in the US and using Braintree powered by Paypal).
BigCommerce seems to have dedicated phone support available in more countries than Shopify
Bigcommerce is compatible with more POS systems.
All Bigcommerce plans provide you with an unlimited number of staff accounts.
There's an official Mailchimp integration for Bigcommerce while there's none for Shopify.
Why should you use Shopify instead of BigCommerce?
You can have access to automatic abandoned cart recovery at a significantly lower price point with Shopify ($39) than with Bigcommerce ($79).
The 'Starter' plan enables you to start selling goods online considerably cheaper than Bigcommerce's entry level plan (assuming that you've already got a standable website with Wordpress or some other platform).
Shopify's theme offerings are better in terms of design and pricing.
Shopify is more popular among dropshippers.
Shopify templates look more distinct from one another than BigCommerce themes.
Shopify's approach to categorizing products is more advanced than Bigcommerce. With Shopify, you can create collections which automatically populate and update themselves based on the criteria you've set up.
Shopify has a much bigger app store than BigCommerce does. With Shopify, you can add any function that you can think of with third-party apps that you can find in the Shopify app store.
GDPR compliance is easier to achieve in Shopify (albeit using a third-party app).
It's easier to adhere to VAT MOSS rules with Shopify than with BigCommerce, because Shopify can automatically calculate the relevant tax rates for you.
Shopify Point of Sale is more tightly integrated with the product, and Shopify provides a dedicated mobile app for this functionality.
Shopify's blogging tool comes with an RSS feed while the Bigcommerce blogging tool doesn't.
There are no limitations on the number of sales you can make for your store no matter which plan you sign up for.
Final Words:
So, after all of this breakdown, can we come to a conclusion which platform, Shopify or BigCommerce, is the winner here? Either of the platforms has their own strengths and weaknesses, so there's not really wrong choice when it comes to selecting Shopify or BigCommerce.
Both platforms offer similar pricing structure, and most of the built-in features that come out of the box are similar too. However, Shopify does have a considerably more mature third-party ecosystem. That means if you choose Shopify, you will have access to a wider community of designers, developers, and freelancers who are knowledgeable about Shopify (and eCommerce as a whole), and always ready to give you a helping hand.
Shopify is also a slightly more beginner-friendly platform than BigCommerce, especially for those who launch an eCommerce store for the first time in their lives.
On the other hand, BigCommerce does give you some great advanced features out the box without forcing you to spend extra money on the app store, or pay for upgrades here and there. If you are more of a technical user who loves to tinker at a more advanced level with your store, BigCommerce should be your choice.
For me personally? I'd summarize this BigCommerce vs Shopify head-to-head this way:
For entrepreneurs who join the world of entrepreneurship for the first time, and are looking for a platform that they can use right away without having to spend too much time and effort getting used to it. Use Shopify.
If you're not hesitant to do some more experimentation with your eCommerce platform, and you're not afraid to get your hands on technical stuff, then use Shopify still...
Were you expecting me to say BigCommerce? Don't be surprised. Here's the reason. It's undeniable that BigCommerce is an amazing alternative to Shopify, but the fact that Shopify is about 10 times more popular is undeniable too. The reason I guess is Shopify is much more user-friendly, and it's more appealing to business starters.
Anyway, that's just my personal opinion. Both platforms offer you free trials, so if you decide that you are not going to get married to Shopify after two weeks, you can just move on to a new relationship with BigCommerce (without losing any money).
Related Posts: