Starting a dropshipping business is more overwhelming than just listing products then earning profits. The majority of your success lies in how you choose dropshipping suppliers to partner with. When you Google search for dropshipping suppliers, you will get millions of results within a few seconds, but you cannot decide what your best choices will be, not to mention that some companies from the results list might require a membership fee to use their services.
Recommend: Best Dropship Companies with No Membership Fees
In this article, we will give you some tips on how to choose a reliable drop-shipper and introduce the best dropshippers in the market to partner with zero budget.
How to choose a reliable drop-shipper?
When you search for dropshipping companies on the Internet, it's unavoidable to encounter middlemen who claim to be certified drop shippers but offer scammed-quality services. Dropshipping can be confusing sometimes, especially when you have to deal with scammers. Here we have some advice for you to get the highest chances of working with genuine dropshipping suppliers.
Understand your distribution channels
There are many ways a product can go from manufacturer to retailer. Not all wholesalers serve the same market. Understanding your industry's distribution channels, and knowing where you fit in the supply chain can help you find the right wholesale supplier for your retail or online business. There are different types of wholesalers, including manufacturer.
The next thing is to start with your sourcing. In this period of the process, the goal is to minimize the costs to prepare for future potential damages, while being able to find a qualified supplying company to work with. The manufacturer of your preferred selling product can sell to you with the minimum required product orders and might give you a list of trustworthy distributors if you ask.
Conduct researches
After making decisions on your distribution channel and products, do some in-depth research on the potential suppliers from the list that may suit your business' needs and goals. Based on the number of suppliers in your chosen product niche, you might have to decide whether to partner with local or overseas suppliers. While doing research, consider some major factors such as raw materials, product sourcing, etc. Besides, don't forget to check out clients' reviews, feedbacks, and testimonials to get a more objective perception of the suppliers. Sometimes it is useful to check the global suppliers' reviews, but you may face connection issues since the resource you are trying to connect is blocked in your region. For this, you can use services like VPN that, by the way, also can be used as a VPN that works for torrents or other resources.
Contact suppliers and order their samples
Once you've done your research, you can start contacting the suppliers that impress you.
Be productive in your first contact with the suppliers by asking questions that are straight to the point - for instance, about their services, their partners or current customers, then briefly stating about what you are honestly looking for.
After contacting, you can make some sample orders to evaluate the quality of their services, customer support, shipping time or any other elements about the suppliers. This sample ordering process is a way to experience the services in first hand before you actually deliver them to your customers.
Order from competitors
If there are other dropshippers who source products from the same suppliers as yours, don't hesitate to order some samples from those competitors as well. By doing this, you will be able to evaluate your services in the market and may have an idea about what to improve in your products later.
Avoid bad dropshipping suppliers
It's not at all easy to tell, but there are some prominent signs to show that the supplier is to be avoided in any circumstances. Factors that foretell a bad dropshipping supplier include:
Negative feedbacks
Cheap quantity products
Require ongoing fees
Minimum order quantity required
List of 14 best free drop-shipping suppliers in the USA
1. Spocket

Founded in 2017, Spocket has already been one of the most trusted dropshipping companies over a span of only 5 years, with over 60,000 customers. Spocket helps connect your store with high-quality suppliers from Europe and the US, with thousands of various products listed and drop-shipped. With Spocket, most of the manual tasks are automated, so you can minimize the effort spent on the product sourcing and order fulfilment process, which may save you a considerable amount of time and money to grow your business profitably.
Spocket offers an updated feature list that can be accessed right from its main menu. Finding products on Spocket has never been easier with the search function in which you can filter products by price, their suppliers and their country base. The search results will also give you a quick glance at the overview of the product.
Using Spocket is profitably beneficial as Spocket suppliers usually offer products with 30% - 60% discounts. The platform also allows you to place sample orders and manage your inventory as well.
Regarding the pricing, Spocket offers a 14-day free trial with no future commitment required. This free plan is recommended to test your first sales, but in order to maximize your profits and get larger product discounts, in the long run, the premium plans might be more optimal. There are 4 paid plans ranging from $24.99 to $99.99 per month, and the provided features are designed specifically for different business scales, from Starter to… Unicorn. For more comprehensive information, you can check out our detailed Spocket review here.
2. AliDropship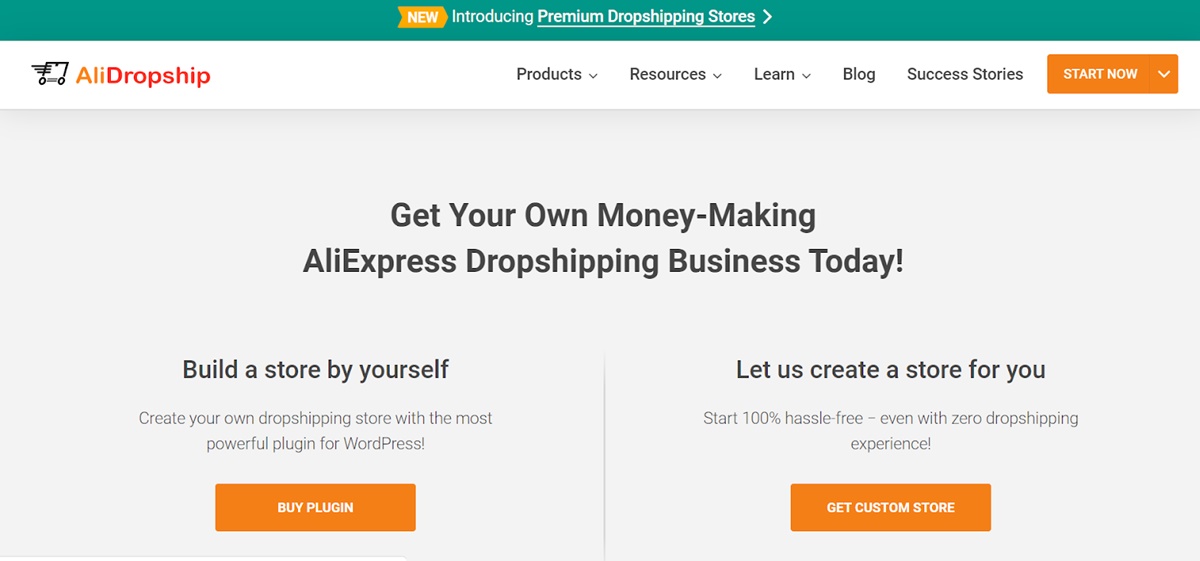 AliDropship is a good option to kickstart your dropshipping business as there's no subscription cost and the product prices on Alidropship are just as low as the wholesale prices on Alibaba. Alidropship is popular for its category-rich products, as you can find thousands of product lines in over 40 various categories on this platform. Although it is based in China and most of the suppliers are Chinese, it is widely trusted by the US market as you can start dropshipping quickly using Shopify and Orbelo. All your sales processes will be automated and there's no need to send an order to your suppliers when a sale is generated.
You can work with several suppliers at once, but make sure to clarify the shipping policies for both parties. Usually, shipping on Alidropship to the US will take at least 2 weeks, and the delivery time is longer for other regions. You won't see your suppliers directly, so consider using credit cards or Alipay on Alidropship to make payments.
Also, Alidropship offers relatively good customer service as they are live 24/7 to answer all your queries about shipping or payment issues. The software even has a section to rate and review suppliers, so you can have more public references before making decisions to partner with a certain supplier. You will get decent protection as a verified drop shipper, so don't worry to check out this platform.
3. Wholesale2B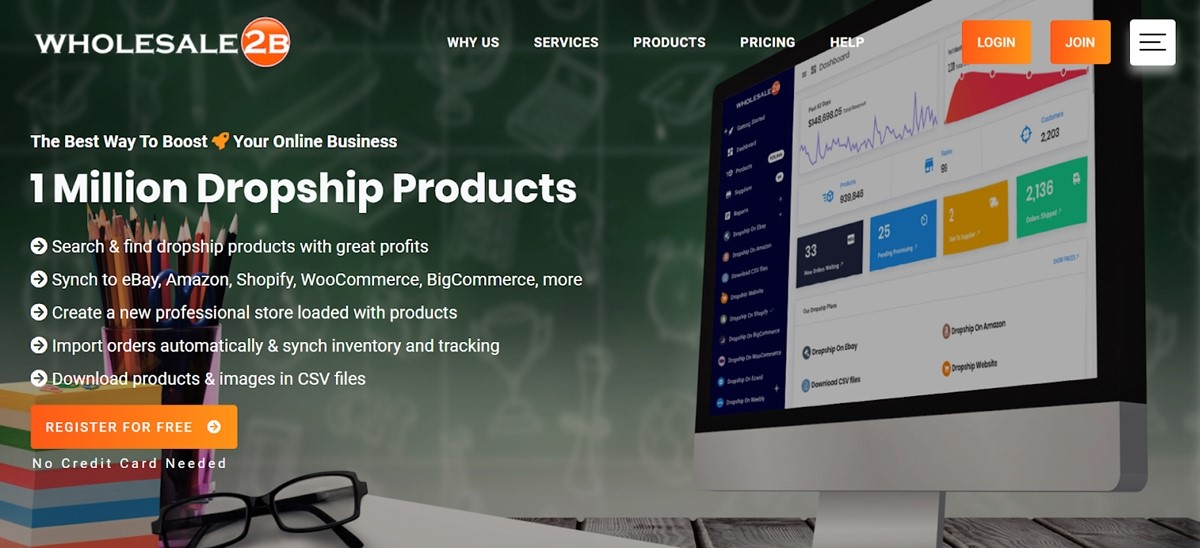 Wholesale2B is famous for its dropshipping integrations with many major e-Commerce platforms such as eBay, Amazon, WooCommerce, Shopify and several others into one single account. The software allows you to select among over 1 million products and helps you register the orders with your suppliers.
With the automated dropshipping solution, Wholesale2B will keep your business up to date with the automatic importation of products to your custom website store and constant updates on price and stock changes. The platform will also process the orders for you. You can even create a brand new store, or consider downloading their product images and CSV files to create a store instead.
About the pricing, the plans vary depending on the supplying platforms. There's no registration fee for Wholesale2B, and you will get access to vetted dropshippers and high-quality products with zero cost as well. Other multiple options are diverse in pricing, ranging from $29.99 to $49.99 per month. See more details in the table below.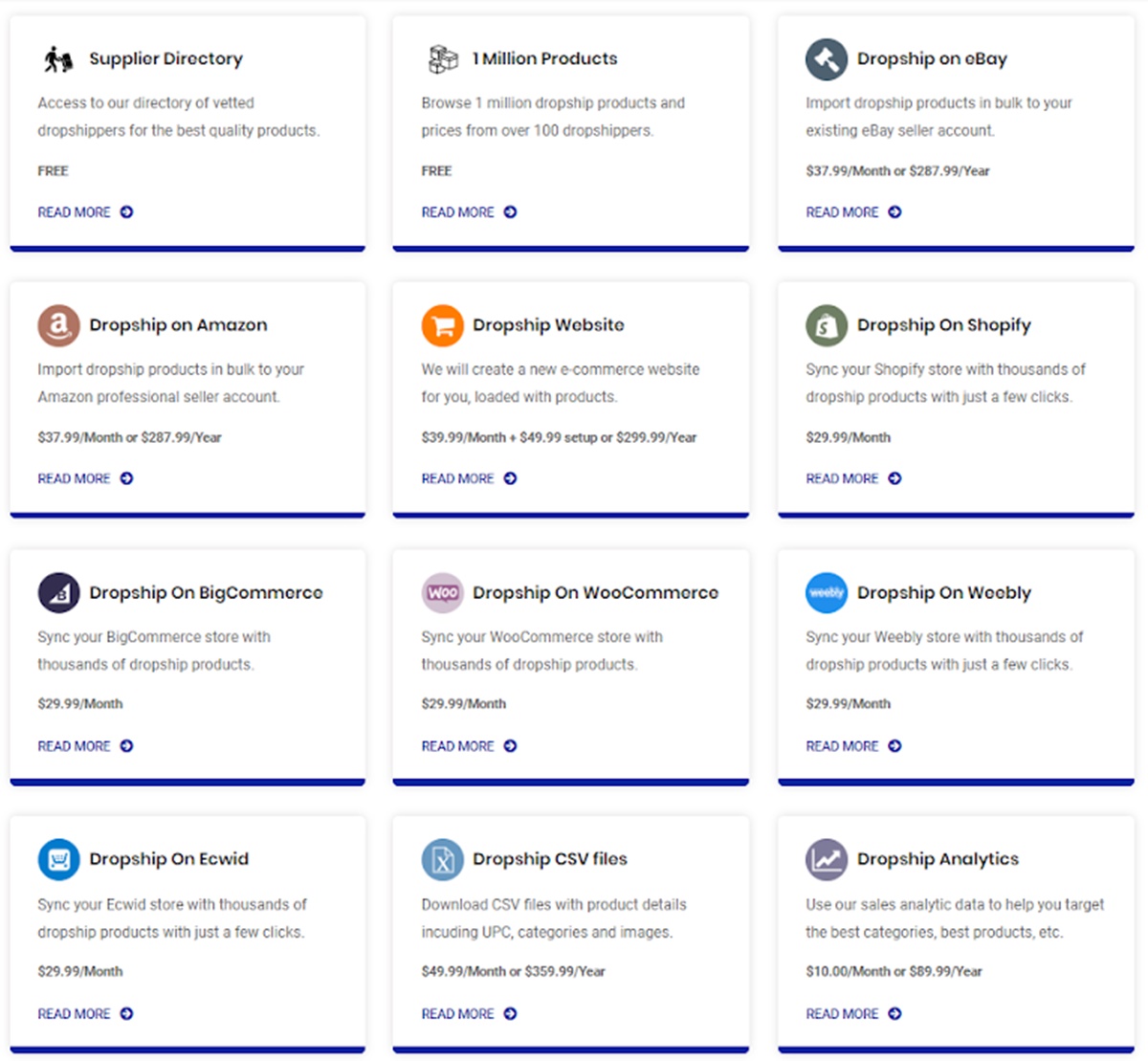 4. SaleHoo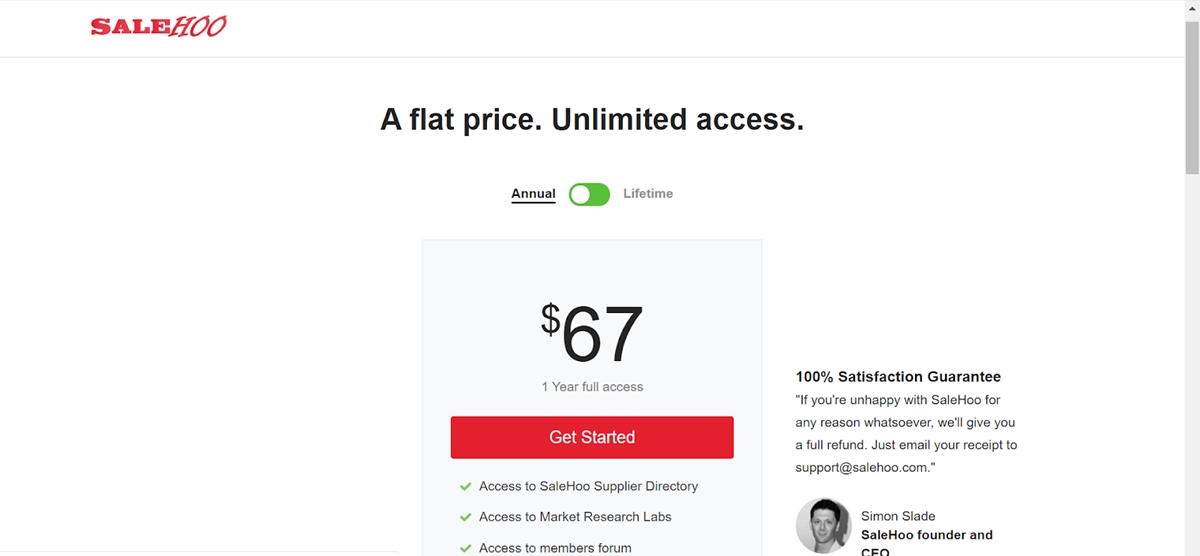 Founded in 2005 in New Zealand, SaleHoo has become one of the leading wholesaling and drop shipping service providers all over the world, as they're among the very first to extend wholesale contacts to a global scale.
When you become a member of SaleHoo, you can get full access to over 8,000 trusted wholesale and dropshipping suppliers, and be offered 1600+ branded products ranging from 75 different categories. These products are selectively chosen by the company's staff, guaranteeing a verified quality.
SaleHoo has optimized all of its features to help you grow your business tremendously. Using SaleHoo, you can access a package of products, market research tools, training materials, or new features updates. The SaleHoo dashboard is designed with optimal functions that can be utilized within a few clicks.
Especially, there's no minimum order quantity or application fee required when using SaleHoo. The annual fee is $67, which is actually affordable compared to the outstanding features that businesses can get access to.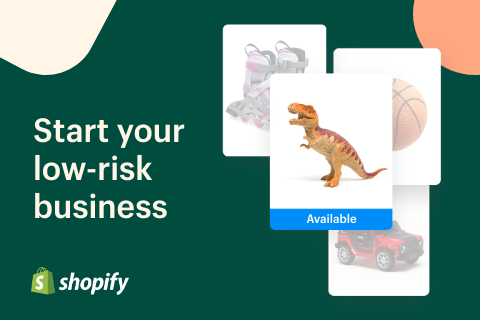 5. Dropified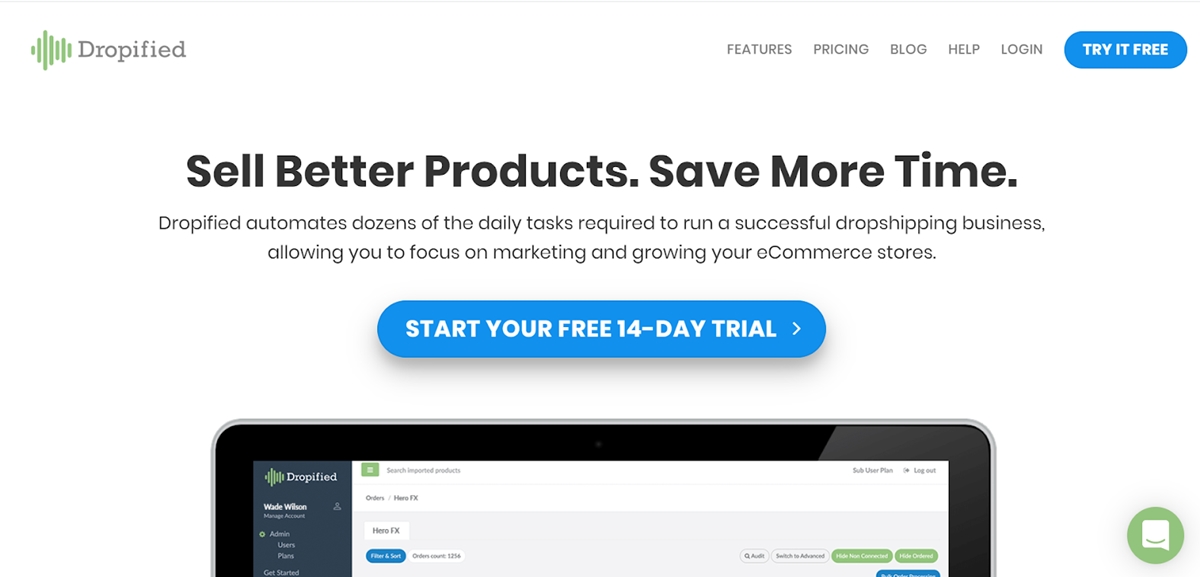 Dropified is suitable for those who would like to sell products from a simple online store and have those items stored, shipped, and packaged by a supplier.
With Dropified, dropshipping can never be easier with a 1-click search function allowing you to find your favored products to sell in your store. The platform offers an automation feature in which you can directly place orders to the suppliers without having to copy and paste the order details manually, and get your orders quickly delivered to the customers.
For those who have just begun dropshipping, Dropified will provide you with amazing customer support, and a comprehensive e-Commerce training that will help you conquer an online business within 60 days only.
You can experience Dropified's features in advance with the 14-day free trial. After that, you will have to pay $47 per month for the Builder plan and $127 per month for the Premier plan. Major discounts are applied when you choose the annual package. Dropified has updated the Dropified Black plan in which you can enjoy many limited features at $1997 per year only, so hurry up and join the waitlist.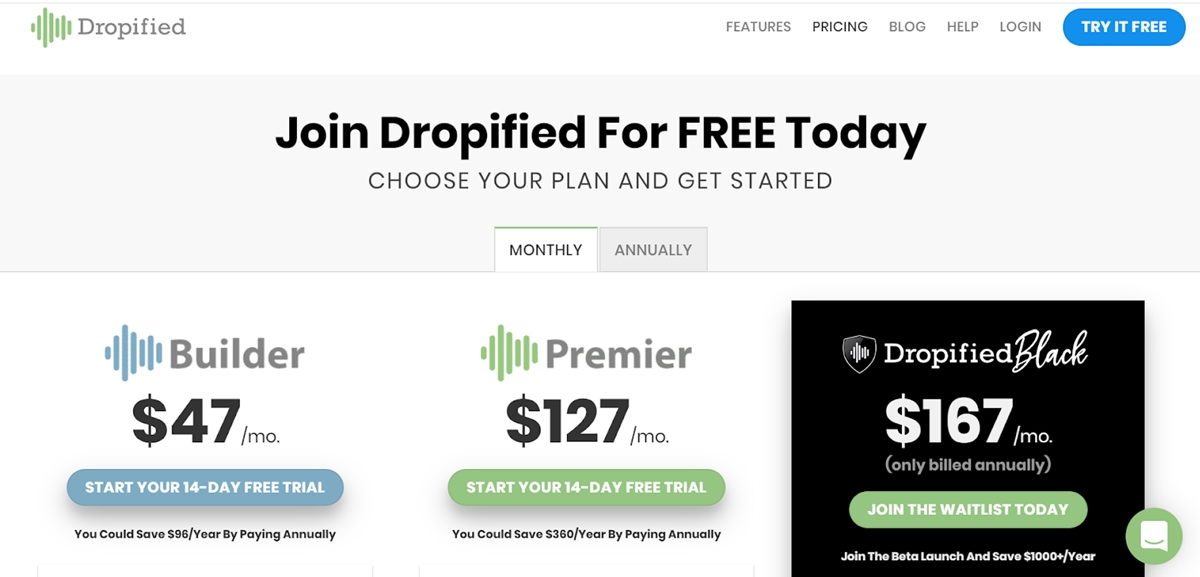 6. Oberlo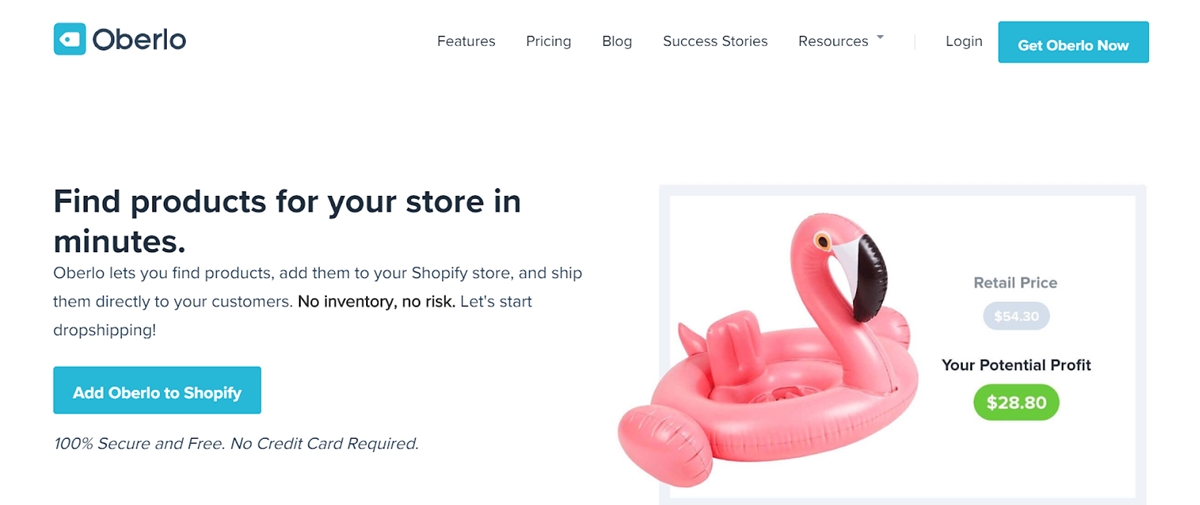 With an increasing number of merchants using AliExpress to find products to sell, Oberlo might be the best option to optimize this process. There are numerous benefits you can take advantage of when partnering with Orbelo.
The most outstanding feature about Oberlo is its automation system to help you cut down on the amount of unnecessary manual works. With Oberlo, it will be much easier to find products to import and sell directly at your dropshipping store. The order fulfillment process is now optimized within a few mouse clicks, with the prices and stocks being constantly updated to help track your inventory status more seamlessly. The orders are integrated with Oberlo's special shipment tracking system, so there's no need to worry about delivery losses.
Products listed on Oberlo are all modifiable in terms of prices, images, titles or descriptions, so feel free to edit them at any given time. You can also find a new supplier for your existing products with ease as well.
Customer support on Oberlo is provided 24/7 to answer all your queries about running your online store. The platform even enables you to have multiple accounts at once, so you won't have to think much about sharing an account when employing more assistants.
About the pricing, Oberlo does offer a free plan equipped with a full feature list to get started. As your business scales, you can consider opting for the Basic or Pro versions for $29.9 or $79.9 per month, respectively. And of course, with these paid plans, you can get access to more premium and freshly updated features.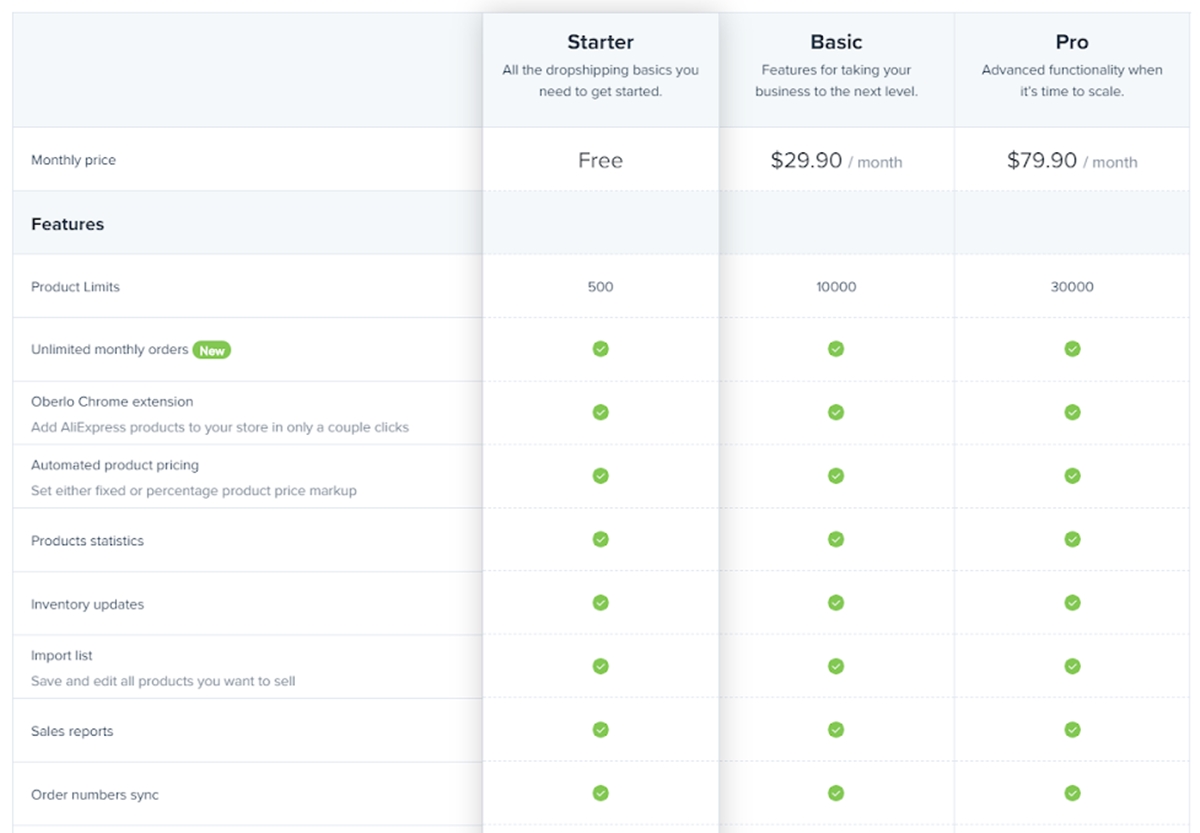 7. Wholesale Central
WholesaleCentral is one of the oldest companies to find suppliers to dropship. Based in the US, the FREE directory provides a worthy list of suppliers' contact information on their site.
Wholesale Central has a search filter that categorizes different products. When you click on the category, there will be a list of suppliers showing up with their names, locations, and introductions. And once you've selected a product, you will be directed to the supplier's site - and if their contact information is not displayed on Wholesale Center, you will have to manually reach out for them by yourself. There are no middlemen during this process.
There are other benefits when using the Wholesale Center for your dropshipping store. New suppliers are constantly added to the Wholesale Center to give dropshippers more choices. Also, pricings on this platform are extremely transparent with no hidden costs to guarantee you with the highest profit margins.
As mentioned above, the platform is 100% free of charge, so we can let off some inconvenience such as an outdated banner or a limited number of products.
8. Doba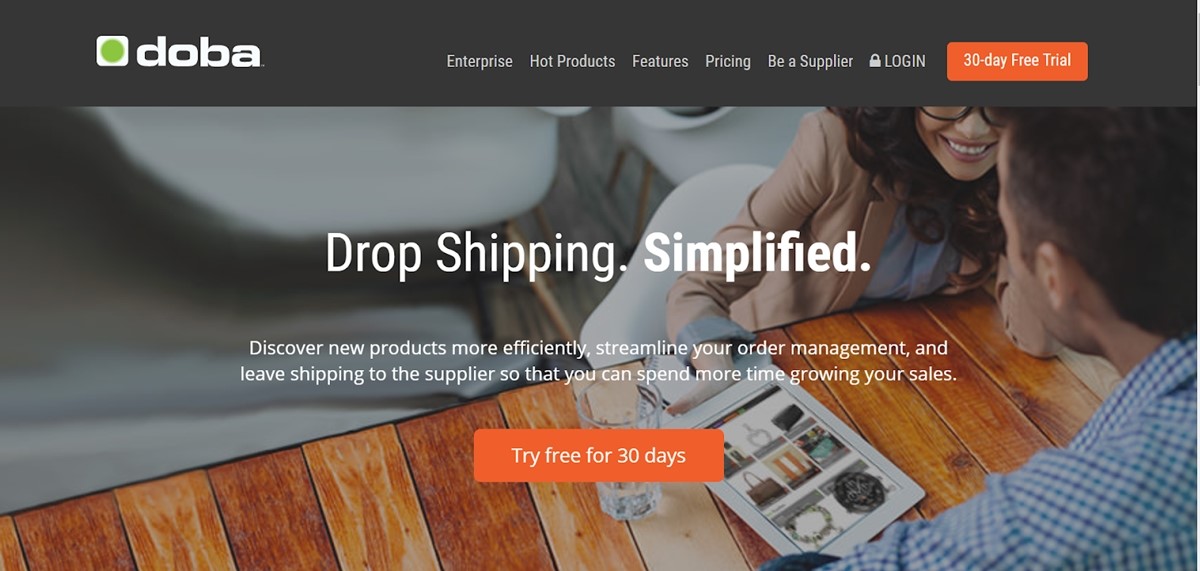 Doba is an ideal place to gather manufacturers and dropshippers together. The platform allows you to search and list millions of products and connect with numerous suppliers.
Doba's feature list is truly worth a glance at. With Doba, finding the right products to sell is no longer challenging, since you're equipped with sufficient tools to optimize the process. The search features are now upgraded with advanced filters such as free or fixed shipping fees, price, quantity available and many others. A streamlined order management system, with the custom inventory, alerts to inform your inventory status will help reduce the rate of order cancellations or refunds.
You can experience all these features in a 30-day free trial for initial testing. If you're satisfied with the service, you can opt for the premium paid plans to enjoy more features and optimal customer support. The monthly paid plans are offered at $29 for the basic plan, $69 for the advanced plan, and $249 for the pro plan. Recently, Doba has updated a new Enterprise version with more upgraded features, and the price will be decided depending on the agreement of both parties.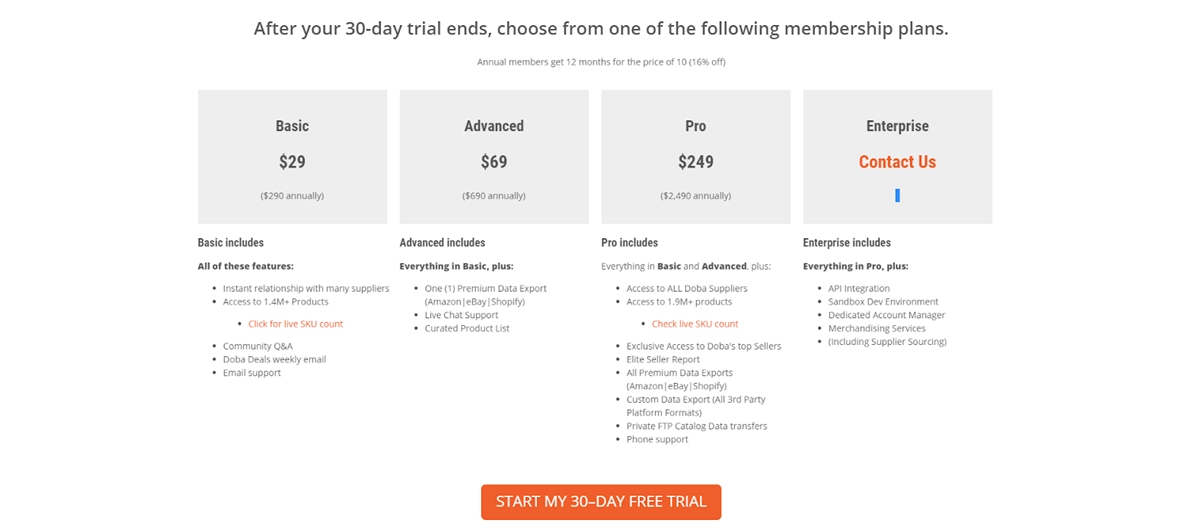 9. Sunrise Wholesale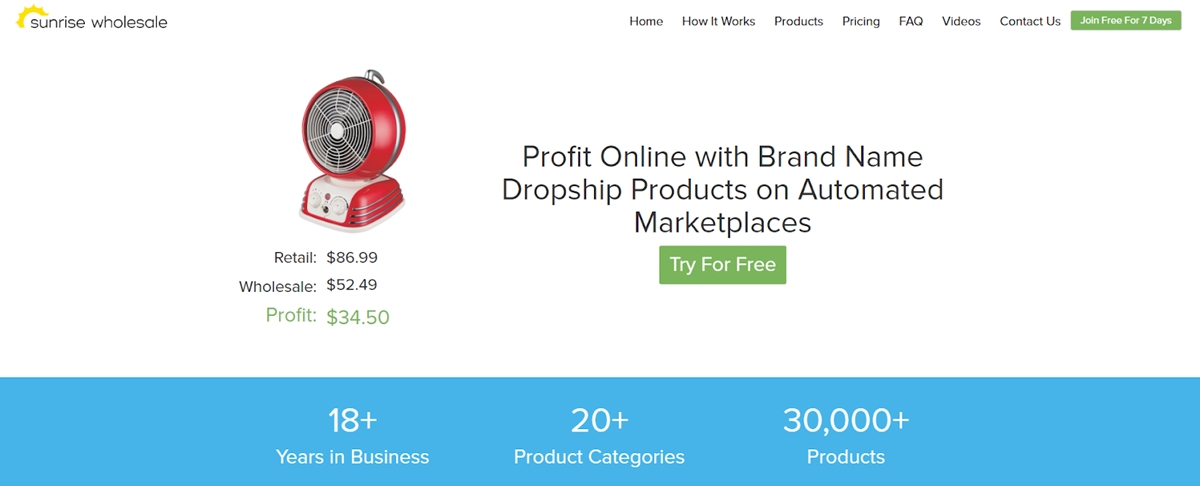 Sunrise Wholesale is one of the most popular US-based wholesale drop shipping sites. With its long history of over 2 decades in the industry, Sunrise Whole is widely trusted by many local suppliers and dropshippers.
The platform has been providing a wide range of locally-based products in various categories such as jewelry, home decor, electronics, sports and fitness, gifts and many others. Sunrise Wholesale can be integrated with big platforms such as Amazon, eBay or Shopify and it allows you to list the products directly from these sites as well.
With Sunrise Wholesale, you can get access to several services such as automated refund form, inventory tracking alert via a daily email, phone service or data feeds. You can experience these features for free with a 7-day trial. When the trial ends, you will have to pay a membership fee for the paid plans starting from $49 per month to $199 per year.
Although the products on Sunrise Wholesale are high-quality, these costs are still a bit high for small businesses or dropshipping startups, not to mention that you will even have to pay 20% restocking fees for returned items that are not defective.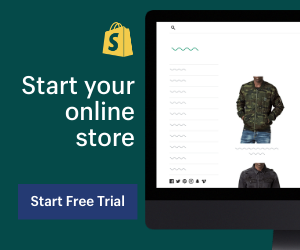 10. Worldwide Brands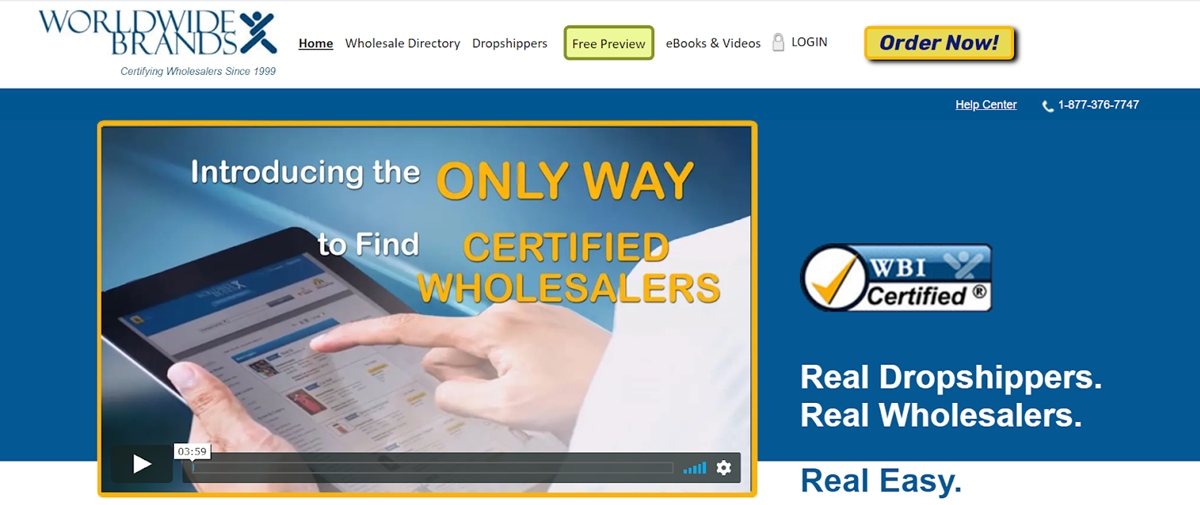 Worldwide Brands has always been a big name in the wholesale market. Founded in 1999, the site verified and fool-proof each of its products from suppliers. The company guarantees its products' quality by making direct visits with suppliers and their factories to make sure that the offered products are authentic.
With Worldwide Brands, every drop shipper in this directory is certified as they public all the manufacturer's contact information after you find your match. About the pricing, the company offers a lifetime plan of $299, with full access to the database of wholesalers and drop shippers.
This pricing plan is actually ideal compared to other competitors' in the market, especially for long-term business operations. However, there are some major drawbacks that you may consider. First of all, wholesale dropshippers will be upselling with other additional services that Worldwide Brands work with. Let's take Quickbooks and Sell-Niches.com as an example. If you use these sites' services, the company will get third-party commissions.
Also, customer support is available for members, but the resources are not specifically customized for each person. And unfortunately, there are no such things as live support or consultancy. In other words, Worldwide Brands is more optimal for retailers with large orders other than the beginners in the e-Commerce game to make the best profit.
11. MegaGoods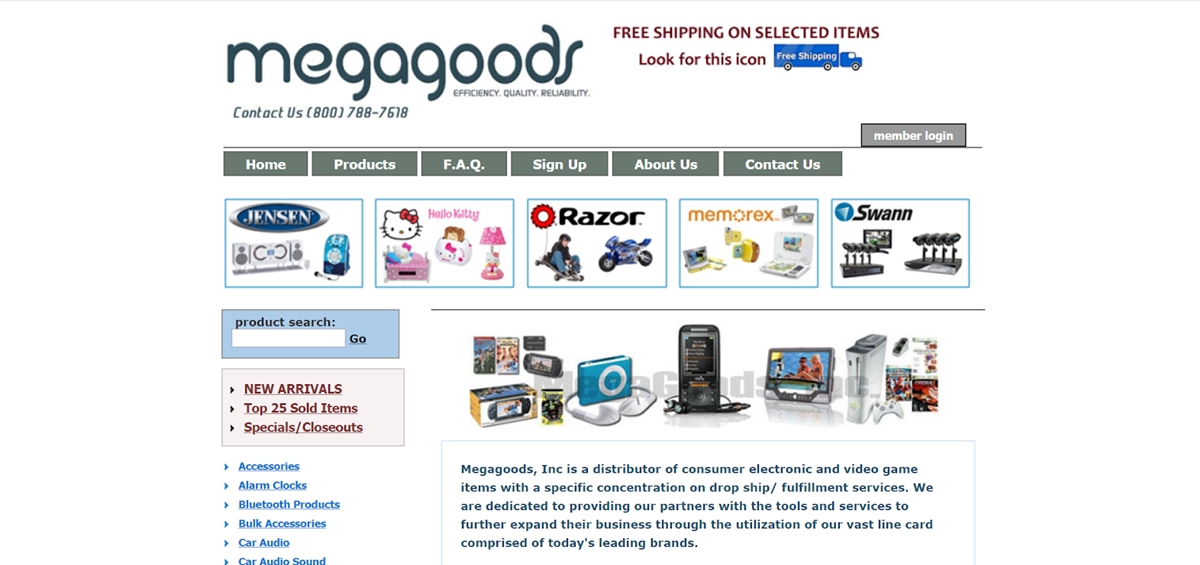 MegaGoods is a US-based wholesale dropshipping company that offers outstanding electronic and video game products for your dropshipping store. The company only has around 2,000 products, but all of them are detailedly categorized into interesting niches such as Alarm Clocks, DJ Products, Cookware or even Hello Kitty.
The amazing thing about MegaGoods is its order management system. Dropshippers can easily reach out to their customers with the blind-dropship feature in which they won't know that their orders are from a third party. Also, it will only take about 1 to 2 days to deliver the orders with the shipment tracking, and you will have full control over the shipping fees from suppliers in the US.
Since MegaGoods mostly focuses on electronic devices, the 30-day guarantee return policy is a big plus to gain trust from dropshippers and their customers. Any problems with the manufacturers' faults will be solved since the date of delivery.
The site offers a 30-day free trial which is sufficient enough for initial testing. When you become a member, you will have to pay a $14.99 membership fee per month to get access to limited products. Additionally, for each drop-shipped item, you will be surcharged as well. Compared to other platforms, MegaGoods' pricing is relatively cheap and affordable.
However, the most noticeable drawback lies in its interface. The landing page and overall layout are not beautified, and there's no updated search filter which may cause some inconvenience with your product searching process. Of course, we should not expect too much at this offered price.
12. Inventory Source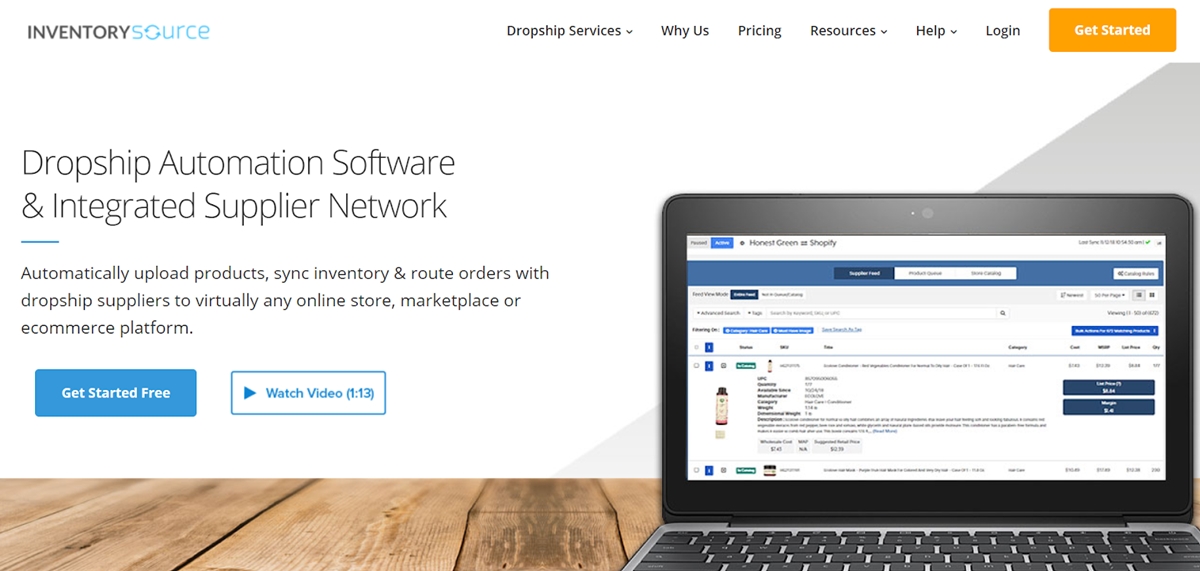 Inventory Source is a famous dropshipping supplier in USA providing robust inventory and back end management. There are over 100 suppliers hosted on the platform, with US Direct to help immediately dropship over 120,000 products locally. The site also offers full dropshipping integrations with major eCommerce platforms such as Shopify, Amazon, eWorldTrade, Magento or BigCommerce.
Using Inventory Source, you will be provided with fully automated features and services that help you save your efforts to grow your business. You will get 24/7 support, with full product data updated directly to your website within a few clicks once you sign up. For beginners, there are a lot of sources for tutorials and pre-training materials to get you started. If you haven't got a site yet, the service will do it for you.
Inventory Source does offer a free plan with full access to all the information, but you will not get the automation app. That means you will have to contact the suppliers, find the products and choose the shipping options all by yourself. We suggest you use the paid plans, as they're not costly compared to the advanced features and access you will get. Each will have three plans with different pricing levels, so choose the one that suits your business scale best.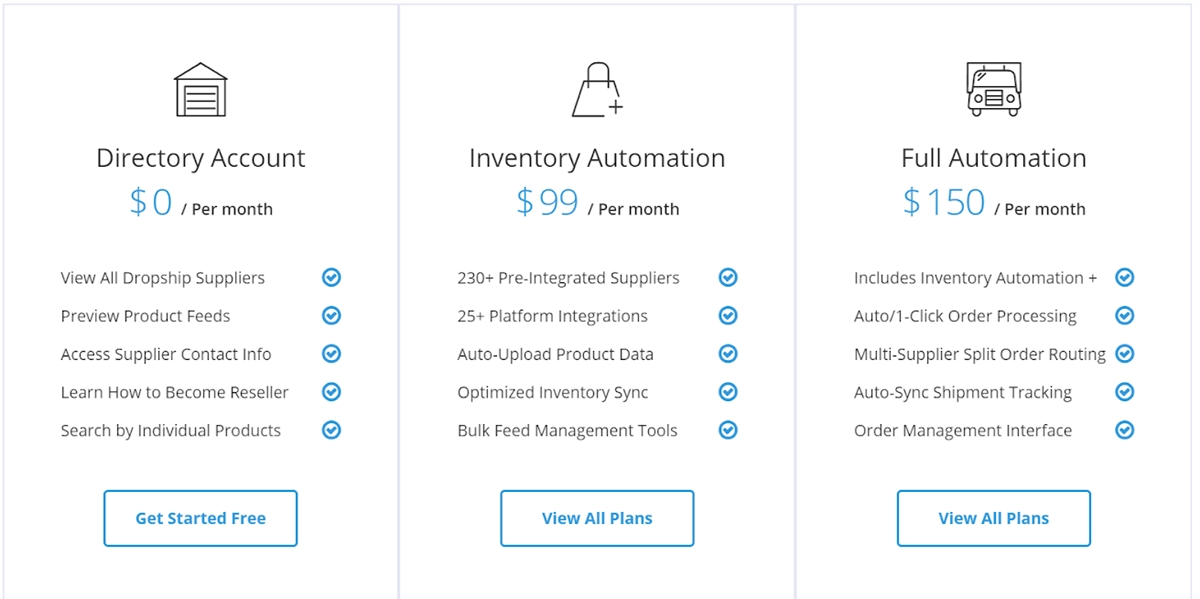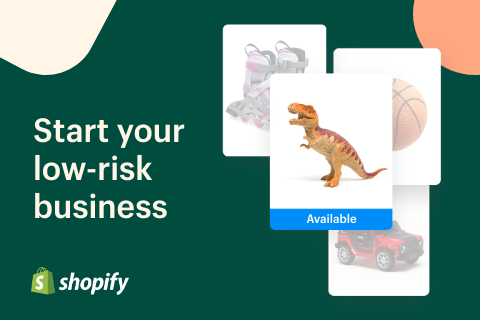 13. China Brands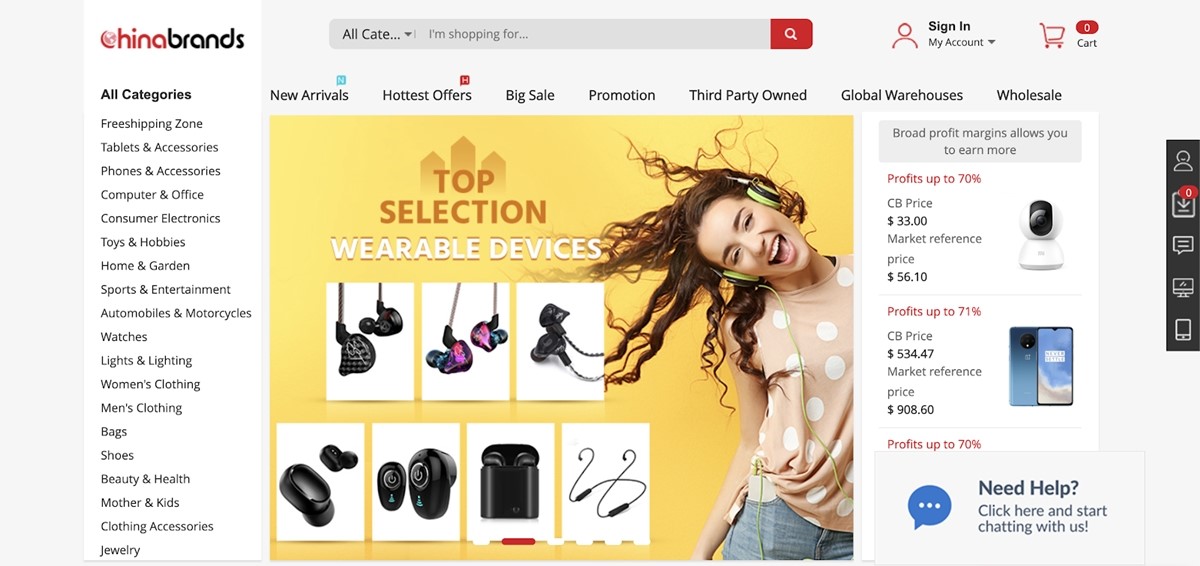 Based in China, China Brands is one of the biggest dropshipping sites all over the globe. With a total of about 40 million registered users and over 2 million pure purchases, China Brands undoubtedly stands out among dropshippers in the US.
The platform provides comprehensive dropshipping services, from order fulfillment, product sourcing and listing, shipment tracking, automation, and many different others. But the most impressive thing about China Brands is its wide range of products in about 170+ categories. There are about over 500,000 products ranging from beauty products, home decor to electronic and entertainment devices. Products are updated daily to the catalogs.
China Brands has networked with over 20 big suppliers including eBay, Shopify, Amazon, etc. and 5000 other authentic supply platforms, allowing dropshippers to choose any best-selling items with no requirement of minimum orders.
About the pricing, the platform has a VIP membership system including 5 levels in which you can upgrade your scale based on your monthly sales. The membership price is $7 per month, and you can pay in 2 different forms. Further pricing details can be found here.
14. Big DropShip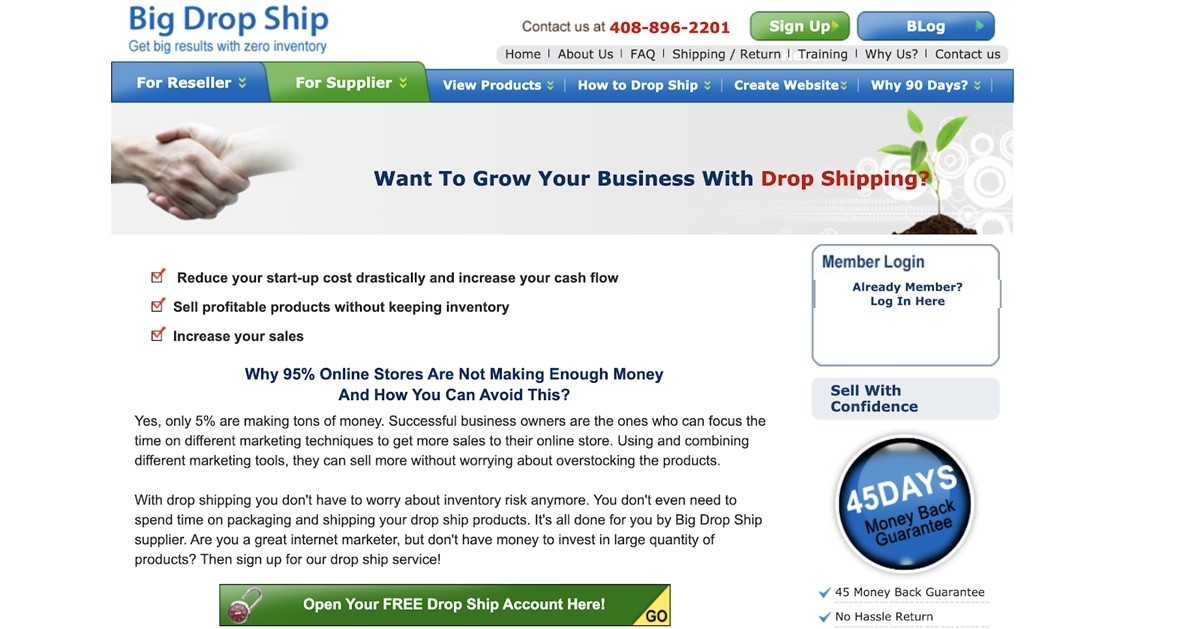 Big Drop Ship is a great solution to help you save you some time on inventory management so that you can focus on building your marketing strategies and growing your business. Big Drop Ship is here to prevent your business from inventory or shipment risk with its quality-guaranteed dropshipping services.
The platform offers inclusive market surveys to help you search for the most high-converting products to sell. There are a total of 15 different product categories to choose from, including cars, clothing, home decor, computer software and more. You will be connected with the best suppliers for the hottest deals as well.
Registration on Big Drop Ship is completely free, and no hidden fees or extra costs are included. This platform is a relatively good place to start a small dropshipping business regardless of the outdated layout and functions.
Final Words
Dropshipping is one of the best ways to start an online business, especially for those who have a modest initial investment. Whether you have big or small amounts of money, you should always think of how you should divide your spendings for each business-developing category. When dropshipping, find the right suppliers might be one of the determining factors of your store success, so we hope that our reviews on these 14 free dropshippers in the USA have given you an overall look and helped you decide who to partner with.
Good luck with your path!
Related Posts: