Email Marketing Automation is not just for big companies who have money to spend. It's becoming a huge necessity to stay in eCommerce because it's a way to deliver a personalized customer experience.
For any online seller who wants to develop their business, eCommerce email marketing Automations can make it possible to reach out to all customers as needed (and not go insane for repetitive manual work). Many marketers only think of abandoned cart messages when they talk about email automation, but there is much more to email automation than that. In fact, there are many different uses of email marketing automated workflows that can make your business development simpler, easier, and more profitable.
In this article, I will explain to you how you can create automated email marketing workflows that drive sales and examples of the best ways to implement your email marketing automation. Let's jump right into the details!
What is an automated email workflow?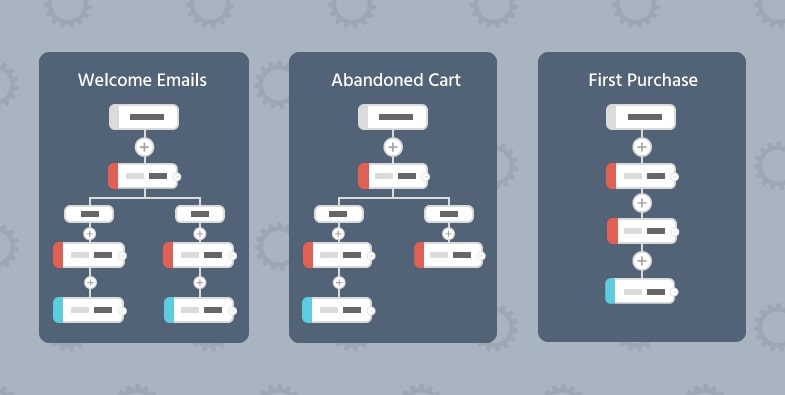 Email workflow is an automated sequence of emails triggered by the particular subscriber actions or data you have generated in your email service provider. For example, you might set up an email workflow that activates when a customer reaches a milestone—the anniversary of their entering your list, spending a certain amount of money, or something else that you think they will be interested in.
The email workflow you create automatically sends a series of emails designed to make your customer understand your product's benefits while saving you time and money. You just need to build the workflow once and let it run on its own. Similarly, you can set up a workflow that saves abandoned carts, upsell products, or re-engage inactive subscribers. The possibilities are endless, and having a clear goal will help you create effective automated email workflows. Email workflow automation allows you to send personalized and meaningful content that your customers are most likely to interact with.
This is by no means saying you should set up your email workflow and forget about it. You should regularly keep an eye on your workflows to ensure that you're getting the outcomes you expect from them. Note, one of the reasons email marketing is so cost-effective is that it's easy to constantly refine your approach, track your metrics to see what works and apply those strategies across your email marketing efforts.
An email workflow can lead your customer through their buying journey with the progression of emails before they are eventually ready to make a conversion and take the next move with your brand.
Why are automated email workflows beneficial?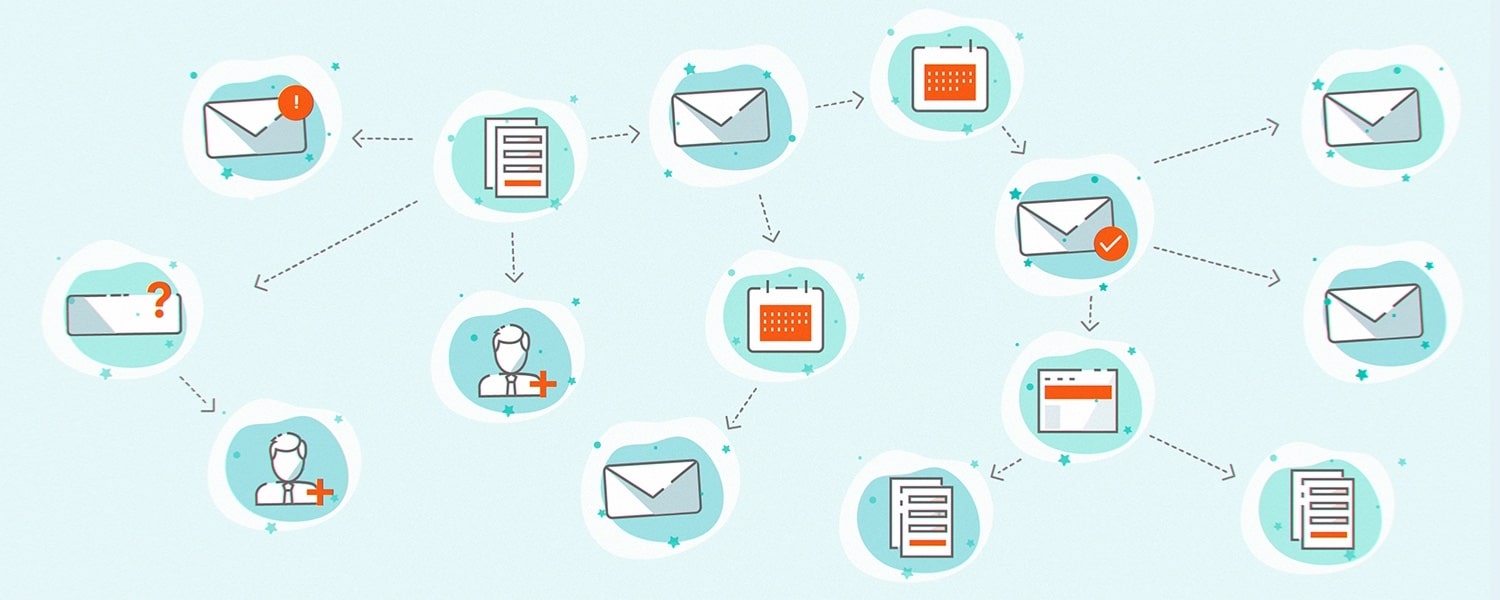 Automated email workflows save you time
You don't need to send thousands of emails manually anymore. Once you have set up your email workflow, the email marketing automation tool you use will take care of the technological side of things. As soon as your subscriber does an action that activates the defined trigger, the email tool will automatically send the corresponding email while you might be occupied with other issues.
Automated email workflows drive your leads through your marketing funnel
If you drive a lot of traffic to your website and get loads of new subscribers without any increase in revenue, you could lose your leads somewhere along your funnel. Using email marketing workflows helps you keep in touch with your customers and drive them through your funnel with valuable content.
Automated email workflows help you create a personalized customer experience
You can create email workflows that send highly relevant emails based on the qualities of your leads such as where they are in your marketing funnel, how they interact with your brand or their specific interests.
In other words, email workflow automation addresses the question, "How can I create a relevant and personalized customer experience to build long-lasting relationships with my audience?"
Automated email workflows strengthen your overall marketing strategy
It helps to improve the email marketing plan. If you're wondering how to deal with a high volume of abandoned carts, low open and click-through rates, low unsubscribe rates, etc, email automated workflows can help you with these problems. You can use them to provide your customers with useful information through their whole purchasing life cycle with your brand. All you need to do is find out where your customers need help and set up email automation triggers to provide solutions.
What tool should you use to set up automated email marketing workflows?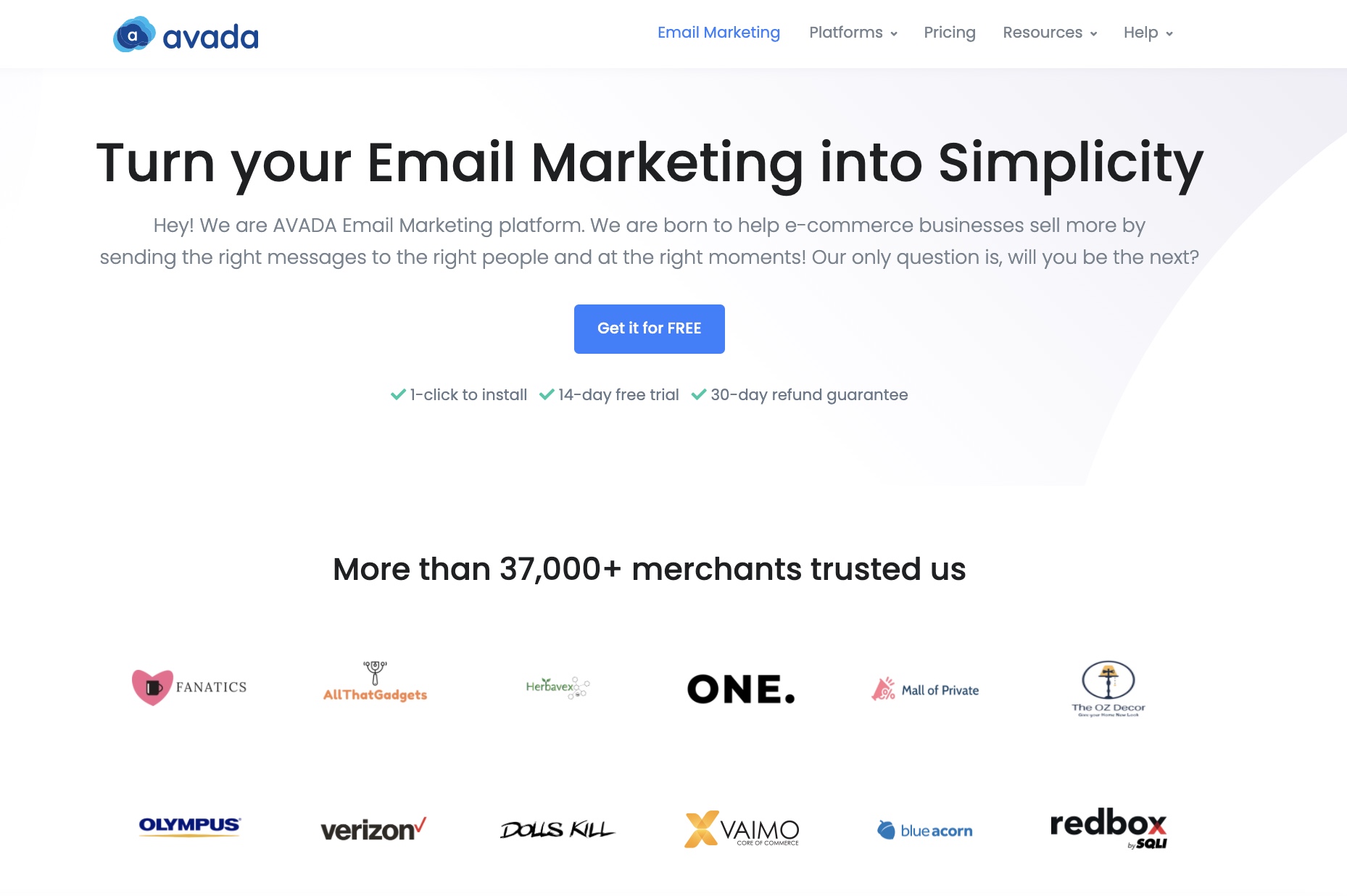 There are many email marketing automation tools on the market that provide you with features to create automated email marketing workflows, and you can read this article of ours about the top 7 best email marketing automation tools to narrow down your options. Within this article's scope, I will use our email marketing automation tool, which is AVADA - Email & SMS Marketing, to show you step-by-step how you can build your own workflows.
Suppose you're a small business that is trying to dip your toes in the world of email marketing automation. In that case, I believe that AVADA Email & SMS Marketing is the right option for you to get started with thanks to its rich functionality, ease of use, and affordability (starting at $9/month for unlimited emails and 1,000 contacts). Next, I'll explain to you how you can set up your own automated email marketing workflows.
How to Set Up An Automated Email Marketing Workflow: Step-by-step guide
Step 1: Identify who you're going to target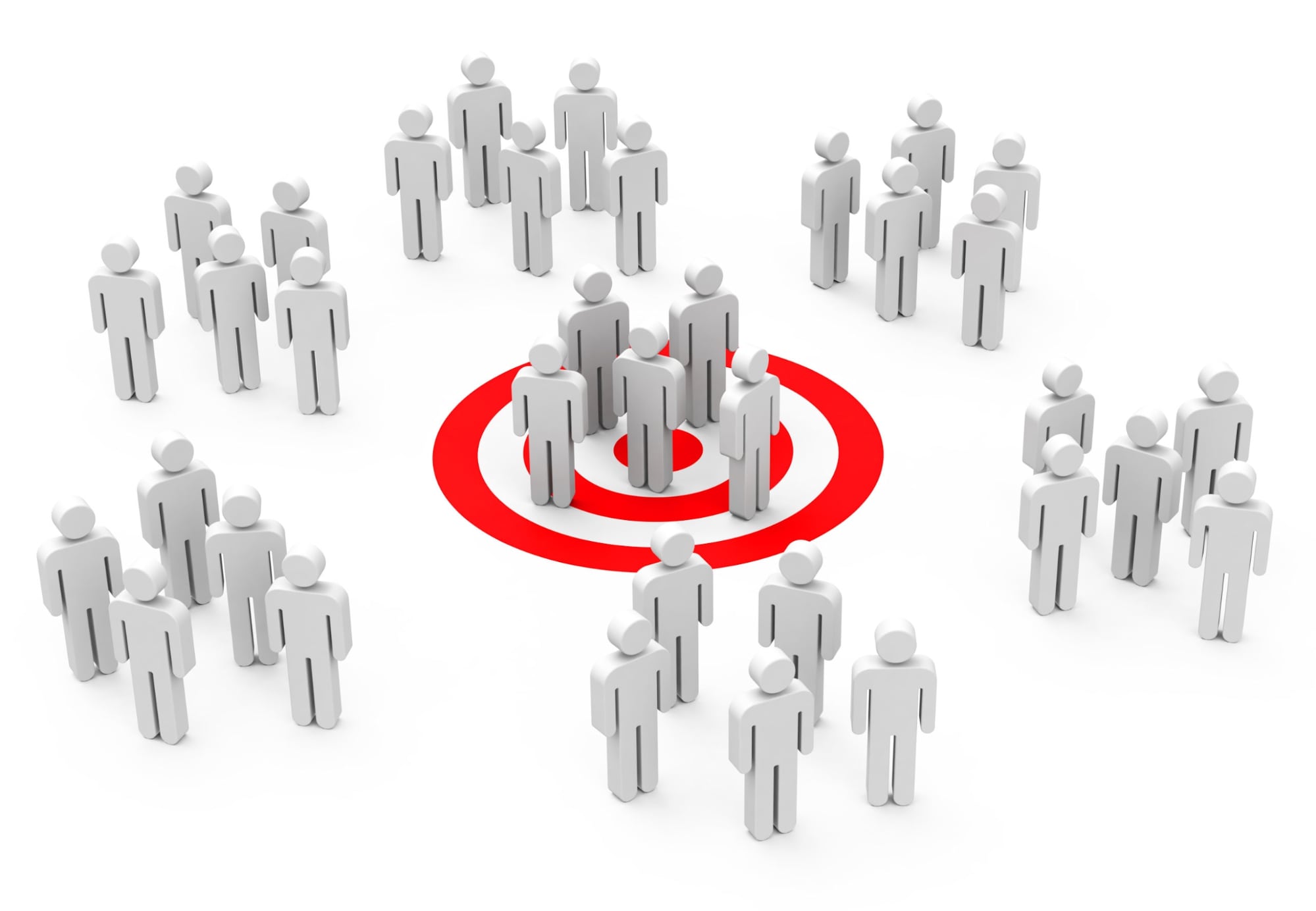 Personalization is important when it comes to email marketing, and if you segment your email list properly, you will be able to target the right message to the right group of subscribers. This depends on the information you've gathered from your contacts and the data about their actions with your brand.
For example, if you have a segment of customers who have bought a specific product before, you can target them with an upsell campaign that promotes a product related to the one these customers have bought.
To segment your customer list, you will need to identify the qualities of the customers who you want to put into the same list. In the language of email marketing tools, this is called "a condition". Everyone who meets a condition will be put into the list defined by that condition. For instance, here's a segment of customers who have never made a purchase.

There are many other conditions that you can use to create your segment.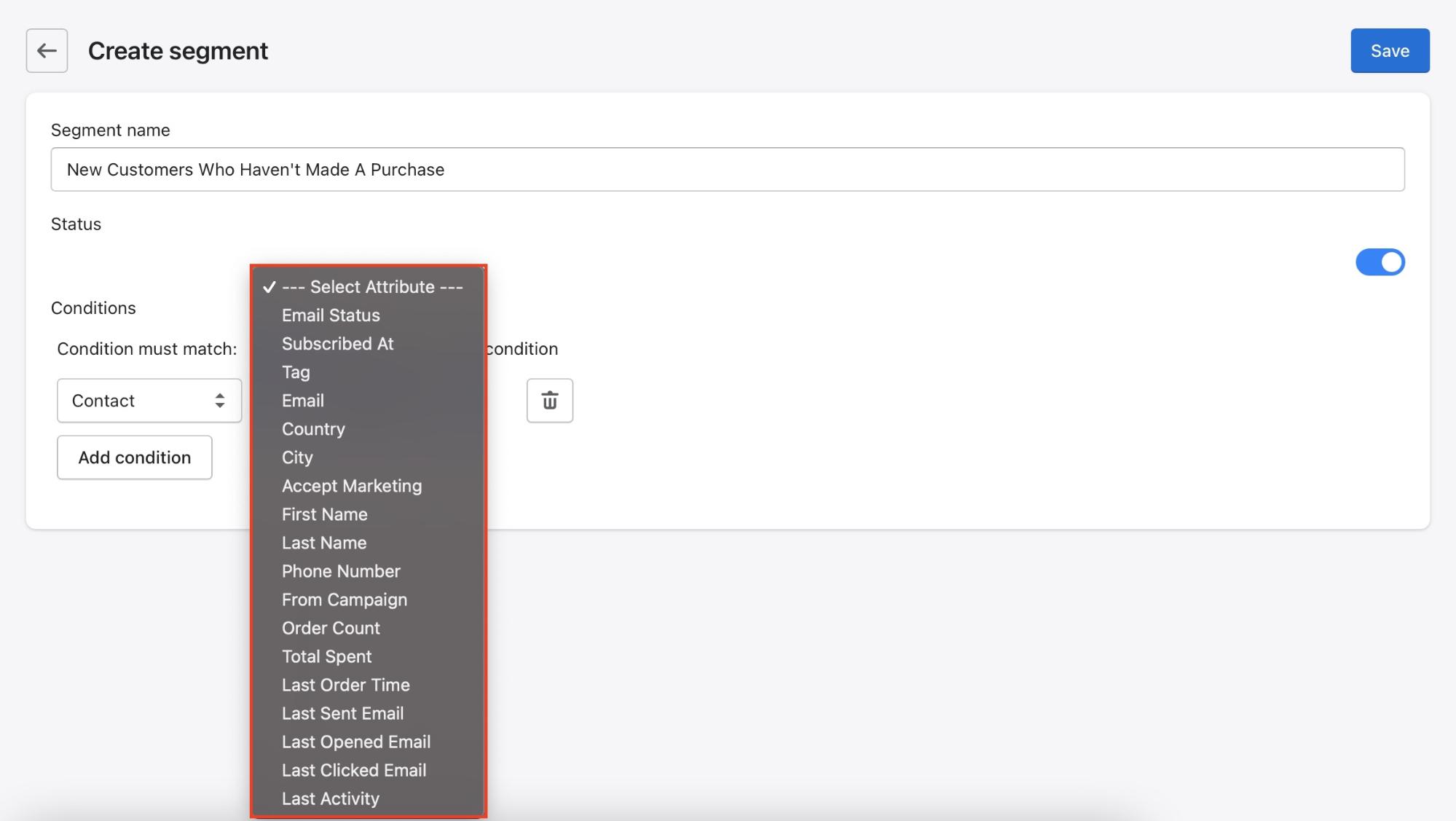 Step 2: Identify your goal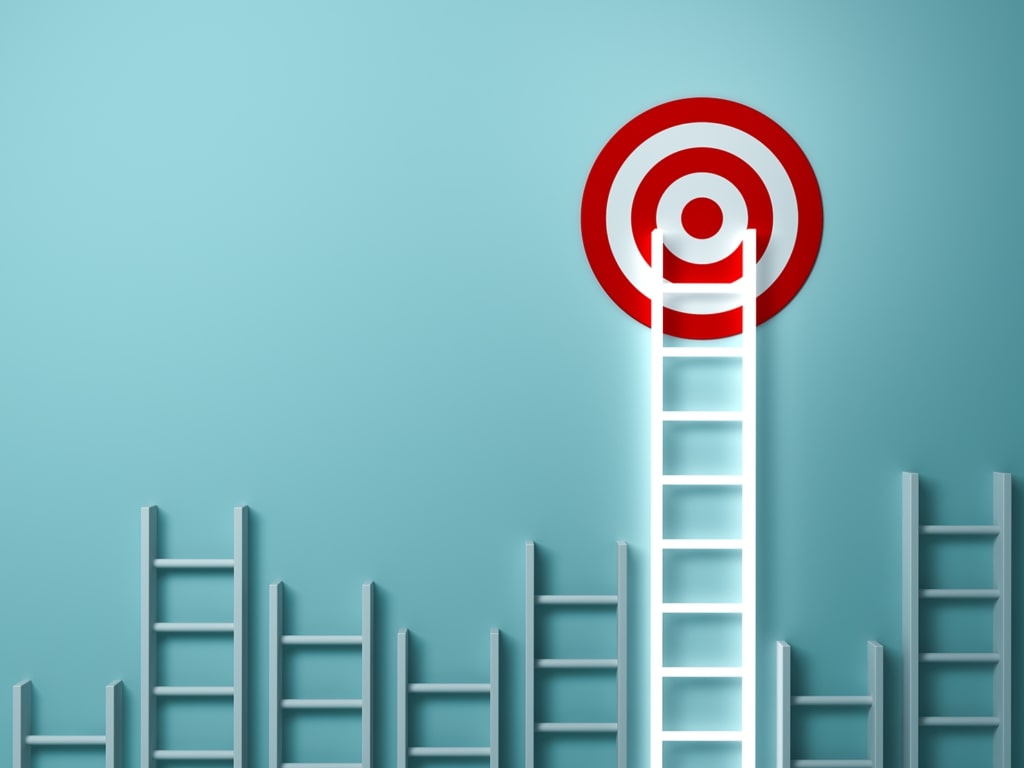 Your email marketing is just as good as your strategy, so make sure you know why you target these people with your email. Would you want them to buy something? Know more about a product? Sign up for a webinar? When you know this, you can find out the message you want to send to your customers.
Read more: Marketing communication: Definition, Goals, Types, and More
Another reason why identifying your goal is important is you will know who you shouldn't send emails to. For example, if your goal is to send an offer to new subscribers to encourage their first-time purchase, your target shouldn't include people who have bought before. In AVADA Email & SMS Marketing, you can choose the New Subscriber event type for this particular goal.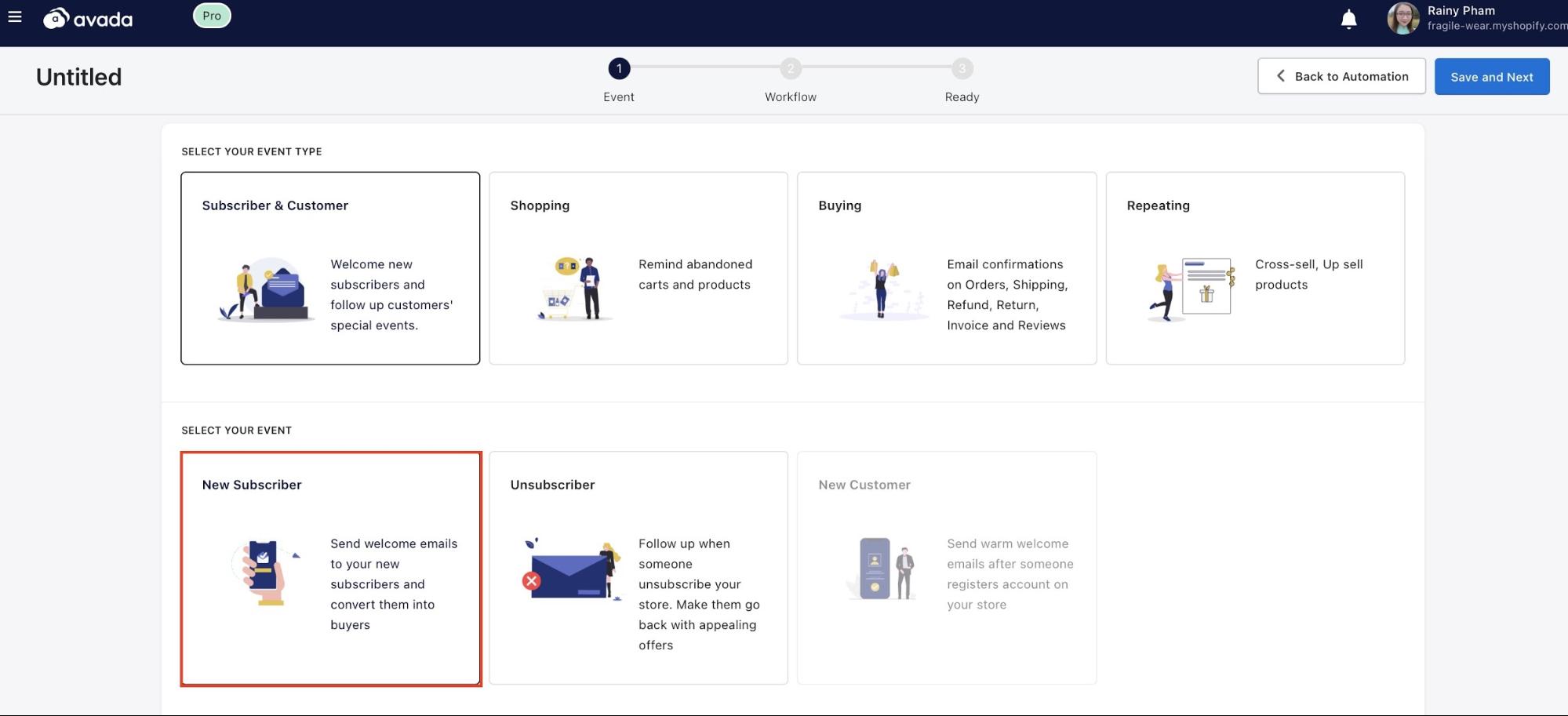 Step 3: Identify your targeted segment
"Targeted segment" refers to the people who will receive emails from your automated workflow. They are the segment that you have created with your pre-defined conditions at Step 1.
When you begin setting up your automated email workflow, choosing a targeted segment is one of the first steps you need to take. You'll need to do it properly; otherwise, your emails will be sent to the wrong audience. Keep in mind that your automated emails will be triggered for anyone who is in your targeted segment.
We're trying to set up an automated email workflow to target customers who haven't made a purchase before, so I've selected that segment from the list.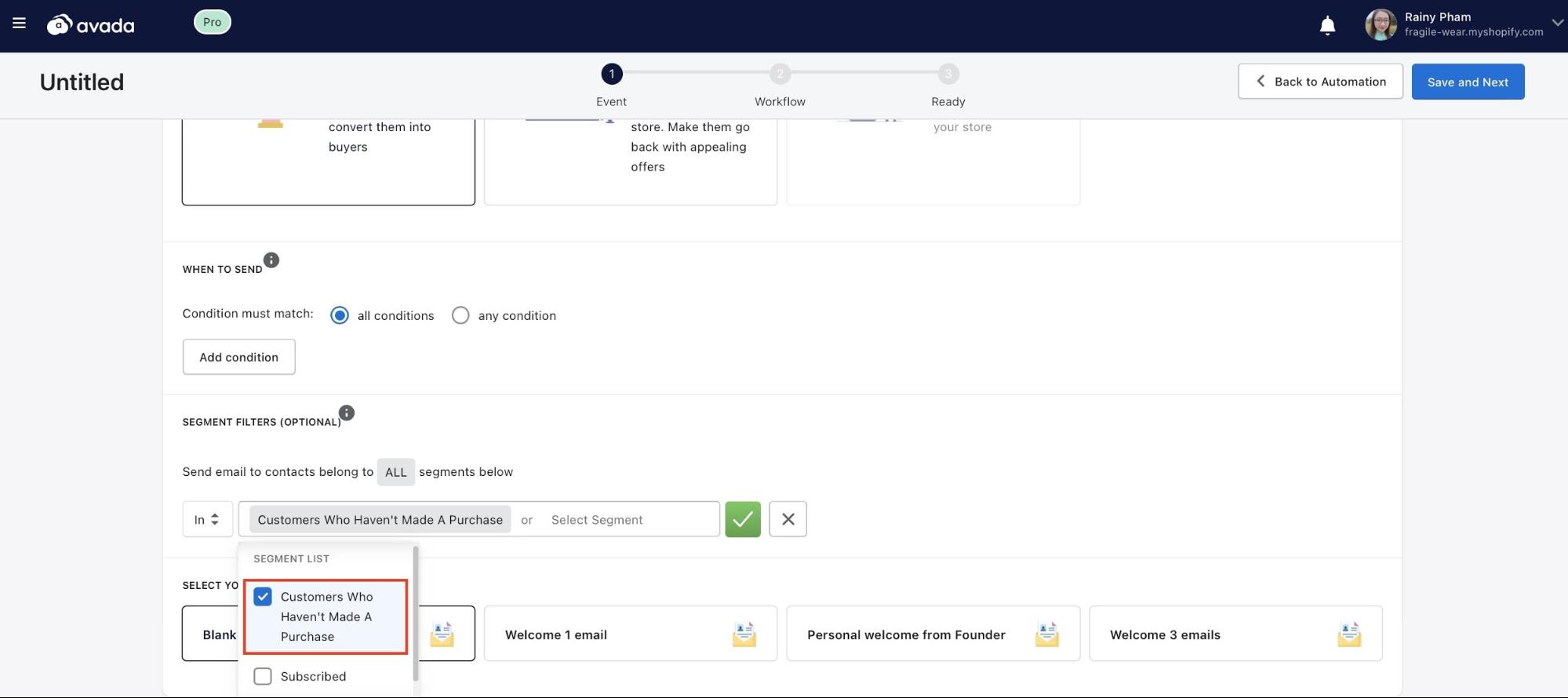 Step 4: Set up your sequence of automated emails
The next step is to set up the sequence of emails that will be sent to your targeted segment. You're about to target your customers with emails, so setting up your emails is an obvious step, isn't it?
With the drag-and-drop workflow builder of AVADA Email & SMS Marketing, you can create your automated email workflow easily by moving elements around.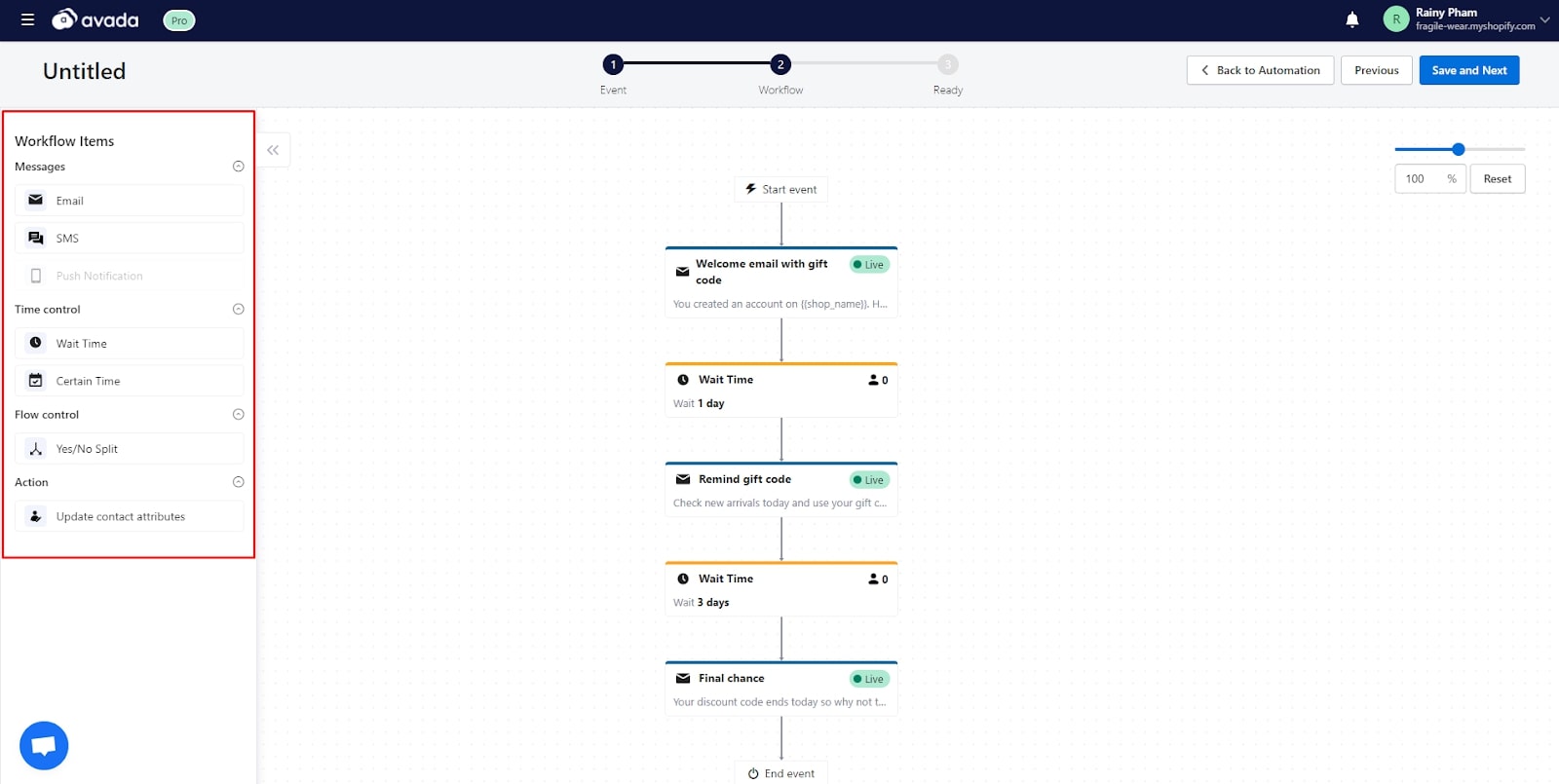 This step is where you need to decide which email goes first, which goes second, and so on. Also, you can set up the timing of each email in your sequence how you see fit.
Step 5: Generate content for each email in your automated sequence
You can't just send blank emails, can you? So it's time to get specific here. After you have defined the structure and timing of your overall automated email sequence, now you need to come up with what you're going to put in each email to get the best possible results.
AVADA Email & SMS Marketing has a drag-and-drop email builder that allows you to create professional emails easily. You can check out how to use it in this manual.

Step 6: Run a test on your sequence
After you have finished creating your automated email workflow, you should run a test on it with your own email before activating it so that you can be sure your sequence works as expected.

Here are some other things you should include in your checklist:
Did you choose the right conditions for your target audience?
Did you place your emails in the right sequence?
Review all the details in your automated workflow to make sure they are all done correctly.
Step 7: Activate your workflow and monitor your campaign
Once you feel happy with your workflow, activate it. Mistakes can happen, so keep looking for them. Don't be afraid to adapt when needed to fix problems or boost results. Many people think that they can set up their email workflow and just forget about it, but that's not really the case if you want to achieve the best possible result. The sequence or the offer you think will work can turn out to be wrong, so monitor your results carefully and make improvements down the road. Keep in mind that automated email marketing workflows only handle the tedious technical side of things for you, and you will need to put that saved time into thinking about how to get your desired results with your email sequence.
Best examples of email marketing automated workflows
In this section, I'll introduce to you some commonly used automated email workflows that you can try out for your business.
Lead acquisition workflow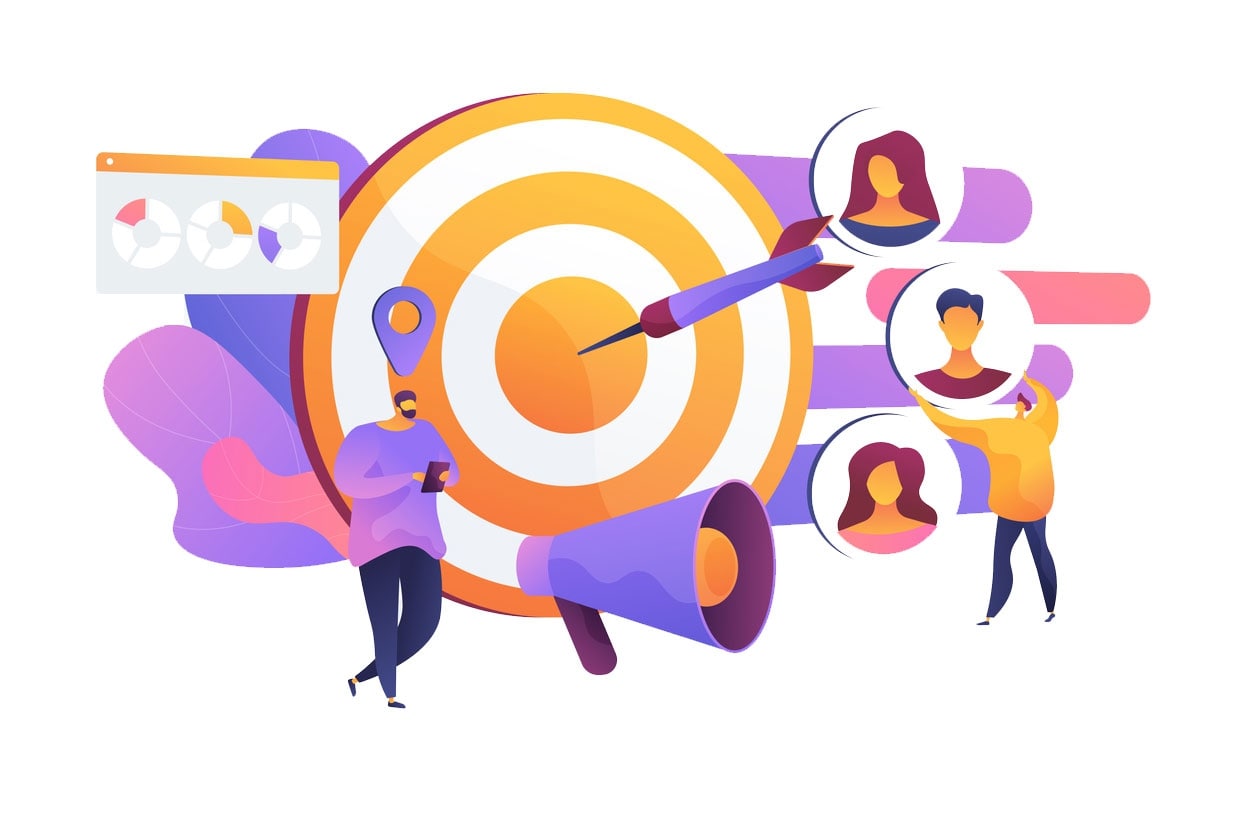 Primary trigger: Content Offer Downloads
Build a workflow for each of the topics relevant to the industry for which you create content. So if you are a dog breeder whose key content topics include dog diets, dog gear, and dog boarding, you'd want to base your content marketing offers (e.g. ebooks, webinars, packages, etc.) and blog posts on these topics, create an email workflow for each subject, and activate a workflow when your audience sees a page or downloads an offer based around that topic.
So if a subscriber downloaded your ebook called 10 Tips for a Healthy Dog Diet, your dog diet workflow will be activated, sending that contact to other helpful content, such as blog posts about unicorn dietary tips.
Subscriber Welcome Workflow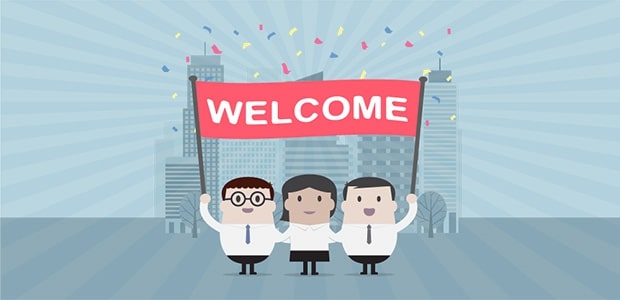 Primary trigger: Subscription to Your Blog
You can send your new blog subscribers a warm welcome with a subscriber welcome workflow. You can use this workflow to thank your contacts for subscribing, inform them of what they're going to get out of reading your blog, as well as send them promotional deals when there are.
Lead Nurturing Workflow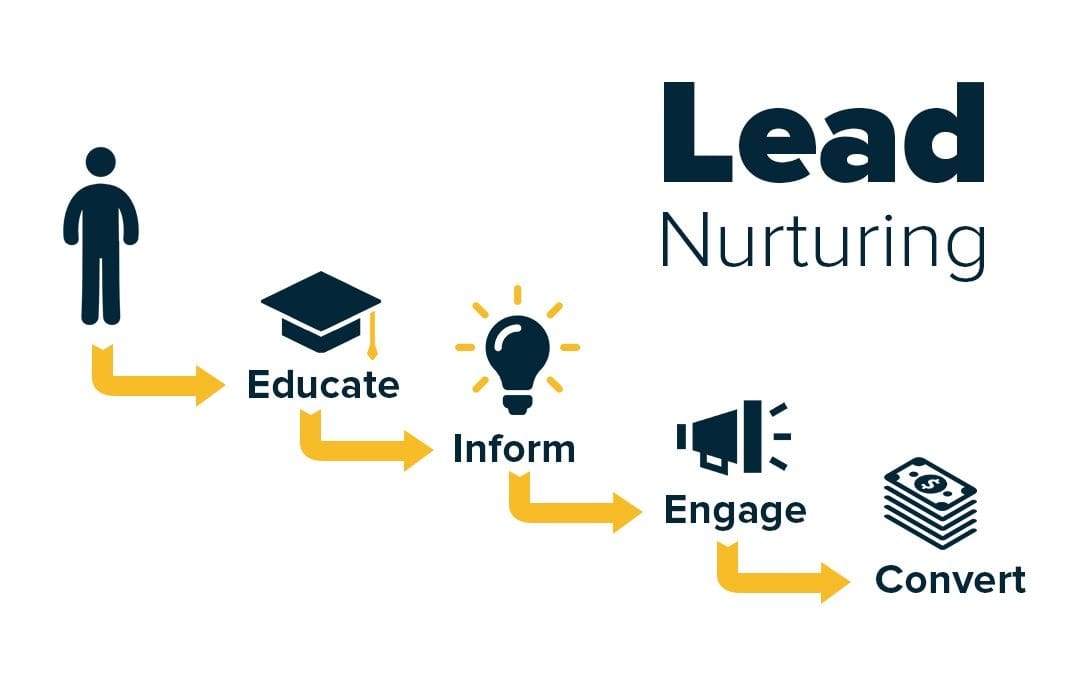 Primary Trigger: top-of-the-funnel deals
If a contact has downloaded any of your top-of-the-funnel marketing deals, such as ebooks and webinars, it could be a positive indication that they're ready for a little more. Set up workflows to help advance these interactions further down the funnel.
If the contact is a lead, consider sending them emails containing more middle-of-the-funnel content that could turn them into the qualified eligible leads in your sales process. This workflow could include content and web pages that you defined from the attribution report review as being influential in turning leads to customers-perhaps content such as customer success stories/case studies, free trial deals, or product demonstrations.
Re-Engagement Workflow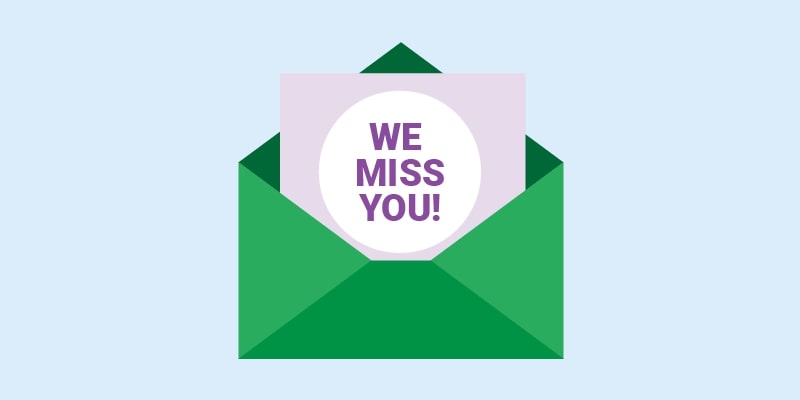 Main Trigger: Inactive Contacts
Re-engaging inactive contacts with a re-engagement workflow will help remind the customers who may forget about your business. To create this workflow, you can set conditions based on the length of time since the last time they opened your email or made a purchase. Try giving them an exclusive deal or coupon in your workflow to get them excited about your business again.
Abandoned Shopping Cart Workflow
Main Trigger: Past Purchases
Communication with the customers should not end after they have made a purchase. This is particularly true if you are selling a range of complementary goods and/or services. Using workflows as an opportunity to upsell your existing customers with complementary goods and services.
You can segment your contacts based on the specific product they have bought and create workflows aimed at recommending other products/services that are related to these previous purchases.
Upsell Workflow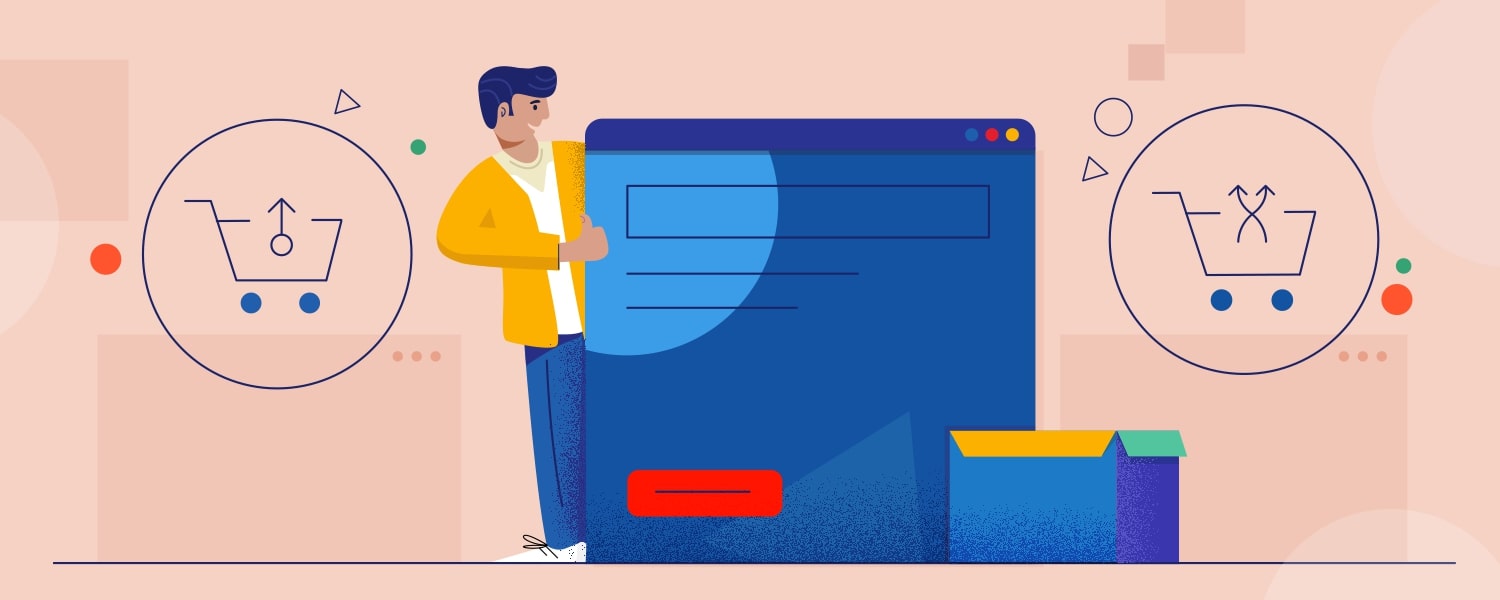 Main Trigger: Past Purchases
Communication with the customers should not end after they have made a purchase. This is particularly true if you are selling a range of complementary goods and/or services. Using workflows as an opportunity to upsell your existing customers with complementary goods and services.
You can segment your contacts based on the specific product they have bought and create workflows aimed at recommending other products/services that are related to these previous purchases.

Customer Success/Engagement Workflow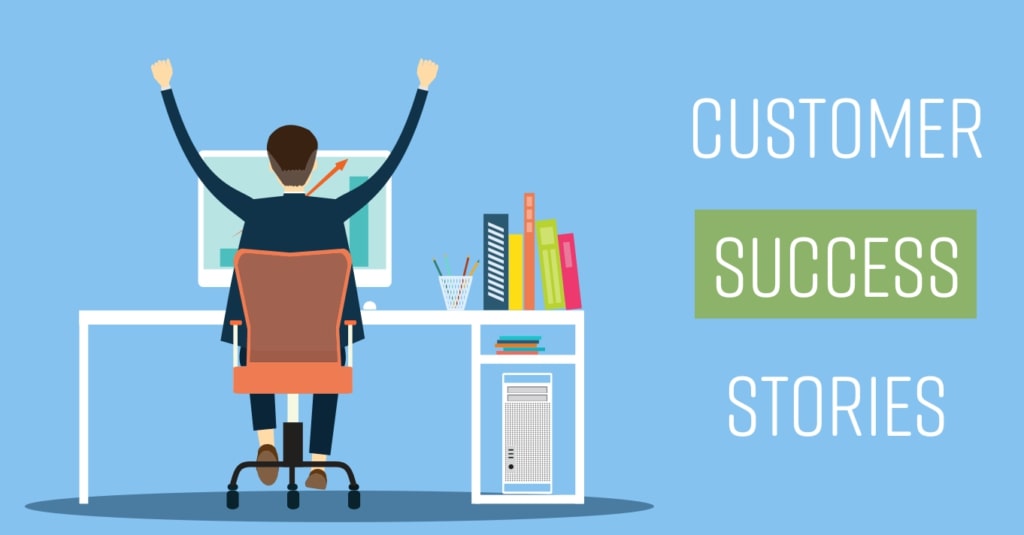 Primary Trigger: Success Metrics or Product Usage
If you keep track of your customer success metrics, you have a great opportunity to create sales-generating workflows on your side. For instance, if you're trying to build up your arsenal of customer case studies, you can automatically activate an email asking customers if they'd be interested in being featured as a success story after certain customer success benchmarks have been met.
In addition, if you keep track of consumer acceptance of the product or the use of features, you could activate a workflow for customers who have a low level of engagement with the product, offering tools to inform them and train them about how to use the features of the product they do not take advantage of.
Upcoming Purchase Reminder Workflow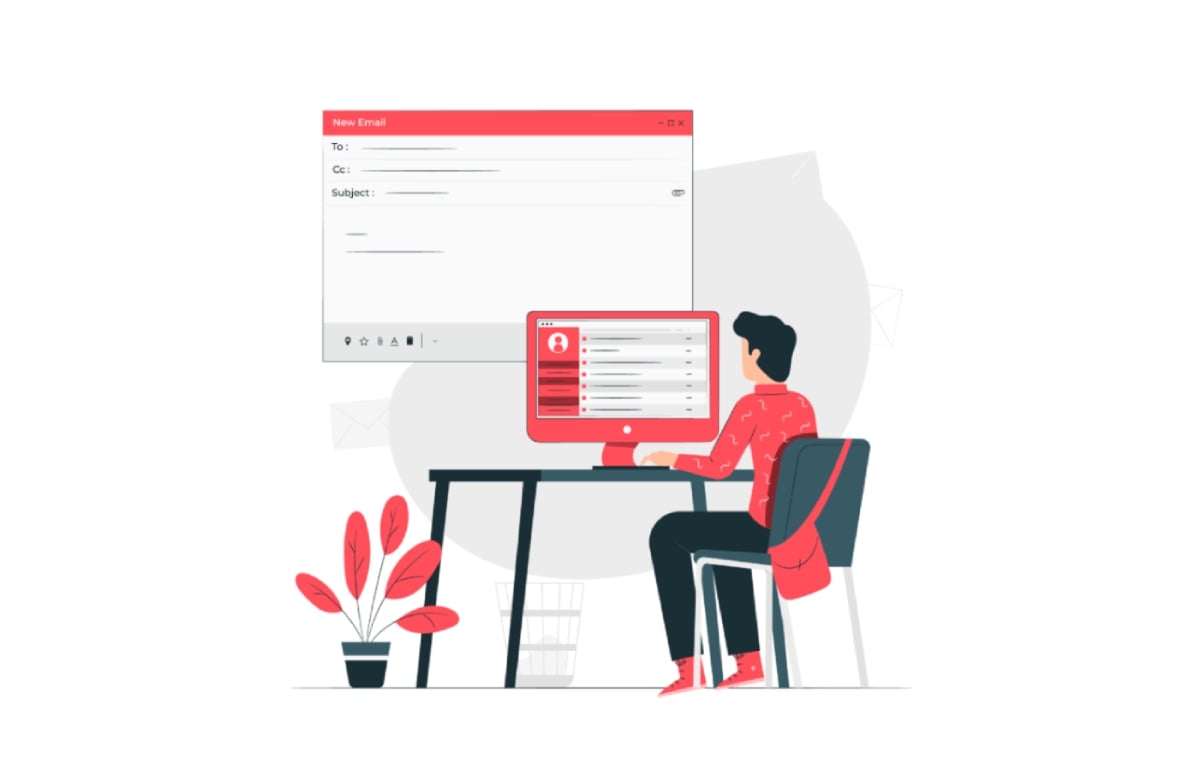 Primary Trigger: Purchases Made on a Cycle
Does your subscriber database involve customers who usually buy on a cycle? Enter the people into a workflow that is activated when they make a purchase. Let's assume, for example, that you sell eye care items, and the consumer purchases a six-month supply of prescription contacts. Place the customer in a workflow that sends them an automated email every five months as a reminder that their six-month subscription is about to run out, and it is time to order a new package of contacts.
Final words
That's it! I hope that you have learned how to create automated email marketing workflows from this article. Email marketing automation is a great way to build a relationship with your customers and boost revenue, so make sure you have it as a part of your general marketing strategy. Please feel free to leave comments below for a further discussion on this topic. :-)